Love adventure, but afraid you'll lose or hurt your wedding rings? Try these cute and affordable wedding rings for fitness and travel!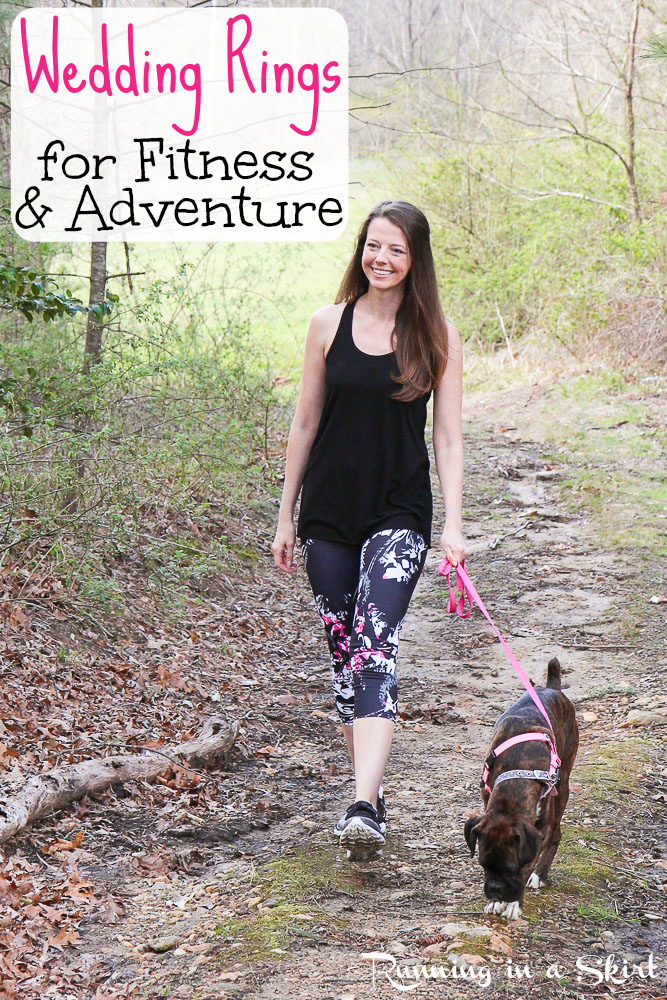 Hi peeps!
I have a bit of a cautionary tale to tell today about wedding rings, adventure and how they don't always work well together. (Keep reading for your chance to win a QALO prize pack – including a QALO clutch, stackables and some other health & beauty surprises!)
For a few summers in a row, the Hubs' side of the family all met for a week at Lake Murray. We all had a grand time boating, hanging out and even jet skiing! Soon after this photo was taken the Hubs went back out on the jet ski with our nephew, Cole who was eight at the time.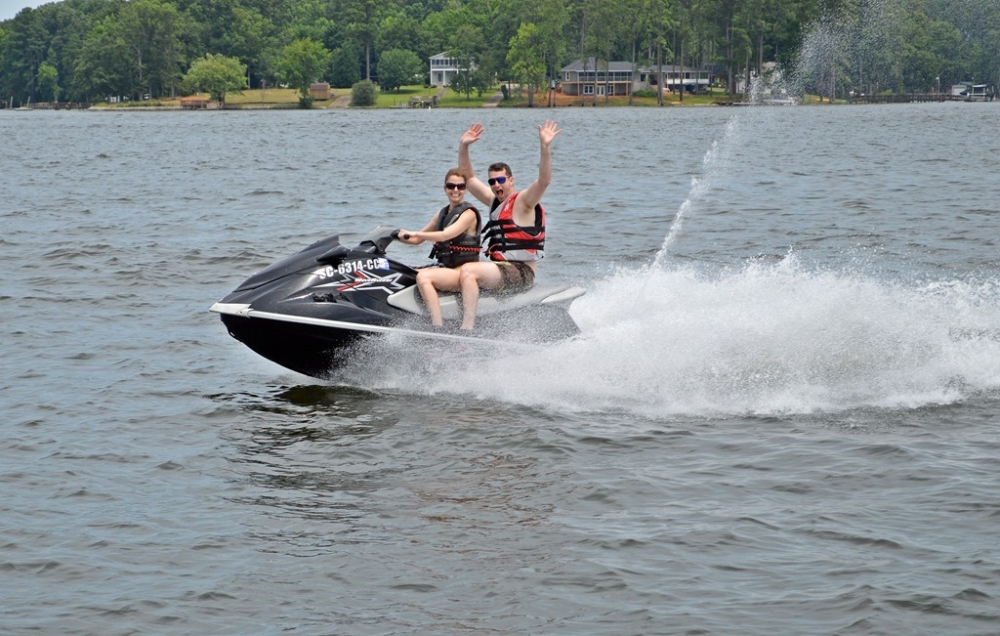 About an hour later the Hubs and Cole both came in drenched, looking a little sore and very sad. They were goofing off and flipped the jet ski.
The whole family went into action making sure both the boys were ok, which other than being sore they were. Then we check on the jet ski and it was also fine. Despite the clean bill of health and no damage to the jet ski, The Hubs and Cole still had these really sad looks on their faces.
The Hubs finally reluctantly said that when the jet ski flipped his wedding ring fell off. They had both swam around trying to find it, but it was gone. The ring was the original expensive white gold ring I had given him at our Hawaii wedding, with a special engraving. I wasn't mad, but we both were just sad because it was irreplaceable.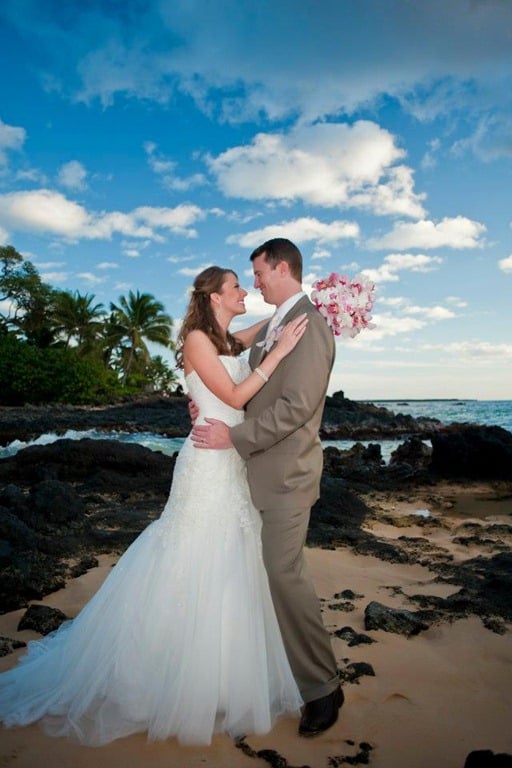 The moral of the story is to not go jet skiing with your nice fine jewelry wedding rings on.
After that, the Hubs actually went without a wedding ring for more than a year, because we just couldn't find the right one to replace it. It wasn't a great situation because some of his clients even asked if something had happened with us. But none of the rings we looked at felt as special as the first one. Finally when we went back to Hawaii for our 4th Anniversary we found a ring in a Hawaiian jewelry store that just felt right. We both love the new one and are pretty set on keeping it this time.
Since we've had the experience of losing something so special, we are now both really gun shy about bringing our fancy wedding rings places. You probably can't tell but we are ringless on this sailboat ride in Key West.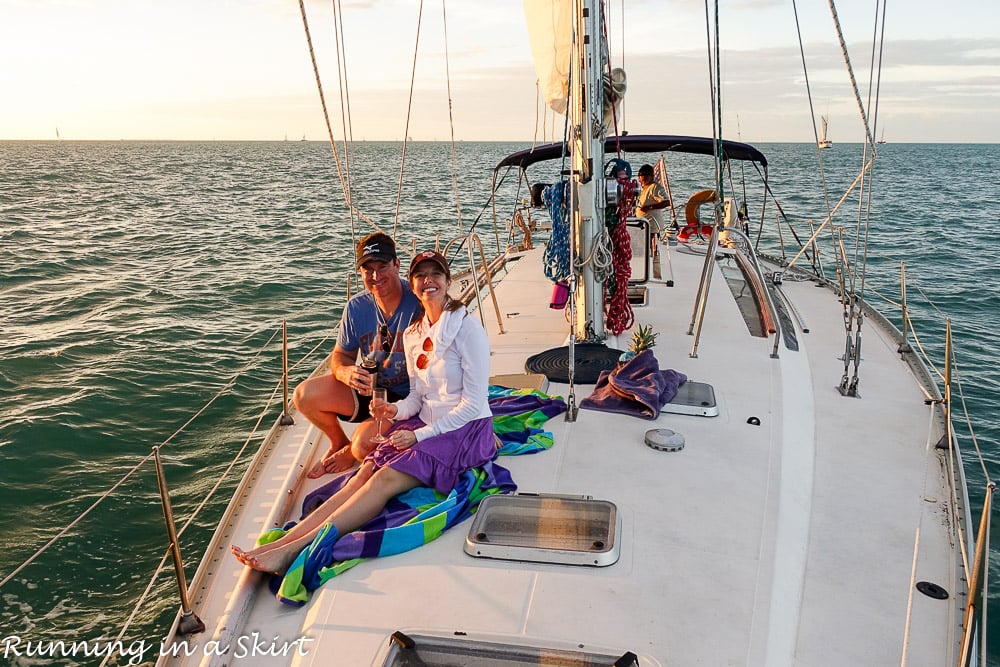 We're also ringless here playing with dolphins on the Big Island of Hawaii.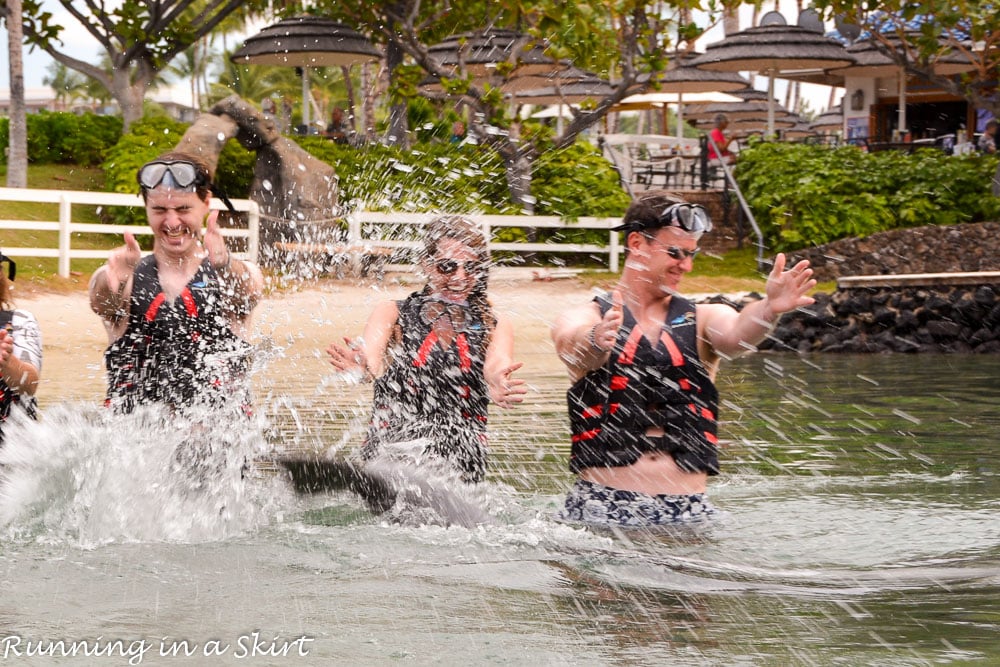 And when we went to Brazil for two and half weeks we left our rings at home in Asheville because we didn't want them to get lost or stolen. Some countries it's just not safe to bring flashy jewelry.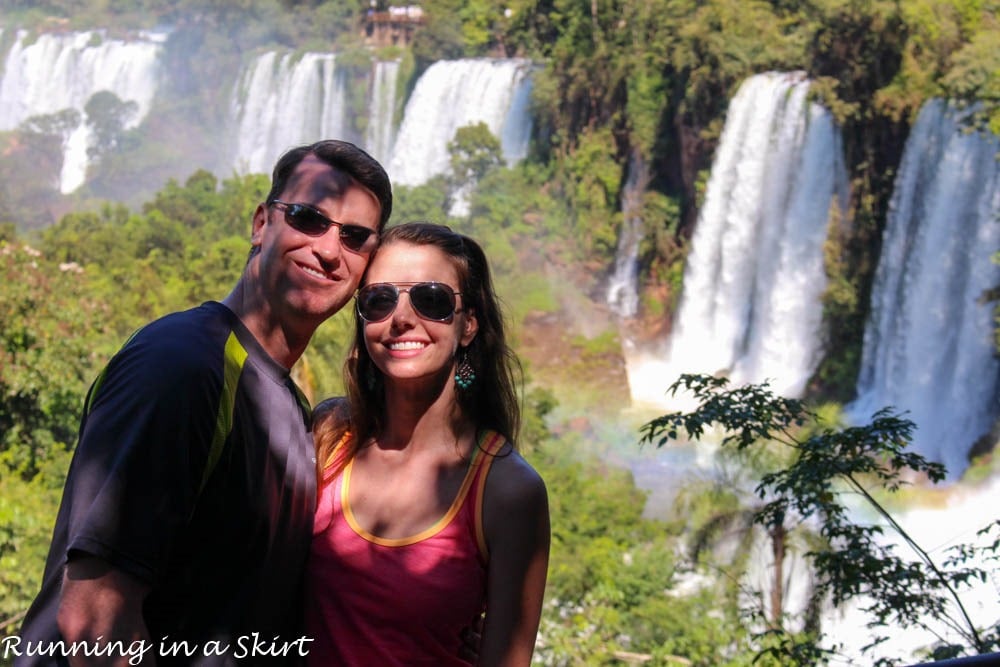 And while we were both ok with the Hubs going ringless for that time period, I honestly feel much more comfortable with a ring on. After not having one and then having one again, the Hubs now feels the same way. That entire trip to Brazil my hand just felt naked and I definitely got hit on more, which isn't fun for anyone involved.
I recently learned about an alternative option for wedding rings that finally takes care of our problem and hopefully yours too! QALO is the wedding ring solution for those of us who love fitness, adventure and travel. They are perfect to wear when you just feel like it's not safe or practical to wear your fancy bling! (QALO prize pack giveaway still coming!)
Aren't they cute!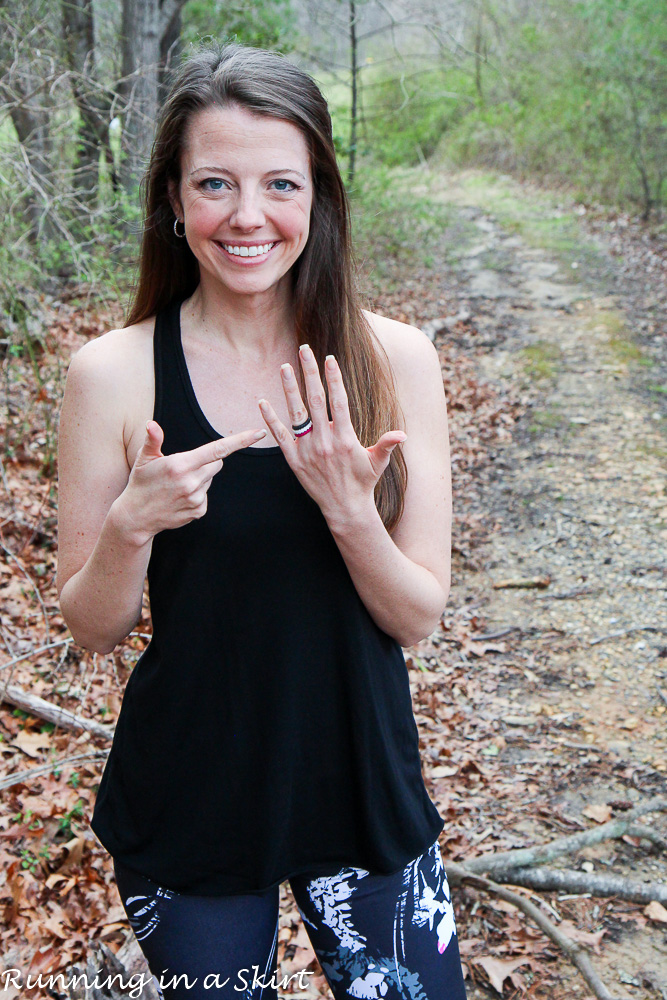 This is the QALO ring, which is a functional wedding ring that fits your life. The rings are not only stylish, but also very practical. They are made of soft, comfortable silicone.
If you work out, run, travel, hike, swim or just get nervous about being flashy with your diamond in certain situations, this is the ring for you! QALO rings are also perfect for when you are doing activities where your diamond could get damaged, like hiking or biking. They're style meets function!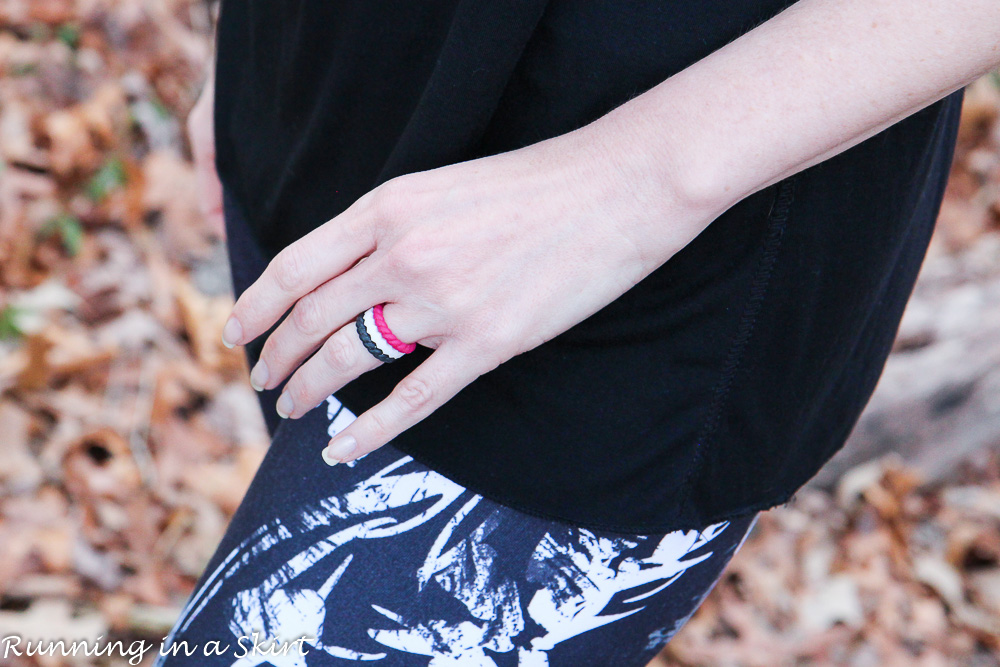 There are many different styles to choose from, but I'm showcasing QALO's Women's Stackable Rings, which come in five colors and four different styles to mix and match your outfit, personality or mood. How much fun are they! For each color you can pick a twist (shown), chevron pattern (shown), step or smooth.
[fusion_builder_container hundred_percent="yes" overflow="visible"][fusion_builder_row][fusion_builder_column type="1_1" background_position="left top" background_color="" border_size="" border_color="" border_style="solid" spacing="yes" background_image="" background_repeat="no-repeat" padding="" margin_top="0px" margin_bottom="0px" class="" id="" animation_type="" animation_speed="0.3" animation_direction="left" hide_on_mobile="no" center_content="no" min_height="none"]I want to win a @QaloRing from Running in a Skirt! Click To Tweet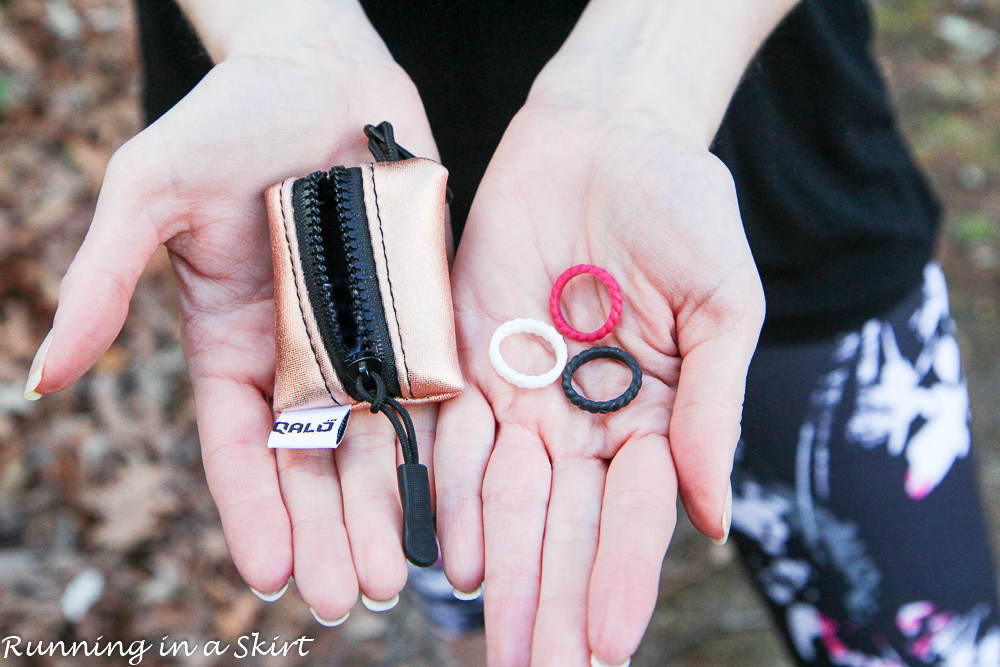 I love that I can wear one, two, or three of them depending on what I am doing and wearing. They also offer more traditional styles as well.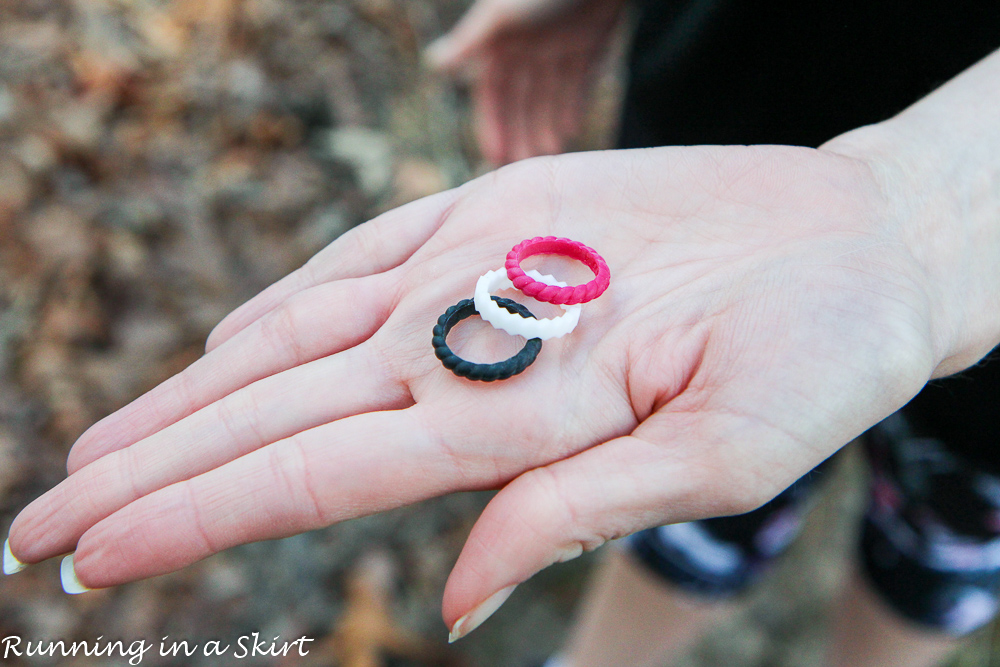 QALO rings are great for both women and men; in fact, I set the Hubs up with his own version. This is his "I can't believe you're making me take a photo in tax season" face. 🙂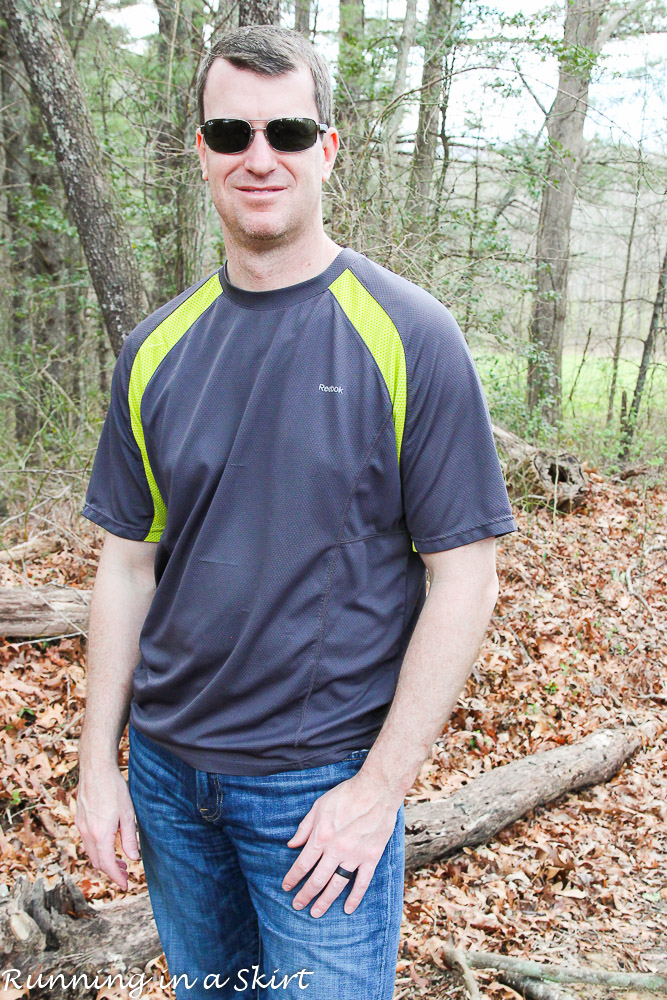 If he's hiking, lifting or traveling he now has an option that is flexible and not that expensive if it gets lost.
This one is less than $25 and there are ones for as little as $11.95 on their site. These rings are great for men who work with heavy equipment because they can actually keep your finger from getting hurt in an accident.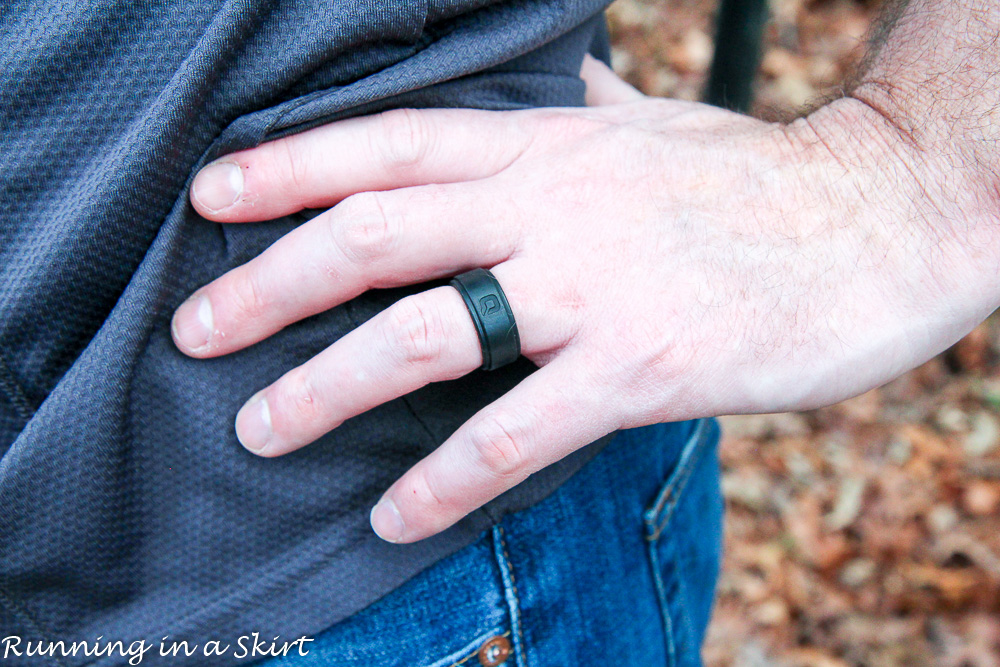 Even Makena is a fan of her Mom and Dad's new rings! From the gym or the office, the court or the bar and everywhere in between, these rings fit our life.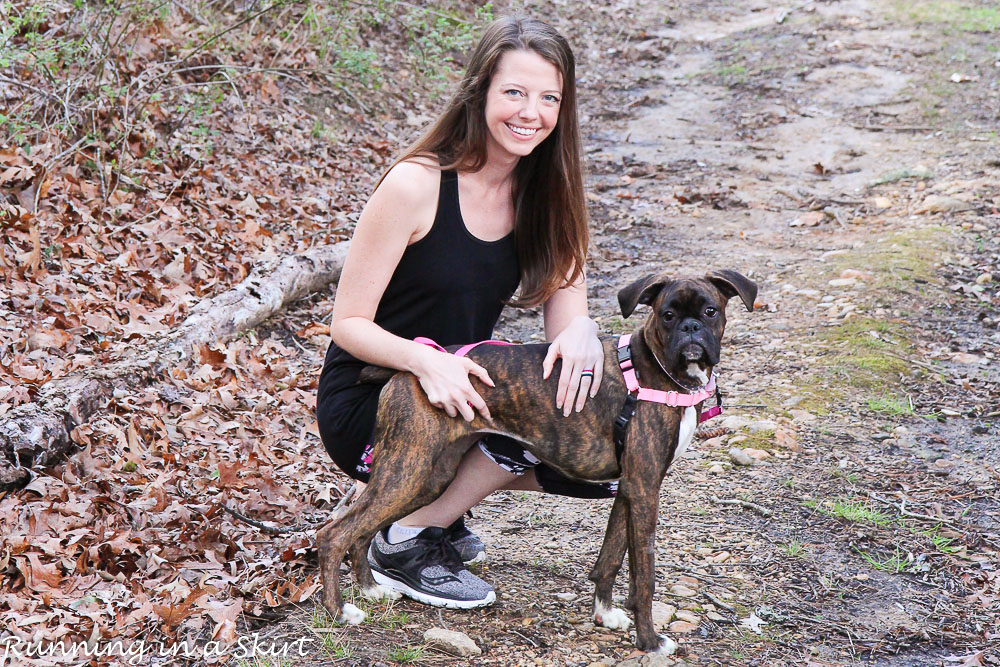 So the next time I hit the trail, I'm going to switch my rings to my new QALO stack so I can feel good knowing I've got nothing expensive to lose on the top of a mountain - or in the Hubs' case: the bottom of a lake!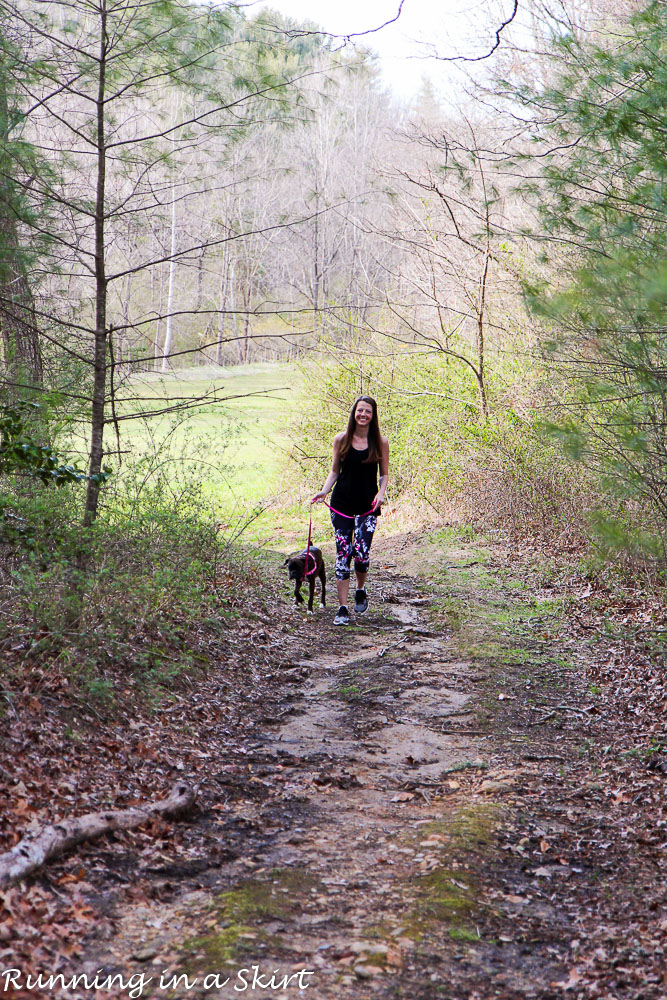 And that makes us all very happy!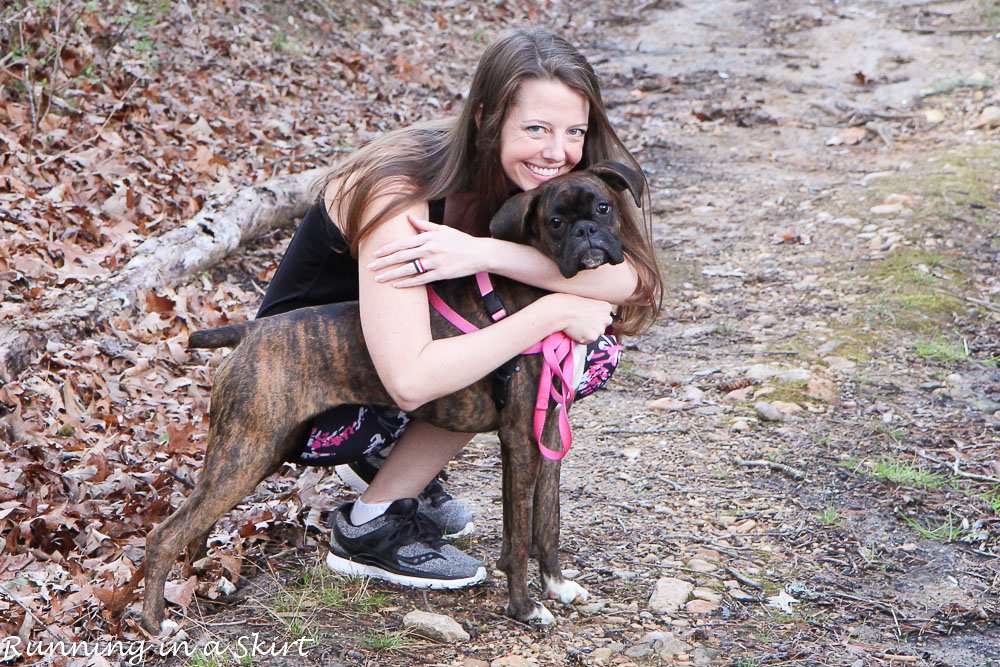 Shop for a QALO Functional Wedding Ring HERE
Whether you simply don't want to risk your normal band during your daily activities (working out, traveling, playing with the kiddos, etc.) or your ring is a safety hazard for the job you do, these rings are the perfect addition! They allow you to show your commitment to your loved ones, while not having to worry about damaging your ring or your finger!
Love this post about Wedding Rings for Fitness? I'd love your support! Find this post later by pinning this to your favorite Pinterest Board.

Worry about losing your fancy wedding ring? Check out these fun rings perfect for adventuring! Plus WIN a @qaloring
Click To Tweet
Thanks for stopping by today! Come back tomorrow for a my favorite easy Black Beans and Rice recipe!
I'm linking this post with Marvelous Monday, Amanda for Thinking Out Loud Thursday, Coaches Corner, Fashion Friday, Fit and Fashionable Friday and Annmarie for Wild Workout Wednesday.
Your turn!
Check out the QALO rings site and let me know which one you like the best! Leave a comment below to win a QALO prize pack – including a QALO clutch, stackables and some other health & beauty surprises!
Entry Instructions:
No duplicate comments.
You may receive (2) total entries by selecting from the following entry methods:
1. Leave a comment in response to the sweepstakes prompt on this post
2. Tweet (public message) about this promotion; including exactly the following unique term in your tweet message: "#Sweeps" and "#SweepstakesEntry"; and leave the URL to that tweet in a comment on this post
3. Blog about this promotion, including a disclosure that you are receiving a sweepstakes entry in exchange for writing the blog post, and leave the URL to that post in a comment on this post
This giveaway is open to US Residents age 18 or older (or nineteen (19) years of age or older in Alabama and Nebraska). Winners will be selected via random draw, and will be notified by e-mail. The notification email will come directly from SheKnows via sweeps@sheknows.com. You will have 2 business days to respond; otherwise a new winner will be selected.
The Official Rules are available here.
This sweepstakes runs from 4/10/17- 6/30/17
Be sure to visit the brand page on sheknowsmedia.com where you can read other bloggers' posts!
[/fusion_builder_column][/fusion_builder_row][/fusion_builder_container]