Chex Mix just got an upgrade with my Crock Pot Honey Nut & Dark Chocolate Chex Mix. You'll love this variation of a healthy Crock Pot Chex Mix!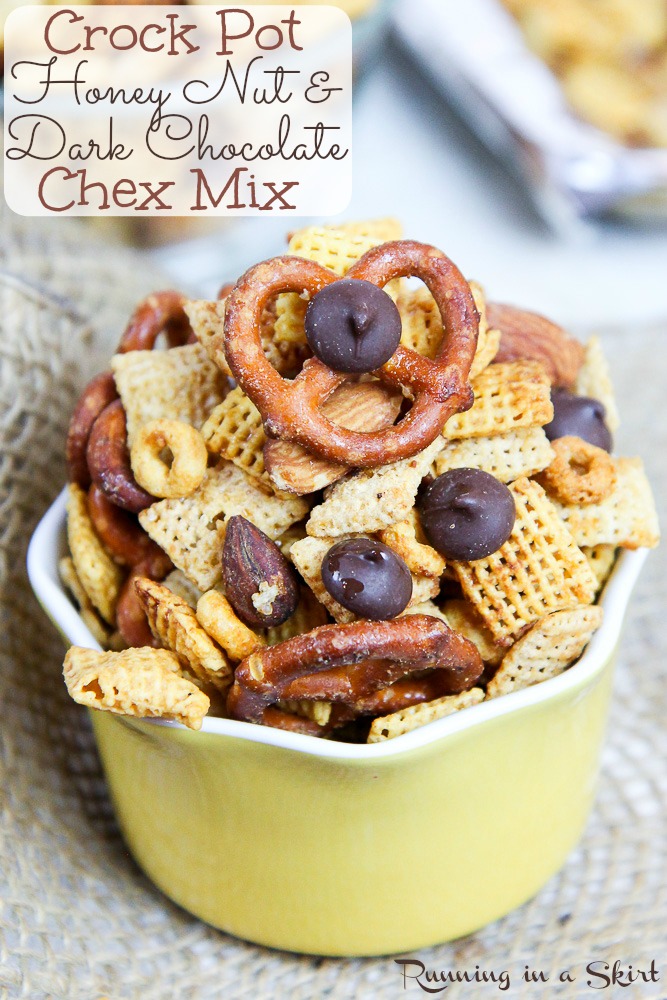 Hi everyone!
A healthy Crock Pot Chex Mix has been on my radar for awhile. With Super Bowl Sunday coming up, I decided last week would be the perfect time to create it. Like most recipes I make, I started by researching what went into the basic recipe so I could think of ways to make it better. I was shocked to see that straight up butter goes into most versions! Now, I have nothing against butter in moderation and eat it on occasion... but for a snack mix? Naw... I knew I could do better.
So my first swap was trading out coconut oil for the butter and reducing the amount. Next I decided to make it sweet without refined sugar... in comes just a touch of honey. Third I traded peanuts for almonds.... hello heart healthy fats!
Now, I must have been in a peanut butter mood because suddenly I had the idea to add powdered peanut butter to it.... I thought that would be perfect to give it all the flavor without adding more unnecessary calories to it.
And that, my dear friends is how Crock Pot Honey Nut & Dark Chocolate Chex Mix was born.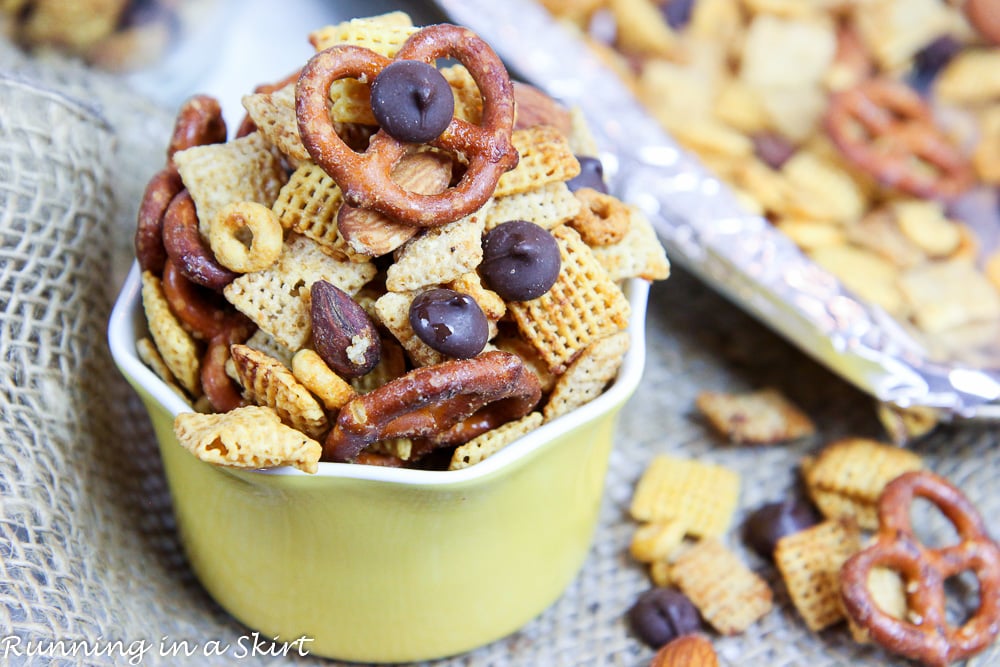 You start off with all kinds of goodies in the Crock Pot. I chose to use Honey Nut Chex Mix, Rice Chex Mix, Whole Grain Cheerios, pretzels and almonds.
Next you top it off with a coconut oil, honey and powdered peanut butter mixture that takes soooo good.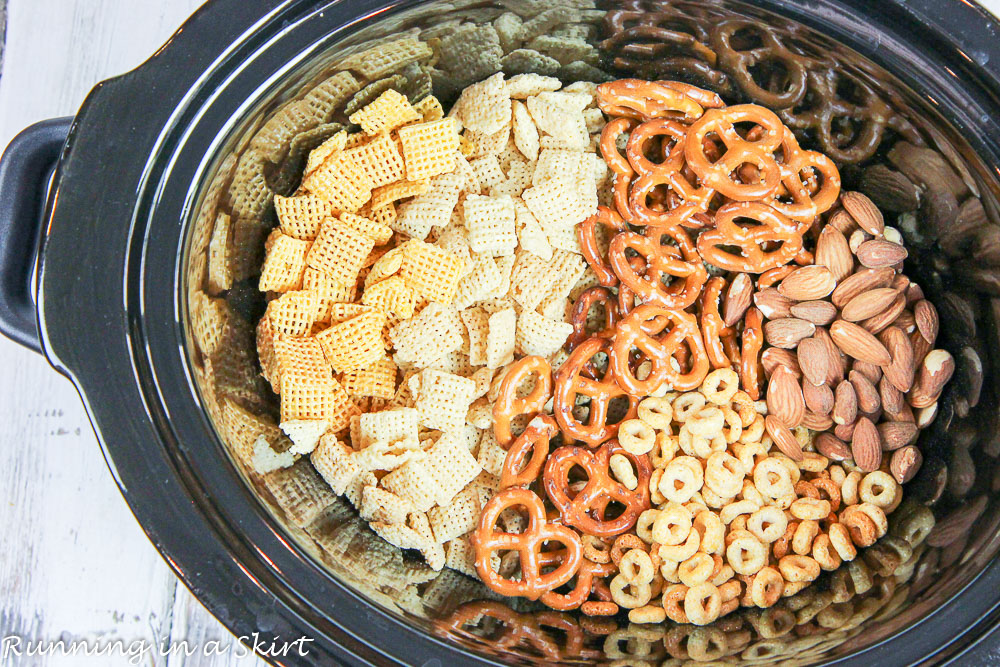 Cooking the Healthy Crock Pot Chex Mix takes just a few hours. You do need to be home to stir it occasionally.
Once it's cooked, you pull it out to finish hardening on a sheet pan. You add the chocolate chips when it's cool enough not to melt them. I like the chunks!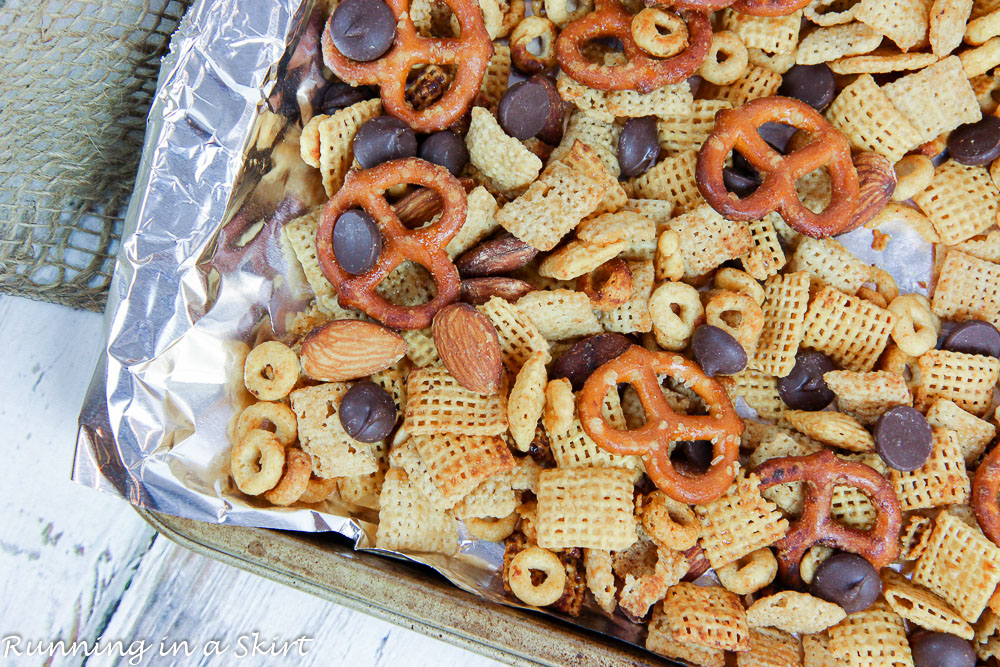 The combination was even better than I imagined! It's sweet (but not too sweet,) peanut buttery, coconut-y and just the right amount of salty.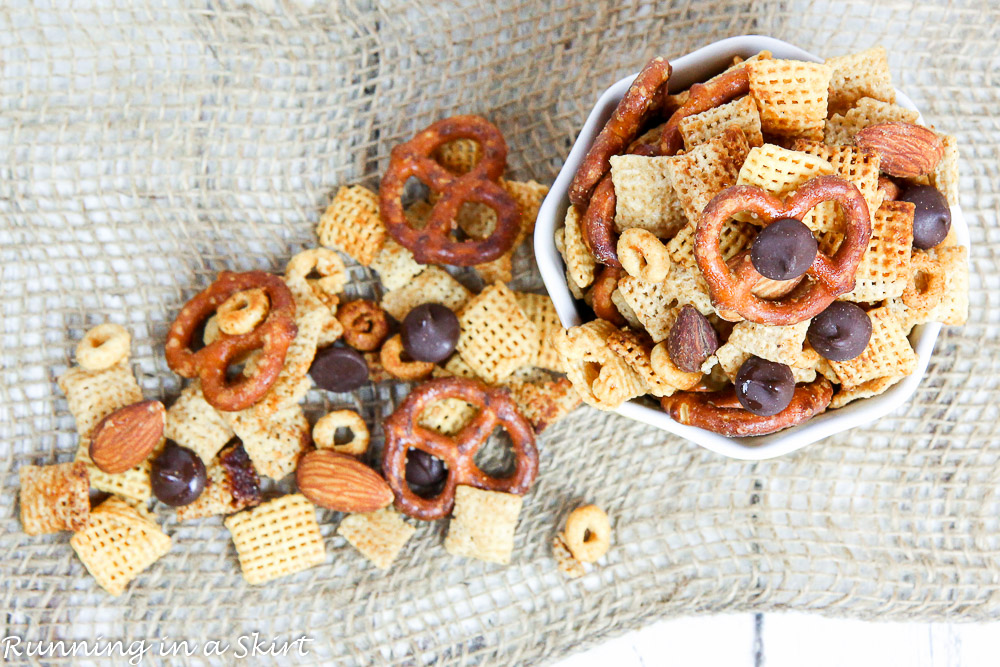 The Healthy Crock Pot Chex Mix will be wonderful for your Super Bowl party! I'm pretty sure it will disappear in to time flat!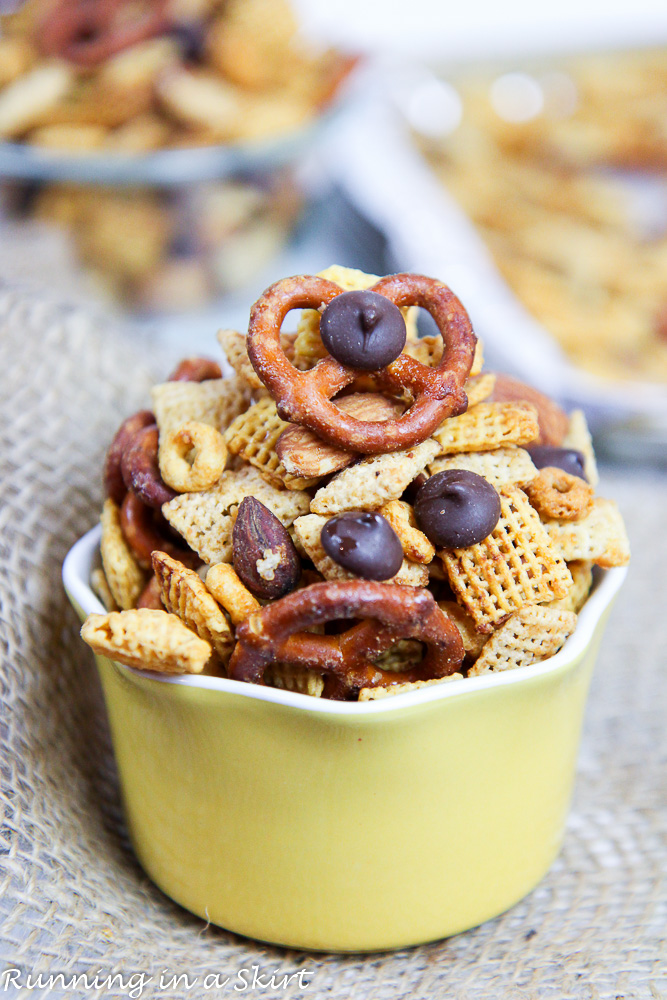 And while this still is a snack food, that should be eaten in moderation, my version does have some redeeming health qualities with heart-healthy almonds and antioxidant-packed dark chocolate.
Plus... did I mention the whole it tastes like peanut butter thing?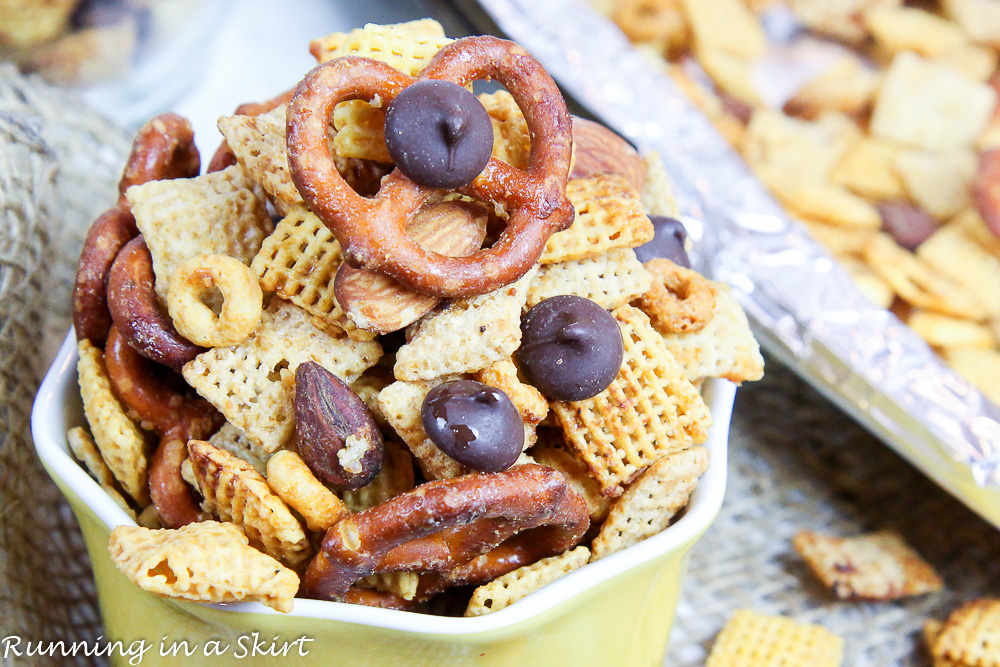 I gave the Hubs a bag to try and he chowed down like a champ!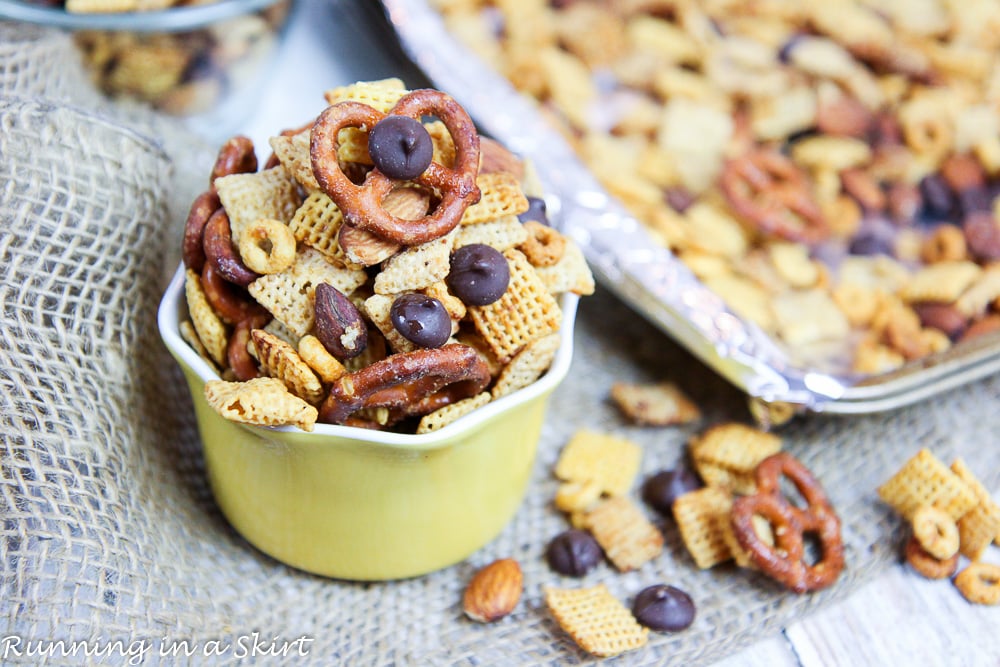 I love it when a recipe idea turns out even better than I expect! This Healthy Crock Pot Chex Mix absolutely falls into that category. It's totally tasty and addictive.
I'd love to hear what you think! Try it and let me know in the comments.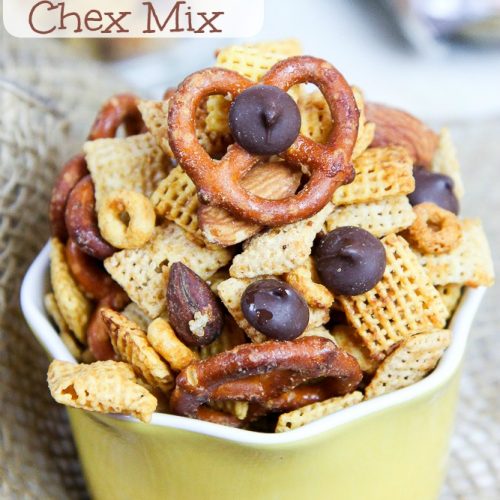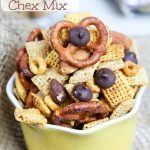 Crock Pot Honey Nut & Dark Chocolate Chex Mix- Healthy Crock Pot Chex Mix
This Healthy Crock Pot Chex Mix is sweet and salty!
Ingredients
6

cups

chex cereal

,

I used half honey nut & half rice

2

cups

pretzels

1

cup

whole wheat cheerios

,

could also use honey nut

½

cup

unsalted raw almonds

¼

cup

coconut oil

,

melted

¼

cup

honey

⅓

cup

powdered peanut butter

¼

teaspoon

salt

,

to taste, optional

½

cup

dark chocolate chips
Instructions
Put the chex cereal, pretzels, cheerios, almonds in a large Crock Pot.

In a small bowl mix together the coconut oil, honey, powdered peanut butter and optional salt.

Pour the coconut oil mixture over the cereal mixture and stir gently until well coated.

Put the lid on but leave a small ¼ inch crack in the lid. This allows the moisture to escape and for it to turn crispy.

Cook on low 3 hours. Stir after 1 hour, 2 hours and 2 ½ hours. Watch carefully to keep it from burning.

Pour the mixture out on a baking sheet and allow it to cool. Once it's cool enough to not melt the chocolate, stir that in.

Enjoy!
Notes
The salt brings more of a salty- sweet taste to the recipe. If you are sensitive to sodium, leave out or adjust!
Nutrition
Calories:
299
kcal
Carbohydrates:
50
g
Protein:
8
g
Fat:
11
g
Saturated Fat:
7
g
Cholesterol:
1
mg
Sodium:
433
mg
Potassium:
237
mg
Fiber:
6
g
Sugar:
12
g
Vitamin A:
399
IU
Vitamin C:
4
mg
Calcium:
116
mg
Iron:
11
mg
Like this recipe? Find it later by pinning this to your favorite Pinterest board!


Thanks for stopping by today! Tomorrow I'm sharing the second half of my recent trip to Key West. On Thursday I'll be sharing all of my Super Bowl friendly recipes from Running in a Skirt.
Your turn!
What's your favorite snack?
Salty or sweet?