Is it time to go back to the beach yet? Get ready for the sand and surf with these mix and match spring break essentials!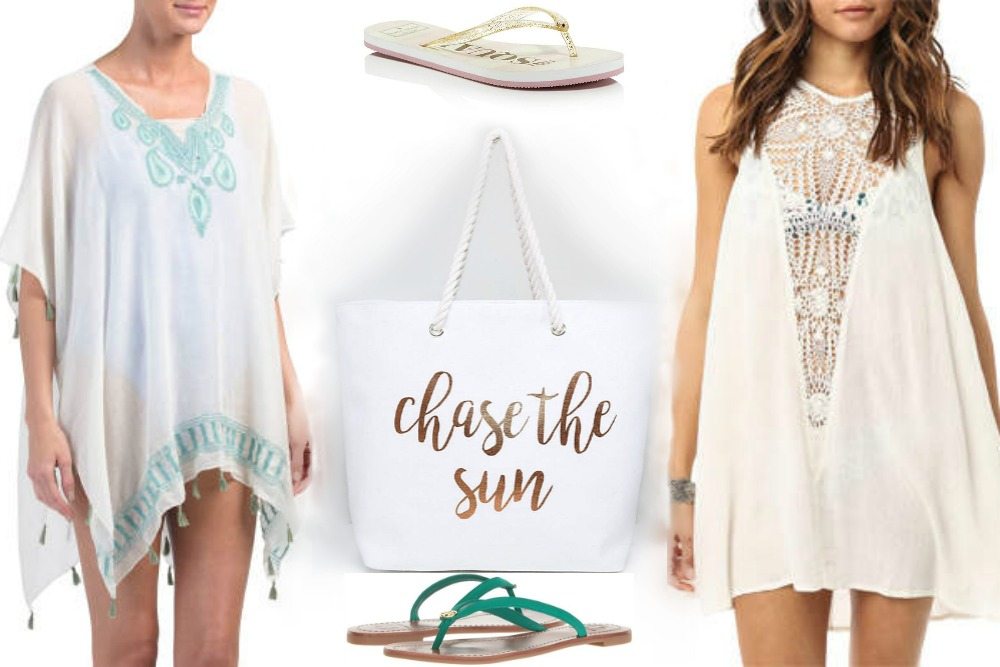 Hello!
As a lover of all things spring and summer, my mind gets giddy with the thought of beach trips this time of year. I love living in the mountains, but my heart belongs at a beach! In honor of Spring Break and upcoming beach trips (we're heading to Hilton Head for the weekend next weekend!) I thought I'd put together a guide of some of the CUTEST beach spring break essentials out there this season. I included three swimsuit cover ups, flip flops and beach bags to get you ready for beach days. These are all perfectly paired so you can mix and match some cute beach outfits with all of them. Just add water. 🙂
Happy shopping!
Spring Break Essentials
The colors in this scream the beach and it's so pretty without being flashy. I love the tassels.
I love a white beach cover up and this one is the perfect style... an absolute spring break essential!
This one is at TJMaxx online at a steal! Someone grab it... please? 🙂
For Tory Burch sandals, these are a great deal on 6PM.com. They also come in magenta which matches one of the bags below.
Kate Spade and glitter... how can I not get these? These go great with the Chase the Sun bag below.
This more budget friendly option is still just as adorable. I love the sea shell charm!
The rose gold lettering on this is so cute! Kind of my life motto...
Hunter for Target, $30
These plastic style beach bags are very popular right now and so practical! This Hunter for Target one is a STEAL and so cute... I think they will be a huge spring break essential this season. Just imagine how easy it will be to keep clean. It also comes in blue and green.
Ohhh how I'm in love with this tote. It's so beautiful!
And for those of you who hadn't seen it yet, make sure to check out Lilly Pulitzer's new swim collection! I'm obsessed and considering getting either THIS one or THIS one. And if you like one pieces THIS one or THIS one is so adorable! Plus their cover up are a little pricey (HERE or HERE) but are so beautiful! I love their clothes, but know they are on the expensive side so I don't want to go all Lilly all the time on you guys. 🙂
Check out these beach destinations!
Thanks for stopping by today! Monday I'm sharing more about my favorite local bread.
Your turn!
Do you have any beach trips planned this spring or summer?