These tasty Cannoli Stuffed Strawberries are healthy twist on a classic cannoli!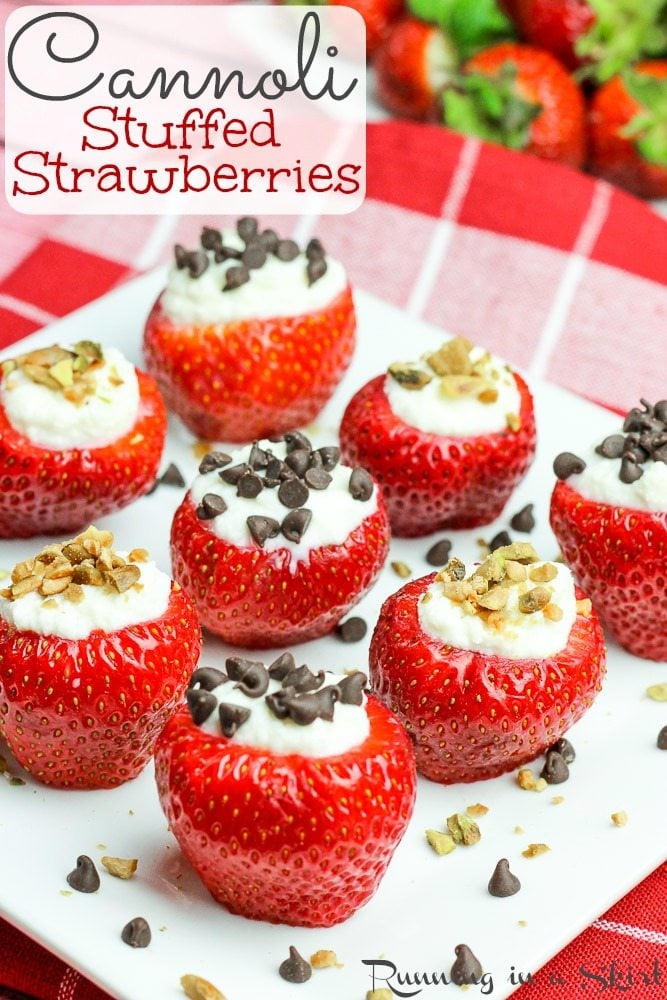 Hi friends!
I always get so sad during early winter when the berries at the grocery store are expensive and not that tasty. It's like a berry drought and as a fruit-lover it's a rough time of year! When the juicy Florida strawberries return to the stores in February, March and April I get giddy like a schoolgirl and buy pint after pint. I'll bring them up to my nose and just take in the fragrance before even eating them.
Many moons ago I posted a Classic Strawberry Cannoli recipe using those fresh berries.... but since them I've been brainstorming a good way to get that flavor I crave in a slightly healthier package. Enter these delightful berries stuffed with a creamy and slightly sweet ricotta cannoli filling. I call them Cannoli Stuffed Strawberries and you've got to give them a try!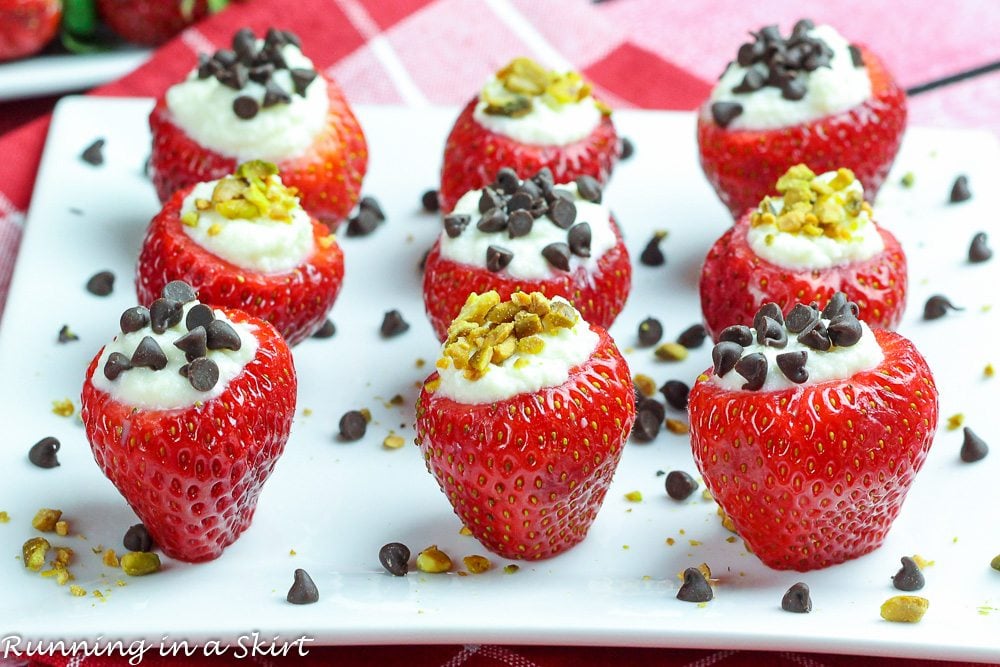 These Cannoli Stuffed Strawberries are also low-carb and gluten-free!
Ever since I went to Italy, I've been full-on obsessed with cannoli. If I see them on the menu at a real Italian place, I have a hard time saying no. The crispy shell and creamy, sweet ricotta cheese get me every time.
Some healthier desserts feel like you are missing out... but not with these Cannoli Stuffed Strawberries! The sweet berry is in some ways even better than that fried cookie shell.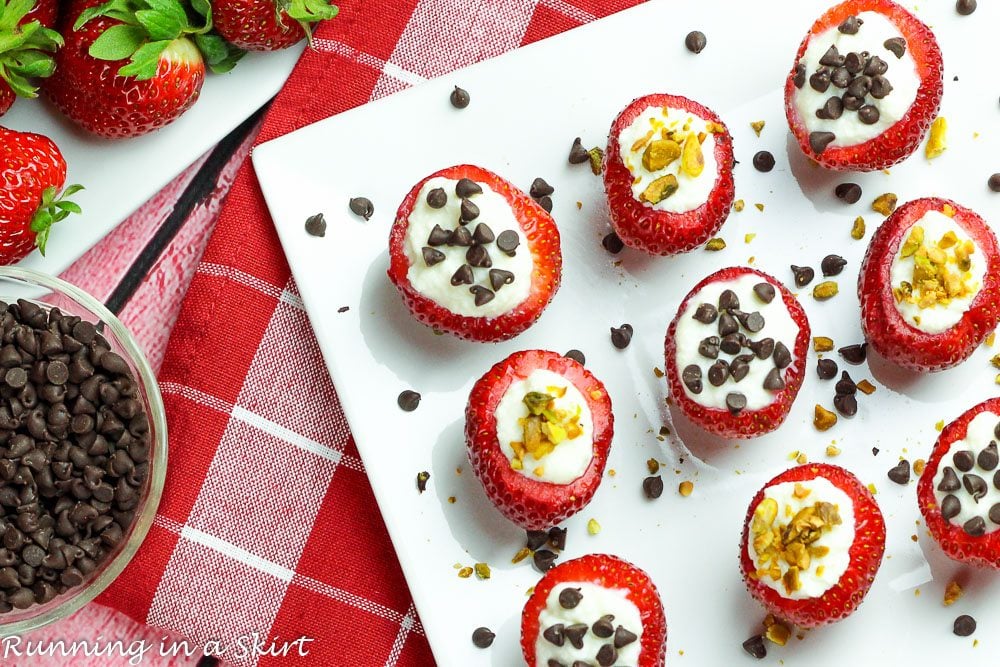 Now for the sake of full disclosure, there is a little bit of real powdered sugar in this. But just a little.... it's just enough to give you the sweetness you normally get with a ricotta filling.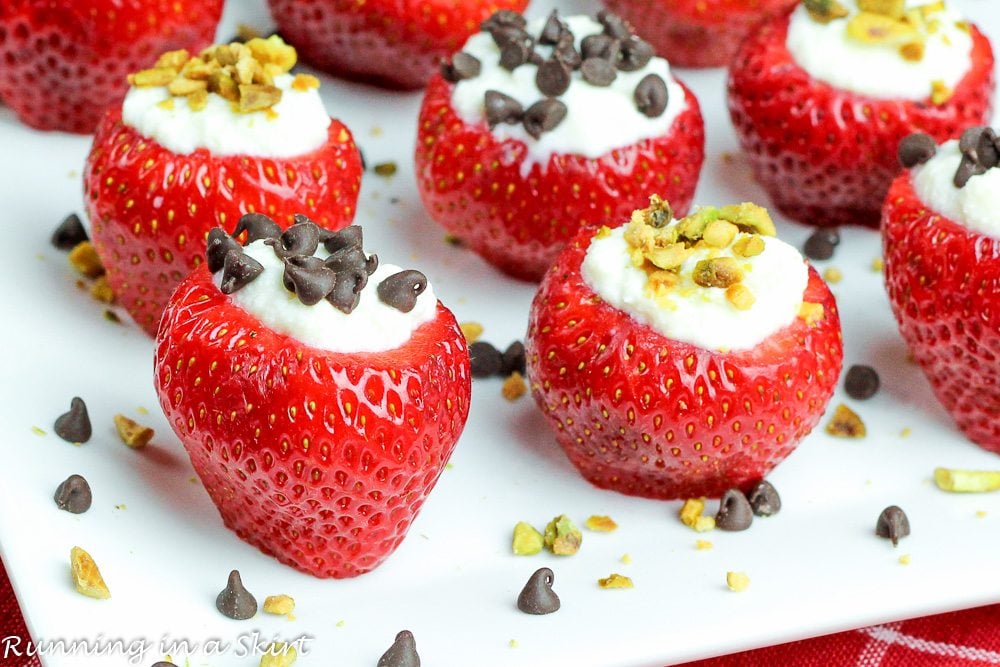 The strawberries pair perfectly with the creamy filling. You can either go with low-fat ricotta or full fat... depending on your views on that sort of thing! The full fat is a lot richer and the low cal is less calories... both are fabulous. Top them with mini chocolate chips and pistachios, which are classicly Italian.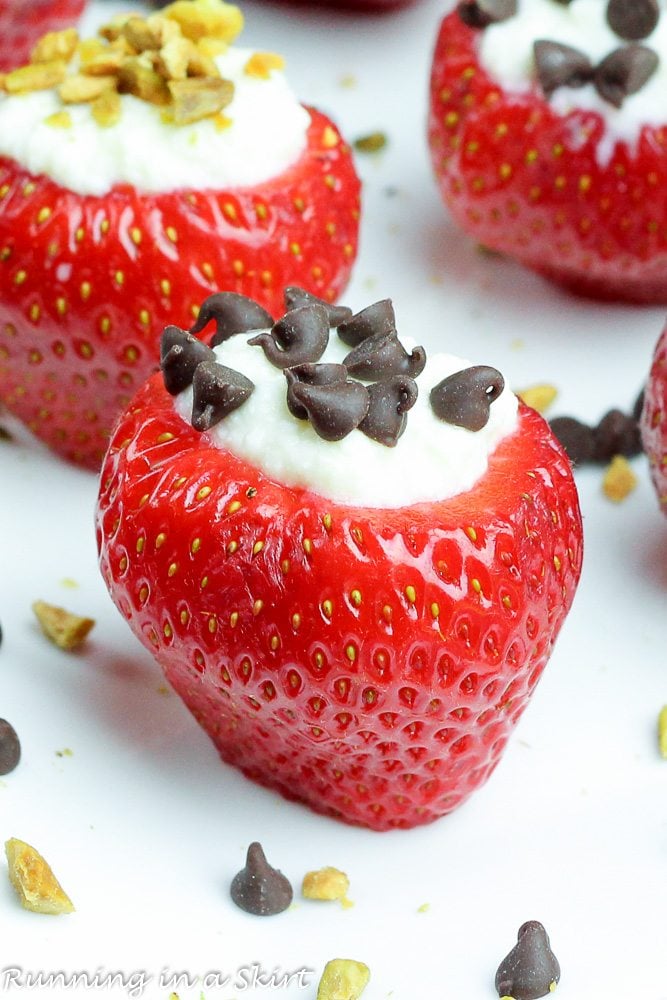 With berry season in full swing, these are the perfect little spring or summer treat. Can't you just imagine these at a Memorial Day or 4th of July party?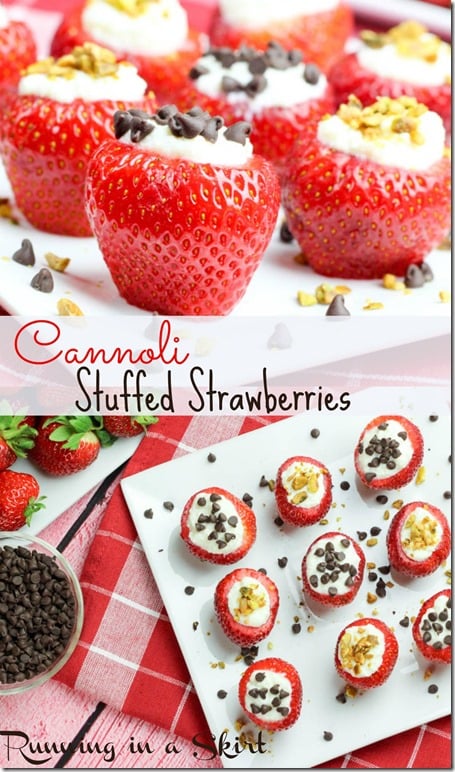 I hope you'll give these Cannoli Stuffed Strawberries a try!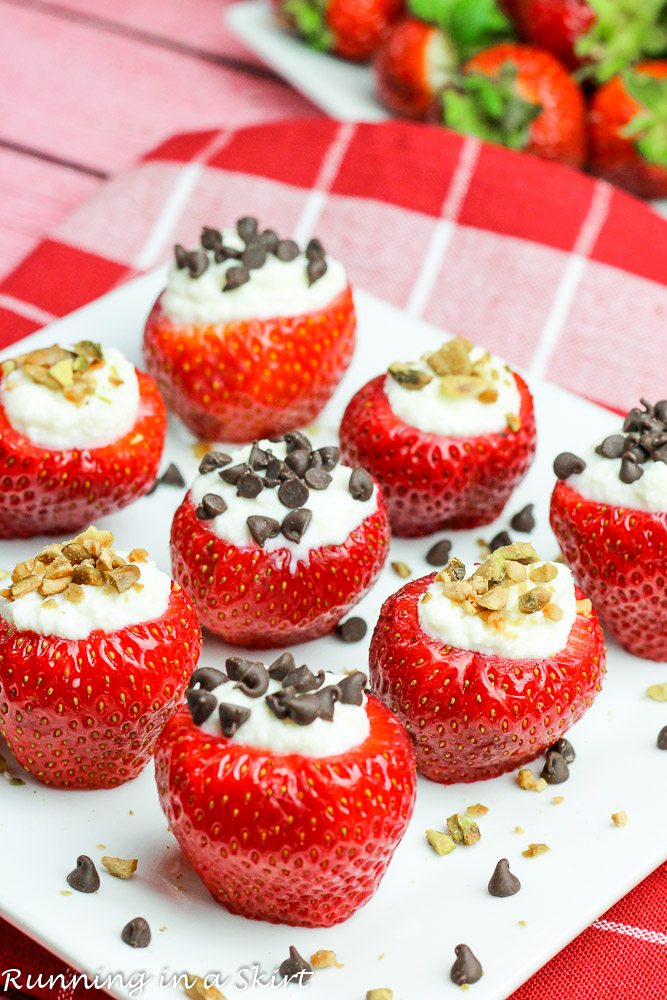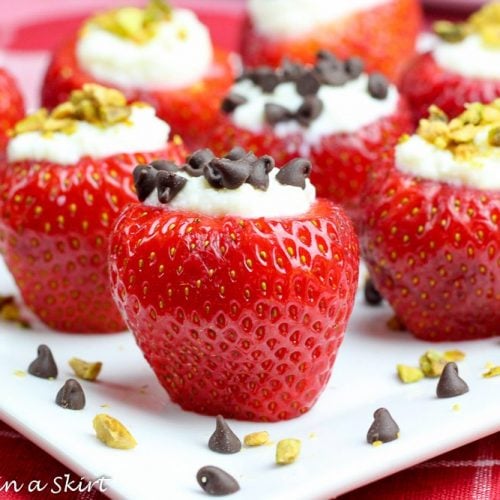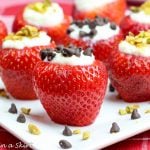 Cannoli Stuffed Strawberries recipe
A healthy twist on a classic cannoli! My Cannoli Stuffed Strawberries use a light ricotta filling to create a delicious, but healthier treat. These are perfect for summer parties.
Ingredients
Toppings:
mini dark chocolate chips & crushed pistachios
Instructions
Prepare the berries by cutting the bottom off of the strawberry just enough so it will stand up on it's own. Cut the top off of the berry and carve out the middle.

Mix the ricotta, powdered sugar, almond extract and lemon juice in a bowl.

Put ricotta mixture in a piping bag or zipper bag with the corner cut off.

Pipe ricotta mixture into berries.

Top with the chocolate and pistachios.
Notes
Try to find large berries of uniform size. The skim milk ricotta can get a little watery. Blot it dry if you see extra moisture. If that bothers you, use full fat ricotta.
Each stuffed strawberry is only about 20 calories.  This recipe makes 12.
Nutrition
Calories:
21
kcal
Carbohydrates:
3
g
Protein:
2
g
Fat:
1
g
Cholesterol:
3
mg
Sodium:
22
mg
Sugar:
2
g
Vitamin C:
1
mg
Calcium:
33
mg
Also try these strawberry recipes...
Like these Cannoli Stuffed Strawberries? Pin this to your favorite Pinterest board!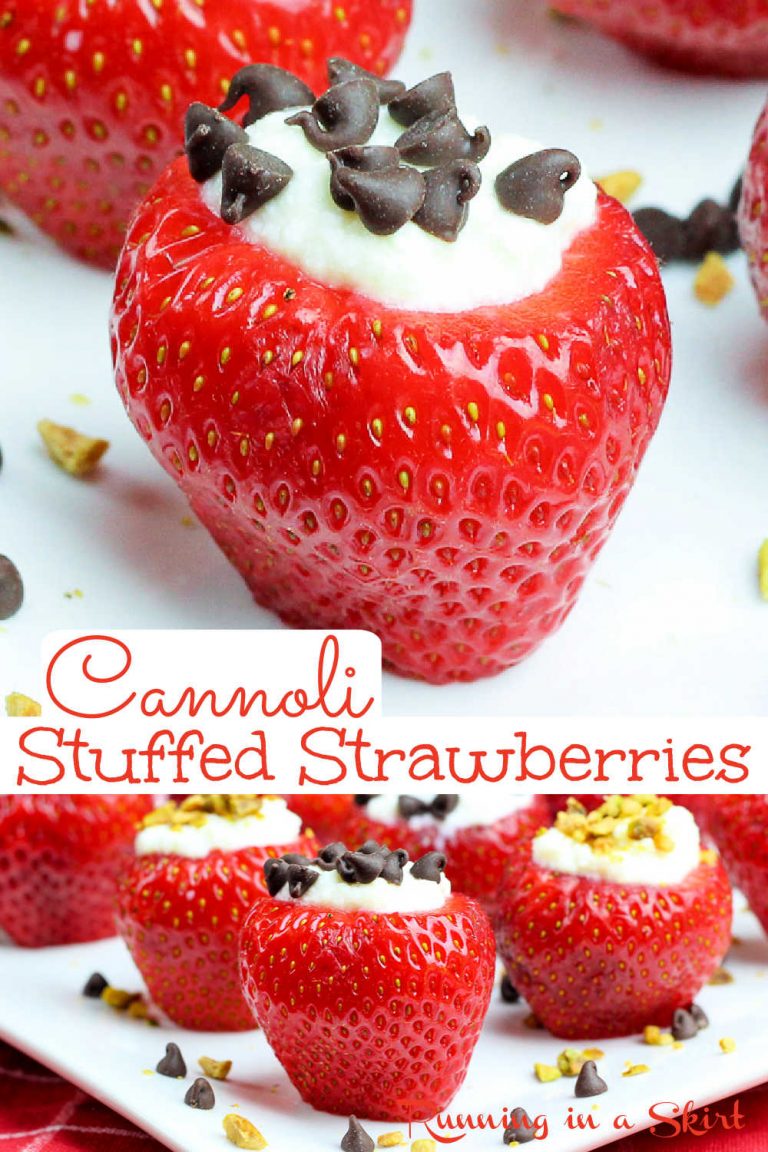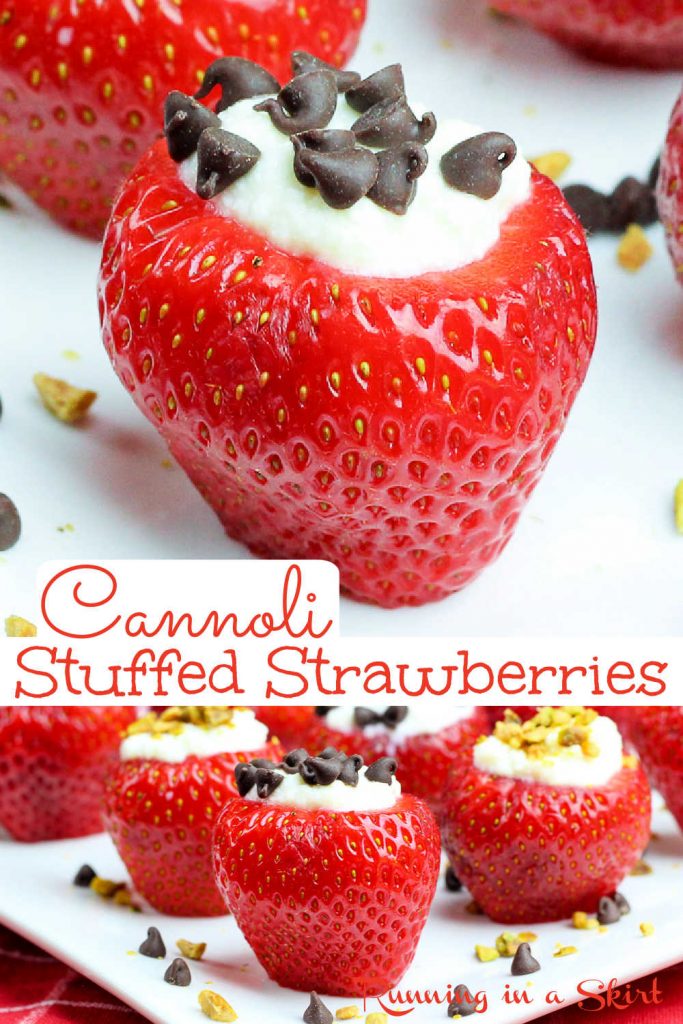 Have a great day and thanks for stopping by! I'll be back tomorrow with a weekly recap.
Your turn!
Do you like healthier desserts or would you rather just have the classic one?