Sandals Grande Antigua is a beautiful resort with a lot to offer guests! After spending a fabulous vacation at the resort, I'm sharing my Sandals Antigua review.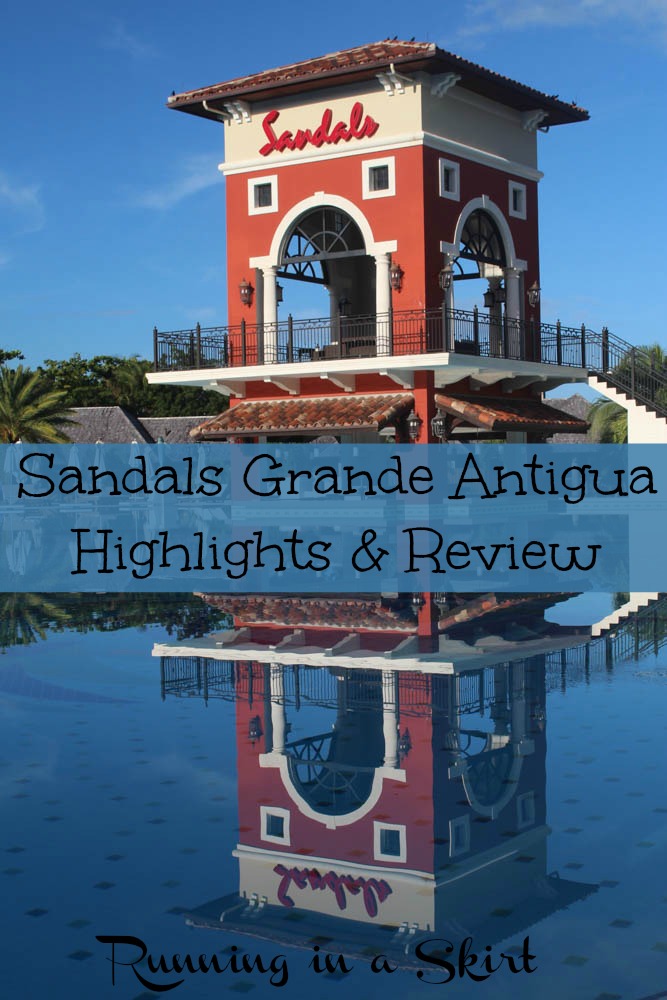 Happy Marvelous Monday! How was your weekend?
I got to actually watch the Super Bowl, which was awesome. I cheered, I laughed, I cried over the Budweiser puppy. Gets me every time!
Going to bed at 6:30 for work every Monday in my old life meant I never actually got stay up and watch the game. And before I worked mornings I worked weekends, so watching the game was a big treat last night.
I hope you guys aren't sick of me talking about how I went to the Caribbean yet. I promise this is the last Antigua post I have planned! I love reading hotel reviews while I am planning trips, so I thought I would write one for anyone considering a trip to Antigua or Sandals Grande Antigua.
And for everyone else, I figured who doesn't like to look at food and beaches? Anyone?
Last one, really 🙂
Sandals Grande Antigua Reviews
Sandals Grande Antigua is a beautiful resort and I had such a great time on our trip! The resort is massive and is divided into two section, the Mediterranean Village side and the Caribbean Grove side. We decided to stay on the Mediterranean side because it was newer and I prefer crisp fresh hotel rooms.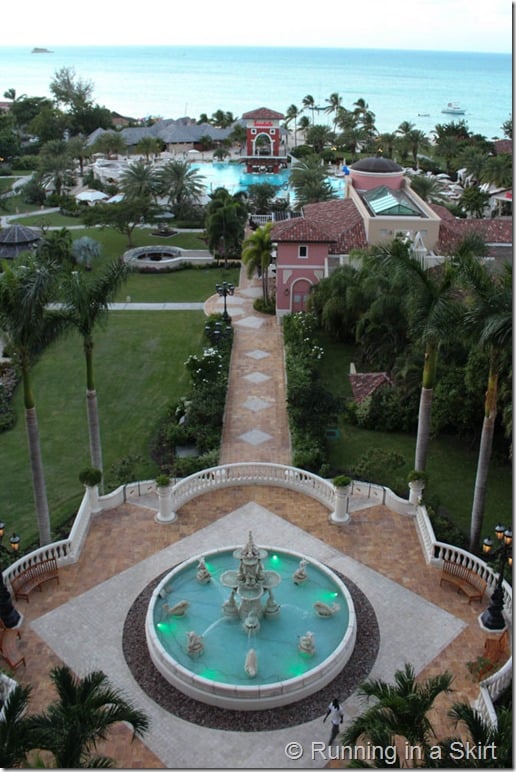 The Mediterranean Village side is home to a giant zero entry pool with the iconic Sandals tower and swim up bar.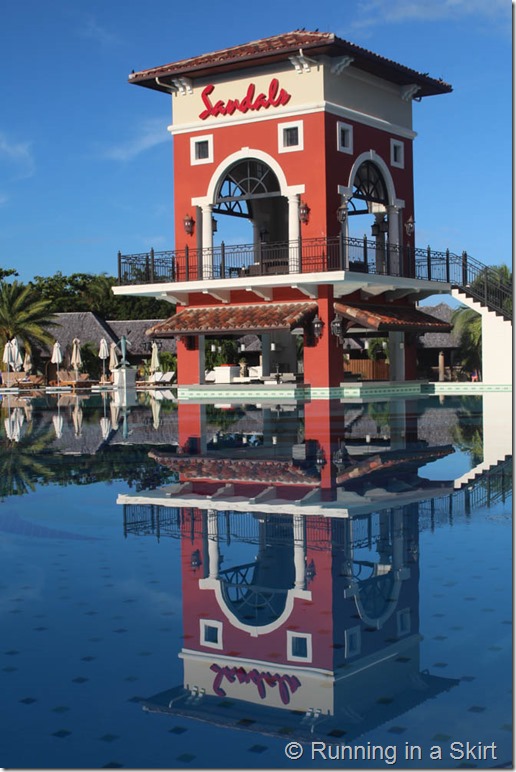 The Caribbean Grove side is older and has been around since before this property was a Sandals. I was actually blown away by how charming it was. The rooms were recently renovated, so they felt just as new inside.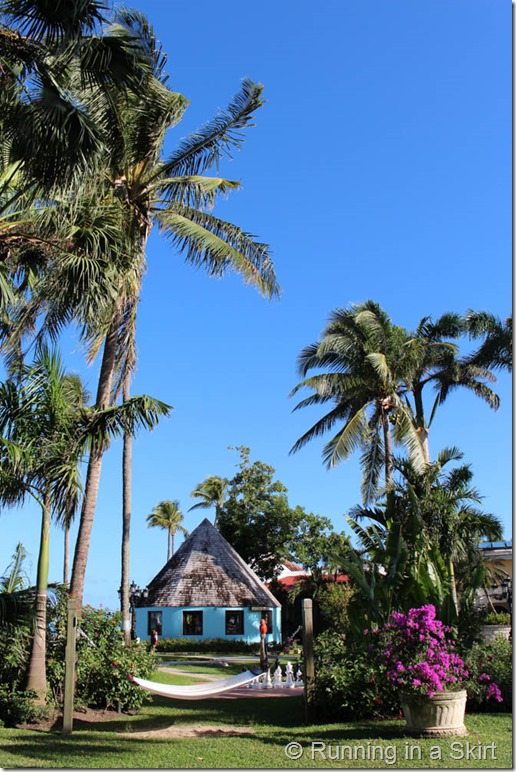 The Caribbean side is home to many smaller pools tucked away in more private corners.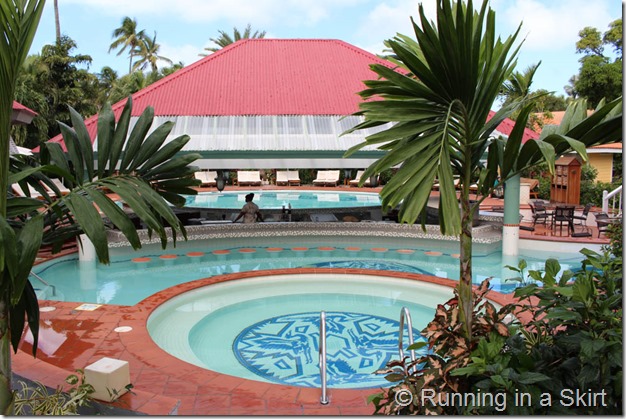 There are plenty of standard looking upgraded old motel-like rooms on this side, but there are also little huts that are brilliantly whimsical.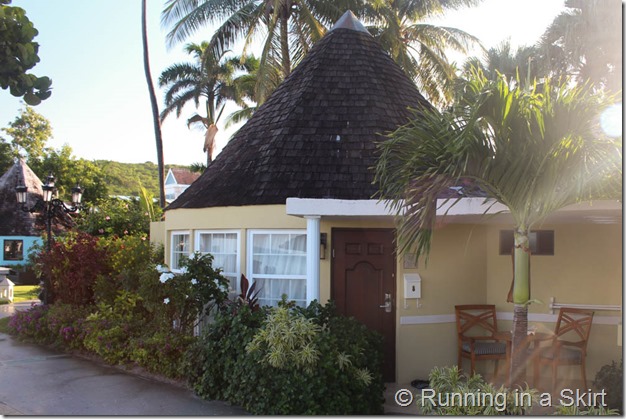 They walk right onto the main pathway that leads out to the beach. I instantly wanted to move into one of these huts and live a happily-ever-after-fairy-tale hut life. I had to settle for finding a large beach umbrella near the huts.
Note: We did have to get up early to claim a chair and umbrella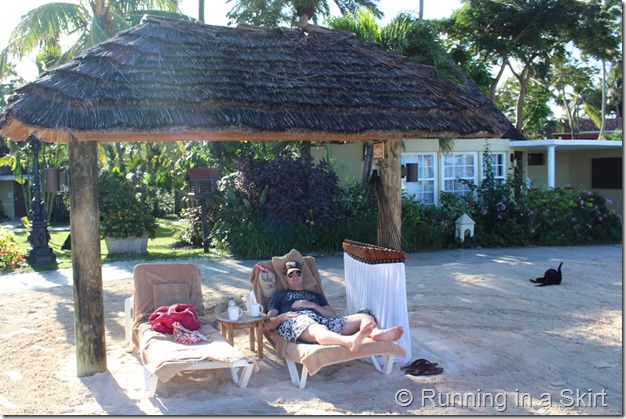 The property is landscaped beautifully and are some of the most amazing grounds I have seen short of Hawaii.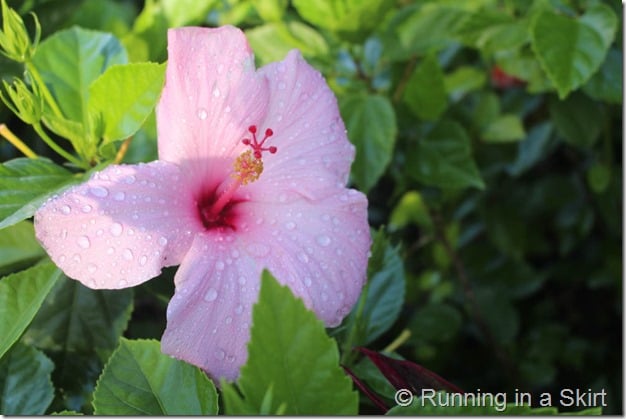 There are little white butterflies everywhere fluttering across the gorgeous grounds. I adore butterflies and just loved watching them. I have a little bit of a hippie heart. Please don't judge 🙂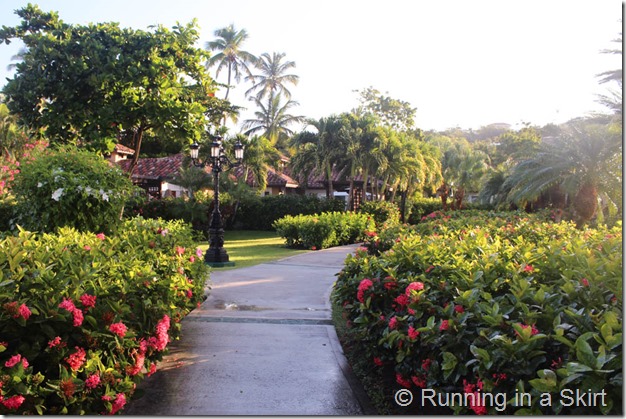 Another thing I adore: Rainbows. This one was seen from our room. I imagine Sandals can't guarantee rainbows along with their fairy tale huts, but I was lucky enough to see two of them while I was there.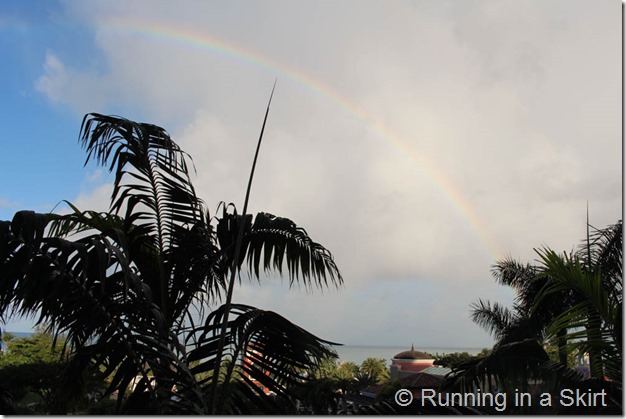 The beach is on Dickenson Bay. The water is very blue and fairly calm. I was told it is normally much calmer than it was while I was there, but regardless it was beautiful.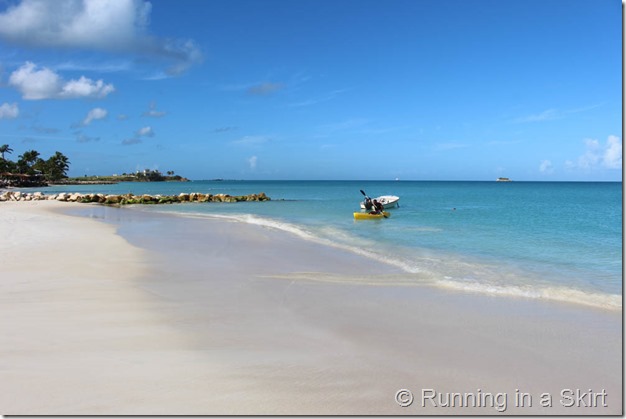 The beach is not private to the resort and is shared with other properties and locals. In Antigua the beach belongs to everybody, which honestly seems only fair. There are many locals walking the beach trying to get you to buy something. If I wasn't interested I said no thank you. I never had a problem and I'm not complaining, but it is something I'm glad I knew about ahead of time.
This is an un-edited picture of what it looked like in the morning before most guests wake up. The chairs get more crowded through the day. I suspect that the break in the sand is not always there and was just because of the "rougher" water.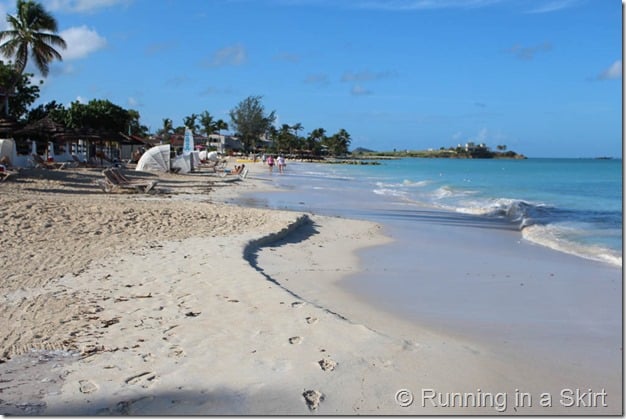 Water sports activities of snorkeling boat trips and scuba are included.
As I mentioned in my last Antigua post, the hubs and I had a great time learning how to sail on this trip.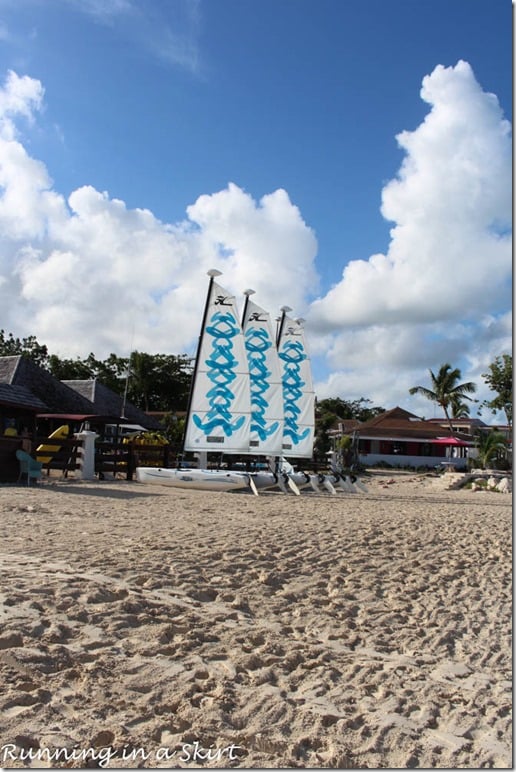 I had a little panic moment the first time we took out the Hobie Cat because I wasn't sure if we would be able to turn the boat around to go back to the shore line. I had visions of becoming castaways... I even named my volleyball. Luckily we figured it out how to maneuver the boat and shear joy replaced my panic within just a few minutes. Short lessons were included and there was a motor boat to come and save you if you had problems, which made me feel much safer.
The hubs loves putting vacation videos together and did this with our GoPro. It is a little slice of heaven on a cold winter day.
[fusion_builder_container hundred_percent="yes" overflow="visible"][fusion_builder_row][fusion_builder_column type="1_1" background_position="left top" background_color="" border_size="" border_color="" border_style="solid" spacing="yes" background_image="" background_repeat="no-repeat" padding="" margin_top="0px" margin_bottom="0px" class="" id="" animation_type="" animation_speed="0.3" animation_direction="left" hide_on_mobile="no" center_content="no" min_height="none"][tube]https://www.youtube.com/watch?v=NDQl2RVSIMA[/tube]
We are by no meals sailing experts, but we had so much fun. This was one of the highlights of our trip!
Another highlight: Sunsets!
The sunset from the far side of the resort is an event by itself.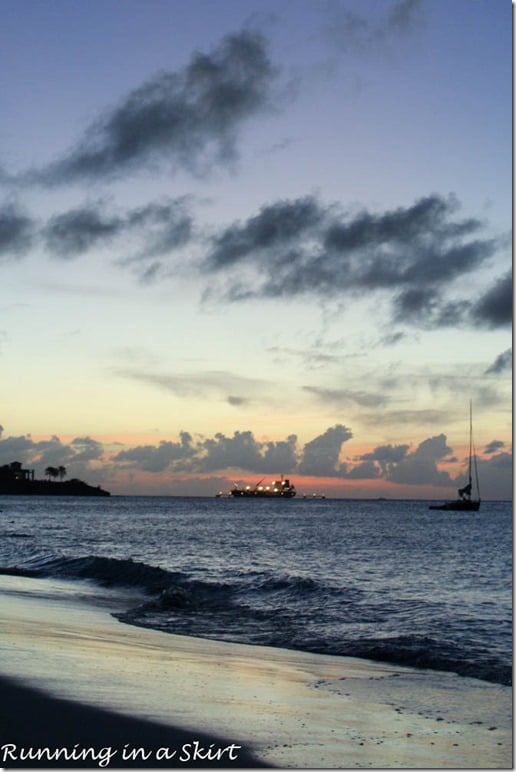 It is really nice that even though the resort was close to capacity, it never felt too crowded. The only problem was it was hard to get beach towels and chairs at the pool or beach. We are early risers so we never had too much trouble but noticed it got much worse pretty quickly. I noticed the "butler level" rooms got reserved towels and chairs.
We stayed in a Mediterranean Club Level Suite. I requested a third level room (highest in category) and that got us a nice ocean view. It was obstructed by some palm trees, but who can complain about that? The views at the tops of the Mediterranean tower were amazing! It just wasn't in our budget to stay there for this trip. I thought I'd include some unedited pictures of the room.
And the bathroom. The Club level concierge decorated the room and bath for our anniversary which was the month before! So nice!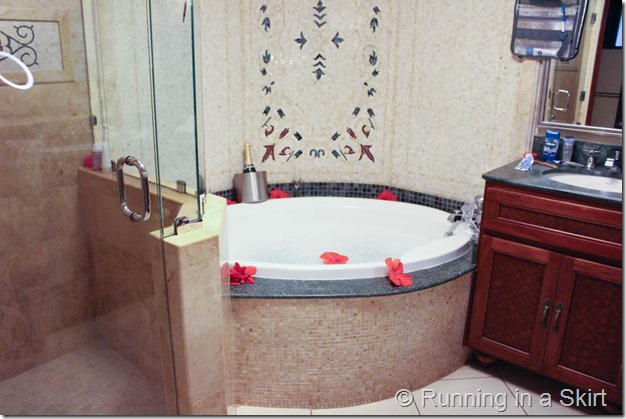 Overall though I was very pleased with the resort. The lush expansive grounds sitting on the beautiful beach won me over and I really enjoyed my time there.
Sandals Grande Antigua Food Review
Before we get into specifics about the food I wanted to show you two pictures that show my favorite part of the restaurants.
Example A: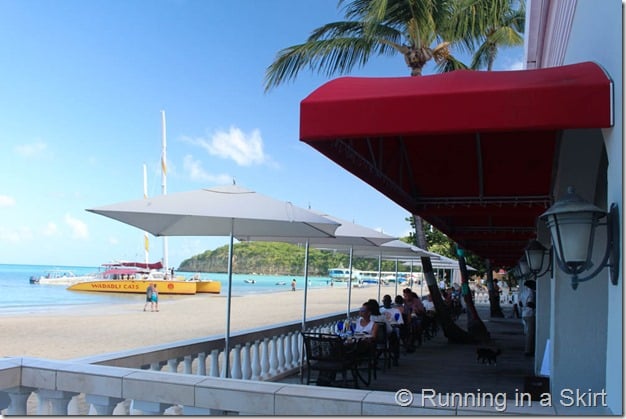 Example B: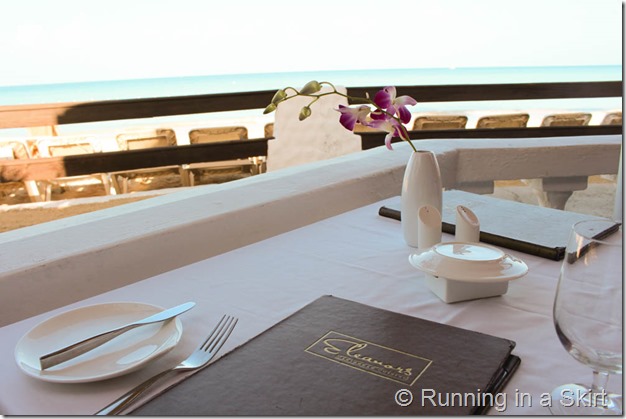 I have such a soft spot in my heart for eating any meal with a water view. It just makes the food taste better! The other part I really loved about the food at Sandals Grande Antigua was I never had to eat at a buffet. You could eat breakfast, lunch and dinner as a sit down meal. I did choose to eat at a buffet a few times, but I really loved knowing that there were other options. There are eleven restaurants on property.
1- Bayside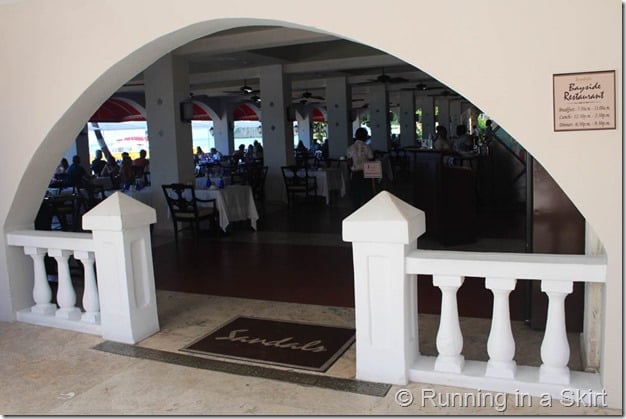 Bayside serves a breakfast and lunch buffet. The breakfast buffet was really tasty here and you can sit right on the water. What a way to start off the day!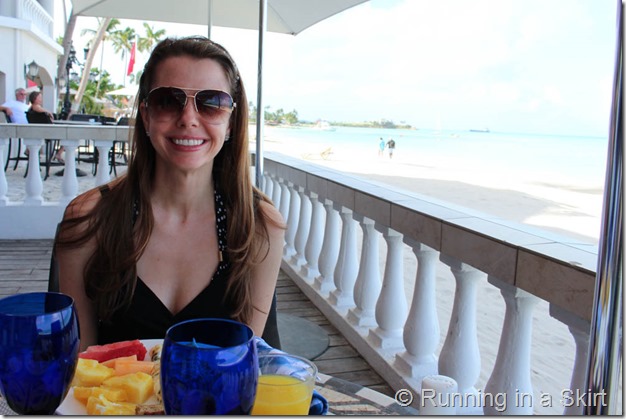 For dinner they serve French food.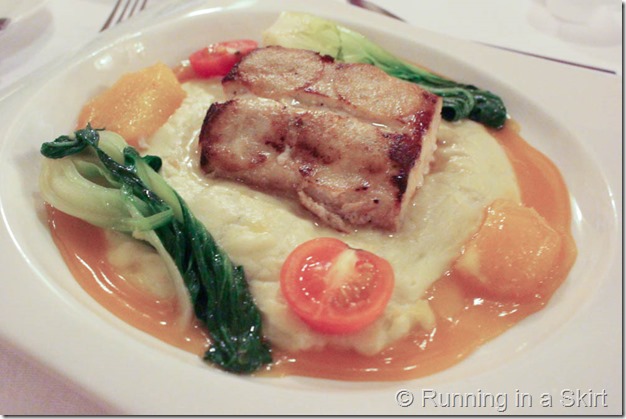 2- Marios

Mario's serves a breakfast buffet and an Italian dinner. The decorations inside make it feel like you were in Italy instead of the Caribbean. The appetizers for dinner are buffet style and the main course is a la carte.
3- Eleanors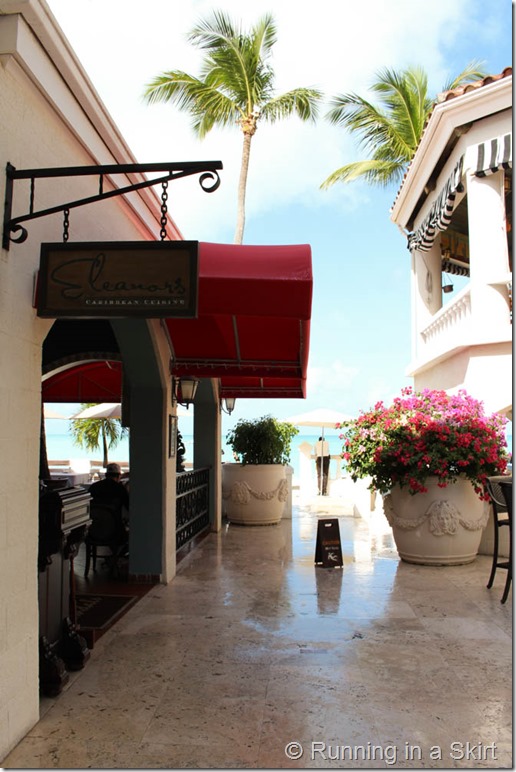 Eleanors is Sandals Grande Antigua's "fancy" restaurant and people dressed up a little more for it. It serves an a la carte breakfast and menu service Caribbean food for dinner.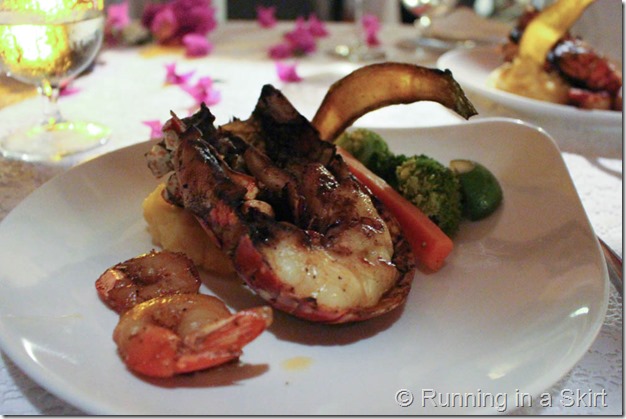 Breakfast at Eleanor's was my favorite!
4- Barefoot by the Sea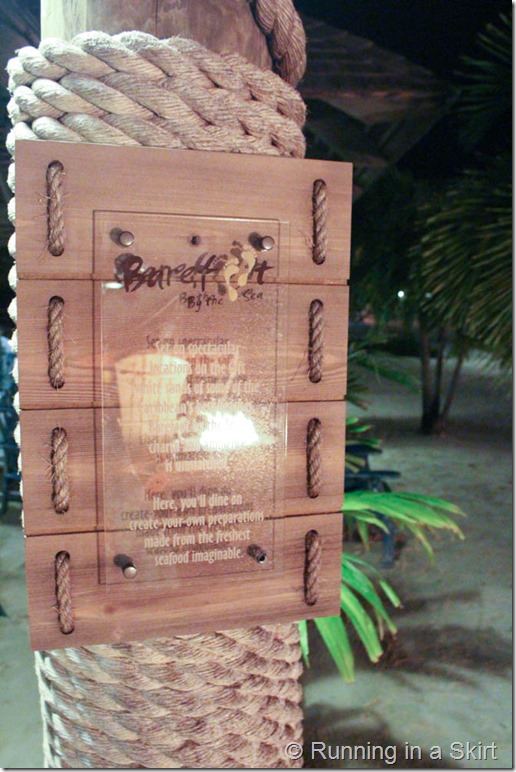 Barefoot by the Sea is literally in the sand. It serves an a la carte lunch and dinner sitting in huge blue Adirondack chairs listening to the water. The dinner really shined here and was the best meal we had in Antigua. I had seared tuna.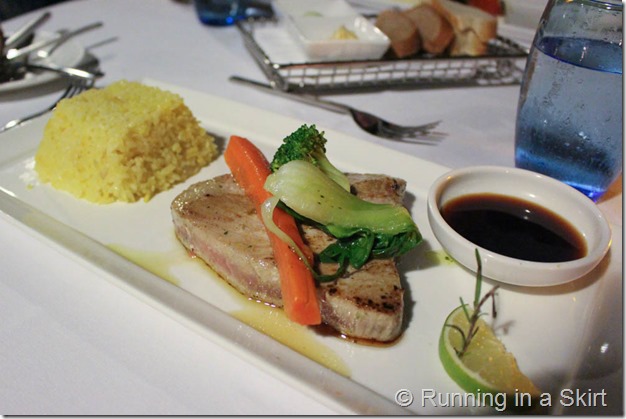 The hubs had Caribbean Lobster. We both liked this lobster more than the one served for dinner at Eleanors because it was served with drawn butter.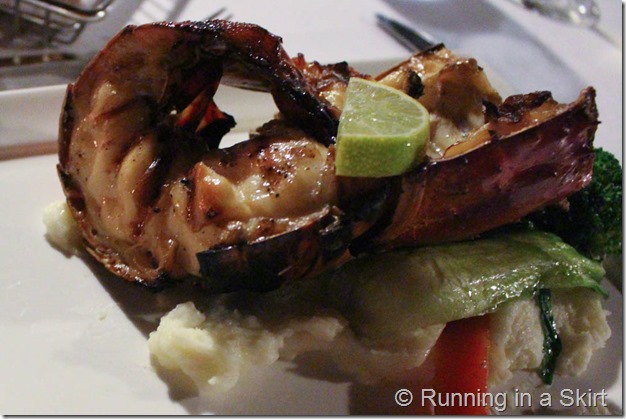 5- Drunken Duck
Drunken Duck opens in the evening serving menu service pub food and drinks. The decor was super fun and made you feel like you were across a different ocean. We didn't eat dinner here because we didn't stay long enough, but the drinks were great. Nuff said.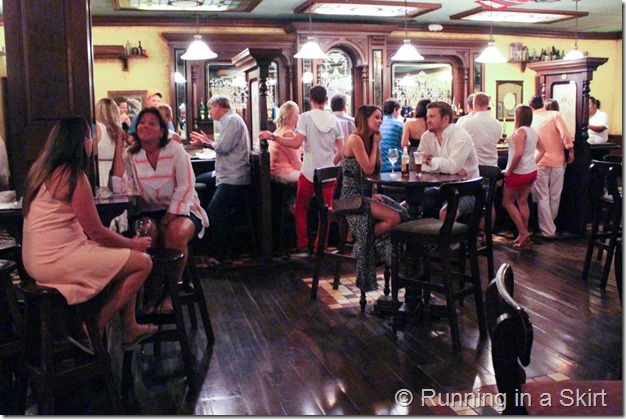 6- Kimonos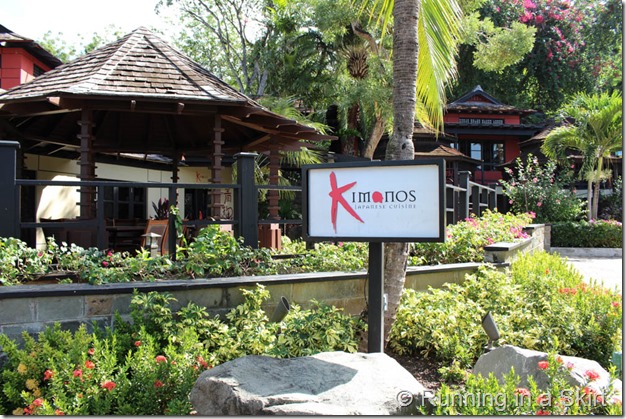 Kimonos is the Japanese cook-in-front of you restaruant serving in dinner. Reservations are required.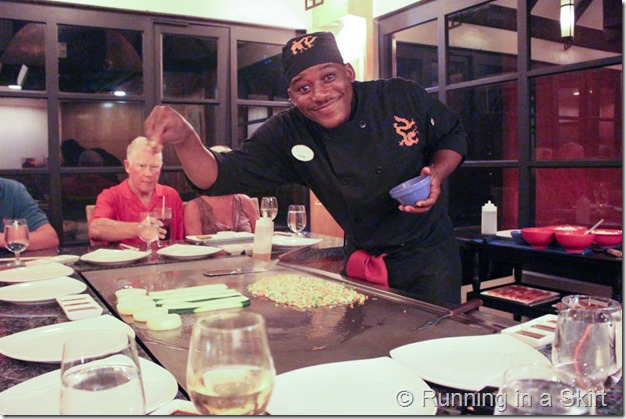 We had a great time here watching the chef prepare the food and talk to our table! The hubs said the steak was the best part of the meal.
7-OK Corral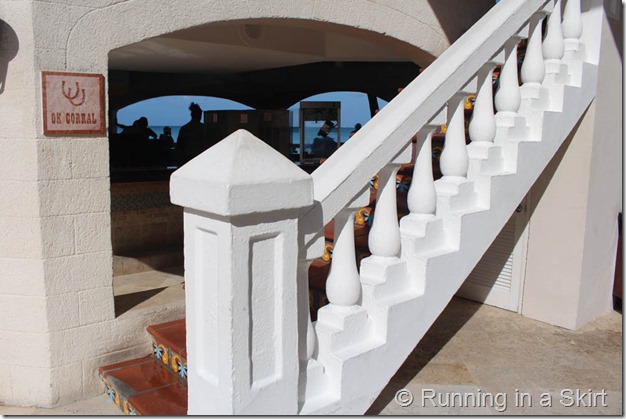 OK Corral is open for a la carte dinner serving tex mex favorites. This restaurant was the surprise of the trip for us! We both loved our meals there. The hubs had a steak and I had Mahi Mahi which was really tasty, fresh and flavorful.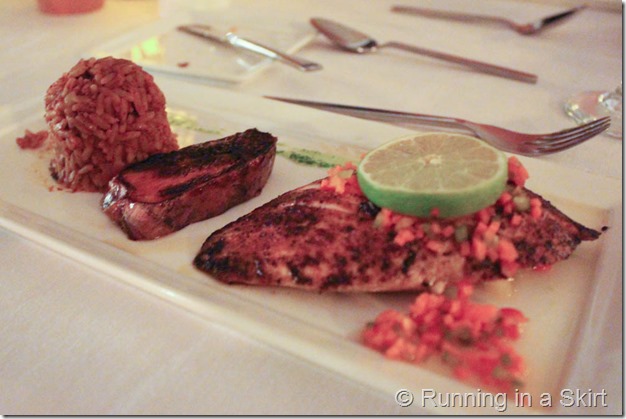 Our server there was also super charming and made the experience even more enjoyable.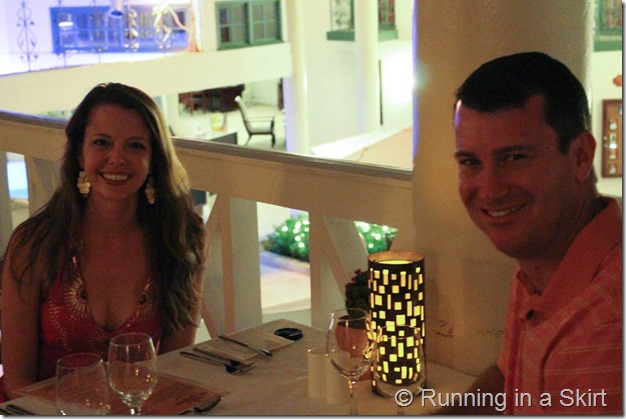 8- Soy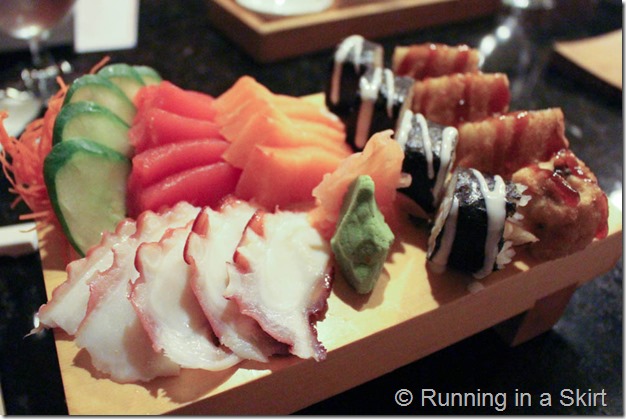 Soy is the sushi restaurant that is sort of attached to Kimonos. It is only open for dinner and is the only place we had to wait for a table.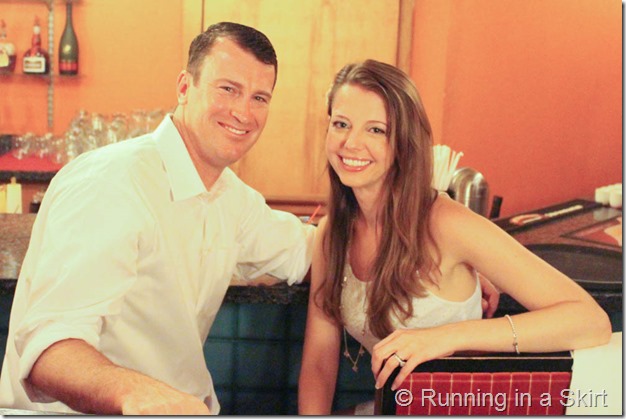 We loved it so much that we actually waited several times and had sushi as an appetizer for our other meals. I was really surprised at how good it tasted!
9- Courtyard Bistro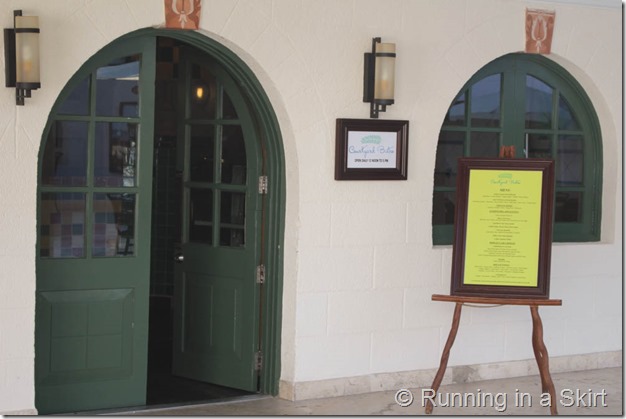 Courtyard Bistro is open for lunch and is counter service. You can take this food with you. It has burgers and such on the menu including a veggie burger.
10- Bella Napoli
Bella Napoli is a pizza place attached to Marios. They make tasty pizzas you eat there or take with you. We had these several times and really enjoyed them. Not super gourmet, but tasty.
11- Cafe de Paris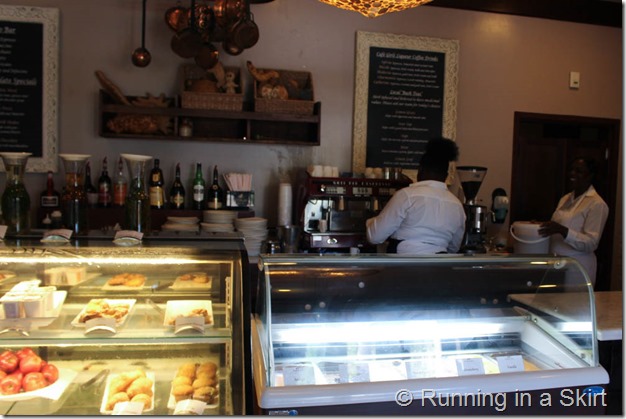 Cafe de Paris is a charming "French" bistro cafe. They served a continental breakfast, snacks (including ice cream!) dessert and coffee throughout the day. We were constantly so full from all the other food that I didn't eat here as much as I would have liked, but I did really enjoy the ice cream.
Out of all the all-inclusive resorts I have been too, Sandals by far has the best food. We had some really awesome meals like sushi at Soy, dinner at OK Corral and dinner at Barefoot by the Sea. The rest of the food was good. Sometimes the food was not exactly what was represented on the menu. It's not exactly the same as what you would expect at home. I suspect it's because the food has to be shipped onto the island. Regardless though we enjoyed all of the choices and felt like we ate really well after our stay at Sandals. We would definitely go back! My advice would be to go with an open mind.
Thoughts on Sandals Grande Antigua
I have traveled quite a bit through the Caribbean and Mexico through both cruises and staying on the resorts. One thing that has been on my bucket list for years though is to go to a Sandals Resort. My entire life I have seen the commercials of couples frolicking in the sand, eating, drinking and having (as the commercial says) the time of their lives. I'm a sucker for a good ad campaign and I wanted to go.
I had a delightful time on this trip. Little things like butterflies, beaches, flowers, rainbows and sunsets make me blissfully happy. This resort tops my list in the Caribbean and I would love to return sometime.
Other Antigua Posts:
And of course, have a Marvelous Monday! Thanks for the linkup Katie.
Your turn!
Have you been to the Caribbean?
Anyone else been to Antigua?[/fusion_builder_column][/fusion_builder_row][/fusion_builder_container]