Hi everyone!
I hope everyone had a nice week. Mine has been challenging since I'm still having a lot of chest/rib pain, but I tried to make the most of it in between my stints on the couch. The highlights of the week aren't flashy, but I thought I'd still share them with you anyway.
Bathroom Remodel Tour
My master bathroom remodel is FINALLY done! The Hubs hung the last thing on the wall this week. The contractors finished in March days before we started our pregnancy journey, but it has taken me this long to finish all the decor details. There has been so much other stuff going on that it's been hard to make time for this but I was determined to be done before the twins arrived. I also got stuck on a few key elements in the room and took my time to find something I actually liked. I've promised Y'all a tour for forever and it's finally ready.
Here's the main sink area.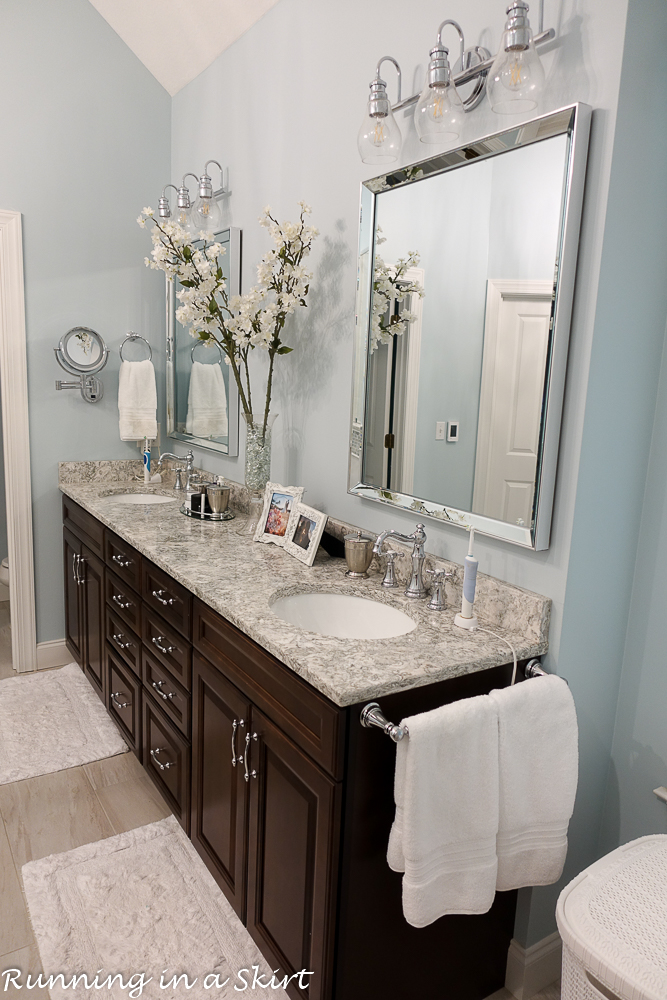 The lighting fixtures have these little bubbles in them that look like sparkles. The counters also have a sparkle in them, which makes my heart happy. I also adore my built-in lighted makeup mirror hung exactly to my height. And yes... the belly got HUGE this week.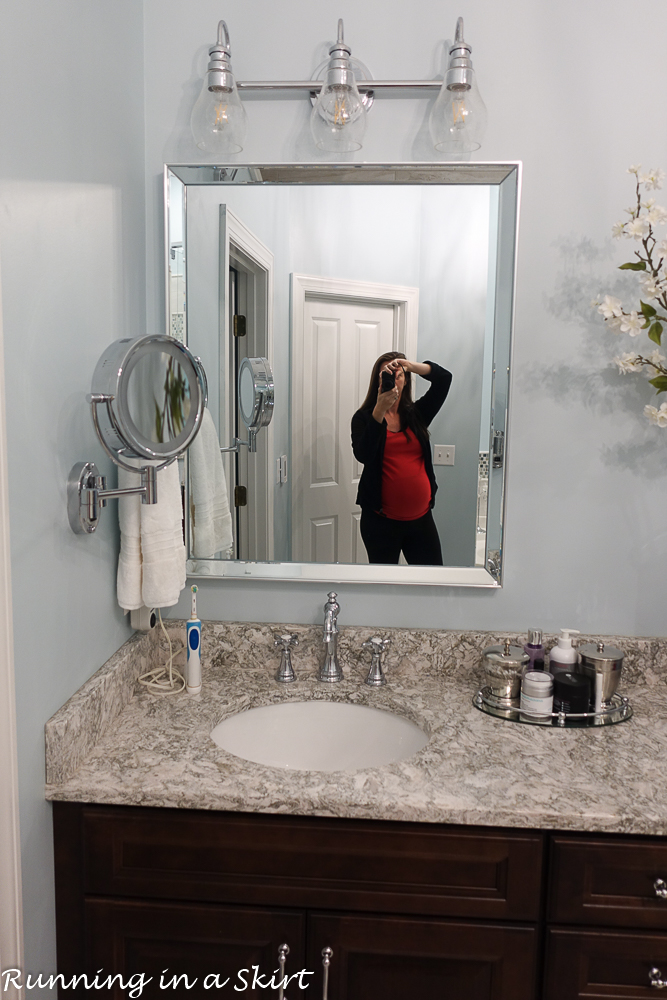 The chandelier was actually something I had picked out for the old bathroom but loved so much I left it.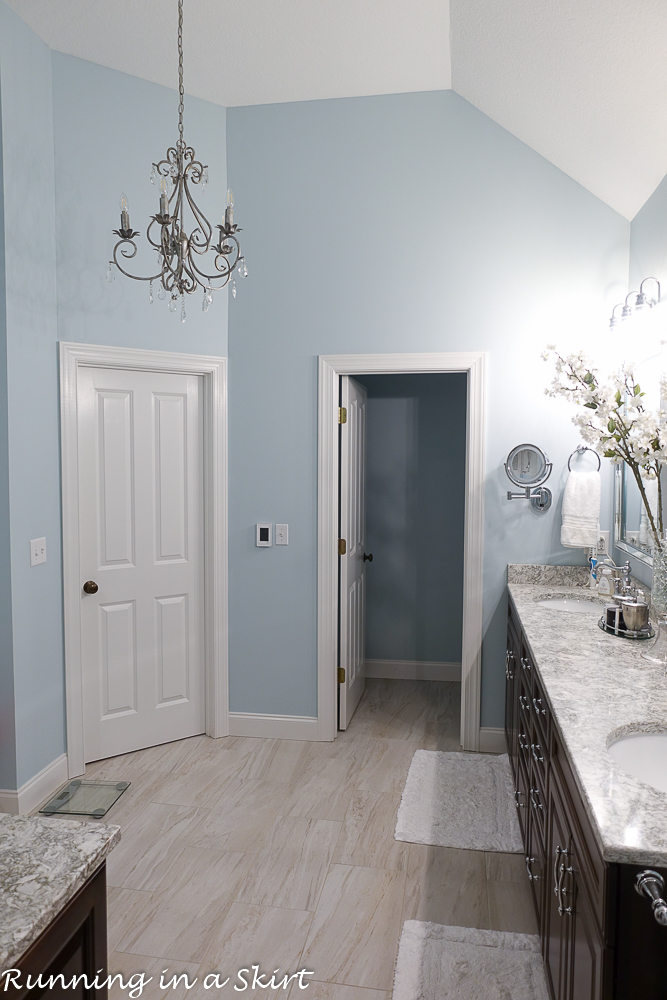 Behind the door is the laundry area. Finding these laundry hampers was one of the two things holding up officially finishing the bathroom. I had a terrible time finding three white hampers that looked decent, had a lid and would fit in this space. These aren't exactly what I had dreamed of, but with the twins coming I finally gave up and just got these. They are definitely growing on me! We organize laundry in lights, darks and special care here.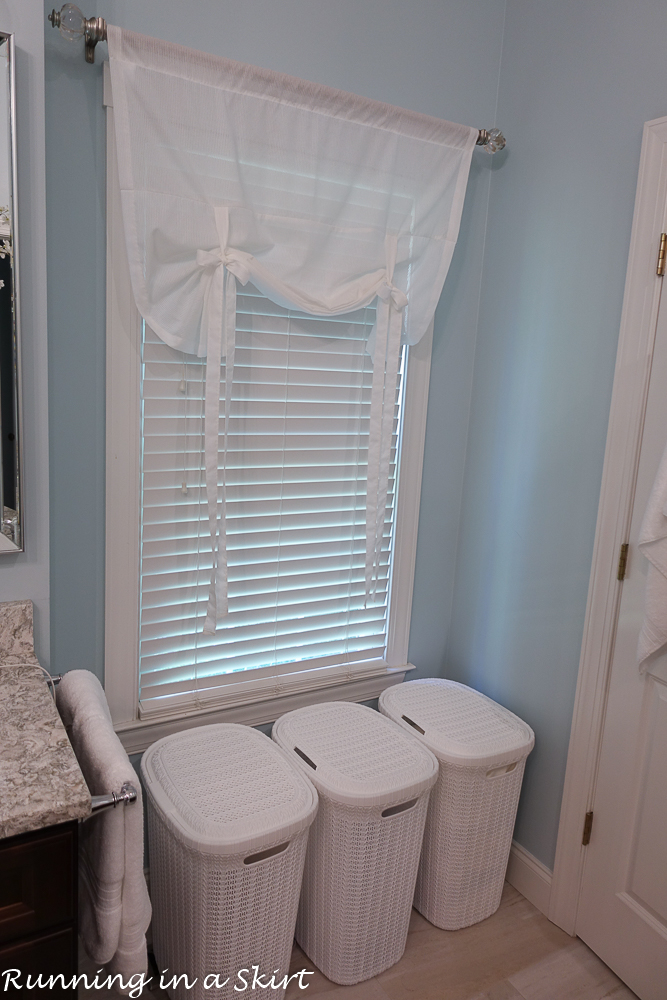 The old bathroom actually had a larger shower with walls that came out to where this cabinet is. The shower was actually way too big so we reduced the size and gained space for the second cabinet area. I don't have a linen closet in the bathroom so this is perfect for our towels and extra toiletries.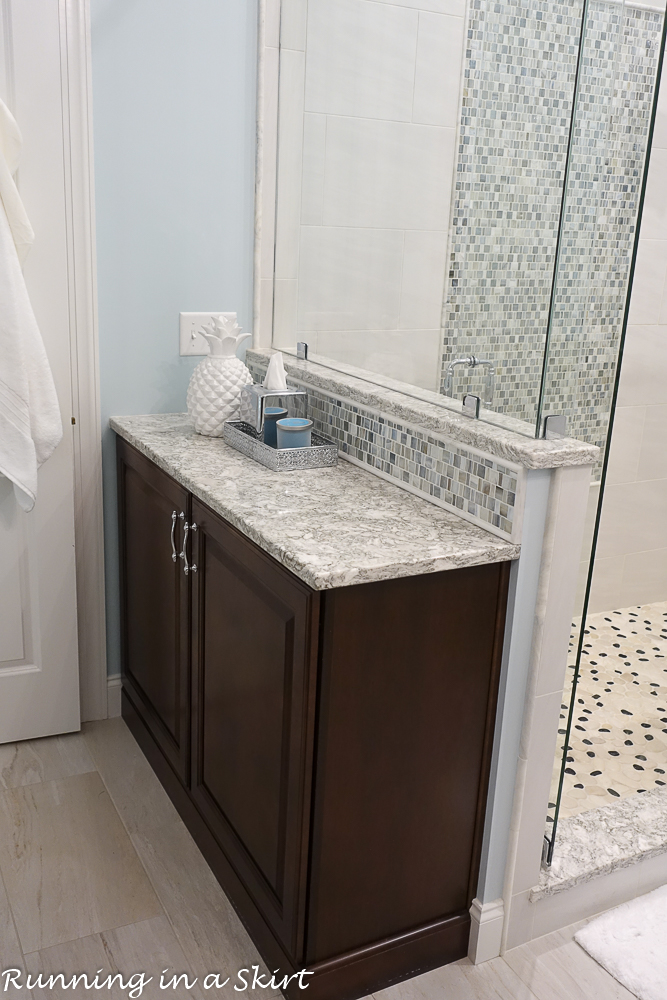 This pineapple is one of my favorite parts of the bathroom! Our contractor also added a nice charging station here for us.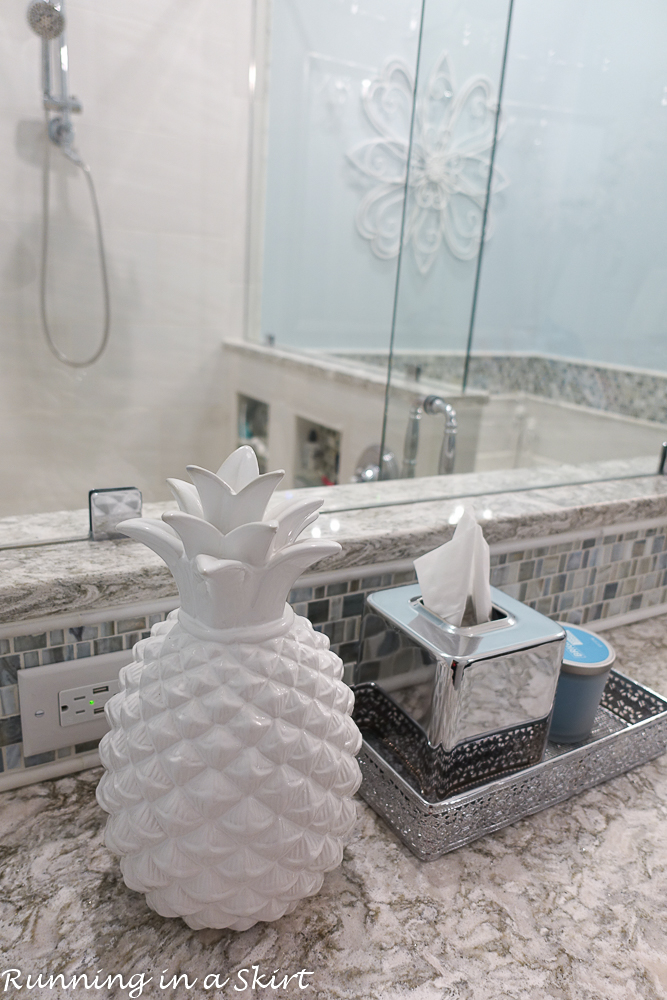 The other decor item holding up finishing this space was this piece over the tub. I looked forever for something that would work but couldn't find something large enough AND that wasn't distressed. I like the distressed look, but it just didn't fit this space. After looking FOREVER I ended up getting this at Hobby Lobby. It was slightly creamier and distressed but I had the Hubs paint it with glossy white spray paint. It turned out perfect.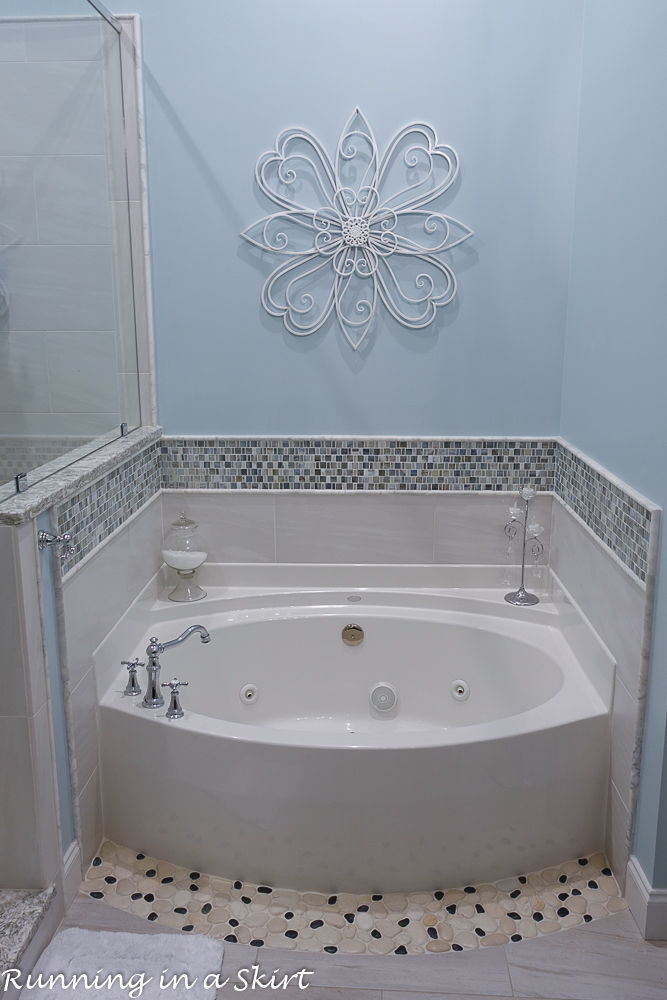 The shower is so much nicer now! It used to have regular walls instead of glass and two terrible shower heads. Now it's just big enough and has a rain head and regular shower head. The floor is pebble.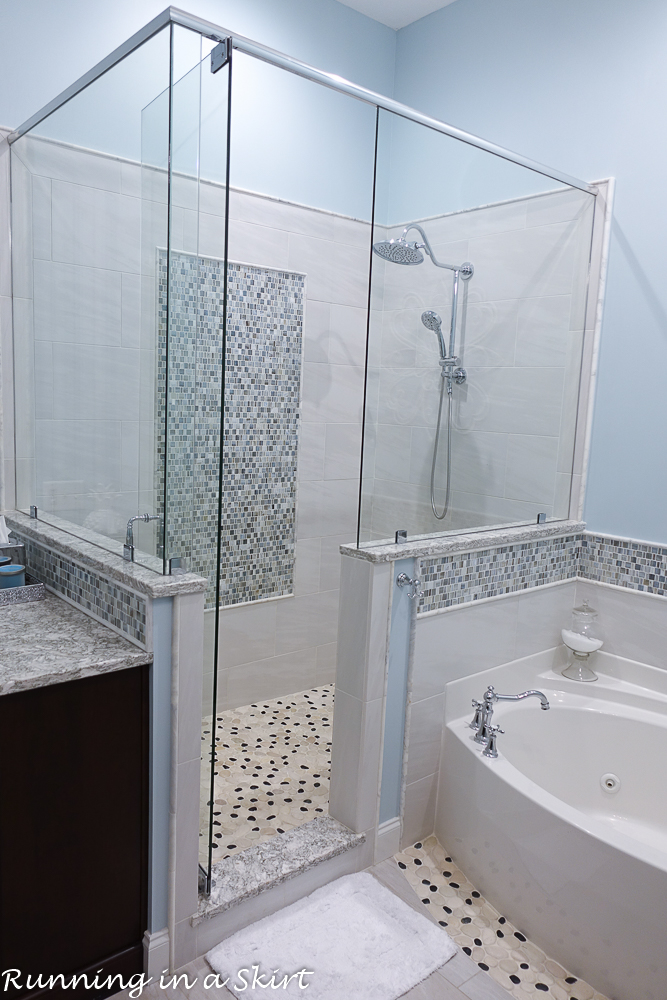 Some of my favorite little details in the room are these hidden nooks to hold all the ugly shower stuff. I also love that our contractor suggested putting the fixture to turn on the water right by the shower door so you don't have to get wet when you turn on the shower while waiting for it to warm up.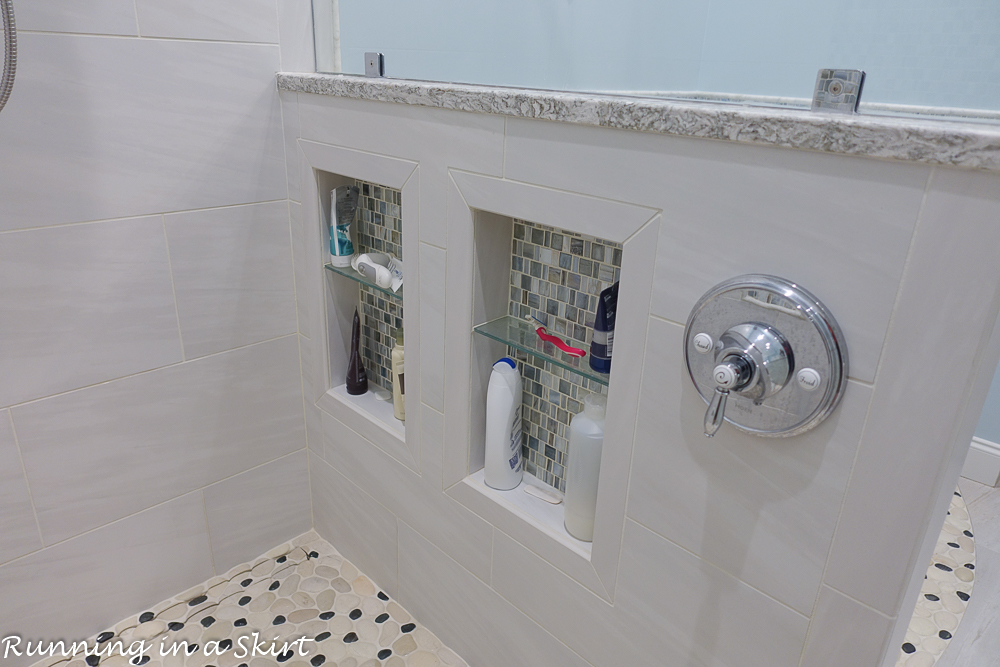 I also am obsessed with our fixtures!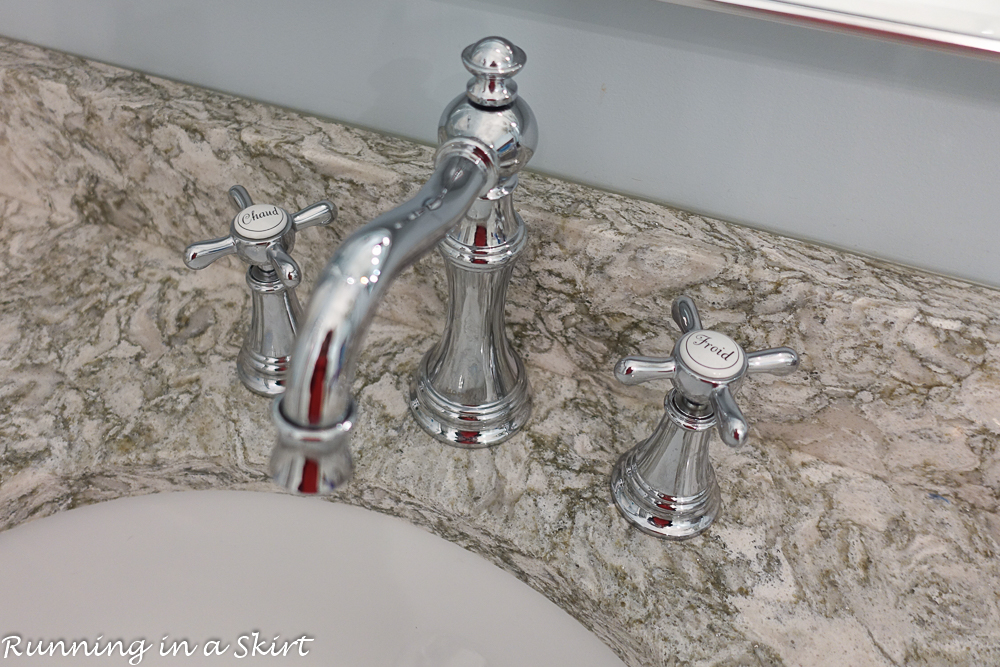 They came with English and French labels for hot and cold, so I picked French just for fun!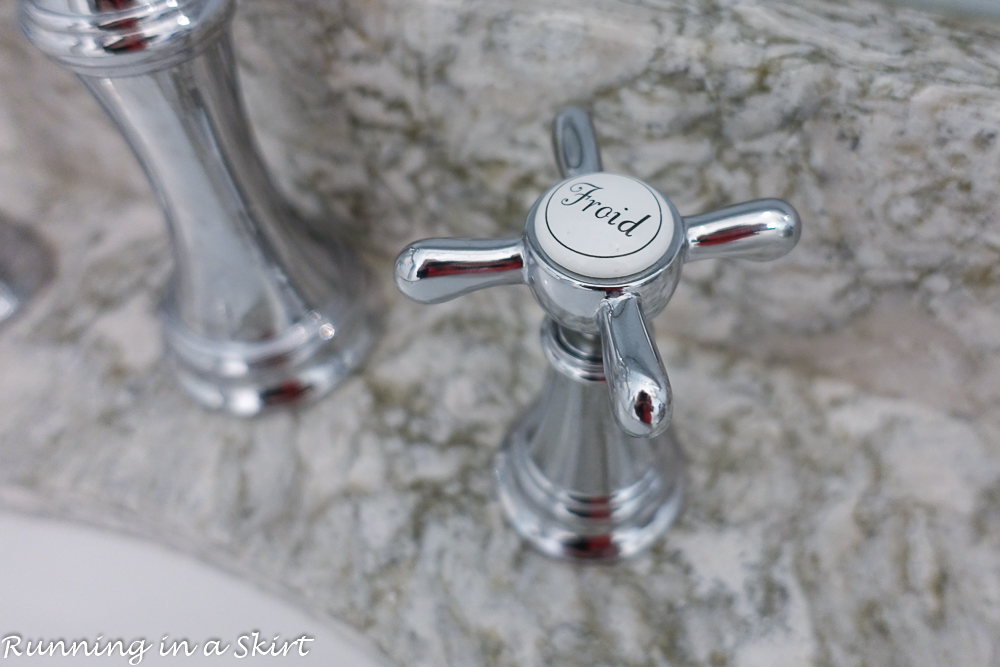 AND I also love this super useful towel hook that is right outside the door of the shower.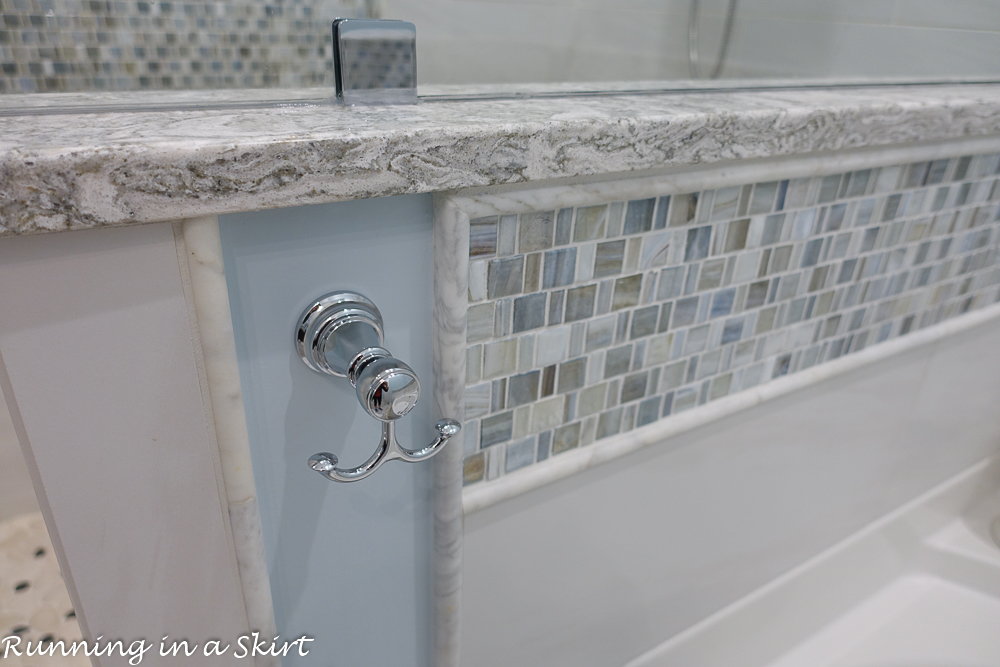 So that's the new bathroom! This was my first remodel project ever and while I love the way it turned out the process was exhausting. I've decided it's not something I enjoy or am good at so it might be a long time before we tackle another room in the house. 🙂 A year and half after the shower started leaking into the basement, I'm so glad it's finally done!
ALDI Little Journey Basket
My friends at ALDI have been so excited and sweet about the upcoming arrival of the twins. They sent me a basket of goodies from their baby line, Little Journey to try. They have everything from diapers, wipes, baby wash, and baby food.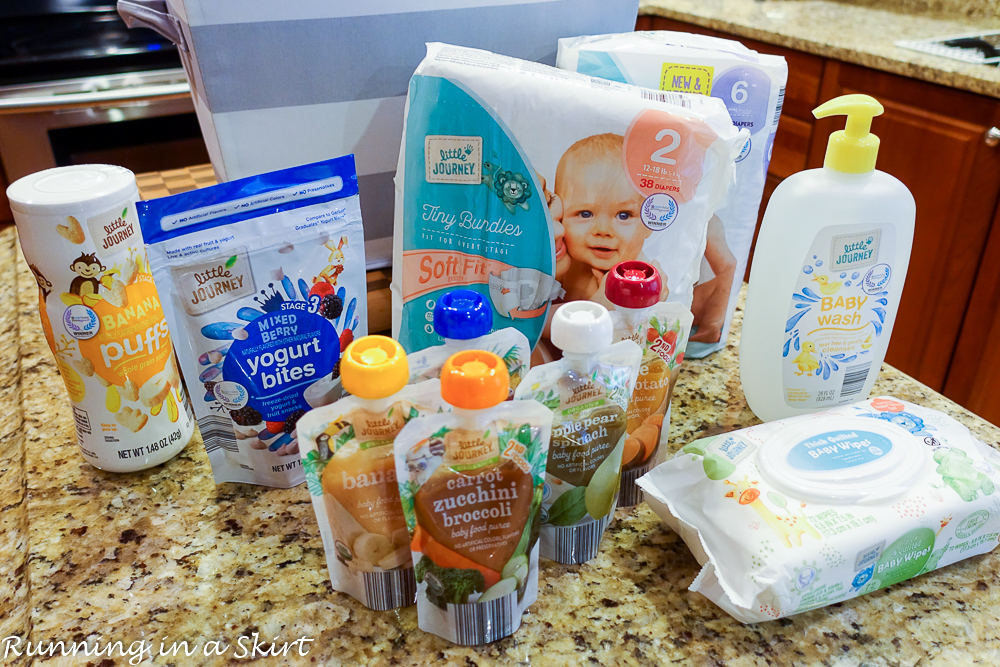 One of my friends RAVED to me about ALDI diapers, so I'm looking forward to trying out their brand... especially since it is at such a good price point! I've actually used their wipes before and really like them. I keep some by the door to wipe Makena's feet off if she happens to get in some mud when she's outside.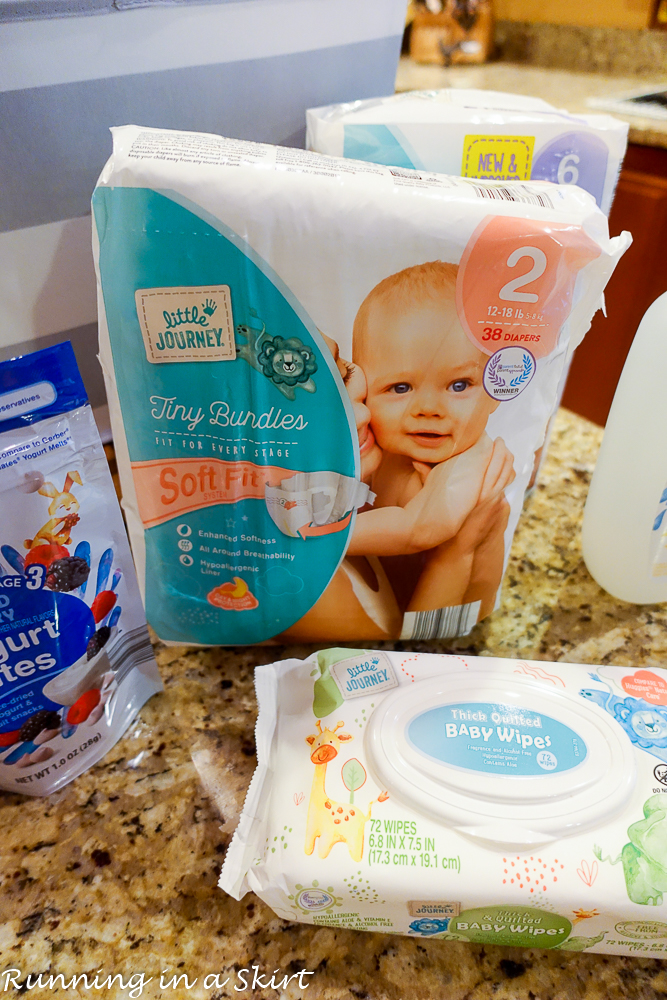 They also carry organic baby food with no artificial colors or flavors.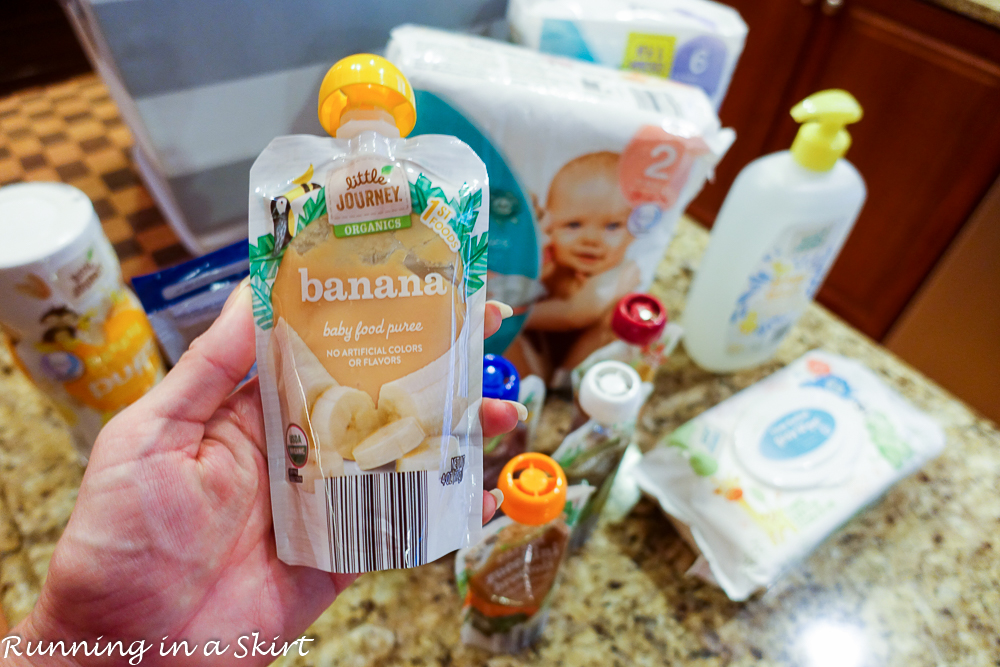 I have come to LOVE their other store brands and can't wait to try this new to me line.
Favorite Eats
I haven't felt much like cooking or going out to eat (it hurts to sit in a chair,) but I did get out a few times this week to get some fresh air!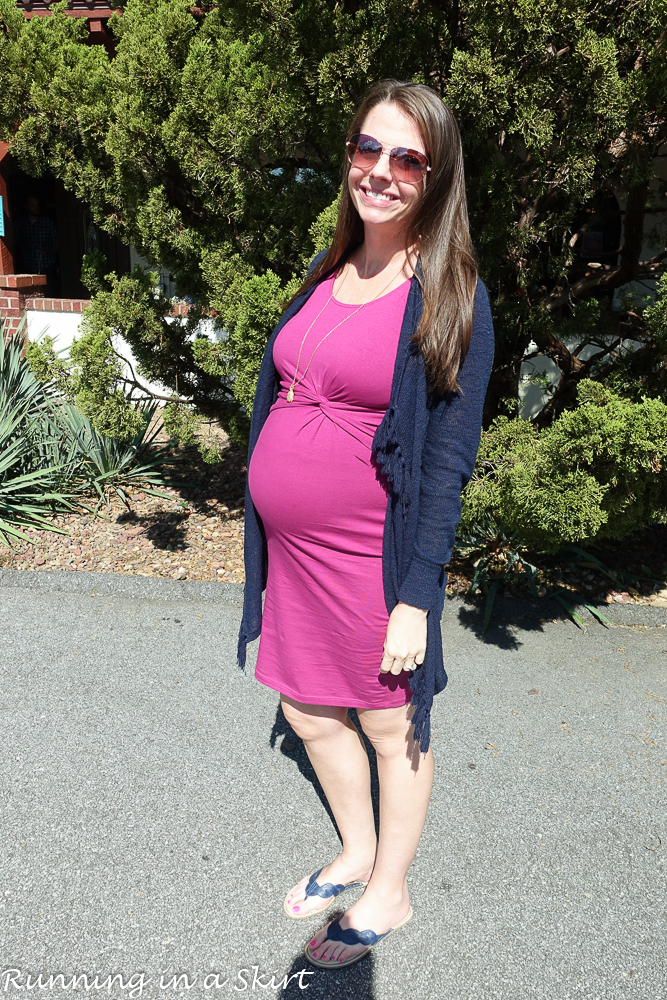 I had two doctors appointments this week. They both went good and I'll share the details in my pregnancy update next week. Before one of them, the Hubs and I got tacos at Zia Taqueria. They were tasty!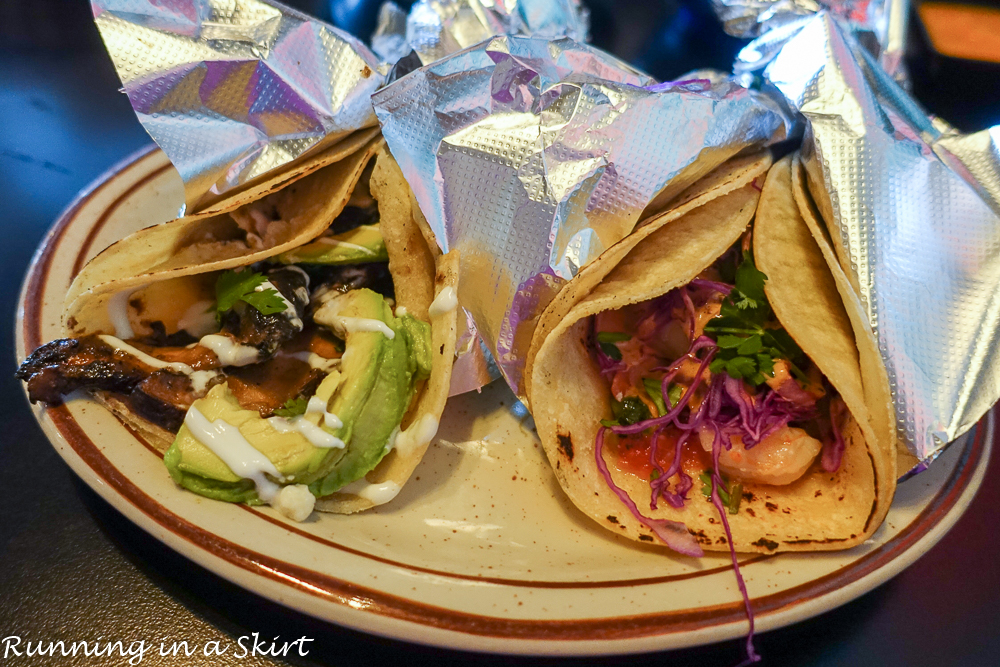 Over the weekend the Hubs made me the first Pumpkin Pancakes of the season.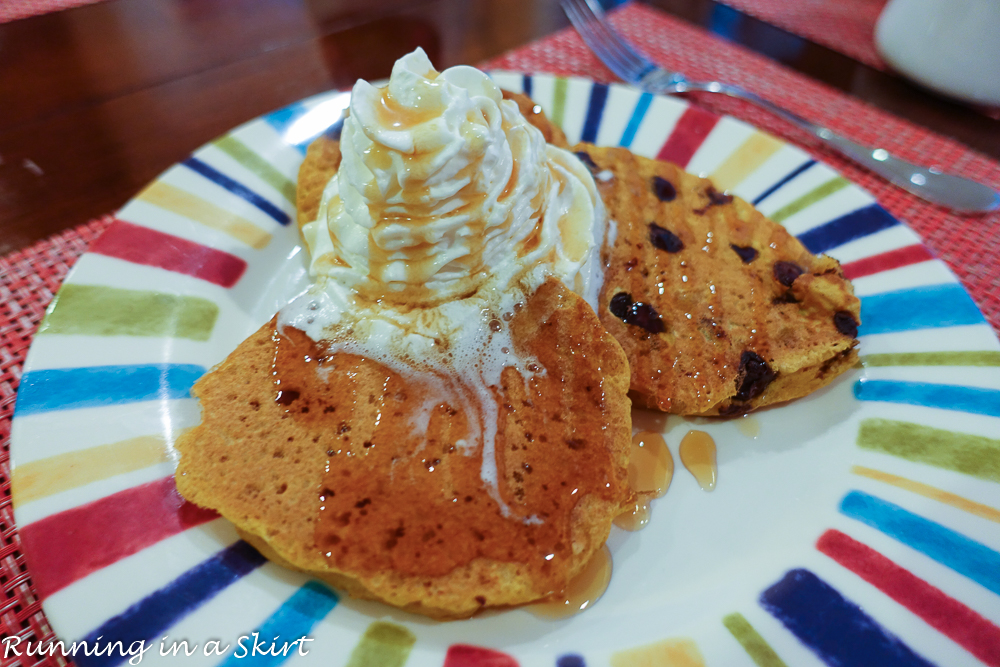 I also got my first Pumpkin Spice Latte of the season. I'm not obsessed with them but enjoy a few every year.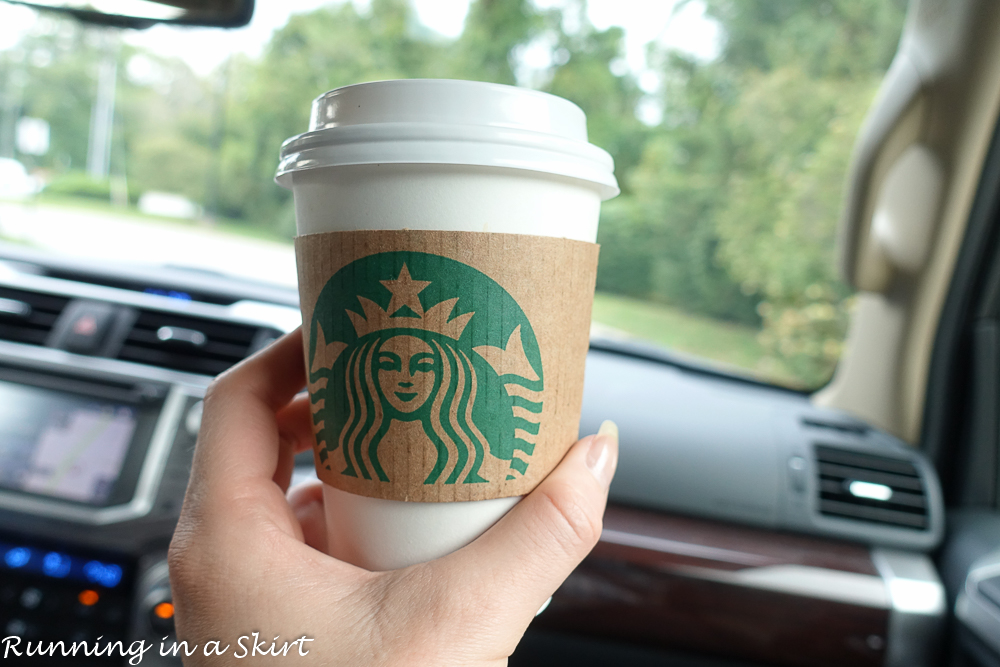 My favorite dinner was at Farm and Fender Cafe. It was a perfect meal because they have counter service so it went by fast. The food was also incredible. These crab cakes totally hit the spot.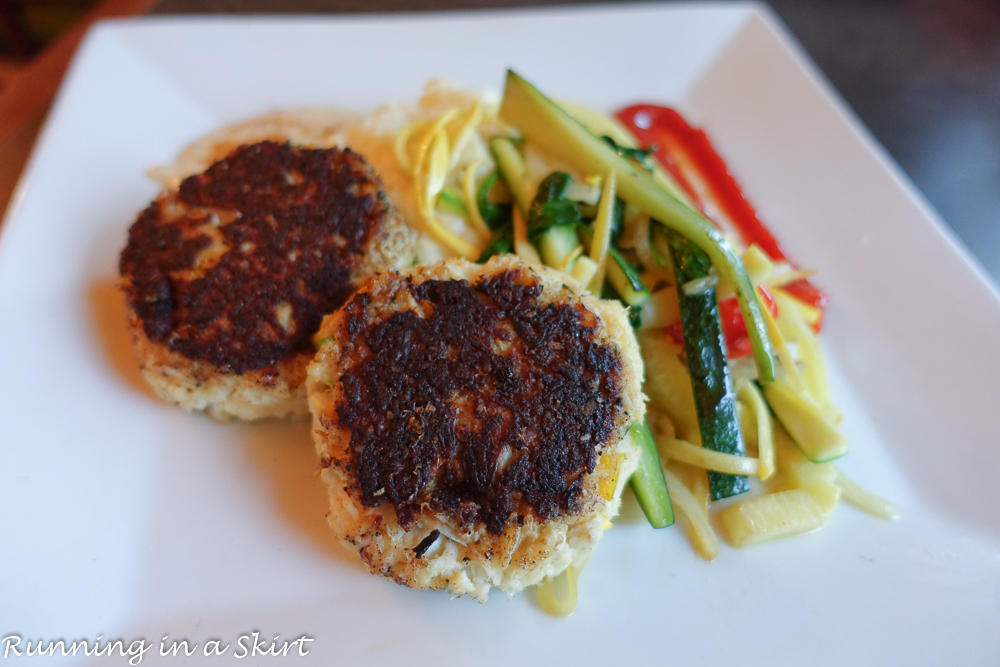 Before my other doctor's appointment, I knew I hadn't had enough veggies over the last few days so I stopped for a huge salad at Green Sage.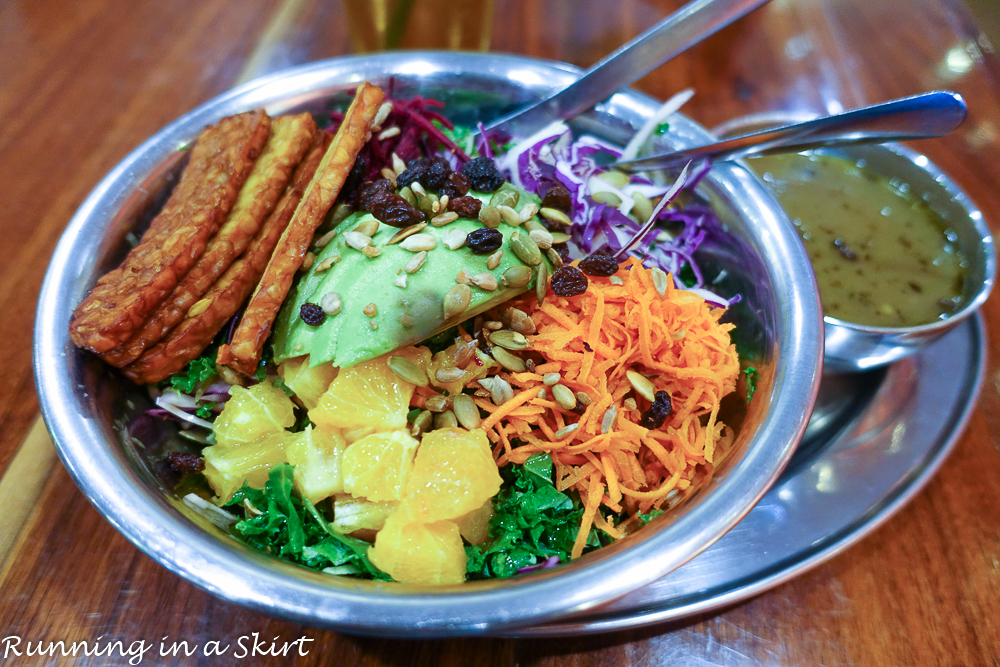 I also made a batch of my Vegetarian Crock Pot Taco Soup which was about as complicated as my cooking got this week!
Twin Flight Suits
And finally, on a totally random but adorable note, I got a package from my Aunt and Cousin the other day. They found these flight jacket outfits for the boys.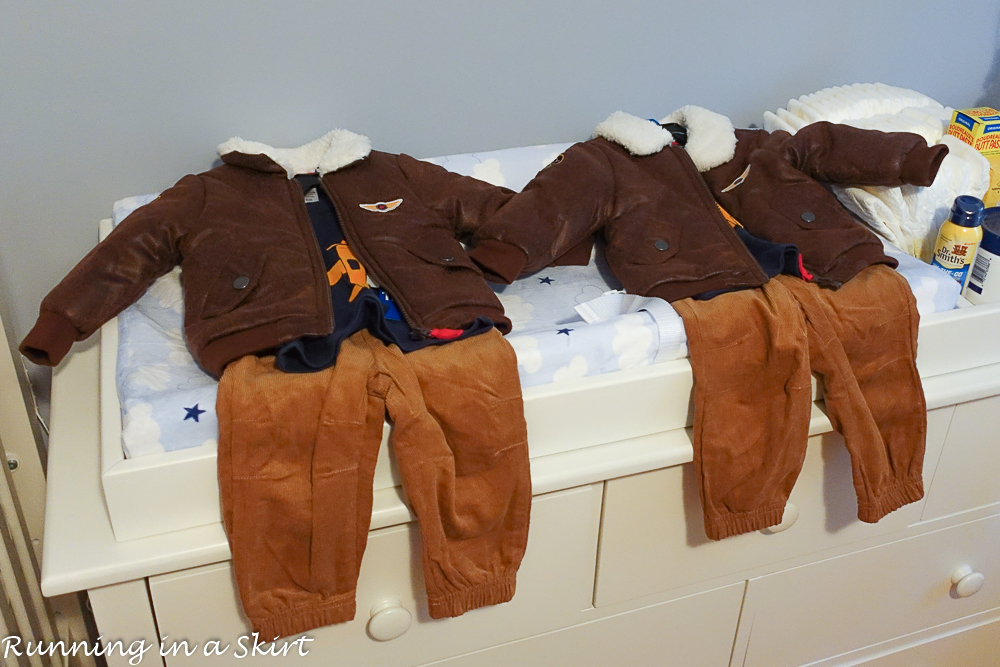 They are so cute and these totally made our day. They will be perfect for early next winter and I can't wait to see how cute they'll be in them!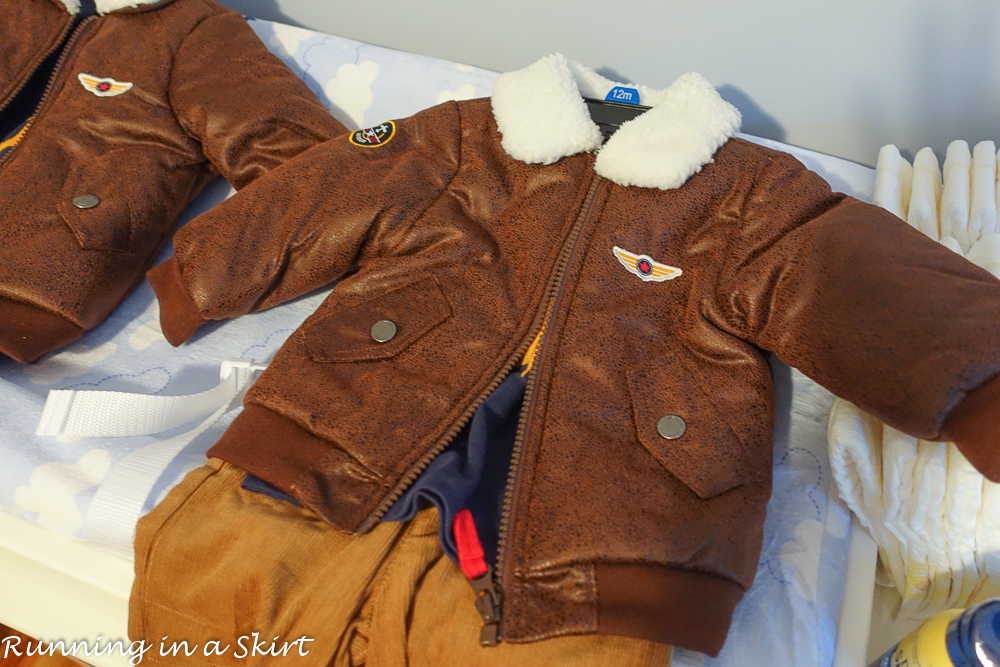 On the Blog This Week...
That's about all for this week! Not the most exciting week ever, but that's ok. I hope Y'all have a wonderful weekend planned. I'll see you back here Monday for a brand new recipe!
Your turn!
How was your week?