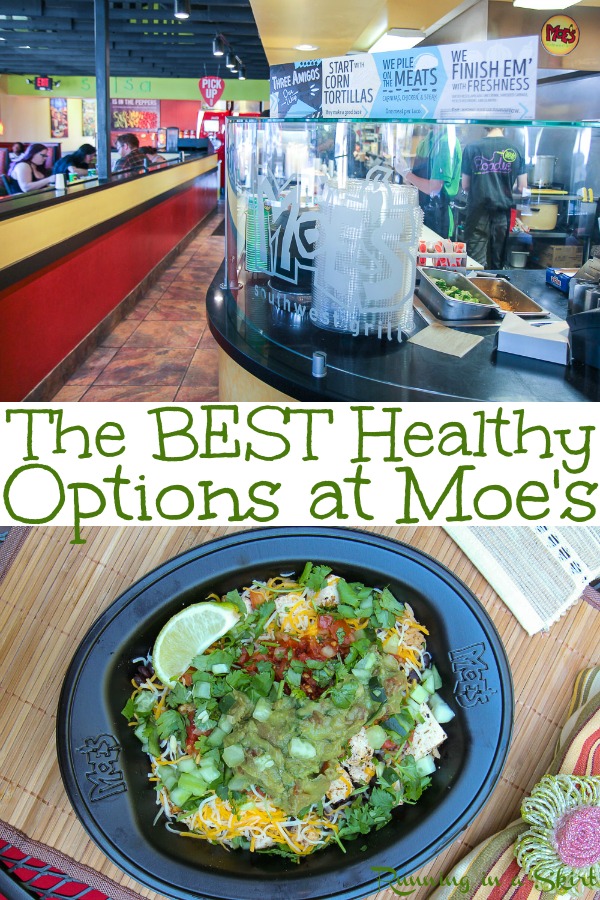 Need some fast and healthy takeout!? Check out my favorite Moe's vegetarian options and how the restaurant can accommodate ANY diet!
This post is sponsored by my friends at Moe's Southwest Grill; however, all thoughts and opinions are my own. Thanks for considering supporting companies who support Running in a Skirt.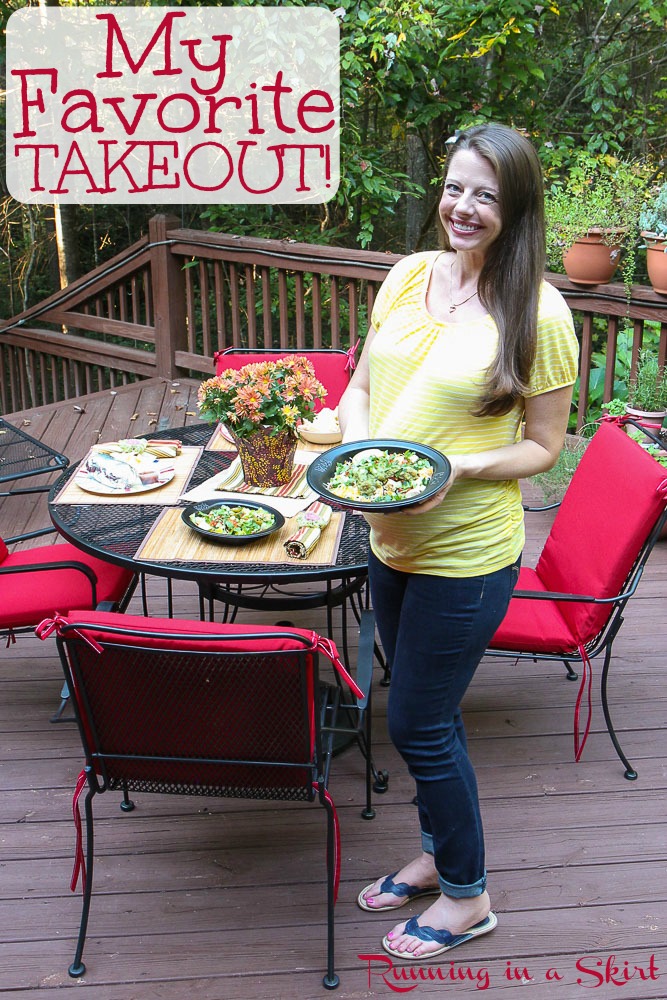 Hey guys!
As of yesterday, I'm officially 32 weeks pregnant with the twins and time is flying. Since I haven't been feeling great and the doctors have told me to rest more I haven't been cooking a lot. This has also been a busy few weeks for the Hubs at work since the tax extension deadline is today. He's been working nonstop so he doesn't have time to cook either. Needless to say, we've been eating a lot of takeout food and I'm grateful there are so many wonderful options these days.
When I first stopped eating meat in High School I remember the only good option I could come up with sometimes was a fast food burger without the burger... which basically meant a sad cheese sandwich. I'm so glad that it's a pretty normal thing these days to not eat your regular ole' meat and potato diet and you can actually get good, healthy plant-based food out.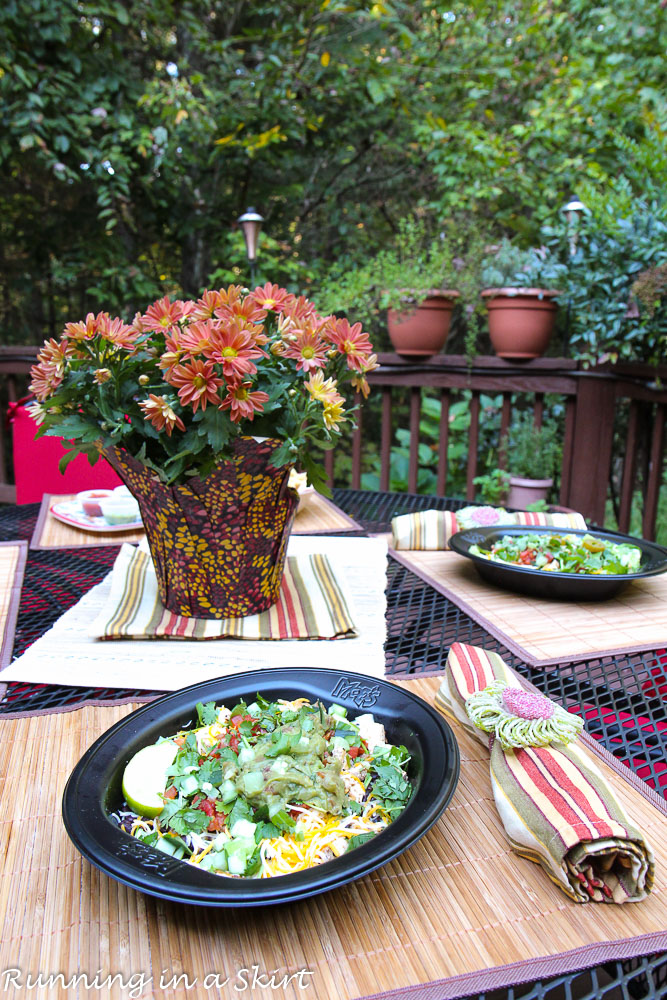 One of my favorite options for takeout is Moe's because it not only has fabulous, customizable vegetarian and vegan options... but it literally has something for every diet. Their famous line has over 20 fresh and flavorful ingredients to suit anyone's taste, restrictions and stomach.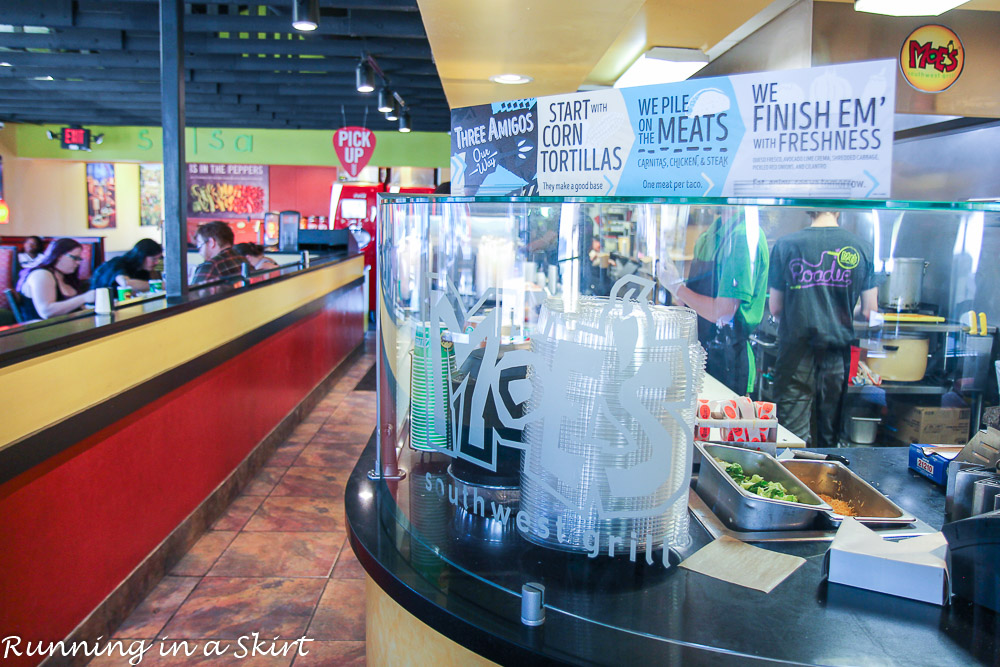 My LOVE for Moe's runs deep... in fact, there were several years of my life where I ate a burrito every Monday for Moe's Monday... no joke. So I'm always suggesting it when we need a fast meal. The Hubs and I stopped and got some dinner the other evening on our way home.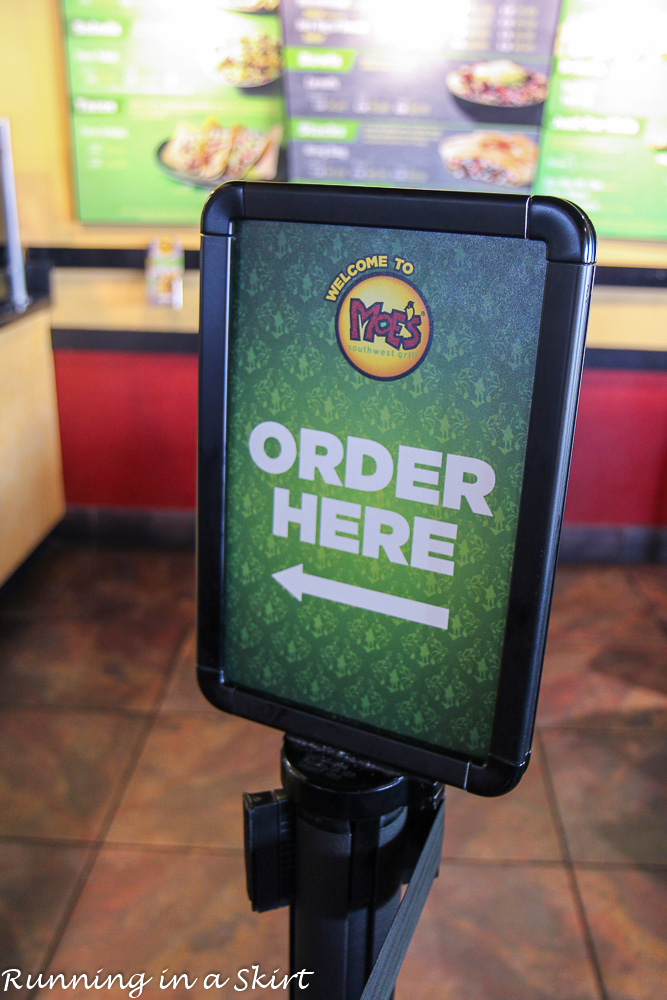 I thought I'd share some of my favorite Moe's vegetarian options with you guys and also how to make the menu match any taste and special diet... including vegetarian, vegan, gluten-free or paleo! Moe's has made it easy for you to determine which ingredients match your diet HERE!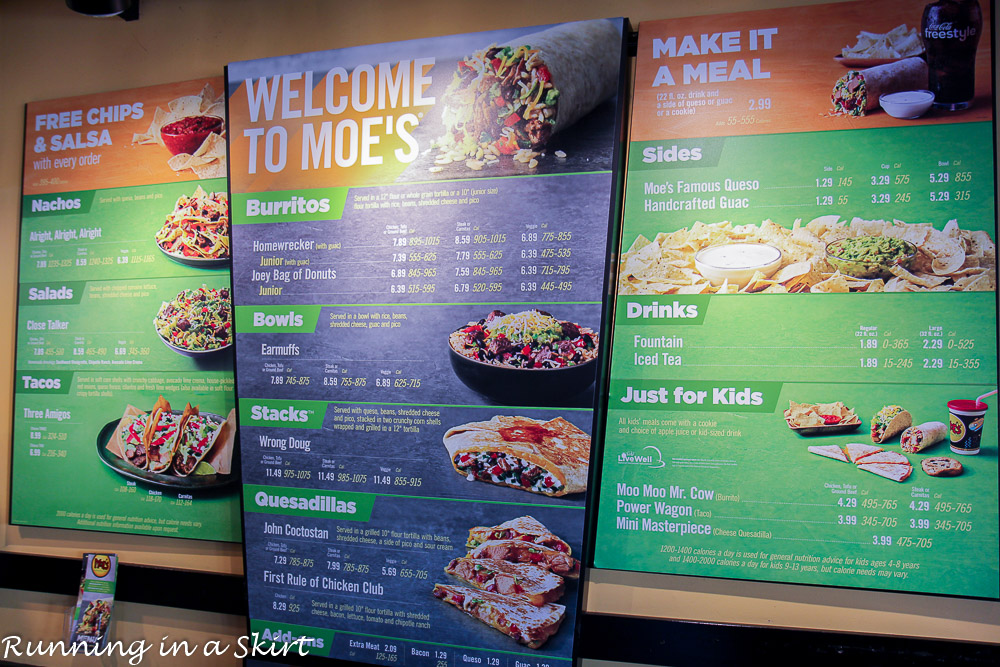 We decided to take our meal home, but eating in the restaurant is always a great option too. It does give you easier access to the famous salsa bar. 🙂 And y'all know how I feel about salsa.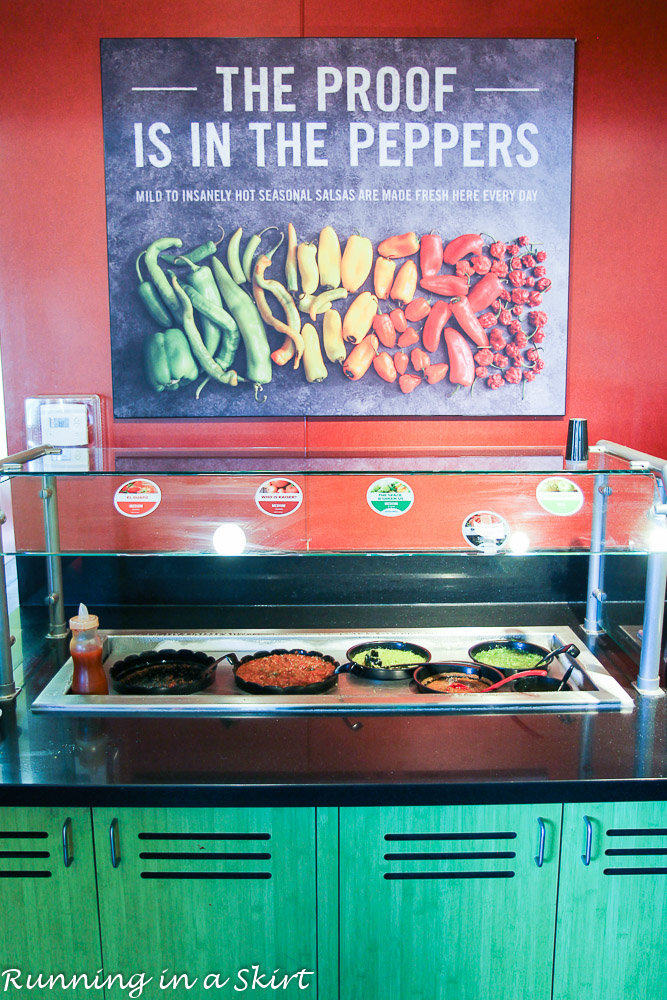 Of course, we love eating at home because it means we get to hang out with Makena.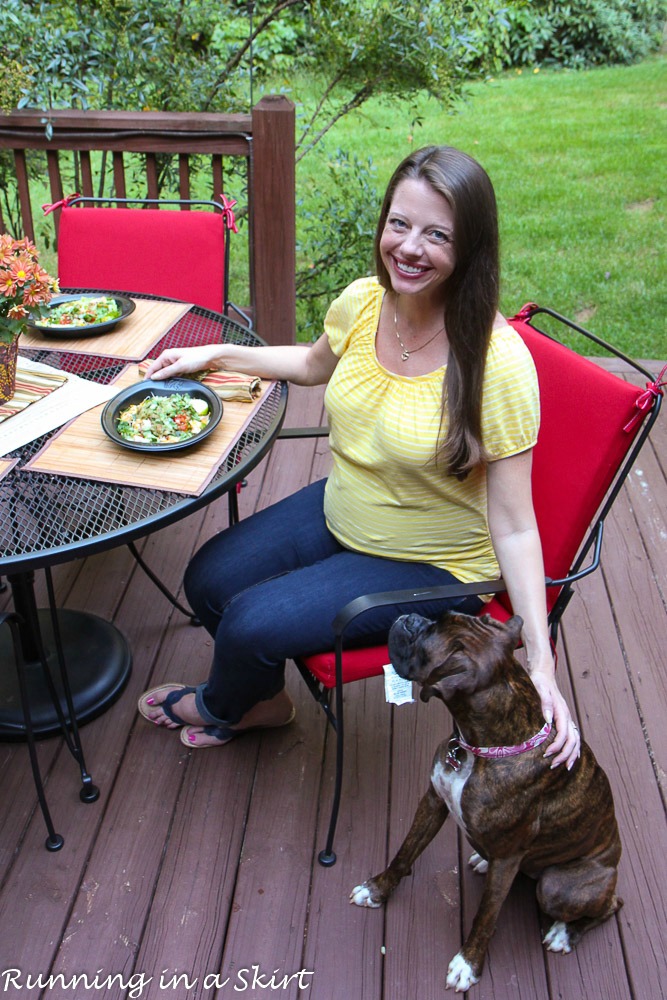 She will not leave my side these days!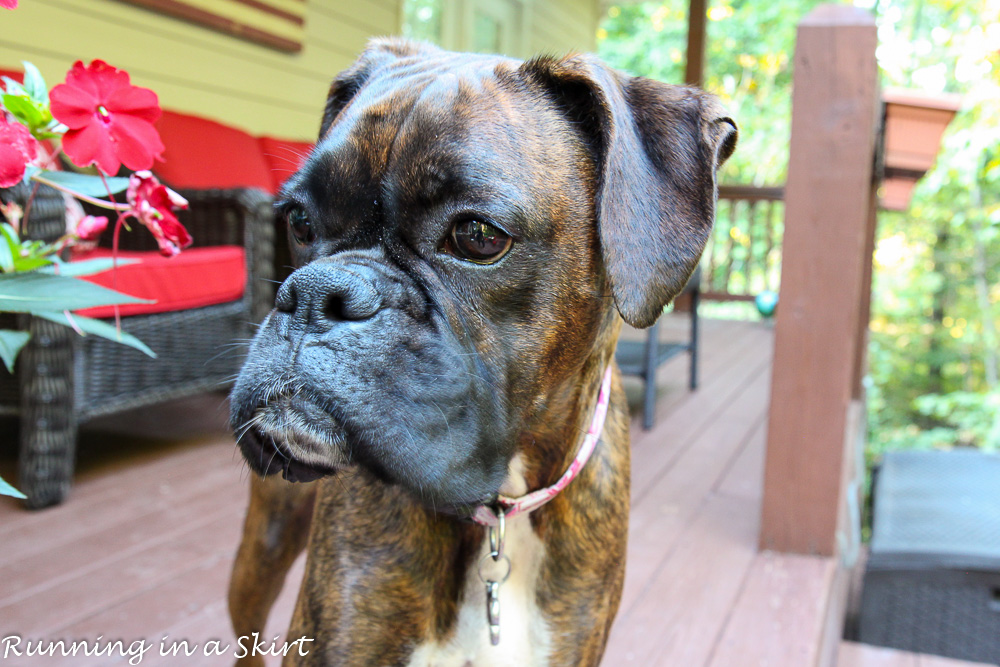 Moe's Vegetarian Options
So back to the food and Moe's vegetarian options! I ADORE a burrito (Did you know they now come in perfectly proportioned JUNIOR size?!) as much as anyone... but if I'm looking for something a little lighter I'll get the Earmuffs Bowl. It's basically everything in a burrito but without the tortilla shell.
I'll load mine up with seasoned rice, black, and tofu for protein. I'll also ask for a light sprinkle of cheese but if you are vegan, just leave that off. Next, I'll top it with every veggie on the line... plus cilantro, lime, and a fresh guacamole.
Did you know that Moe's makes their salsas and guacamole from scratch daily? That's lots of chopping, dicing, and mixing! It's worth it though because the taste is so fresh.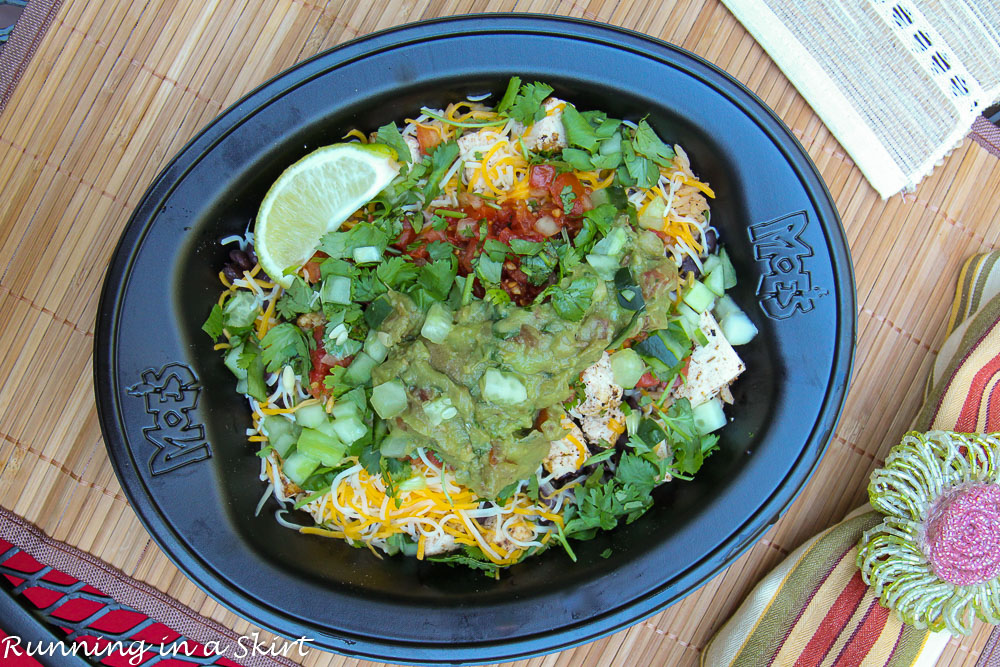 Looking for more Moe's Vegetarian options?
I also adore the Close Talker salad. I get mine without the shell and with romaine lettuce. I skip the rice and beans but load up on tofu and ALL THE VEGGIES including fresh lime and cilantro. For dressing, I'll either get the Southwest Vingarette OR just use some of the Tomatillo Salsa as a dressing.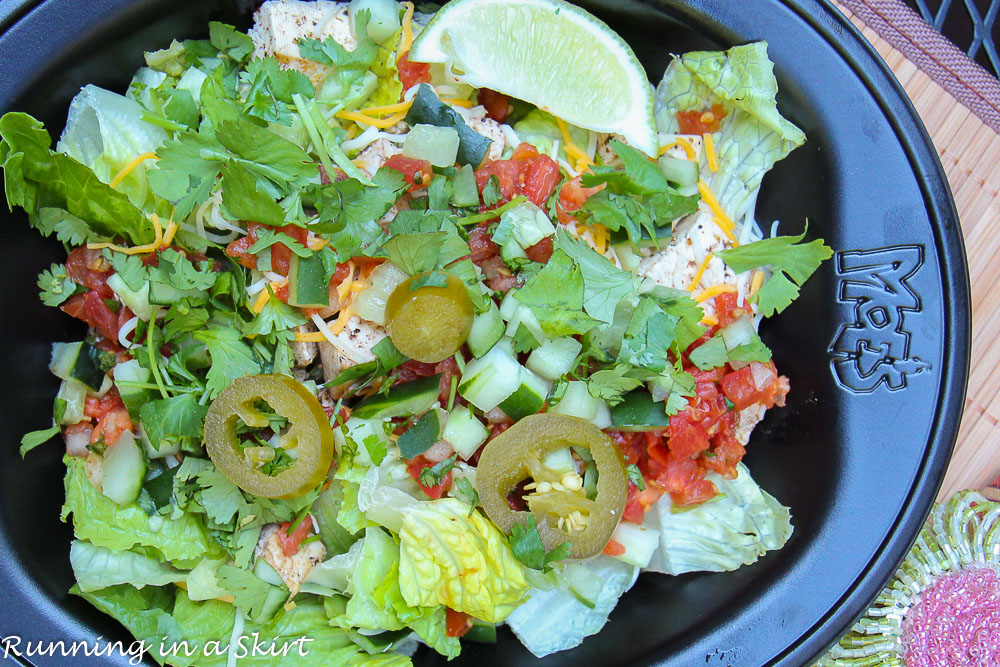 Hands down one of my favorite parts about Moe's is their Organic Grilled Tofu. It's hard to find a counter service restaurant with a substantial plant-based protein option like this and I love that they have it and it makes it easy for me to make sure I'm getting a good source of protein in my meals.
And whether you like the organic tofu, grass-fed steak, all-natural adobo chicken, pork carnitas or 100% ground beef... all the proteins are grilled on a consistent production stream, so they're hot and ready as you order and kept safe from other food options to prevent cross-contamination!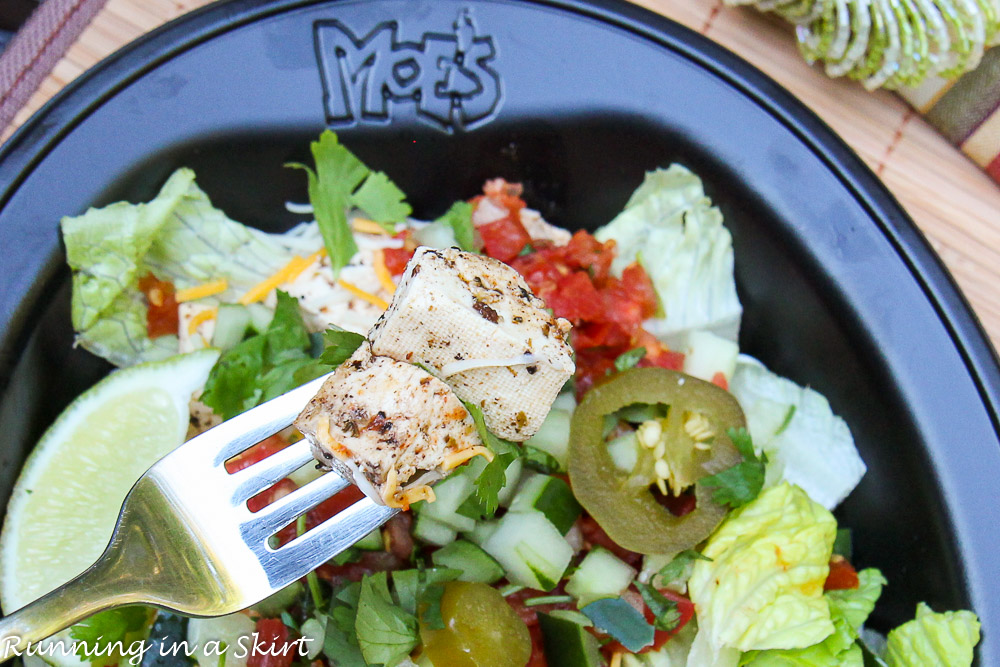 The Hubs ordered his classic steak burrito with lots of mushrooms and a side of queso... of course!
We also brought home our own little salsa bar to enjoy.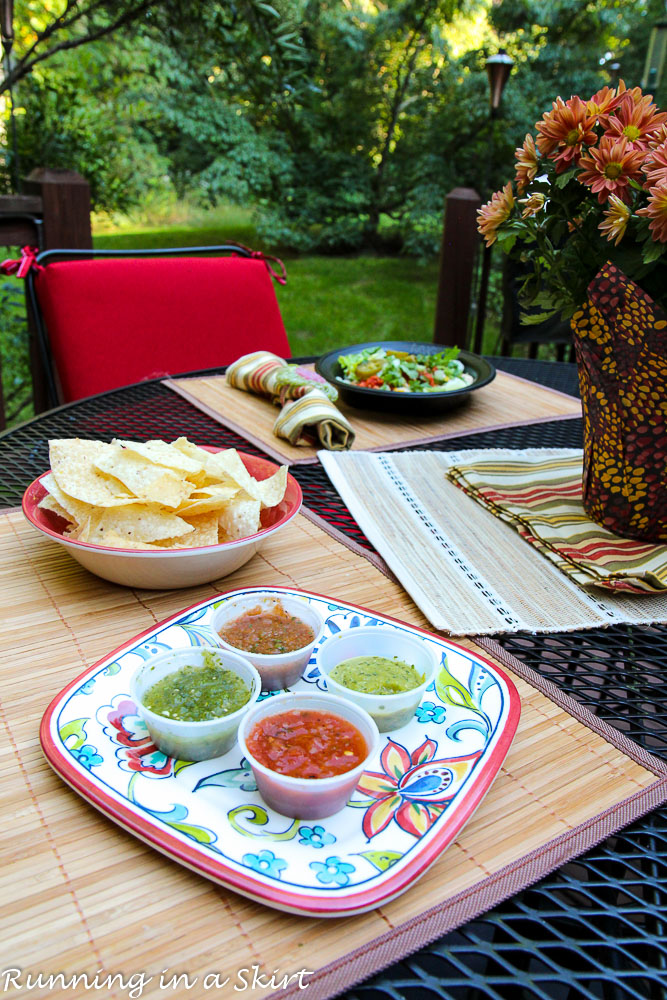 We had such a nice meal enjoying the freakishly warm October weather. AND Makena got to be her co-dependant self. She sits like this on his lap all the time and it always cracks me up. I don't know what we'd do without this crazy pup.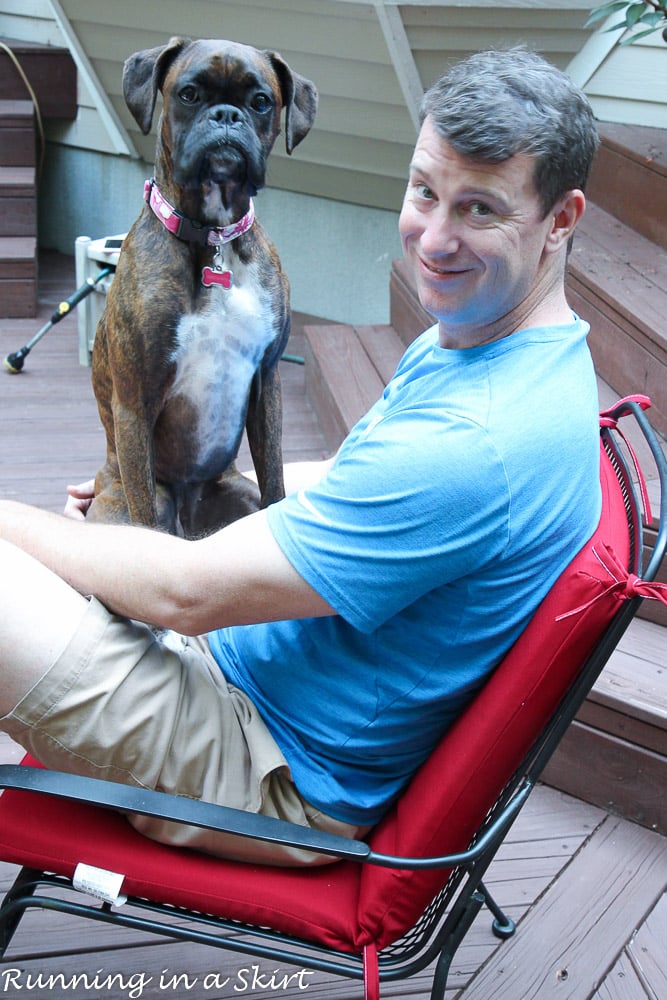 Whether you are vegetarian, vegan, gluten-free or even paleo (OR just want to be for the day - no judgment here!) I love that Moe's really has something for everyone. I also adore that each Moe's is locally owned and operated so you are supporting a local family.
And don't forget to bookmark THIS PAGE so you can check which ingredients match your specific diet!
Love Moe's? Pin for later...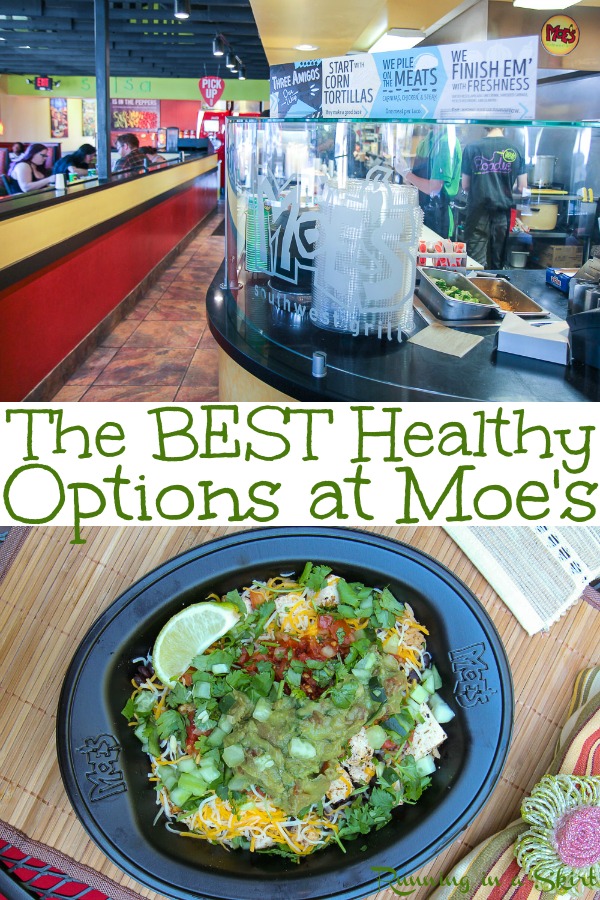 Your turn!
What do you order at Moe's?