From black sand beaches, bald eagles roaming like pigeons and eclectic spits... Homer is unforgeable! Here are my favorite things to do in Homer Alaska.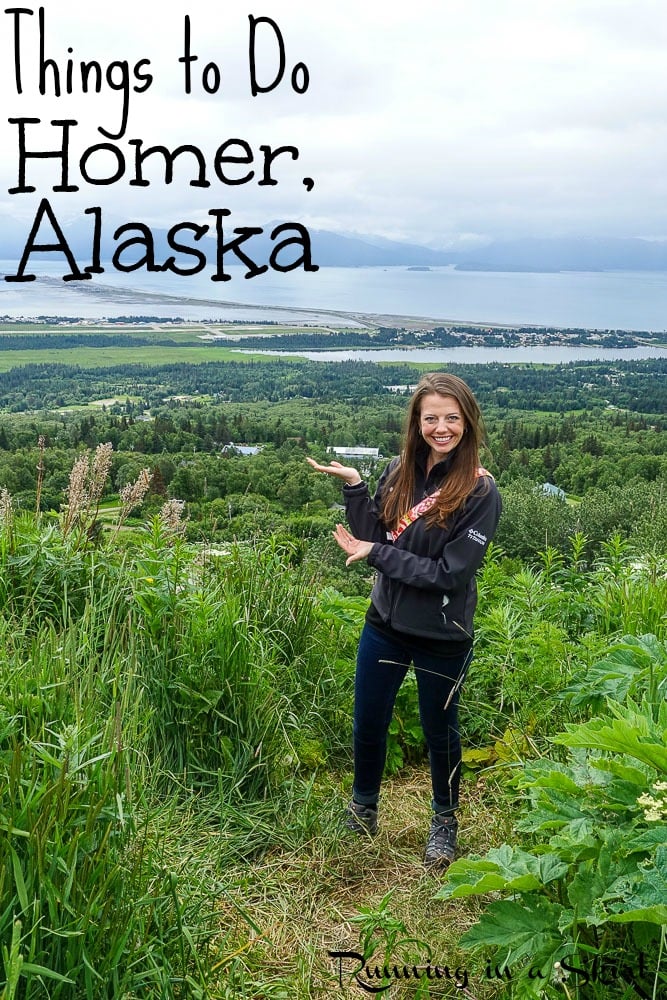 Top Things to Do in Homer Alaska
I am so excited to be starting my series on my recent Alaska trip today starting with the top things to do in Homer Alaska. I love sharing travel posts for so many reasons, but one of the biggest is to bring you guys along for the journey. I know what a blessing it is to be able to travel and I hope to at least share these little corners of the world with you through pictures if you can't go. I also know that some of you love to travel as much as I do and hope this will serve as a travel guide or inspiration for you.
If you are just joining me I went to Alaska for a week in July. The Hubs has an Aunt and Uncle who live in Anchorage so the trip was for sightseeing and visiting family. The Hubs parents and my brother-in-law Justin also came along. I decided to divide my trip up into three posts... Homer, Valdez, and Anchorage. Today I'm starting with Things to Do in Homer Alaska!
Catch up with my Alaska Travel Series
Homer Alaska
Homer feels like the end of the world. It's a small city located on the end of the Kenai Peninsula on the shores of Kachemak Bay. To reach it you just follow the road until you can't drive any further. It feels incredibly remote and there is one way in and one way out. Once you get into the town a long gravel bar extends into the water creating a spit, which is full of eclectic restaurants and shops. Everything about Homer feels wild and fun. It's also known as the Halibut fishing capital of the world, which was one reason we were visiting. The boys in our group were going fishing while we were there.
On our first full day in Alaska, our crew took the long ride out to Homer from Alaska to stay with family friends who own a couple of beachside homes just north of Homer. I'll pick up the story from there...
Things to Do in Homer Alaska
After a long day of driving our group finally arrives at the Hubs family friend's property. They own several houses and cabins along a stretch of beach just before you reach Homer.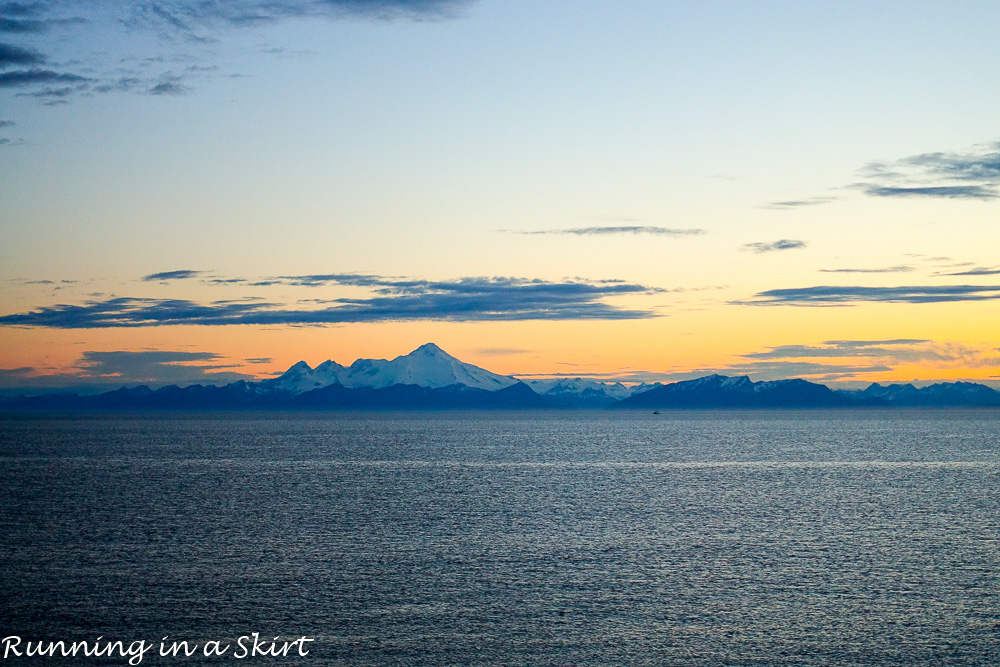 When we arrive we drawn into the pretty views and can't believe we get to stay here.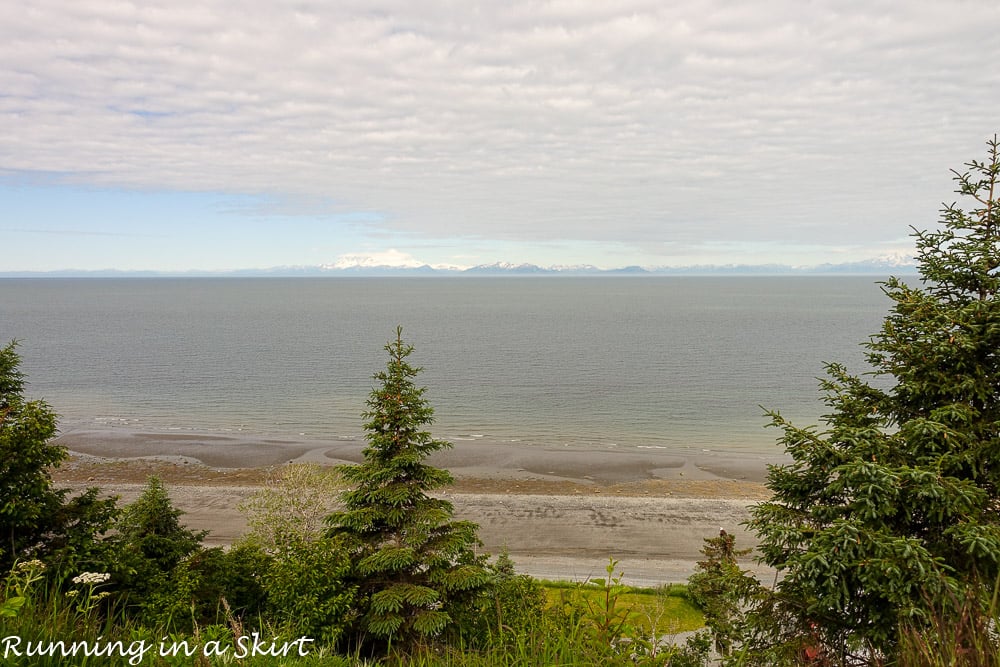 Our host takes us down a hill to a pebble and black sand beach. Despite it being the middle of summer it's still rainy, windy, and cold... but still completely captivating.
They own several cabins and beautiful homes and each of us is given our own bungalows for our time in Homer. They treated us like family and we all became fast friends.
We got settled and came back out to explore as quickly as possible.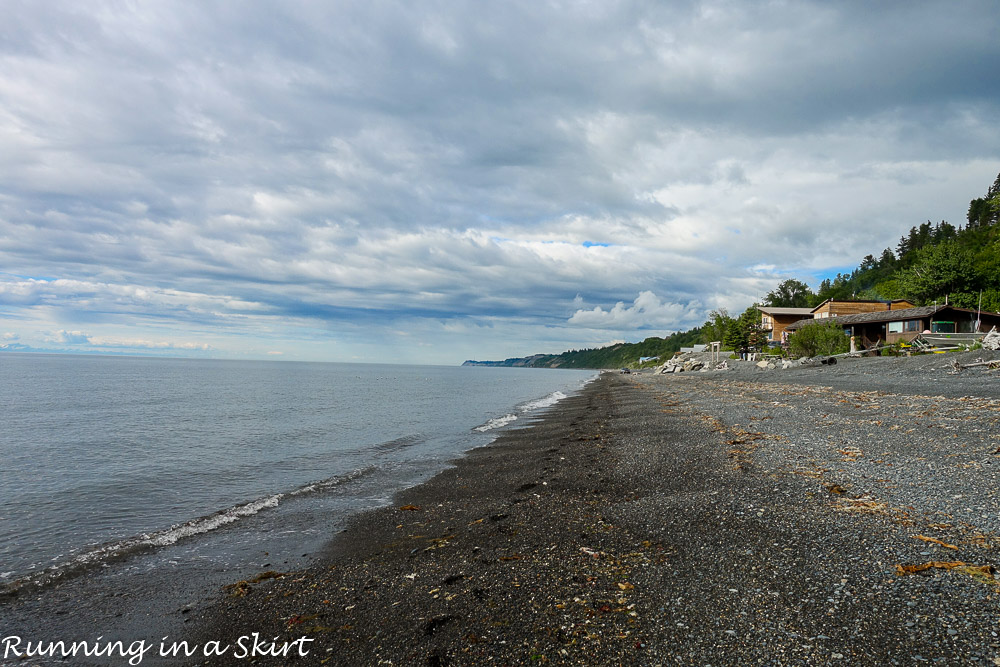 Before no time we noticed that all the birds surrounding us aren't typical beach birds, but grand Bald Eagles.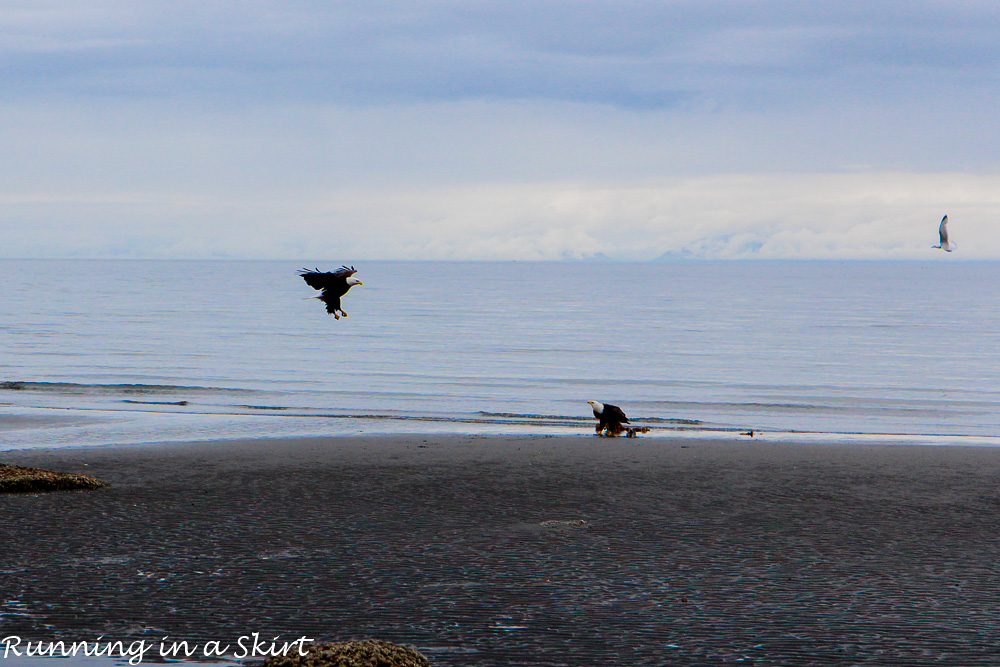 They were literally flying around like pigeons. I was and still am in complete awe!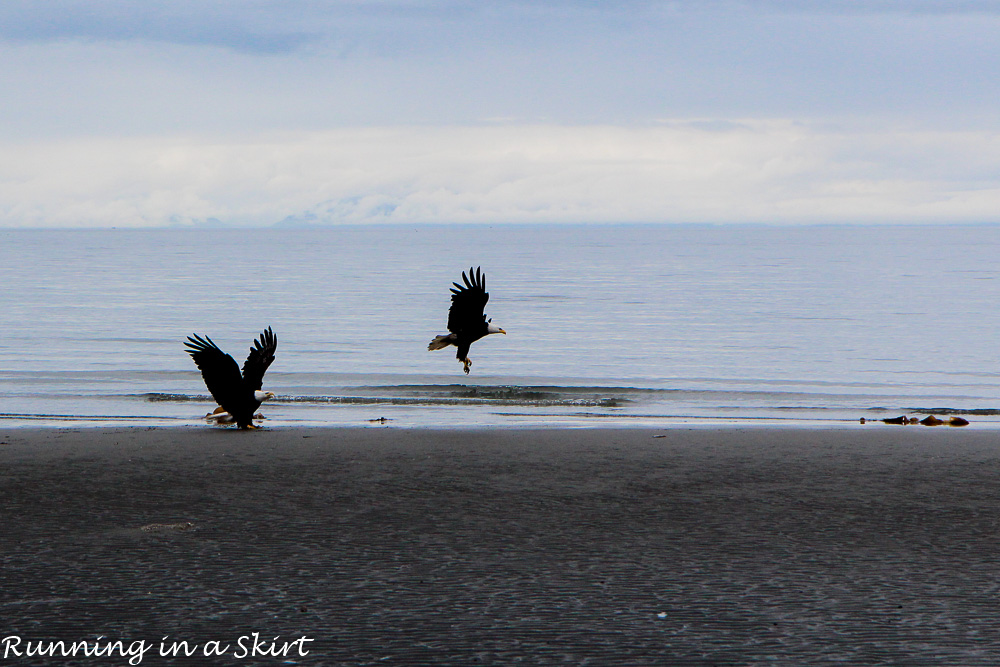 Since it's already late in the day we eat dinner, sit by the fire, and enjoy the views. We called it a night and get ready for the next day.
The next day our group decided to take a hike along the beach to a nearby waterfall while we were waiting for the tides to be right for the boys to take the fishing boat out.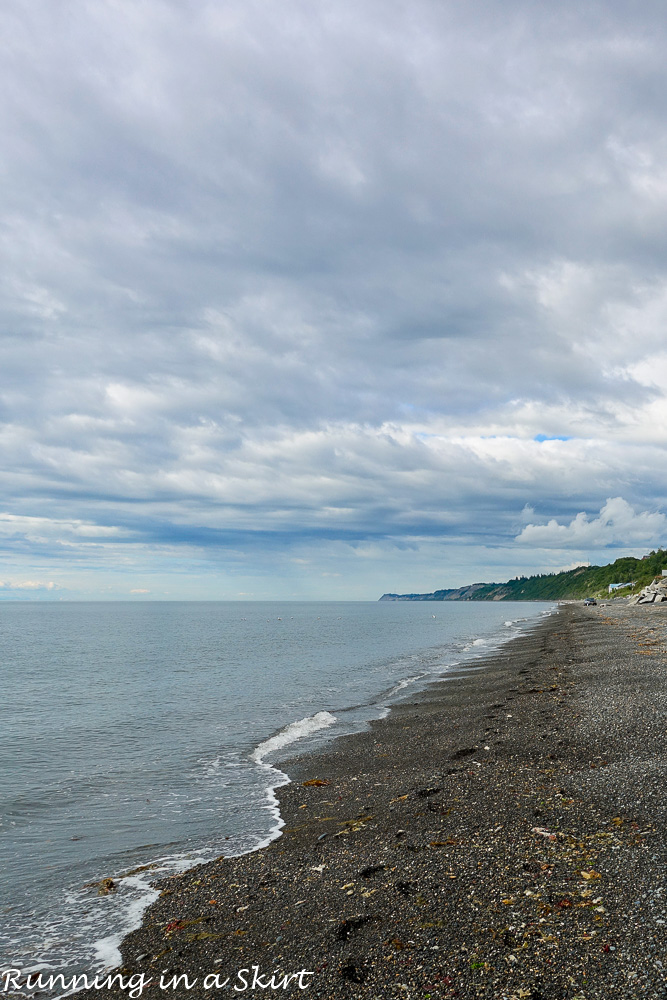 As a tropical beach lover I was captivated by this place. Everything about this beach was the opposite of what you would expect... dark, rough and raw. It was beautiful despite it being in the 50s.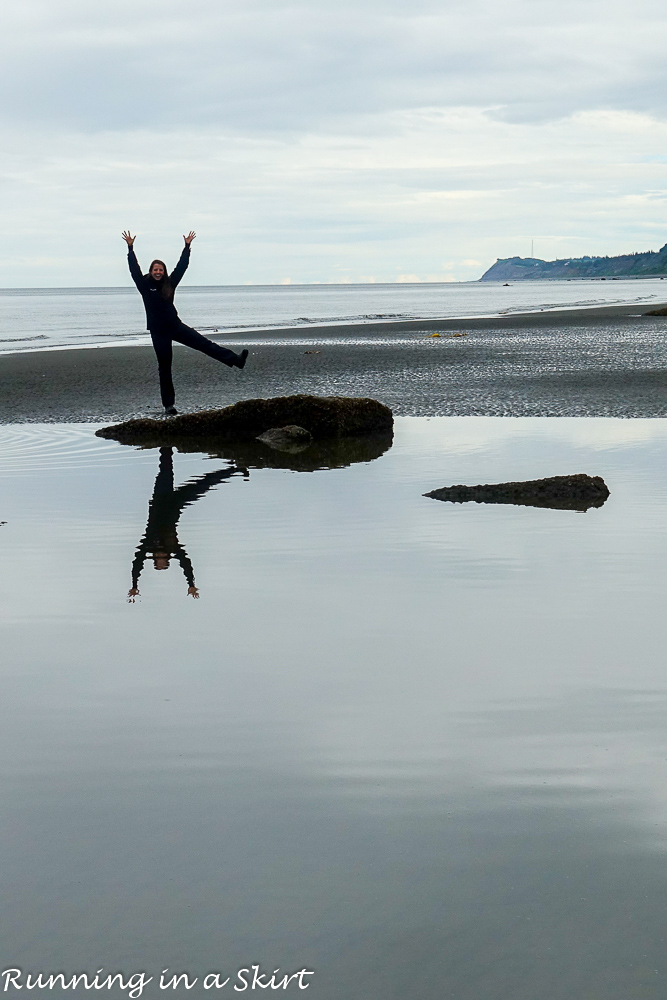 We had the area almost entirely to ourselves and got to take in the views and wildlife.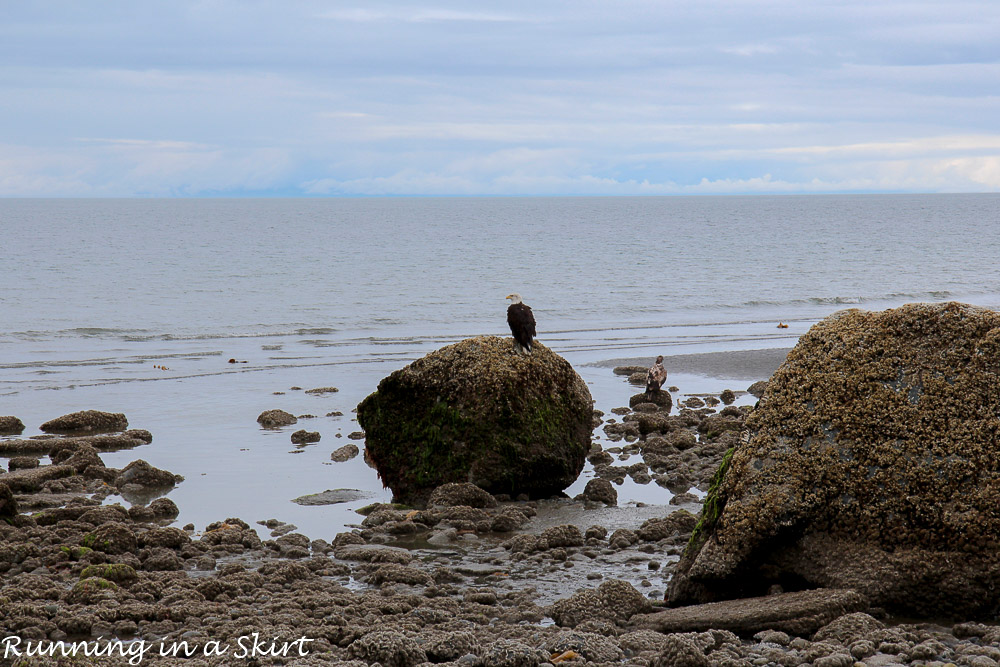 The waterfall was just along the crashing waves and did not disappoint.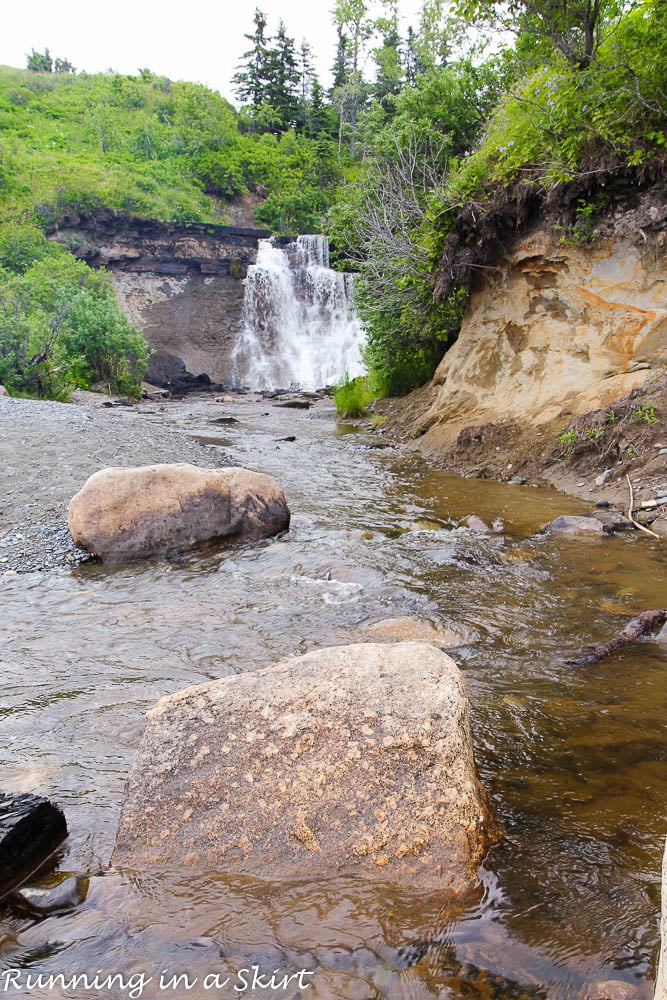 After hiking to the waterfall the tide was finally just right for the boys to go fishing. Our hosts were even kind enough to spend nearly our entire visit helping them get fish. For those of you who are interested in that sort of thing, they nearly maxed out on Halibut both days!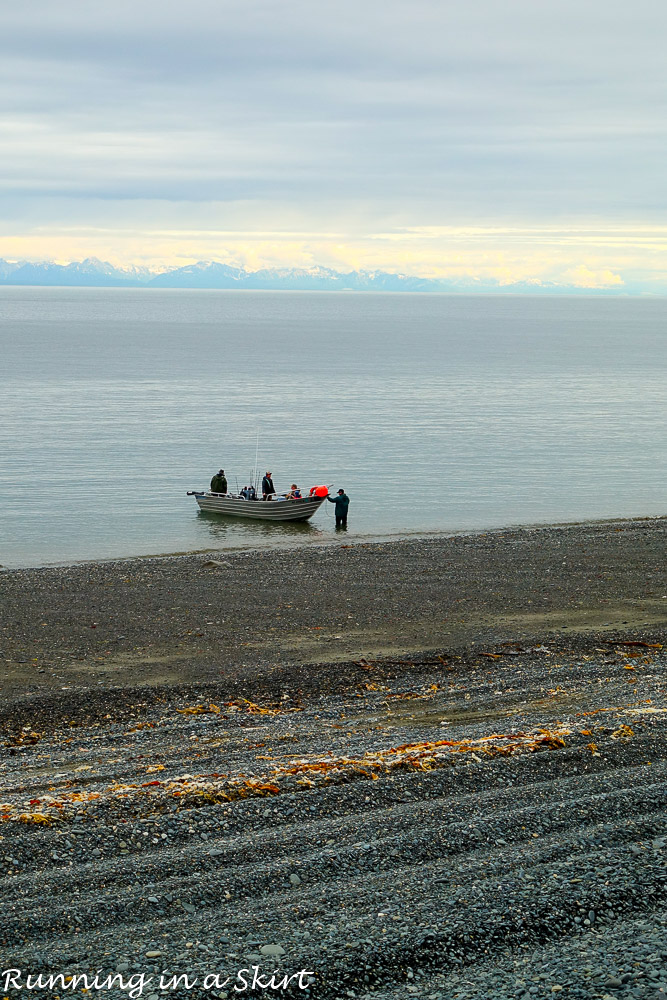 The rest of the day was rainy, windy, and cold so we spent the afternoon enjoying company and looking at the incredible views.
The next day my MIL and I decided to head into Homer to do some sightseeing.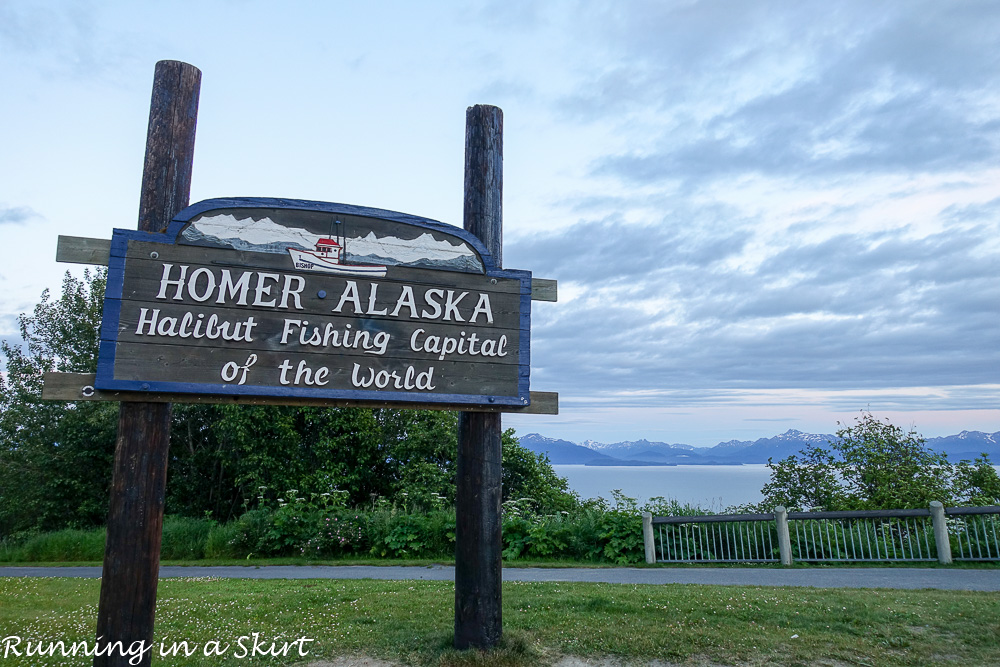 Our first stop was the Alaska Islands and Ocean Visitors Center. They had some great interactive exhibits inside and directed us to the prettiest place in town to take pictures with views.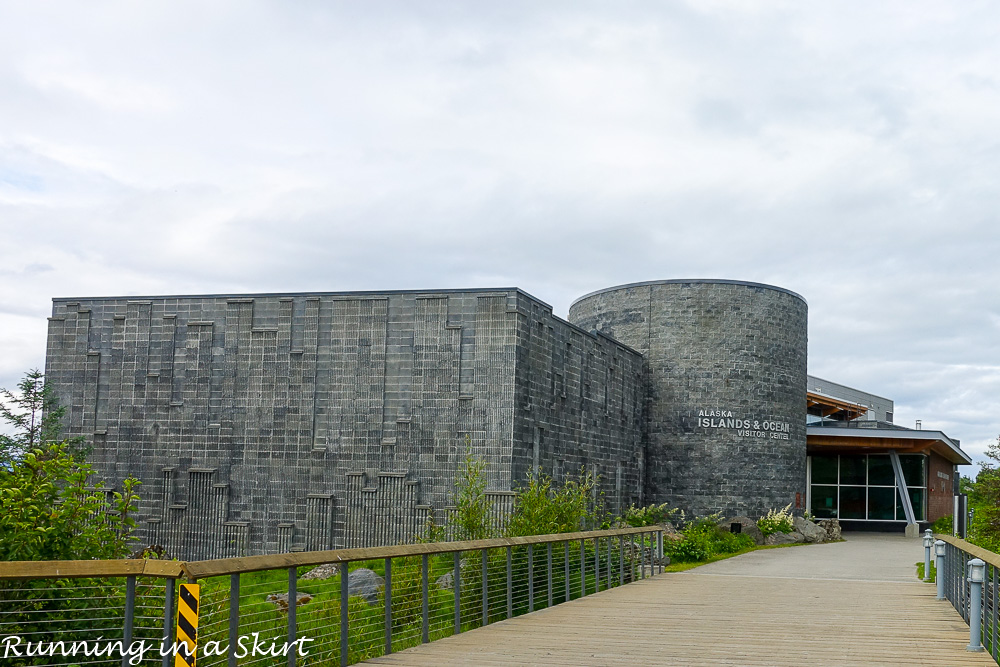 We followed their directions and drove up a few curvy roads to get some pretty shots.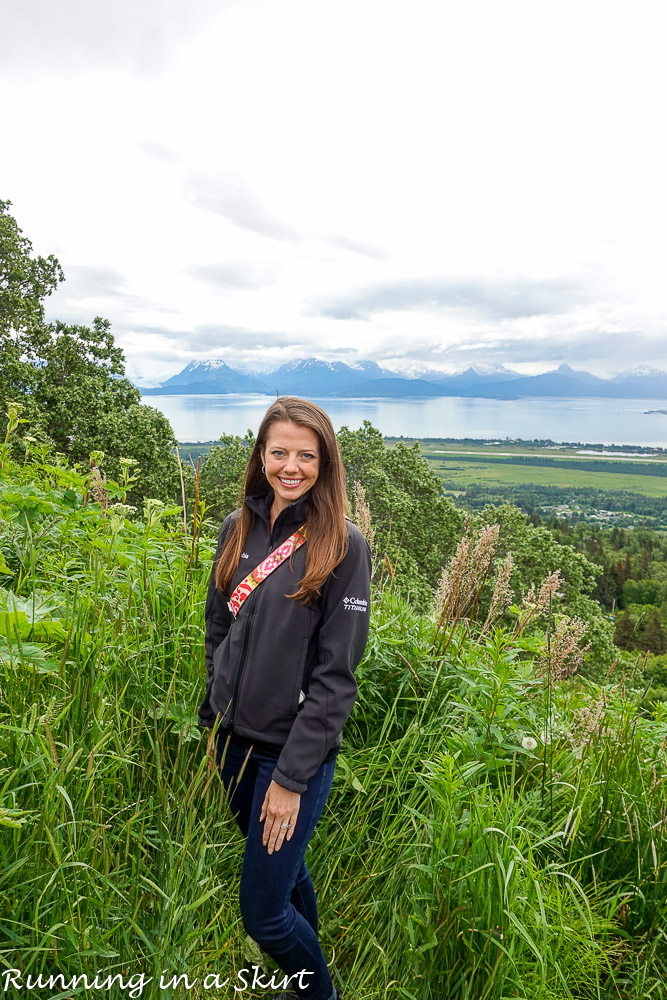 It may have been cool, but the mountainsides were still so green.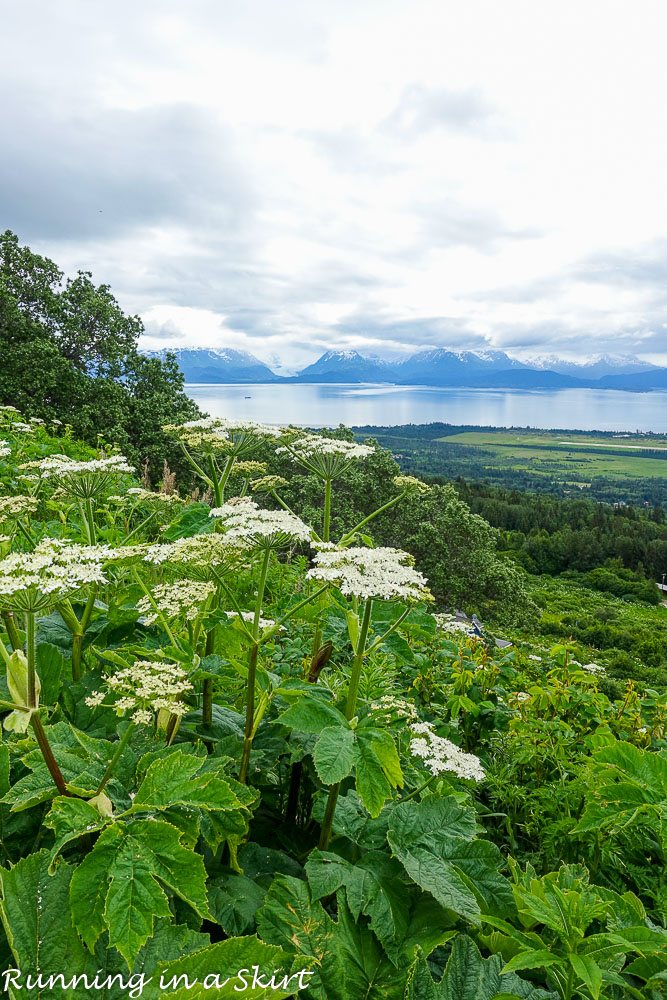 After exploring the views from above we drove back down to sea level and then drove onto the famous spit. It was kind of like a huge sandbar that was solid enough to have buildings on it.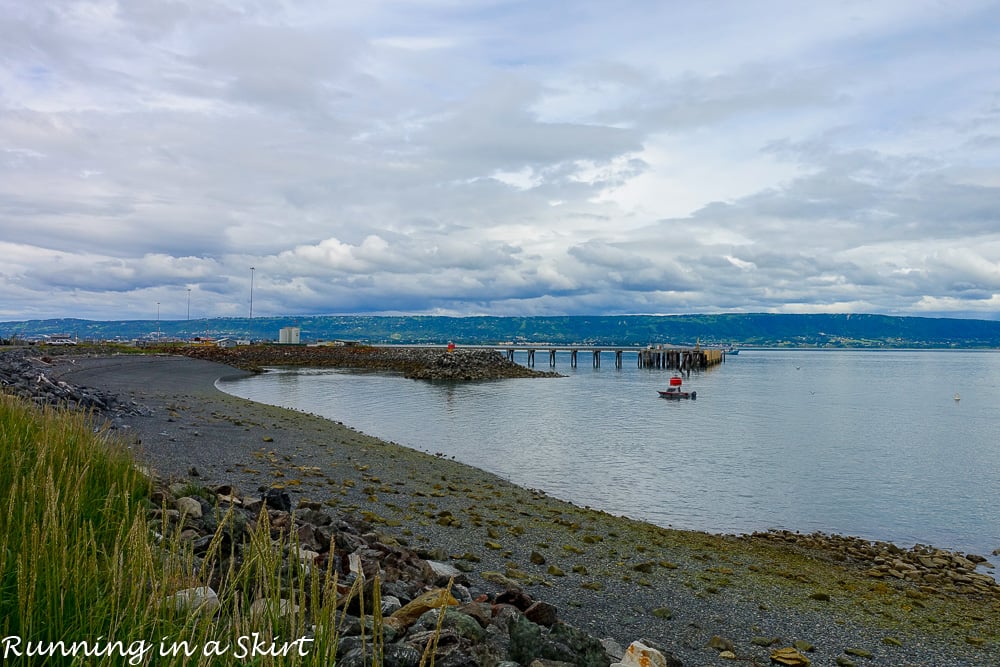 The ride out to the gravel sand bar was full of eclectic sites, stranded boats, and pretty mountain vistas.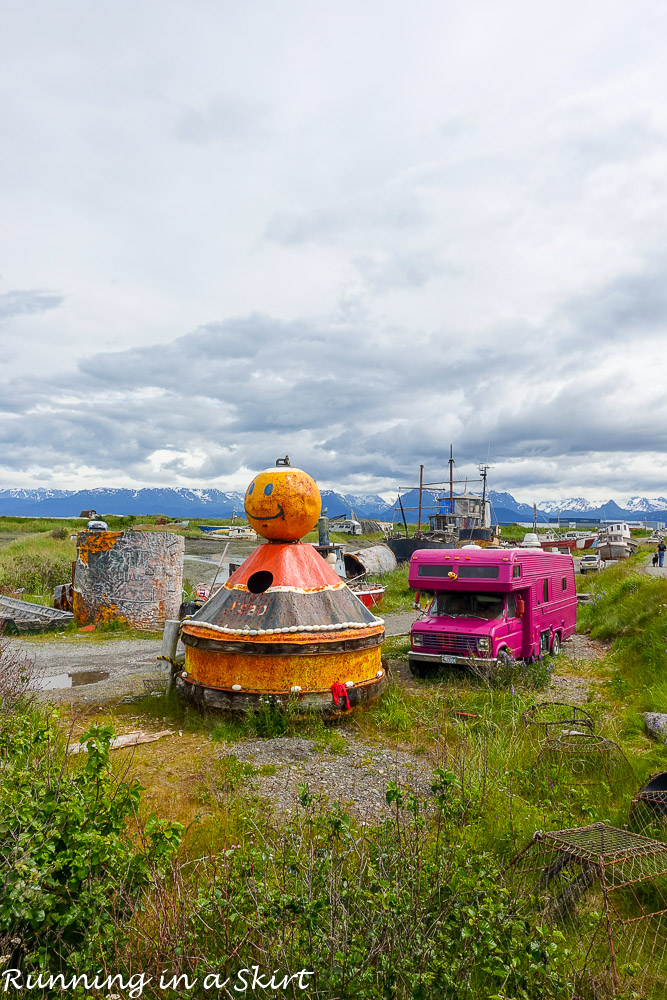 Once we arrived we found all the famous Homer fishing boats. If you like halibut fishing, this is where to do it!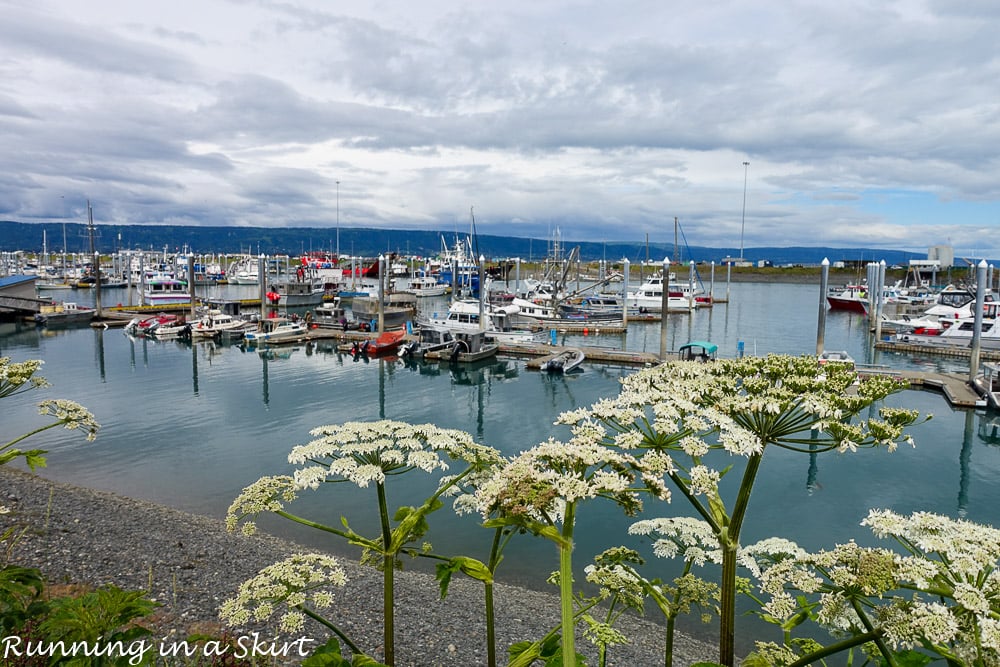 For lunch we stopped at The Chart Room Restaurant at the end of the spit. The views were amazing and the food was also really tasty. I had a salad....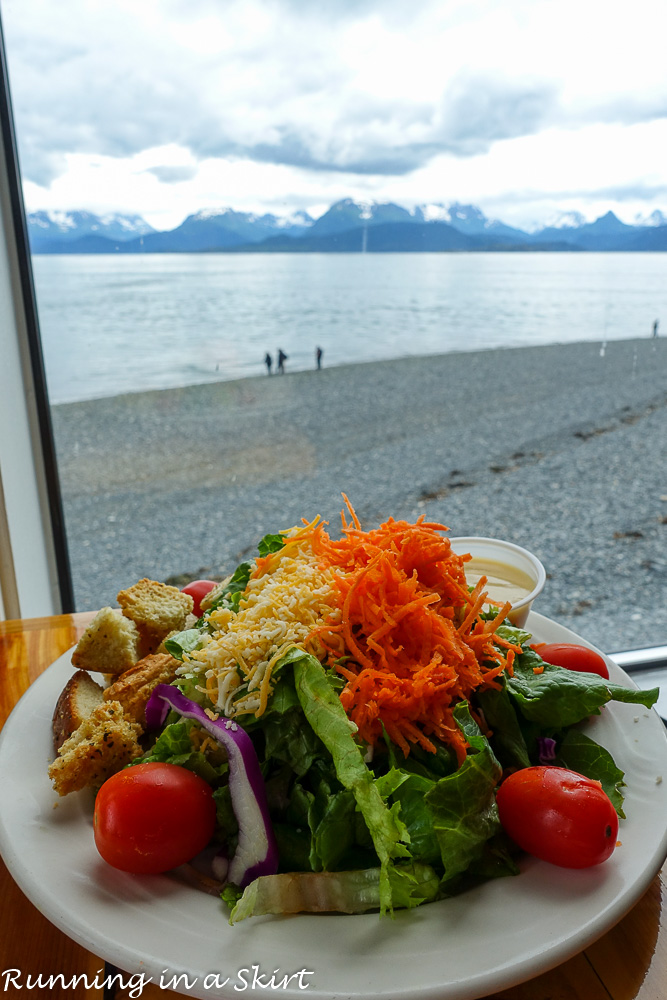 ... and a King Crab Roll which was like a Lobster Roll but with king crab! It was pretty darn remarkable.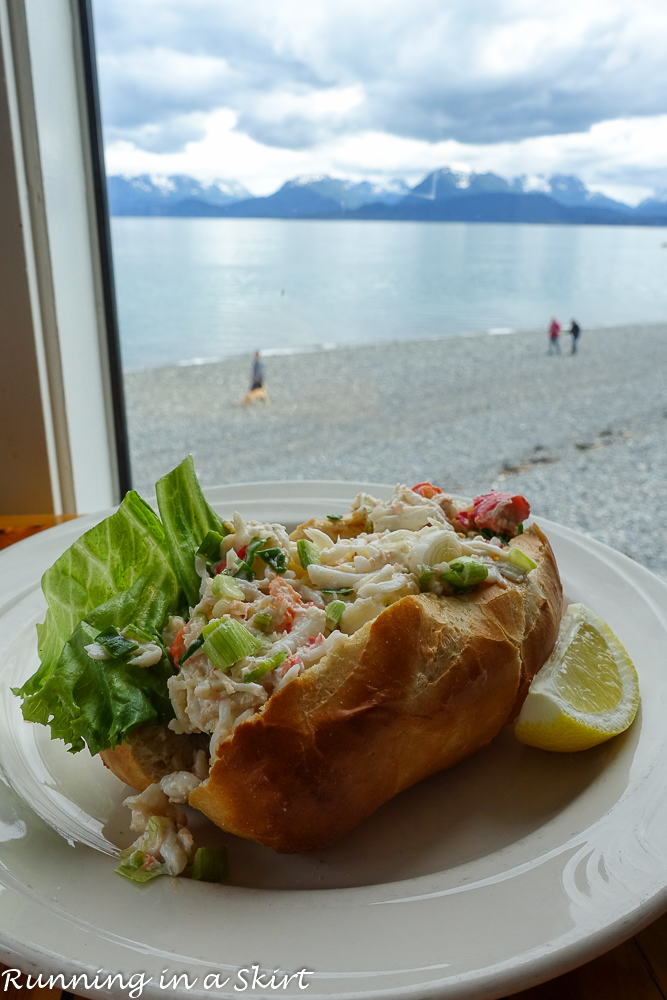 After lunch, we explored the spit including the famous Salty Dawg Saloon.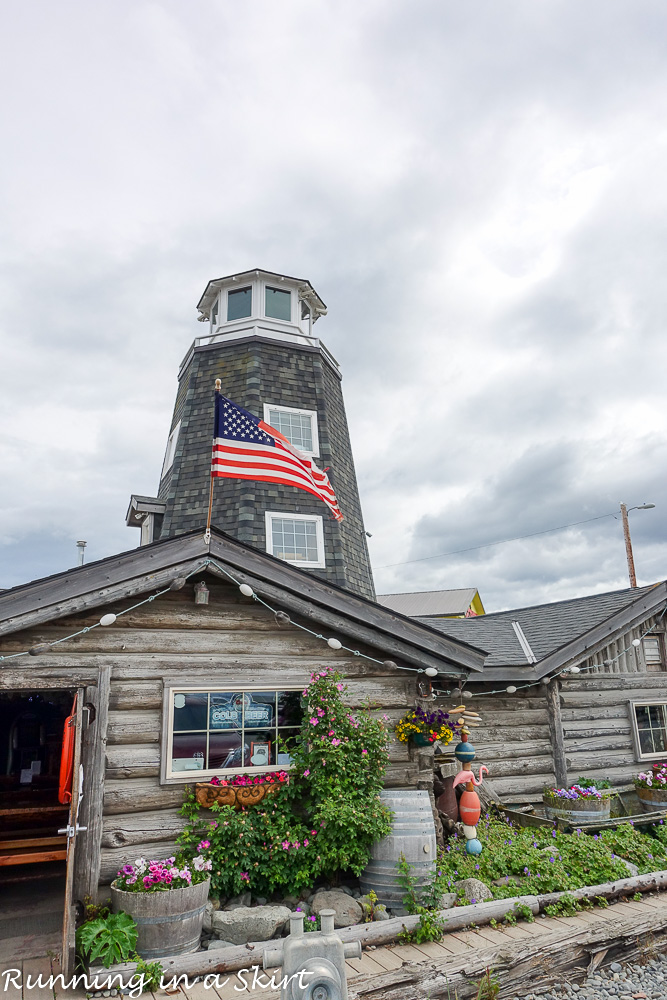 It's been around since the 1950's!
We then went back to the visitors center and took a pretty walk from their parking lot to the downtown area of Homer, which was a cluster of cute buildings.
One of the best parts is the Two Sisters Bakery, which was highly recommended by locals.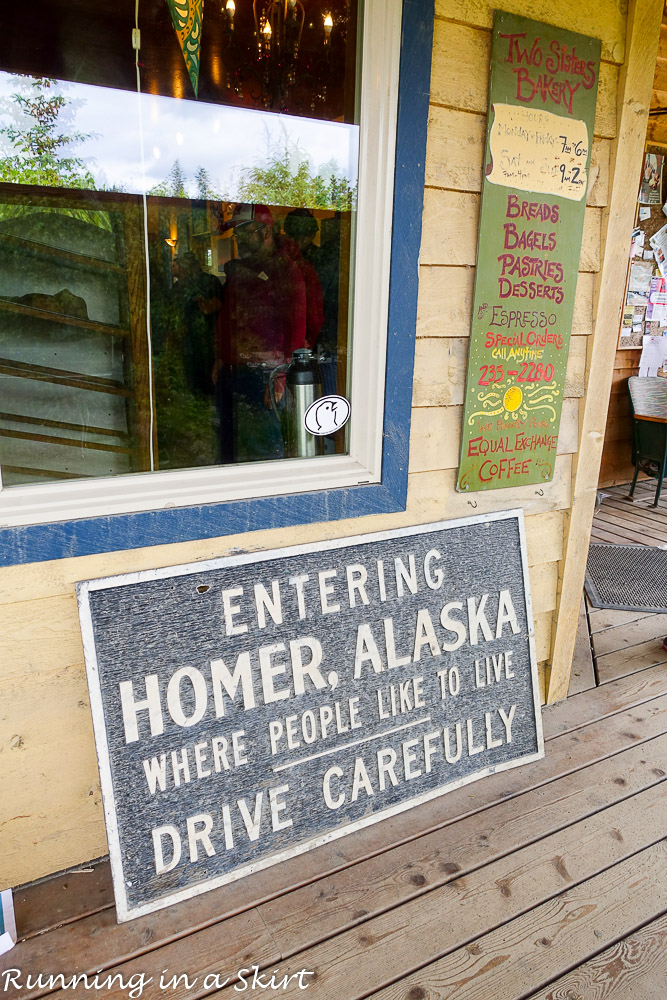 After exploring for hours my MIL and I went back to our friends property along the beach. I ended up going on a long walk enjoying the views.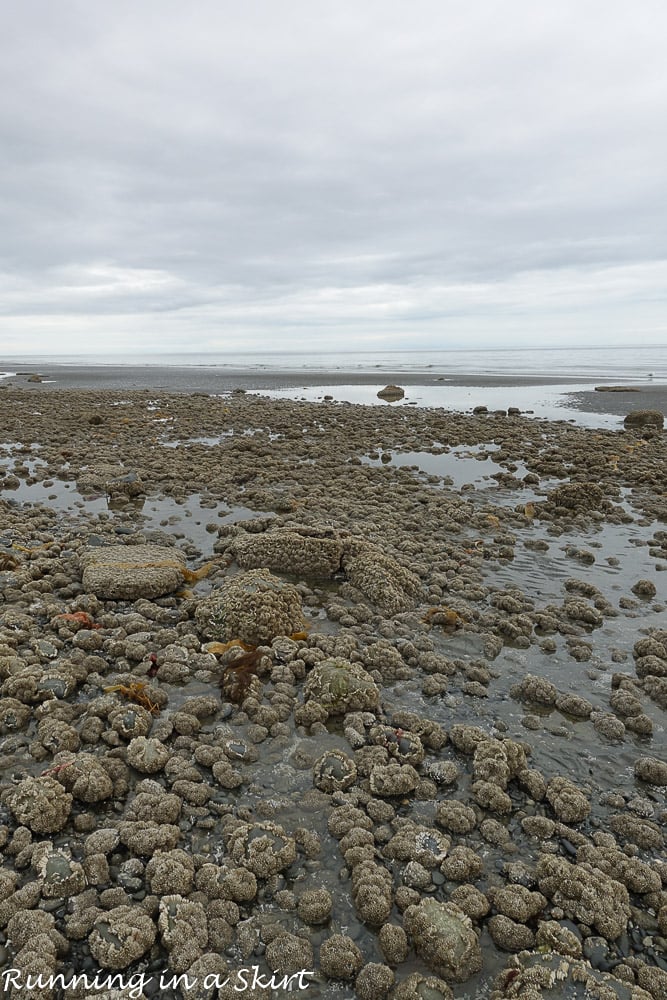 After the walk, our host took me back out on the beach to go fat tire biking. It felt great to get some exercise and enjoy the vistas.
https://www.instagram.com/p/BWZdb2WHOxd/?taken-by=julie_wunder
When we got back the boys were finally done with fishing. It was late, but I spoke so highly of Homer the Hubs decided he wanted to go back into town to see for himself!
On our way into town, we stopped at a new restaurant, The Kannery Grill.
Since my king crab roll was so good we sprung for legs as an appetizer. These babies are pricey even in Alaska, but you must try them. They are incredible.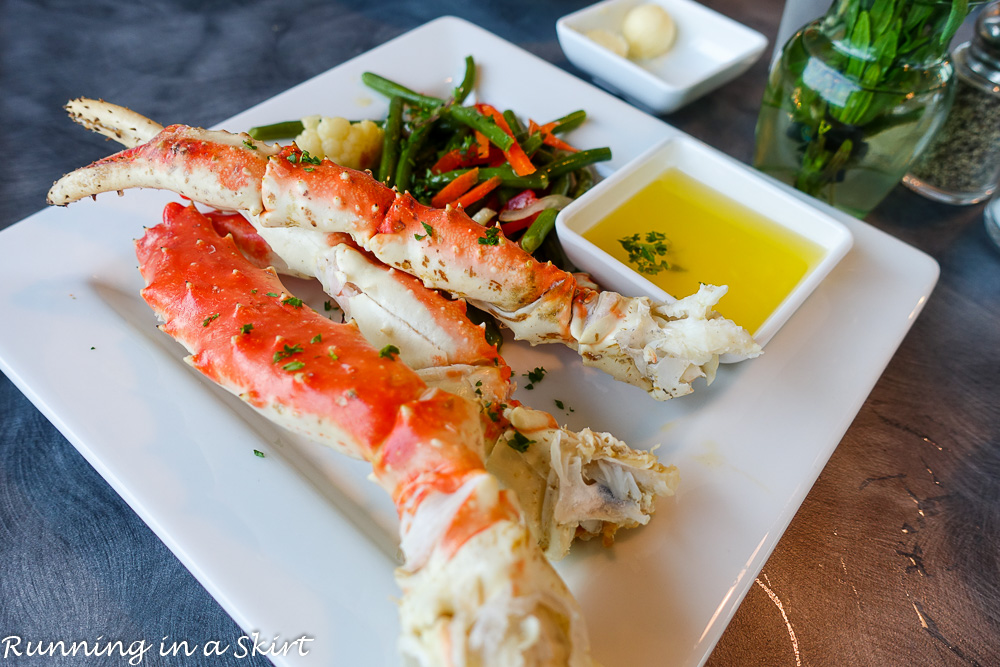 For dinner, we shared grilled salmon...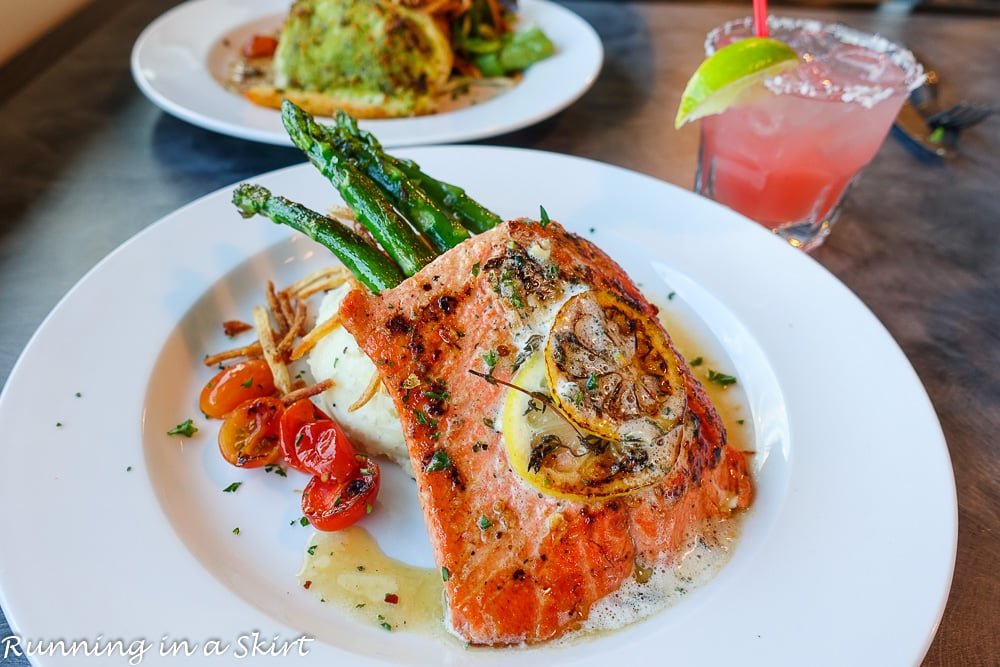 ... and rockfish. Both dishes tasted just as good as they look. If you are in the area I highly recommend stopping here!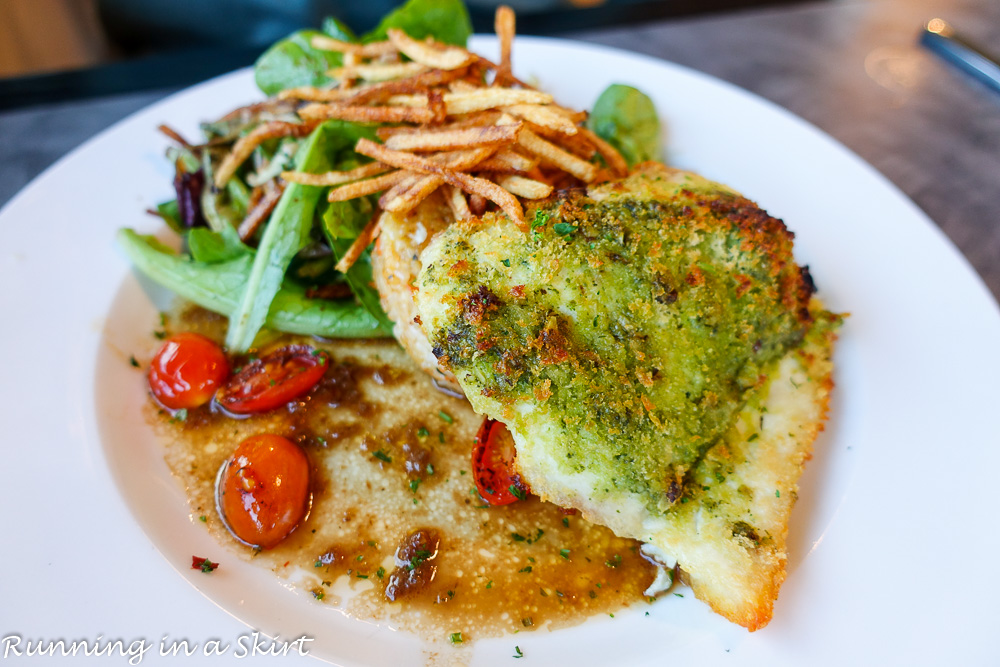 As we finished dinner it was well past 10 pm, but the sunset colors were just starting to pop. Without it actually ever getting dark in summer in Alaska I didn't think that I'd see a sunset... but as soon as I saw the pinks I got excited.
We left the restaurant to snap some beach shots.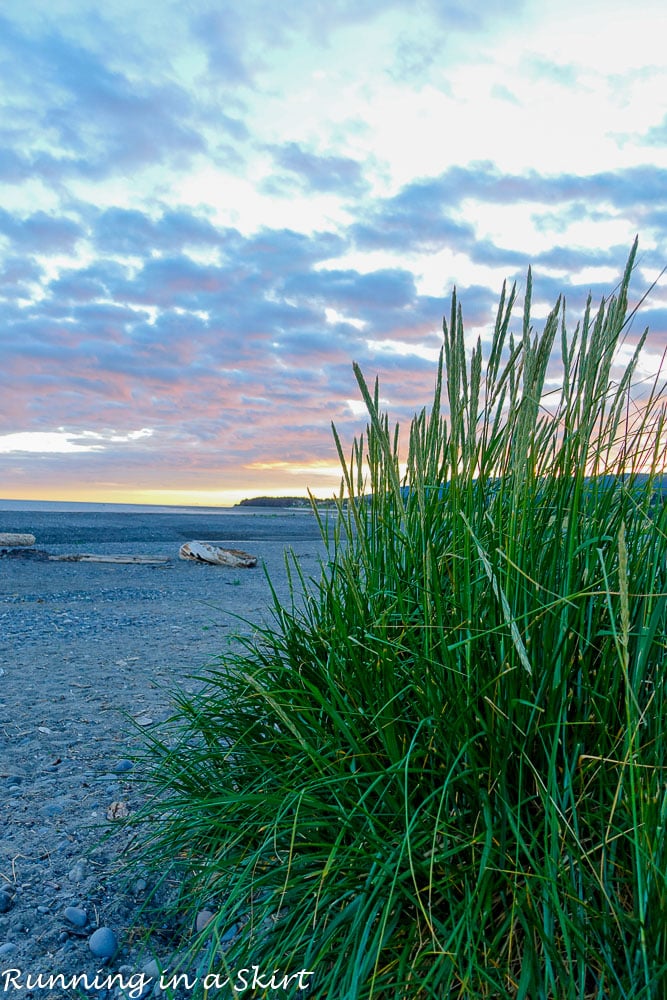 The somewhat sunset and sunrise practically happened in the same hour.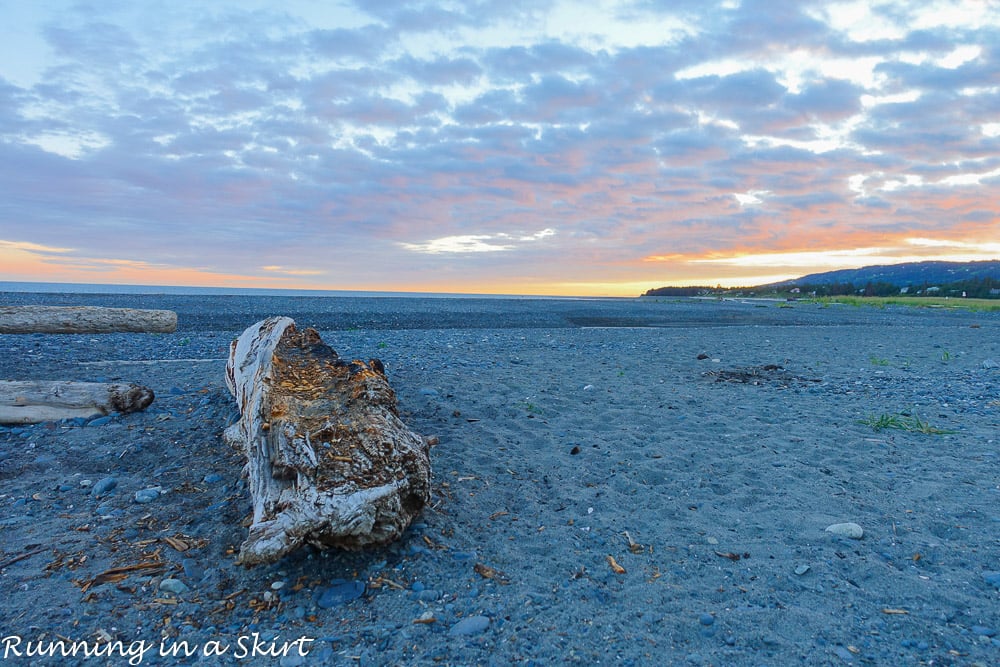 It was incredible and one of my favorite memories from Alaska! I'm not a night owl at all, but this was worth staying up for.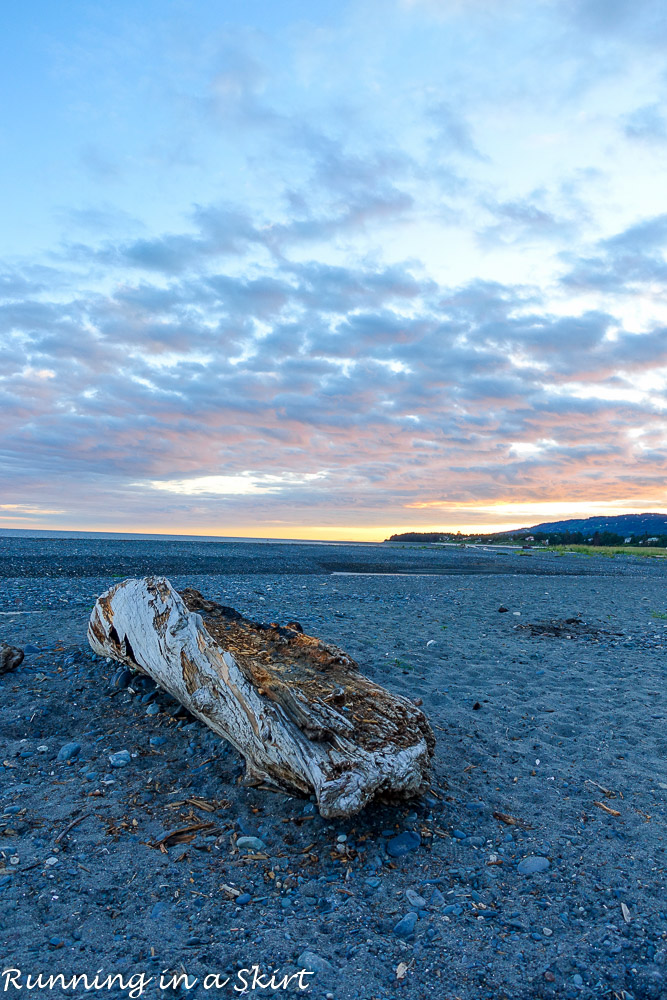 And if my day in Homer couldn't get any better on our way home we spotted THREE wild moose! They were just hanging out along the side of the road.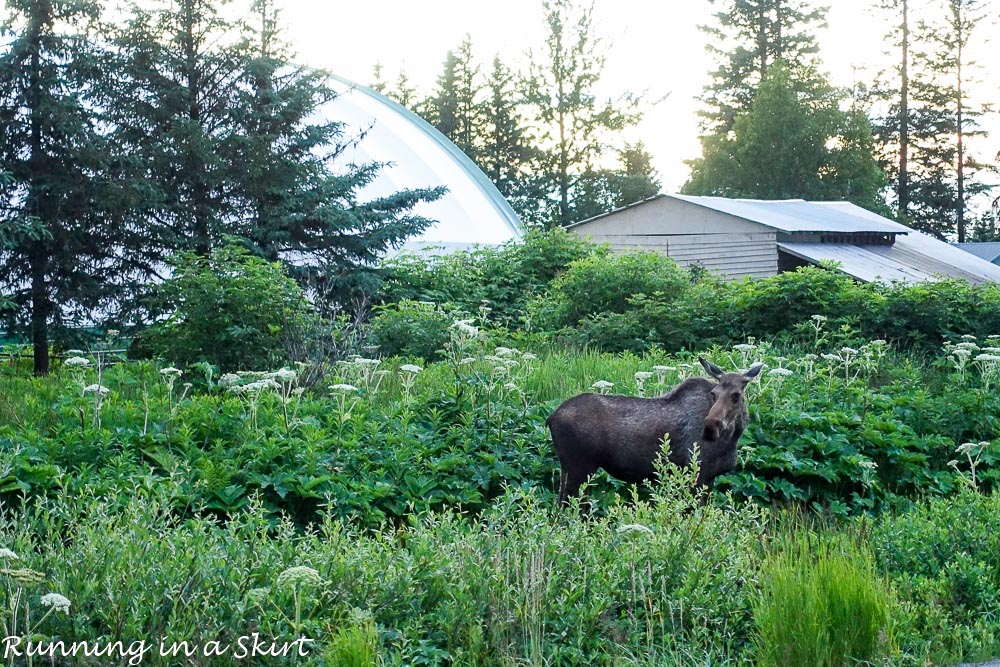 What a day!
We picked up in the morning to head back to Anchorage. Sadly for the first time since we arrived, it was finally sunny and warmer, but at least I got this shot before we left.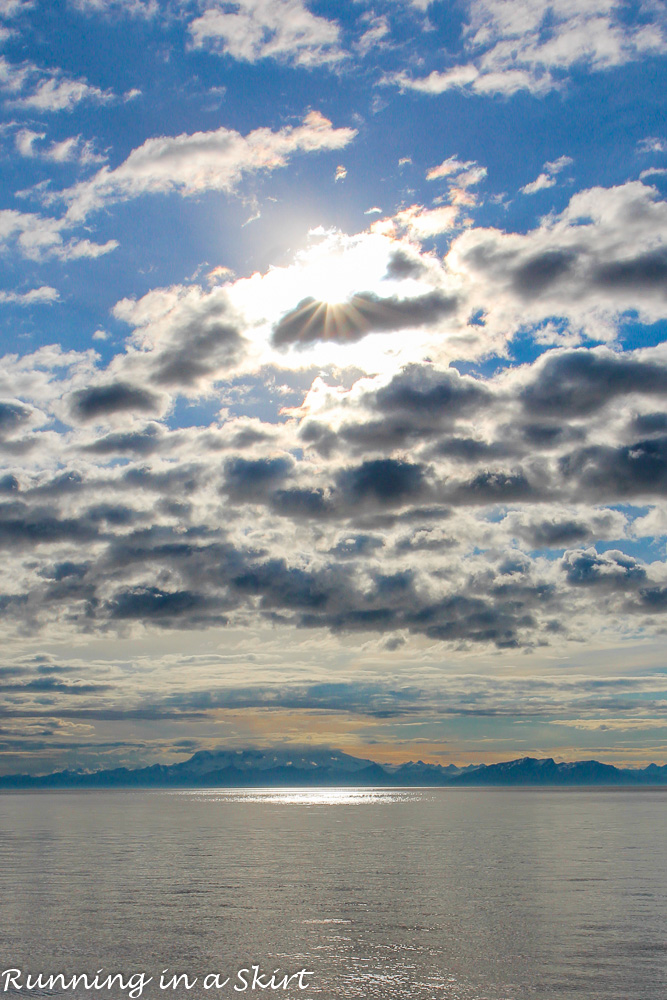 I had such a great time in Homer and sharing these Things to Do in Homer Alaska. It was beyond amazing to stay with locals and get a real feel for how people live in this magical little corner of the world. They were so kind and generous to us and treated us like family. I hope our paths cross again and it's an experience I will never forget!
The next day we took a ferry to Valdez, which was equally stunning. Keep reading my Alaska Travel Guide here.
Like this post about Things to Do in Homer Alaska? Pin this to your favorite travel board!


Read about my entire trip...
Thanks for stopping by today. Come back Monday for this month's Currently... post.
Your turn!
What would be your favorite thing to do?