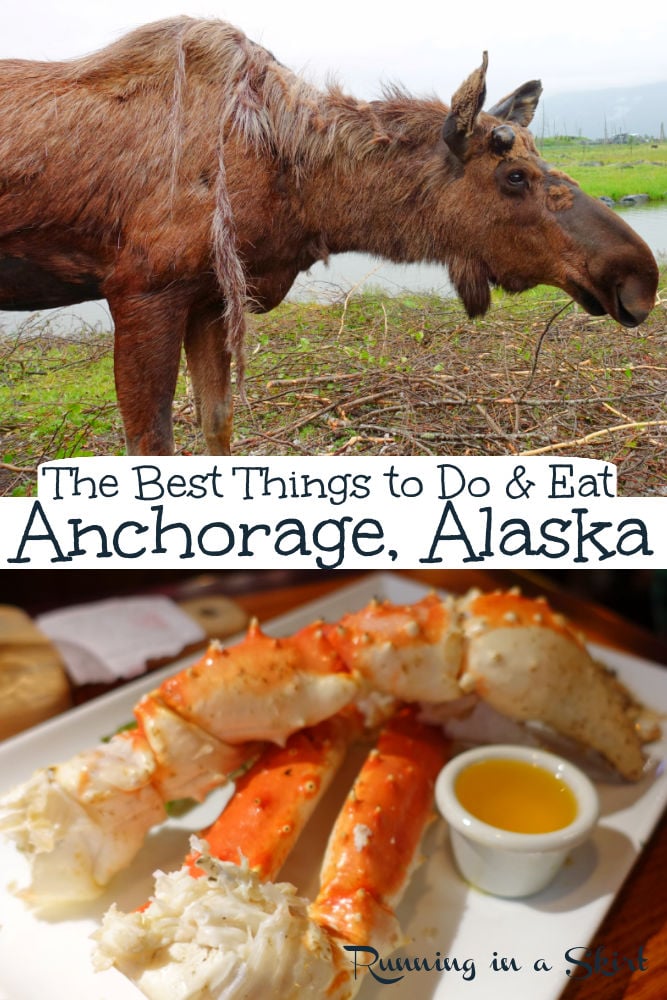 Anchorage is a great home base for any Alaskan journey! Here's what to do in Anchorage Alaska.
Hi everyone,
Today I'm wrapping up my series on my recent trip to Alaska by taking you to Anchorage. I used Anchorage as a home base for my trip since the Hubs has an Aunt and Uncle who live there who graciously hosted us and showed us around. Since the time we spent in Anchorage was broken up into smaller parts, I'm sharing the highlights in more of a list format. I'm also including a couple must-see activities that we did that are just a short, beautiful ride from Anchorage.
If you are just joining me make sure to also read about my time in Homer and Valdez.
Catch up here...
What to do in Anchorage Alaska
Alaska Wildlife Conservation Center
On our first full day in Alaska we drove from Anchorage to Portage along the Seward Highway, which itself is a pretty remarkable drive.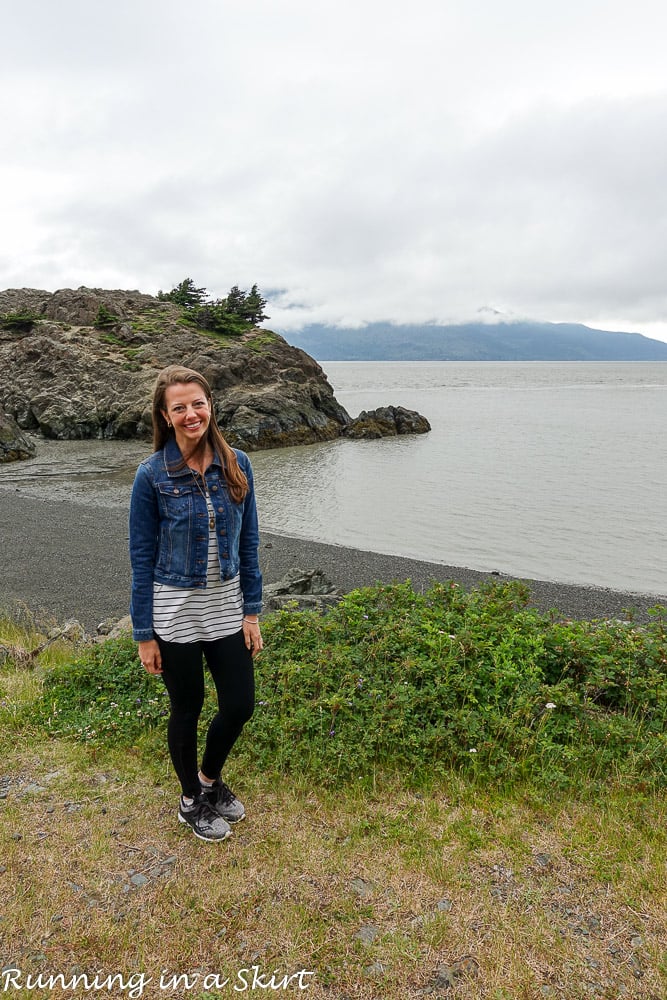 One of the highlights along the way was stopping at the Alaska Wildlife Conservation Center. While this isn't technically in Anchorage, it is close enough to easily enjoy in an afternoon. It was another one of my favorite things on the entire trip! This is a can't miss on your list of what to do in Anchorage Alaska.
This zoo allowed you to get up close and personal to real, spectacular animals that you don't see anywhere else. We wanted to get really close so we decided to walk around, but you can also drive.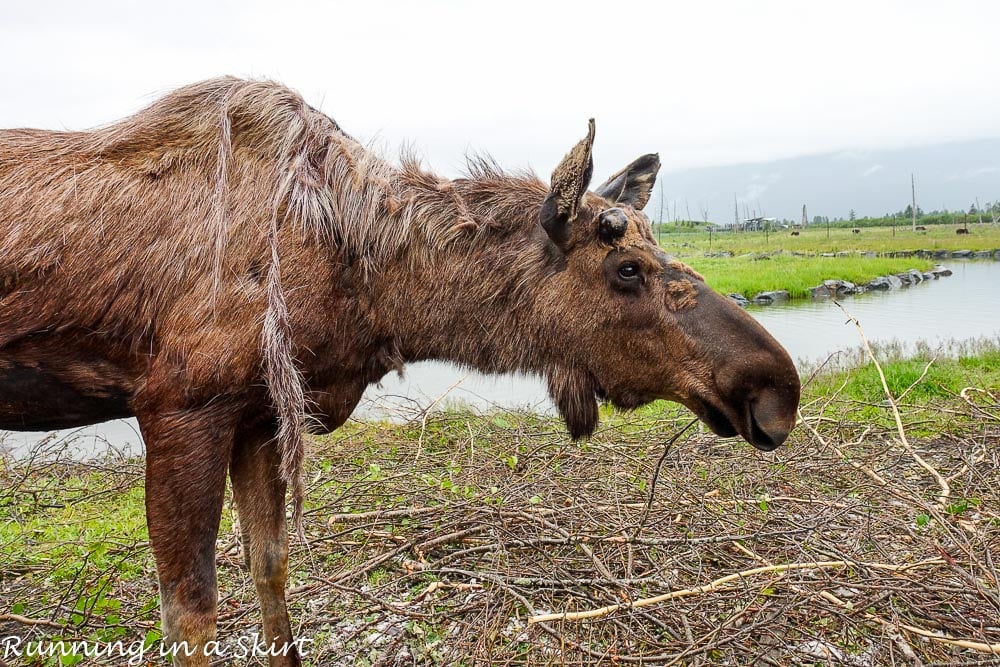 They have all sorts of beautiful animals including bison!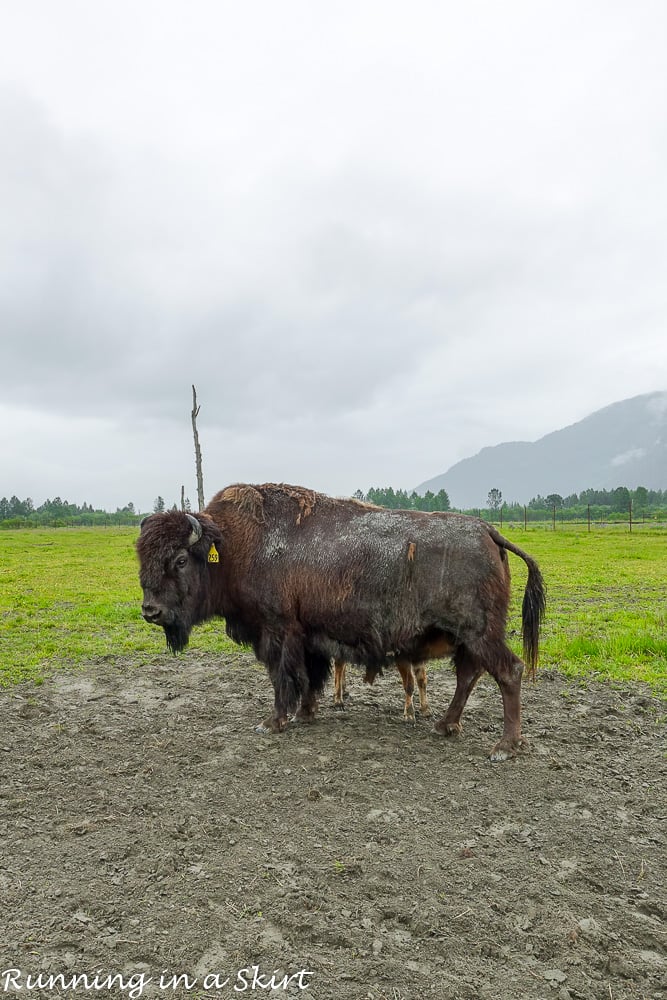 They are fenced in, but you can get close enough to really understand the animals. It feels a lot more wild than your average zoo.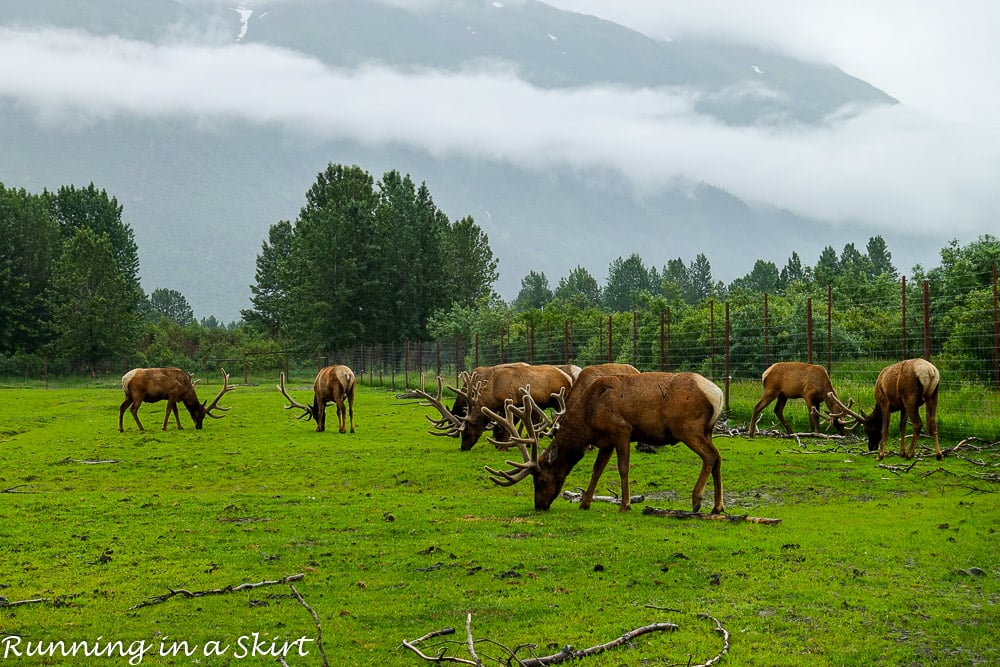 Such a pretty place too.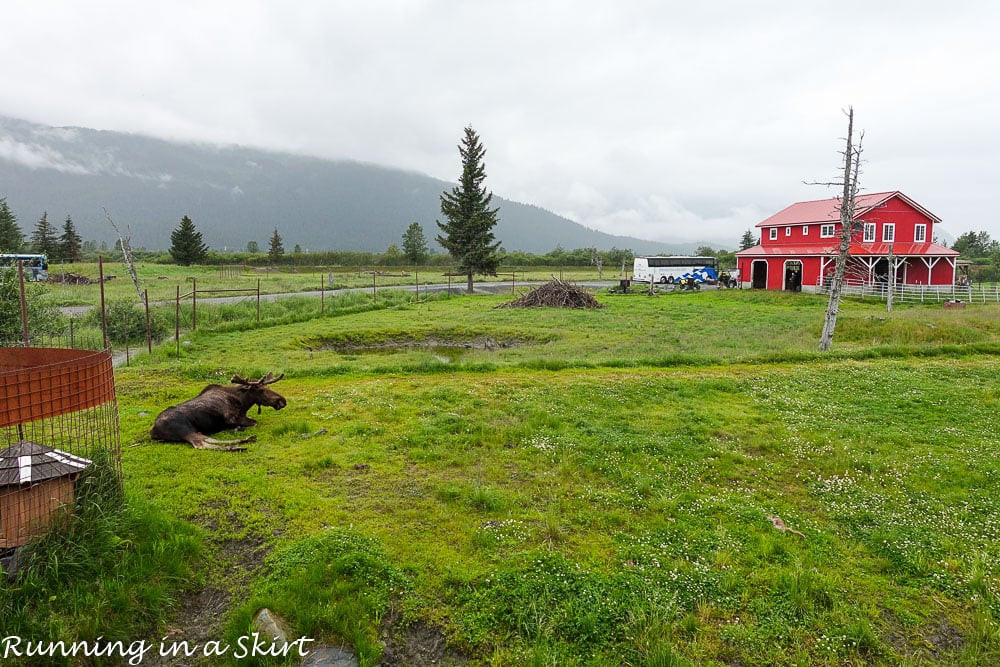 We even got to watch some bears.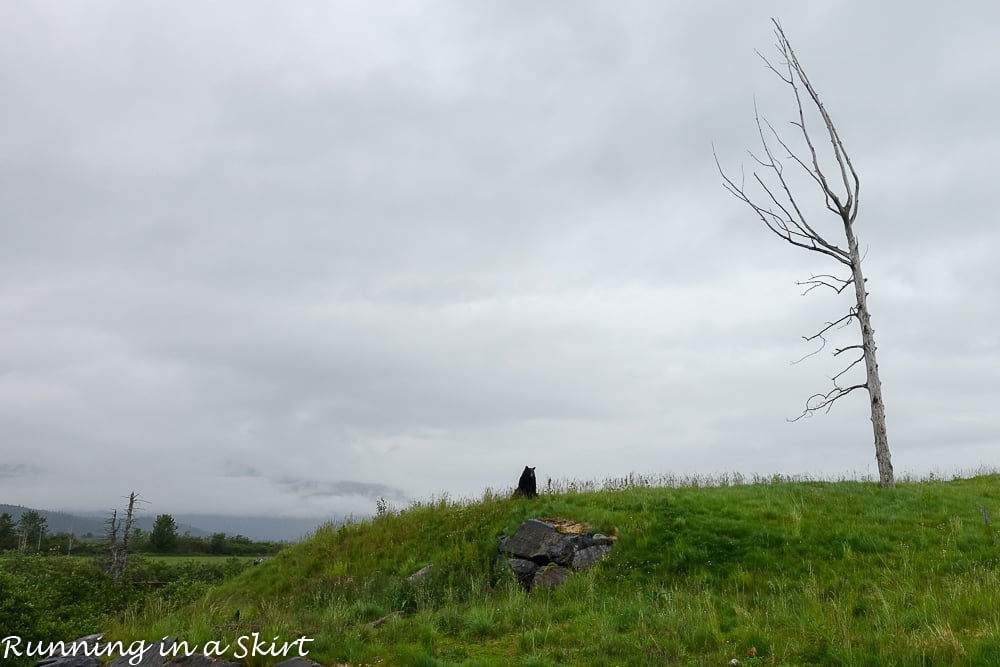 Even though we did end up seeing moose and bald eagles in the wild later on in the trip, this was an unforgettable day.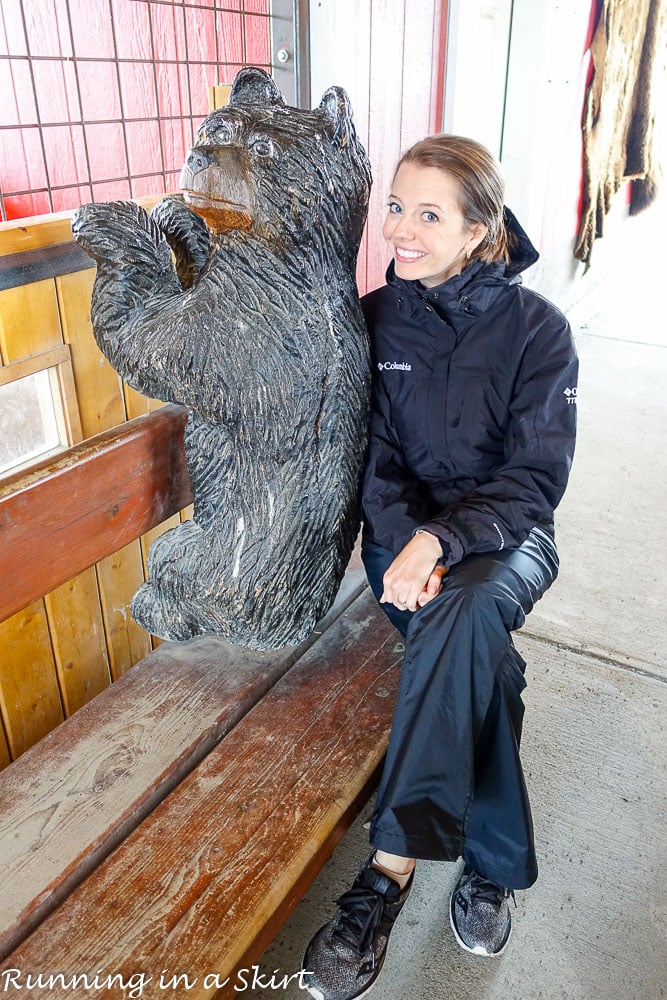 Indian Valley Gold Mine
I'm a sucker for cheesy tourist stuff and wanted to try my hand at gold panning in the state known for striking it rich! Luckily there is a charming gold mine just a short ride from Anchorage, also on the Seward Highway. The Hubs, my BIL Justin and I stopped here on our last morning in Alaska.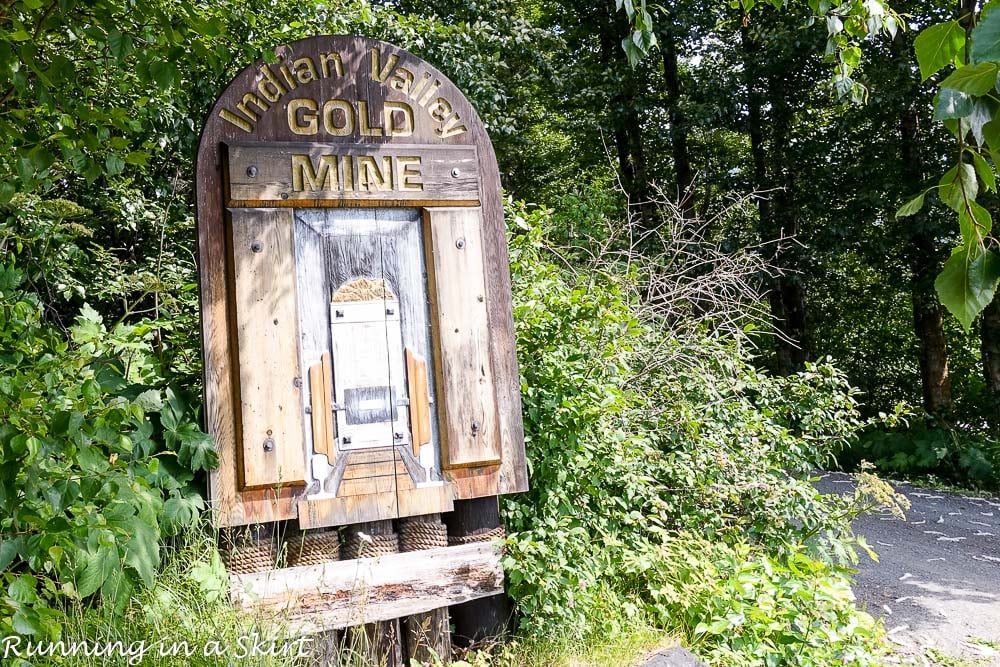 The attraction is absolutely aimed at tourists, but was still pretty entertaining.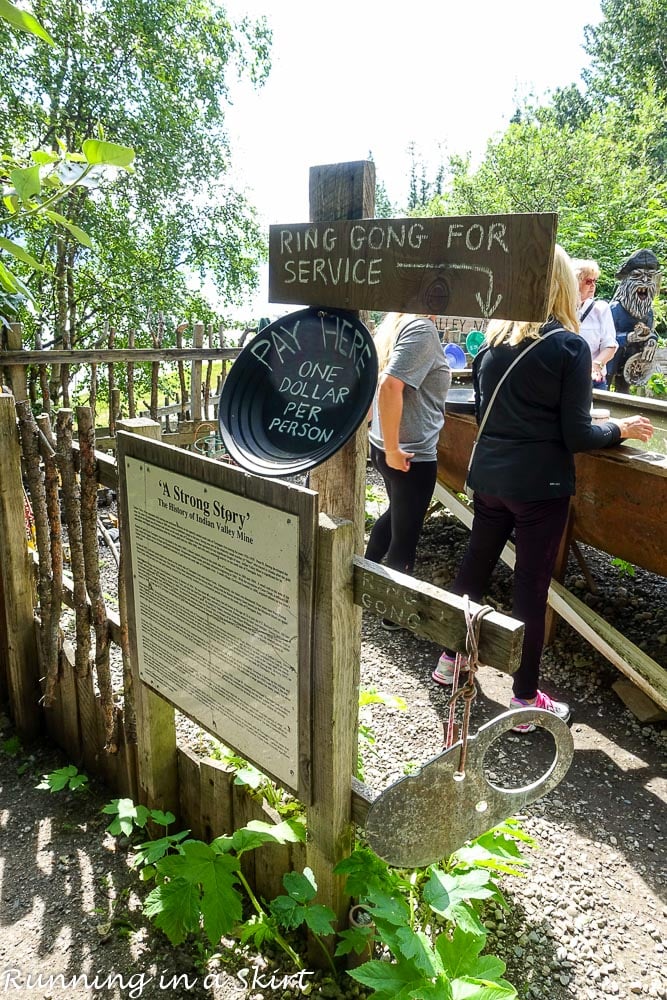 The owner took us on a tour of the property which has been in his family for generations.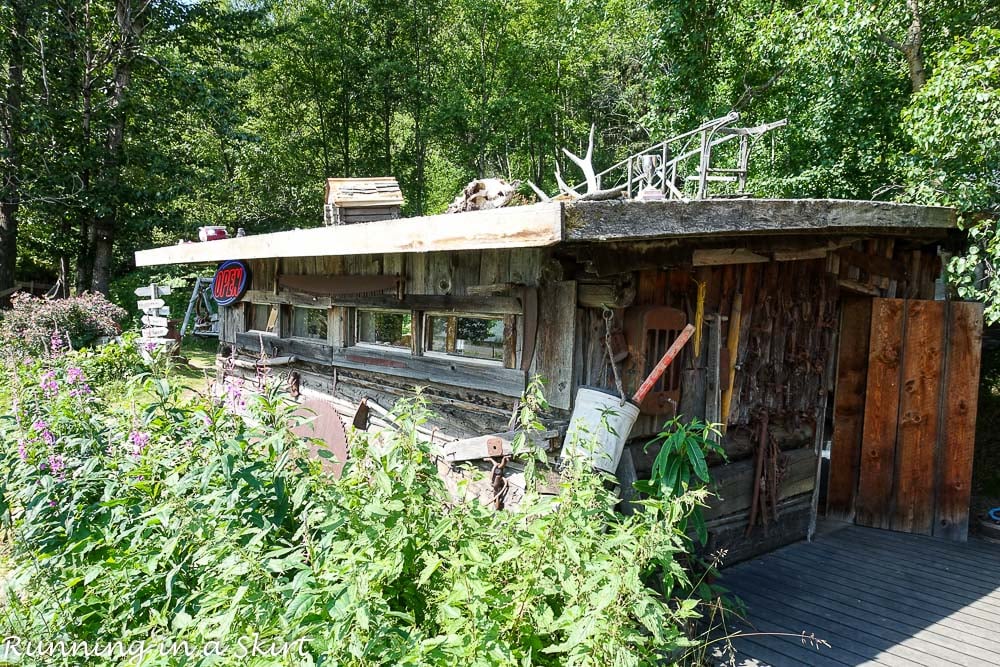 We even got to see the old mine shaft.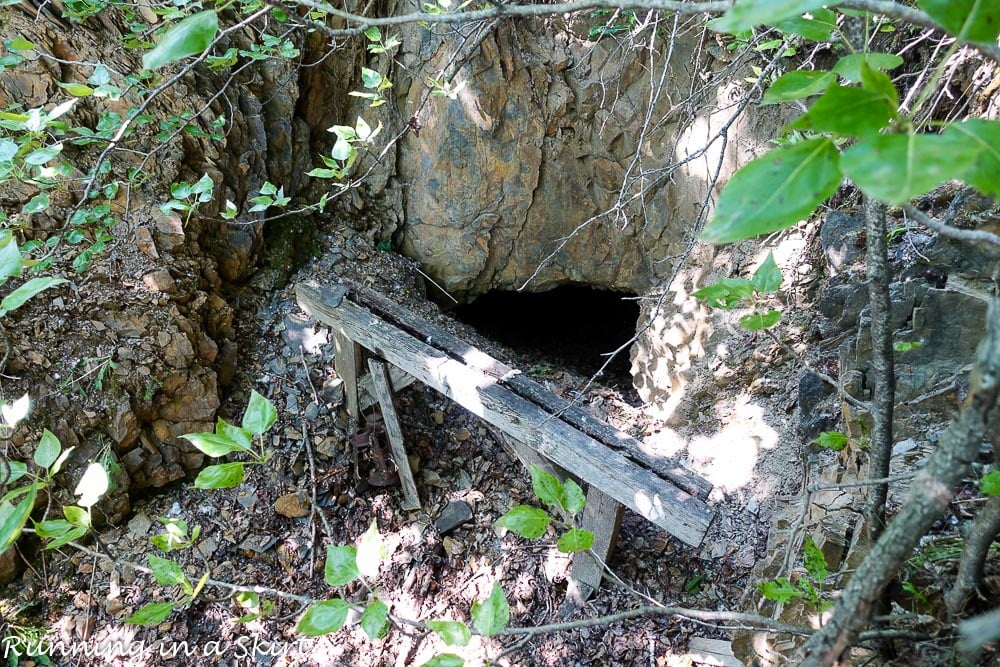 After our tour we tried our hand at actual gold panning.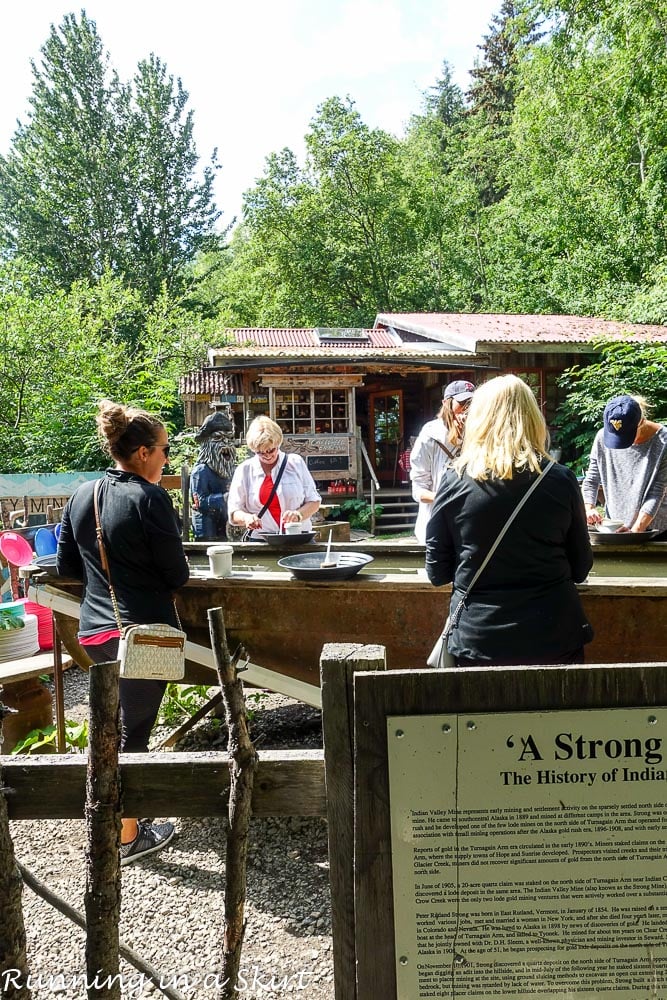 Despite getting a lesson from the owner, I still couldn't quite figure it out.... but it was still fun.
Between the three of us we found some gold dust and had a blast talking with the owner who was a character.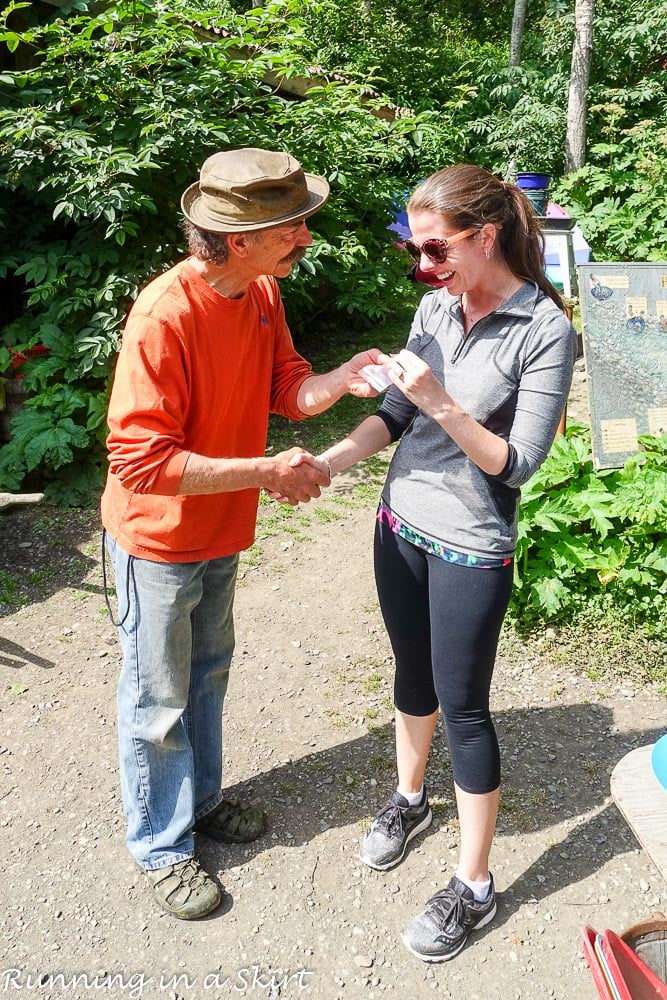 If you want to check gold mining off your Alaskan bucket list, this is a fun place to do it!
Shopping in Downtown Anchorage
On our last full day in Alaska the boys went back out fishing in Seward and I explored downtown Anchorage with my mother-in-law and the Hubs Aunt and Uncle. For those of you who are keeping track, they did come home with lots more fish and now we have a freezer full of halibut and salmon.
The city is cute, clean and full of one-of-a-kind items.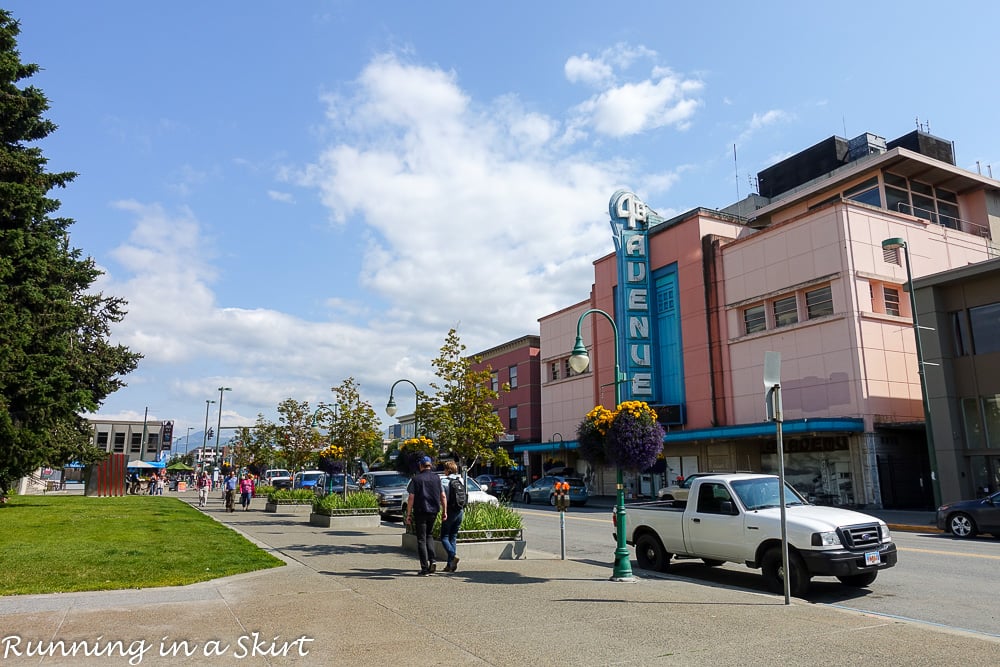 There weren't a whole lot of chains and you really got a sense of the Alaskan spirit.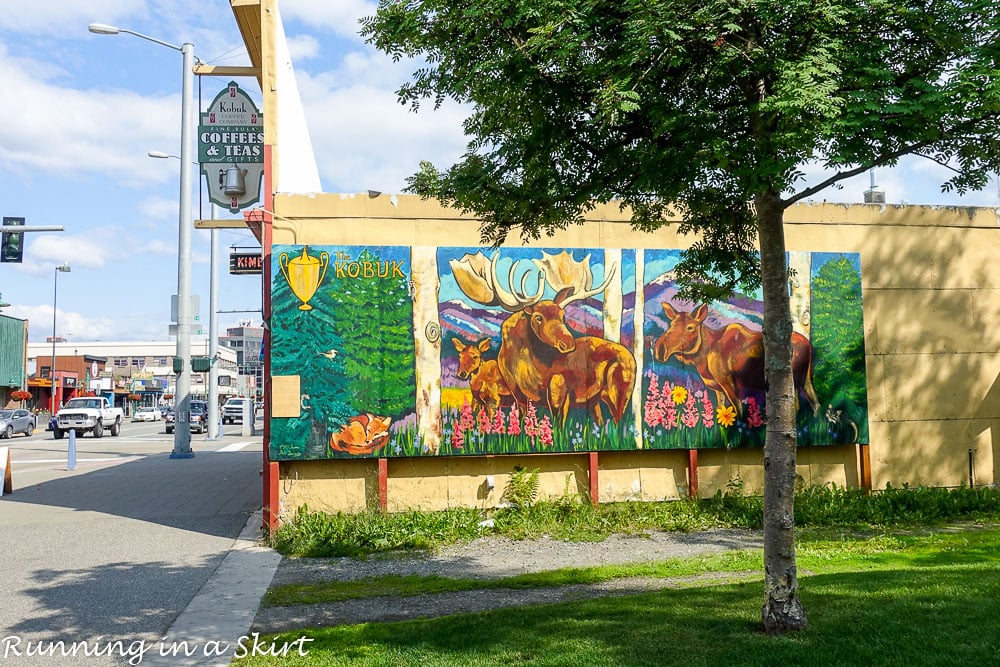 I was blown away by all the gorgeous flowers planted all around town. I never would have imagined Alaska to be this colorful!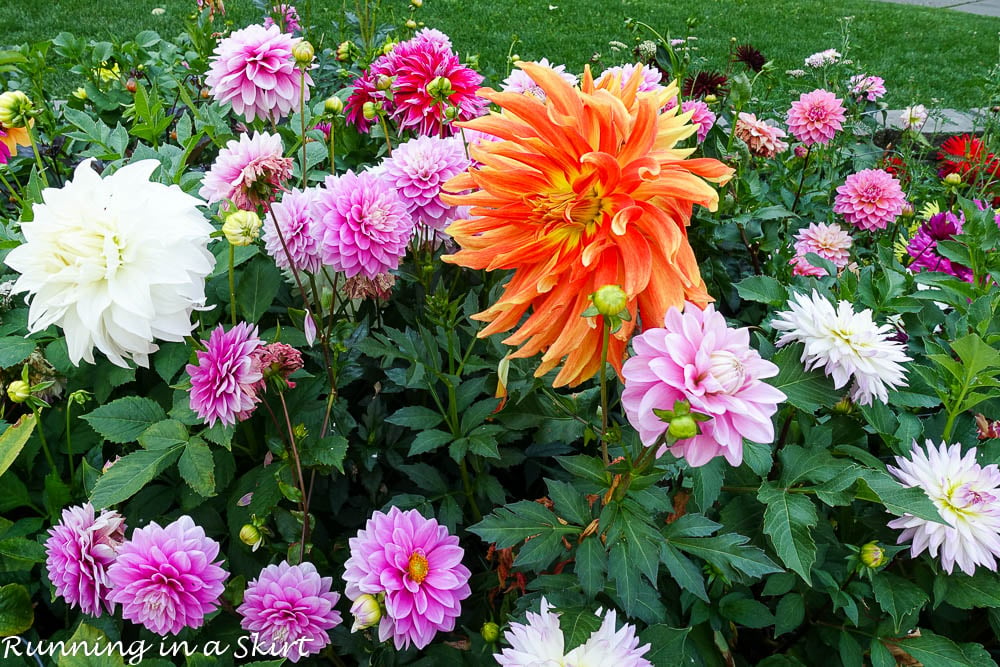 Of course the tourist shops had some fun stuff I just couldn't resist!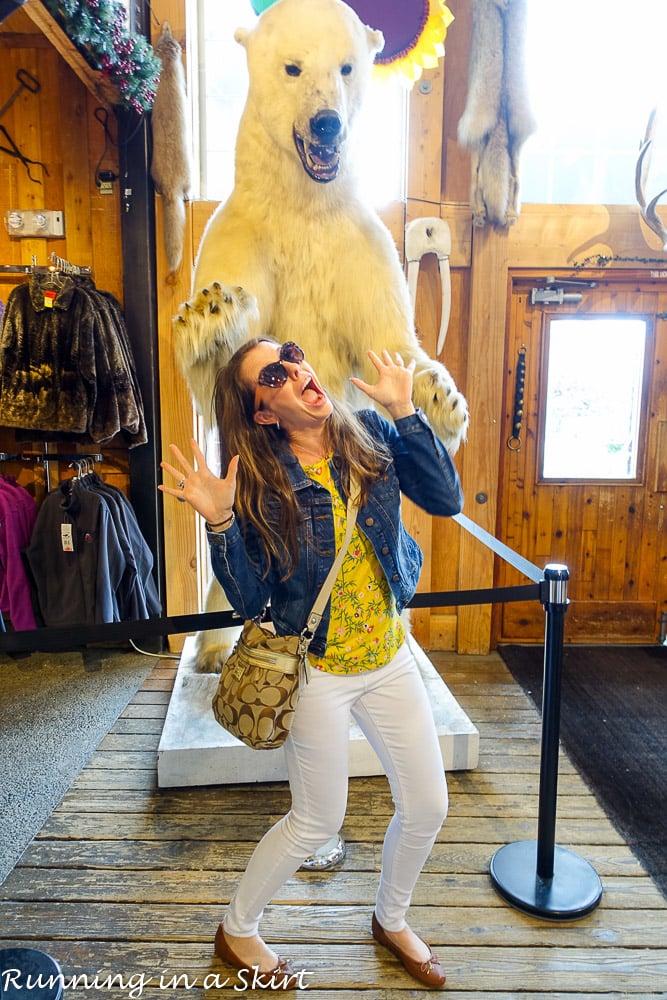 And I still regret not buying this sasquatch shirt. If it would have come in women's sizes, I would now own it. Because of course... I believe. 🙂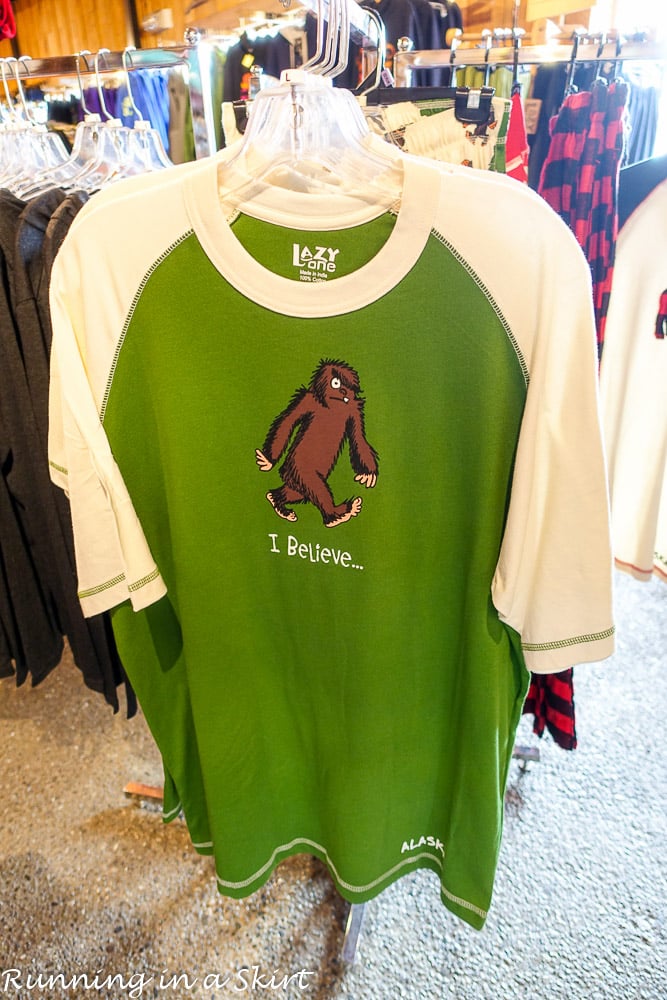 Exploring downtown Anchorage was actually a really nice way to spend a few hours if you are in town!
Things to Eat in Anchorage Alaska
I also had some great eats while I was in Anchorage! One of the most memorable was the historical Gwennie's Old Alaska Restaurant.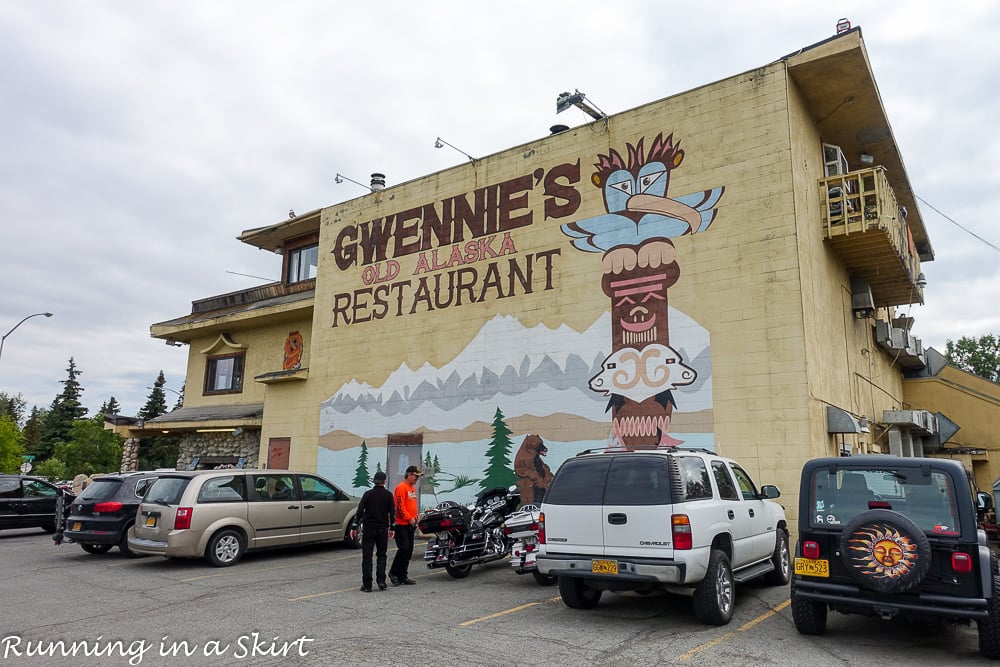 It's been around for decades and is an Alaskan institution. While the food wasn't my favorite, it was still a great experience.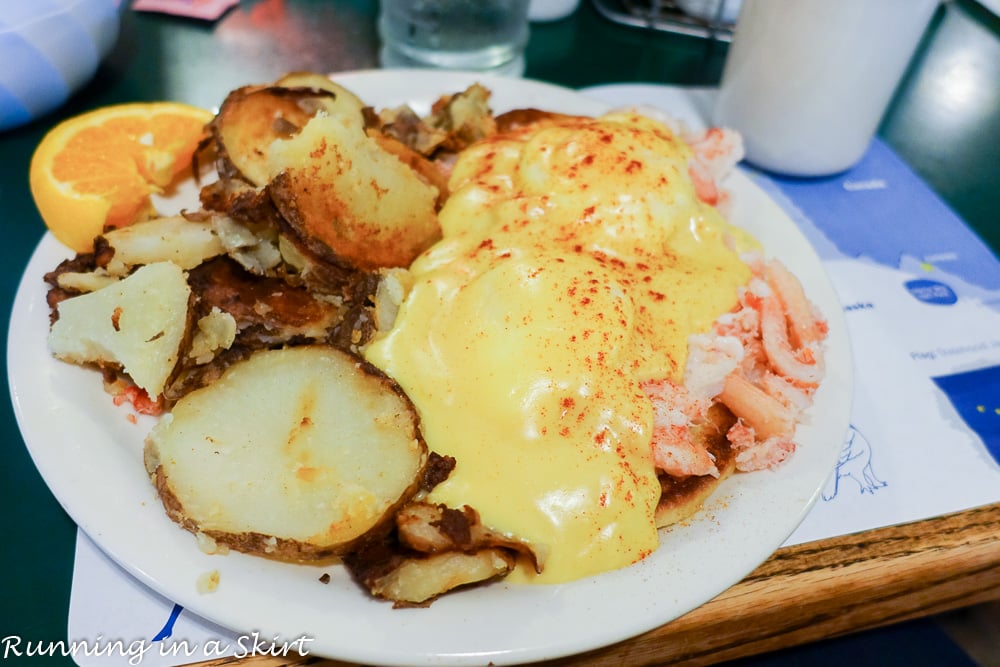 Another great meal I had out in Alaska was Spenard's Roadhouse. This is the Grilled Salmon Chop Chop Salad and it was so tasty.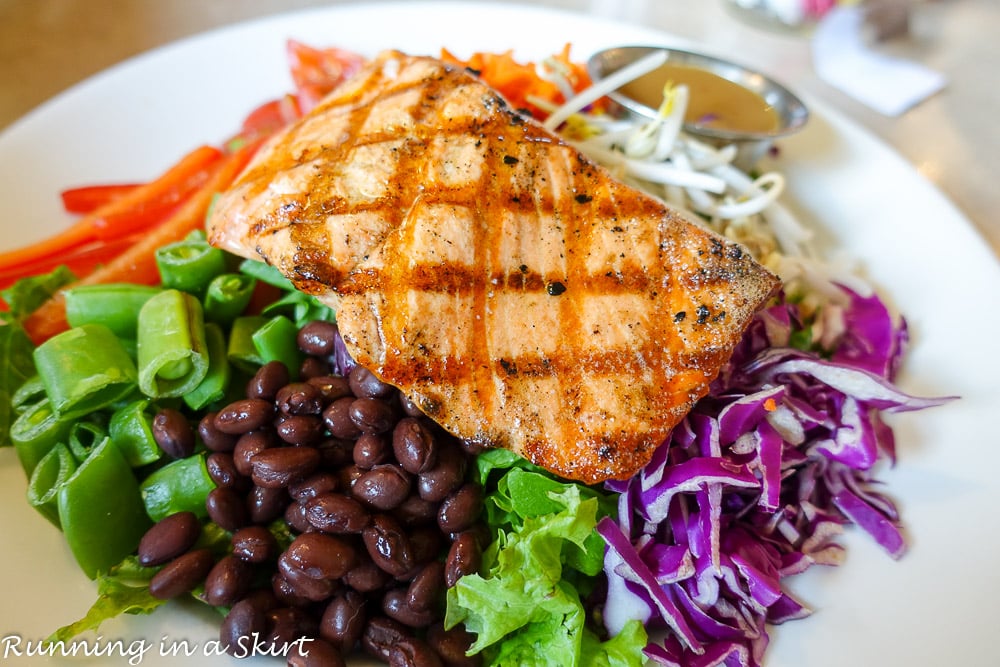 After coming back from gold mining, Justin the Hubs and I had a great meal and drinks at Glacier Brewing in downtown Anchorage.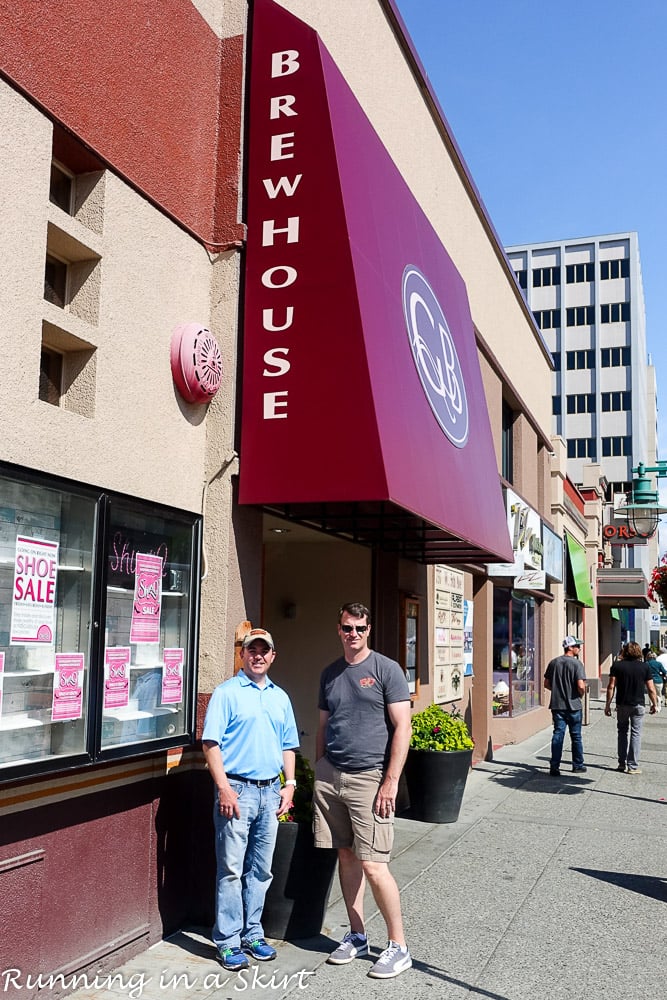 They loved their beer flights!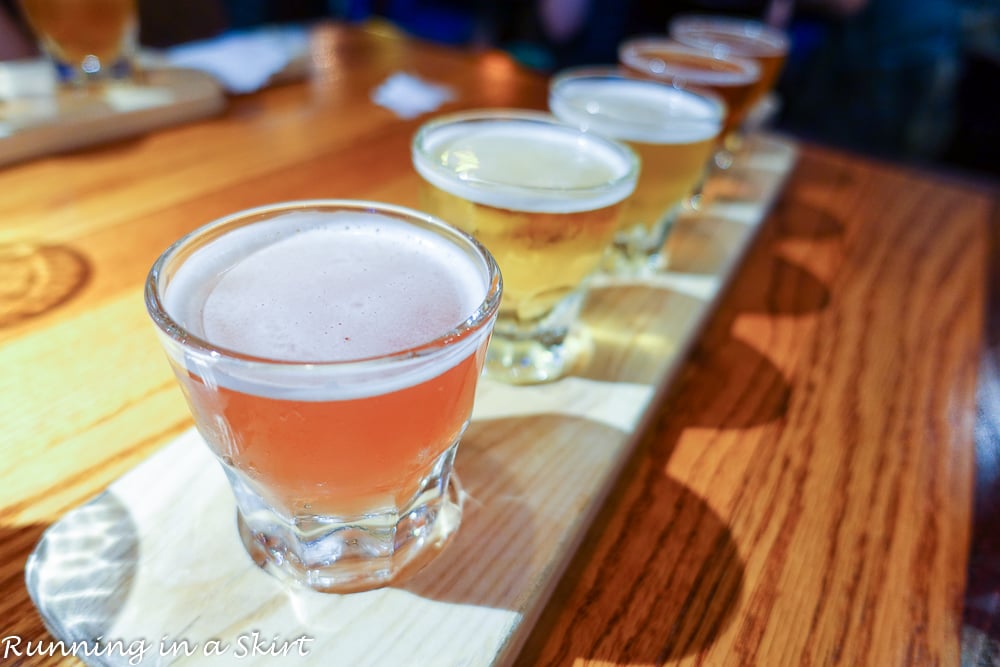 We also enjoyed one last order of king crab legs because it was our last few hours before flying back. I'm still dreaming about these things.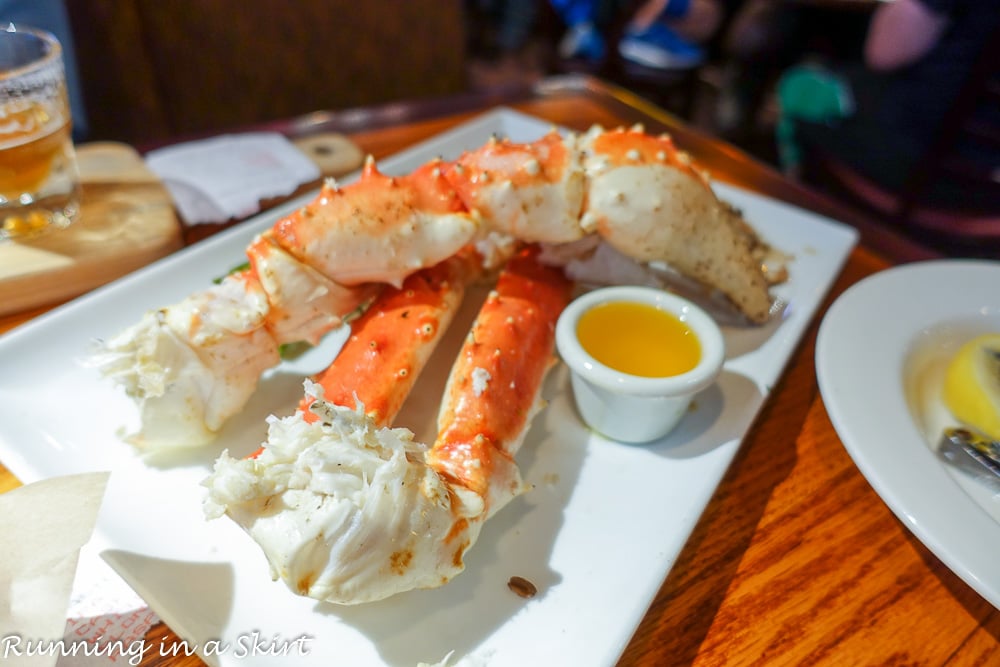 And finally... leave it to me to find something Hawaiian in Alaska and love it. 🙂 While shopping in downtown Anchorage I stumbled on the Alaska Shave Ice cart. They had great flavors and even offered the Hawaiian touch by putting a scoop of ice cream at the bottom.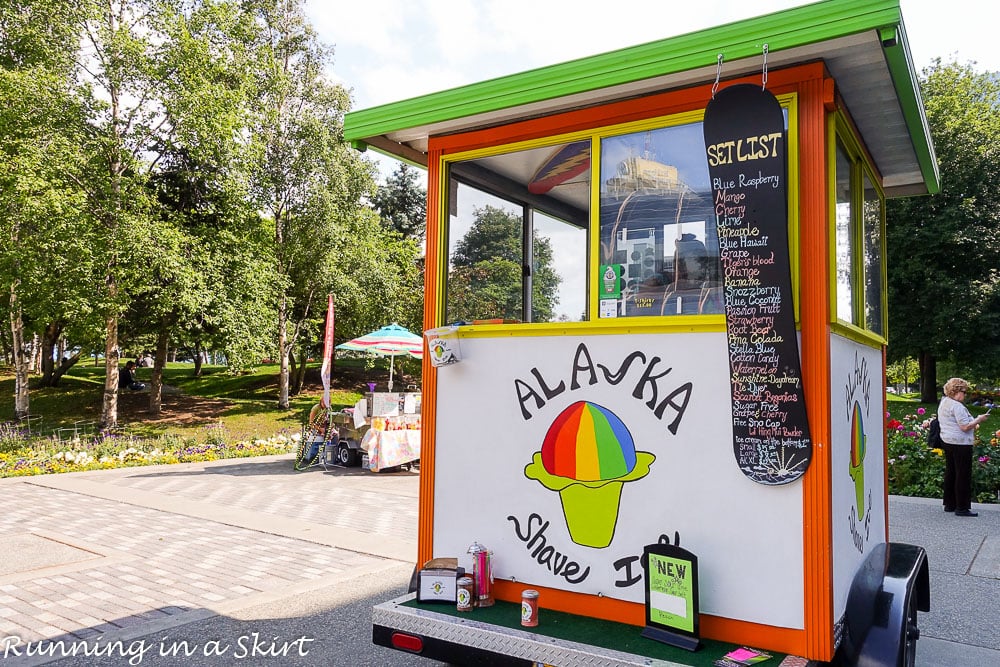 I got a trio of tropical flavors including passion fruit and mango and was in sheer bliss! I was also freezing by the time I finished it- haha!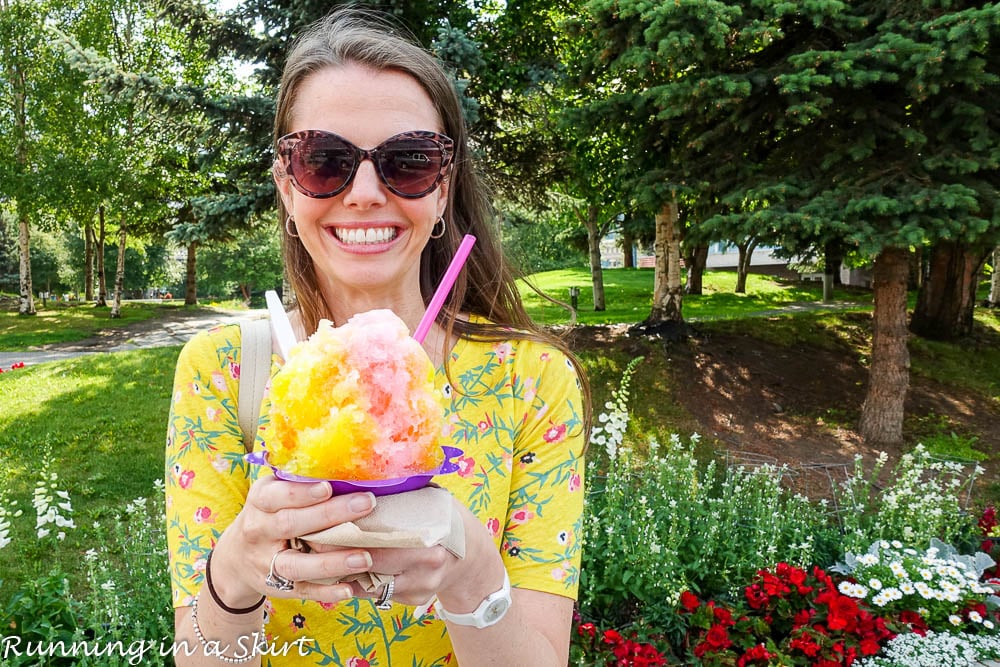 Anchorage was such a fun small city to visit. I was impressed by their tasty food, charming shops and green flowery mid-city parks. I enjoyed exploring in and around the area! Make sure to add these finds to your list of what to do in Anchorage Alaska.
Farewell Alaska
This finishes up my posts on my trip to Alaska. I've got to take a moment to thank the Hubs Aunt Judy and Uncle Bernie for going out of their way to host us and show us around Alaska for the week. They were so incredibly kind to us, made us dozens of amazing home-cooked meals, and even introduced us to their friends. I can't thank them enough. I also have the thank, my in-laws, for taking me along on this amazing adventure. So many blessings.
Like this post about What to Do in Anchorage Alaska? Pin this to your favorite travel board!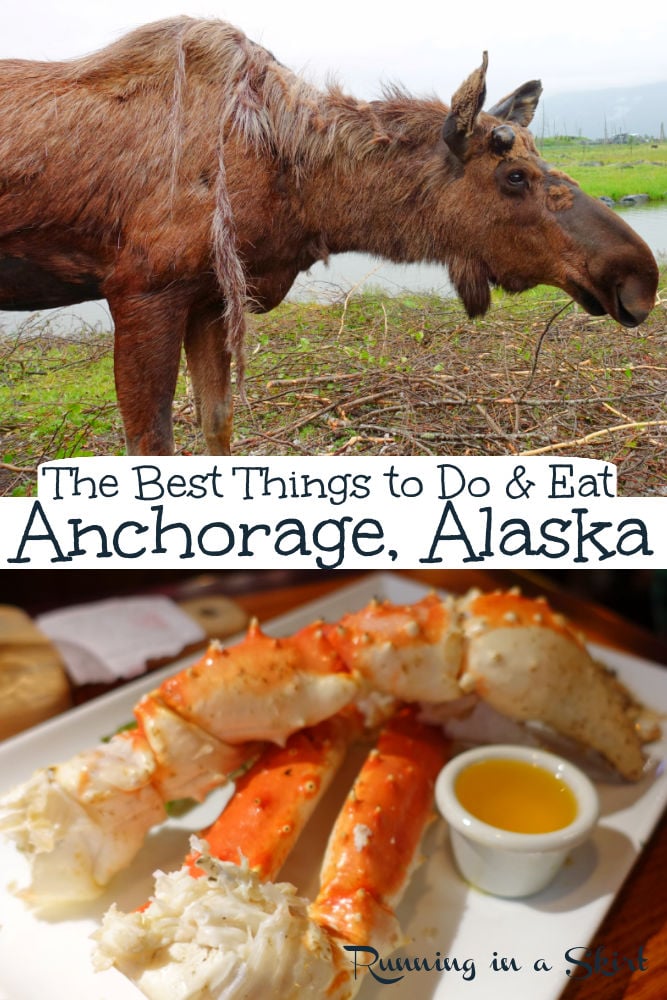 Read about my entire trip...
Your turn!
Which animals would you like to see?
Which would be your favorite meal?
I'm linking up Thinking Out Loud Thursday.