Getting to Valdez was half to the fun! Today I'm sharing my journey to get there including ferry rides and glacier hikes... plus what to do in Valdez Alaska.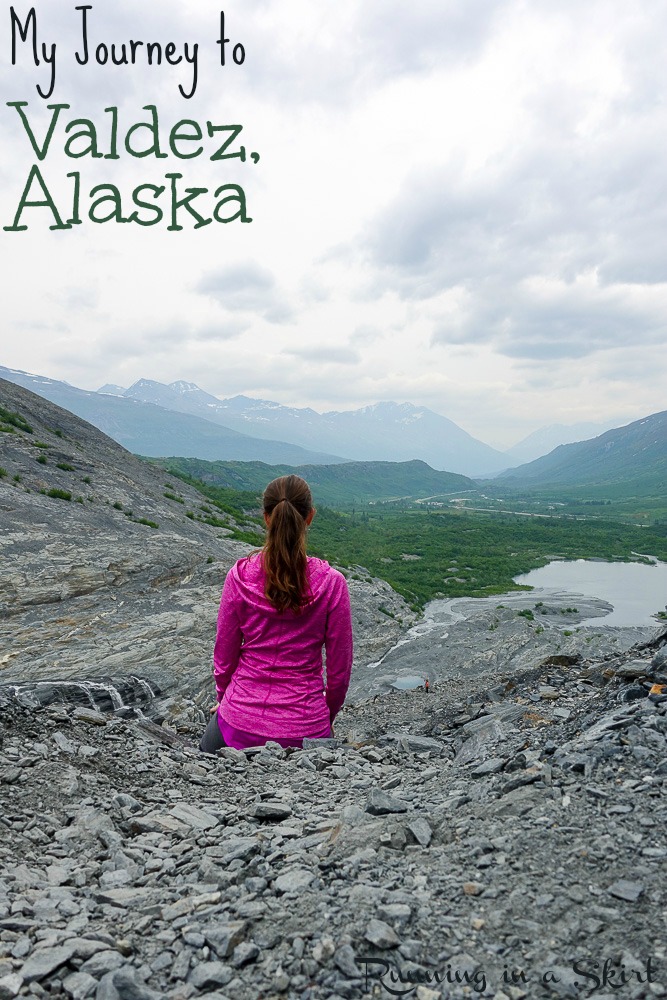 Hi guys,
Before I went to Alaska this summer my knowledge of Valdez included... "wasn't that the place where there was an oil spill?" I remember seeing pictures of oil covered birds washed off by dawn soap when I was a girl. Little did I know that life would take me to that small fishing village one day and I would be captivated by it's charm. Like many places in Alaska it's remote, rustic and filled with fishing boats. It's surrounded by white capped mountains and has it's own hippie vibe.
If you are just joining me on my posts about my Alaska trip, the journey started by flying into Anchorage to visit the Hubs Aunt and Uncle. From there we drove to Homer to spend several days with family friends on a remote, chilly black sand beach. After Homer we drove back to Anchorage to homebase for one night before leaving to take a ferry to Valdez the next morning. And that's where this post picks up. I'll be sharing my journey to Valdez and what to do in Valdez Alaska.
Catch up here...
Things to Do & Eat in and Around Alaska (coming soon)
What to do in Valdez Alaska
Half the fun of going to Valdez is the journey to get there. The Hubs aunt and Uncle have lived in Alaska for decades and suggested we do a circular trip to Valdez by taking the Alaska Marine Highway System ferry to get there, stay the night and then loop back around the state driving to get back to Anchorage. It sounded like a good plan so our crew piled into two cars first thing in the morning to catch the ferry.
To get to the ferry we drove to Whittier, stopping at the Whittier Tunnel which only goes one way at a time. We had to sit and wait in line until the scheduled changed to allow cars to drive to Whittier. It was fascinating to see how they made it work and just reinforced how remote Alaska really is.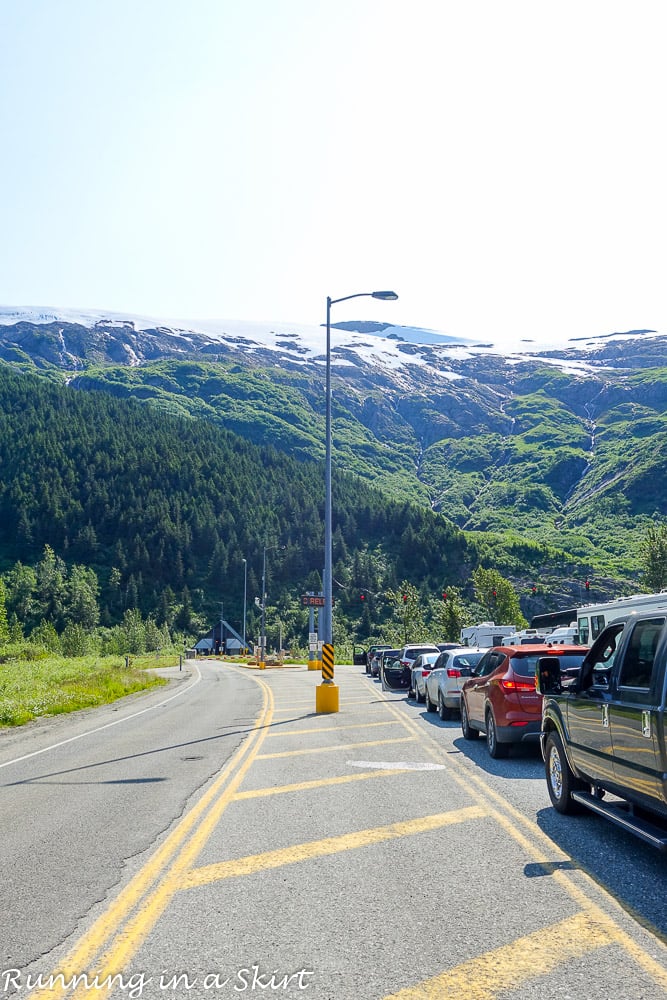 We drove through the tunnel and arrived at the seaside town of Whittier.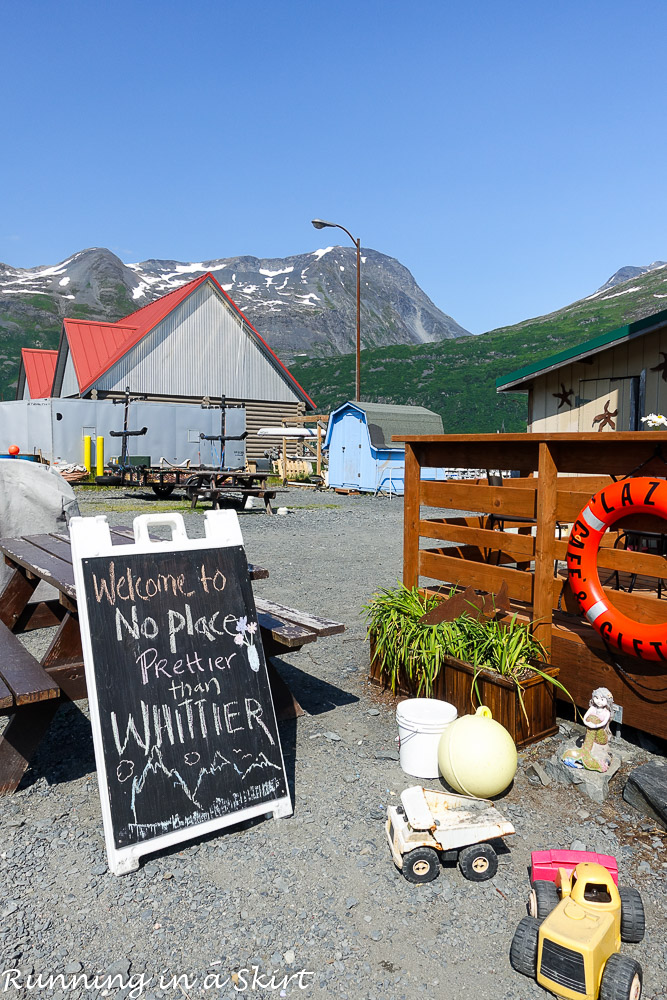 Whittier was filled with boats, stunning vistas and charming shops.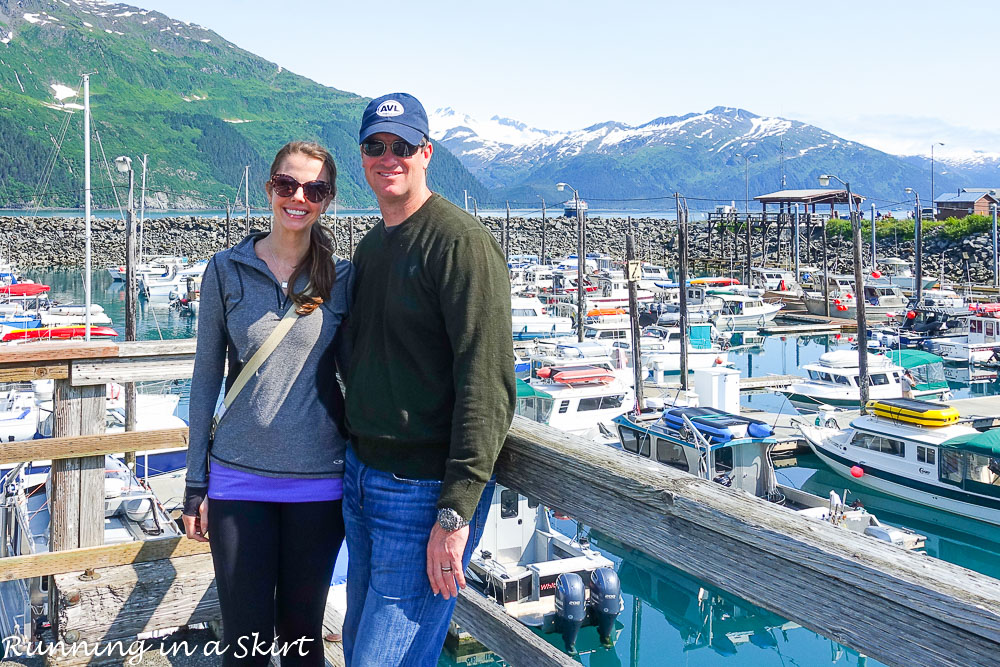 To get on the ferry we had to wait in line to actually drive onto the lower level of the boat. Once we did we left our cars and went to the upper decks of the boat where there were comfortable chairs and outside decks.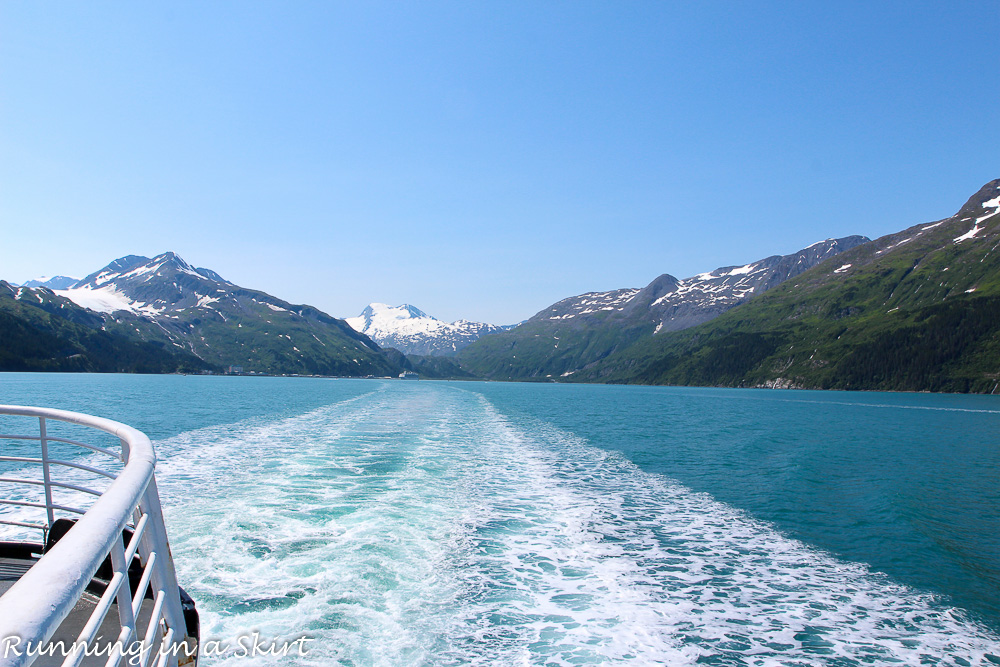 The ferry was so nice and was a really fun mode of transportation.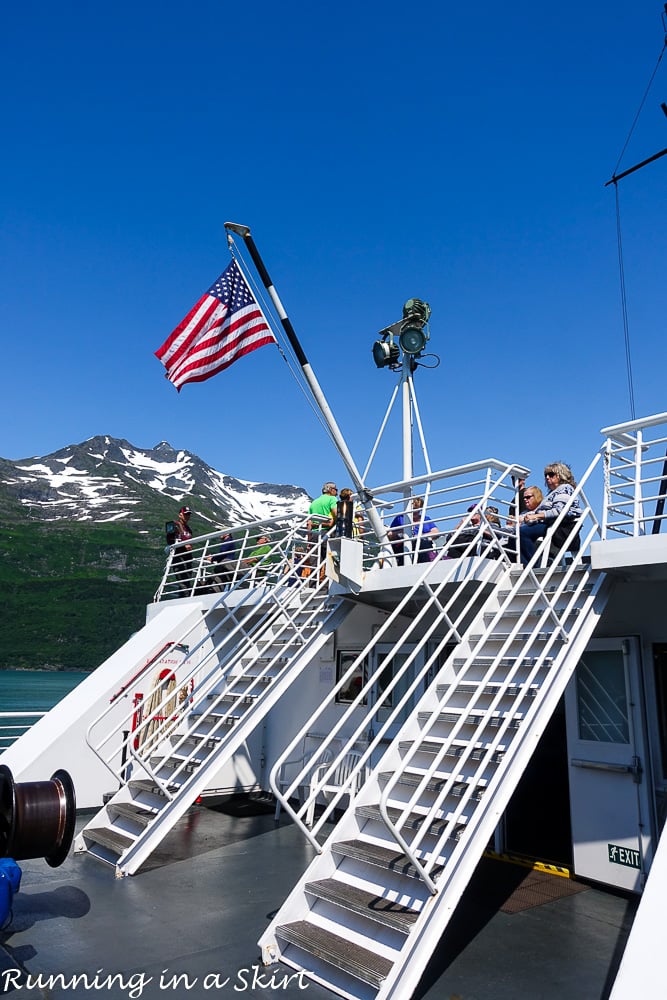 We settled in because the ride was nearly 6 hours!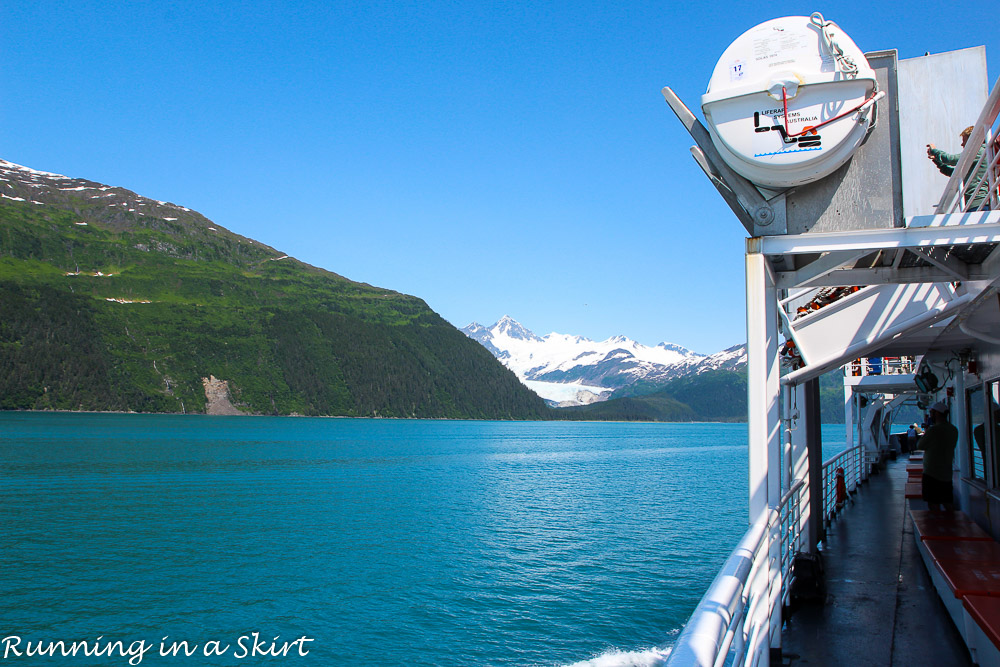 Of course I used the chance to take about 1000 pictures.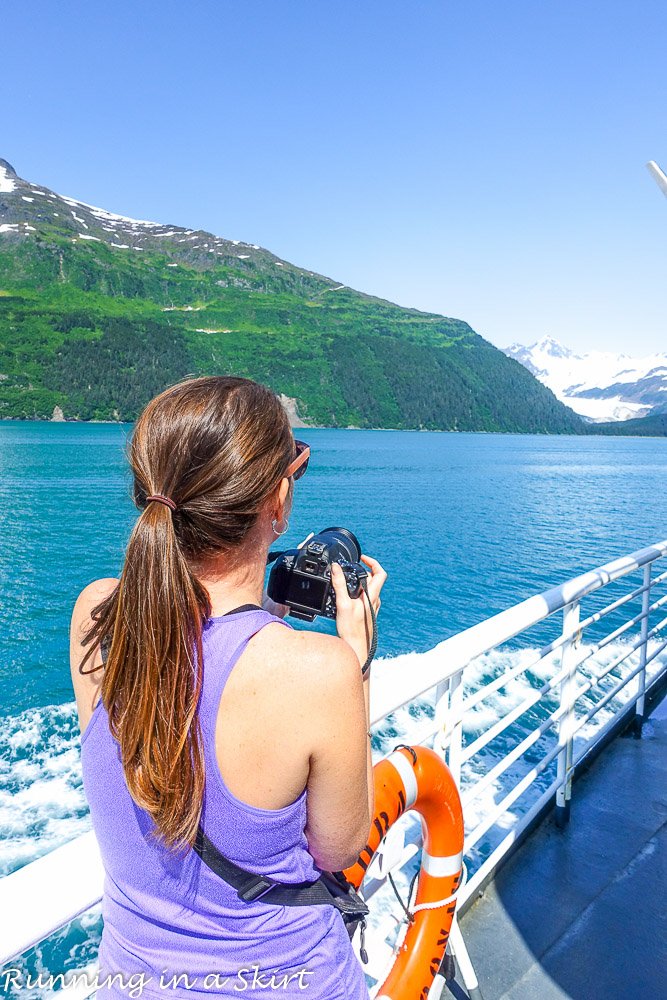 For the first time in our trip the skies were clear, sunny and blue and we all had big smiles on our faces. There is nothing like being out on the water.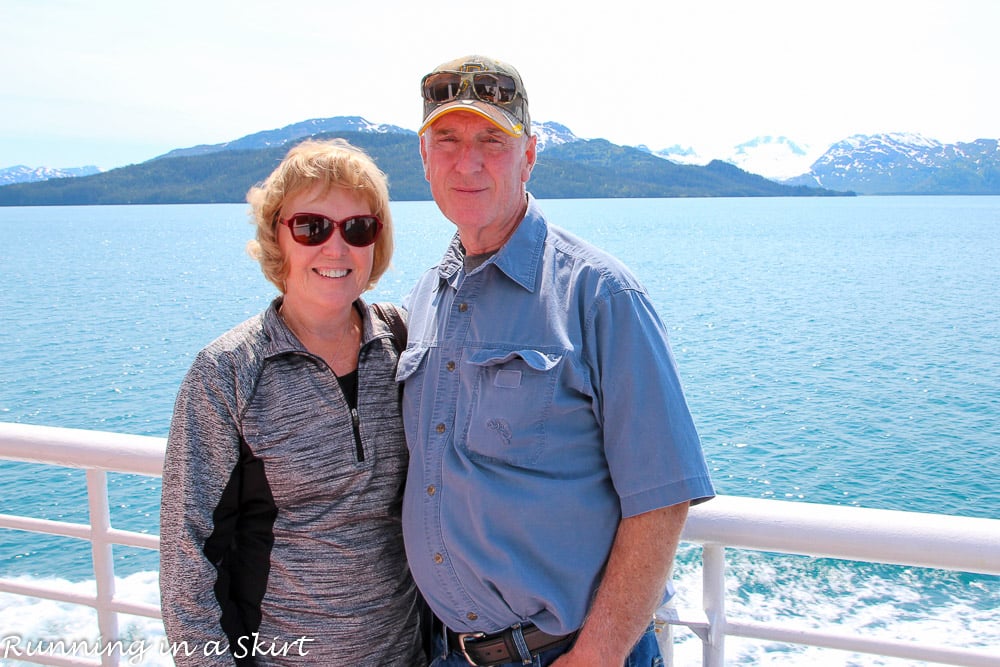 From the boat we saw waterfalls...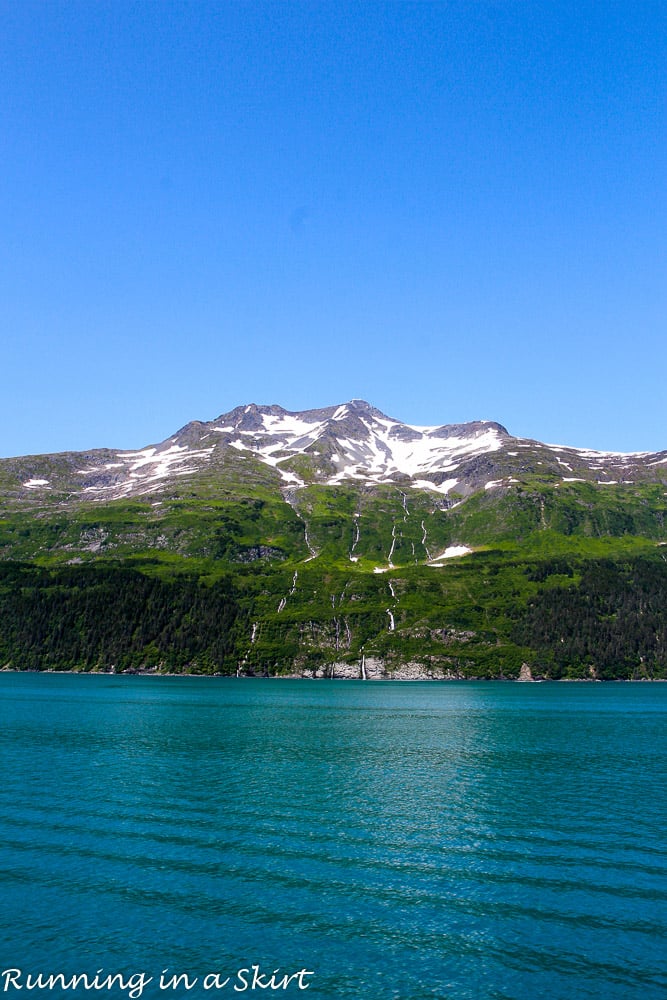 .... huge glaciers...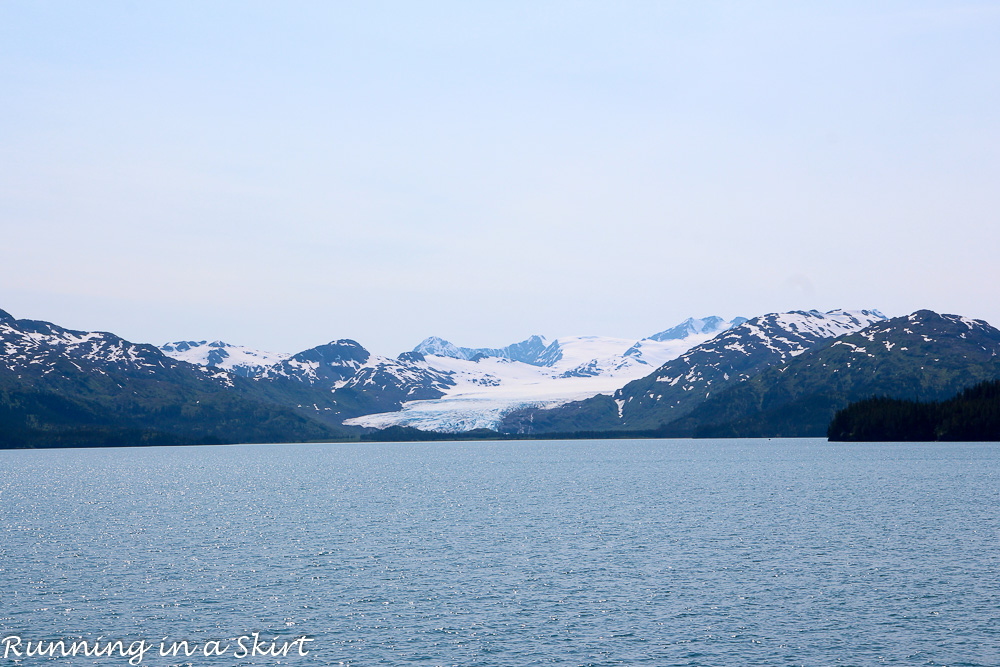 ... gorgeous birds...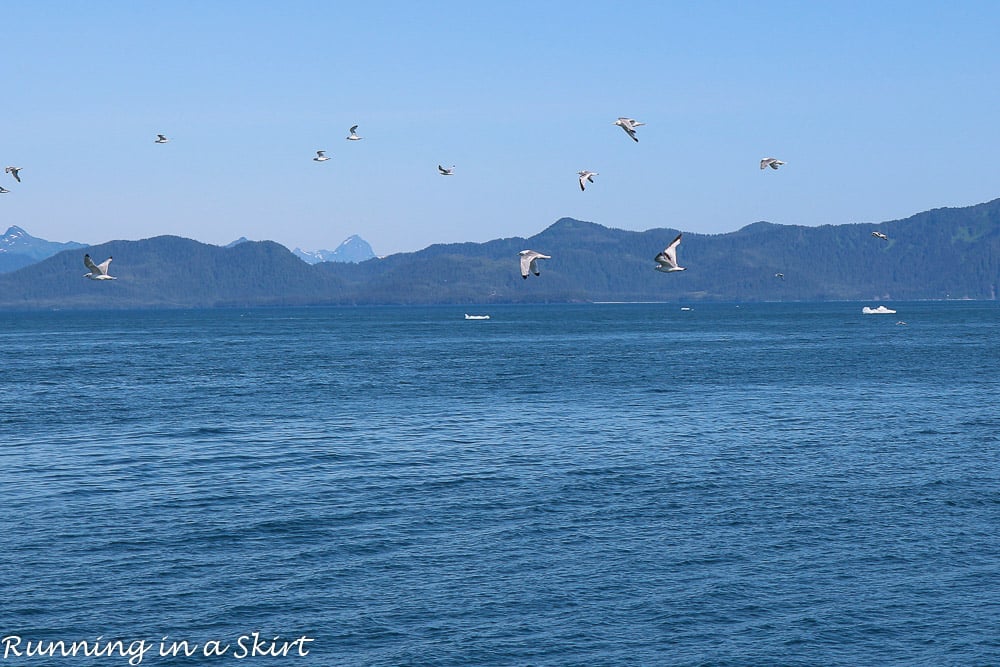 ... and even icebergs!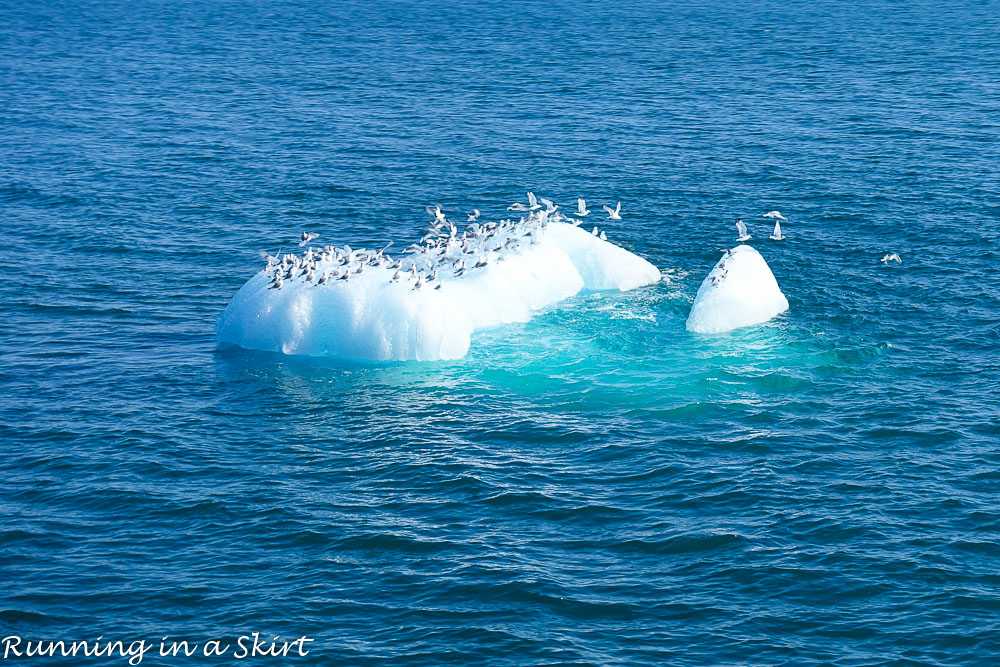 After a long journey, that kept us entertained the whole time we finally spot Valdez in the distance.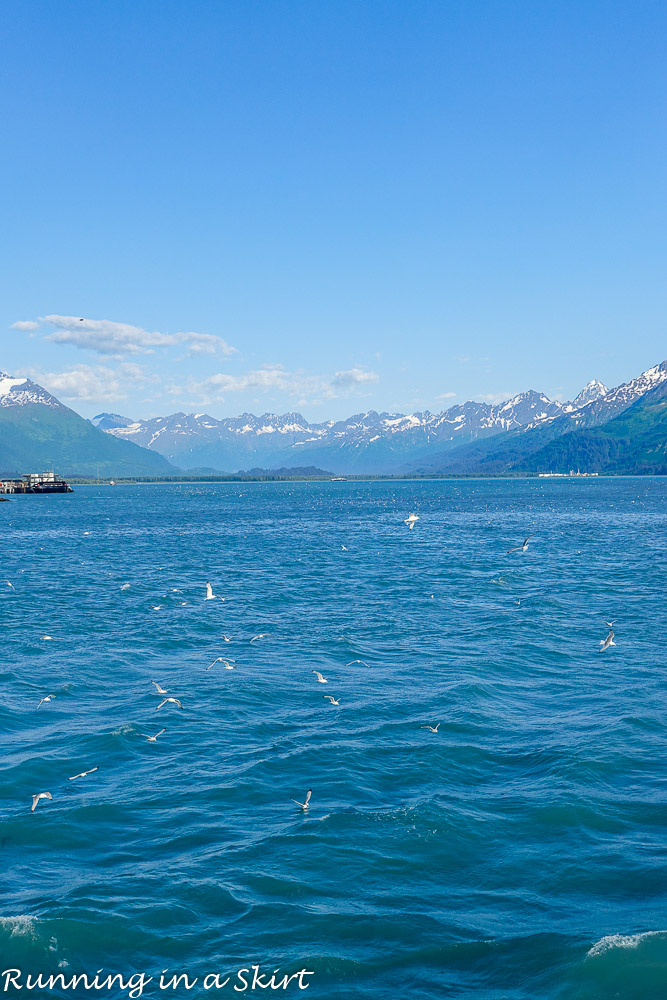 We even pass where the famous oil line begins. (We see the actual pipeline in several places on our drive home as well.)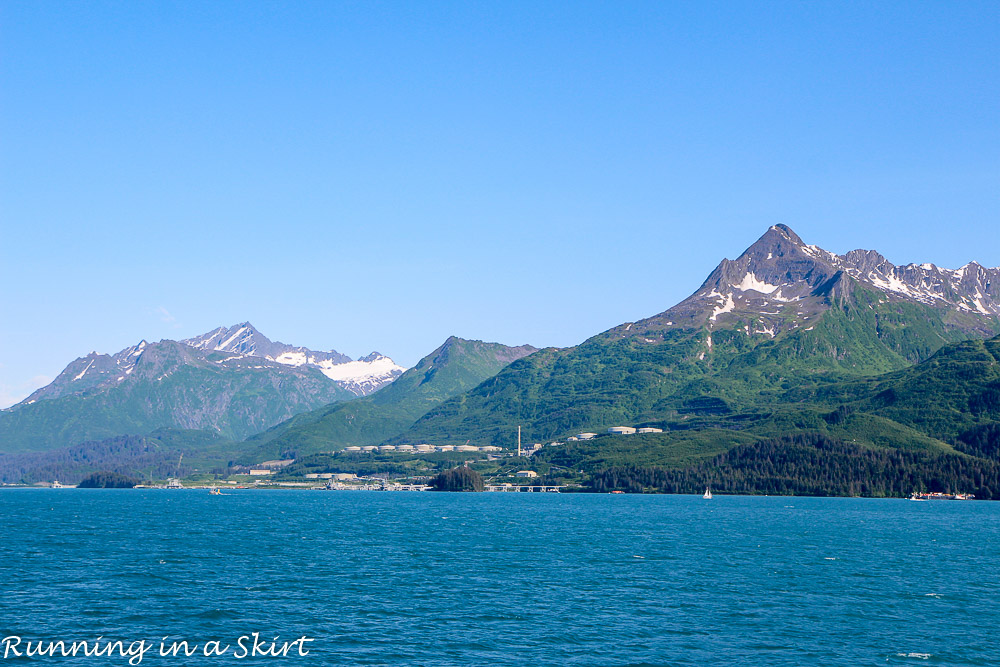 We finally return back to our cars at the bottom of the ferry and drive them off! Such an interesting experience.
The heart of Valdez is a few streets of cute shops and restaurants right along the water. You'd never know this was the location of that famous oil spill.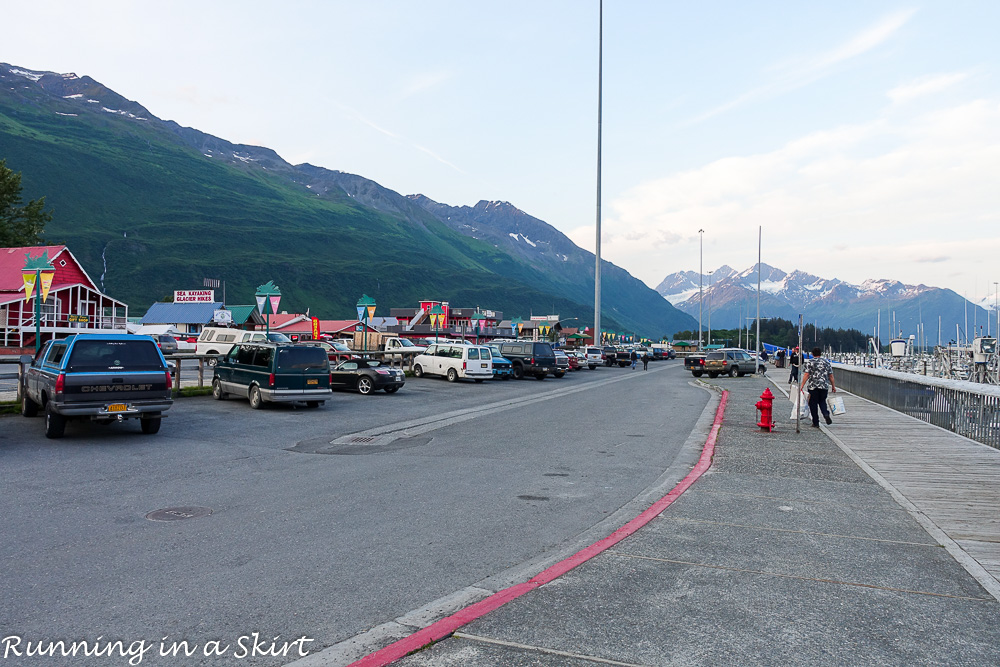 Our group freshens up to get ready for dinner!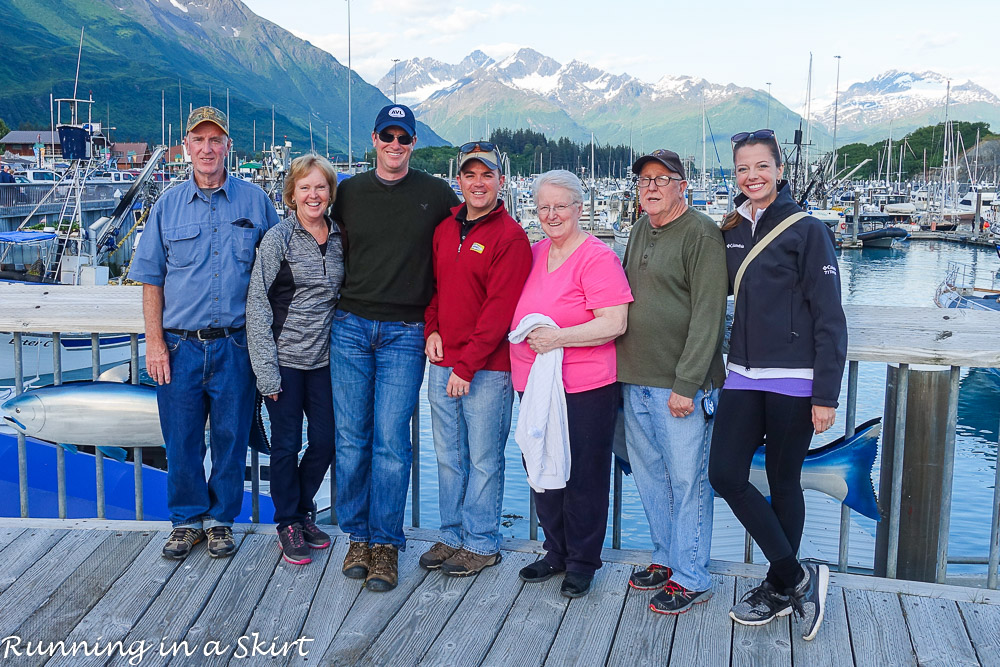 For dinner we picked a restaurant called "The Fat Mermaid." Totally un-pc... but it was still cute, charming and worth visiting.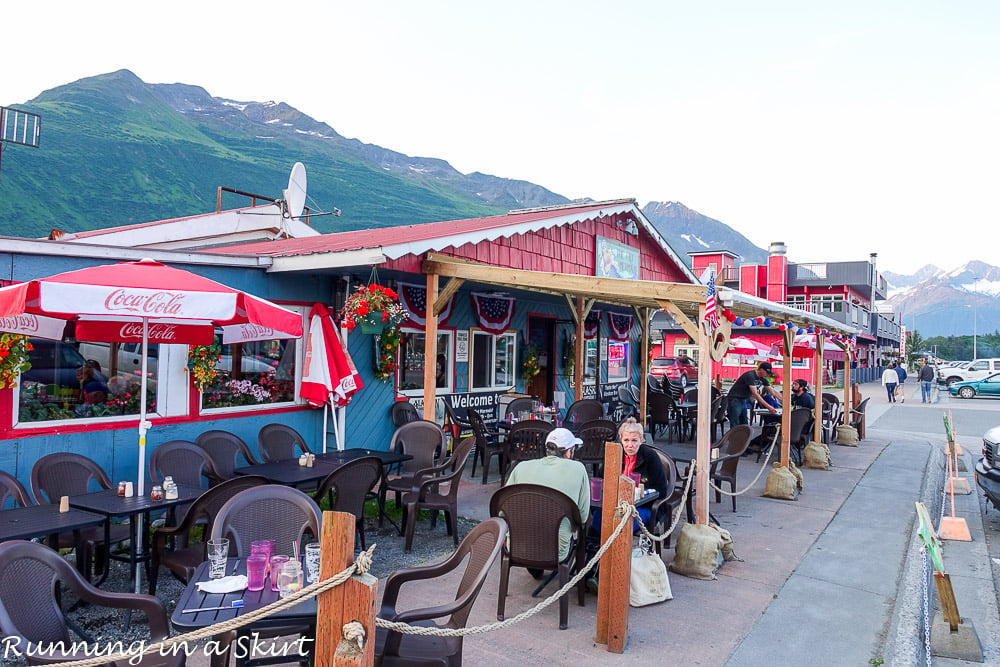 Dinner was really tasty! We shared a smoked salmon pizza...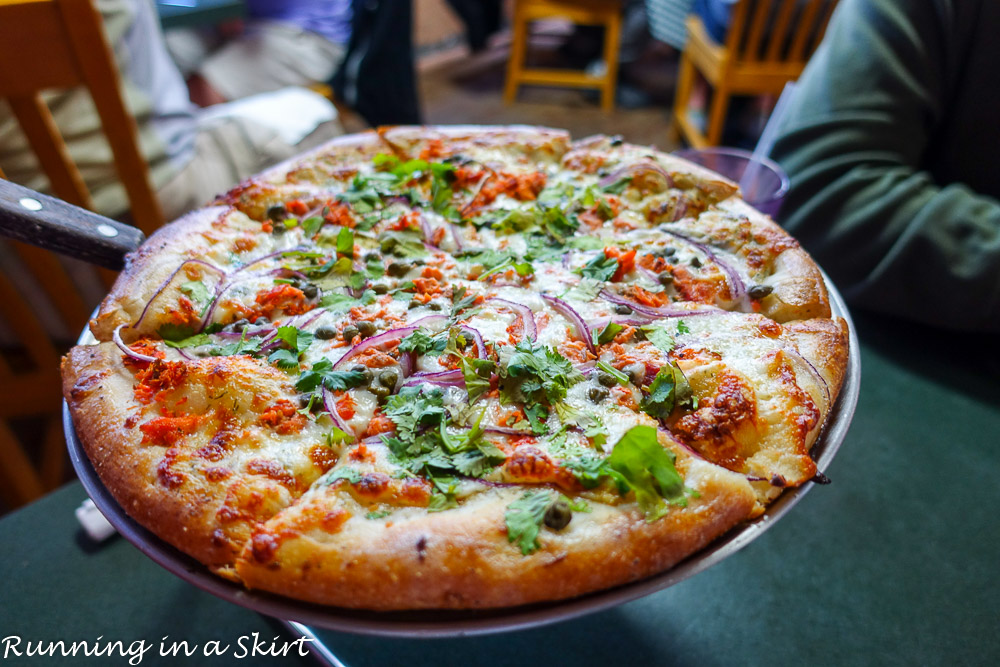 ... and a salmon sandwich! The salmon in Alaska totally lives up to it's hype.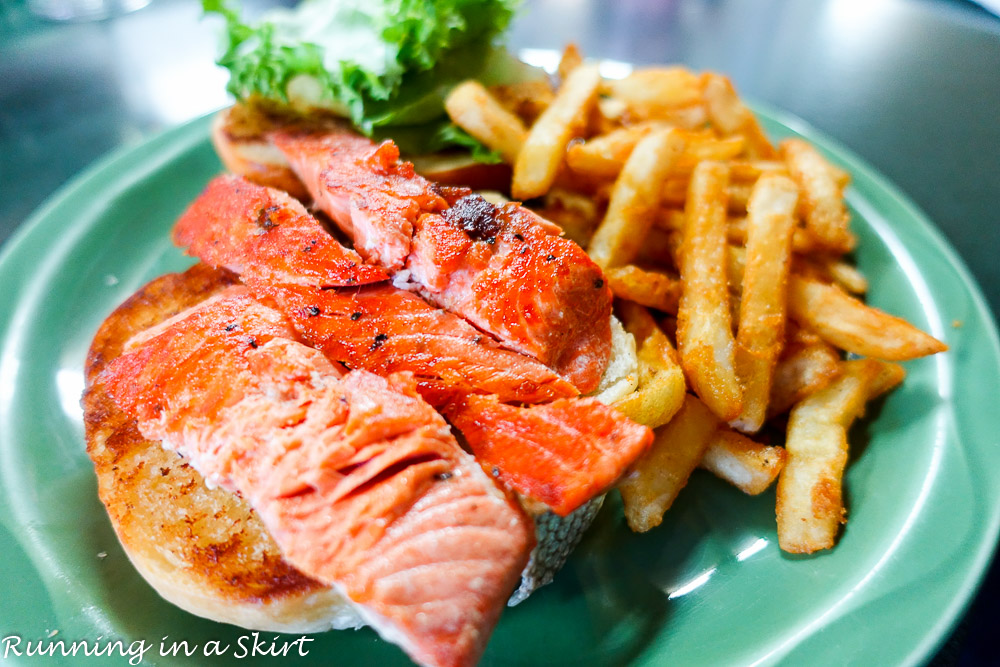 After dinner part of the group goes back to bed while the Hubs, myself and my brother-in-law Justin decide to explore town a little more.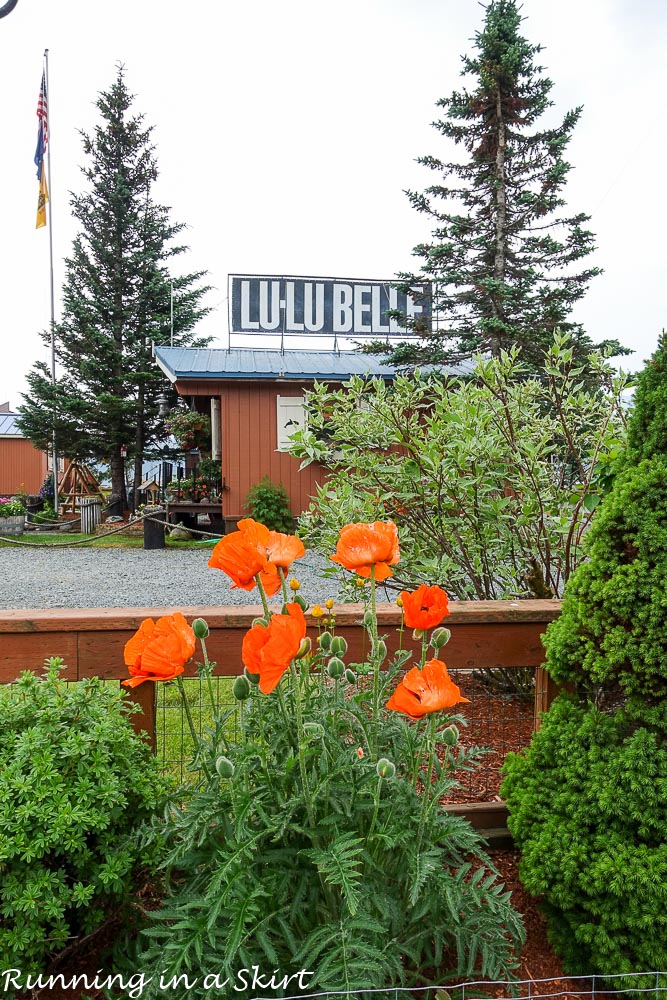 The shops are cute, but the water with the boats is even more beautiful.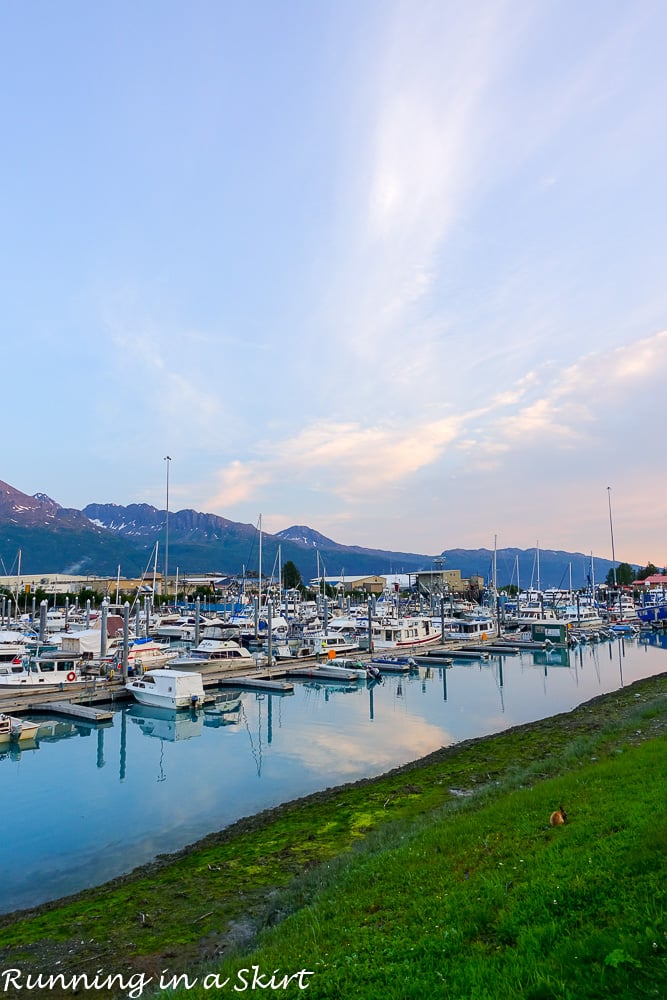 Valdez is a really pretty place and I'm glad we stayed up.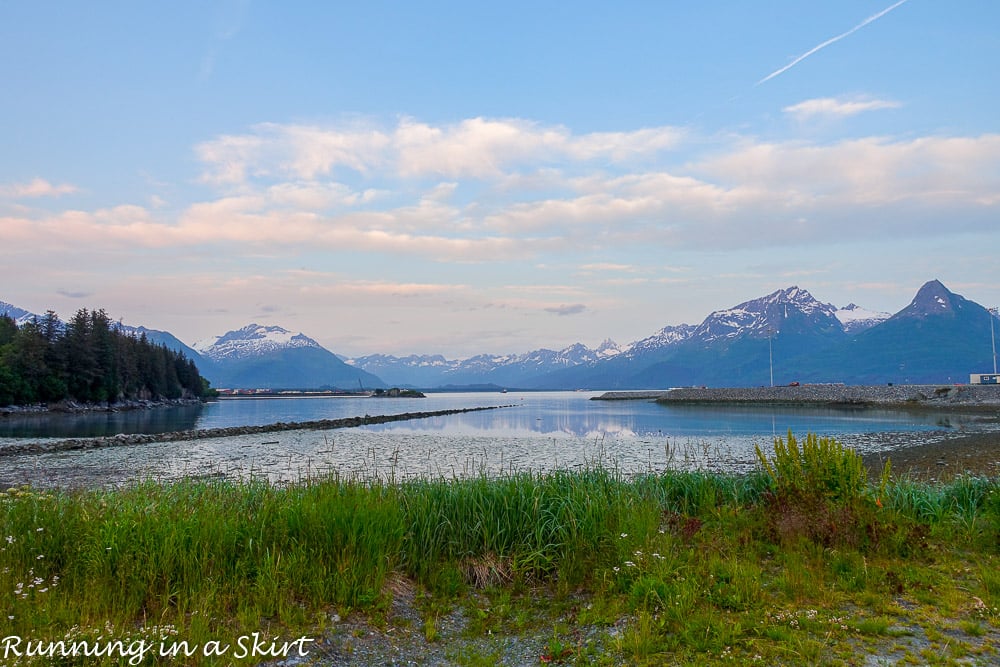 Once again we got to see a close to midnight Alaskan sunset! The sun just kind of sets and then starts to rise again.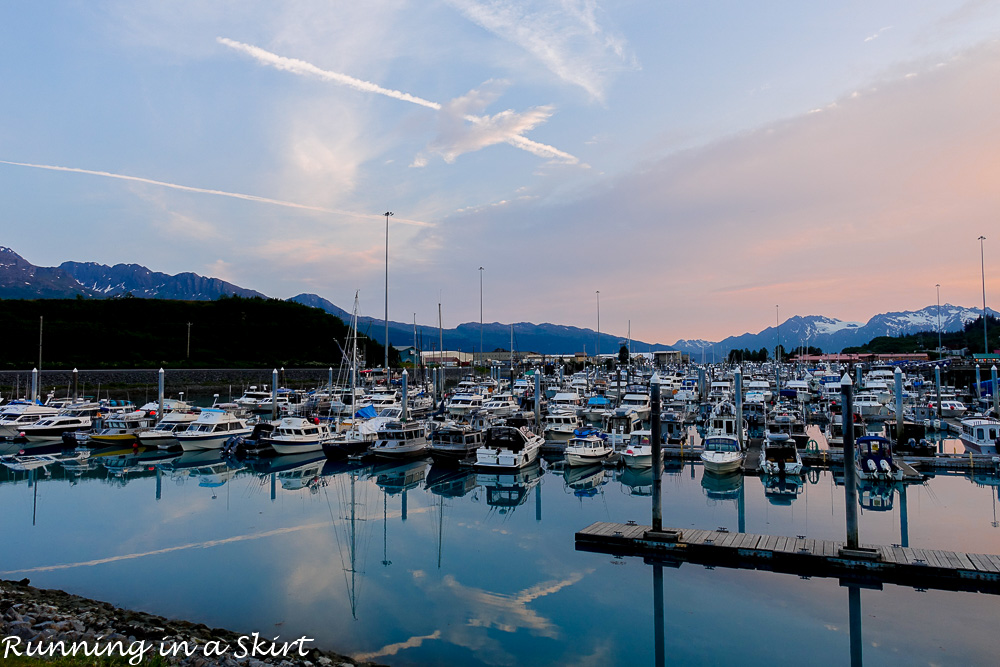 It was breathtaking.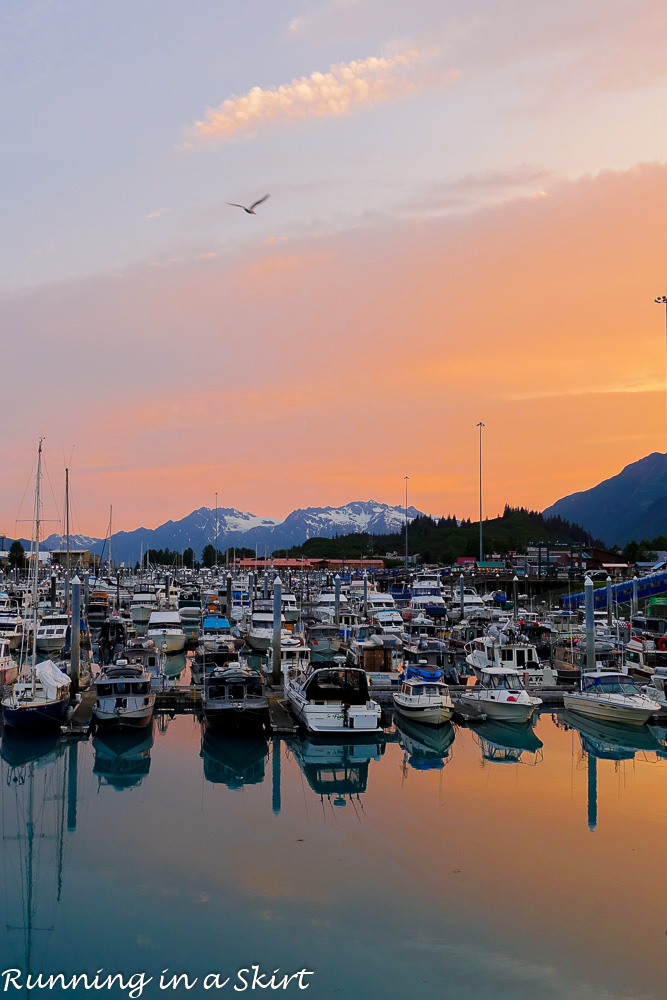 After the sort of sunset we went to bed.
The next morning our group got up, had breakfast at the hotel and started our journey back home. Our plan was to explore Valdez and natural wonders nearby by taking the scenic journey home.
The morning started with a mini-hike/walk just outside of town.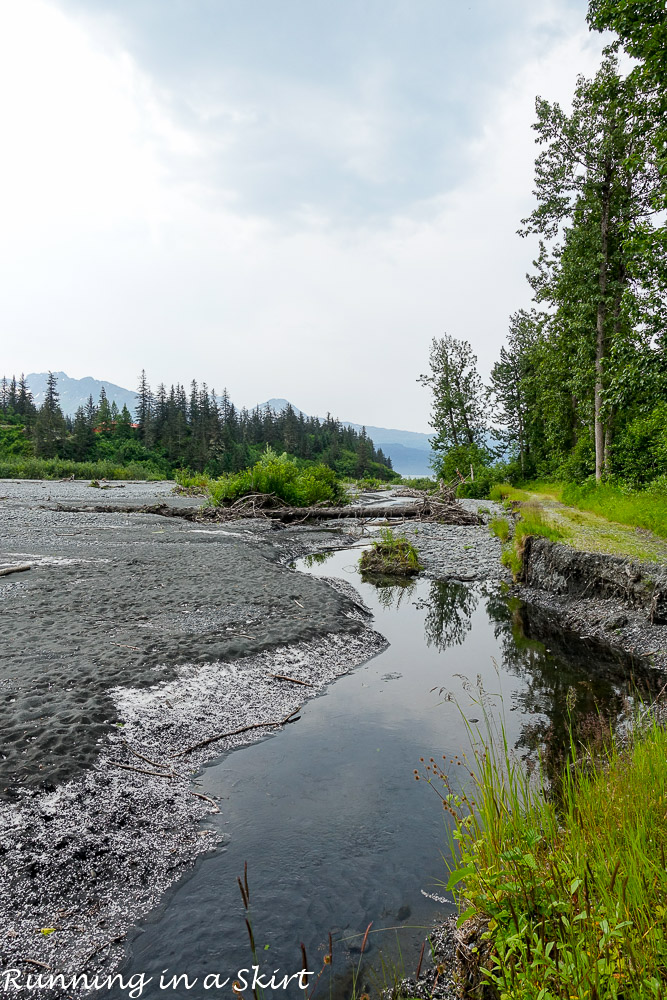 The path took us to the water with pretty mountain views.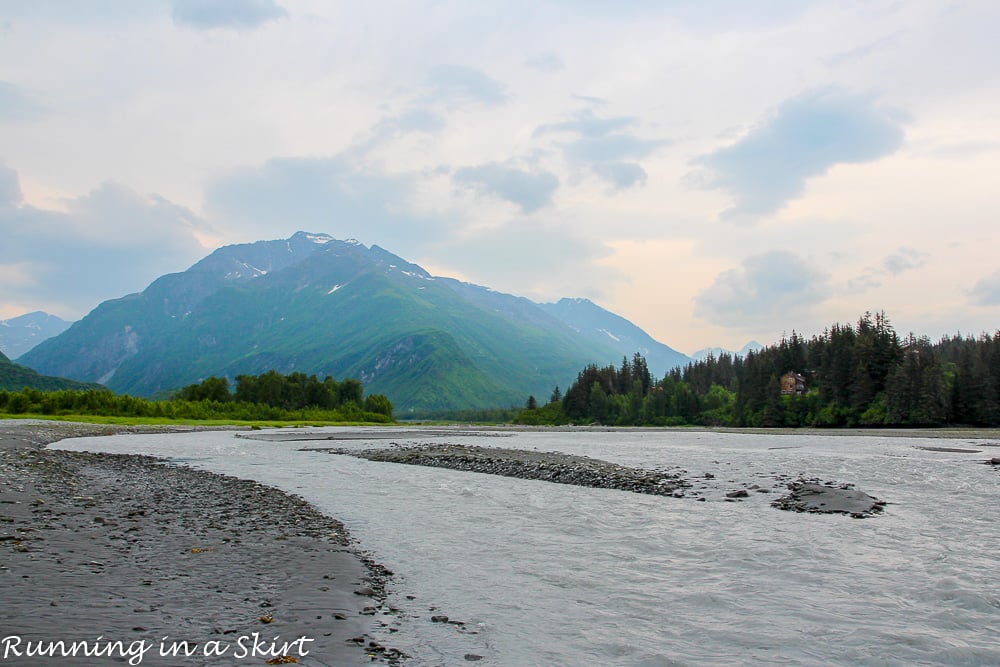 The tide was low so we got to walk out onto the ocean bed.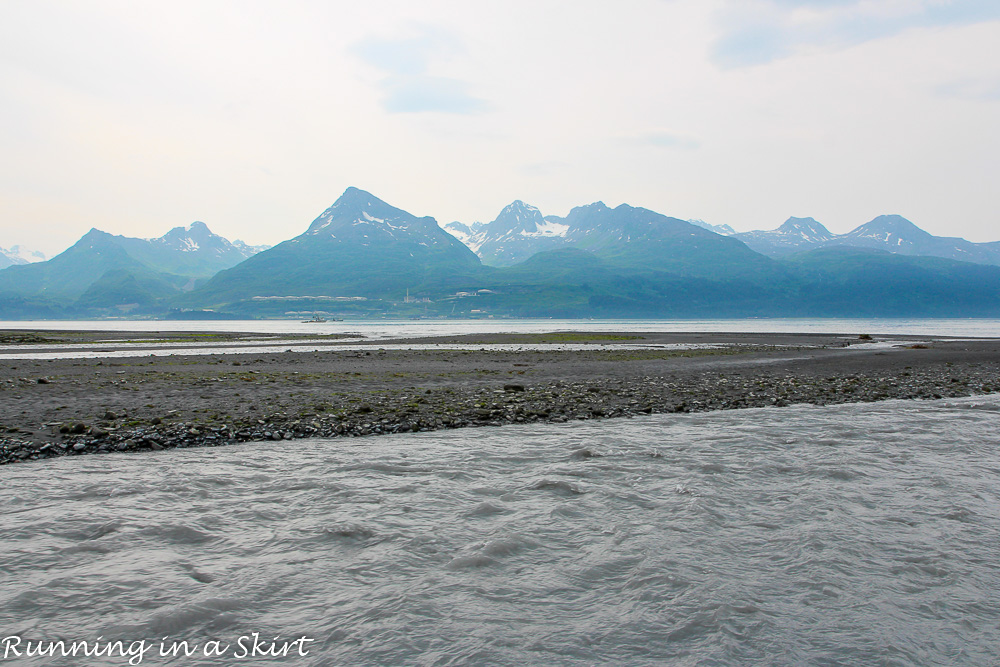 So beautiful!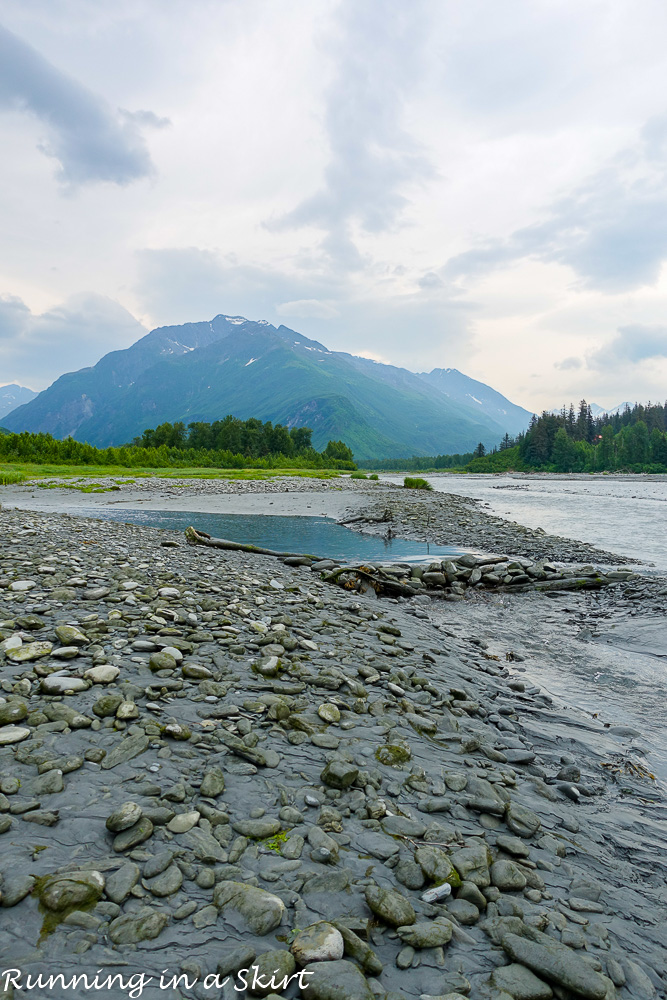 After our mini-hike we started the drive home. On our way we stopped at Bridal Veil Falls, which was stunning.
Our next stop was Worthington glacier, which turned into one of my favorite parts of the entire trip!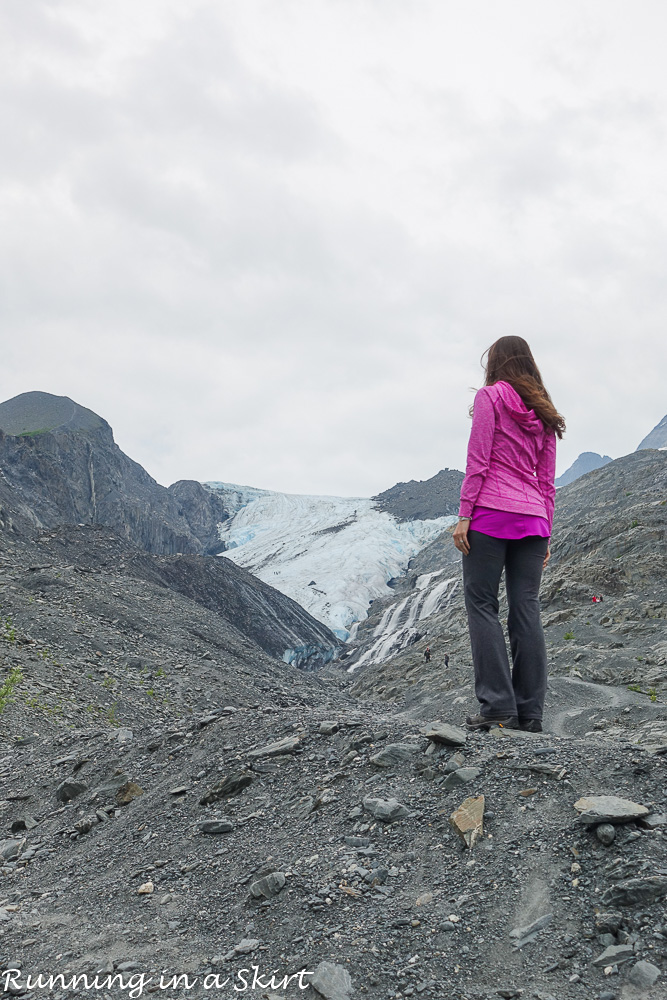 Worthington Glacier is along the interstate and in a nice park area. There are concrete paths that get you close to it, but we wanted to touch it... so we decided to take the short hike to the glacier.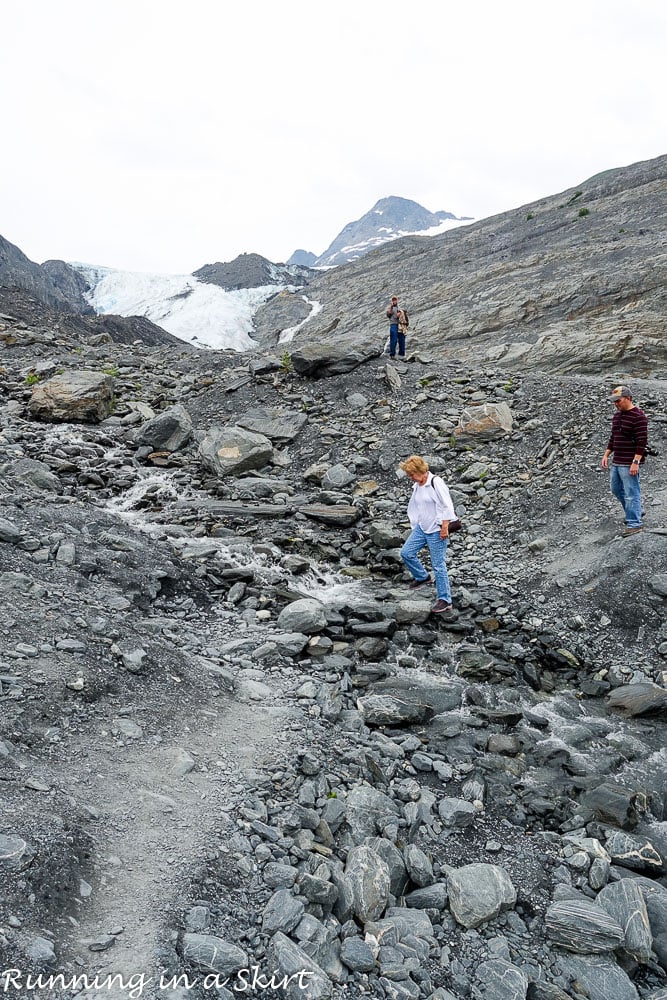 At first we attempted what looked like an upper trail, but had some trouble getting over some very unsteady nearly vertical rocks.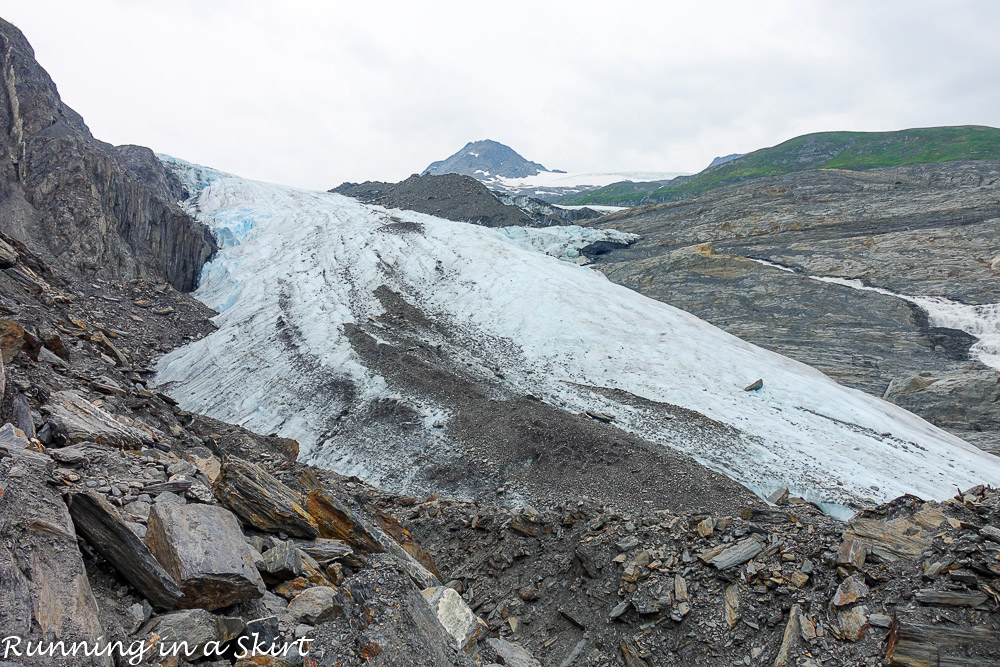 We turned around and took a lower trail that was much easier.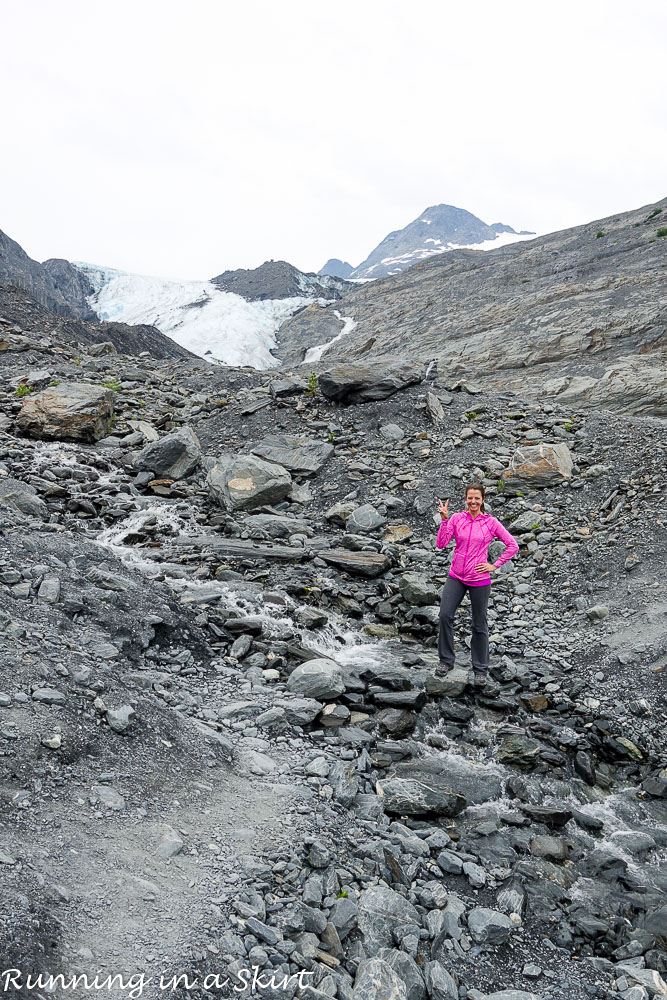 Before no time the cold rush of glacier waterfalls were hitting us in the face. As we approached the actual glacier the air temperature felt like you were walking into a refrigerator. The clean, cool air felt invigorating.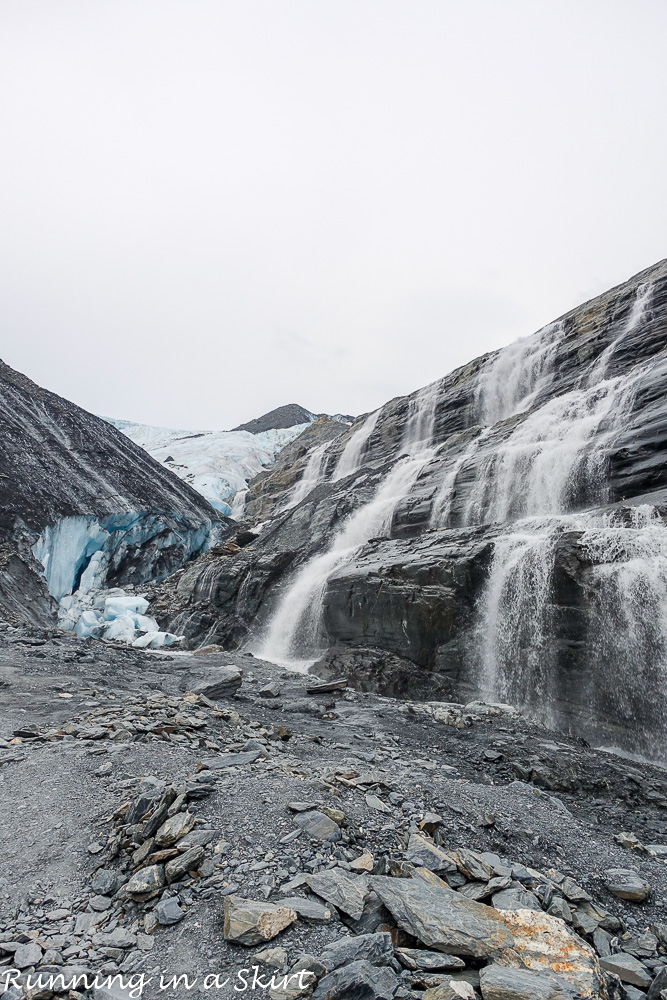 We finally got just close enough to the glacier. Yes, it's BLUE!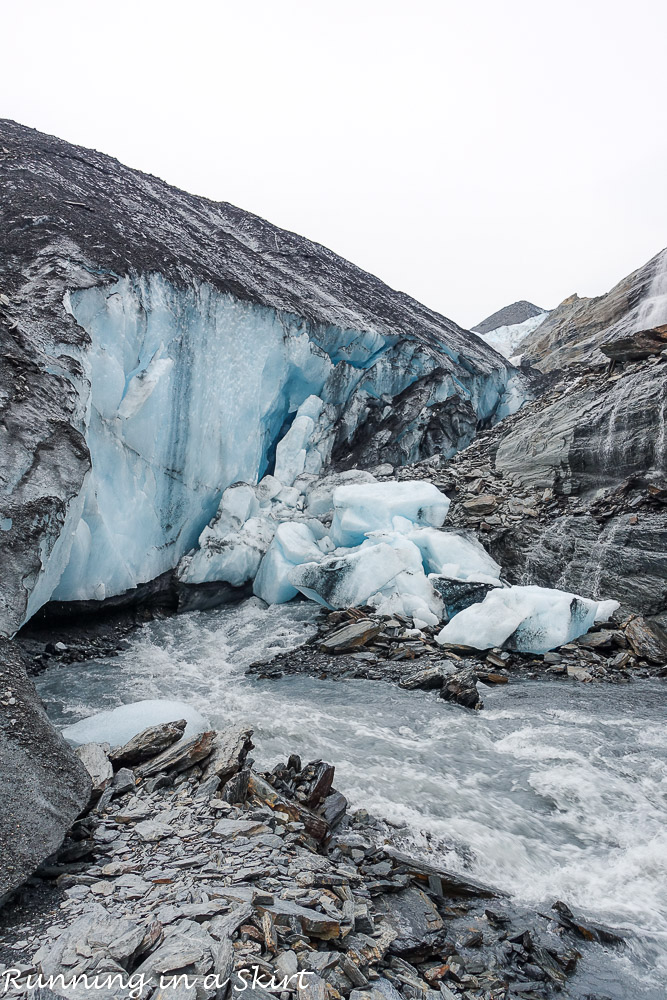 AND I touched it... which was on my Alaska bucket list. If you are wondering what to do in Valdez Alaska this nearby glacier is a must see. Simply spectacular.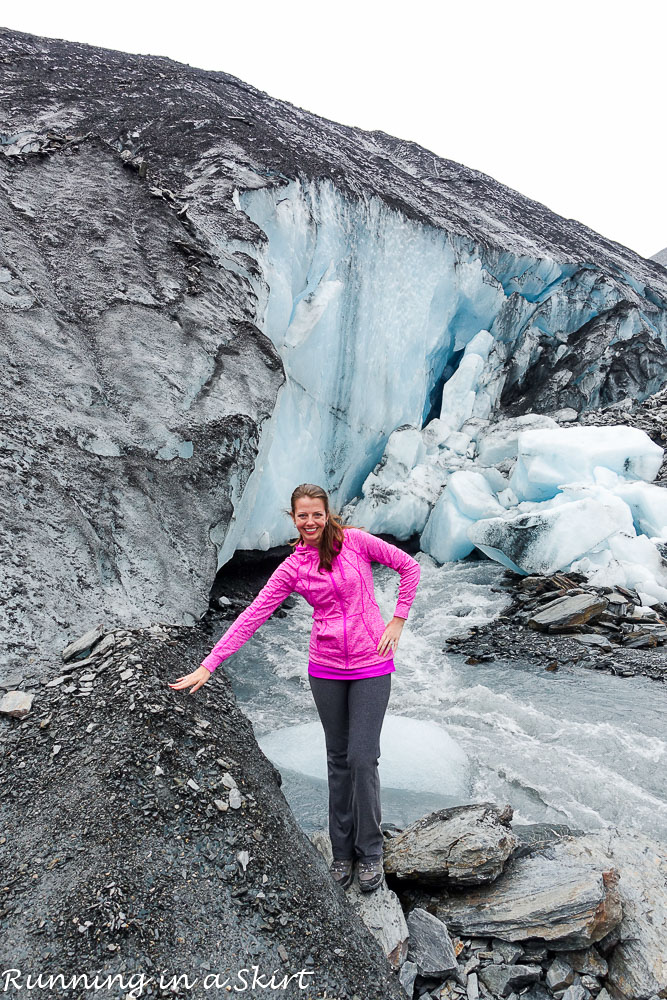 After exploring the glacier area we got back into the car and continued the beautiful drive home. Once again the journey getting home from Valdez was spectacular. We drove along mountain cliffs, saw more moose and ate in a one restaurant town. I really enjoyed my trip to Valdez!
The rest of the trip I spent exploring Anchorage while the boys did one more fishing day. My last post in the series will show you some of the fun things we did in and around Anchorage and the great eats I found there!
Like this post about What to Do in Valdez Alaska? Pin this to your favorite travel board!

Read about my entire trip...
Thanks for stopping by today. Tomorrow I'm sharing my Chunky Monkey Energy Bites.
Your turn!
Did you know Alaskan glacier are actually blue?
I'm linking up my post about What to Do in Valdez Alaska with Thinking Out Loud Thursday.