Sweet baked apples are a can't miss fall dessert. You'll swoon over my healthy stuffed apples recipe featuring pecans, dates and oats!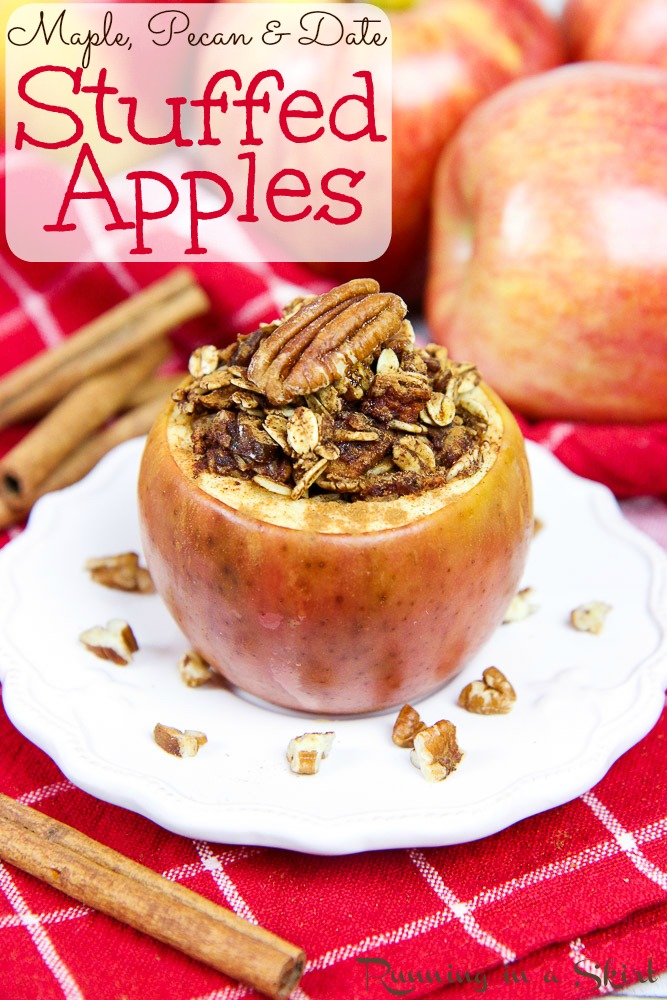 Hi everyone!
My little corner of the world is famous for growing the most amazing apples and this year is no different. They are sweet, beautiful and oh so good. There are so many varieties to try and it's always a food lover's dream to pick a favorite for the year. For me one of the first signs of fall is going to a local farm myself and picking up a big bag of sweet goodness... trying a couple of each of the varieties they have on hand. You can get apples in the store year round, but they taste so much better this time of year coming straight from a farm.
This year I decided to try something a little different with my batch of apples. I wanted to create a fun dessert that tasted like a crisp, but was all stuffed into the fun apple package. And so my healthy stuffed apples recipe was born.
And ohhh yeah... it is GOOD!
To make these healthy stuffed apples recipe I used a melon baller ( you can also use a metal measuring spoon) to hollow out the apple.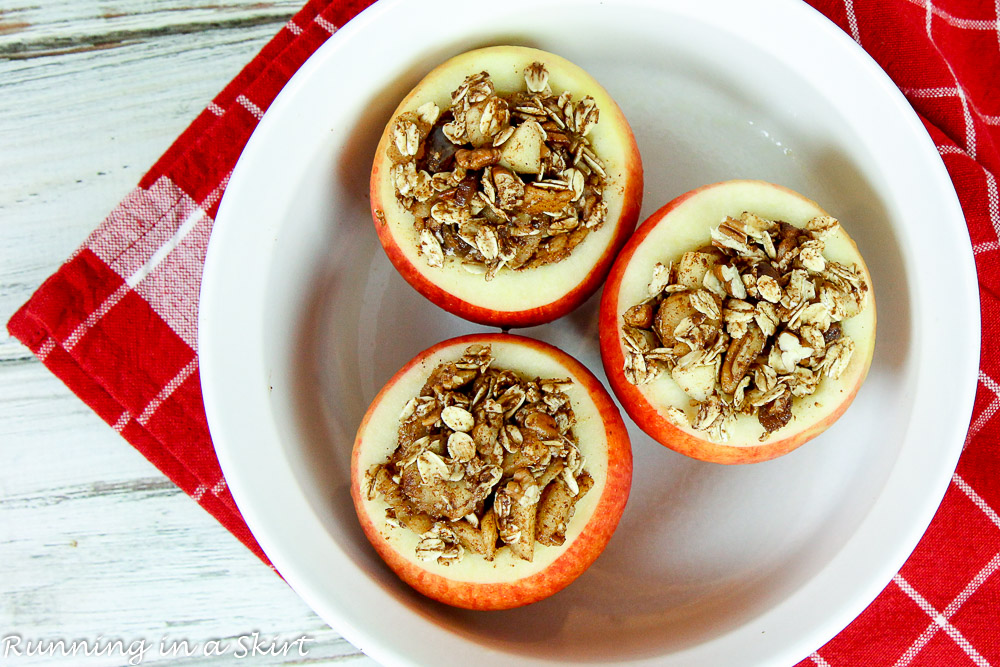 Then I made the stuffing... which is made with the non-core part of the apple I scooped out, oats, cinnamon, pecans and vanilla. To add just a touch more texture I even added a chopped up date! If you don't have dates you could sub more oats.
The final touch was a small amount of vegan butter (or coconut oil) and maple syrup. Just enough to taste it and get some moisture, but not enough to take away from this being a healthy treat.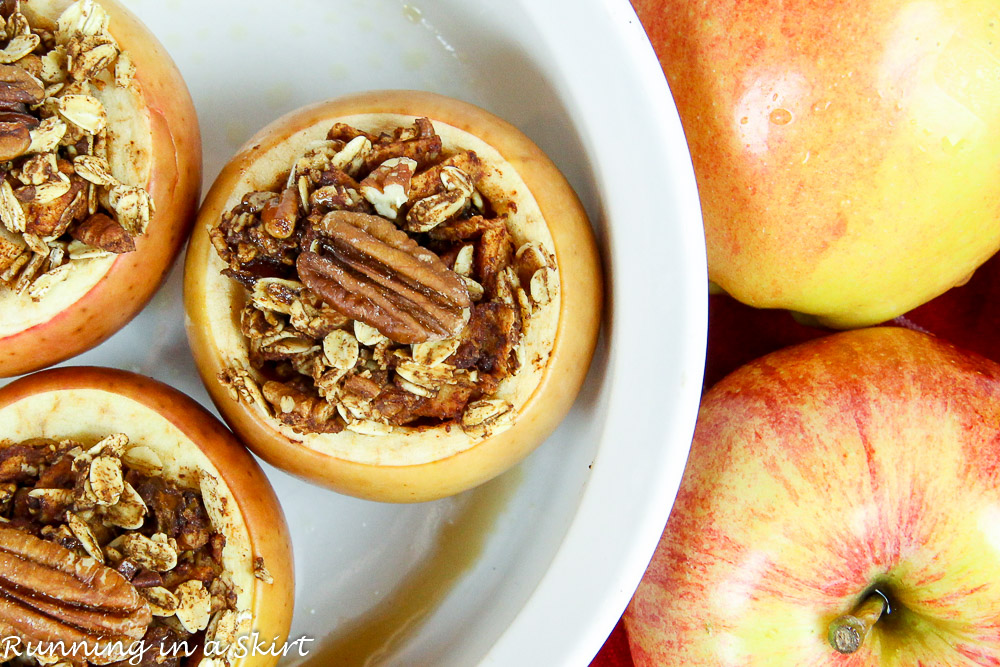 I stuffed the filling back into the apples and baked it in an oven.
At this point the Hubs started coming around the corner asking me what I was making because the house smelled AAAAA-MAZING.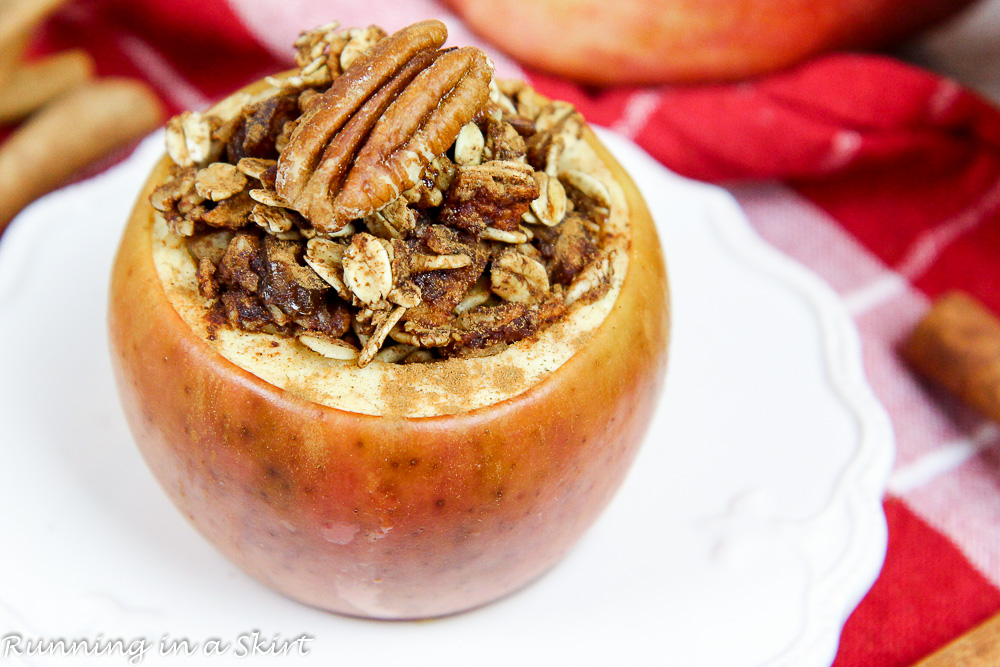 I presented him with this fun healthy stuffed apples recipe and he was sold.
Leave this as is and eat a super healthy dessert or do what the Hubs did and go digging in the basement fridge for the vanilla ice cream... no judgement here!
Before we get to the apple-y goodness I wanted to make a quick note on the recipe. I made this small batch style for two apples, so you could make it fresh in the evening without having a ton of extras. They are the best right out of the oven!
I also wanted to let you guys know that I am now officially part of Yummly. You'll see a "Yum" share button at the top and bottom of each of my recipes with the cursive "Y" on it. You can create a recipe box and share any of my recipes to your page... all you need to do is click on that "Y." Yummly is a great place to find and store your favorite recipes- I think you'll love it. Follow me HERE and make sure to "Yum" this recipe and any others you like on my site. As always, thank you guys for the support.
I hope y'all love my healthy stuffed apples recipe.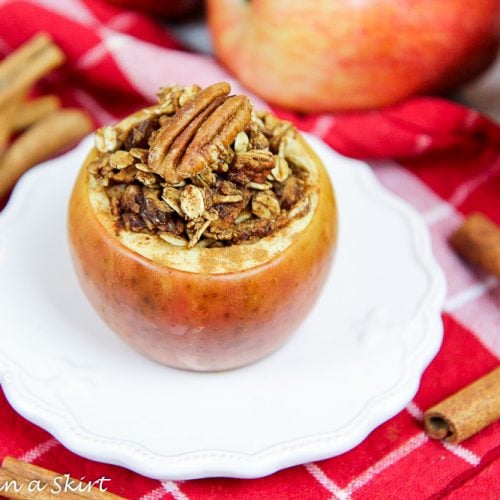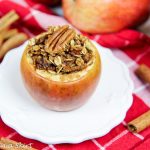 Maple, Pecan & Date Healthy Stuffed Apples recipe
A healthier version of stuffed apples with maple, pecan and date stuffing! Baked to perfection.
Instructions
Preheat your oven to 350 degrees.

Cut the top of the apple off and scoop out the center with a melon baller. You can also use a metal measuring spoon in a pinch.

Chop up the parts of the apple you scooped out that aren't the actual core.

In a mixing bowl fold together the chopped apple and all the remaining ingredients.

Scoop the filling back into the apples.

Bake for 25-35 minutes or until the apples are tender, which depends on your apples size.

Serve with an additional pecan as garnish or optionally add another drizzle of maple syrup.
Nutrition
Calories:
241
kcal
Carbohydrates:
39
g
Protein:
2
g
Fat:
10
g
Saturated Fat:
2
g
Polyunsaturated Fat:
2
g
Monounsaturated Fat:
4
g
Sodium:
3
mg
Potassium:
303
mg
Fiber:
7
g
Sugar:
26
g
Vitamin A:
107
IU
Vitamin C:
9
mg
Calcium:
40
mg
Iron:
1
mg
Love apples? Also try...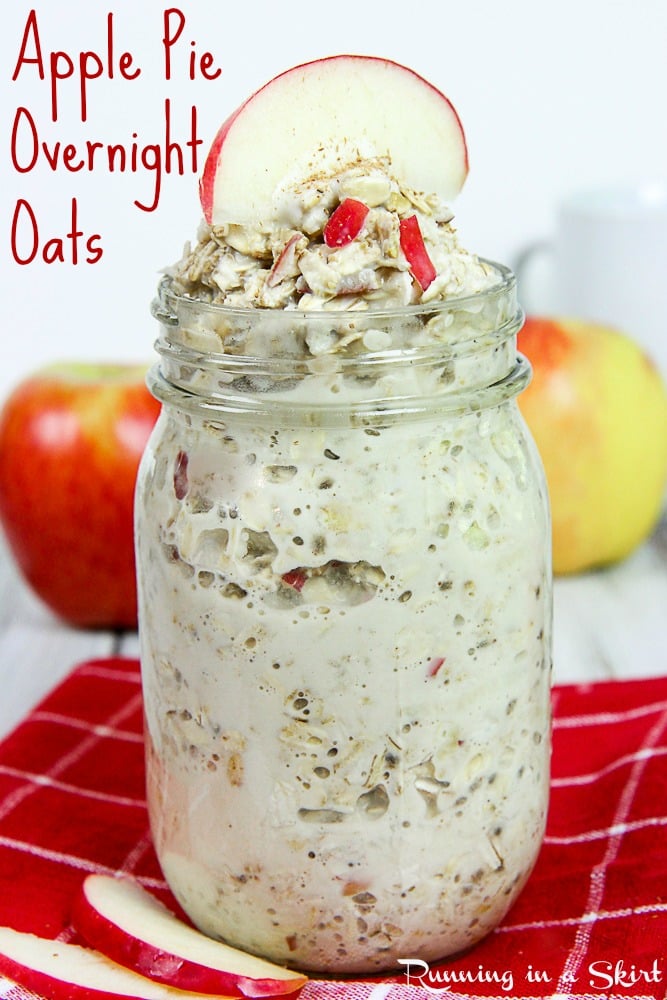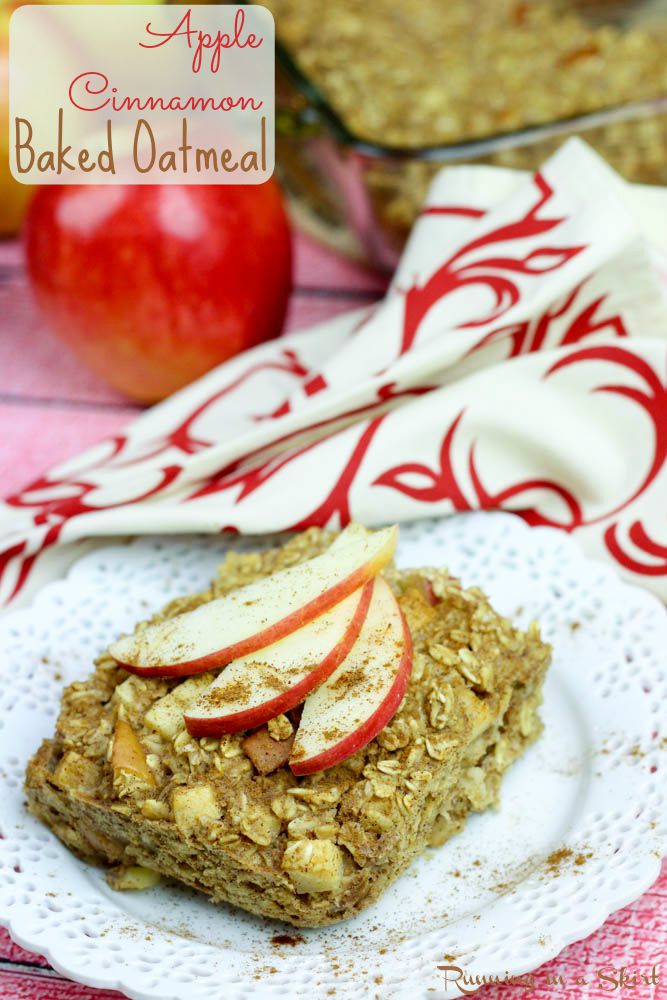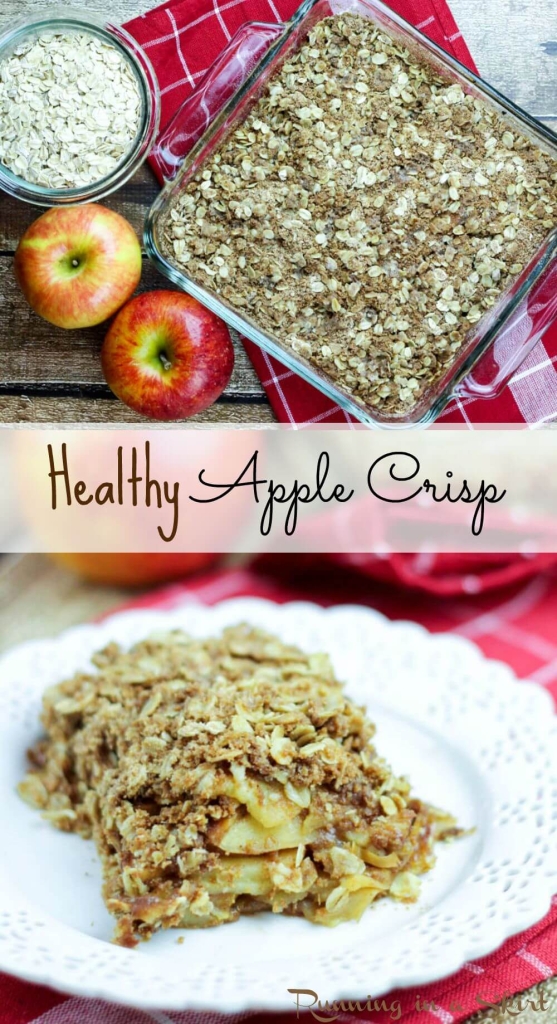 Apple Pie Greek Yogurt Pancakes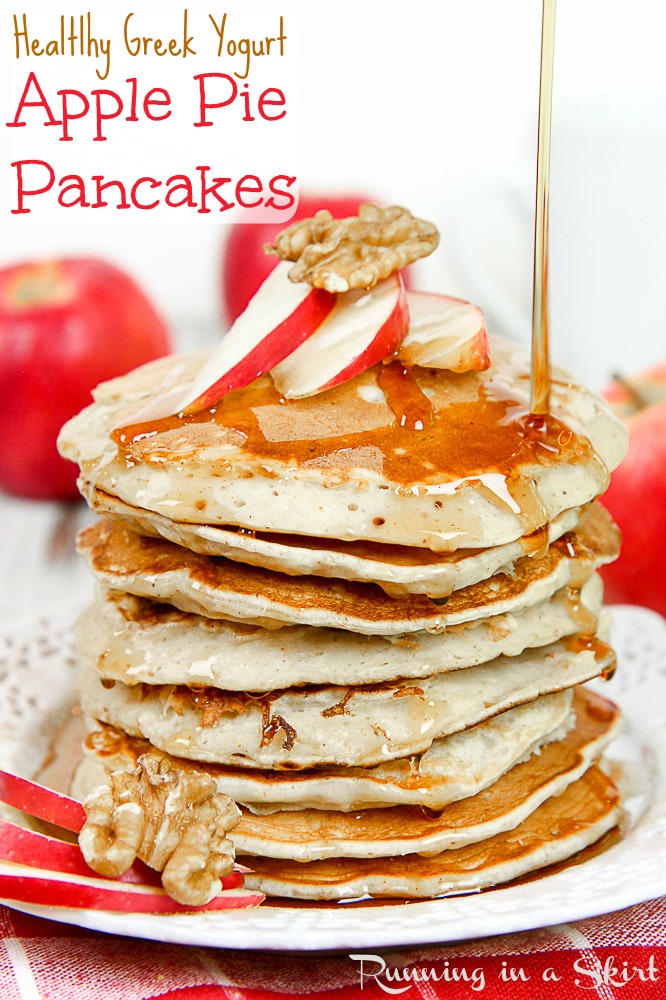 Like my Healthy Stuffed Apples recipe? I'd love it if you could pin this to your favorite Pinterest board! Thank you so much for the support.


Thanks for stopping by today! Tomorrow I'm sharing the second part of my Alaska trip which includes touching a glacier!
Your turn!
What's your favorite way to eat apples in the fall?
I'm linking up my Healthy Stuffed Apples recipe with: Meatless Monday, Meatless Monday, Full Plate Thursday, Foodie Friday, and the Weekend Potluck. Thanks so much ladies for the link up parties!