I can't believe Thanksgiving in Asheville has already come and gone! I look forward to the day for months, so it is always bittersweet when everyone goes home. I think the meal and weekend house party was a success! There were a couple hiccups, but it went off just about as well as could be expected. My one main hitch was my camera acted up Thanksgiving day and I did not have time to deal with it, so I have a lot of Iphone photos to share with you today. Turns out I completely filled up my memory card with pictures of my nephew Owen. Woops! I'm glad that was my main issue, instead of the food getting screwed up though. There could be a lot worse issues to have.
So without further ado, here is my Thanksgiving recap.
Thanksgiving in Asheville
Thanksgiving preparations start early in the week for me. I do food prep work Tuesday and Wednesday. I even peel and cut up 16 pounds of potatoes like it is my job! After hosting Thanksgiving for a few years now the whole process feels more routine and natural.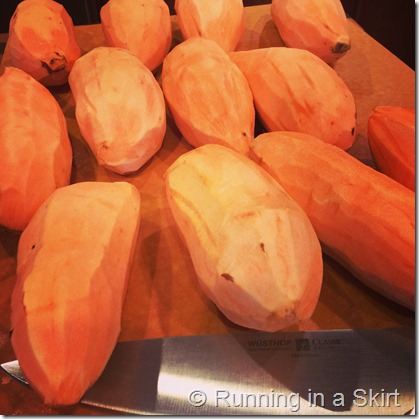 My Dad arrives early in the week, but the rest of our family gets in Wednesday night from out of town. I have these cute Turkey cookies coming out the oven as everyone arrives. I'm totally channeling Emily Post with this move!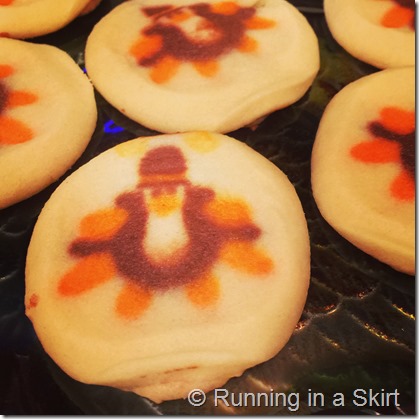 Thanksgiving Day
Thanksgiving day begins early with my Vegetarian Crock Pot Breakfast Casserole. It is the perfect breakfast for a crowd because it cooks overnight and stays warm to accommodate people waking up at different times.
I start the main meal cooking around nine in the morning, and don't stop until dinner was served at three.
Around noon, I serve a vegetable tray and dip. I did all the prep work for this tray early in the week, so it doesn't take any time out of cooking the main meal. Little touches like this bring me such joy.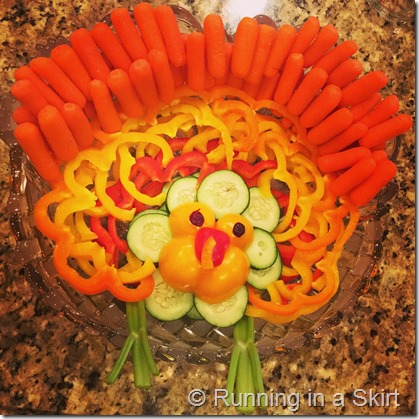 The center piece of my casual kitchen table is the "Thankful Tree." I started this tradition last year, and continue it this year. Each person at the house fills out a leaf of things they are thankful for and hangs it on the tree. I keep all the leaves from year to year and I hope at some point it is a time capsule of our lives. I think half the family thinks it is super cheesy and the other half loves it. But I'm going to keep putting it out until I win them all over. I'm persistent like that. 🙂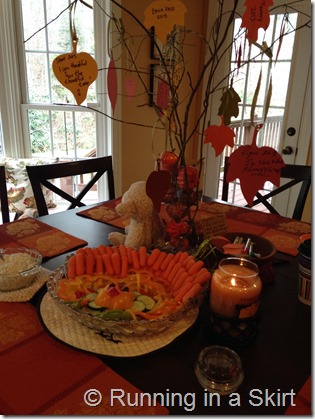 The star of the show Thanksgiving Day is this little guy. Can you believe how big my nephew Owen is? Last year at Thanksgiving I was thankful for Megan's healthy pregnancy and now I have a crawling, smiley, happy nephew!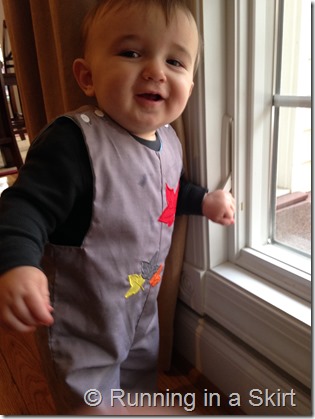 He is such a happy baby and everyone has so much fun entertaining him.
Proud parents Megan and Justin---->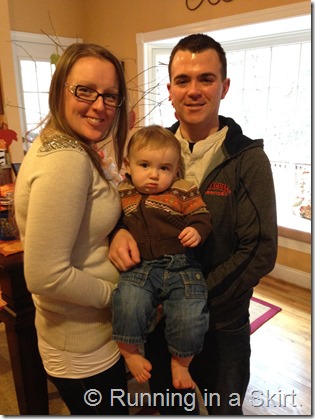 Proud Grandparents---->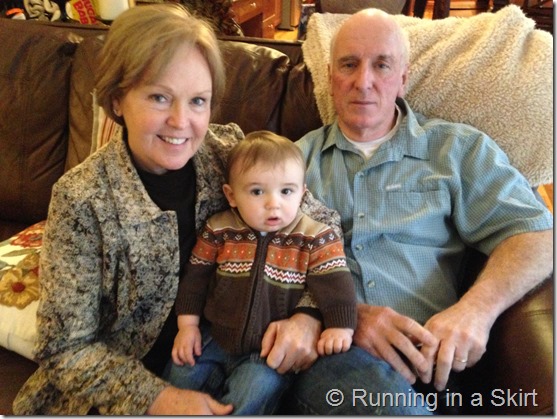 I don't get a group picture, but my Dad,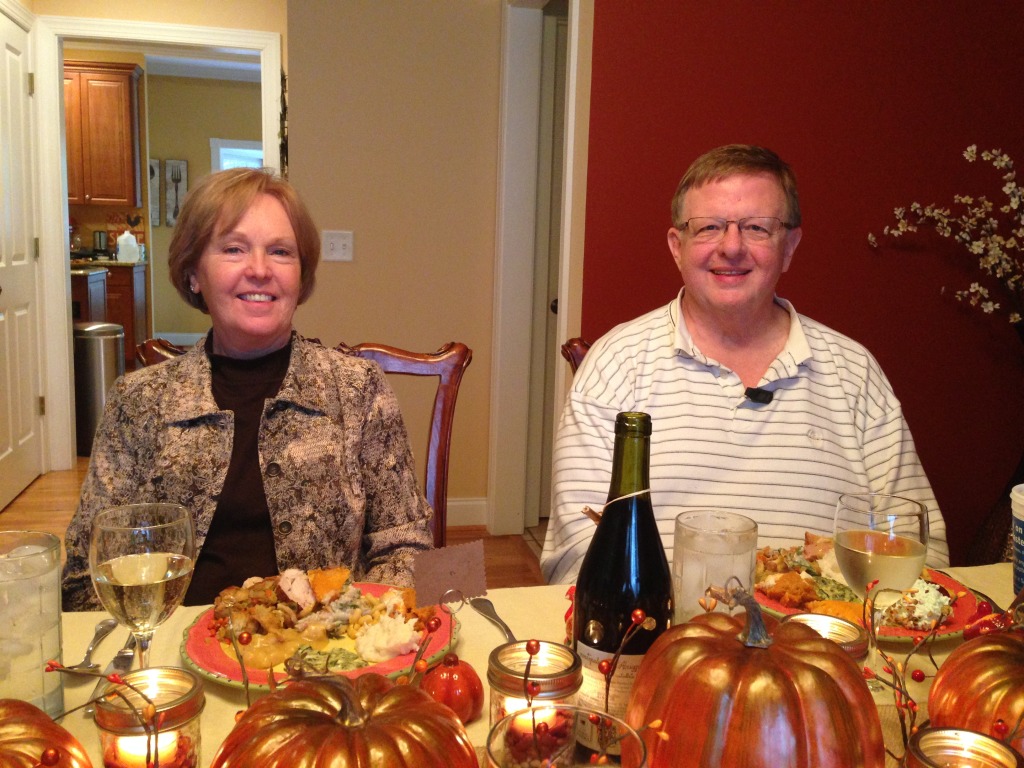 Brother and his girlfriend, Erica, are also there.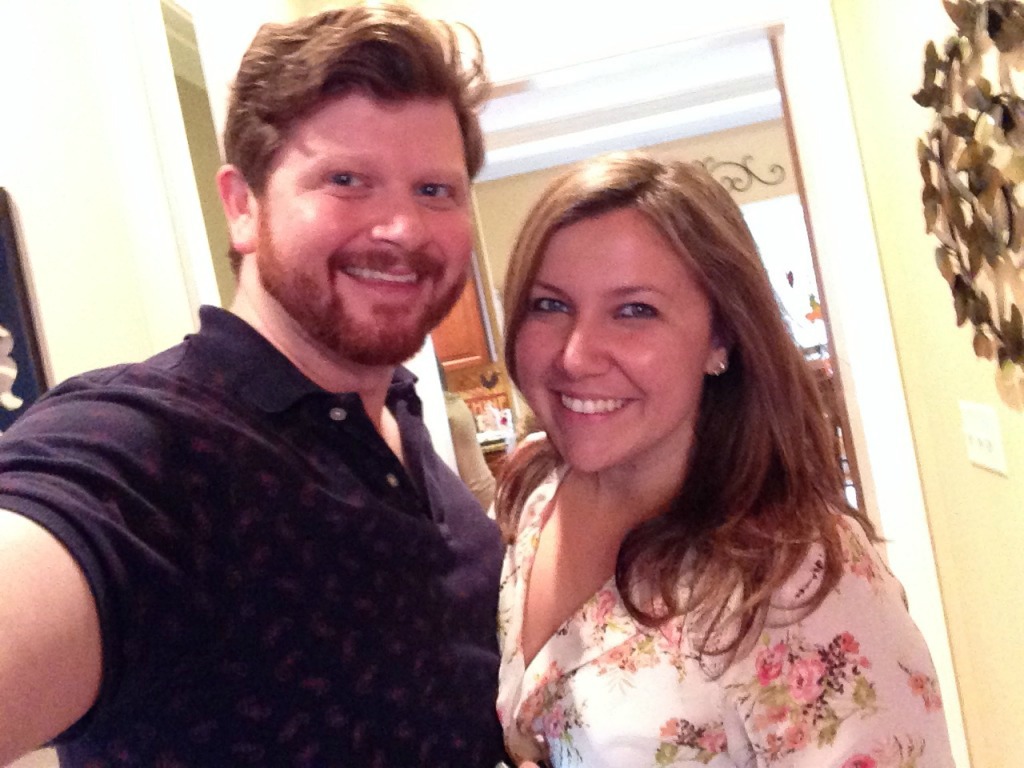 The table is mainly set by Thursday, but my Brother and Erica help me with the final touches as meal time approaches.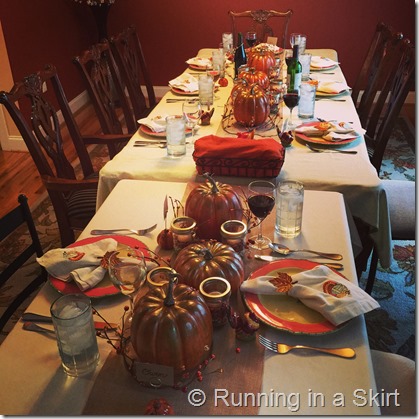 About two o'clock I'm putting finishes on the last sides (with an assist from my Father-in-law) and the hubby brings the turkeys upstairs!
He does two turkeys each year and this year he fried one and smoked one!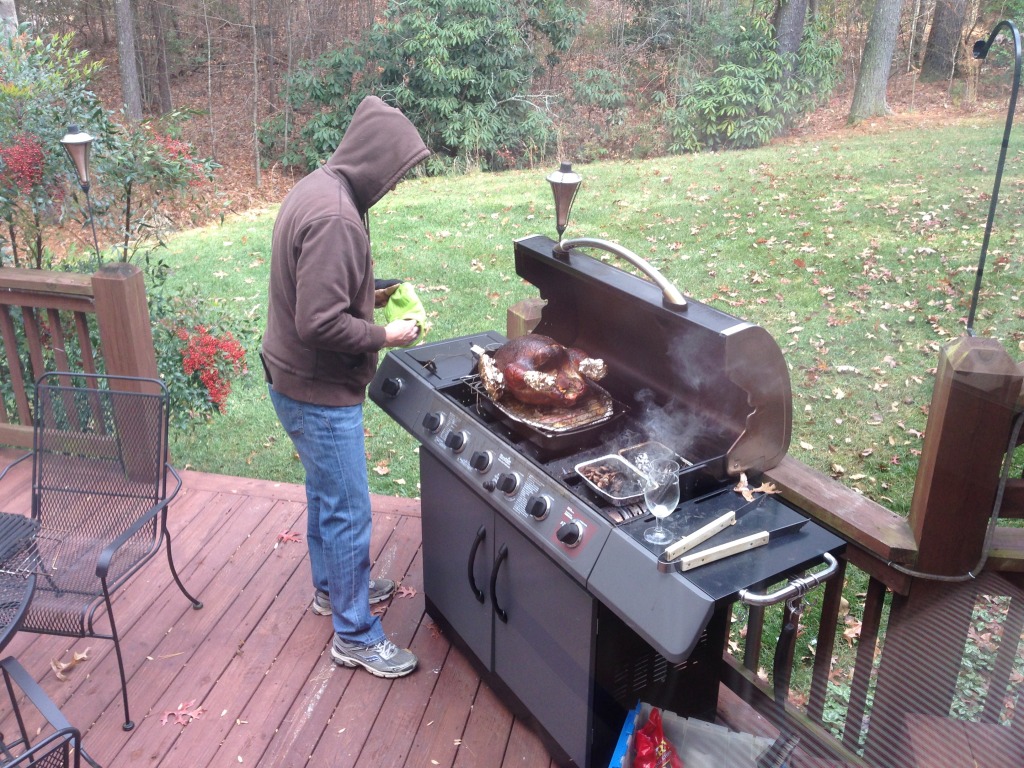 I don't eat or really cook meat, so he has taken over the roll of turkey chef and really excels at it. He spent as much time loving and preparing these turkeys as I did all nine side dishes! Everyone raves about how good they are and what a great cook he is.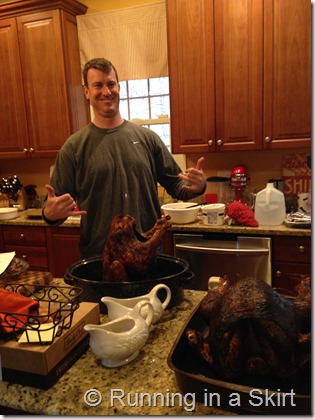 Putting together the meal is truly a team effort!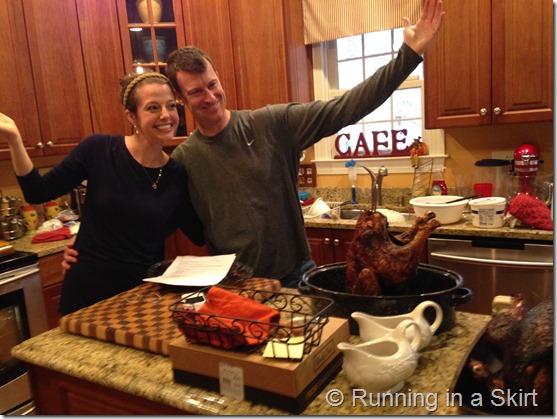 The hour before dinner is served I always panic just a little bit, but somehow all the food comes out at the right time hot and ready to eat. We do a nice sit-down meal, but serve the food buffet style around the kitchen.
My crock pots do a lot of the work cooking three of my sides and keeping them warm, including my Crock Pot Loaded Mashed Potatoes.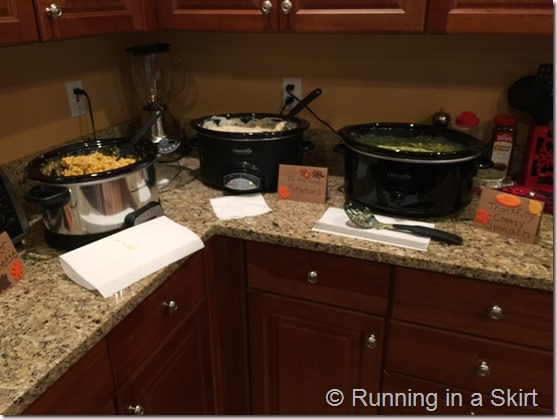 The rest of the sides I make as casseroles in the oven. This includes my famous Vegetarian Stuffing and my Mom's amazing Sweet Potato Casserole. Both of these dishes disappear quickly every year.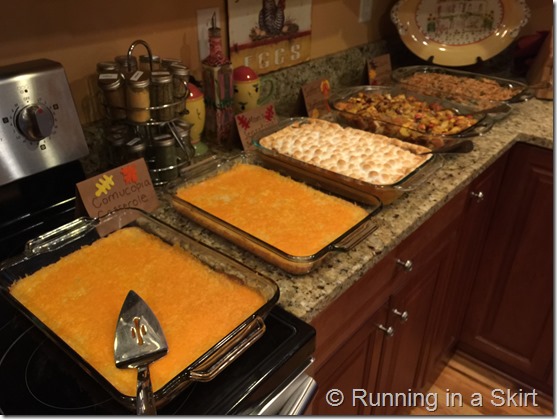 We have just enough time to take one quick picture of the spread and then it is time to eat!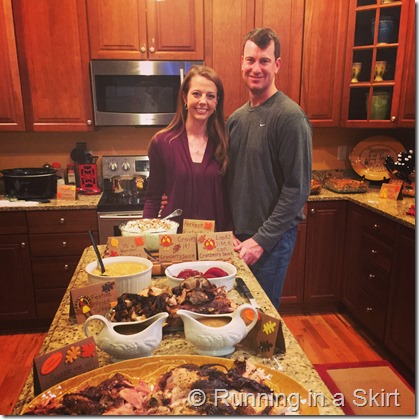 And here is my plate! Everything but the turkey. YUM!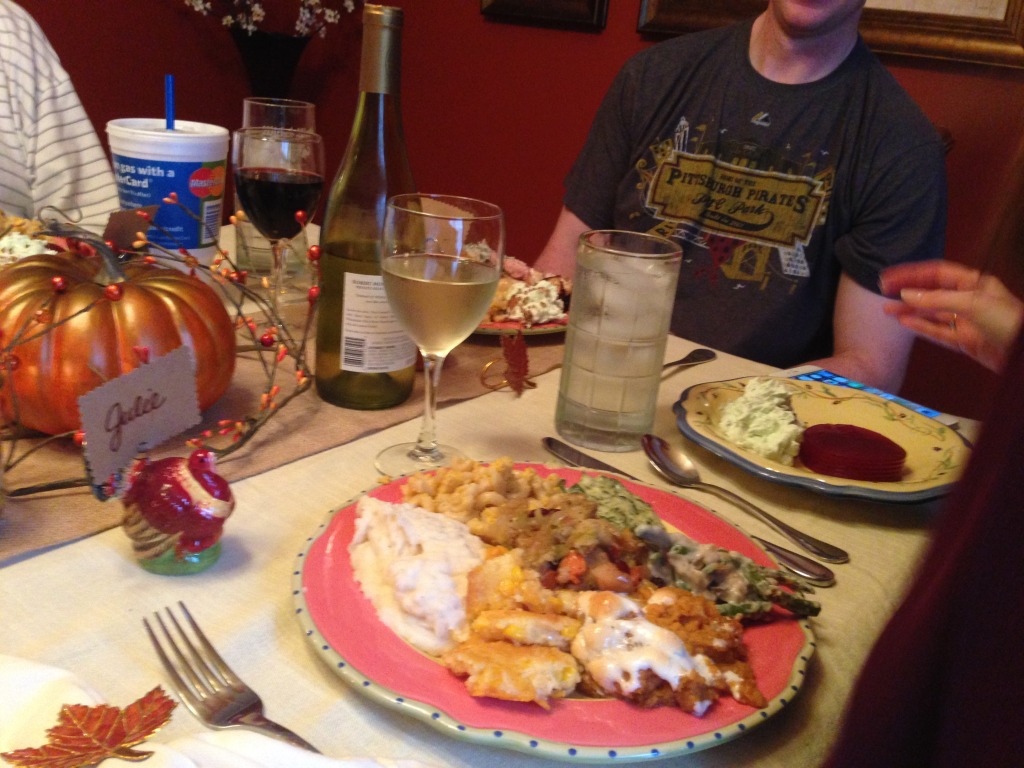 Baby Owen even tries his first real table food at Thanksgiving! He loves the turkey and Mac and Cheese.
After a few hours of recovering from eating too much food, we enjoy dessert. My Brother's girlfriend Erica made these beautiful desserts and they all turn out spectacular!
I am so blessed and thankful for my family and having the ability to make this meal and serve it to them. There is truly so much to be thankful for everyday, but Thanksgiving with family is incredibly special. I am blessed!
So Thanksgiving 2014 is a wrap, it's time to move onto Christmas!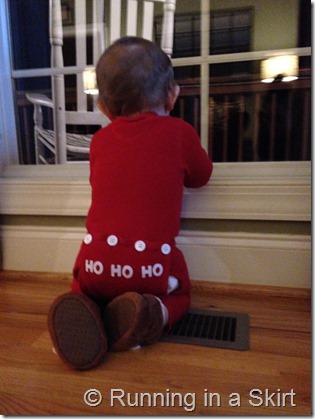 Bring it on!
Your turn!
What did you do for Thanksgiving?
What is you favorite Thanksgiving dish?