My Smoky and Sweet Vegetarian Crock Pot Baked Beans are scratch-made, packed with protein and flavor!
Hello! Hello!
Since I don't eat traditional meat cookout dishes, it's always the side dishes that have been memorable for me at a party. For some reason, I've always enjoyed Baked Beans... as long as the version being served isn't laced with pork :-). If they are homemade they can be quite a treat!
With that in mind, if you are hosting any last summer cookouts or getting ready for a a fabulous football spread (ahhhh Florida football starts THIS weekend!) my Crock Pot Vegetarian Baked Beans are the way to go! They are a great addition to any party spread really.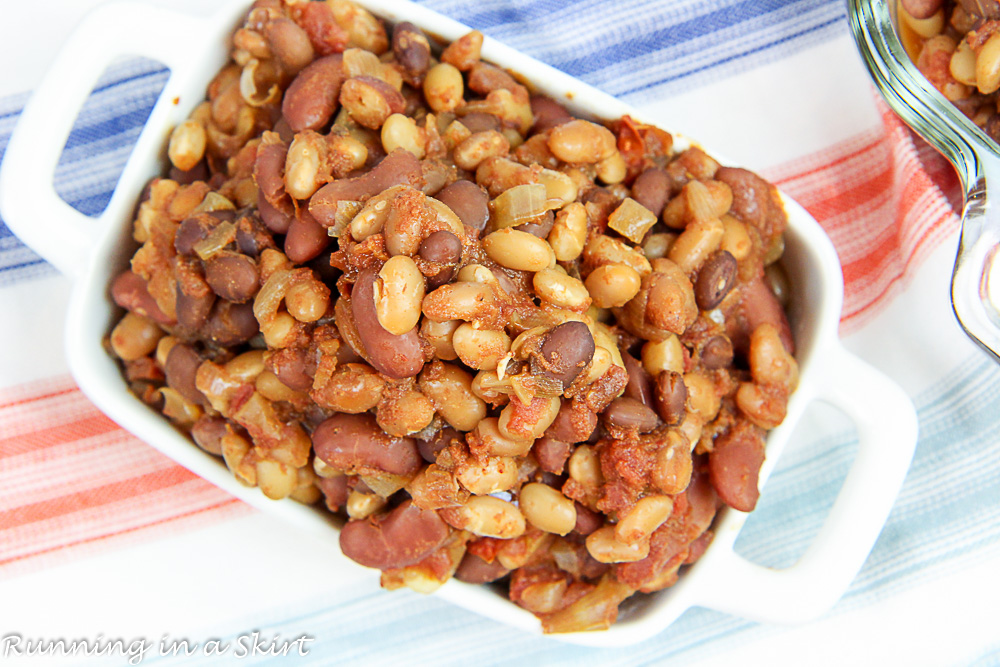 And since they are made in the Crock Pot you can keep the rest of your oven empty for other dishes you want to make. OR just not turn it on at all if it's still pretty toasty where you live.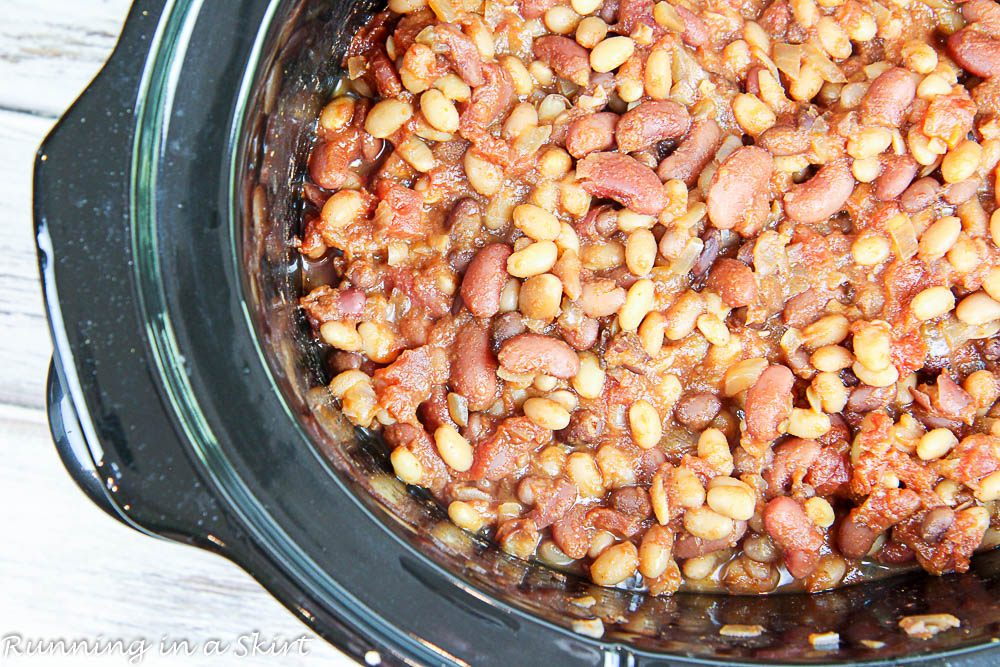 I had originally made these babies many moons ago for my good friend Sara's surprise Birthday party. They were a hit!
Memories.....
The smoky and sweet comes from adding some chipolte in adobe sauce AND just a little brown sugar to get that traditional sweet taste.
If you don't want to add brown sugar you can sub coconut sugar, maple syrup, honey or leave it out. It's not a lot of sugar, so I'm ok with the addition. I like the way the flavors play off each other and brown sugar is such a traditional flavor in baked beans.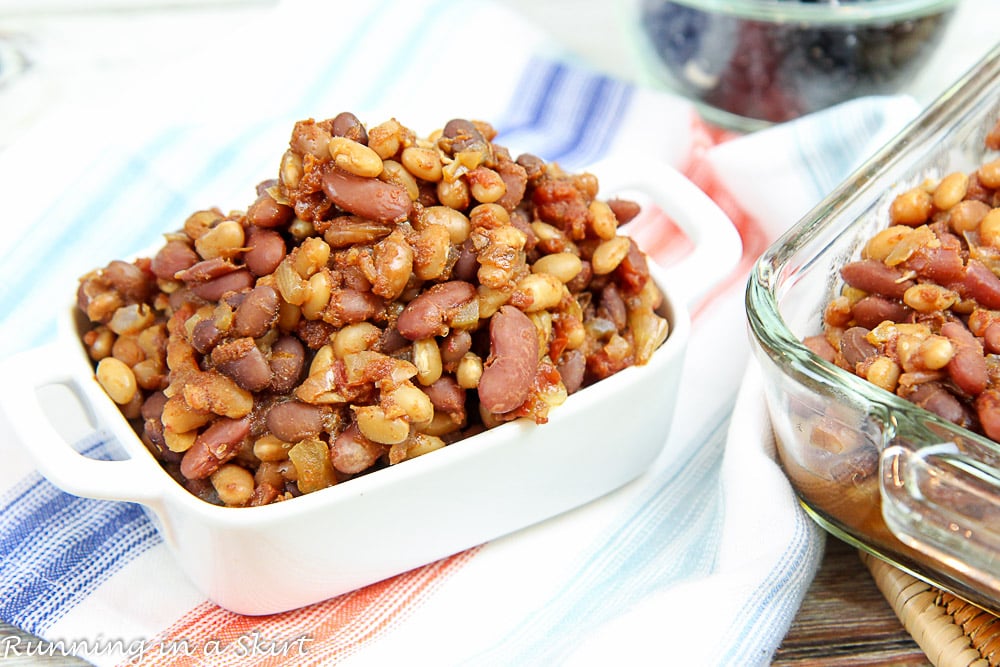 You might also notice I mixed up the beans! Instead of doing just traditional white beans I added some red kidney beans and black beans. Since this is a Crock Pot Vegetarian Baked Beans version without the traditional meat flavoring, I wanted to add a little more umf to the recipe.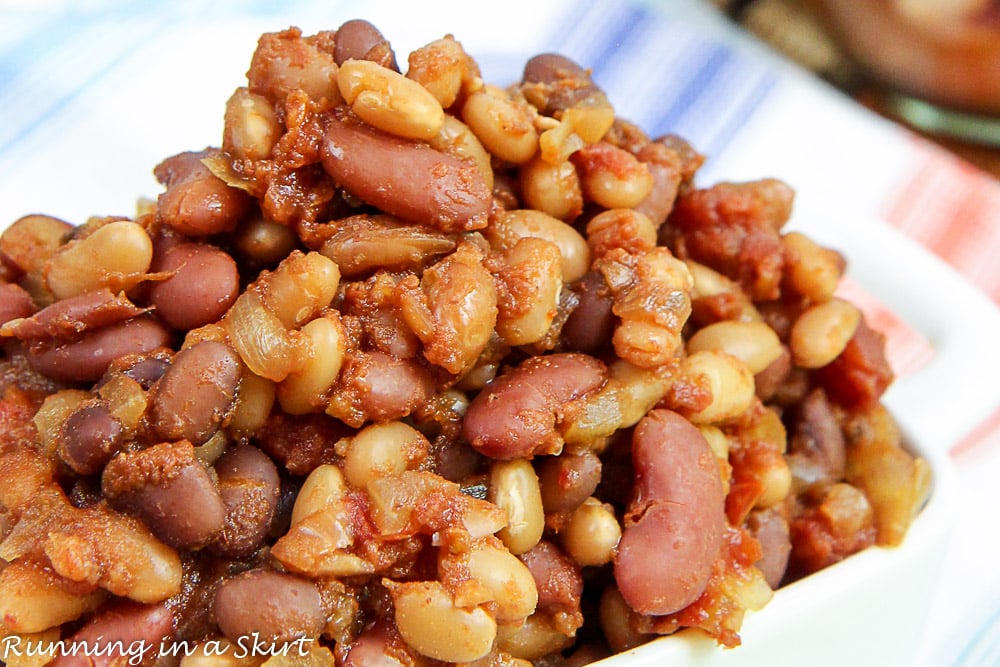 I also started out my version with dried beans, but they do take a LONG time to cook and you must plan ahead to soak them the night before. If you are short on time or just don't want to deal with it, you can easily substitute canned beans. You will need to reduce the cooking time. I'll put some notes about that in the actual recipe.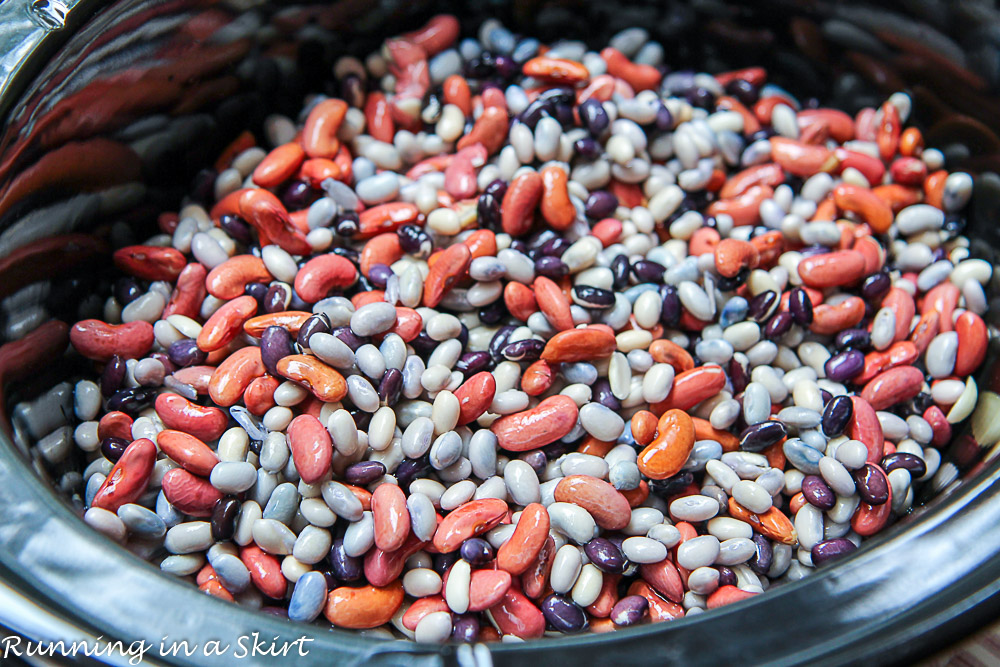 Either way, these babies are pretty tasty! Don't be surprised if you find yourself going back for more.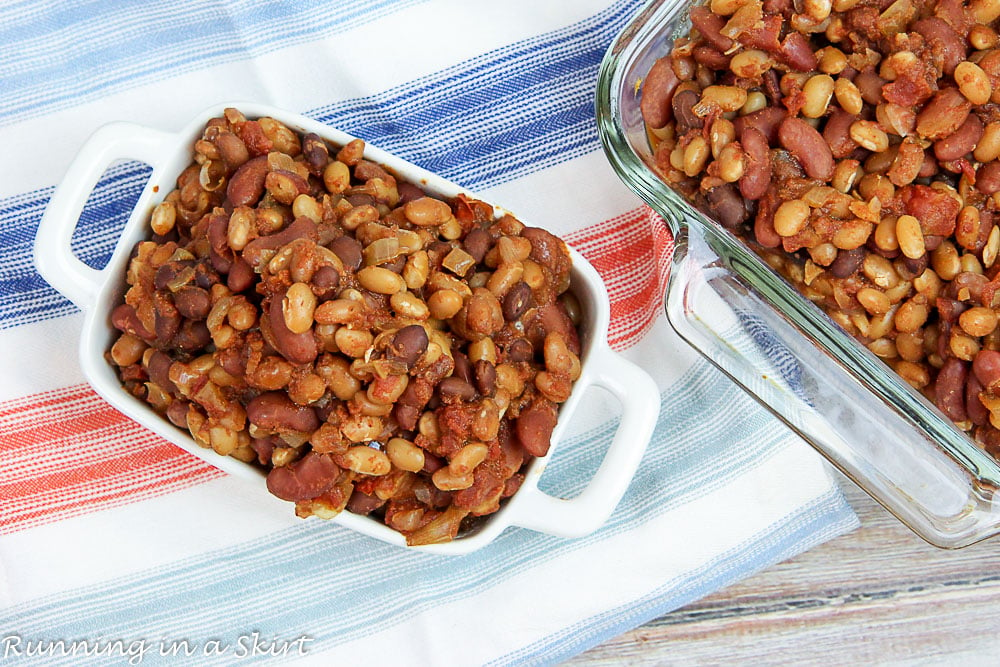 Enjoy!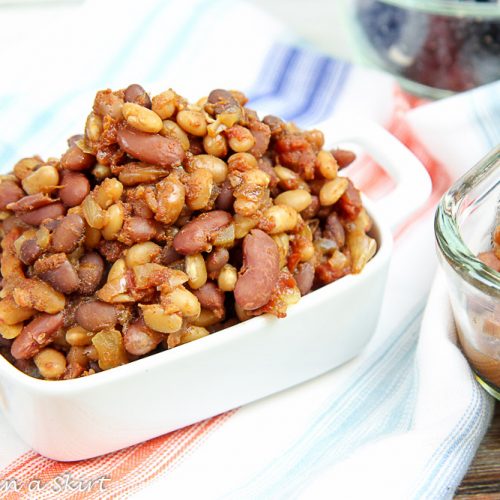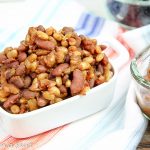 Smoky & Sweet Vegetarian Crock Pot Baked Beans
Perfect for a football party or cookout!
Ingredients
1

pound

dried navy beans

½

pound

dried black beans

½

pound

dried red kidney beans

1

onion,

diced

¼

cup

apple cider vinegar

½

cup

brown sugar

¼

cup

grainy mustard

1

teaspoon

adobo sauce and 1-2 minced chipotle peppers from the same can

,

More if you like spicy food

1 14.5

ounce

can petite diced tomatoes

1 14.5

ounce

can tomato sauce

1 6

ounce

can tomato paste

2

cups

water

,

you may need to add more

½

teaspoon

salt,

or to taste
Instructions
The night before you want to make these rinse, drain and sort through the beans. Pick out any that don't look right. Put the beans in a large bowl and cover in water allowing an extra 3-4 inches of water on top. The beans will need lots of water and room to expand. This water is separate from the water in the recipe. Soak for at least 10 hours.

In the morning, drain the beans.

Add all of the ingredients to the Crock Pot, including the 2 cups of water, and cook for 8-10 hours on high. Stir occasionally if you are home. Check consistency of beans and add more water if it's too thick or the beans aren't getting soft enough.
Notes
You can make this a day ahead of time and then reheat in Crock Pot- the flavors are even better the next day.
You can also substitute canned beans for the dried, just leave out the soaking step and cook for 3-4 hours on high or 6-8 on low.
Nutrition
Calories:
327
kcal
Carbohydrates:
63
g
Protein:
19
g
Fat:
1
g
Saturated Fat:
1
g
Trans Fat:
1
g
Sodium:
541
mg
Potassium:
1379
mg
Fiber:
17
g
Sugar:
16
g
Vitamin A:
461
IU
Vitamin C:
11
mg
Calcium:
131
mg
Iron:
6
mg
Like it? I'd love it if you could pin this to your favorite Pinterest board! Thank you so much for the support.

Want more Vegetarian Crock Pot?
Crock Pot Vegetarian Taco Soup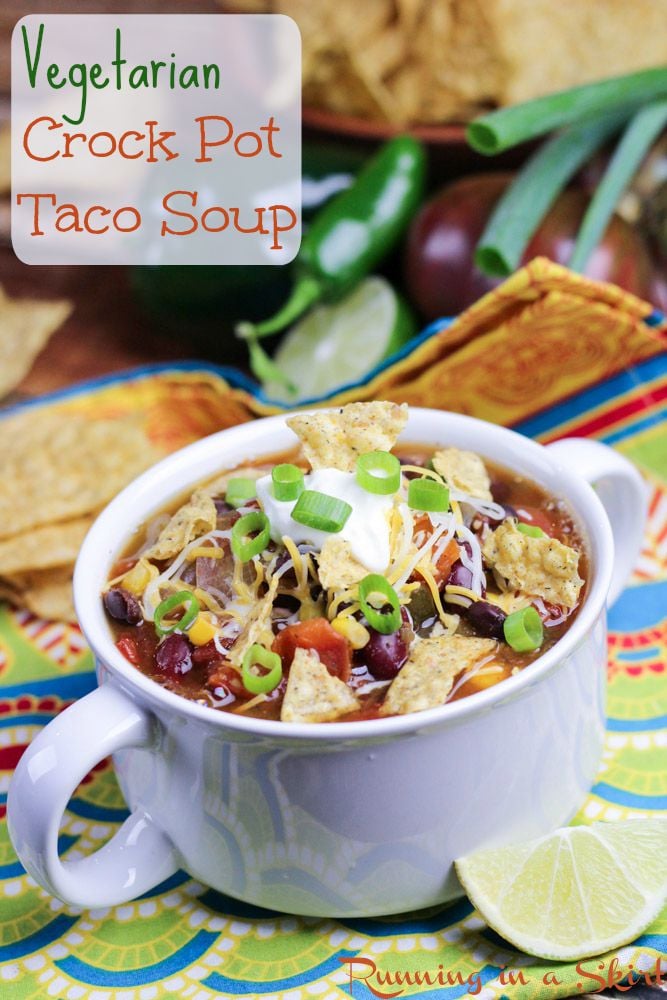 Crock Pot Vegetarian White Bean Soup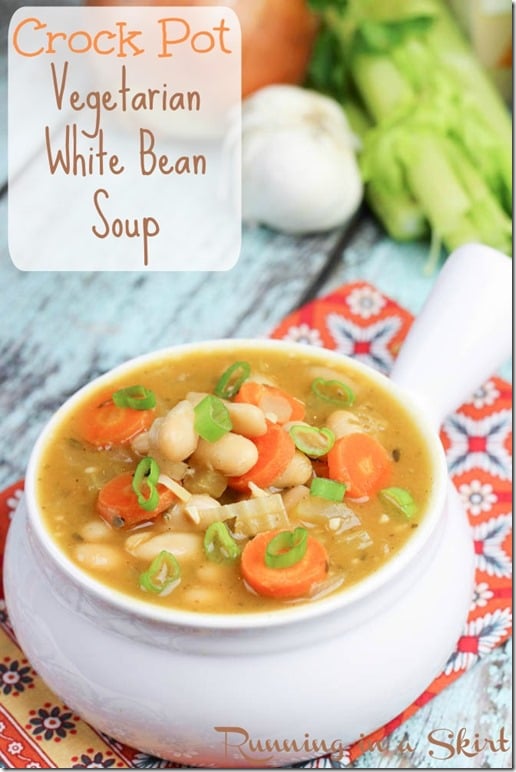 Crock Pot Cauliflower Cheddar Soup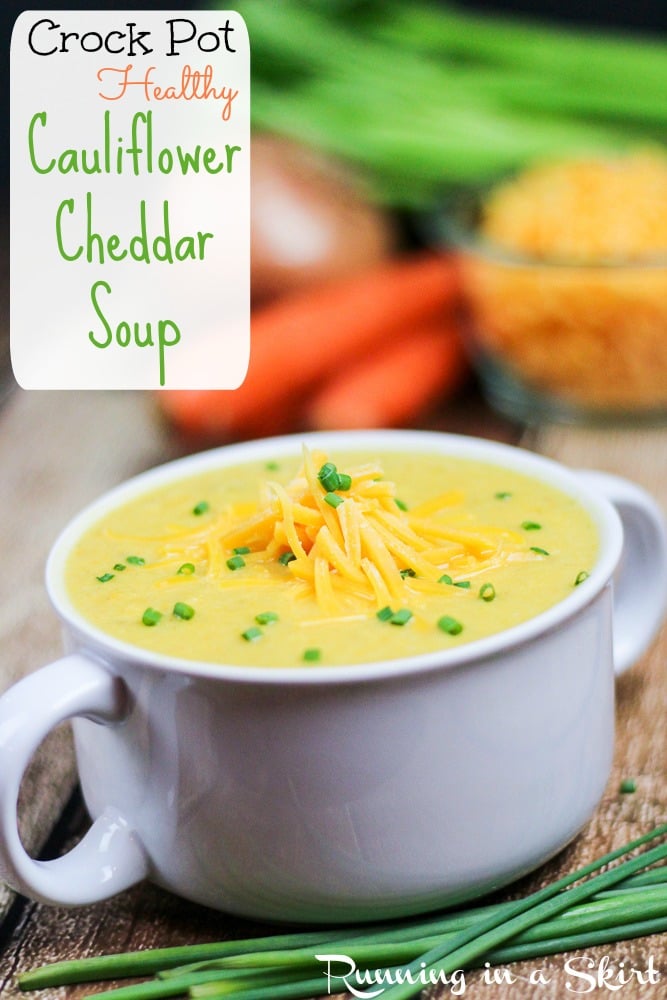 Easy Crock Pot Black Bean Soup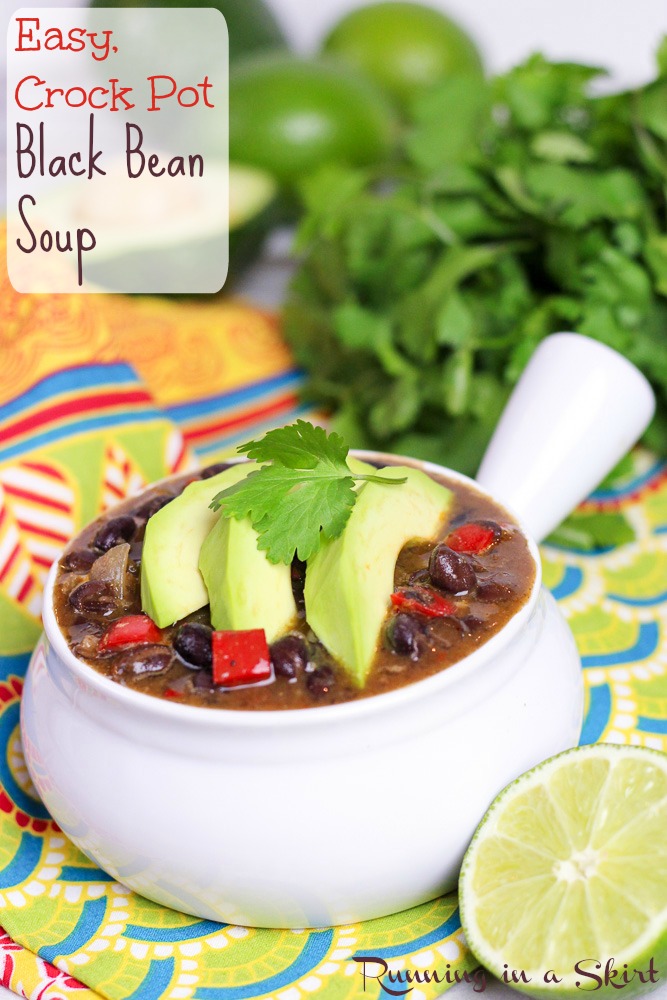 Crock Pot Vegetarian Mexican Quinoa Bake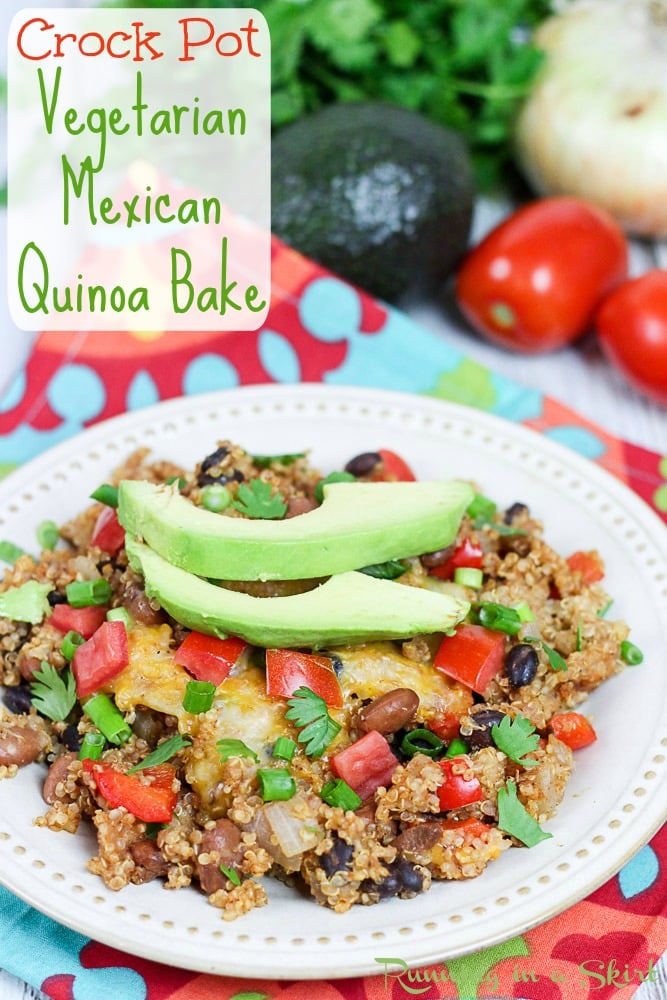 Crock Pot Vegetarian Baked Beans
This is another flash back Running in a Skirt recipe! It was originally published in August of 2013 and got a makeover in August of 2016 including new photos, text and a printable recipe. The pictures were embarrassingly bad, but the recipe was good. I'm so glad to get to share it with you in a more presentable way. 🙂
Or check out my Crock Pot page for dozens of other options!
Thanks for stopping by today! Come back tomorrow for the Best of the Blogs Linkup!
I'm linking up with: Meatless Monday with Sarah and Deborah, Meatless Monday with Annmarie and Rachel, Delicious Dish Tuesday, What's Cookin' Wednesday, Full Plate Thursday with Miz Helen, FoodFriDIY, Foodie Friday, and the Weekend Potluck. Thanks so much ladies for the link up parties!
Your turn!
Ever cooked beans from scratch?