Happy Fashion Friday!
You've probably figured out by now that I have a deep love of all things flowery and pretty in the summer (all the time, really.) So it's no surprise I've found my way to the sunflower paths at Biltmore several times this summer already.
I don't think I will ever grow tired of this view. The mountains are such a stunning backdrop.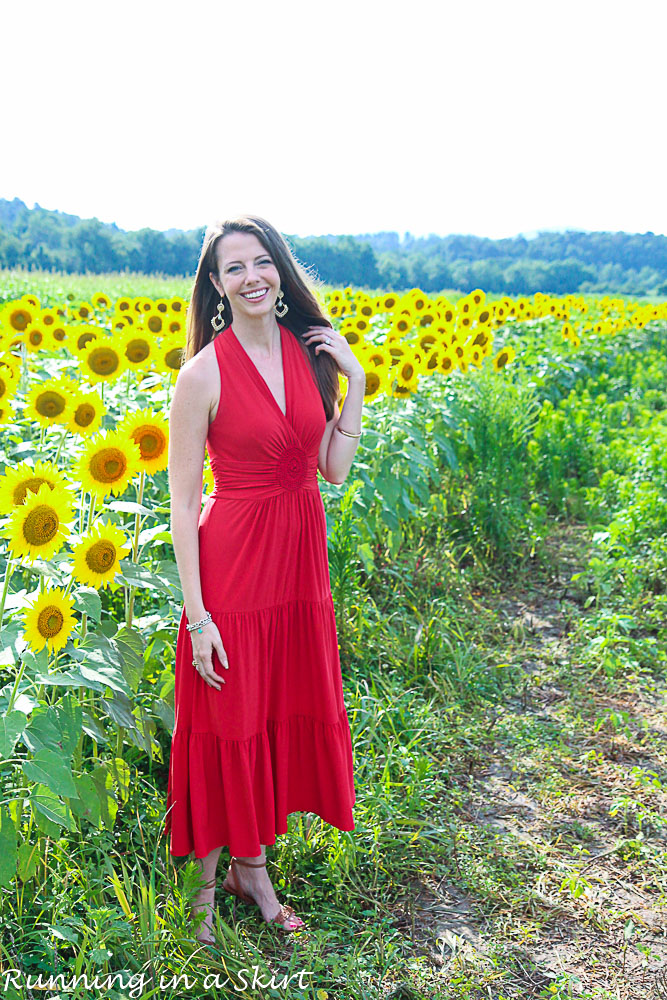 The other day the Hubs and I grabbed dinner nearby and he snapped these photos. I wasn't sure how they'd turn out since we basically had to shoot into the sun to get the sunflowers facing the right way, but it worked. The effect is pretty cool actually.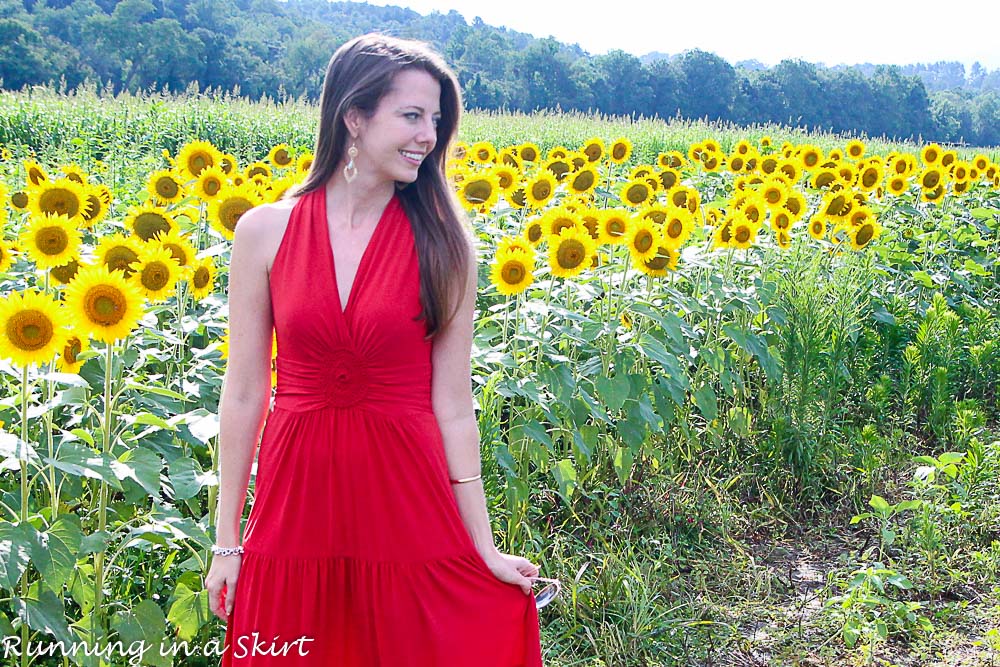 So this dress. I adore it. My sister-in-law Danielle actually sent it down to me because she wasn't wearing it anymore.
I instantly took it in as my new favorite. You've also seen me wearing it in Austin earlier this summer.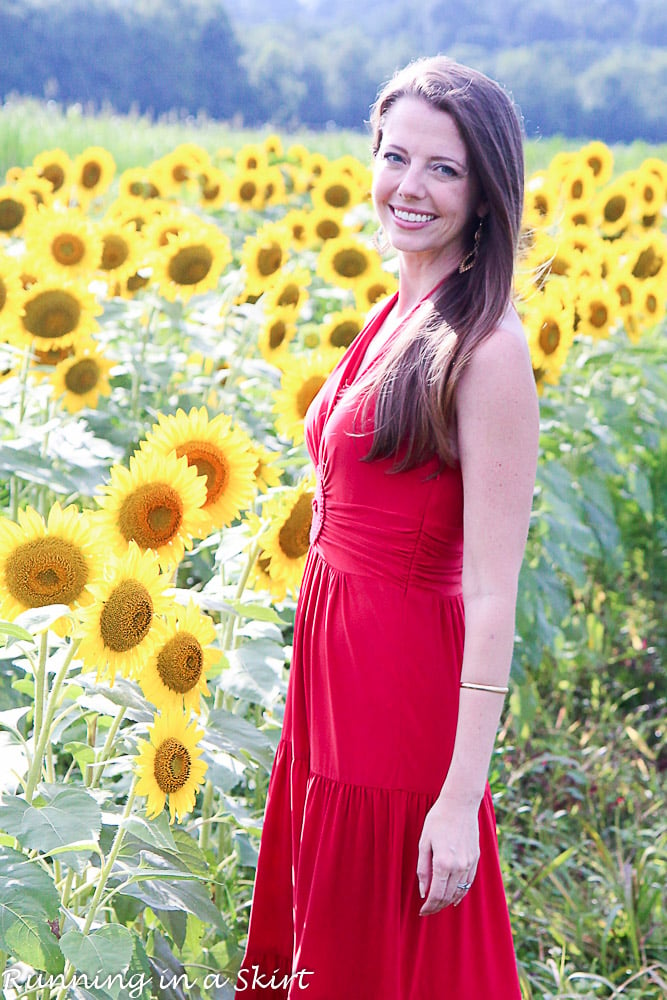 I adore the 70's inspired neckline with an updated midi-length skirt. I swear my Mom had an almost identical green one stashed in the back of the closet growing up.
The dress is easy to wear and it instantly puts me in a good mood.
Fashion should do that for you. If you don't like the way you feel in it, don't wear it! I love fashion trends as much as the next girl, but you should always be true to yourself and your own personal style. If you have pieces you LOVE, you can keep wearing them for years. That is what I do.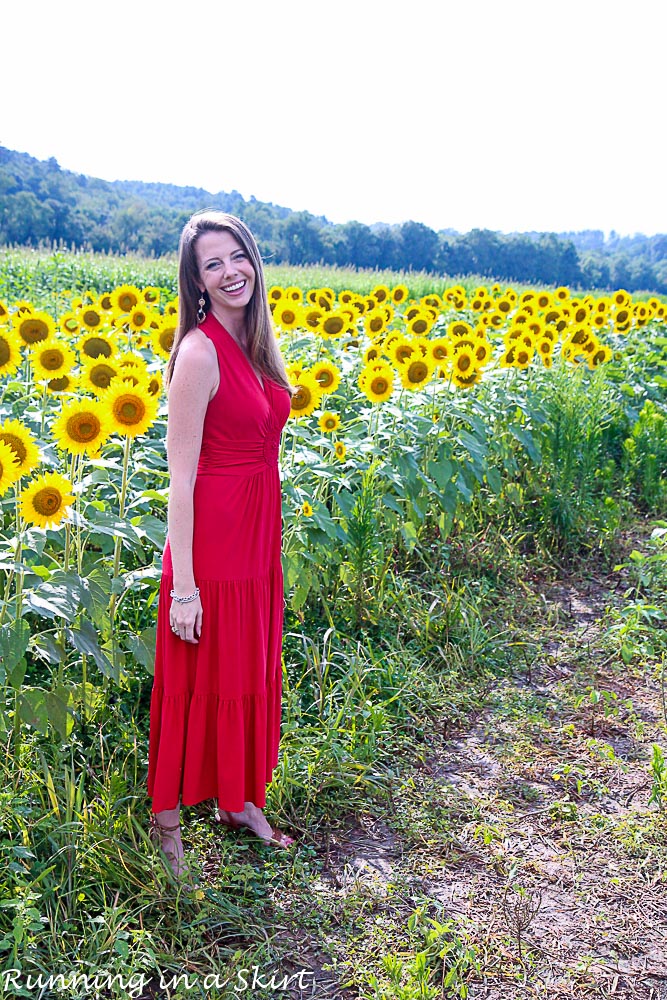 This sunflower paradise marks the last Fashion Friday of summer. Starting next week I'm going to share some of my favorite fall finds, including some adorable and inexpensive new ways to transition your wardrobe in to fall.
But in the mean time linger, pause and just enjoy these last few weeks. If you can't find me, I'll be out frolicking in this meadow. 🙂 Kidding.... kind of.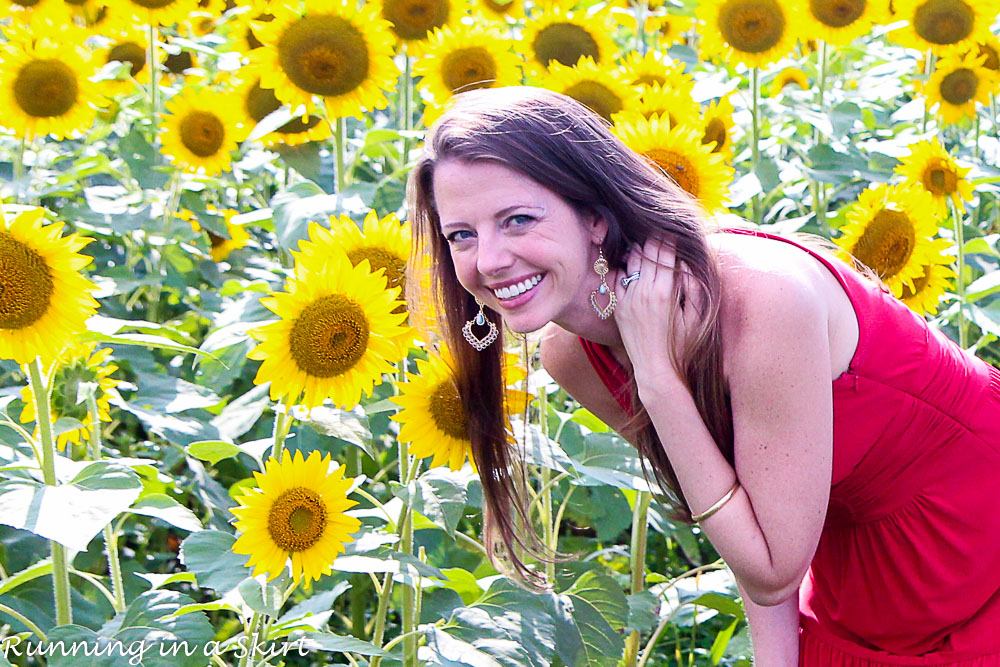 Don't sunflowers and butterflys make the best accessories?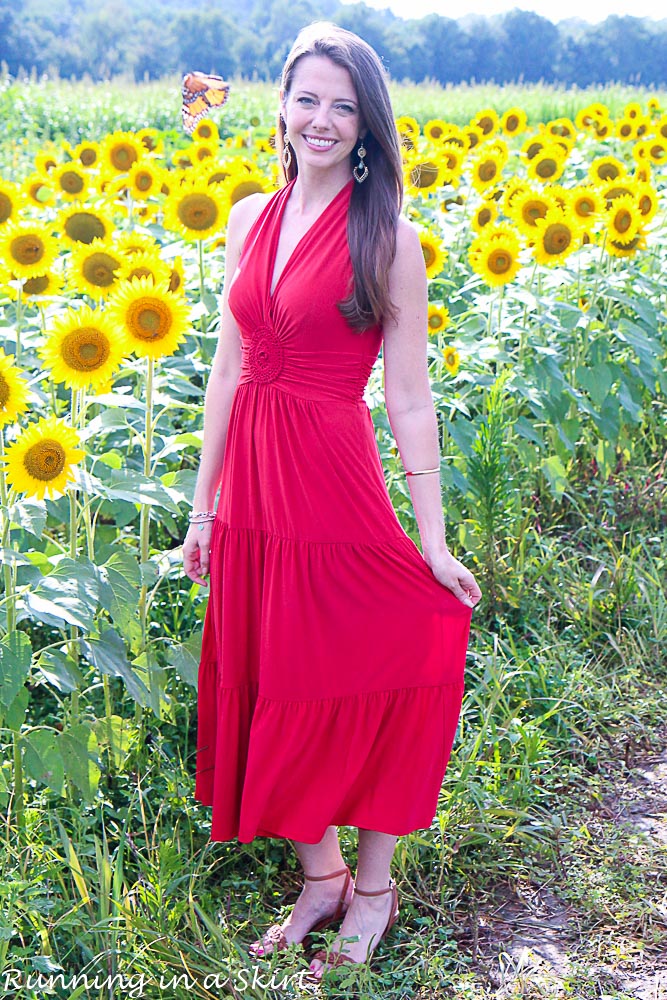 Happy shopping!
Shop the Look:
Dress: Macys, I like THIS ONE <--- less than $30 midi length, THIS ONE <---cute high low hem, and THIS ONE <--- nice shorter version. THIS ONE is a big pricey but it's gorgeous!
Shoes: LOFT, similar HERE or HERE <-- Nine West Wedge for Under $30. Lots of colors!
Earrings: Charming Charlies, similar HERE or HERE.
So nice to see you today. Have a great weekend and come back Monday for a recap of my Hilton Head trip!
This post is not sponsored, but contains affiliate links. I do make a small commission for clicks and purchases. It cost you nothing. Thank you for supporting Running in a Skirt.
I'm linking up with: Nicole for the Fit and Fashionable, Jolynne Shane for Fashion Friday, Turning Heads Tuesday. Thank you so much for the lovely linkup ladies
Your turn!
What's your favorite flower?
Are you still mentally in summer or have you moved onto fall?