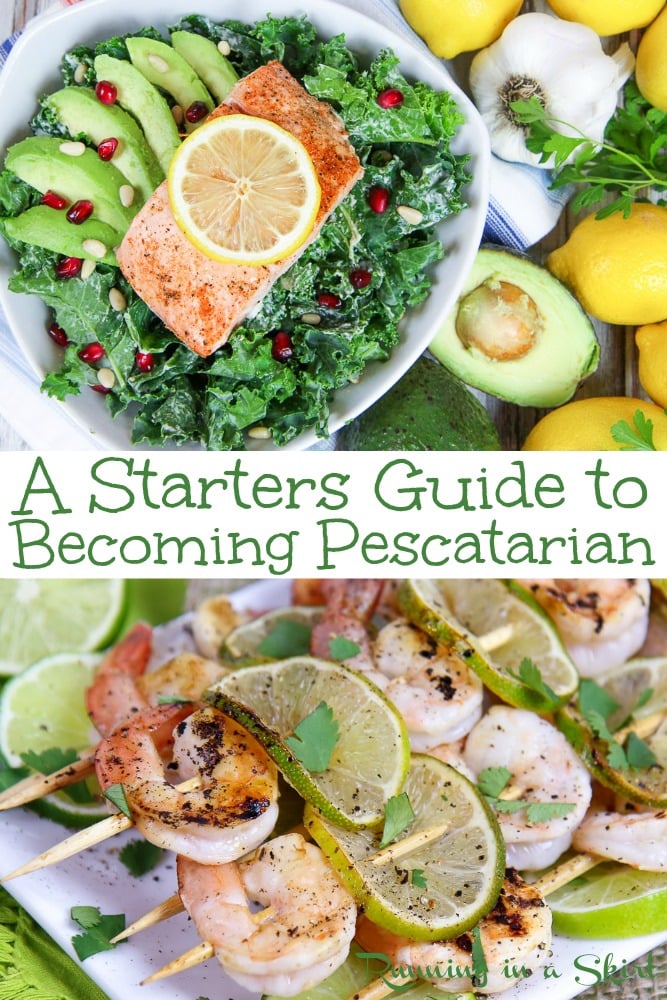 Curious about my pescatarian diet and what is a pescatarian? Today I'm sharing a pescatarian for beginners' guide including what is a pescatarian, the health benefits of being a pescatarian, reasons to be a pescatarian, and whether the diet is healthy. Plus practical tips and recipes on becoming a pescatarian yourself from someone who's lived this lifestyle for over 20 years.
Learn More About the Pescatarian Lifestyle: 15 Healthy & Satisfying Pescatarian Dinners, 5 Day Pescatarian Meal Plan & Shopping List, Pescatarian vs Vegetarian, & Pescatarian Meal Prep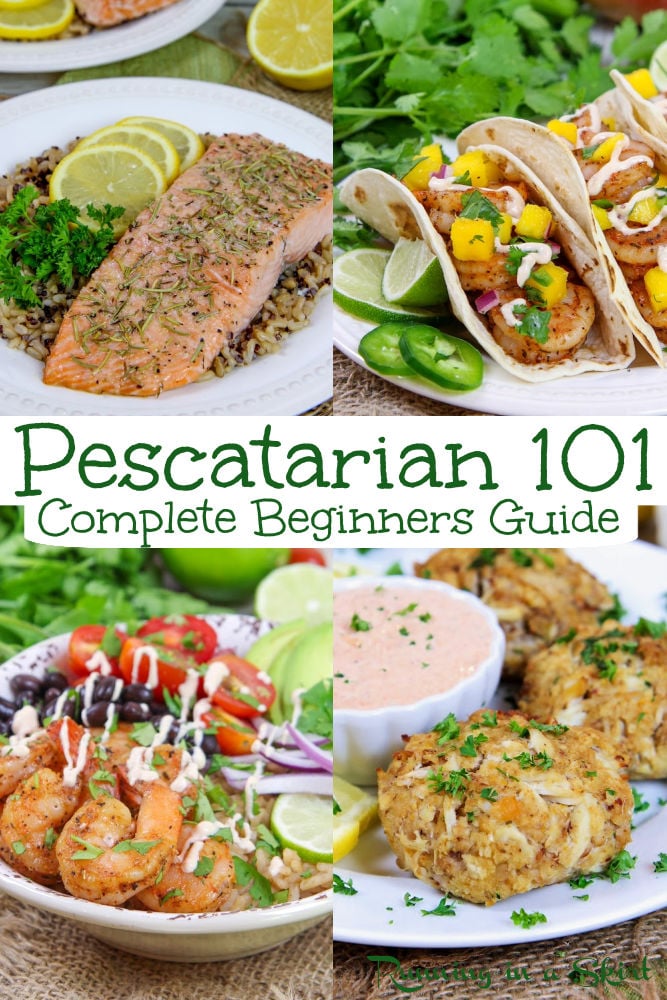 Pescatarian Diet Guide
Look no further for a Pescatarian Diet Guide including everything you need to know to become a pescatarian, including recipes, meal prep, meal planning, and more. I've been a pescatarian for over 20 years (way before alternative diets were cool) and I'm here to share the nitty-gritty of making a shift to the pescatarian diet which includes eating mainly vegetarian meals plus adding fish and seafood to your diet.
Before we dive into today's post I don't want anyone to think that I'm preaching to them that one way of eating is better than another. I do believe that there are many different types of healthy diets and not one fits everyone's personality, body type, and individual health needs. This pescatarian guide is designed to give you all the information you'll need about the pescatarian diet, and then you can make an educated decision on your own. No judgment here on what you chose to eat.
That being said I do get a lot of questions about being a pescatarian and what is a pescatarian and I wanted to finally formally address it here AND share some ways you could become a pescatarian too IF it's something that has sounded interesting to you. I've been living the pescatarian lifestyle since I was 15 so it is something close to my heart.
Consider this a Pescatarian Diet Guide for beginners. This guide starts here and then also includes 15 Healthy & Satisfying Pescatarian Dinners, 5 Day Pescatarian Meal Plan & Shopping List, Pescatarian vs Vegetarian, & Pescatarian Meal Prep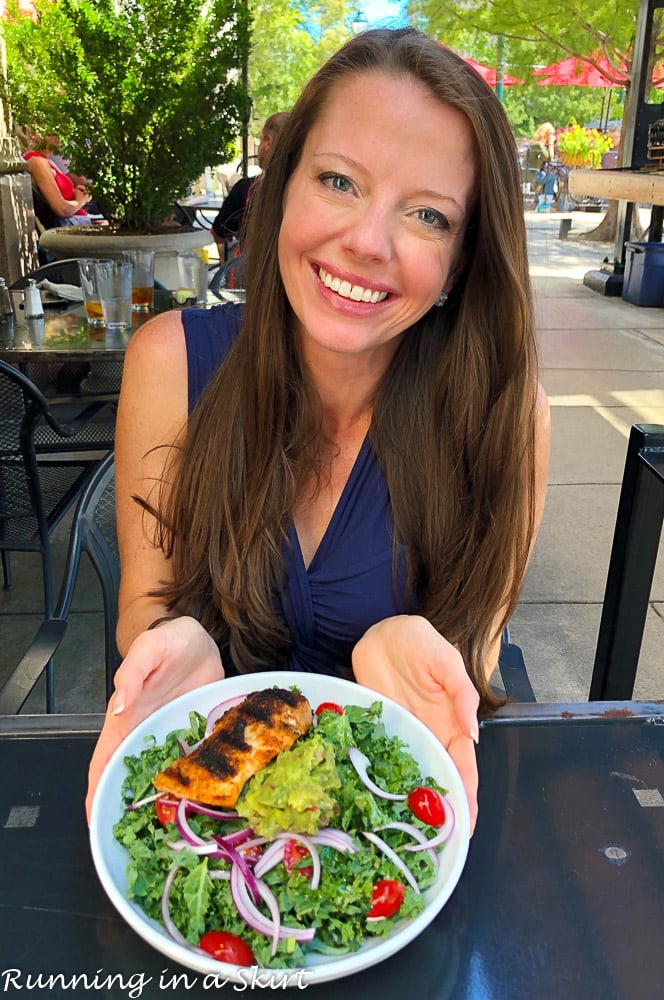 Pescatarian Diet for Beginners
What is a Pescatarian?
So what is a pescatarian? A pescatarian is someone who adds fish and seafood to an otherwise vegetarian diet. The word pescatarian comes from the Italian word pesce which means fish. A pescatarian diet uses fish and seafood as a source of protein.
My version of this includes dairy and eggs, but not everyone does.
The pescatarian diet is great because it provides flexibility and ease to a vegetarian diet because you can eat more and have flexibility with your food. Often vegetarians or vegans feel restricted and depending on where they live, can even have trouble finding food to eat out. Because it is less restrictive I think it is easier to keep for the long haul. Pescatarian and Flexitarian diets are becoming increasingly popular because it's a great way to get the health benefits of eating a more plant-based food while having some flexibility to enjoy in moderation some other foods you enjoy.
The Pescatarian diet can be a healthy and vibrant way to eat and live.
Here's a funny story about my history being a pescatarian. I actually didn't call myself a pescatarian until I moved to Asheville. If someone asked I'd mention "I am a vegetarian who eats seafood." When I moved to Asheville, which is a city that is very inclusive of alternative diets, I learned the label for my diet from kind folks who told me that I'm not the only one who eats this way! For years not many people were familiar with the term though and when I said I was a pescatarian a lot of times I got met with the question... "You're a pesca-what?"
After YEARS of eating this way, it feels nice that it's becoming more mainstream. The pescatarian lifestyle is gaining momentum because it's a fabulous way to eat.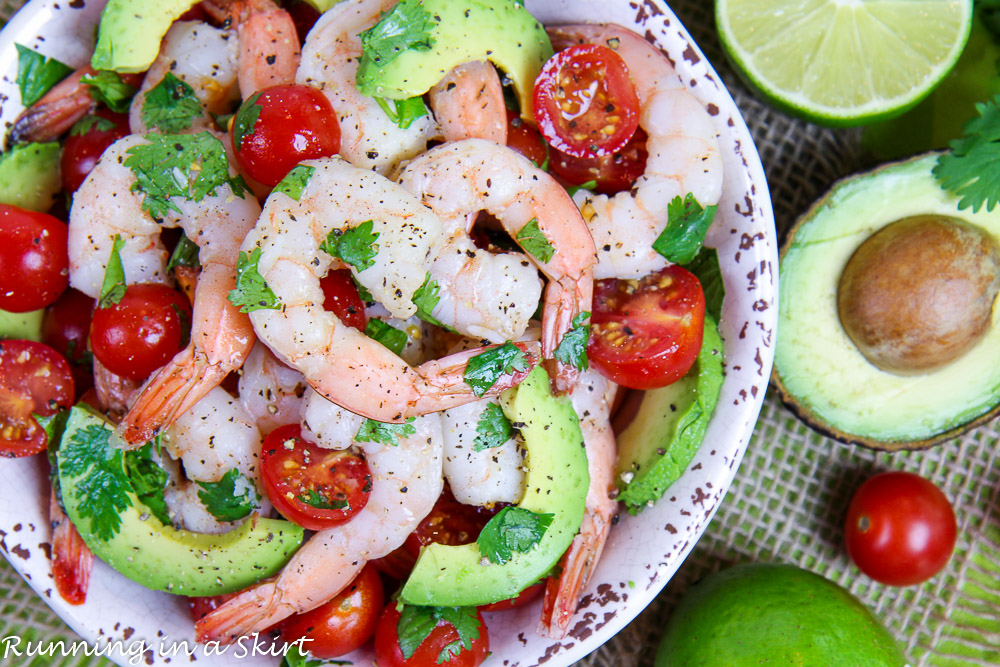 Why I follow the Pescatarian Diet...
Before we dive in, I thought I'd share how I became a pescatarian. The story starts WAY back when I was in 8th grade. I was pretty naive and collected stuffed cows for fun. I also LOVED eating chili-cheese burritos at school at the time but it never clicked with me WHAT I was actually eating. I had a friend not so kindly point out to me that I was eating my "friends" and I stopped eating beef cold turkey and never looked back.
In college, I was having trouble figuring out what a balanced diet with enough protein looked like so I started eating seafood and fish again. Back then it was also harder to eat out without eating fish as vegetarian dishes were hard to come by in restaurants. I actually grew to love seafood and found I felt healthier when I included it in my diet.
This way of eating has stuck for 20-plus years because I simply don't have a taste for eating meat anymore. I have no desire to eat it and as an animal lover, the thought of eating it grosses me out. I honestly don't judge anyone who feels differently, but the pescatarian lifestyle is what works for me.
I eat fish because I like it, it gives me an easy source of protein, and it has lots of health benefits. It also makes cooking for my family easier because my Hubby loves to fish as much as I do. I know some people may not understand why I eat fish but not anything else but that is just the balance I have found in my life.
Why Do People Choose a Pescatarian Diet?
I shared my personal story of why I chose a pescatarian diet, but there are many other reasons to decide to eat this way. Here are a few.
Ethical Reasons: Many people decide to eat a pescatarian diet because of ethical concerns including opposing eating animals, factory practices, and humanitarian reasons.
Health Benefits: There are true health benefits to eating a healthy pescatarian diet with lots of fruits and vegetables plus healthy fish and seafood. Keep reading below for the complete pescatarian diet health benefits.
Environmental Concerns: There is a concern that eating livestock increases carbon emissions and causes high greenhouse emissions. Many say that stopping eating beef or red meat can lower your personal use of greenhouse gas emissions.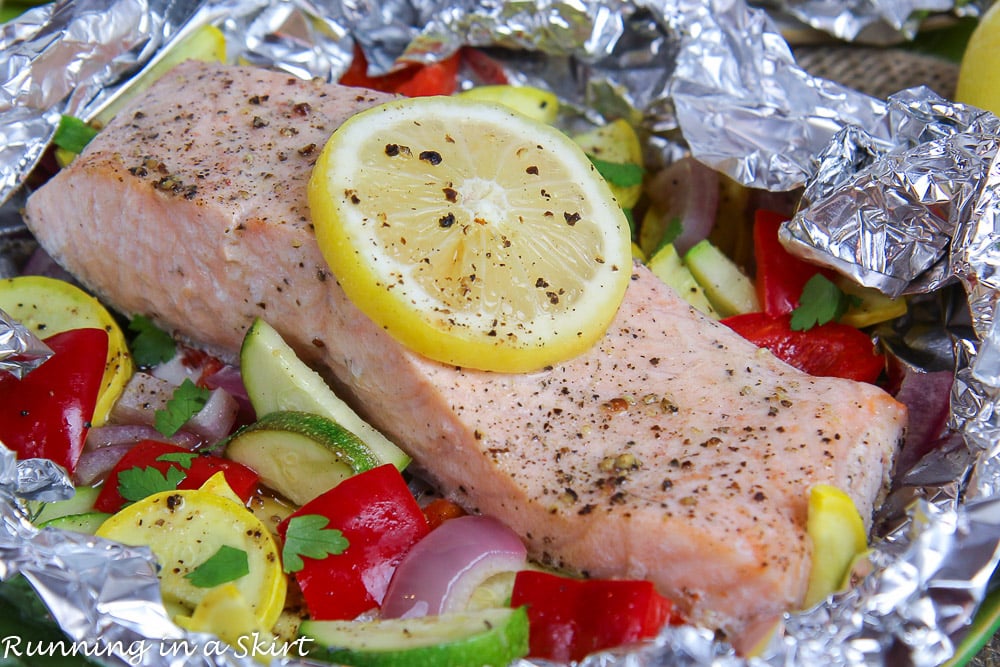 Health Benefits of a Pescatarian Diet
Similar Benefits to Mediterranean Diet
Not all pescatarian diets are healthy, but if you focus on many fruit, vegetables, whole grains, and fish in your diet, the pescatarian diet can be one of the healthiest ways to eat. It's much like the popular Mediterranean diet which is known to lower obesity, lower blood pressure, and the risk of chronic conditions like diabetes, cardiovascular disease, or heart disease like coronary heart disease It's also known to decrease the risk of colorectal cancers.
This diet can be rich in vitamins, minerals, phytochemicals, omega-3 fatty acids, and protein.
The key to my pescatarian diet is it starts with a basic plant-based diet with lots of fresh fruits and vegetables. When a vegetarian diet is actually based on good, fresh food it can help your blood pressure, and blood glucose, reduce your cholesterol levels, and reduce inflammation. Eating a wide variety of colorful vegetables can pack your diet with natural vitamins to generally keep you healthy and energized.
Get More Protein & Nutrients
It can be tricky to get enough protein on an exclusively plant-based diet. Adding fish to a plant-based vegetarian diet can help several types of nutritional deficiencies vegetarians can often get if they aren't careful. Fish adds protein, vitamin B12, and omega-3 fatty acids to the diet filling in some gaps and making the pescatarian diet even healthier! Fish is loaded with other nutrients including selenium, manganese, and zinc.
It is absolutely possible to get everything you need from a vegetarian diet or vegan diet but eating fish and seafood makes it a little easier to have a well-rounded diet without as much fuss.
Also eating fish improves heart health. Eating it just once or twice a week shows a 50-percent reduction in the risk of sudden cardiac death in healthy adults.
You are More Likely to Stick with It
I think the pescatarian diet is a good one because it sets you up for success. You are still eating mainly plants and doing so much for your health and the environment. Plus I feel becoming a pescatarian is easier and less of a commitment than being vegan.
Vegetarian and vegan diets can often feel very restrictive and because of that many don't stick with them for long. Eating seafood and fish opens up so many doors of food you CAN eat so you don't feel deprived. Eating out and cooking for others is simpler. The best diet isn't a diet at all but a lifestyle and I feel like the pescatarian diet is one many could adopt and keep for a very long time so your health benefits just multiply over time instead of taking on a diet you really can't keep.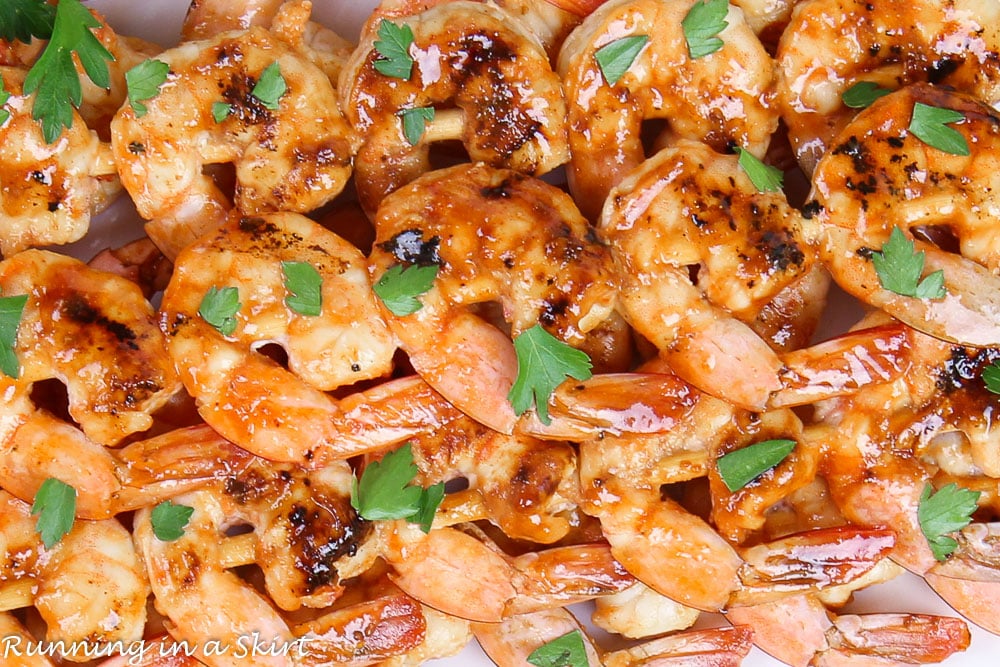 What Foods do Pescatarians Eat?
Curious about being the pescatarian diet and exactly what food pescatarians eat?
One common misconception of a pescatarian diet is people think I eat seafood daily. Unless I'm on vacation at the beach, I don't. I eat a mainly vegetarian diet with shrimp and seafood added in a few times a week. Depending on what I have going on in any week I eat seafood and fish 1-5 times. I don't need or want seafood that often.
There are three types of pescatarians.
Lacto Pescatarian: A person who eats dairy products including milk, cheese, cottage cheese, yogurt, and butter.
Ovo Pescatarian: A person who eats eggs.
Lacto-Ovo Pescatarian: A person who eats both eggs AND dairy products.
What Can A Pescatarian Eat:
Vegetables - fresh & frozen
Fruit
Bread
Pasta
Grains
Rice
Diary - cheese, yogurt, etc.
Eggs
Nuts and Seeds
Beans & Legumes
Tofu/Tempeh
Fish- salmon, tilapia, mahi-mahi, grouper, cod, mackerel, swordfish, tilefish, sardines, etc.
Seafood & Shellfish- shrimp, clams, mussels, oysters, lobster, crustaceans, etc.
What Can Pescatarians Not Eat:
Beef
Poultry - chicken, turkey
Pork
Wild Game
Lamb
Deli Meat
Bacon
Any other type of meat!
Most of my grocery cart is usually fruit and vegetables. That's my biggest pescatarian for beginners tip... fill your cart with produce! I get protein from sources other than fish including beans, grains, dairy, and tofu.
I buy a lot of frozen seafood and fish. Since I live in the mountains there is not a lot of fresh - never frozen - seafood available. Most of what is in the seafood counter is the same frozen seafood I buy and has been thawed out by whoever is working that day. I think it makes more sense to just buy it frozen myself and then have it thaw out on whatever day I need it. If I get lucky and see something that has never been frozen at a reasonable price I snag it up... but frozen is often the way I go because it means I usually end up with a fresher product.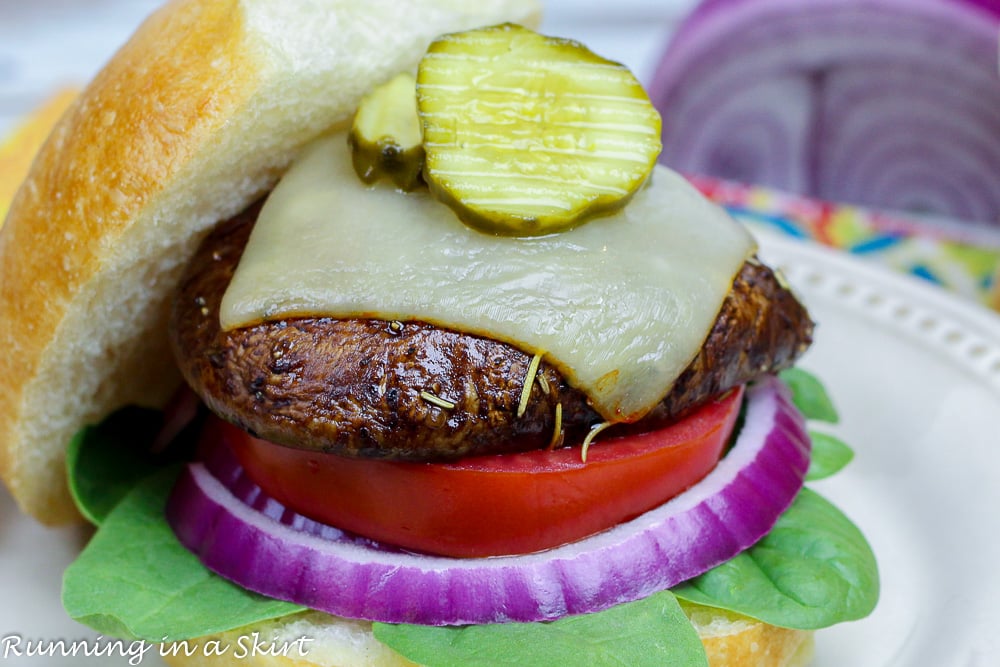 Is the Pescatarian Diet Healthy?
I think it's also important to point out that being a vegetarian or pescatarian isn't automatically healthy. You can be a vegetarian and eat nothing but bread, pasta, and pizza, or a pescatarian and eat fried seafood. When I was just starting out as a vegetarian as a young teenager I ate so much pasta and pizza because I didn't know what else I could eat. My poor Mom was clueless about what to cook for me. Back then alternative diets were not as popular and there were not as many resources or options in the grocery store. I sometimes can't believe all the vegetarian and vegan products in the stores these days just in the regular grocery store.
If you want this (or ANY) lifestyle to be healthy it's important to have your meals include a variety of fresh food including a big chunk of fruits and vegetables. If you follow the diet in that way being a pescatarian can be healthy. It's important to eat lots of fresh vegetables, fruits, whole grains and fish and seafood. Go back to the basics with whole, real food and this diet is incredibly healthy!
Drawbacks to the Pescataiarn Diet:
The pescatarian diet can be pretty healthy and straight forward and there aren't a lot of drawbacks, however, you do need to be careful not to eat too much of certain types of fish and watch your intake.
Larger species of fish can contain mercury and other toxins and eaten in excess it can be unhealthy and cause mercury exposure. That can be especially harmful to young children, breastfeeding women, or pregnant women.
The Food and Drug Administration - FDA- recommends pregnant women and children avoid tilefish, swordfish, shark, and king mackerel.
Light tuna is better than other kinds.
I also consider mercury levels of the fish and which ones are more sustainable with the Monterey Bay Aquarium list. With that said, I do love a good fresh tuna dish and enjoy it in moderation.
Everyone else should be aware and not overdo it!
This diet also can have you eating more carbs and processed food, so you have to select your foods wisely.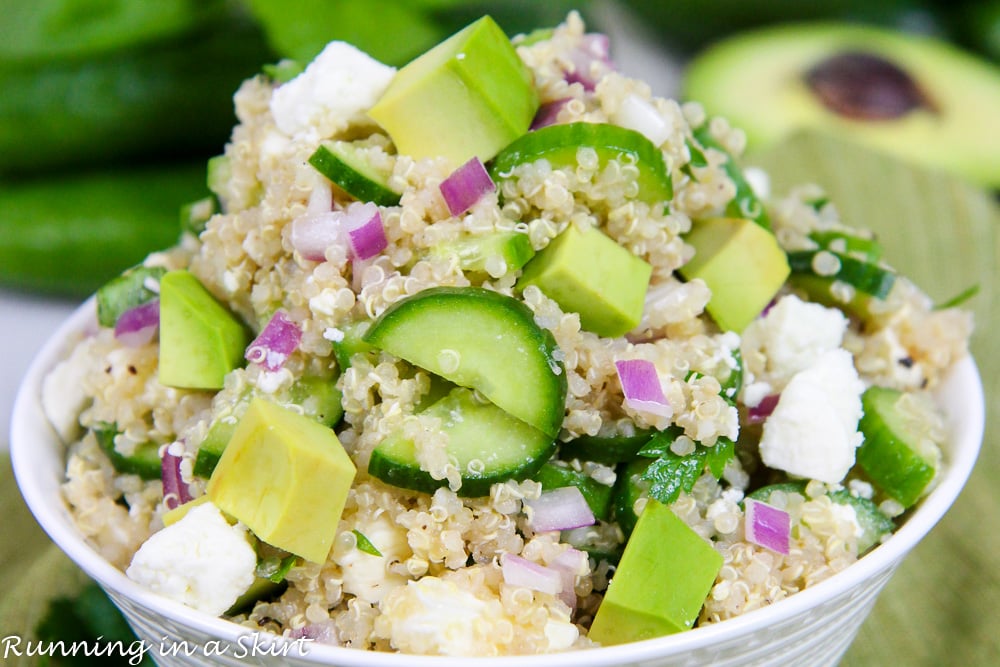 Is the Pescatarian Diet for You?
Is the pescatarian diet for you? Maybe!!! If you are curious about wanting to eat less meat for moral, health, environmental, or economic reasons the pescatarian diet is a great one to consider. Being a pescatarian is a great balance of helping all of those causes you want to help but still getting the extra oomph to your diet that eating fish adds.
I feel like this less restrictive diet is more likely to stick and something more sustainable than vegan or vegetarian diets. It's easier to include the proper nutrients in your diet, eat out and even entertain. You get all the benefits of a vegetarian diet PLUS the nutritional bonus of eating fish a few times a week.
This diet has worked for me for over two decades and might work for you too!
Pescatarian Diet Recipes
Looking for pescatarian diet recipes? My site is filled with great vegetarian, vegan, and fish/ seafood recipes. Here are quick links to the recipes...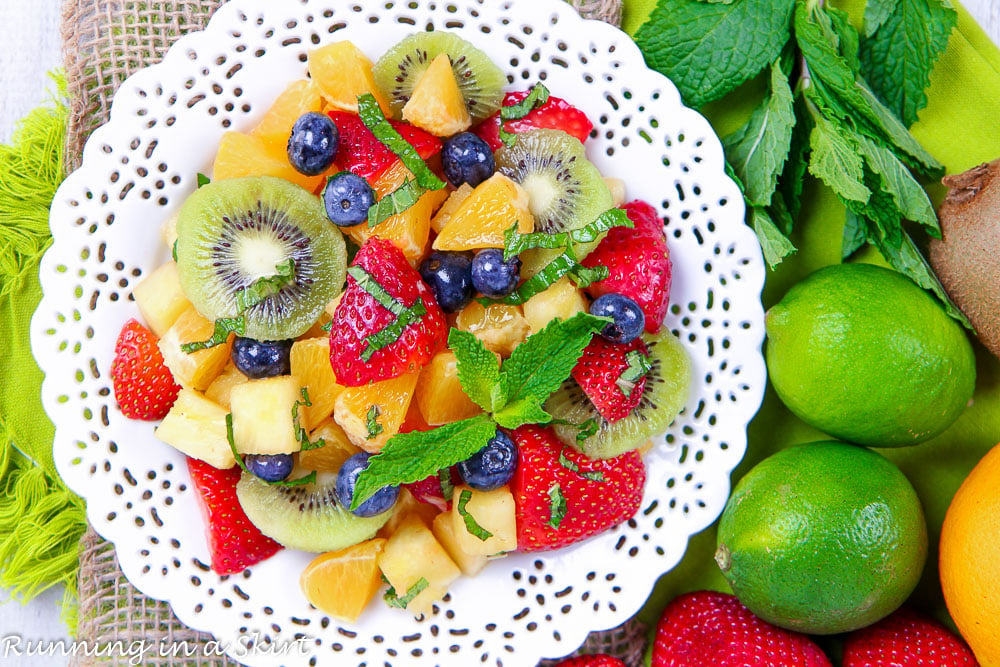 FAQ
Does a pescatarian eat chicken?
No, the pescatarian diet does not include chicken, beef, pork, wild game or anything that walks on land. If you want to eat mainly plant-based and include the occasional chicken breast, that is called a flexitarian diet.
Can you eat eggs if you are a pescatarian?
You can! You can choose to either eat eggs or not. You can also choose to eat dairy or not and still be considered a pescatarian.
Is pescatarian good for weight loss?
It can be! Many vegetarians can fall into the trap of eating too much-processed carbs, so you have to watch for that. But if you eat a diet full of fruits, vegetables, and fish in moderation it can be a great way to lose weight. You'll still not watch calories and portion sizes though. Eating pescatarian can help lower your BMI.
Pescatarian Diet Series
This is the beginning of my Pescatarian Diet series! In this guide, I dive into all the topics you might want to know about when thinking about being a pescatarian including meals, and meal planning, and I even have a grocery list. Keep reading below to help you make the transition to the pescatarian diet.
Pin for later!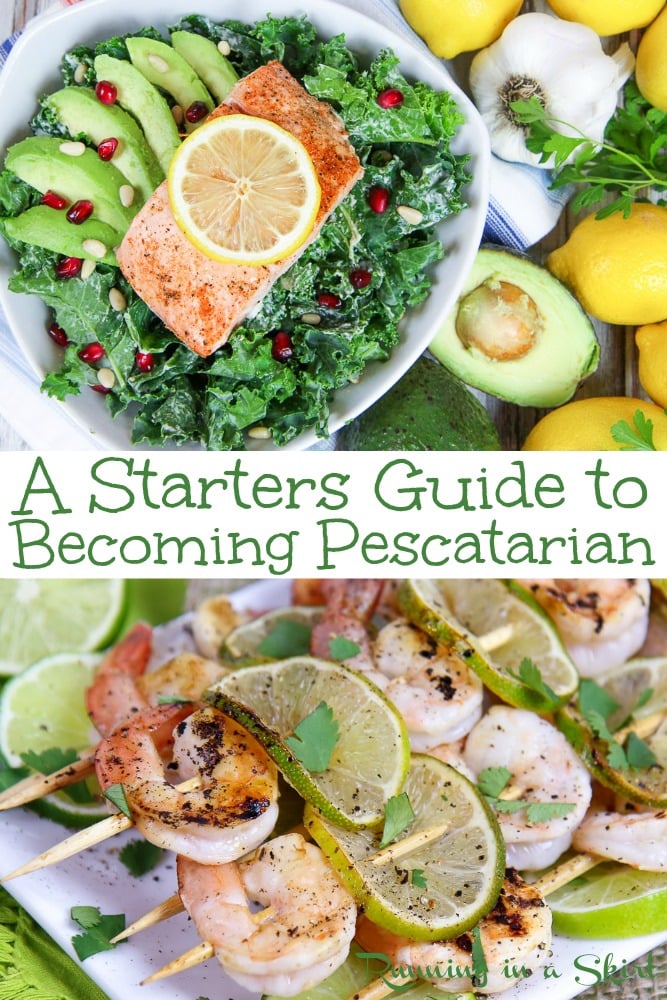 Your turn!
Do you have any questions about being a pescatarian?