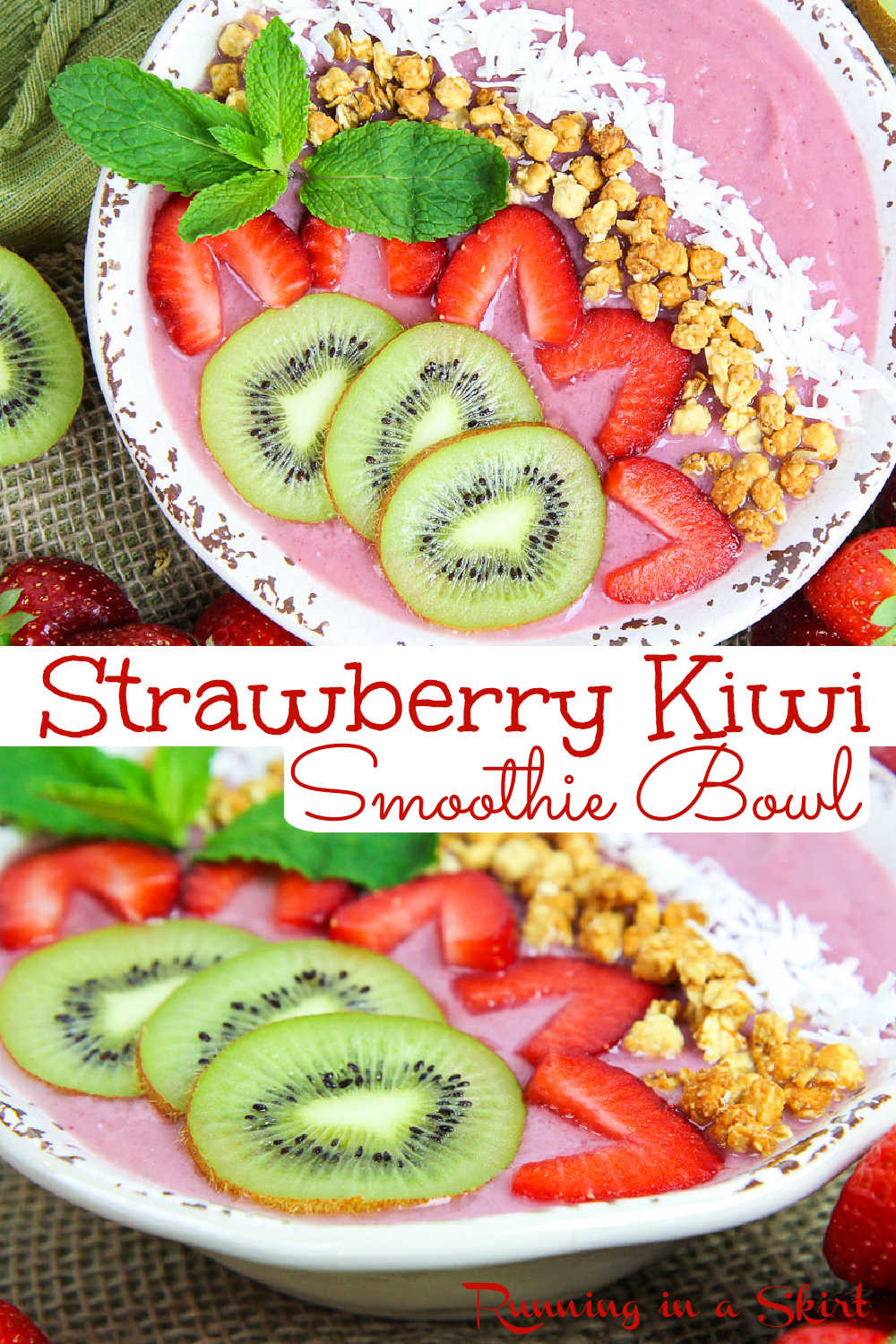 My Strawberry Kiwi Smoothie Bowl recipe is a perfect taste of spring and summer! This healthy and vegan smoothie bowl is blended to perfection and topped with fresh fruit, coconut, and granola.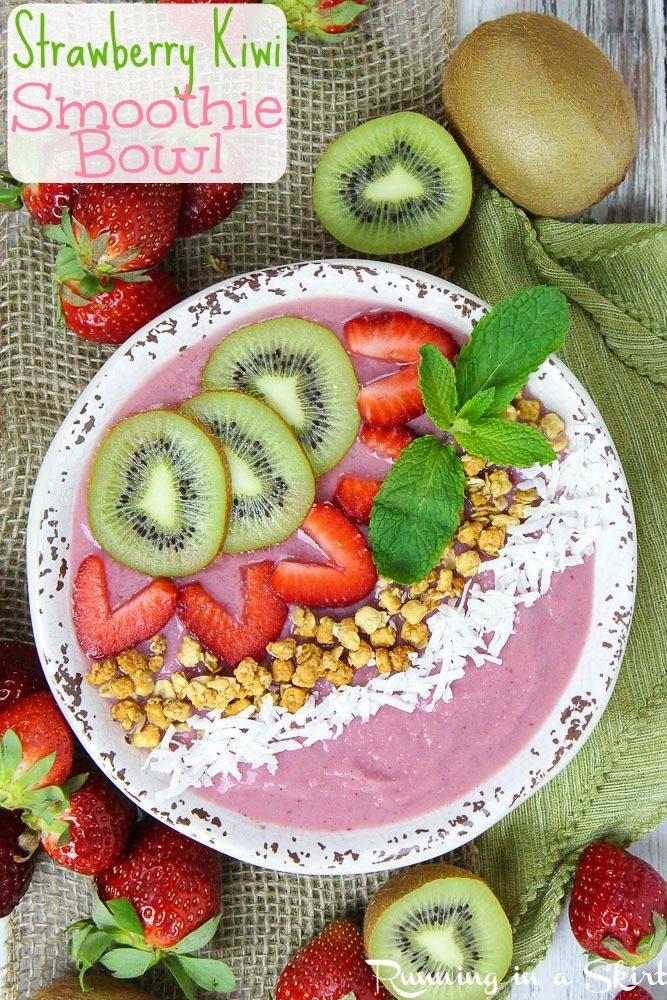 Strawberry Kiwi Smoothie Bowl
Smoothie bowls might be trendy, but they totally live up to the hype. You can't deny the lovely combination of a creamy smoothie base topped with crunchy and sweet toppings. It's sheer health food bliss. Now that we've been seeing routine warmer weather in the mountains, smoothie bowls have been an even bigger part of my life. I usually gravitate towards a green bowl, but I wanted to make something pretty in pink and came up with this gorgeous blended creation. This Strawbery Kiwi Smoothie bowl just screams spring and summer to me.
This Healthy Smoothie Bowl might look fancy but it's actually easy to make and makes a delightfully filling, cool, and creamy breakfast or snack. Plus this bowl gets bonus points for being dairy-free, vegan, and naturally gluten-free!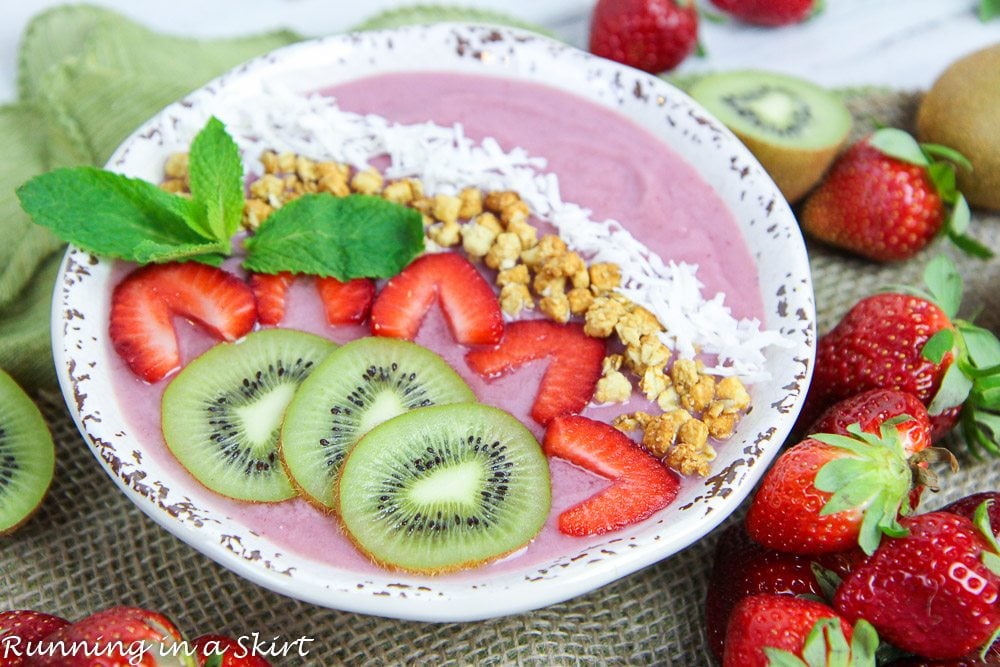 My Trick to Making a Strawberry Kiwi Smoothie Bowl recipe...
Smoothie bowls look fancy but are surprisingly easy to make. The trick is to blend your favorite smoothie combination with less liquid than a regular smoothie. You want just enough to get the blender moving... no more! If you don't have a high-powered blender, you might need to stir the mixture around a bit. I recommend this blender here if you are looking for an upgrade that doesn't cost a fortune.
This smoothie is a simple combination of frozen strawberry, fresh kiwi, and almond milk. Strawberry and kiwi are like a summer dream team for fruit.
I added half a frozen banana to make it creamy. This version has a scoop of your favorite protein powder too... but feel free to leave it out if that's not your jam. You can also add some greek yogurt for a more natural boost of protein if you eat dairy.
There are so many ways to make a smoothie bowl your own. I went with coconut, granola, fresh fruit, and mint for toppings on mine.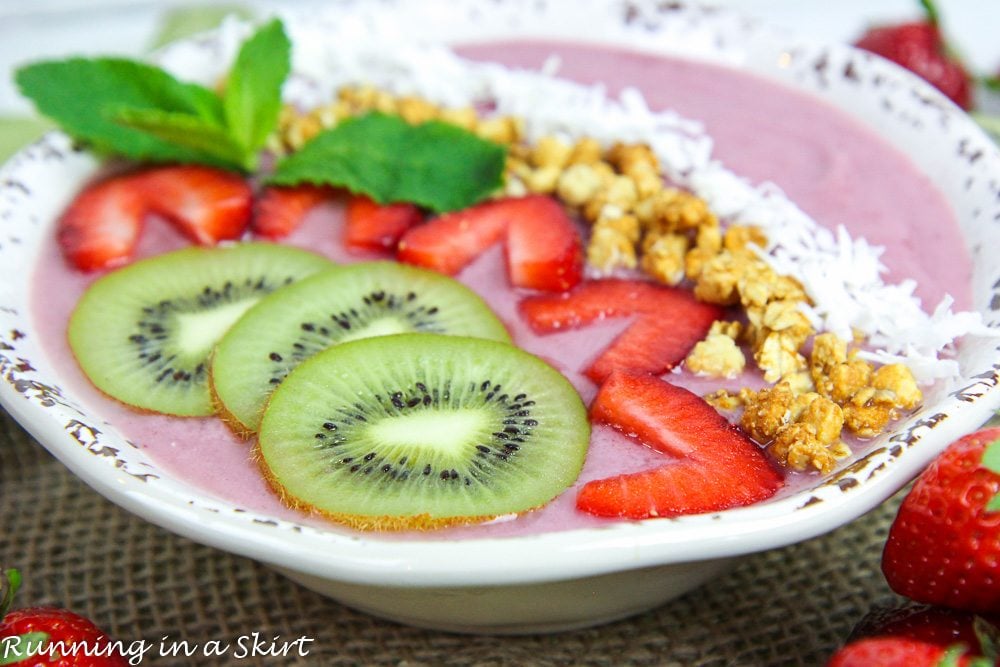 Ingredients:
Kiwi: This Strawberry Kiwi Smoothie Bowl gets a tart twist from fresh kiwi. To easily peel your kiwi cut it in half and scoop out the pretty green flesh.
Strawberry: While I use fresh kiwi, I actually use frozen strawberries for this recipe. It gives the smoothie a creamier texture and allows you to make it without ice.
Frozen Banana: I use half of the frozen banana in my healthy smoothie bowl because it makes it creamier. The banana flavor remains pretty subtle. If you are anti-banana in smoothies, feel free to leave it out. Just add a bit more of the other fruit.
Protein Powder: I like adding protein powder to my smoothie bowls to make them a more well-rounded meal. This one is one of my favorites.
Almond Milk: You can use any type of milk or non-dairy milk you have on hand.
Kiwi Smoothie Bowl Toppings:
The fun part of a Strawberry Smoothie Bowl recipe is the toppings! Here are the ones I use for this recipe.
Fresh Kiwi
Fresh Strawberry
Coconut
Granola
Mint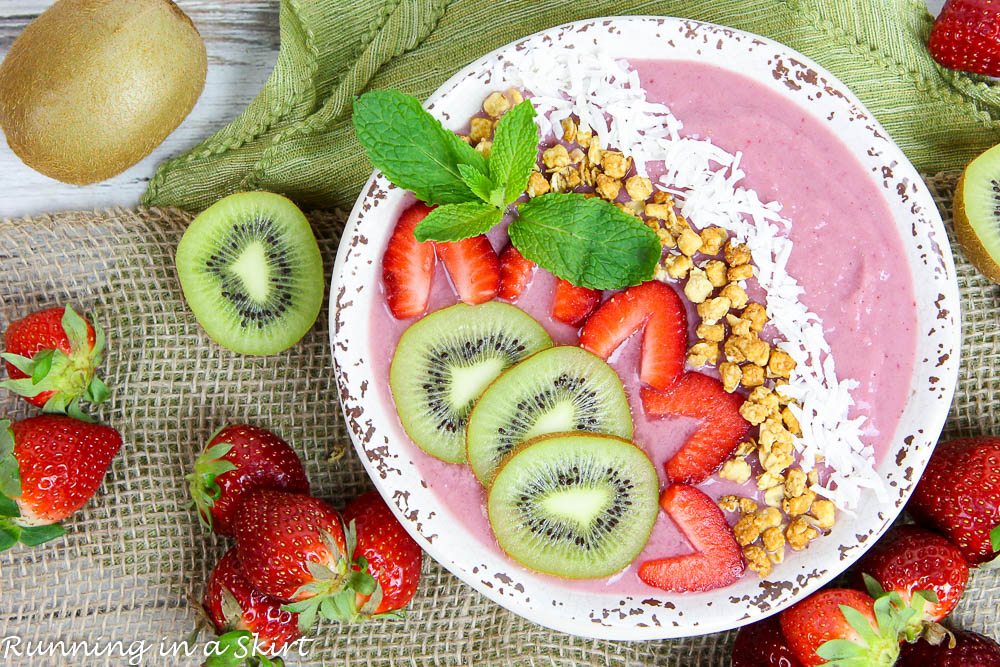 How to Make a Kiwi Smoothie Bowl:
Put the kiwi, strawberry, banana, and protein powder in a blender.
Add a touch of almond milk. Blend your smoothie. Add just enough additional almond milk to blend the fruit. You want the smoothie bowl mixture to be much thicker than a normal smoothie.
Put the smoothie in a bowl.
Cut your fresh fruit and add it to the top of the bowl.
Serve immediately.
For a pretty picture, I sliced the kiwi, but feel free to cut yours in easier-to-eat bite-sized pieces. And don't feel bad if yours doesn't look this perfect... it still tastes the same. When I'm not making mine for photo's they don't look as organized... I promise!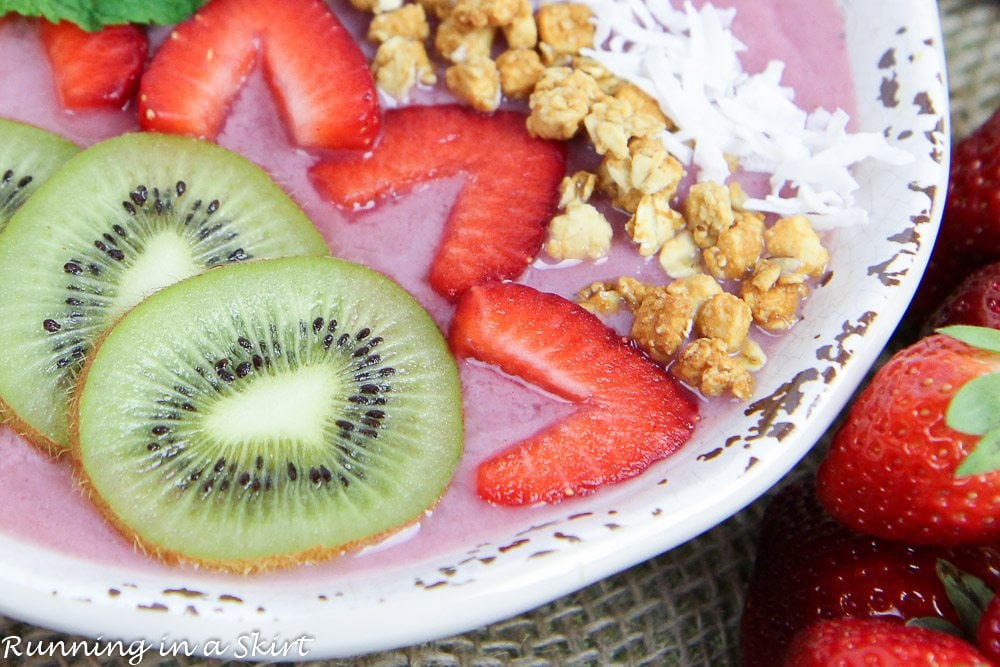 Variations & FAQ
There are so many delicious ways to mix up this Strawberry Kiwi Smoothie Bowl recipe. Here are some ideas.
Use coconut milk to make it more tropical.
Leave out the banana and add more berries.
For extra nutrition, boost add a handful of greens like kale or spinach.
Mix up the fruit! Pineapple or mango would also be delicious.
Use frozen cauliflower to bring up the nutritional value.
Mix up the toppings: Mango, pineapple, chia seeds, flax seeds, sunflower seeds, banana slices, and apple would all be delicious.
Are smoothie bowls actually healthy?
They can be! Smoothie bowls are only as healthy as the ingredients your put in them. Sometimes they can be a bit heavy on high-calorie ingredients so you have to use those ingredients in moderation. This Strawberry Kiwi Smoothie Bowl recipe is light, healthy, and full of vitamins. The bowl is full of antioxidants, protein, and good for you ingredients.
How do I thicken a smoothie bowl?
My trick to thicken a smoothie bowl is to only use the smallest amount of liquid (in this case almond milk) you need to get the blender moving. It also helps to use frozen fruit as I did with the strawberry and banana.
Can you put kiwi skin in a smoothie?
The answer is a surprising yes! Kiwi skin can be eaten much like a peach or apple. It has added nutrition and health benefits. It's certainly worth trying to see if you like it.
That being said I prefer to leave the kiwi skin out of my smoothie because of the consistency. To remove the skin, just cut the kiwi in half and use a spoon to scoop out the green flesh.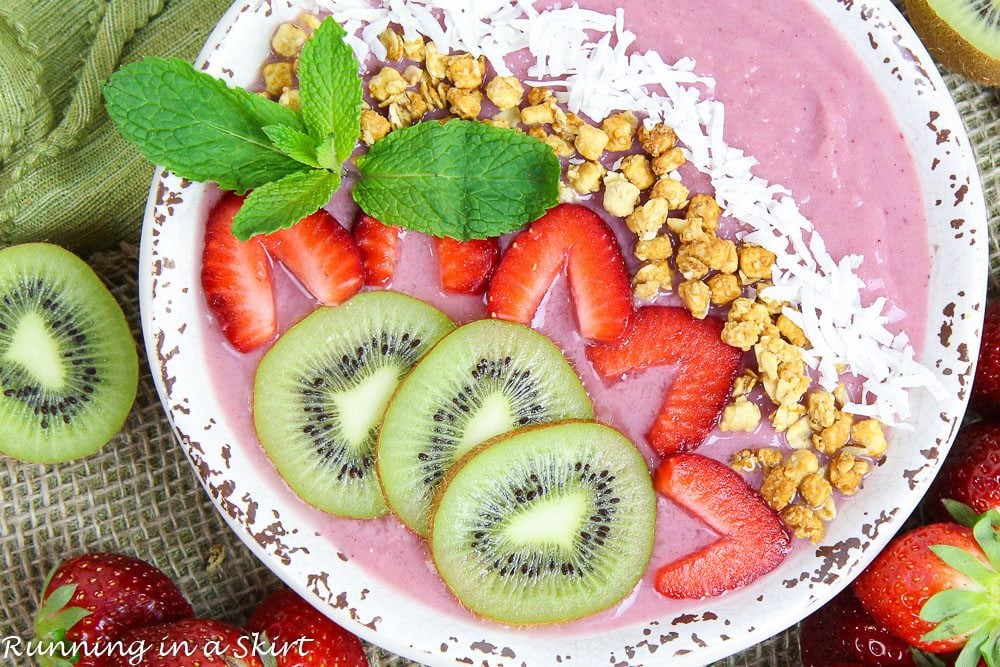 This Strawberry Kiwi Smoothie Bowl is so GOOD!
Any way you make it, this Strawberry Smoothie Bowl recipe is a perfect breakfast or snack with just a few simple ingredients. I promise they look fancy, but they really aren't that hard to make and taste amazing. This tasty smoothie you eat with a spoon is one your entire family will swoon over.
I hope you enjoy it as much as I do!
More Healthy Smoothies & Smoothie Bowls to Love:
If you make this recipe, I'd love to hear what you think! Leave a comment and a star rating ★ below. Make sure to follow me on Instagram, Pinterest, and Facebook too!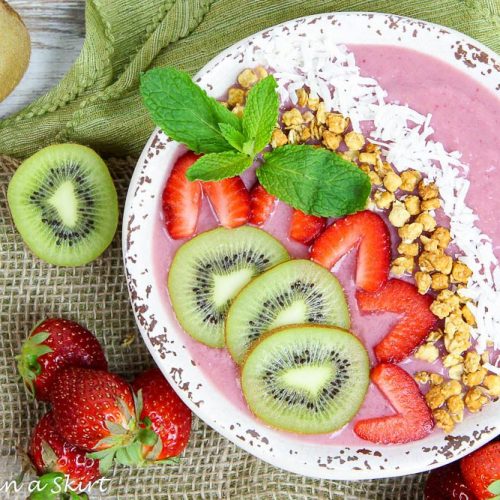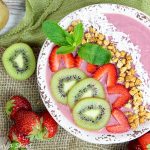 Kiwi Strawberry Smoothie Bowl
This gorgeous Kiwi Strawberry Smoothie Bowl screams spring and summer!
Ingredients
For the Smoothie Bowl
¾

cup

frozen strawberry

1

kiwi

½

frozen banana

1

scoop protein powder

½

cup

almond milk
For the Toppings
coconut, granola, kiwi slices, strawberries and fresh mint.
Instructions
Put all the ingredients in a blender and mix until smooth. 

Add just enough milk to get the blender moving.

Put the smoothie bowl mixture in a bowl and top with the kiwi, strawberry, coconut and granola.
Notes
You can make this Strawberry Kiwi Smoothie Bowl with or without the protein powder depending on your nutrition goals.
Nutrition
Calories:
210
kcal
Carbohydrates:
36
g
Protein:
18
g
Fat:
3
g
Saturated Fat:
1
g
Sodium:
177
mg
Potassium:
660
mg
Fiber:
7
g
Sugar:
21
g
Vitamin A:
79
IU
Vitamin C:
153
mg
Calcium:
198
mg
Iron:
1
mg
Pin for later: