Re-think the classic southern dessert with my Healthy Banana Pudding Smoothie recipe!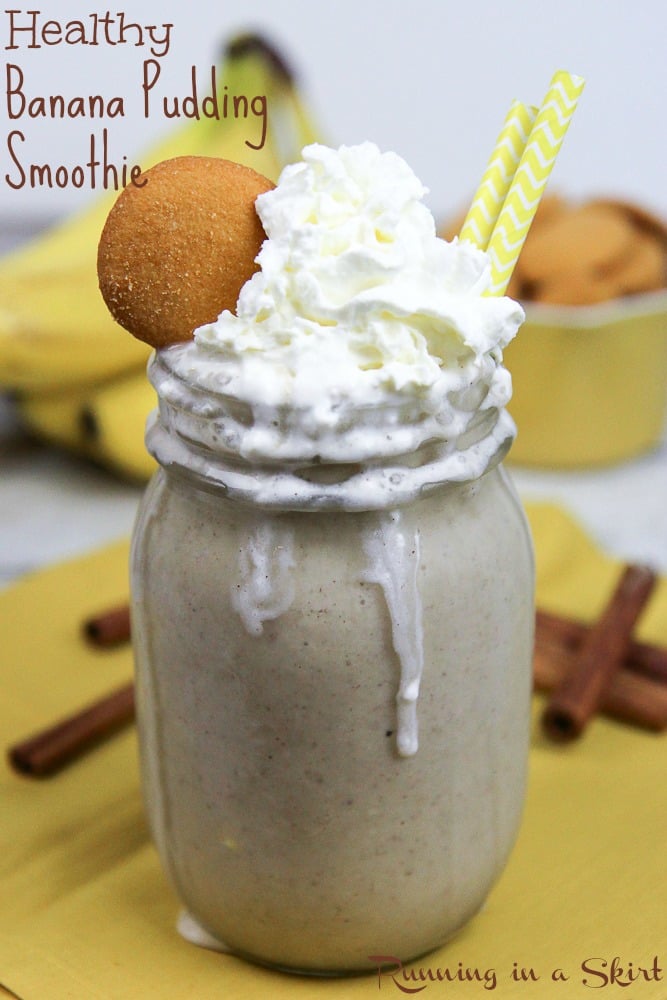 Hi everyone,
As a good Southern girl, banana pudding has been a part of my life for as long as I can remember. My Grandmother, Bea used to make it every time we visited her in Chattanooga. Her beautiful creation would always be on the table after a farm-fresh lunch. I got older she taught me out to make my own. Bea's version involved real meringue on top... of course. It was rich, loaded with real egg yolks, sugar, and vanilla wafers.
Healthy Banana Pudding Smoothie recipe
Fast forward a few years and I finally meet the love of my life... the Hubs. He's from Pittsburgh and before he moved south for college had never heard of decadent delights like sweet tea and banana pudding. Once he moved south though it was game on for him as those two things became two of his all-time favorites. He says he came to the South to play baseball and stayed for the sweet tea and banana pudding.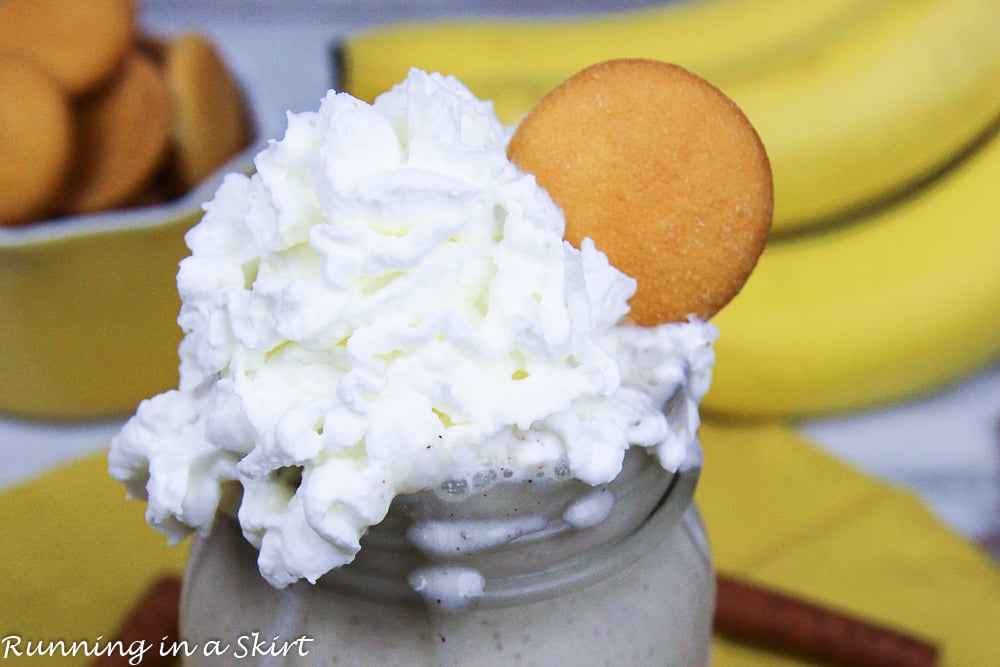 As the Hubs and I started dating I learned of his love for Banana Pudding and started making it for him on special occasions. Luckily for him, I had a tried and true family recipe. I like to think I won him over with my pudding skills.
So Banana Pudding is truly a dessert that has run through the story of my life. I hate to mess up a good thing... BUT... as a healthy food blogger, I can never pass up the opportunity to take a sweet classic treat and turn it into something a little BETTER.
Or at least a little healthier...
Meet my new Healthy Banana Pudding Smoothie recipe. It's a fresh interpretation of my Grandma's classic and the Hubs favorite.
Why You'll Love this Banana Pudding Shake recipe...
This version uses frozen bananas and spices to get that vanilla pudding flavor. Since there is no real replacement for a good ole' vanilla wafer... I decided to blend two into the smoothie. Because of that, I'd say this is more of a dessert smoothie than breakfast. This Banana Pudding Shake or Smoothie is still pretty darn healthy though.
The real dessert has a huge handful of these things though, so two is a nice balance.
Somehow with the whipped cream, it all comes together and with that familiar Banana Pudding taste. It's downright addictive.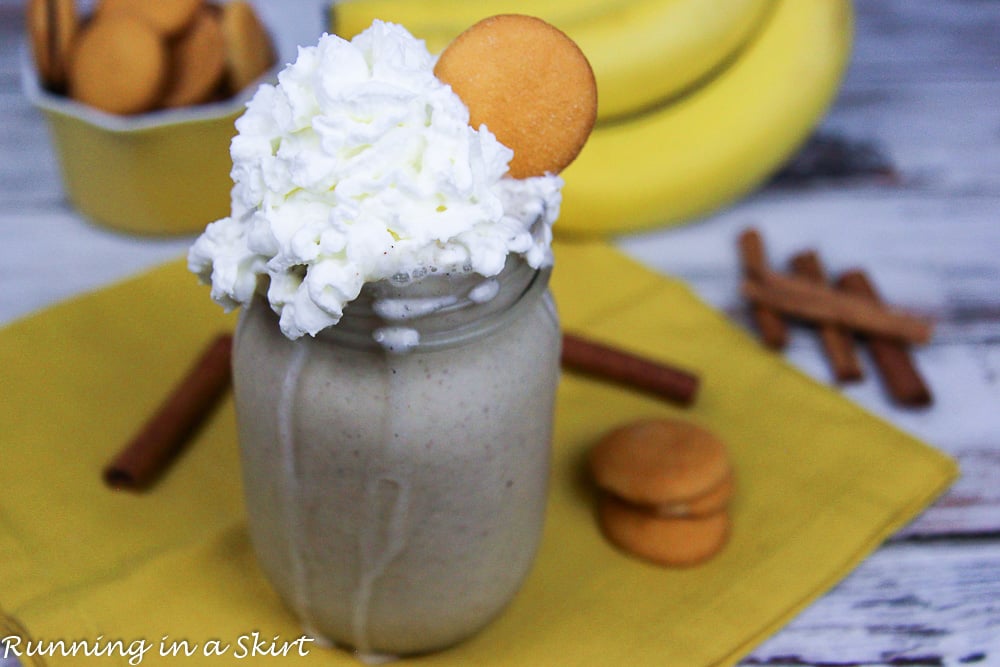 I haven't given up on my classic family recipe at all, but this is a fun way to mix it up in between those special occasions.
I hope you enjoy it as much as I do.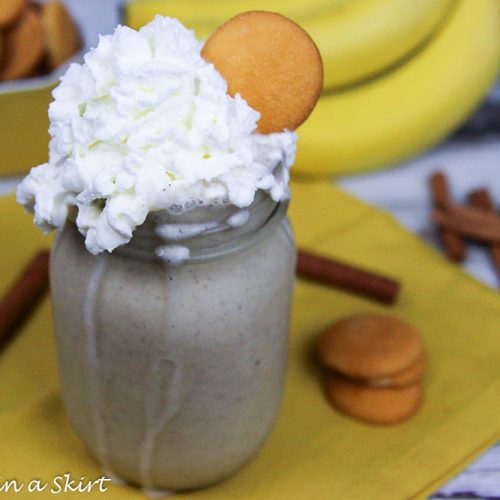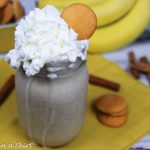 Healthy Banana Pudding Smoothie
A healthy twist on a classic southern dish!
Instructions
Put all the ingredients, including 2 of the wafers in a blender and mix well.

Serve immediately! If you like you can top it with whipped cream and use the last wafer as garnish.
Notes
To make vegan use dairy free yogurt and whipped topping!
Nutrition
Calories:
373
kcal
Carbohydrates:
76
g
Protein:
9
g
Fat:
6
g
Saturated Fat:
1
g
Cholesterol:
2
mg
Sodium:
336
mg
Potassium:
896
mg
Fiber:
7
g
Sugar:
42
g
Vitamin A:
151
IU
Vitamin C:
21
mg
Calcium:
237
mg
Iron:
1
mg
Like this Healthy Banana Pudding Smoothie recipe? Find it later by pinning this to your favorite Pinterest board! Thank you so much for the support.


Blend this up soon- Healthy Banana Pudding Smoothie!
Click To Tweet
Thanks for stopping by today! Tomorrow I'm sharing some fitness fashion favorites.
Your turn!
Do you have a family recipe you make?
I'm linking up this Healthy Banana Pudding Smoothie recipe with: Meatless Monday , Meatless Monday, Full Plate Thursday Foodie Friday, and the Weekend Potluck. Thanks so much ladies for the link up parties!