Love unicorns? Then fire up the blender for my Unicorn Smoothie Recipe!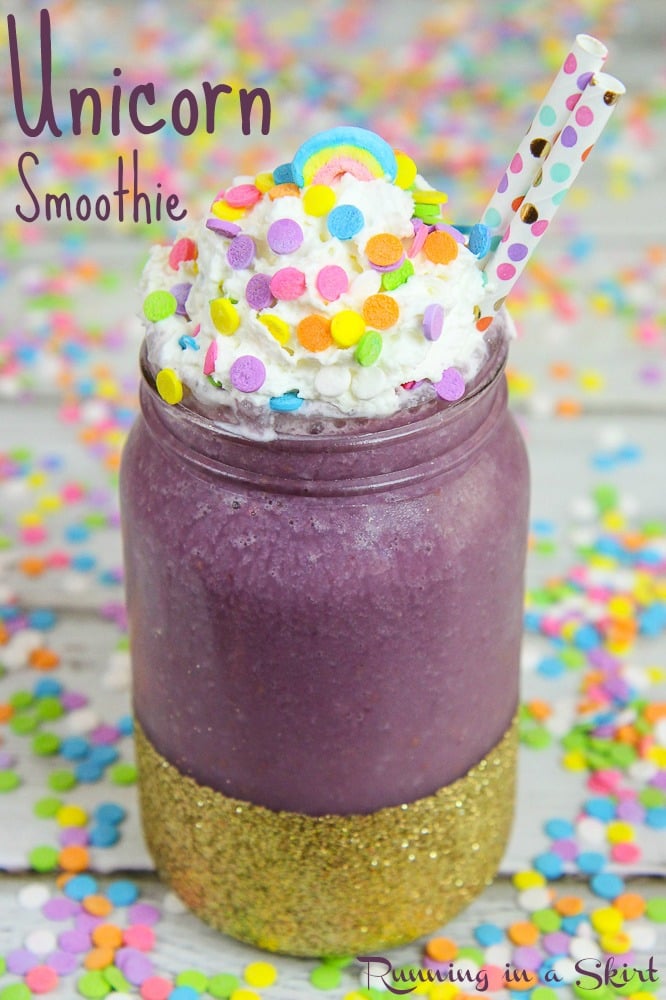 Hiiiii everyone!!!!
Teee-heeee! I have been so giddy about this Unicorn Smoothie recipe. I was going to share this next month, but I just couldn't wait any longer. I'll just say the magic of the unicorn got the best of me.
So what is it about a unicorn?
Is it the idea of frolicking through rainbows? Or perhaps being something so beautiful and awesome that only a myth can truly contain it? Or... is it the little girls in us that really still want to believe in magic.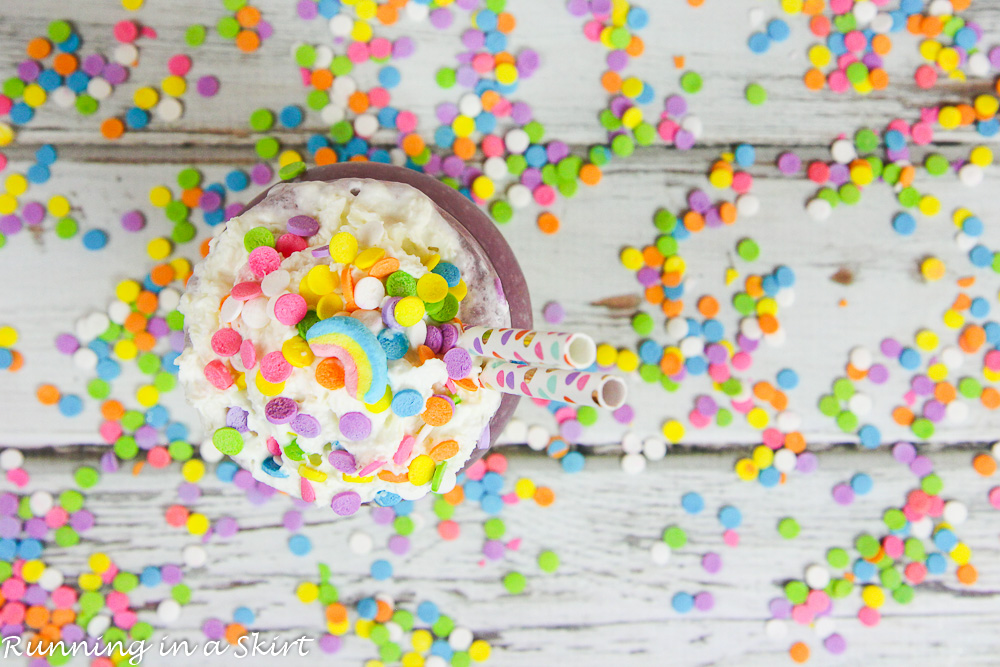 Or maybe it's as simple as we all just crave some pastel, glittery whimsy in our lives.
I'm not sure which one, but I totally buy in. Unicorns are beautiful and they bring rainbows into our way too serious worlds. So I made a smoothie to honor them.
I kind of thought you guys might likkkkeeee it?????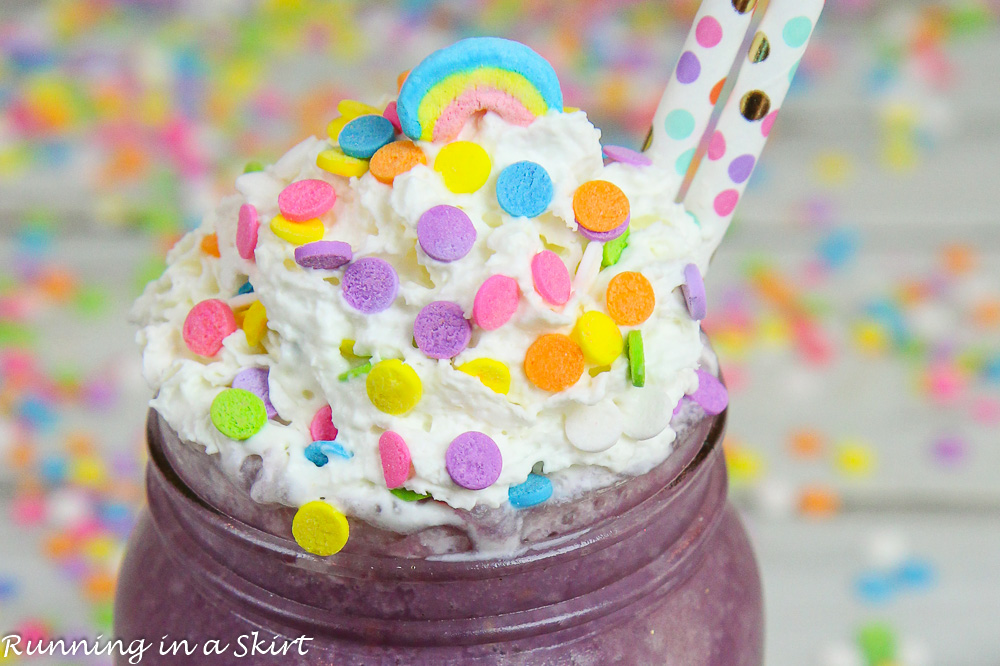 This Unicorn Smoothie recipe is actually a strawberry and raspberry smoothie and is totally good for you. With the right whipped topping, it is easily vegan and naturally gluten free. Enjoy it as part of breakfast or for a snack. Add some protein powder if you want to feel like a real magical beast after a long run.
So basically everyone can enjoy a piece of the unicorn fun. I wanted it to be a way to make you feel energized, healthy and HAPPY!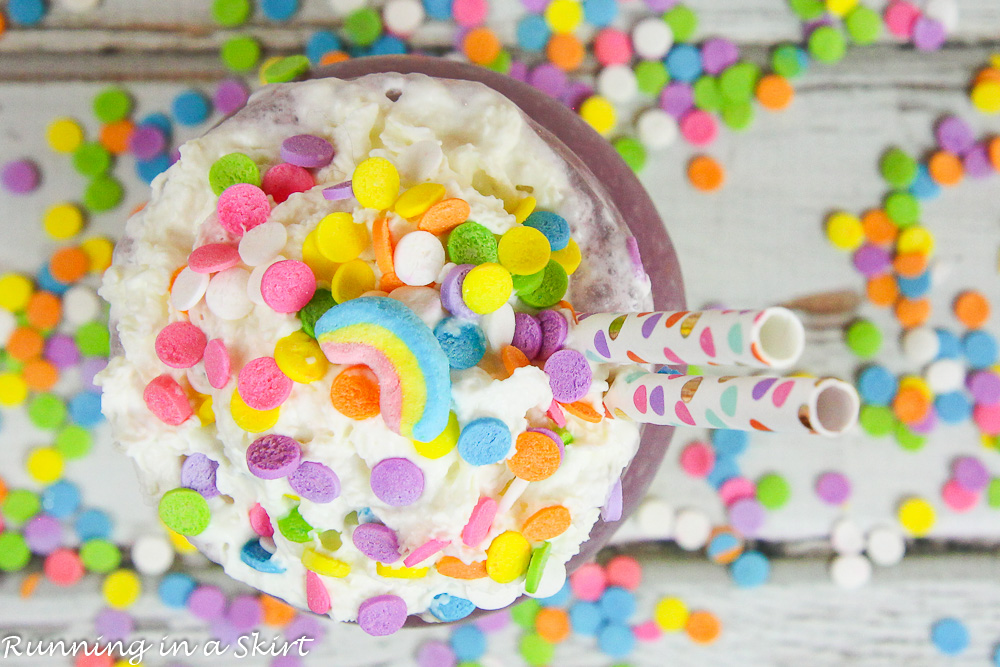 The saying goes... Always be yourself. Unless you can be a Unicorn. Then always be a unicorn!
This Unicorn Smoothie recipe can't help but be something magical in a sea of boring ole smoothies. And can you think of a better way to start your day?
Also... there is something about spreading pretty rainbow sprinkles all over your kitchen table. It's fun and you should try it sometime.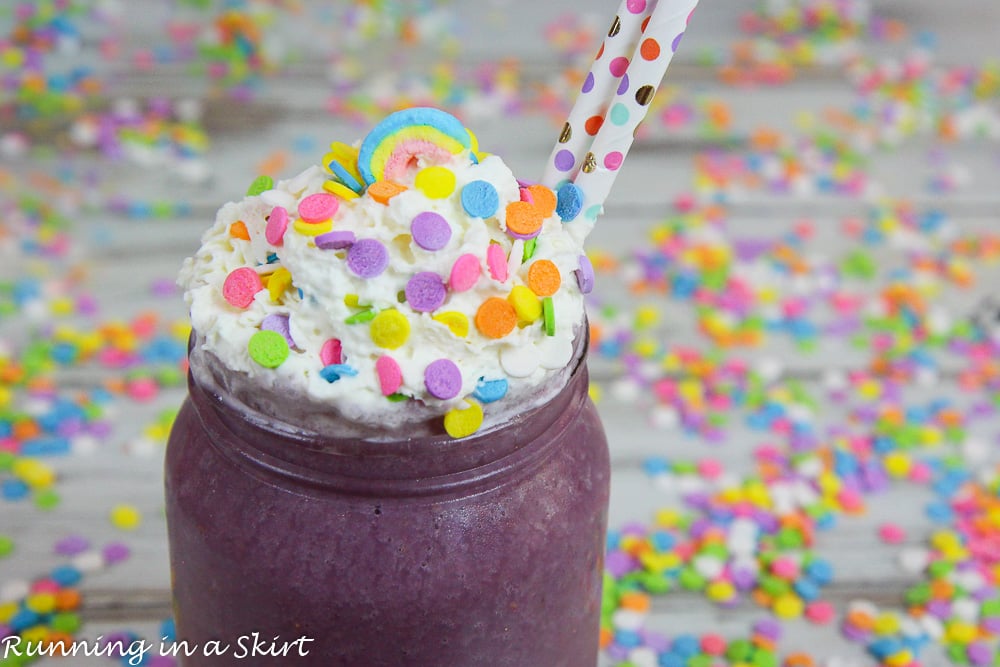 So remember, next time you need a boost... try my magically delicious Unicorn Smoothie Recipe.
Your welcome and click over to the next page for the printable recipes, details on where to buy the unicorn stuff in the pictures and the pinable image!--->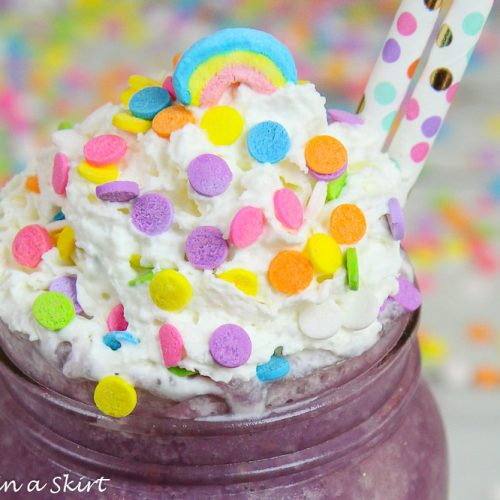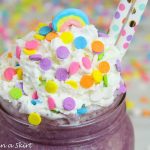 Unicorn Smoothie
A magical, over the rainbow healthy smoothie!
Ingredients
1

frozen banana

½

cup

frozen strawberry

½

cup

frozen raspberry

½

cup

almond milk

optional toppings: whipped cream

,

sprinkles and rainbow from Lucky Charms box
Instructions
Mix the banana, strawberry, raspberry in a blender and mix until smooth.

Top with the optional toppings. Serve immediately.
Nutrition
Calories:
177
kcal
Carbohydrates:
40
g
Protein:
3
g
Fat:
3
g
Saturated Fat:
1
g
Polyunsaturated Fat:
1
g
Monounsaturated Fat:
1
g
Sodium:
165
mg
Potassium:
623
mg
Fiber:
9
g
Sugar:
21
g
Vitamin A:
104
IU
Vitamin C:
68
mg
Calcium:
182
mg
Iron:
1
mg
Like it? I'd love it if you could pin this Unicorn Smoothie recipe to your favorite Pinterest board! Thank you so much for the support.


Want to make your own unicorn smoothie recipe? Here's where to stock up on rainbow supplies!
I believe in Unicorns... AND Unicorn Smoothies! Can't wait to try this Running in a Skirt recipe!
Click To Tweet
Thanks for stopping by today! Tomorrow I'm sharing some ways I finally beat my spring allergies and tips for you to cope better this year.
Your turn!
Do you want to be a unicorn? Be honest.