Get in the Valentine's Day spirit with my Chocolate Covered Strawberry Smoothie recipe!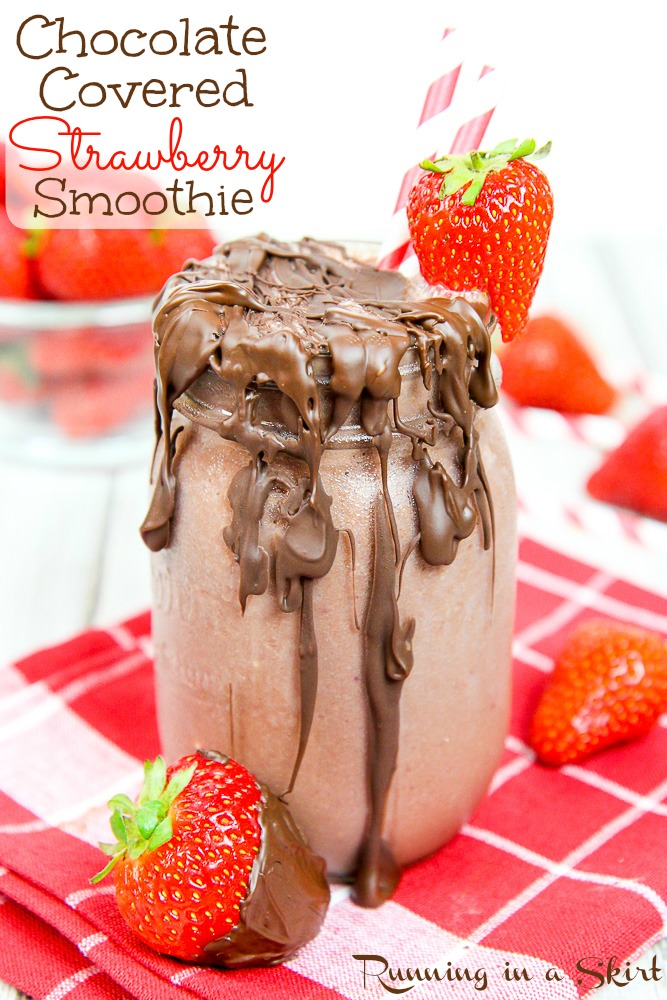 Hi everyone!
Although a huge blown out Valentine's Day isn't my thing, I'm about the excuse to eat some Valentine's Day treats. Whoever invented chocolate covered strawberries is literally a genius in my book. The sweet berries... sinfully rich chocolate... it is literally one of my all time favorite food combinations. It's one of those foods I will never turn down.
In fact gorgeous Florida strawberries just appeared back into my local grocery stores and I could not have been more excited to start to enjoy the fresh fruit again for this exact purpose. You should have seen me at the store gushing over the fresh berries. Aren't they pretty and just begging to be dunked in rich dark chocolate? See I have a problem....
In honor of my favorite Valentine's Day sweet, I created a healthy smoothie. Lucky for you my Chocolate Covered Strawberry Smoothie recipe only looks decadent it's actually healthy enough to eat any day not just on the holiday! Now the trick is to get me to step away from the strawberries and chocolate... lol!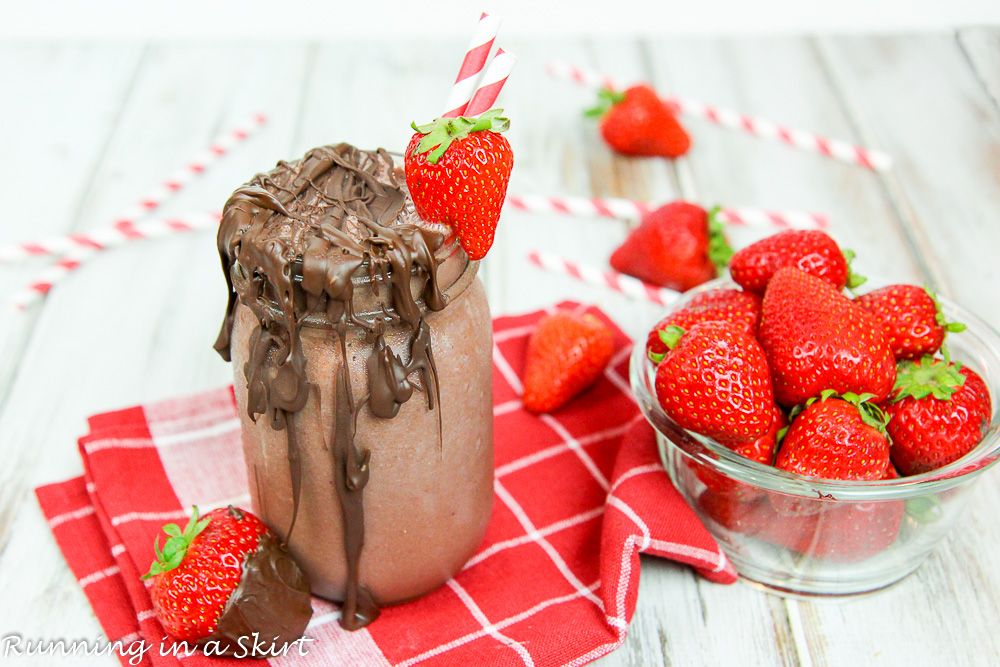 Ok... so I might have gotten a little carried away with the chocolate drizzle here... I actually went back and laughed when I was editing the photos. That much chocolate on top takes away from the health factor a little, but everything inside the actually smoothie is perfect clean eating fun!
Once again an over-ripe banana is the base for the creamy deliciousness. Once you add chocolate and strawberries you don't even taste it though! Everything comes together with a smooth taste that feels festive this time of year.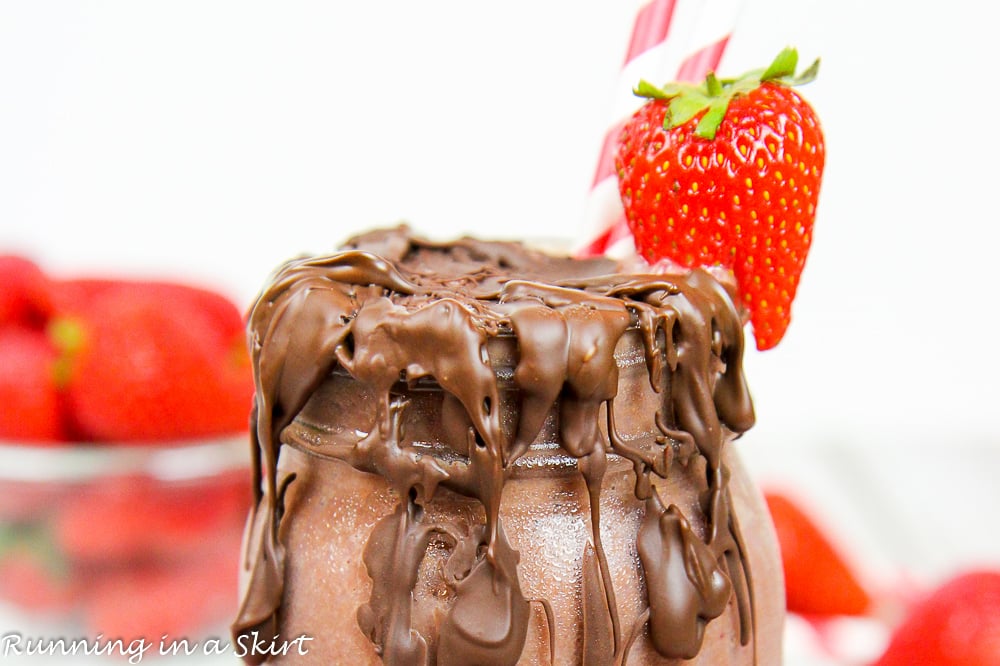 My Chocolate Covered Strawberry Smoothie recipe is also vegan and dairy-free, making it a total crowd pleaser.
Slurp worthy for just about everyone!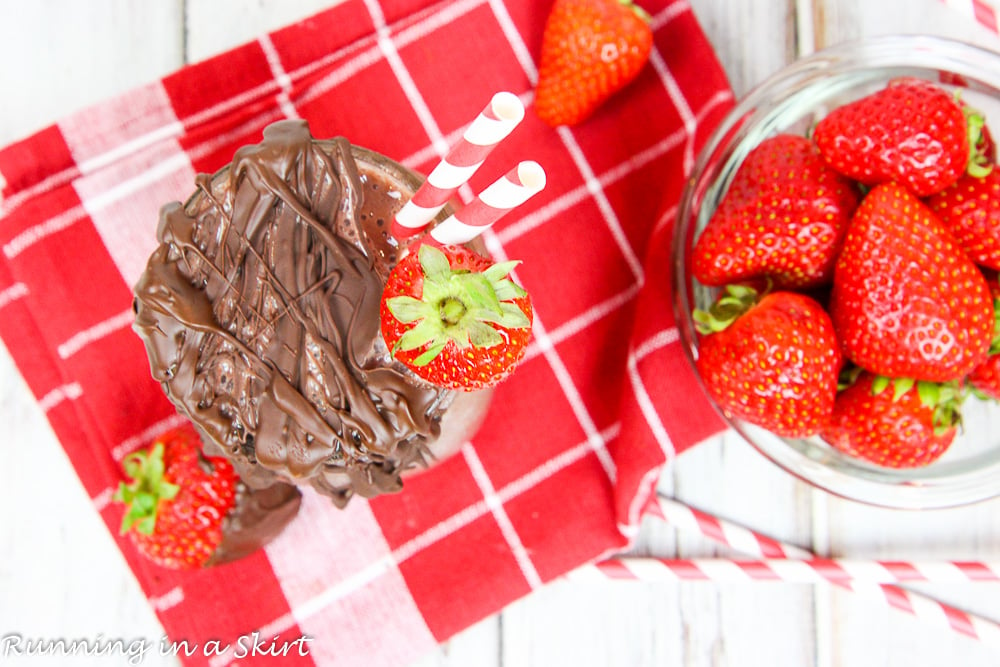 Whether you have a loved one and are celebrating at home or are celebrating Galentine's Day this Healthy Chocolate Covered Strawberry Smoothie recipe is sure to help you spread the love. Double the recipe to share it with your friend or loved one!
I hope you enjoy this Chocolate Covered Strawberry Smoothie recipe as much as I did!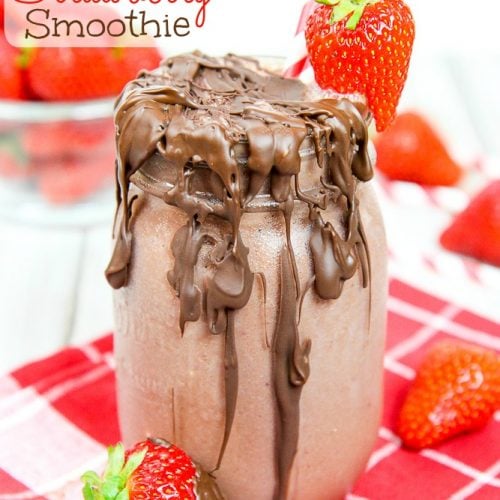 Chocolate Covered Strawberry Smoothie
5 Ingredient Chocolate Covered Strawberry Smoothie recipe is perfect for your sweetie!
Instructions
Put all the ingredients in a blender and mix until smooth!
Like it? Find this recipe later by pinning to your favorite Pinterest board! Thank you so much for the support.

Celebrate #ValentinesDay with a #Chocolate Covered Strawberry #smoothie! #healthy #recipe
Click To Tweet
Thanks for stopping by today! Tomorrow I'm sharing a really cute new fashion trend... joggers!
I'm linking up with: Create Link Inspire, Meatless Monday with Sarah and Deborah, Meatless Monday with Annmarie and Rachel, Delicious Dish Tuesday, What's Cookin' Wednesday, Full Plate Thursday with Miz Helen, FoodFriDIY, Foodie Friday, and the Weekend Potluck. Thanks so much ladies for the link up parties!
Your turn!
What's your favorite Valentine's Day food?[/fusion_builder_column][/fusion_builder_row][/fusion_builder_container]