Happy Fashion Friday!
What a week. I feel like a blinked and now it's Friday. The first half of the week was so nice weather wise that I ran outside, did a yoga class with the doors open and even ate lunch outside (So NOT normal for the mountains in February. One year around this time I was iced into my house for a week!) Yesterday though was windy, nasty and cold. I'm hoping the weekend evens out some.
This weekend the Hubs and I are going out to dinner ourselves tonight for pseudo-Valentine's thing. We'll spend the actual Valentine's Day at home. And then Saturday we're meeting our good friends Dan and Sommer for dinner. The rest of the time I'm planning on getting in a few good workouts and starting the process of decluttering the house. I've decided that will be my "tax season" project this year. If you are new to the blog, the Hubs is a CPA and I spend the next few months as a tax widow while he works an insane amount of hours. I usually try to come up with some sort of project to make the most of my time.
Did you miss any Running in a Skirt fun this week?
Now onto the fashion part of the week! Have you guys noticed jogger pants making a comeback? Joggers are the athleisure pants with the cuffs at the bottom. They totally channel the 80's and I think they are a lot of fun. You can style them full on fitness style with your favorite workout tops or make them transition to street clothes like this!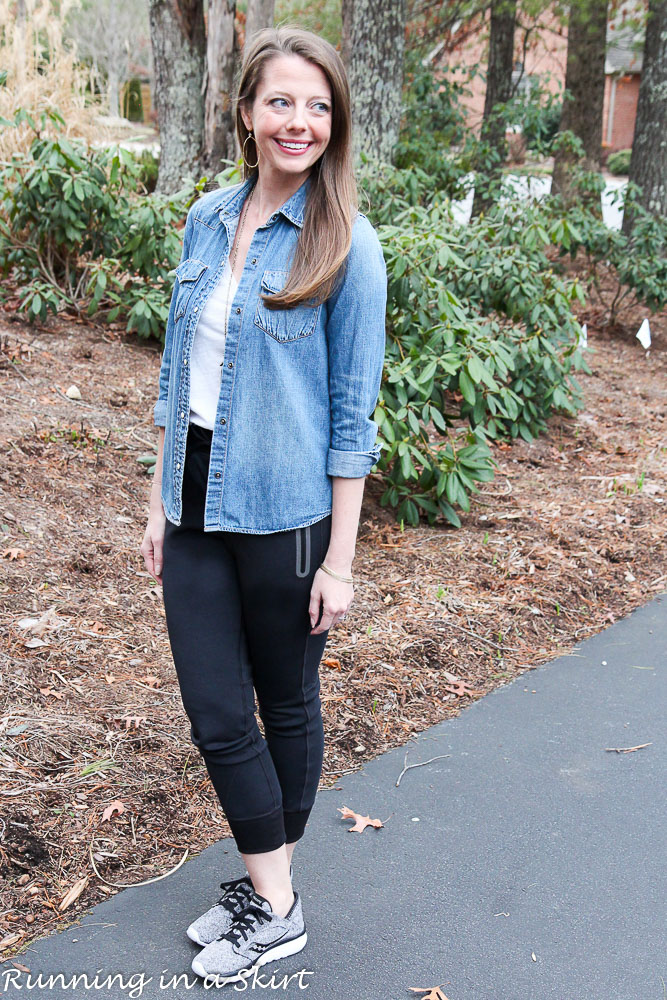 I paired my new black Saucony ones with a denim skirt, simple white t-shirt (half tucked!) and a tassel necklace.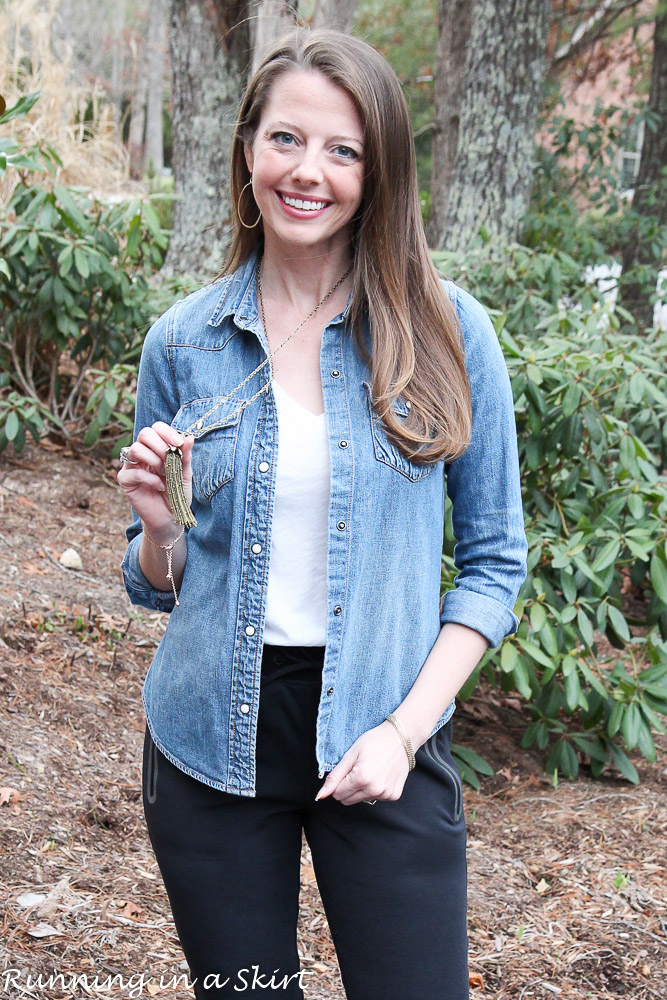 The look is a great way to use items in your closet and wear the fun new joggers style. This would be easy to throw on going to and from the gym to make your outfit look a little more presentable if you have some running around to do before actually working out.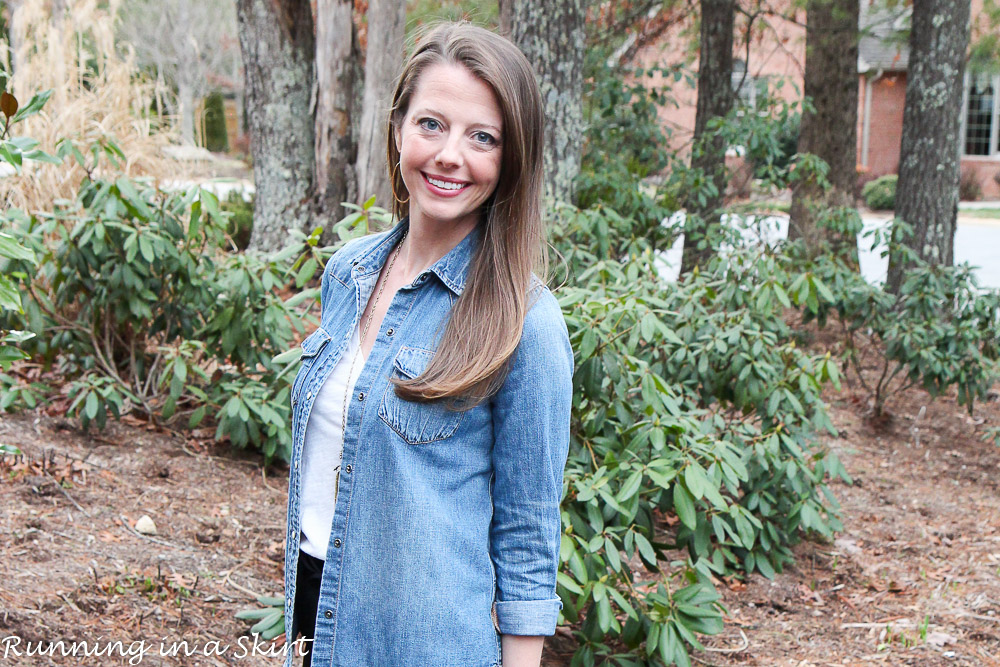 The shoes are those same Saucony Marl shoes I talked about late last year. Guys... they feel like you are walking on clouds. I cannot get enough of them. They would not make great running shoes, but they are fabulous for light workouts or just running errands.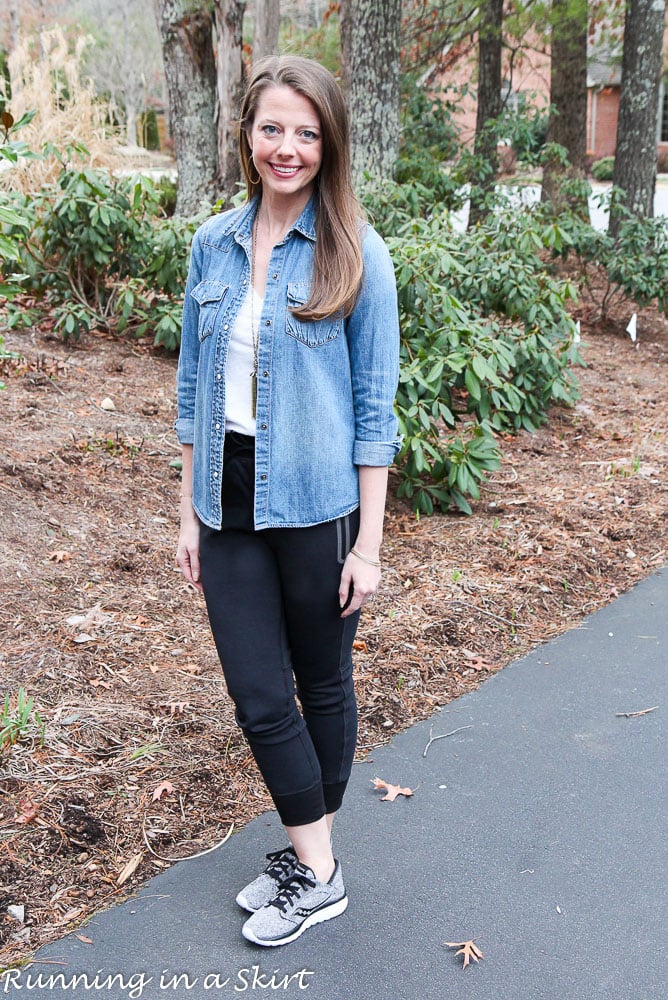 Pick up a pair of these pants and those super cushy shoes... they are so much fun to wear and instantly make your look more current!
I hope y'all have a fabulous weekend and happy shopping.
Shop the Look:
Pants: Saucony Jogger Pants, also cute HERE <---Target less than $25 or HERE
Shirt: JCrew old, similar HERE
White T-shirt: JCrew Factory
Shoes: Saucony Kineta Relay <--They feel like walking on happy clouds!
Necklace: similar HERE
So nice to see you today. Have a great weekend and come back Monday for some fitness tips from the stars of a fabulous new tv show!
This post is not sponsored, but contains affiliate links. I do make a small commission for clicks and purchases. It cost you nothing. Thank you for supporting Running in a Skirt.
I'm linking up with: Nicole for the Fit and Fashionable, Jolynne Shane for Fashion Friday, Turning Heads Tuesday. Thank you so much for the lovely linkup ladies
Your turn!
What are you doing this weekend?