Why Blue Apron? Here's 5 Reasons to Try Blue Apron Today!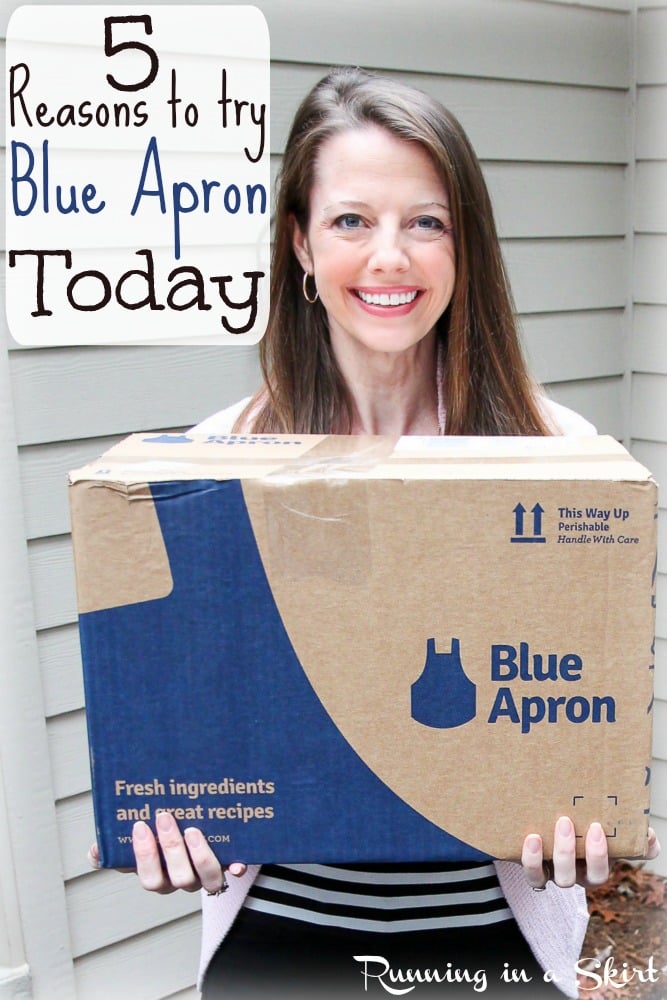 Hi everyone!
I've been talking a little bit about my experience with Blue Apron the past few months and today I wanted to actually share some more details about why Blue Apron has been working for me and reasons I think you should give it a try. I even have a $30 off COUPON for you... so keep scrollin!
If you aren't familiar with Blue Apron, it's a meal delivery service that assists you in creating beautiful chef-inspired meals at home. All the ingredients are perfectly portioned and shipped to your door in a refrigerated box like the one above. There is no need meal plan your dinners or go to the grocery store. It's as simple as going online and clicking which meals you'd like to try this week. It gives you no excuses to not eat and cook nutritious meals at home. You can have it delivered weekly, or just pick and chose the weeks you want the delivery. There is no commitment at all.
You can chose a 2-person plan or a family plan. If you are single I highly recommend still doing it and ordering the 2-person plan. You can easily package the meal for lunch or dinner the next day.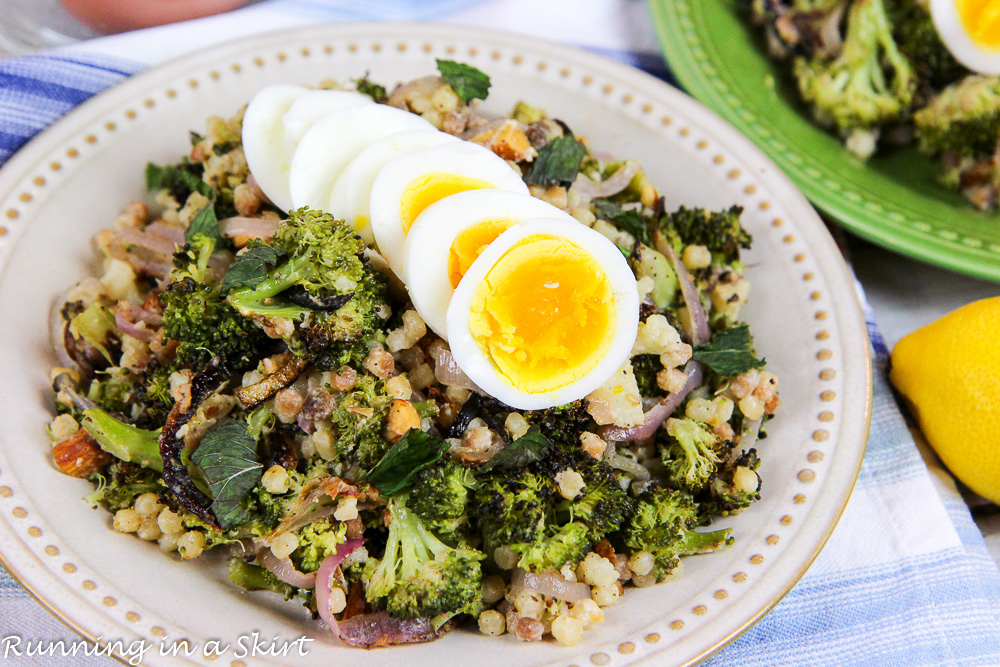 There are no strings... it's that simple! I thought I'd share my experience today to give you a little insight on how it works.
Why Blue Apron?
So why Blue Apron? Each recipe comes with it's own recipe sheet and everything you need to cook the meal. If you aren't great in the kitchen Blue Apron has videos to assist you with the process. If you are a cooking newbie I would set aside a little more time to cook these in the beginning and watch those videos ahead of time.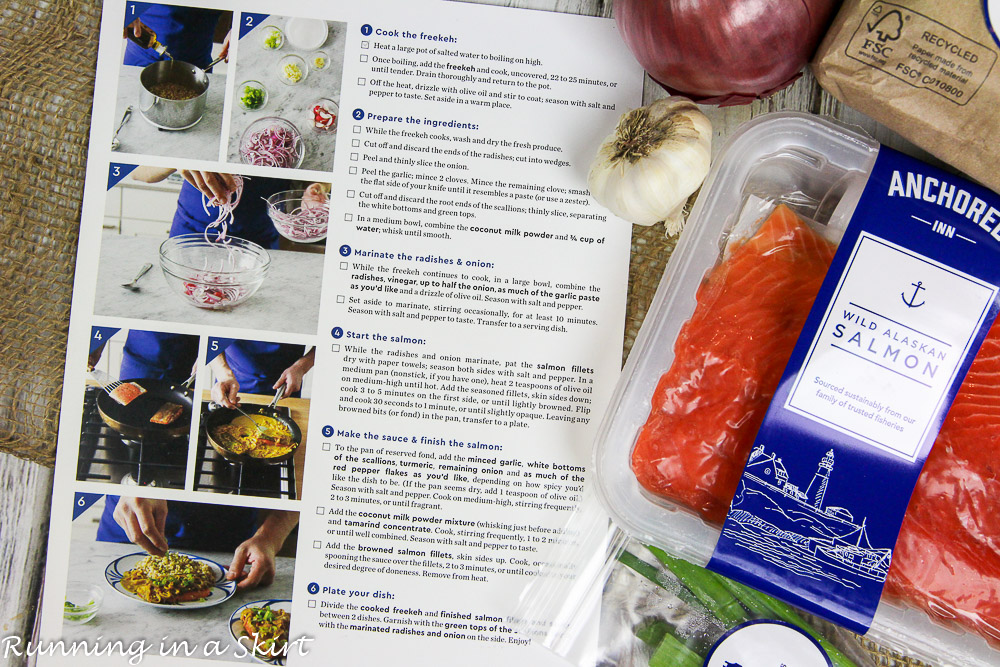 All the spices and extras are packed in well labeled bags called knick knacks.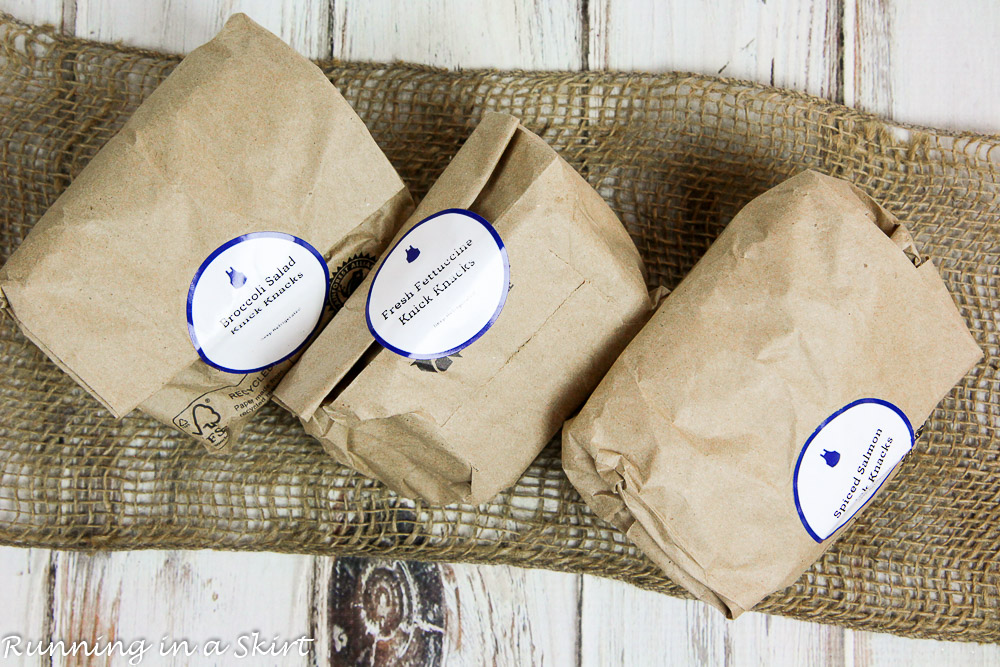 They literally think of everything you'll need for the recipes. The only items I've been asked to add are olive oil, salt, pepper and water.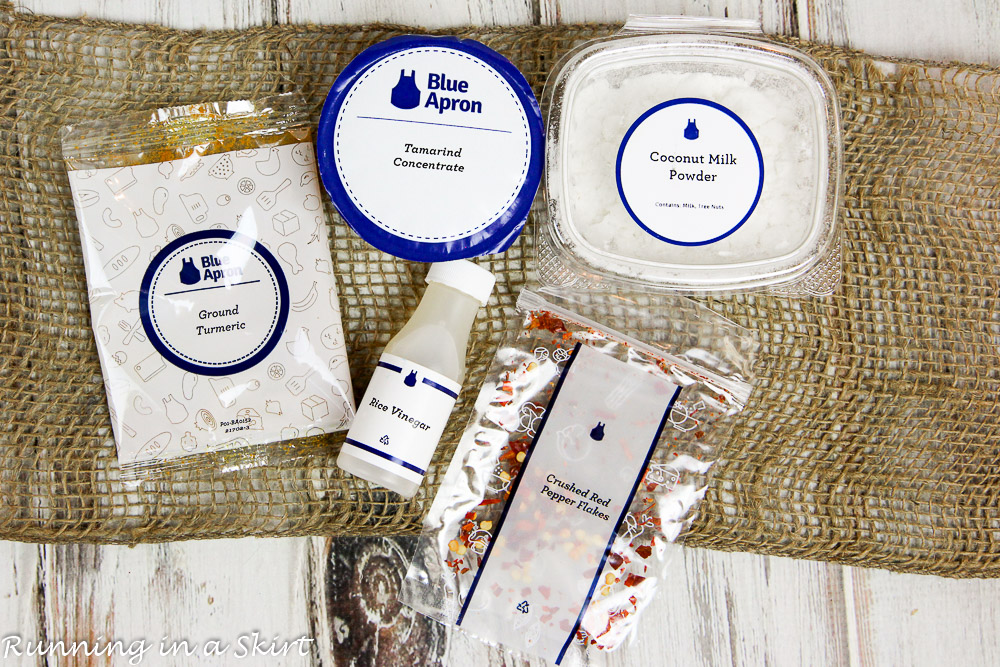 Here's a full example of what a recipe looks like! I choose the Blue Apron pescatarian meal plan which came with one fish dish and two vegetarian dishes. However all kinds of meat options (chicken, beef, ect) are available OR you can get three full vegetarian choices a week. I didn't think they were so vegetarian friendly, but they are! I did not see enough vegan options though if that is your diet.
The other week I got Indonesian Spiced Salmon with Freekah & Marinated Radishes....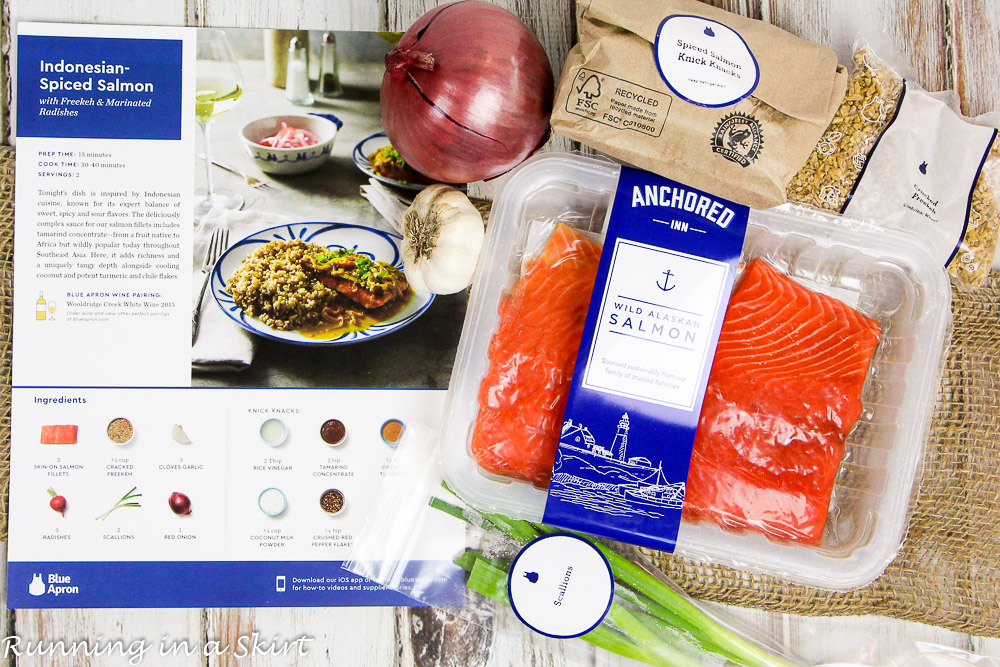 ...Fresh Fettuccine with Beet, Goat Cheese and Poppy Seeds...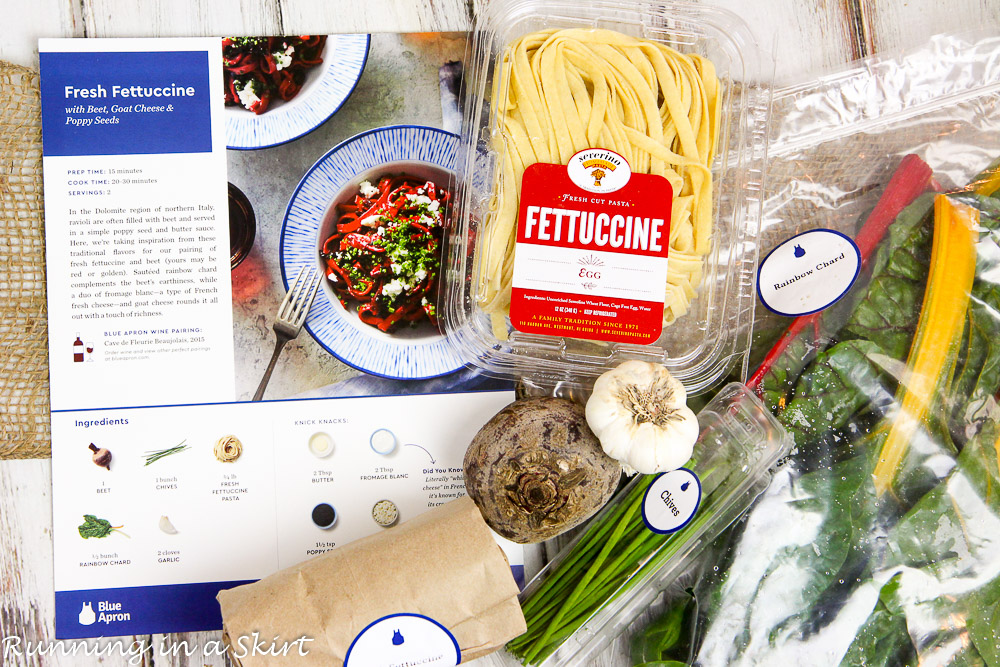 ... and Za'atar-Roasted Brocooli Salad wit Fregola Sarda, Pecorino Cheese & Tahini Dressings.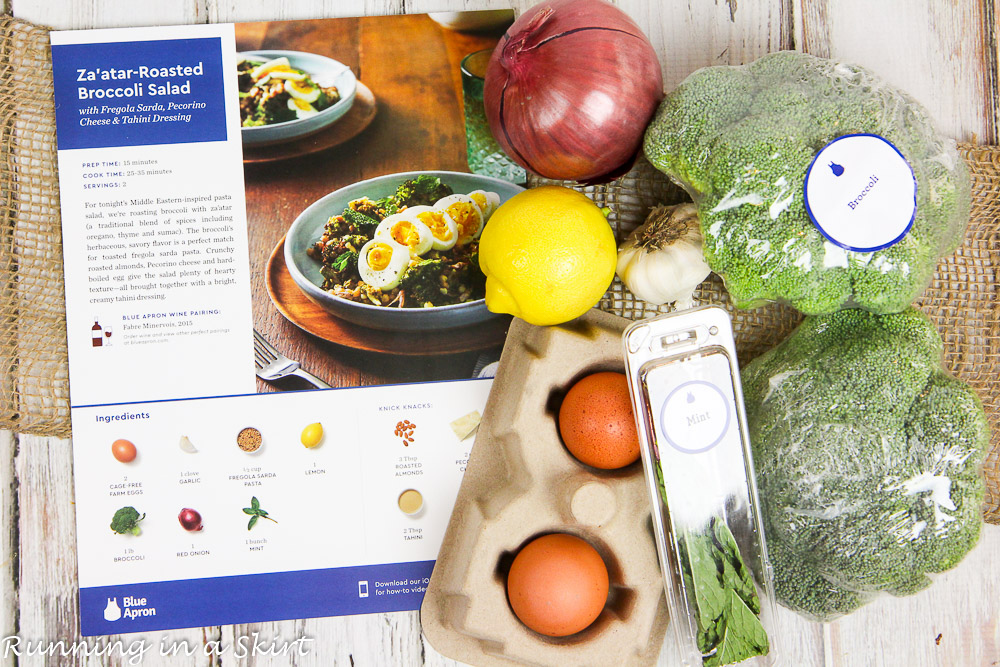 All three of the recipes took me a solid 30 minutes to prepare start to finish. There is a good amount of chopping involved, so I actually recommend doing all of the prep work that will not spoil in one night and putting it in prep bowls or bags.
What I liked most about these dishes was they were so different. I'm the first to admit I'm a big creature of habit and tend to do the same things over and over again. Other than blog recipes, my dinner rotation can be a bit routine. These dishes not only brought new flavors into my kitchen, but it also got me out of my cooking comfort zone! With Blue Apron I was preparing food differently and while it wasn't as comfortable, in the end I was so glad I tried something new. Plus even though I'm a food blogger, I get way too busy like everyone else and still need help in the kitchen. I am not immune to the "What's for dinner!?" panic.
For example... I always oven bake or grill my salmon. This recipe had me pan searing it and cooking it in a delightful sauce! I knew I could do that BUT I had never done it before. I am now confident I could pull this technique off in my own recipes.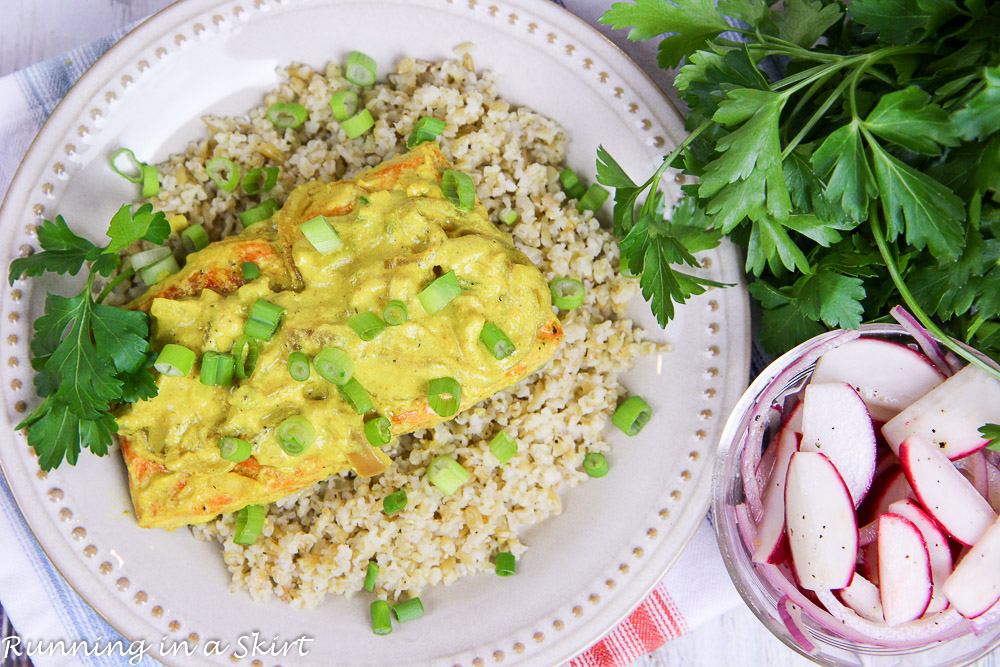 So how did they all turn out?
This is the Indonesian Spiced Salmon with Freekah & Marinated Radishes! The sauce was so tasty and blended wonderly with the salmon and freekah. I loved the unique flavors!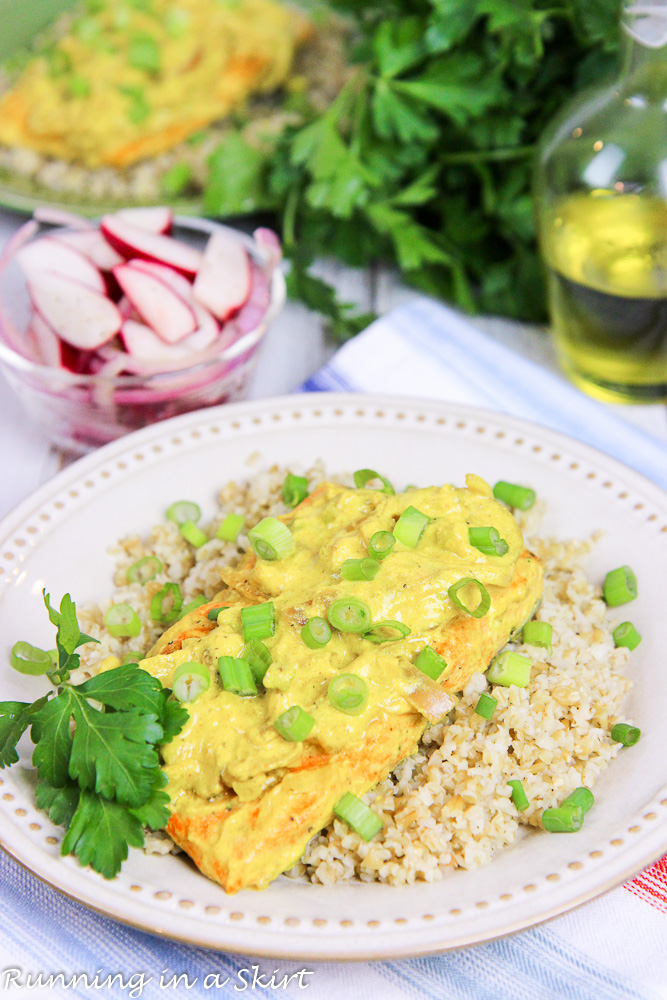 The Fresh Fettuccine with Beet, Goat Cheese and Poppy Seeds was another really delicious and unique one. The pasta started off nice and white but turned pink as it cooked with beets. This is another recipe that got me out of my comfort zone because I had never prepared beets from scratch. Now I'm not afraid of them!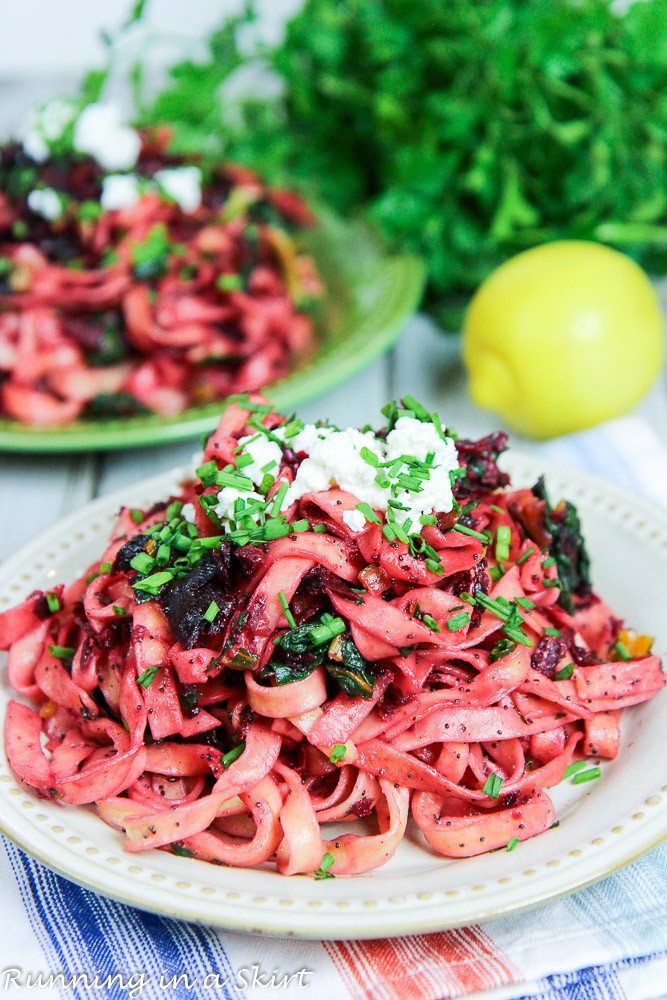 The Za'atar-Roasted Broccoli Salad wit Fregola Sarda, Pecorino Cheese & Tahini Dressings is something I never would have thought of but will be recreating my own version! I love their use of eggs as a vegetarian protein and the roasted broccoli spices were simply divine. This dish was my favorite of this rotation.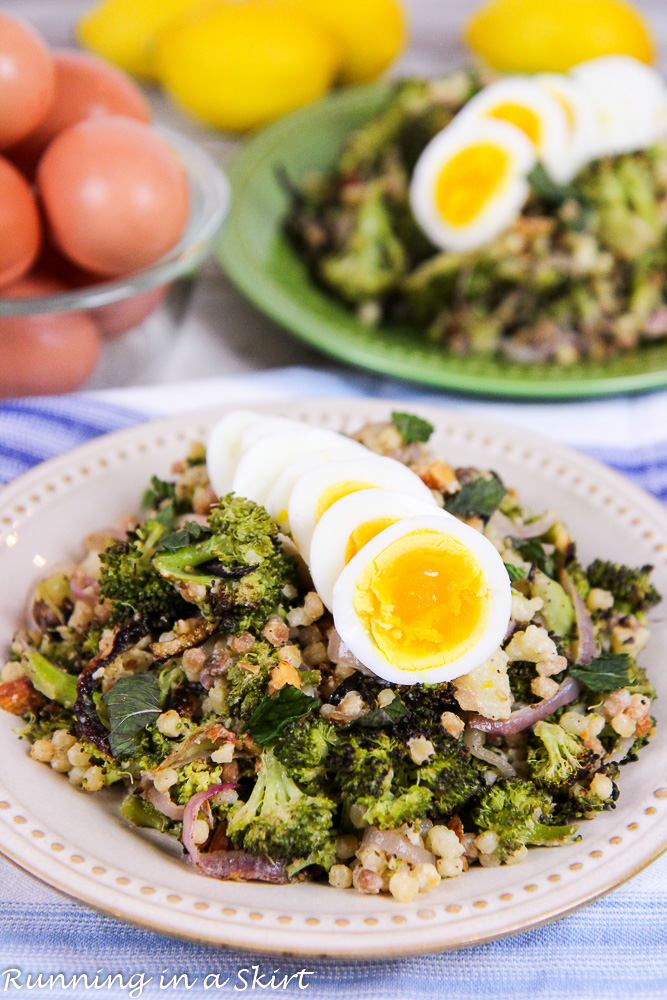 I feel like I had a full slate of delightfully gourmet and delicious meals all week. Did you notice all the color in these foods? Plus nothing about them was boring! My experience with Blue Apron has been a lot of fun so far and I think you should give it a try yourself... especially with my $30 off coupon.
5 Reasons to Try Blue Apron
You don't have to meal plan or shop!
Blue Apron teaches you how to cook.
It gets you out of your dinner rut.
There is no food waste!
Using my $30 off coupon, it's a great deal to try it out to see if you like it too!
If you'd like to try Blue Apron (which really you should at least try it once with this deal!) make sure to use this link to save $30 off your first order. If you are picking that 2-person plan that comes out to about $30 a box for three dinners for two! Once you place your order the discount will be automatically applied, but you have to use that link. You can try it once and cancel or keep them coming. You can also skip any weeks you'd like and only have them come on weeks you know you will be busy, which is what I do.
Happy Blue Aproning!!!!
Like this? Find it later by pinning this to your favorite Pinterest Board!

This post is not sponsored, however I do get a small amount for any purchases made and received a free box to try! As always, all opinions are my own. Thank you for supporting Running in a Skirt.
Thanks for stopping by today! Tomorrow I'm sharing some great ways to celebrate Valentine's Day at home.
I'm linking up with: Meatless Monday with Sarah and Deborah, Meatless Monday with Annmarie and Rachel, Delicious Dish Tuesday, What's Cookin' Wednesday, Full Plate Thursday with Miz Helen, FoodFriDIY, Foodie Friday, and the Weekend Potluck. Thanks so much ladies for the link up parties!
Your turn!
Head over to Blue Apron and let me know which meals you'd like to try!