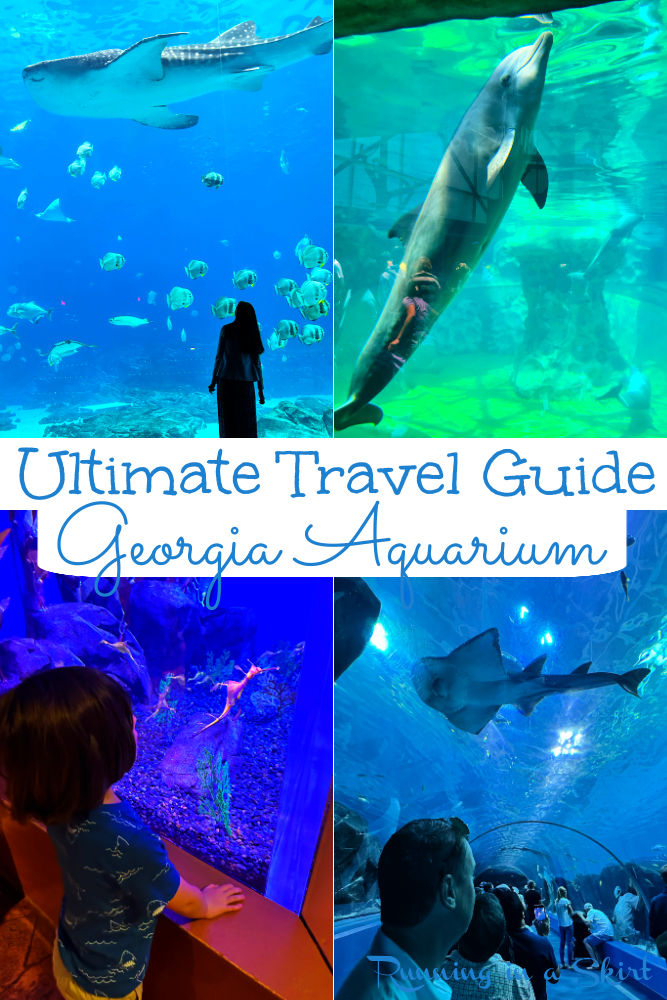 The Georgia Aquarium, located in downtown Atlanta, is the largest aquarium in the US with whale sharks, manta rays, sharks, dolphin shows, beluga whales, and more. This is a loved attraction for anyone who wants to see what's under the sea... but is it worth it? If you are looking for honest Georgia Aquarium reviews and real-life Georgia Aquarium photos you've found the right spot! This Ultimate Georiga Aquiaum Visitor's Guide has all of that, plus everything you need to know to plan your own trip to this beloved attraction.
Planning a trip to Atlanta? Also, read my Top 20 Favorite Atlanta Moments.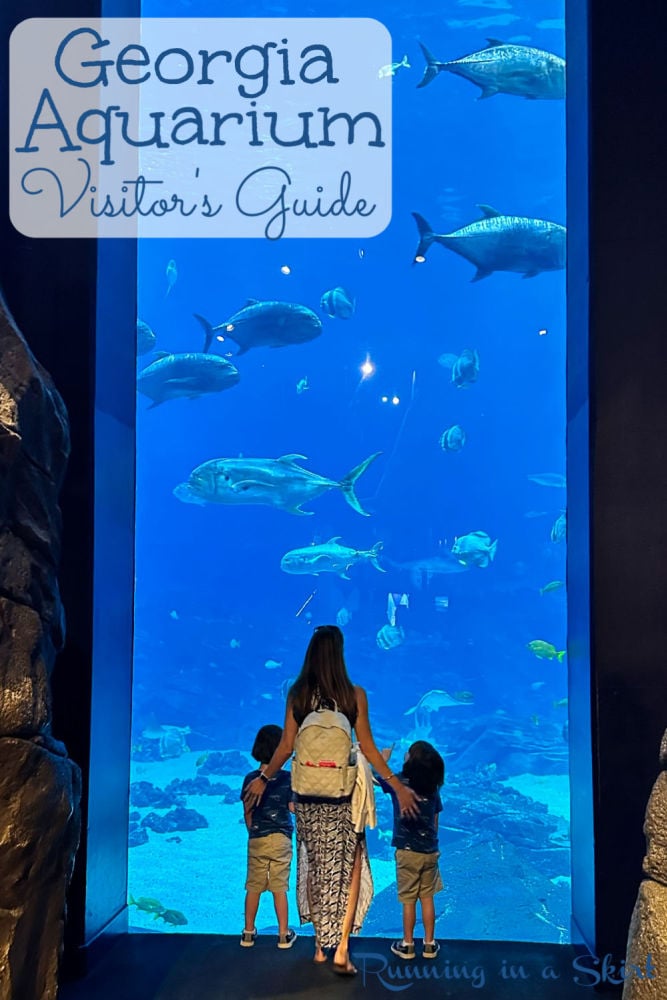 Georgia Aquarium Reviews & Real-Life Photos
It can be a bit tricky to find honest Georgia Aquarium reviews and real-life photos, but this article has everything you need to plan your trip to the Georiga Aquarium. Nestled in the heart of downtown Atlanta, this aquarium is not your average attraction. With 11+ million gallons of water and nearly 200 species of animals, it's the largest aquarium in the US and the fifth largest in the world. It's a great place to visit for people of all ages, and especially kids including young ones. Be prepared to be in awe of the size and scope of this place. It really is something to see!
The animal line-up you'll see here is pretty special including whale sharks, manta rays, all different varieties of sharks, bottlenose dolphins, beluga whales, sea lions, African penguins, puffins, sting rays, and even seals. The amount and variety of animals you'll see here are spectacular, making this one of the most popular attractions in Atlanta. There are tens of thousands of marine animals including 500 species from around the world and more than 60 habitats.
The Georgia Aquarium also offers a magical list of paid animal encounters like meeting a dolphin, penguin, harbor seal, sting ray, sea lion, beluga whale, and sea otter. There's even an option to swim with the majestic whale sharks.
My family spent nearly an entire day exploring the exhibit and everyone walked out with a favorite exhibit. From the dolphin show to the giant underwater tunnel taking you through the Ocean Voyager exhibit, to petting a sting ray, there were so many wonderful Georgia Aquarium moments.
Below I'm walking you through everything you need to know to plan your trip, tips to beat the crowds, which exhibits not to miss, which ones you can miss, tickets (which can be pricey!), and more.
Love aquariums and zoos? Also, read about South Carolina Aquarium in Charleston, Riverbanks Zoo in Columbia, and Greenville Zoo in Greenville.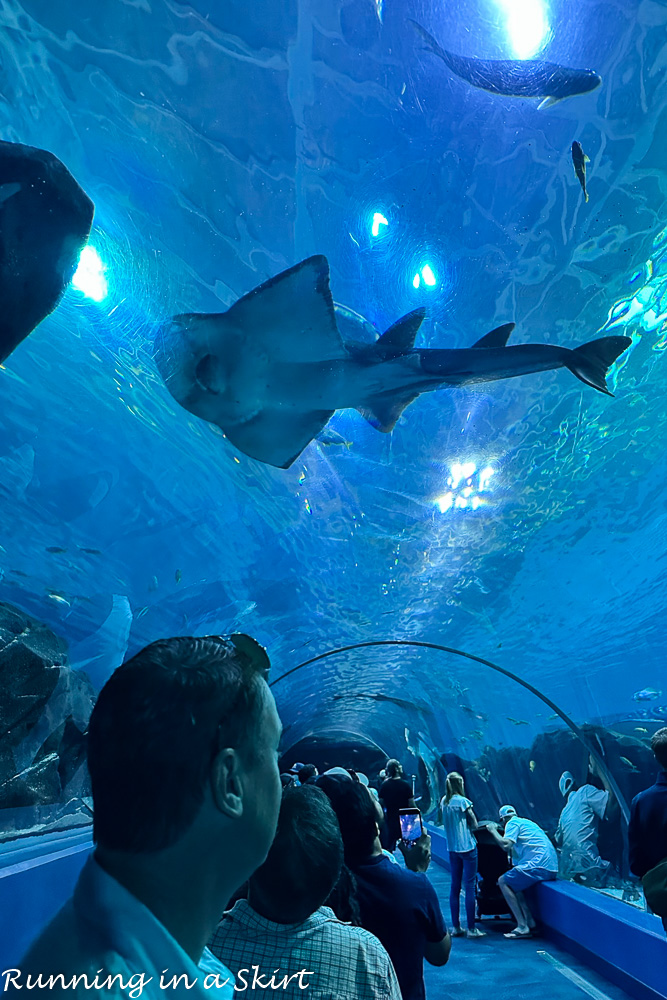 Georgia Aquarium Location:
The Georgia Aquarium is located in downtown Atlanta across from Centennial Olympic Park. Atlanta traffic can be hectic so consider rush hour times when planning your trip to the Aquarium. There is a large parking deck with easy signs to follow when you arrive. You can get to the parking deck from Luckie Street or Ivan Allen Jr. Blvd.
Main Entrance: 225 Baker Street, across from the north end of Centennial Olympic Park
Logistics:
Hours: The Georgia Aquarium is open 365 days a year, but hours vary. They are usually open 8 AM-9 PM on the weekend with shorter hours during the week. Make sure to check their current hours and calendar before going.
Cost: General admission is $47.99. Children under 2 are free. Parking is $20. If you buy tickets more than a day in advance, you can save $5. Yearly membership is $95 per person and $320 for a family, so if you plan on going more than once a year it's a good deal. Buy your tickets in advance here.
Getting Around: They recently updated their stroller policy and are encouraging families NOT to bring strollers. Strollers are technically allowed but must be on the smaller side. They cannot be larger than 29" in width and 52" in length. Wagons, wagon strollers, push cars, ride ons and jogging strollers are not permitted. For the full policy, read here. We did come without a stroller, and it worked out fine but it was a lot of walking for the kids.
Time: I'd plan a minimum of 3-4 hours to enjoy the aquarium however you can easily make an entire day out of it. We spent nearly 6 hours inside, had lunch and saw everything. You could easily even stay longer by incorporating some of the paid animal interactions into your day.
Food: There is a restaurant, Cafe Aquaria, in the aquarium serving things like hamburgers, bbq, and pizza. It's pricy and nothing special, but tasted fine. There are lots of kid-friendly options.
Best Times to Go: Weekdays are the best time to go and it's much less crowded first thing in the morning.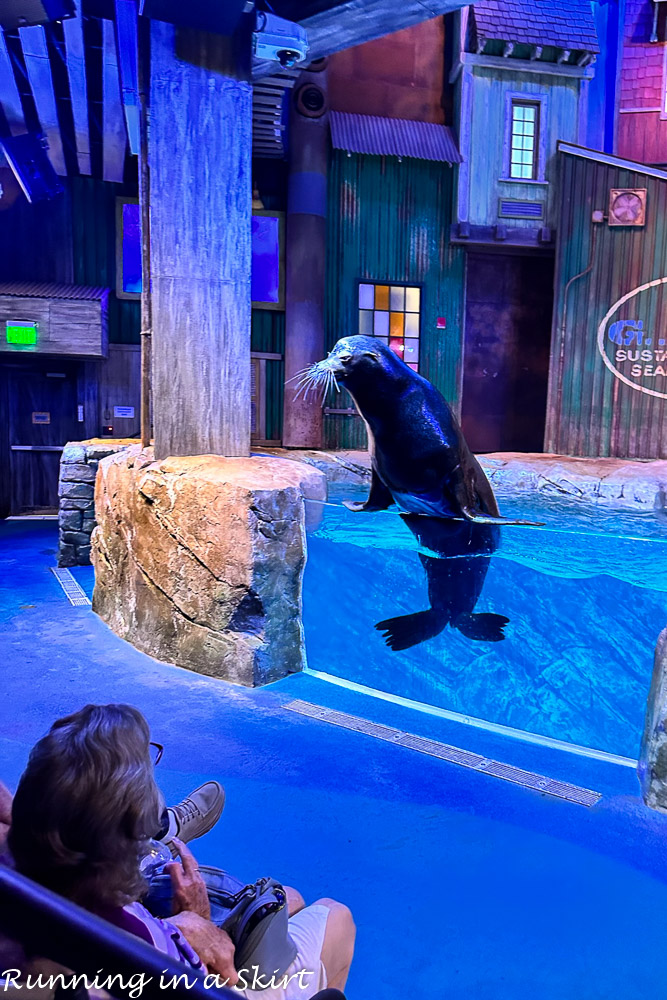 Georgia Aquarium Insider Tips
Tickets can be pricey. Make sure to buy your tickets ahead of time. They actually offer small savings if you buy the tickets not on the day you are going. There can be long lines to buy tickets at the window, so advance purchase saves you time and money. Plus if you are visiting other attractions in the Atlanta area, it might be worth it for you to buy your tickets through the Atlanta CityPASS which offers a bundle rate for several popular attractions including the Atlanta Zoo. It's a great deal if you are visiting for more than one day. Discounts are also offered to guests with some nearby hotels, so if you are staying nearby check on that.
Pay for your parking online before you go, to leave easier.
If you are local, consider buying an annual pass.
I do recommend looking at their website and download the app before you go to plan your trip and schedule your day in the aquarium. It's easy to follow, has a map, and allows you to check and book show times. Your tickets can also be loaded onto the app for easy access.
This is a popular attraction. If you have flexibility go in the morning when they open and not on a weekend, to avoid crowds.
Bring a sweater even in summer, the building can feel a bit cool. The day also involves lots of walking so wear comfortable shoes.
There is technically no outside food or drinks allowed in the aquarium, but they do make an exception for small snacks for children or if you have food allergies. They do allow water bottles and have refilling stations. I brought water bottles for the family and a few small snacks for the twins without a problem.
If you are on a budget or have firm food preferences, I'd suggest packing a cooler with lunch and going back to your car to eat. They do allow reentry into the aquarium on the same day. You can also go to a nearby walkable restaurant and come back to the aquarium. You cannot move your car though without repaying the parking fee.
The dolphin presentation and sea lion presentation are included in your general admission tickets, but you do need to make reservations for which show you want to attend. You can only do it the day of your visit, so do it early in the morning for the best time slots. Make the reservations here.
There are lots of extras to consider when planning your day at the aquarium. You can make a full day out of all of the included activities, but if you have older kids, and the budget, you might want to consider paying extra for animal interaction. You can pick from encounters with dolphins, penguins, sea lions, sharks & rays, harbor seals, beluga whales, or sea otters. Each encounter is priced differently but ranges from around $70-$100. The encounters are only for kids 7 and older.
Georgia Aquarium Visitors Guide
Click To Tweet
Georgia Aquarium Top Things to Do
Ocean Voyager
The Ocean Voyager exhibit is one of the top things to do at the Georgia Aquarium and is simply breathtaking. This exhibit alone has over 6.3 million gallons of water and is home to whale sharks, manta rays, green sea turtles, sharks, guitarfish, sawfish, and lots of fish including giant goliath grouper. It's one of the single largest aquatic exhibits in the world. Any Georgia Aquarium review is going to rave about this part of the attraction.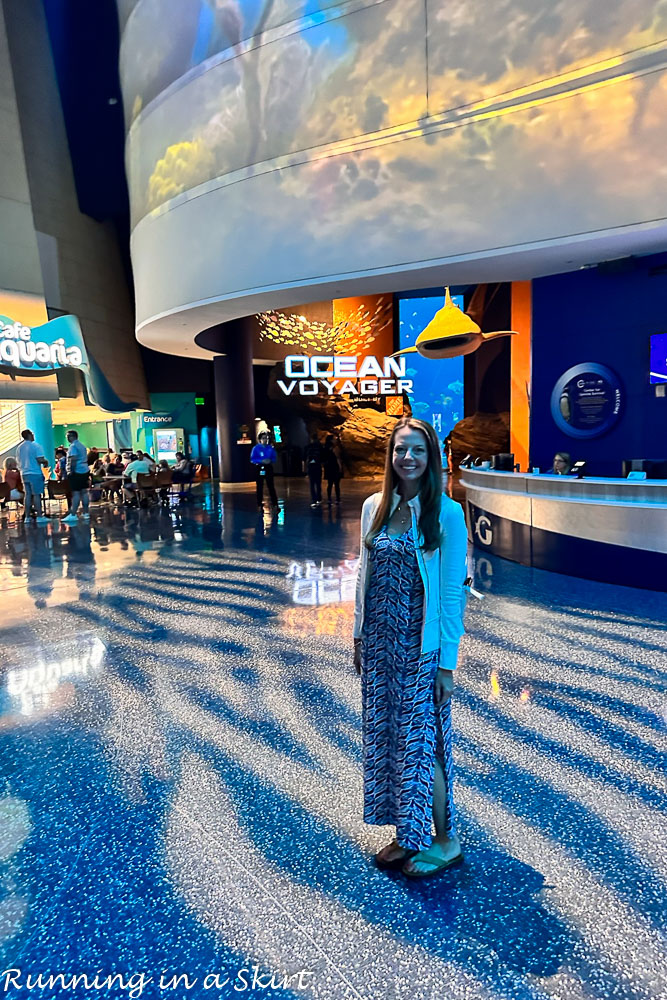 The exhibit starts by taking you through a 100-foot acrylic tunnel where you get an incredible view of the underside of the fish.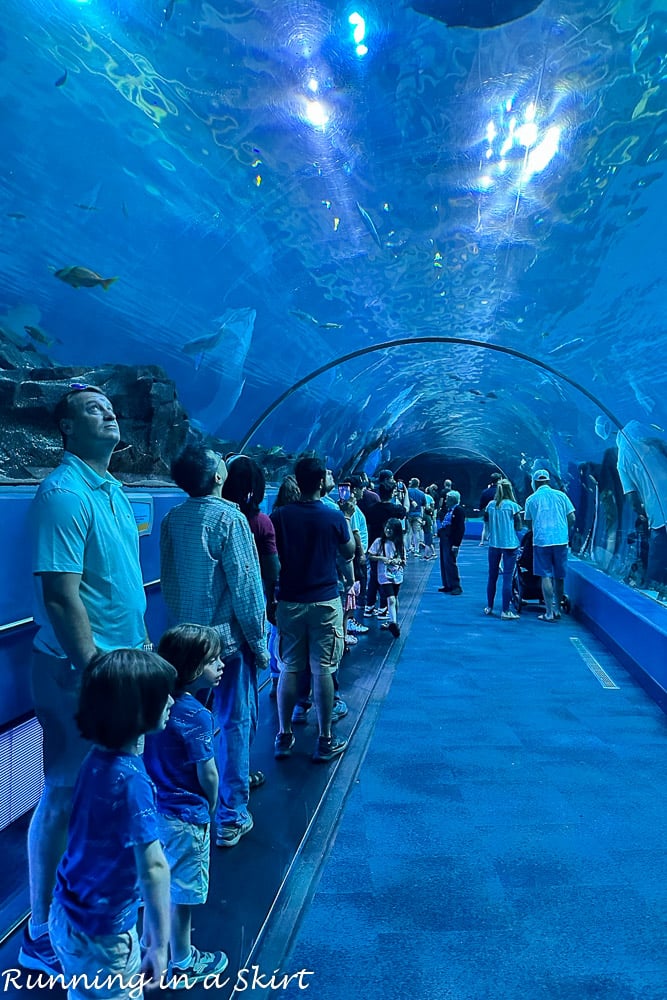 The exhibit then leads you to one of the largest viewing floor-to-ceiling windows in the world that's 23 feet tall and 61 feet wide. A fun fact is it's also 2 feet thick!
Here you can sit and watch all of the animals including the incredible whale sharks. They swim right across the window. This facility is one of the best in the world and you can't miss it.
Another fun fact is the whale shark is the largest fish in the world but it eats tiny sea creatures called zooplankton. It's totally fascinating.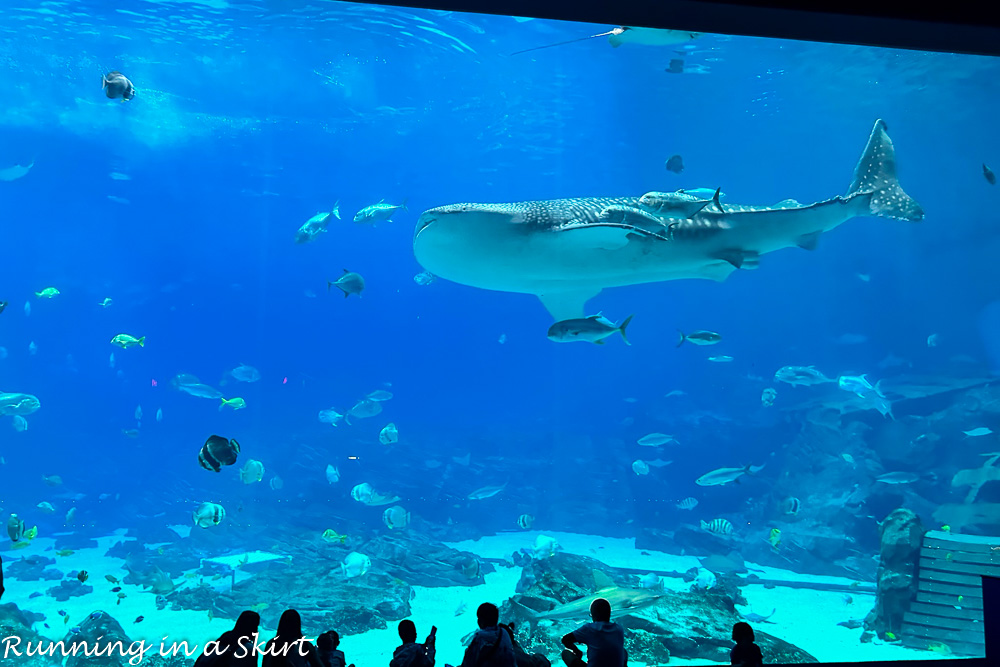 The kids can stand at the glass and get such a great view of these animals!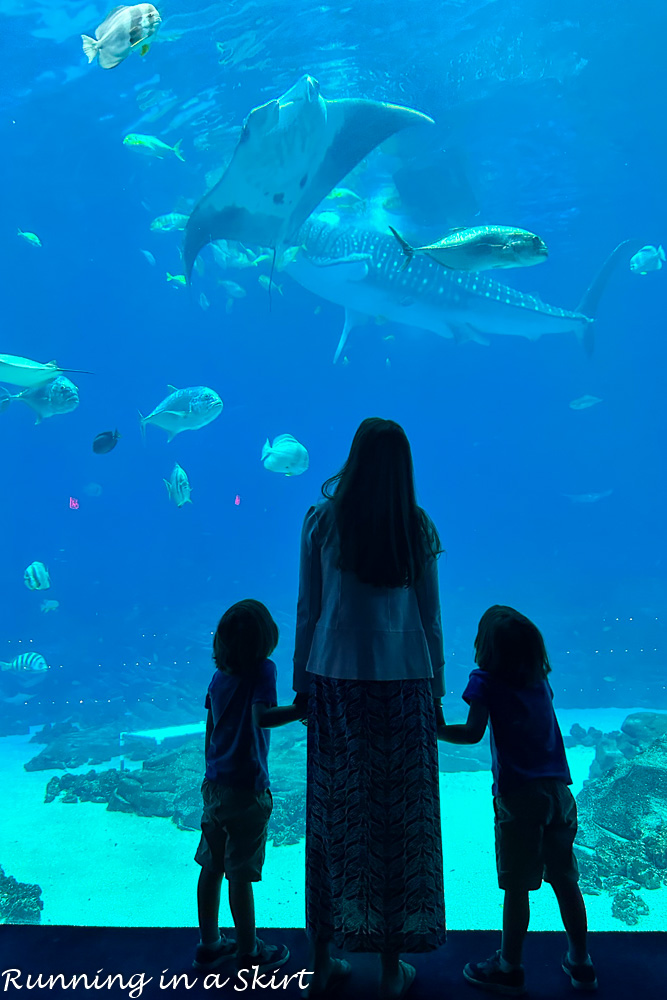 This exhibit gets busy because it's so spectacular, so I recommend going early and hitting it first so you can have more space to enjoy it. It is nothing short of amazing. I could have spent hours just watching the show.
If you are a big aquatic fan or diver, you might also want to consider signing up to swim or dive in this tank. As part of my old job as a reporter for WLOS, I had a chance to swim with the whale sharks and it was one of the most incredible things I've ever done. Find out more about the Journey with Gentle Giants programs here. It is really a once-in-a-lifetime experience!
Dolphin Show
Another big highlight of visiting the Georgia Aquarium is the Dolphin Presentation, Dolphins in Depth. The dolphin coast show is in a larger amphitheater, giving you a great view of the dolphins and trainers swimming together. They throw in lots of fun facts and interesting information about dolphins which is always fun to learn.
They also do some big jumps and tricks. There is a "splash zone" for this show where you will get wet, so pick your seat according to whether your not you want to be wet.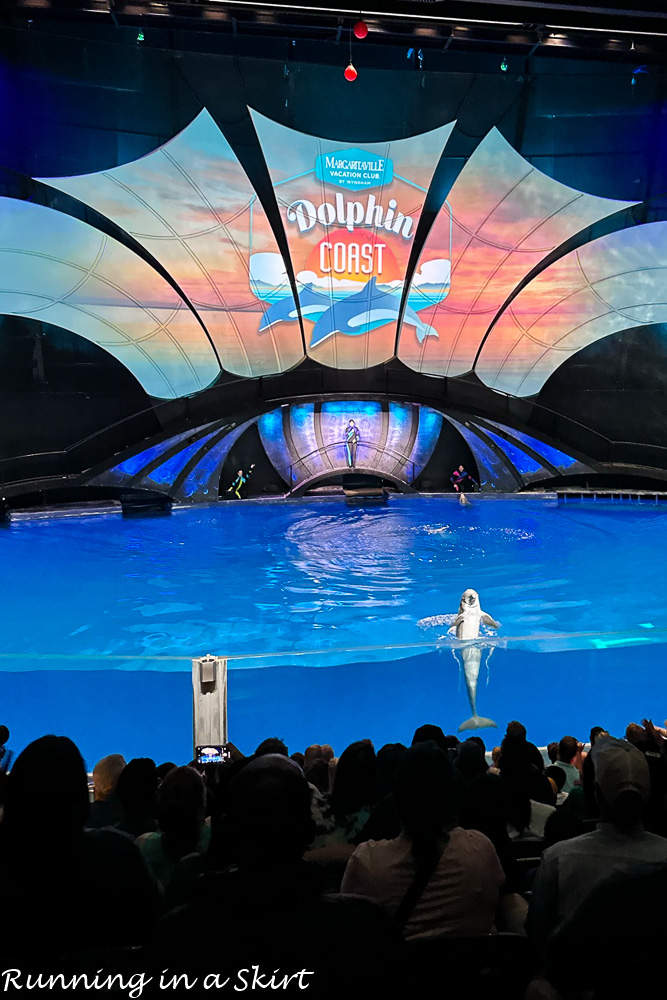 The cost of the show is included in the ticket price, but you can pay $5 extra for preferred seating, which we did. You do need to check online the day of your visit and reserve your show time in advance. Reservations cannot be made ahead of time and must be made the day of.
The show has a large crowd and it does take a while to exit the theater, so plan your day around that.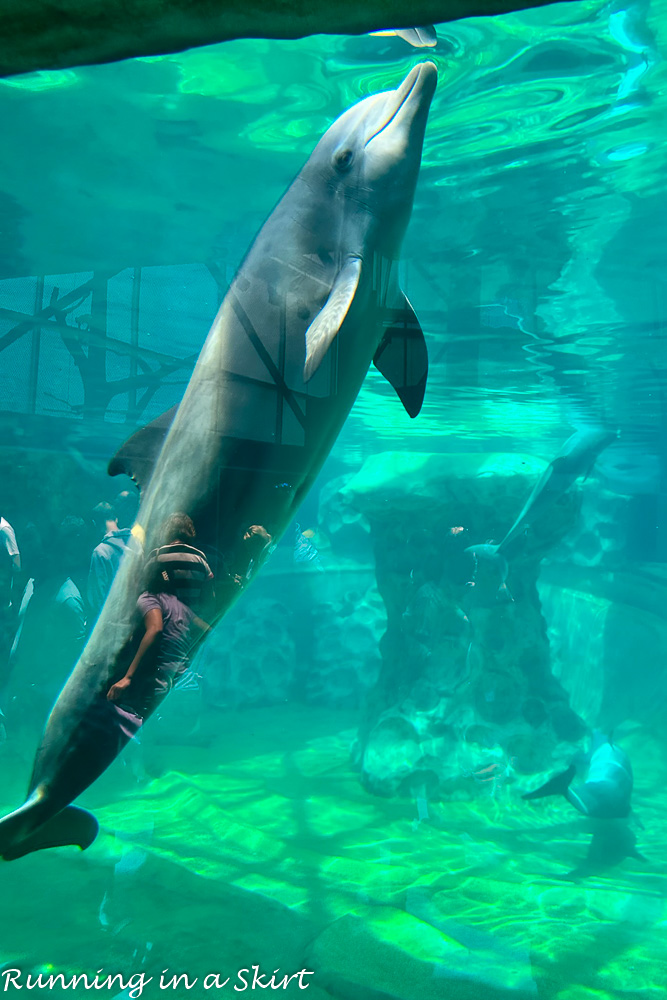 Sea Lion Show
Looking for Georgia Aquiam reviews for the sea lion show? We loved it!
The other included show at the Georgia Aquarium is the Sea Lion Presenation featuring California sea lions. This smaller more intimate show was a favorite of both of my boys and they have not stopped talking about it since. You get a close-up view of the sea lions.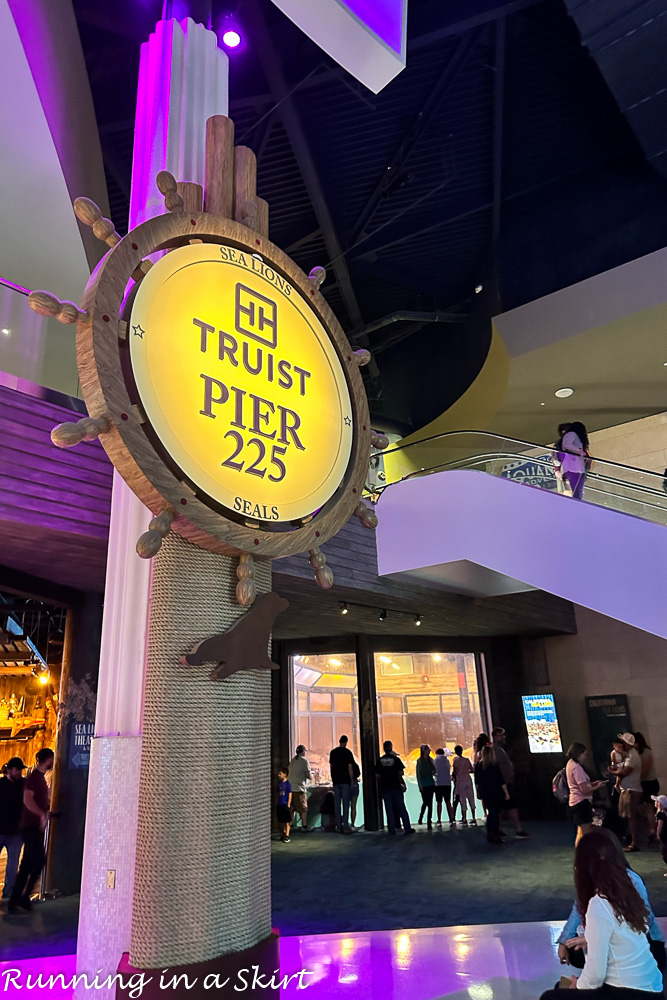 The show is actually a training session showing how trainers work with animals and is quite cute and funny. The sea lions are very social and so memorable. We loved this show and I highly recommend not missing it!
This show also has a"splash zone" where you will get wet, so pick your seat according to whether your not you want to be wet. The hosts will ask you which type of seat you'd like when you arrive.
As with the dolphin show, you can get online early in the day and get a reservation time for your show. Do that here or check the app on the day of your visit.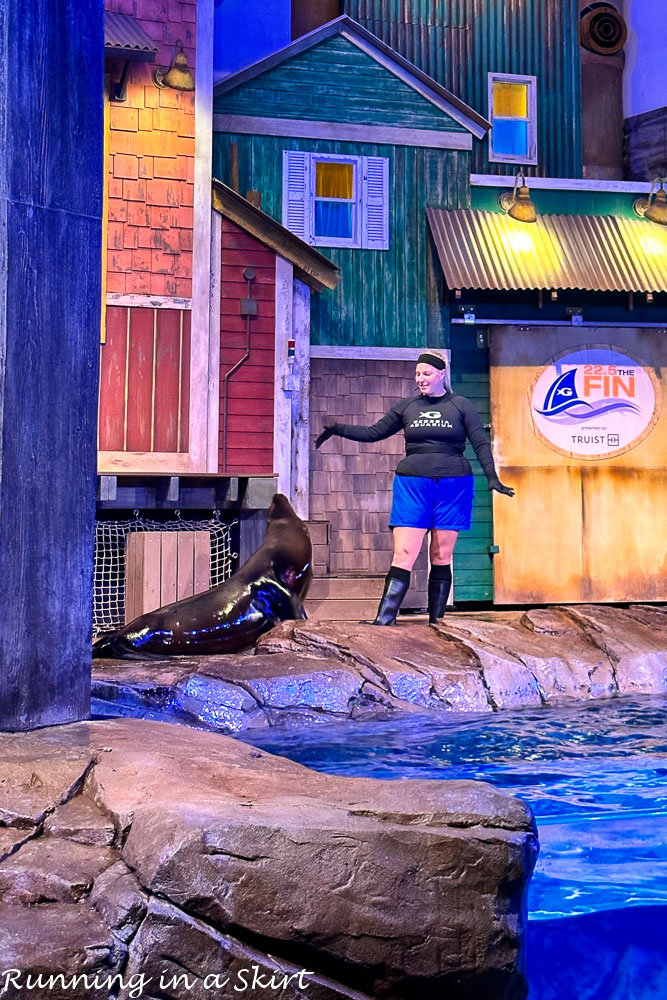 See the Penguins and Climb the Tunnels
Another favorite exhibit at the Georgia Aquarium is the African penguins. They are so cute and fun to watch.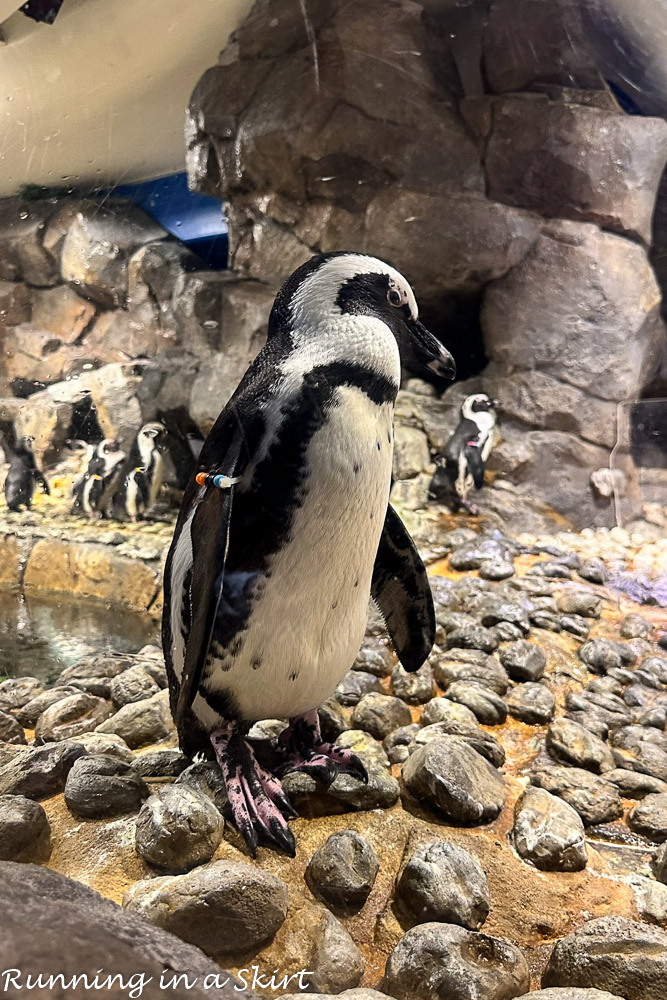 This exhibit also features a fun collection of tunnels and pop-ups for the kids to explore, which was a huge hit for my active boys. If your kids are getting a bit antsy of just seeing things, head in this direction.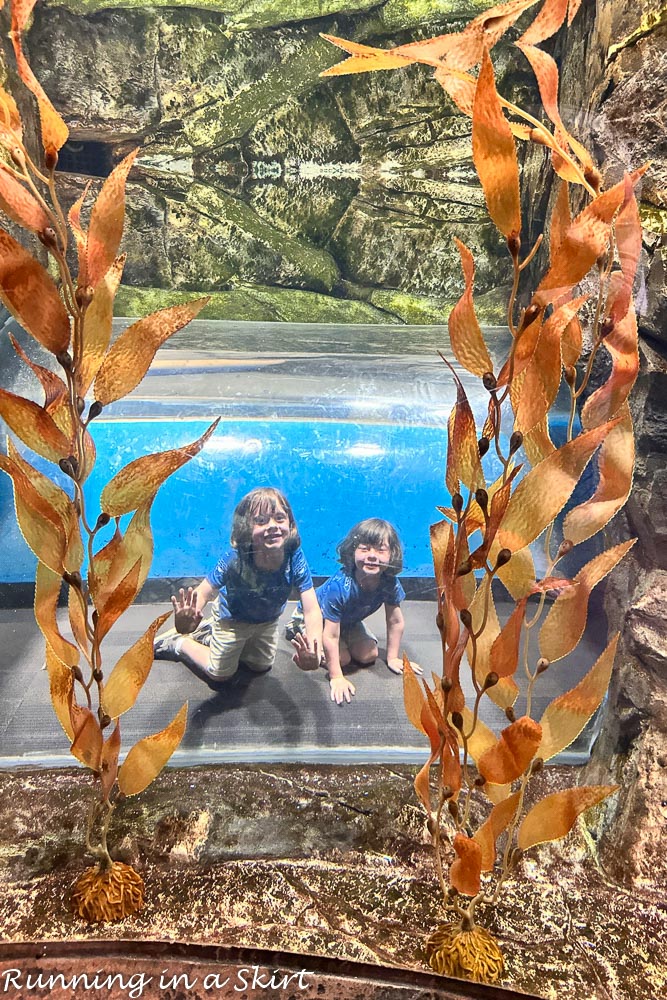 Tropical Diver
One of my favorite parts of the Georgia Aquarium was the Tropical Diver exhibit which featured 164,000 gallons of water and a colorful array of colar and tropical fish. The living reef is stunning and worth some time to take it all in.
In this exhibit, you'll also find three enchanting jellyfish exhibits, which are mesmerizing.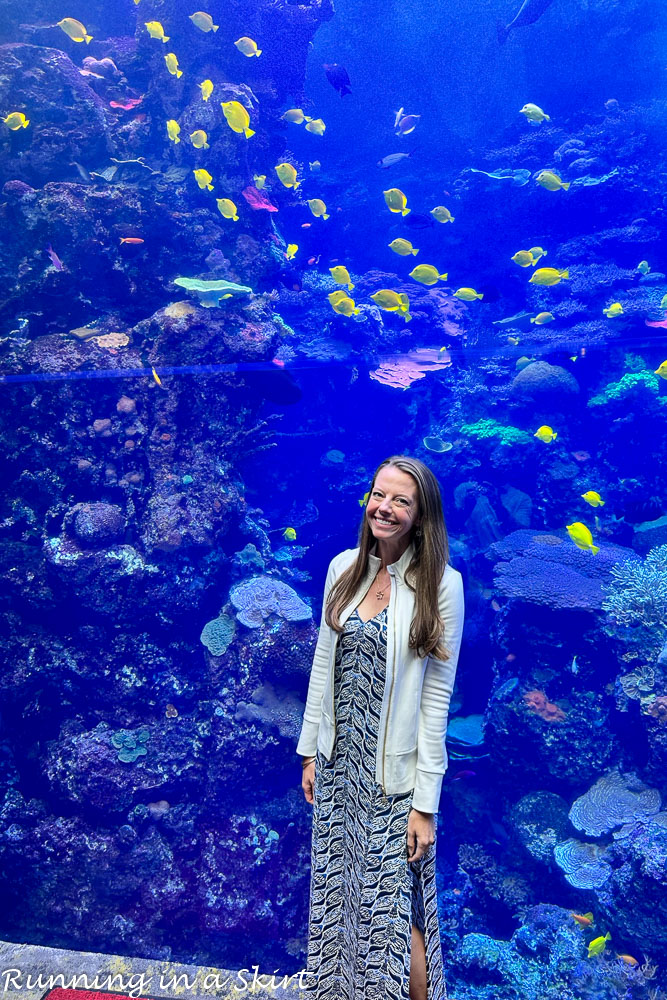 Sharks
Another top exhibit at the Georgia Aquarium is the newer Sharks! Predators of the Deep exhibit. This is the newest gallery there featuring lots of different shark species. This exhibit houses all different kinds of sharks and explains more about the creatures, which are often feared.
Highlights include the Great Hammerhead Sharks, Sand Tiger Shark, Silky Shark, Tiger Shark, and Silvertip Shark.
Touch a Stingray
Part of the shark exhibit also includes a cool interactive spot to touch a stingray. The tank is included as part of admission, so don't miss it!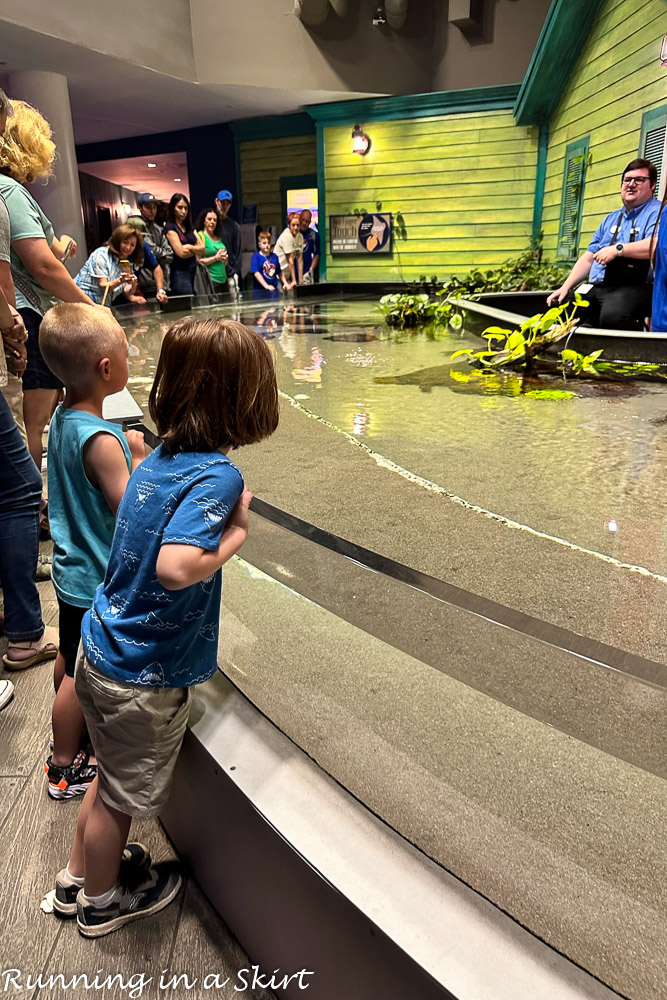 The tank is included as part of admission, so don't miss it!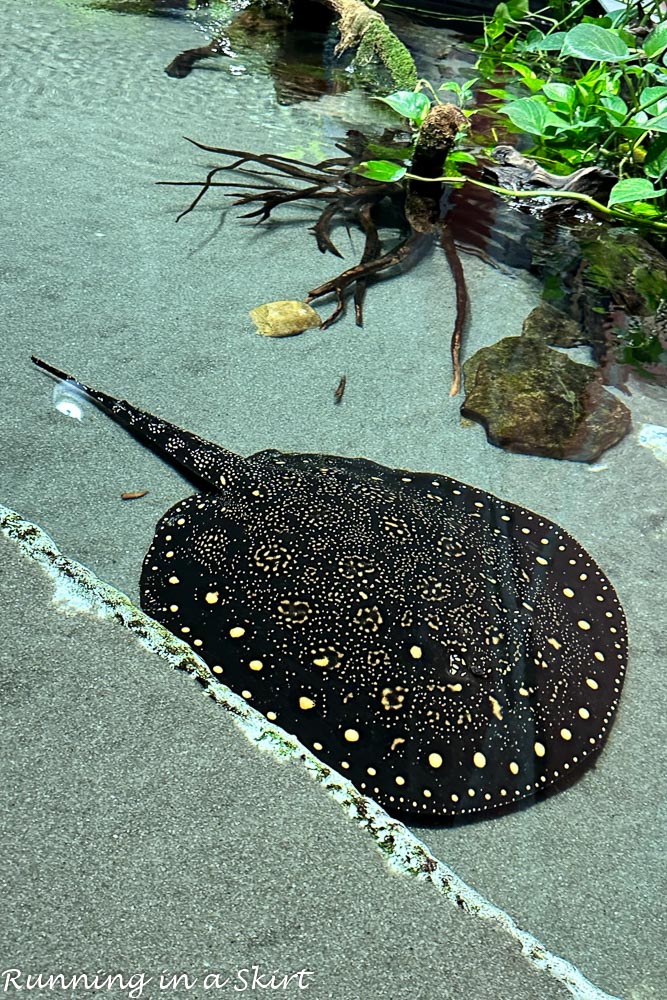 River Scout
The River Scout exhibit is a freshwater gallery featuring 90,000 gallons of water and a fascinating alligator exhibit. The tanks showcase everything from snapping turtles to southern sea otters and piranhas. It's a pretty area of the aquarium even featuring rocks and waterfalls.
Walk Across Rope Bridge
Another great interactive thing for the kids to do is a walking bridge that leads into the upper level of the River Scout exhibit. This is another great place to hit if your kids are needing to DO something instead of just looking. 🙂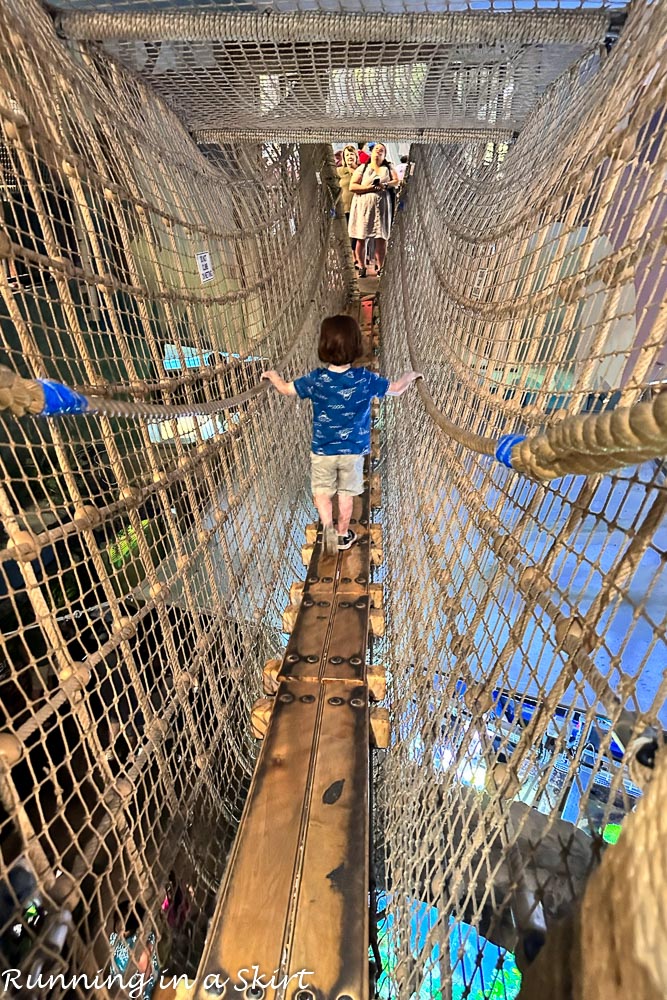 Beluga Whales
As part of the Cold Water Quest exhibit at the Georiga Aquarium, you can get an epic view of beluga whales. The whales can often be seen playing with "toys" which are really fun to watch. Don't miss this fun experience.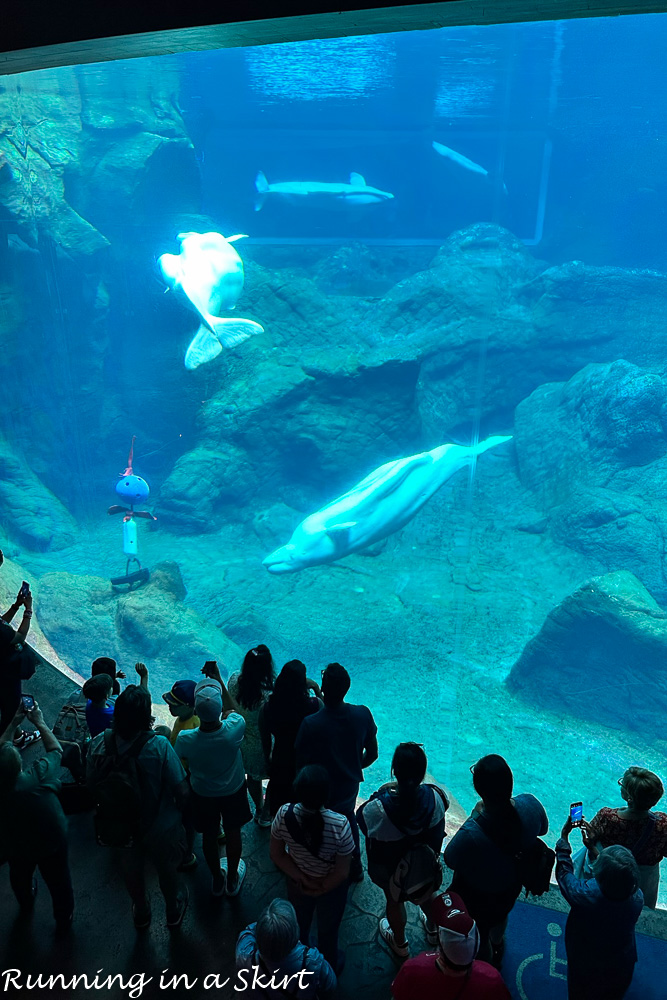 Aquanaut Adventure
This area features interesting interactive exhibits about animals who thrive in some of the harshest environments on earth. You can see lizards, frogs, electric eels, tortoise, golden giant Asian mantis, and more.
Pro Tip: It's a really cool spot, but if you are running short of time and need to skip something this could be it.
Other Fun Georgia Aquarium Experiences:
Georiga Aquarium Animal Encounters: You can pay extra for animal encounters with dolphins, penguins, sea lions, sharks & rays, harbor seals, beluga whales, or sea otters. Each encounter is priced differently but ranges from around $70-$100. The encounters are only for kids 7 and older.
Swim or Dive: One of the most unexpected things you can do at the Georgia Aquarium is actually swim or dive with the Whale Sharks. I've done the swim and it is a once-in-a-lifetime experience. If you are a true ocean lover, I can't recommend it enough.
Behind the Scenes Tour: If you want something extra, but a little more low-key than actually encountering the animals, the Behind the Scenes Tour is pretty cool and only $15.99. You'll get to see the action from behind the tanks and it's fascinating. Book tickets here.
Virtual Reality: Instead the aquarium is a cool section where you can pay extra to do a virtual tour through prehistoric marine life. It's a 5-minute experience and costs $11.
Sleepovers: The Georgia Aquarium hosts sleepovers for kids and adults! It's a fun way to sleep with the view of the tanks and animals. Find out more about them here.
Georgia Aquarium Reviews - Is it Worth It?
So is the Georgia Aquarium worth it? Georgia Aquarium reviews can vary, but in my opinion, this spectacular aquarium is worth every penny. It is pricy for a family to go, but there is more than enough to entertain a family for most if not all of the day.
Seeing the Ocean Voyager exhibit alone with the whale sharks and manta rays is awe-inspiring. Add in the dolphin and sea lion show and you have such a fun and memorable day.
If you are on a budget, bring your lunch and picnic in the car and skip the extras like the encounters and there is still plenty to see, do, and enjoy.
Even if you've been to other aquariums and this one really does live up to the hype of being the best. It stands its own between other famous aquariums like the Monterey Bay Aquarium and the Shedd Aquarium, especially considering the size, scope, and breathtaking nature of the Ocean Voyager exhibit.
It's laid out well, chock full of sea life, and has plenty of interactive things to entertain kids of all ages and adults. I would absolutely include this in my list of top things to do in Atlanta.
Also, remember to check out the Atlanta CITYPASS before you buy tickets. If you are visiting more than one attraction in Atlanta, it could really save you some money and time. Here's the link to get the most recent sales available- Atlanta CityPASS, Adult, ages 13+
.
Georgia Aquarium Visitors Guide
Click To Tweet
More Nearby Zoo & Aquarium Travel Guides:
Pin for Later: