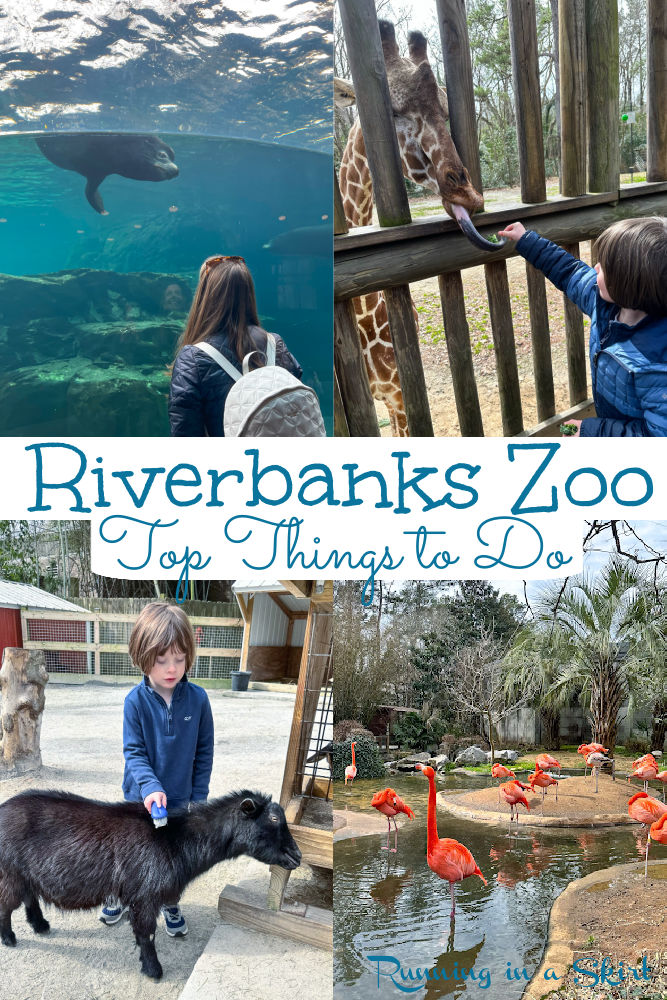 The Riverbanks Zoo Columbia SC is a fabulous zoo in Columbia South Carolina with a surprising amount of interactive exhibits for kids of all ages. Whether you can it the Riverbanks Zoo and Gardens or simply the Columbia Zoo this spot is a memorable attraction that you can't miss. Here are all my tips and tricks to make the most out of your visit plus the best can't-miss experiences there.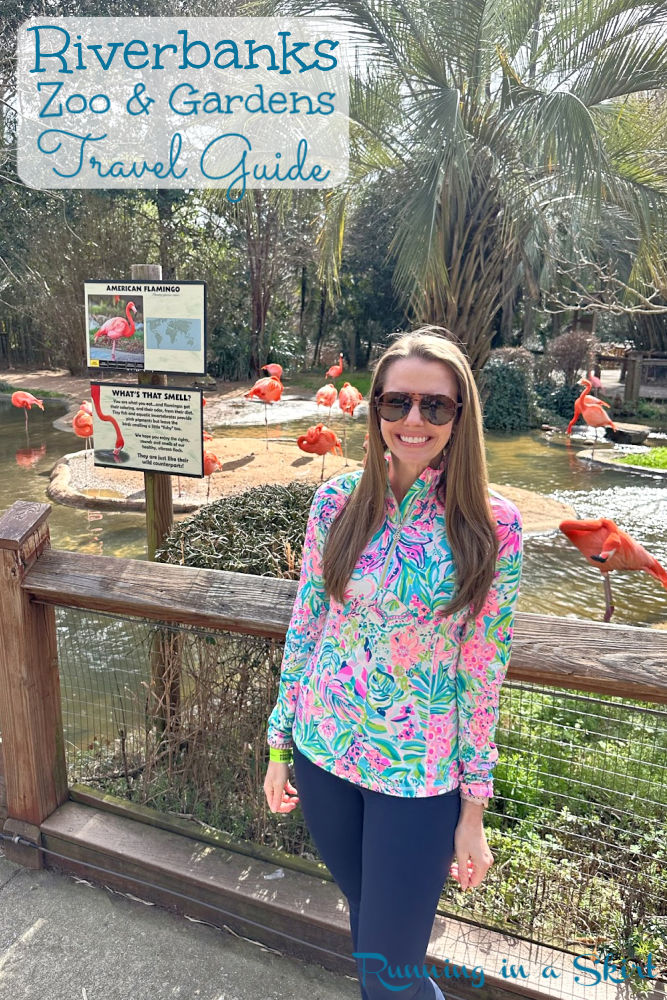 Riverbanks Zoo Columbia SC
The Riverbanks Zoo Columbia SC is a hidden gem and magical attraction in the middle of South Carolina. You might be surprised to learn that the Columbia Zoo is actually a world-class zoo with more than 200 animals, 170 acres, and a large number of interactive exhibits for kids and adults. It's one of the top things to do in Columbia for good reason! The zoo is a perfect day trip for families and anyone visiting the region. Where else can you actually feed a giraffe?
The Riverbanks Zoo and Garden is actually part zoo and part botanical garden. The zoo is a popular attraction but the botanical gardens are also home to a fun splash pad for kids called Waterall Junction. The two spots together make a fun day for families in Columbia. The two areas are connected by a paved walkway that you can walk or take a tram.
I have been to the zoo twice and have been blown away by the pretty grounds, well-kept landscaping, and well-thought-out attractions. You don't just walk around and see animals, you can do things like feed giraffes and lorikeets, play at an interactive farmyard, ride a Carasel or train, or even take on a fun ropes course.
The Columbia Zoo is one of the coolest day trips we've taken our twins on! I'd recommend it for kids and adults of all ages for a day of family fun. See more of our family photos from our trip at my recap of our trip to the Columbia Zoo.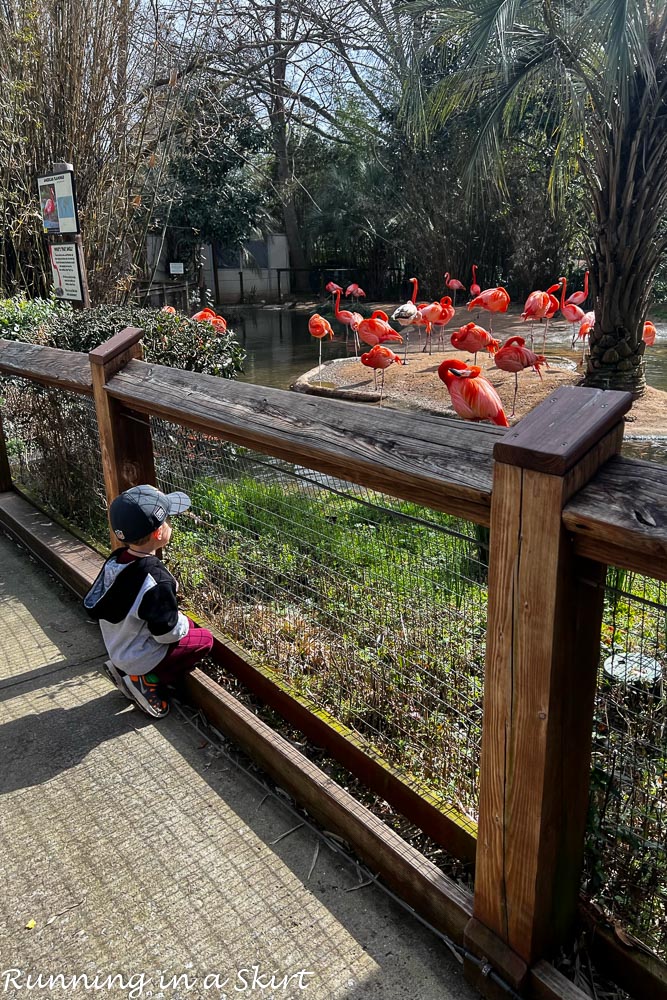 Riverbanks Zoo Travel Guide
Click To Tweet
Location:
The Riverbanks Zoo Columbia is located northwest of downtown. There are two separate entrances and parking areas. One is for the zoo and the other is for the botanical garden. The zoo entrance is just off 1-26 and Greystone Blvd. The botanical garden entrance is off SC Highway 378 at I-20.
Riverbanks Zoo Columbia SC Logistics:
Top Things to Do at the Riverbanks Zoo Columbia SC
Feed the Giraffes
Feeding the giraffes is one of the most memorable things to do at Riverbanks Zoo Columbia SC. The giraffes are gorgeous in their habitat, but from 10-1:30 they have a feeding station set up where you can feed them assorted greens.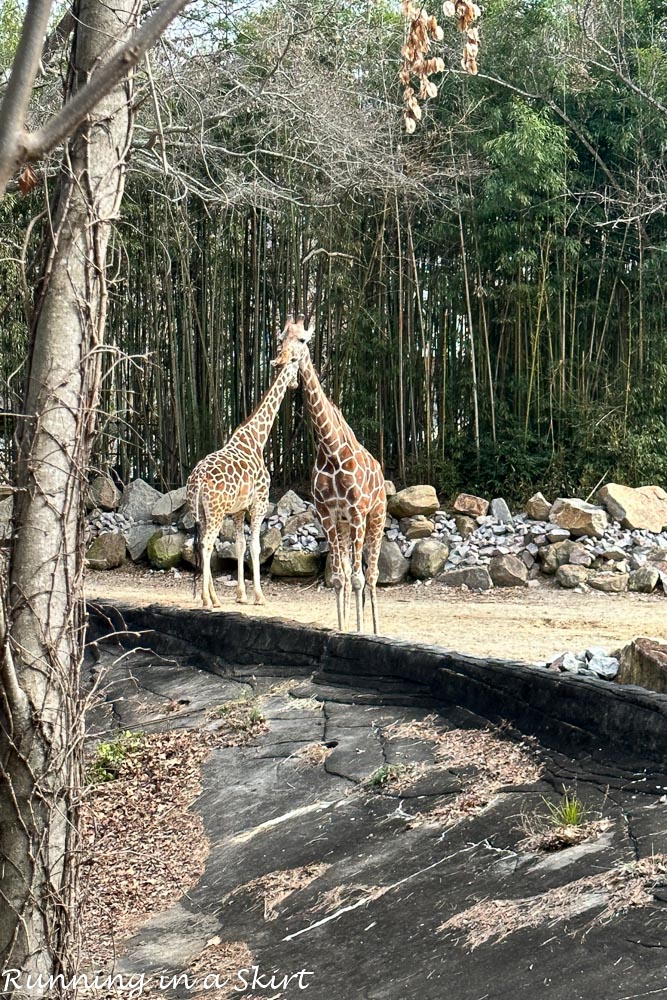 They come right to the fence and stretch their neck through to get the lettuce.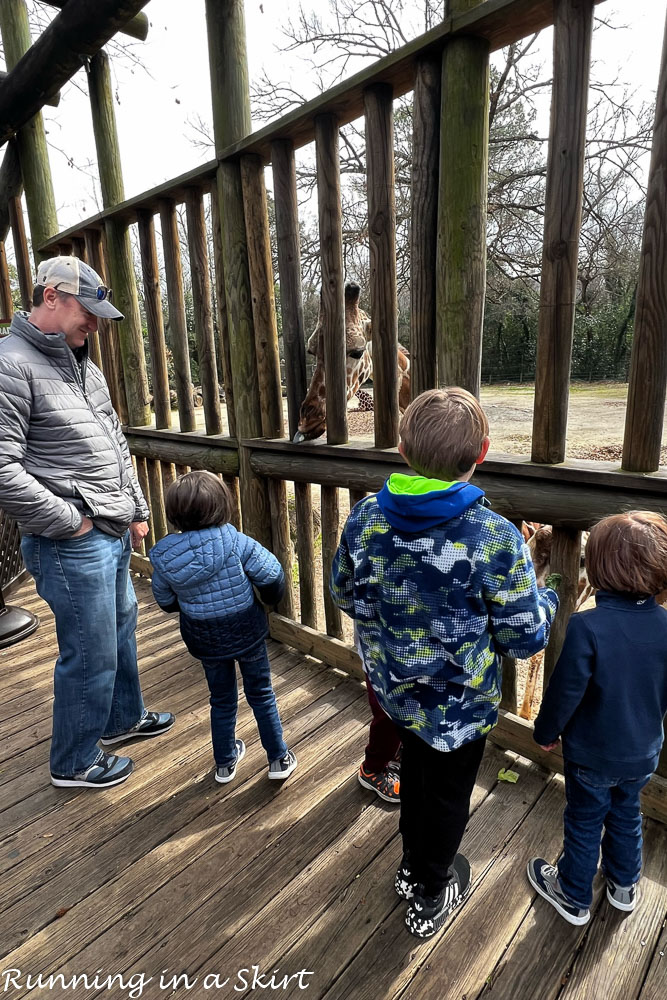 Their long black tongues reach out and get the lettuce making the kids squeal!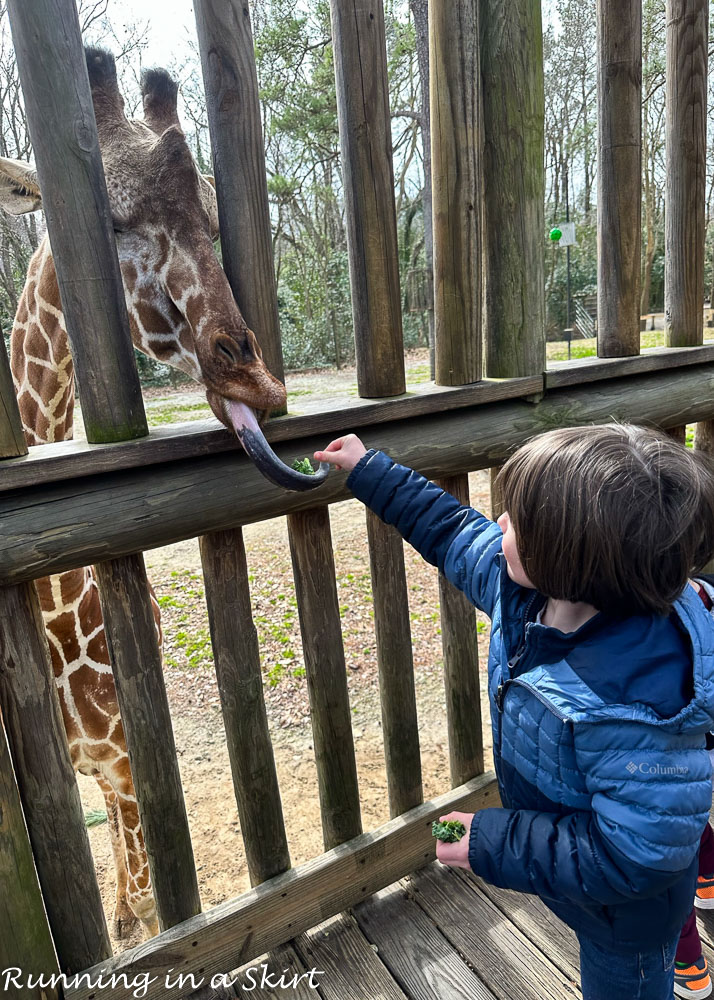 It was such a memorable experience and gave my kiddos the biggest smiles. The giraffe feeding is part of the Explore More card, which is a small extra fee, but it was worth every penny to see this smile. We will definitely remember this part of our trip to the Columbia Zoo.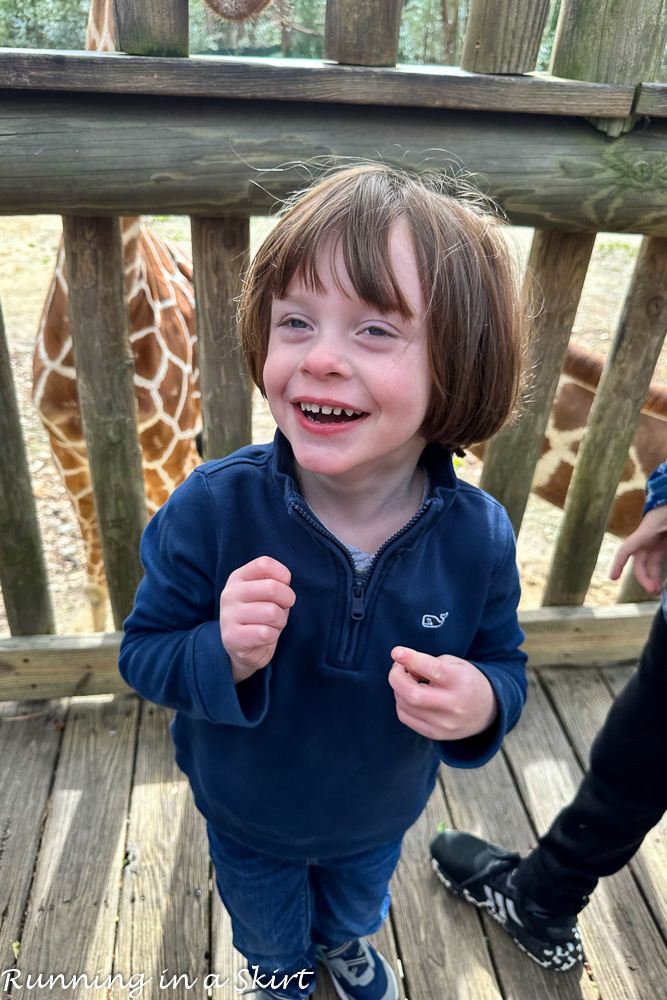 Feed the Lorikeets
Another super fun and memorable thing to do at Riverbanks Zoo Columbia SC is to feed the Lorikeets. They have an aviary area where you take a little cup of nectar inside and the birds literally swarm you to get it.
It's a bit surprising when it happens, but it made our entire crew bust out laughing when they just landed on my son's head. The birds were super excited and even stole my cup of nectar.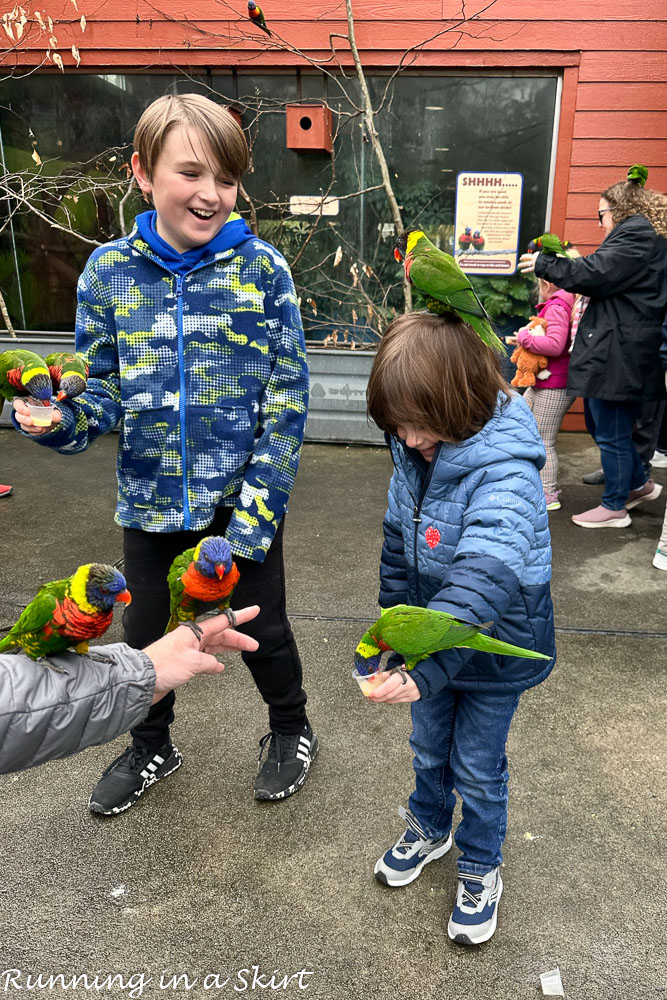 This attraction is open 9-4:30 and is also part of the Explore More card that costs a small extra fee. If you like birds, it's another super memorable experience.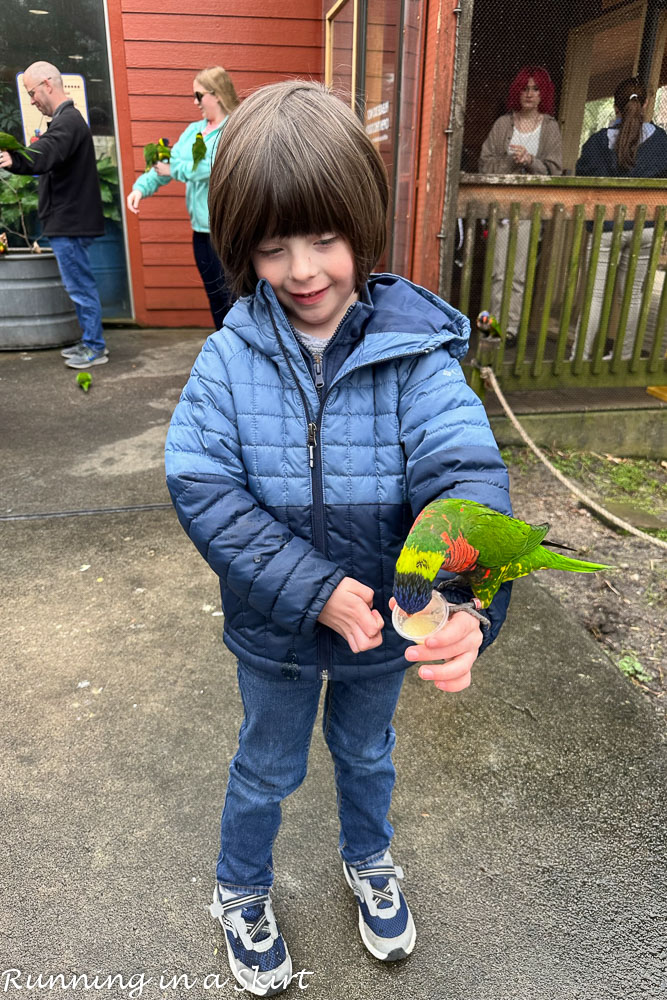 Experience the Farmyard
The Farmyard is another really well-done interactive spot at the Riverbanks Zoo Columbia SC. It's part petting zoo and partly an educational exhibit for the kids. It's all really well thought out and engaging for the kids. It is also part of the Explore More card.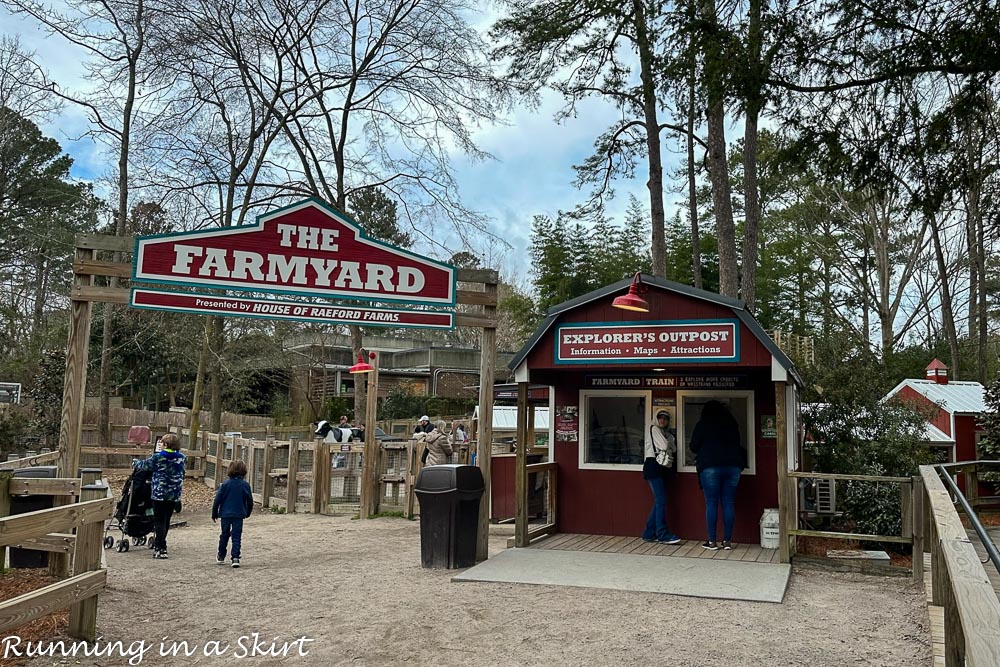 My boys loved brushing the goats. There were also pigs and chickens.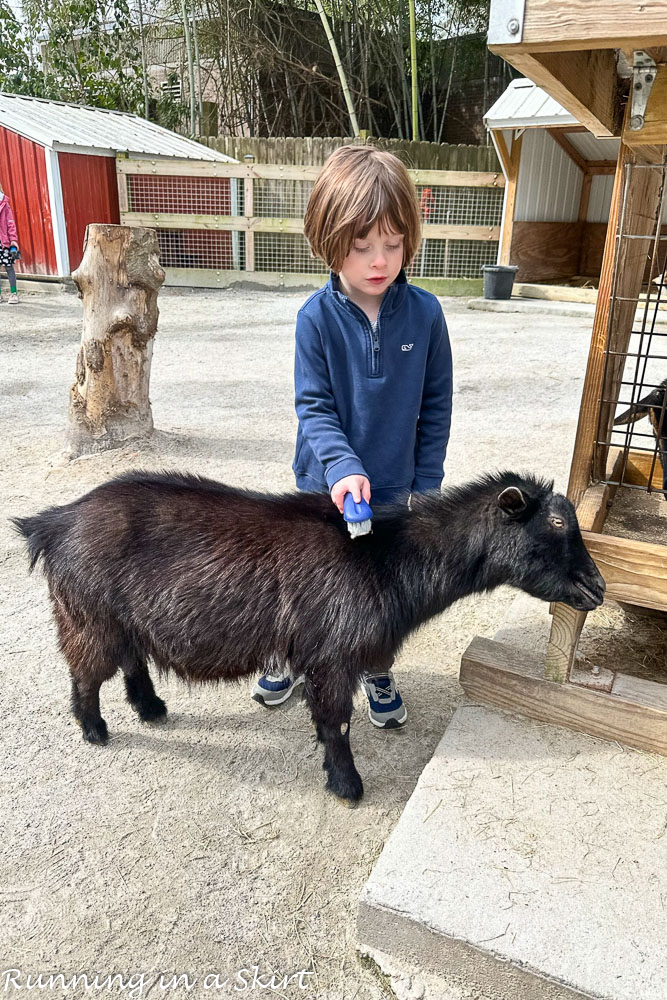 The cutest area is where kids can gather fake eggs from the farm, learning where they come from.
And of course, for all the truck-loving kids there is a big tractor for them to ride. They also offer pony rides at Riverbanks Farm.
Ride the Spots & Stripes Railroad
Part of The Farmyard at the Columbia Zoo is a fun kiddie train called the spots and stripes railroad. It's big enough for a few adults to climb in too. My train-loving boys had a blast riding around a few times!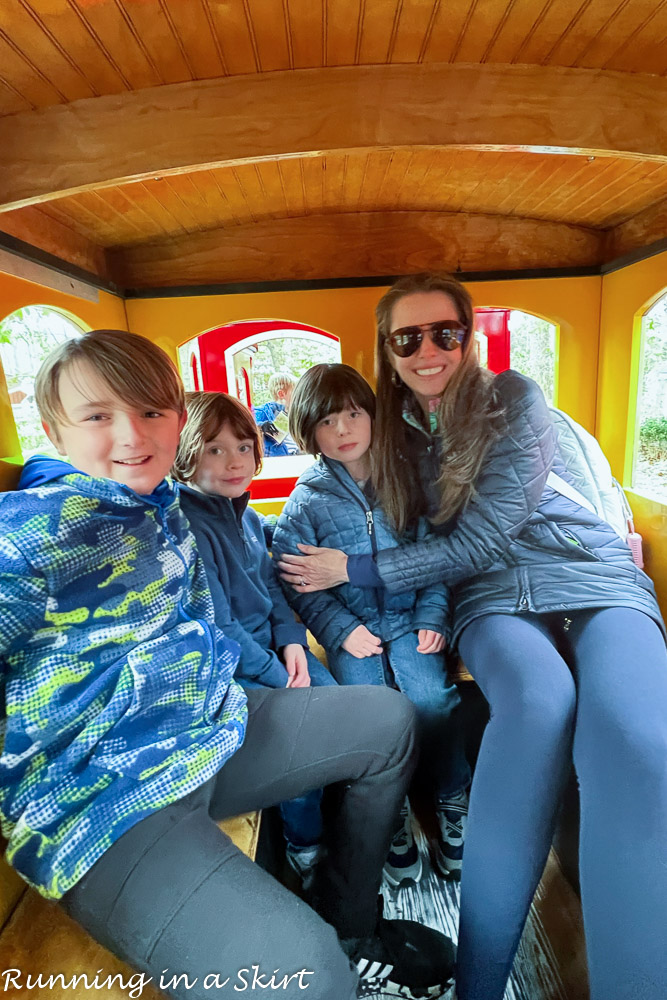 Ride the Endangered Species Carousel
Riding the Endangered Species Carousel is another top thing to do at the Riverbanks Zoo Columbia SC. It's the second ride at the Columbia Zoo and a fun spot for small kids.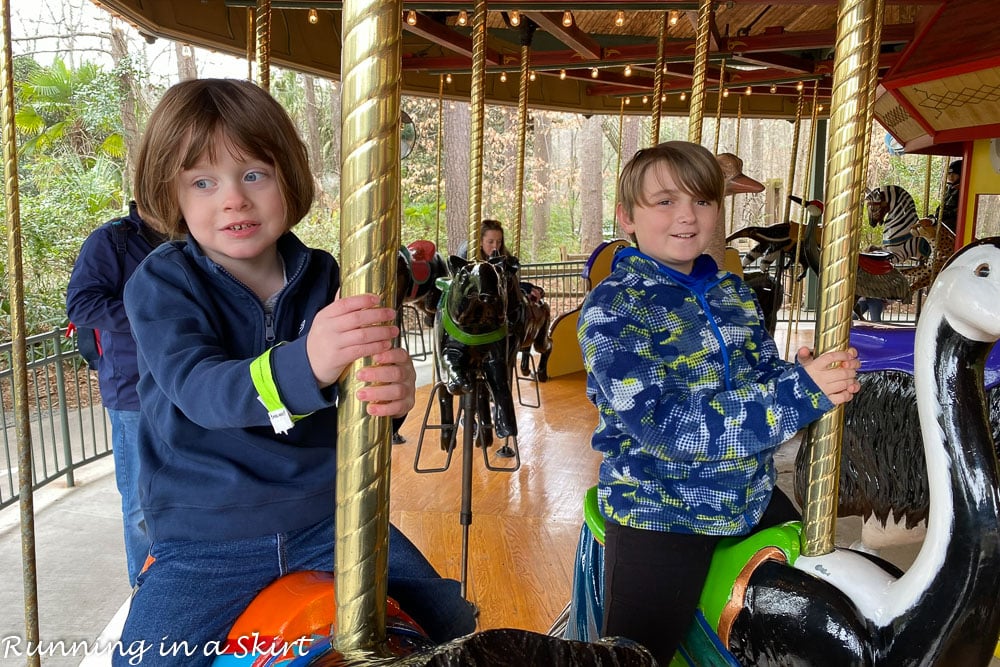 It gives them something to look forward to in addition to the animals. The carousel does require to Explore More points.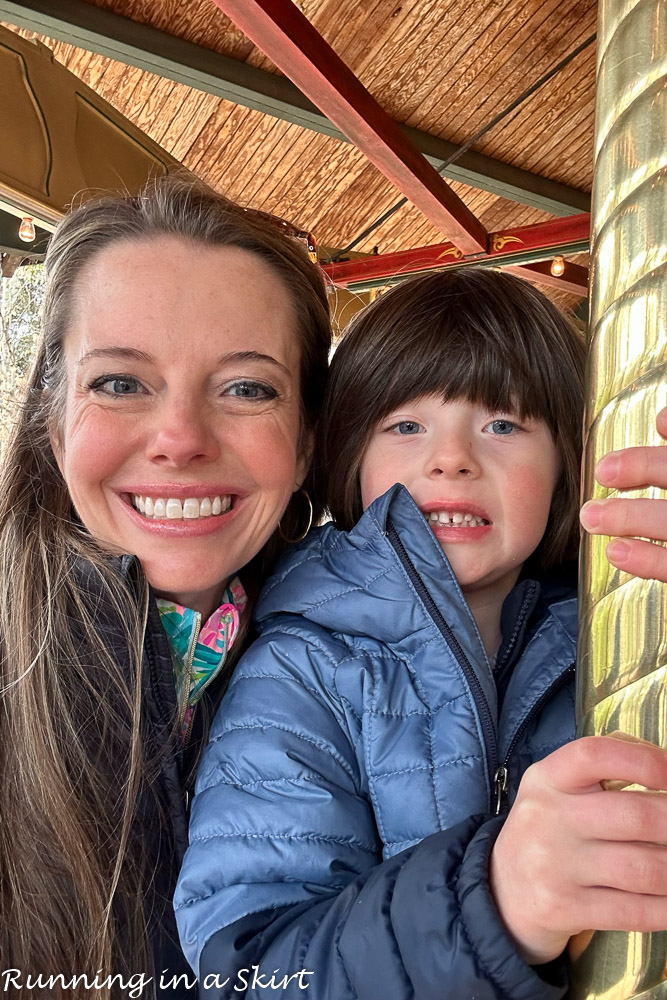 Explore the Animals
Just exploring the animal habitats is another top thing to do at the Riverbanks Zoo Columbia SC. We loved doing the loop around the zoo and spotting wildlife like zebras, elephants, lions, gorillas, tigers, and more. There is a viewing deck to see the animals.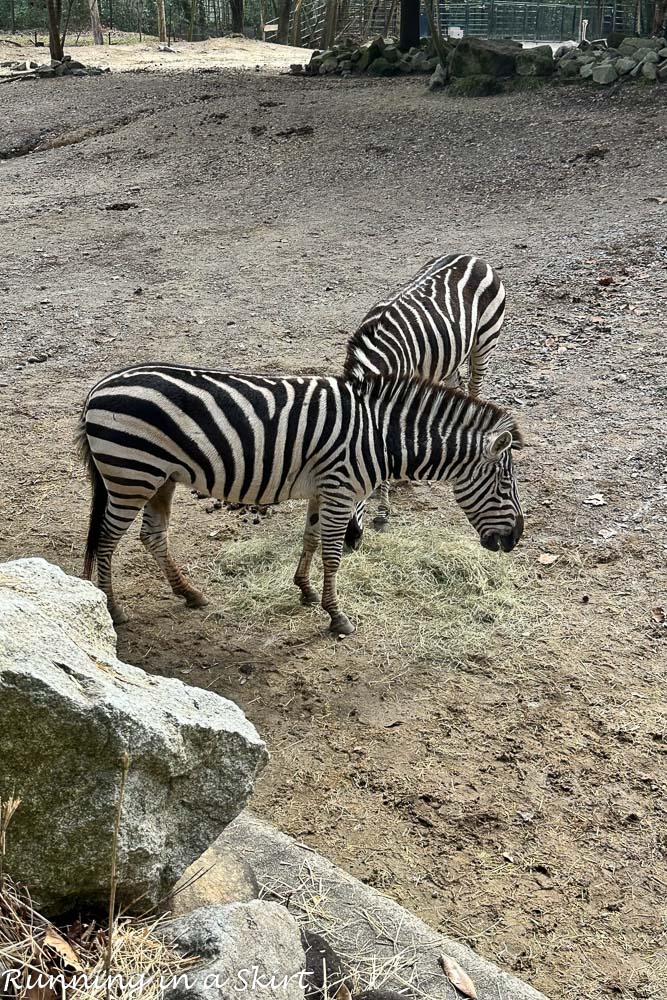 The animals follow an easy-to-follow loop that allows you to see almost everything in one pass.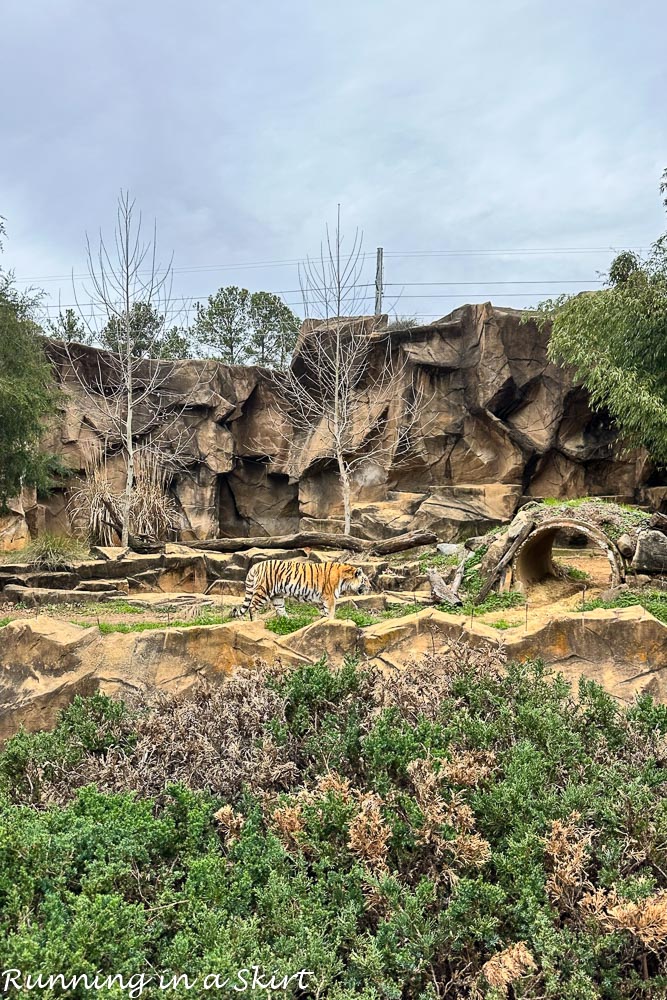 Other favorite animals are the bear, baboon, rhino, ostrich, otter, and koala. I'd highly recommend spending some time in the gorilla habitat too! They are such funny animals and seemed to be putting on a show. If you want to plan to see your favorite animals ahead of time, make sure to print out this map before you go.

Climb the Sky-High Safari
The Columbia Zoo or Riverbanks Zoo is also home to a super fun zip-line-style climbing safari. It's for bigger kids taller than 48 inches and is a great way for older kids to burn off some energy! It's also a small extra fee as part of the Explore More card.
In addition to the safari, there is a Wild Adventures Rock Wall which is a separate exhibit. There is a also a playground.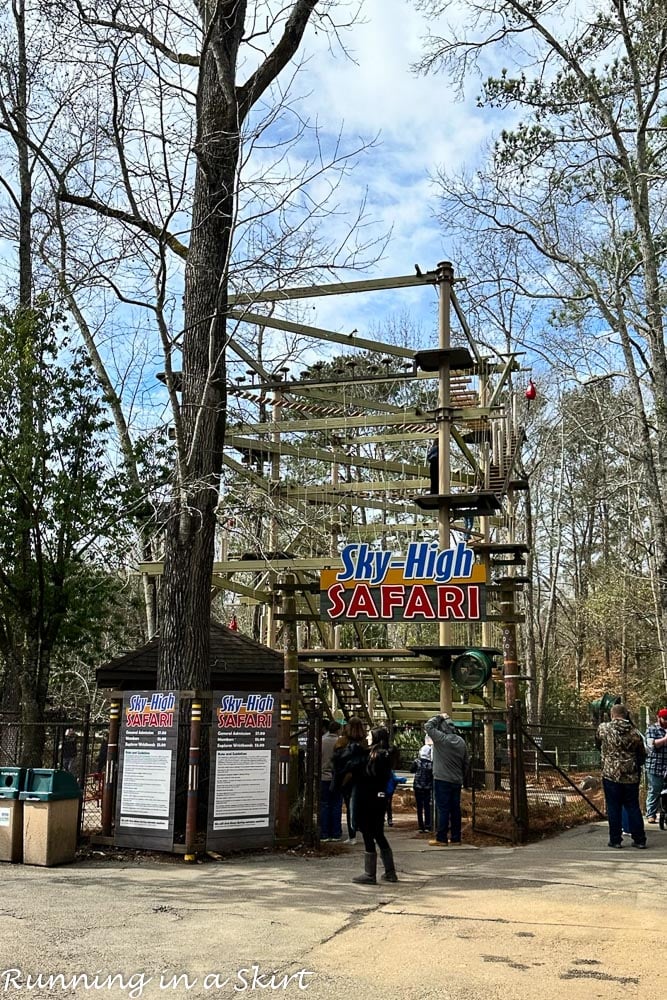 Walk the Kangaroo Walkabout
Walking through a Kangaroo habitat is another top experience at the Riverbanks Zoo Columbia SC.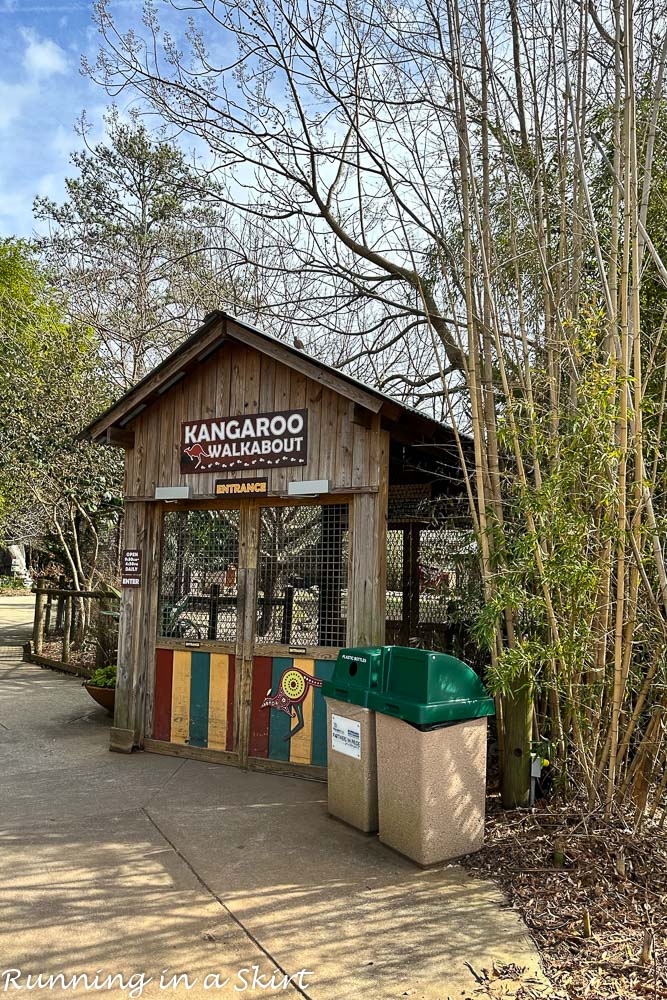 This spot is super fun and gives you a chance to walk behind the fence and actually get close to the kangaroos and wallables. I loved getting this close to them!

Meet the Penguins
Who doesn't love a penguin? The Riverbanks Zoo Columbia SC is home is a birdhouse with all sorts of fun birds including penguins. We just looked at them but older kids (8 and up) can sign up for a backstage encounter where you get to help the keepers feed them! You do have to sign up on their website in advance for the experience and it does look like it books up pretty quickly.
These King Penguins are definitely one of the more memorable things to do and see at the Columbia Zoo. The birdhouse is also home to all sorts of cool exotic birds and hornbills.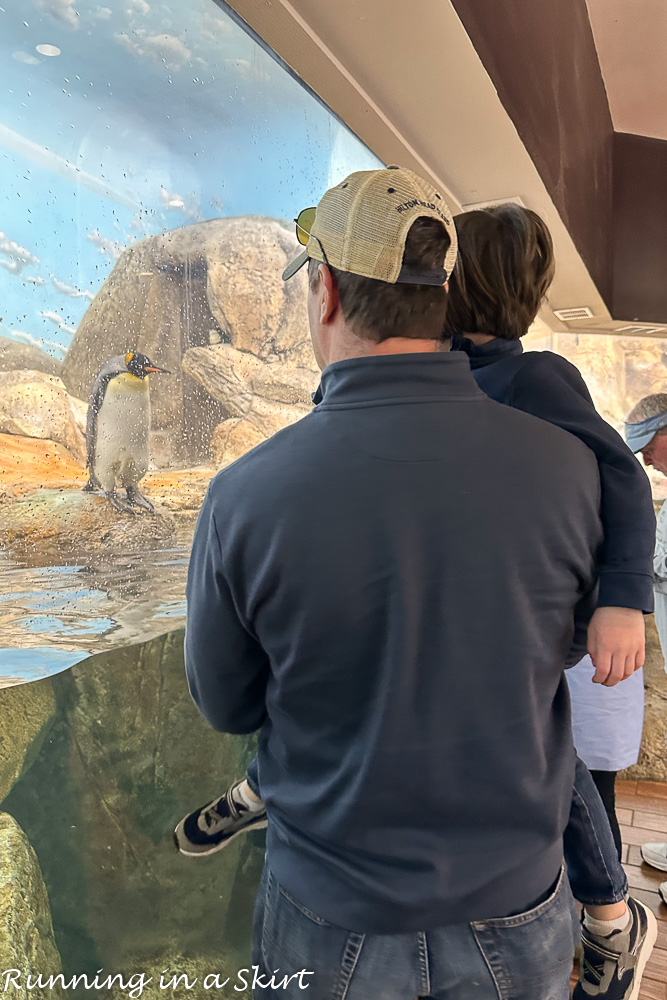 See the Sea Lion Feeding & Underwater Viewing
The Sea Lions are another really cool thing to see at the Columbia Zoo! You can stop by to see the swim or watch a special show or feeding. They also host special backstage experiences where you can help with training, see the inside of the habitat, and help prepare the sea lion's food! This is another experience that does get booked up and you do need to sign up for it in advance, but how cool is that?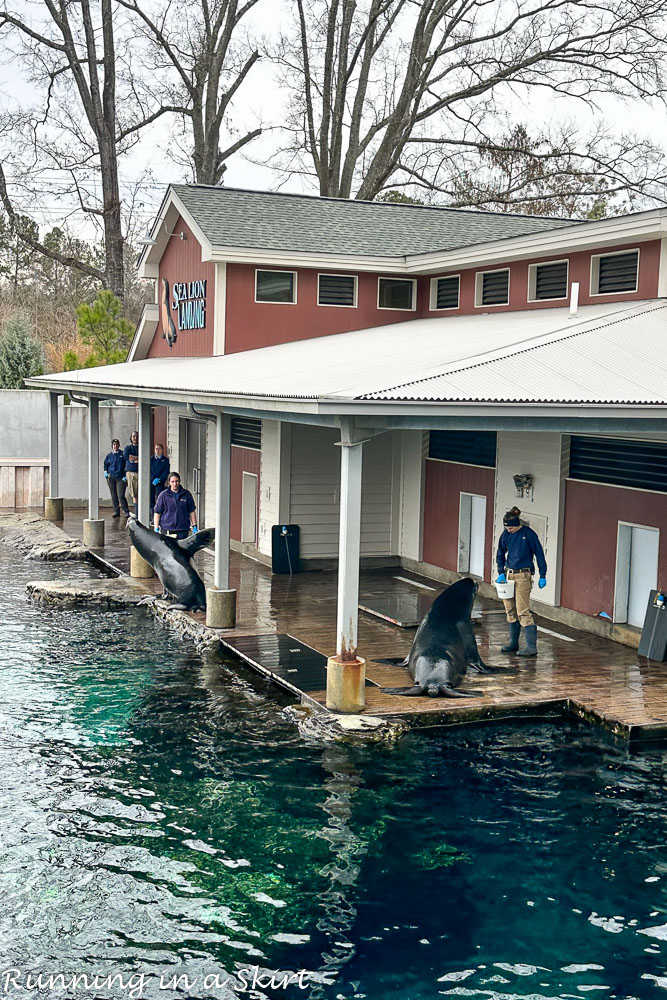 When visiting the Sea Lion area make sure to go into the building to the side of the tank. There is a really cool underwater viewing area for the Sea Lions where they zip by and seem to play with the guests. It was a hit with all of our kiddos.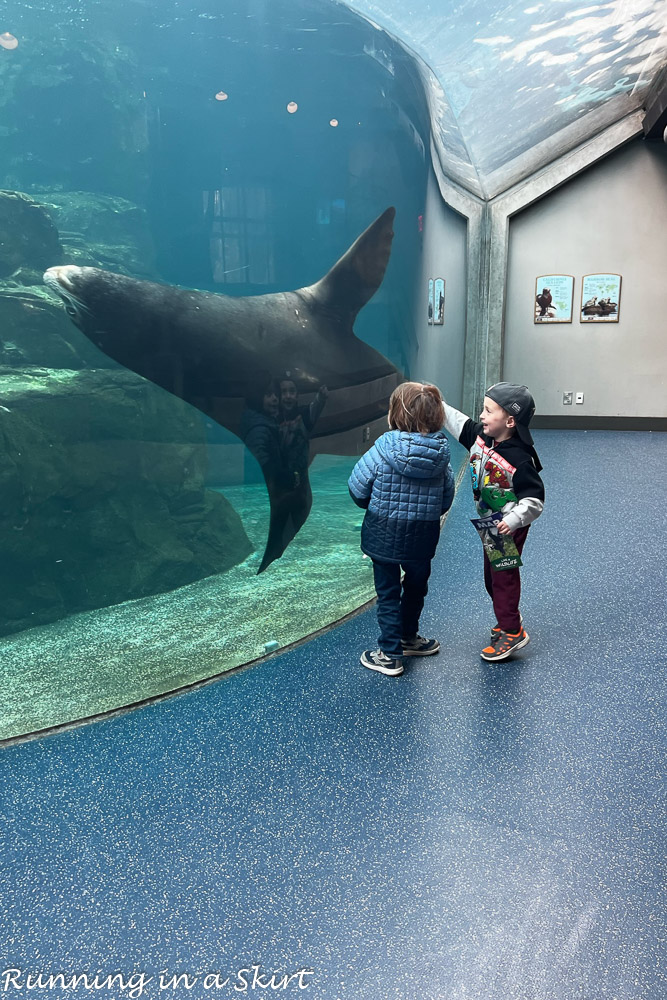 Pose with the Flamingos
At the entrance to the aviary or birdhouse at the Riverbanks Zoo Columbia SC is a fun spot with flamingos. It's the perfect spot for a photo!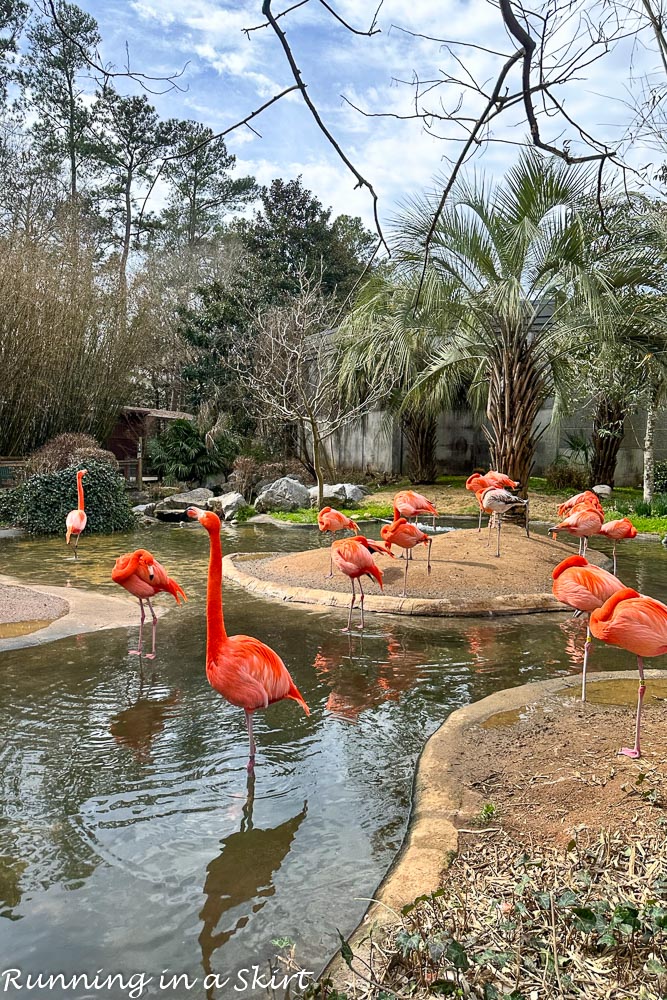 Find the Photo Opps
And speaking of photos, the Columbia Zoo has all sorts of fun animal statues the kids can climb on and make the cutest photo opportunities for kids and families. Have the kids find all that they can and then snap away!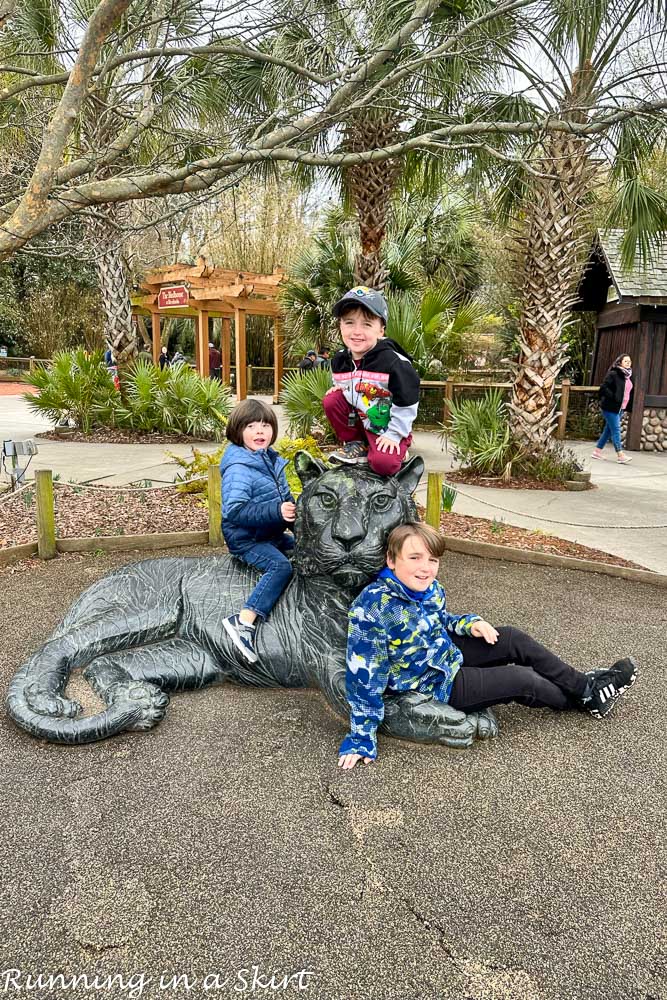 Explore the New Aquarium and Reptile Conservation Center
The aquarium reptile complex has just gotten a major upgrade. The Darnall W. and Susan F Boyd Aquarium & Reptile Conservation Center opens in 2023 and is a new multi-million dollar area that has been recently renovated. In addition to being a spot to see wildlife, it's also an animal care facility giving animals an opportunity for wildlife conservation. It's also home to a 55,000-gallon coral reef tank.
Visit Waterfall Junction at the Botanical Gardens
You might think that the Botanical Gardens aren't for kids, but they actually have one of the most fun attractions for kids, especially in the warmer months. Waterfall Junction is a water play area with a 25-foot cascading waterfall, splash pad zones, a play area, and an area for kids to "dig" for dinosaur fossils.
The kids do get pretty wet at the splash pad, so pack a swimsuit, towel, and change of clothes. They are also required to wear water shoes in that area. It's one of the highlights of your trip.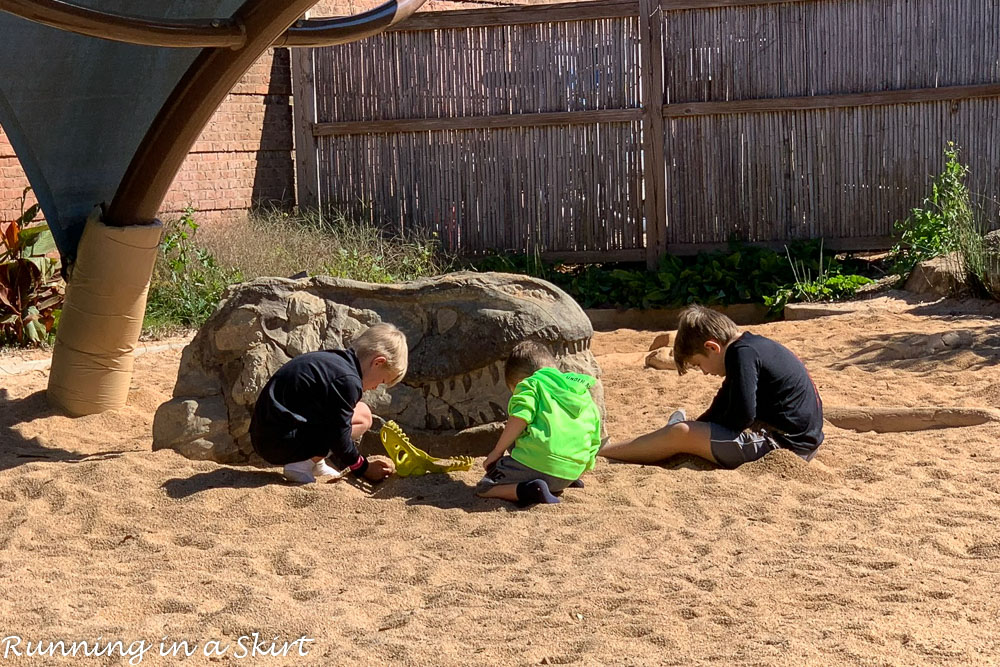 Riverbanks Zoo Columbia SC Special Events
The Riverbanks Zoo Columbia SC is also known for hosting a fun collection of year-round special events! They are all fun and popular in the community. Here are the ones they hold most years. Check this signature events page for the exact dates and tickets.
We Loved the Riverbanks Zoo Columbia SC!
Whether you call it the Riverbanks Zoo Columbia SC or simply the Columbia Zoo, we simply loved our visit to this special spot! During both my visits I've been surprised at how well done the zoo is. It seems like an attraction for a much bigger place than Columbia. There are magnificent animals and matching experiences to keep everyone engaged.
I hope this guide helps when you visit Riverbanks zoo. Make sure to check their website before you go for any updated information and hours as they may change.
If you plan on visiting more than once during a year, they have popular zoo memberships which cut on the costs of the extra experiences. My sister-in-law lives in Columbia and uses her membership a lot and recommended it!
Riverbanks Zoo Travel Guide
Click To Tweet
More Nearby Animal Attraction Travel Guides: