Happy Fashion Friday!
It's been a lovely week in the mountains. With the exception of yesterday the weather was warm enough to run and eat outside several times. I know there are a million reasons to be worried about this early spring, but it feel so nice.
The most exciting thing that happened with Makena "graduated" from puppy school last night. She even got "star puppy!" Now to be clear ALL the puppies ended up getting the star puppy medal (kind of like a finishers medal)... but several people told me she was most improved- haha! She still has a long way to go, but she is starting to listen a little more. Honestly I'll settle for not jumping on people, including me, at this point though! lol!
This weekend my college roommate Lori is coming over for the day from Charlotte with her son Dylan. It will be nice to have some company with the Hubs working overtime.
Did you miss this on the blog?
Let's talk fashion now, shall we? I got this dress at Old Navy a few weeks ago. It's such a fun piece for spring and the deep yellow is a fresh color for the year. I'm seeing it in all sorts of stores. Also, florals are back for spring 2017 and bigger than ever. This is a great dress to showcase them.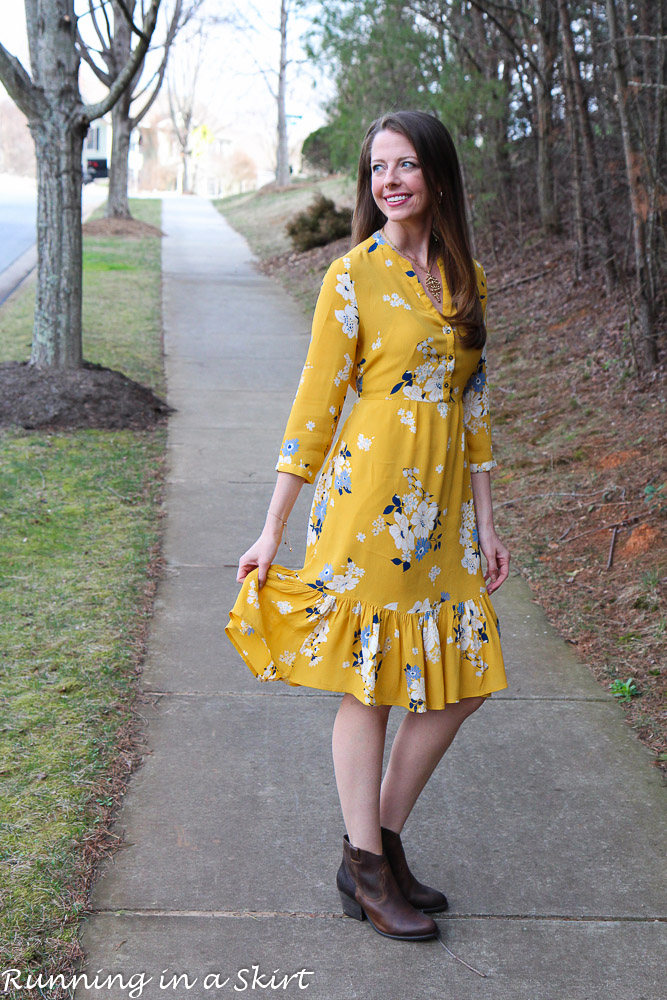 I'm more than a little happy about florals being back. My flower child heart has always been a fan! I've kept wearing them, but at least I'm in style now :-).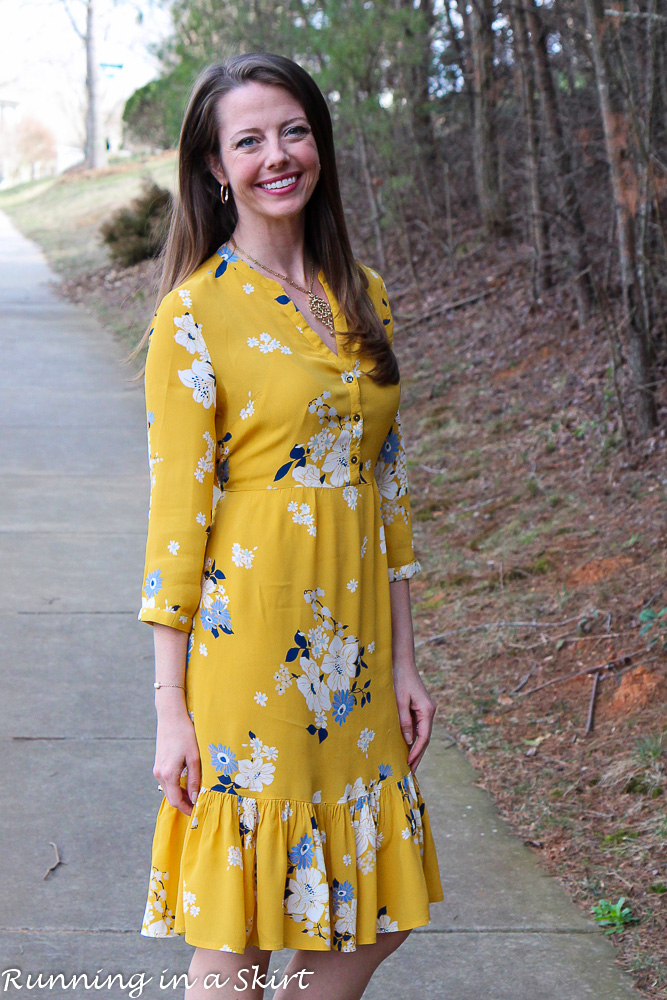 I paired the dress with one of my favorite filigree necklaces and ankle boots. As it gets warmer, you could do flats or sandals with this dress easily. Gold tones look lovely with this shade of yellow.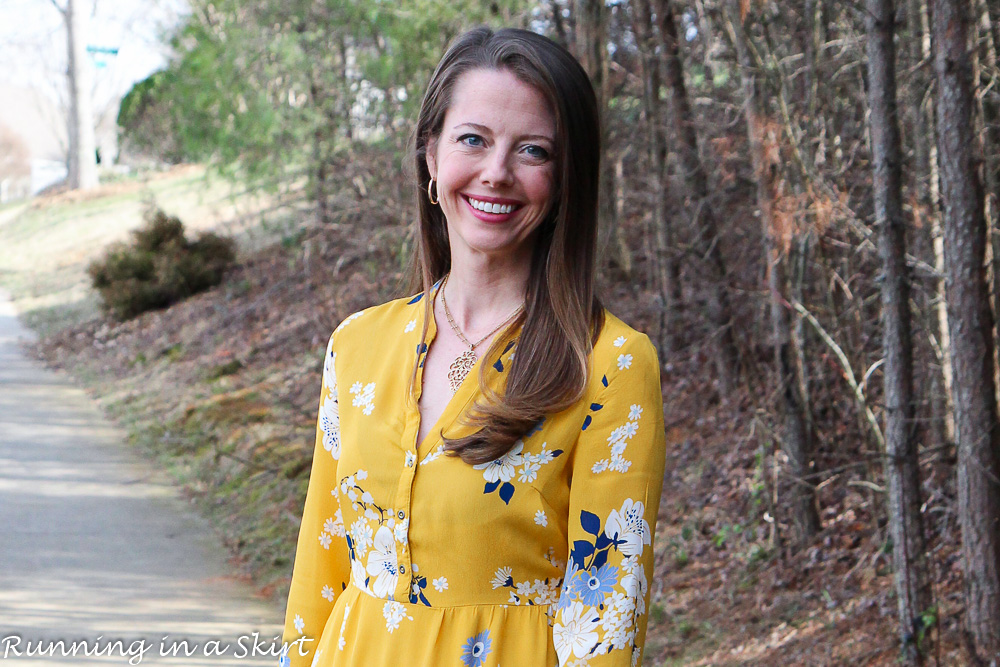 I think this look is a great way to usher in the warmer weather that seems to have arrived crazy early this year!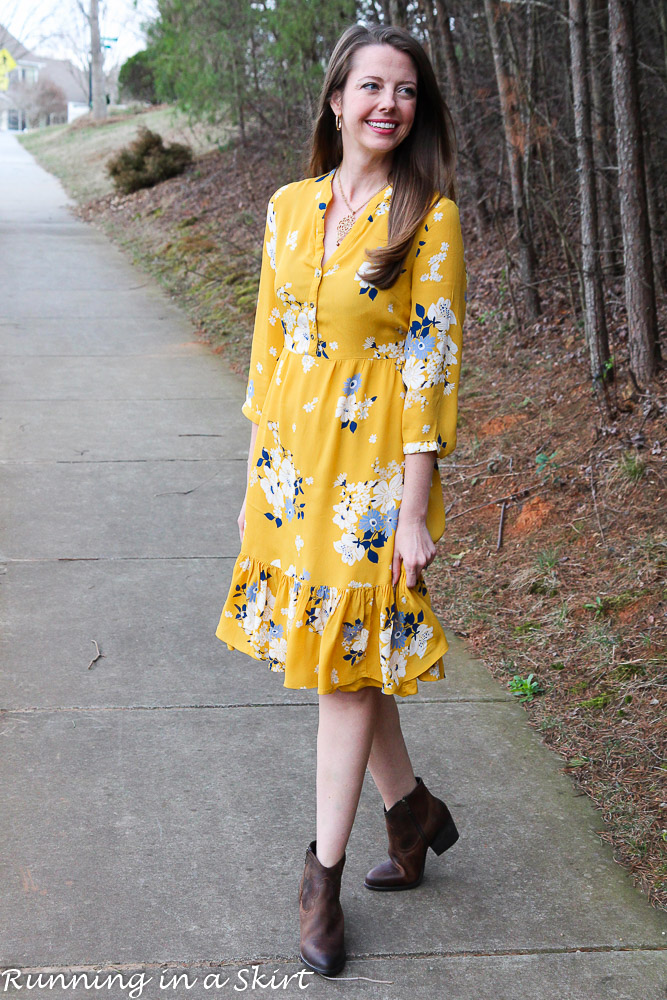 I hope you like the look and get a little fashion inspiration from it.
Have a beautiful, blessed weekend. I'd love to hear how your week has gone or what you are up to this weekend in the comments. And as always, happy shopping!
Shop the Look:
Ankle Boots, similar here or here <--- Great deal from Target
So nice to see you today. Have a great weekend and come back Monday for March's Currently!
This post is not sponsored, but contains affiliate links. I do make a small commission for clicks and purchases. It cost you nothing. Thank you for supporting Running in a Skirt.
I'm linking up with: Nicole for the Fit and Fashionable, Jolynne Shane for Fashion Friday, Turning Heads Tuesday. Thank you so much for the lovely linkup ladies
Your turn!
What are you doing this weekend?