Get fit and strong with my HIIT Full Body Workout!
A sincere thank you to Kellogg's Special K for sponsoring this HIIT Full Body workout and refueling tips. As always I only write about products I think you will like and all opinions are my own. Thank you for supporting posts like this that allow me to publish Running in a Skirt for free daily.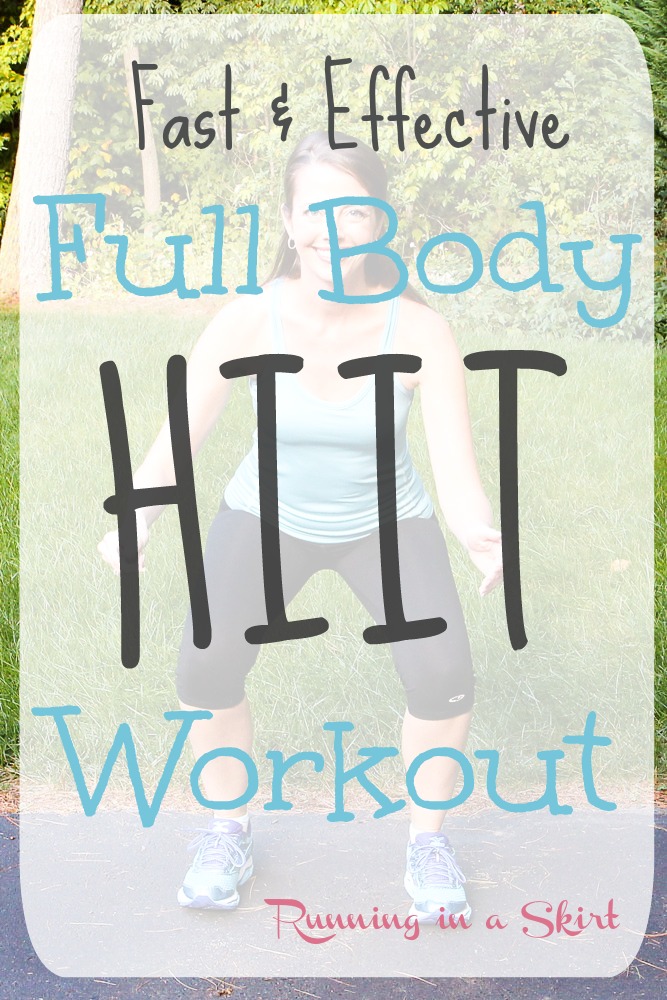 Hello! Hello!
After taking some time off of more intense workouts around the holidays, I have been all about returning to some serious sweat sessions this past month. It is so soul cleansing to get in a really good sweaty workout. If you workout regularly I'm sure you feel the same way. If you are still striving to jump on the bandwagon, let me encourage you to just give it a try. It will be hard, but I really believe you'll end up finding joy in the process and start feeling so much better about yourself and life in general.
This is cliche but true... you NEVER regret a workout.
Of course my first and true workout love is running, but I also try to mix it up with some circuit workouts like this HIIT Full Body Workout. If you aren't familiar with the term HIIT, it means high intensity interval training. It's where you do several repetitions of a high intensity activity followed by a short period of rest. So in this workout you do 45 seconds of full on, give it your all moves and then rest for 15 seconds. For beginners you can literally rest during that 15 seconds. If you are more advanced keep moving during those rest periods by walking or jogging in place but you want to allow your heart rate to come back down some.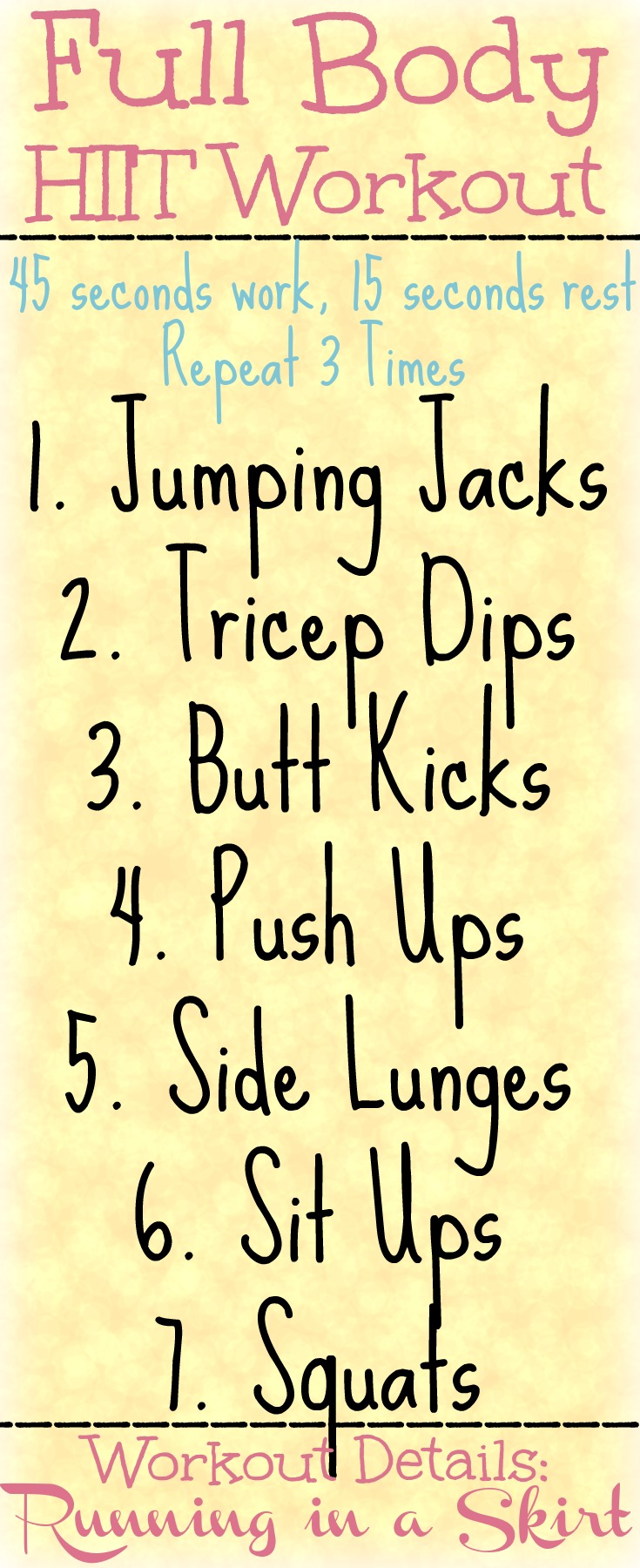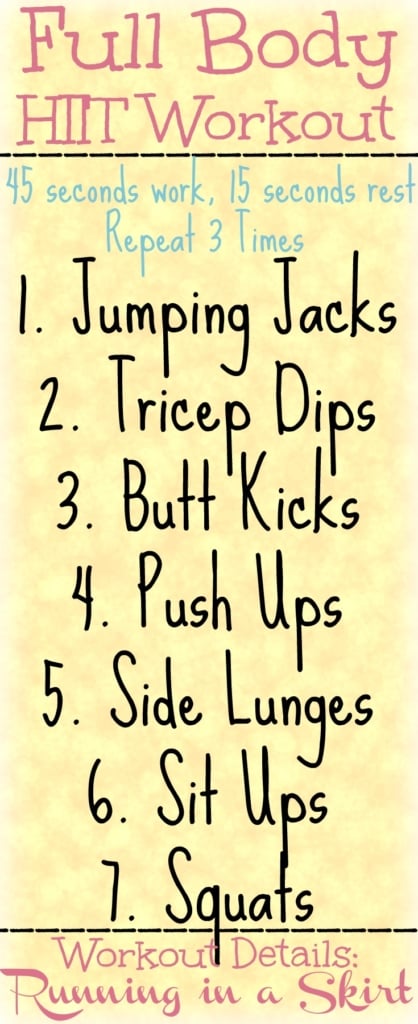 [fusion_builder_container hundred_percent="yes" overflow="visible"][fusion_builder_row][fusion_builder_column type="1_1" background_position="left top" background_color="" border_size="" border_color="" border_style="solid" spacing="yes" background_image="" background_repeat="no-repeat" padding="" margin_top="0px" margin_bottom="0px" class="" id="" animation_type="" animation_speed="0.3" animation_direction="left" hide_on_mobile="no" center_content="no" min_height="none"]HIIT Full Body Workout!- 7 Moves to Rock Your Workout Click To Tweet
Since I do spend a good deal of time running, I need my other workouts to be fast and effective. This is one series I do that I thought you'd enjoy as well. It has some cardio, mixed in with basic strength moves. Since it's only seven things it's pretty easy to remember too!
This HIIT Full Body Workout is sure to work up an appetite. To help with the hunger, I like to keep some Special K snacks nearby. I am such a fan of their new Nourish and Protein Bites. Look at these Blueberry Almond Quinoa ones!
YUM!!!!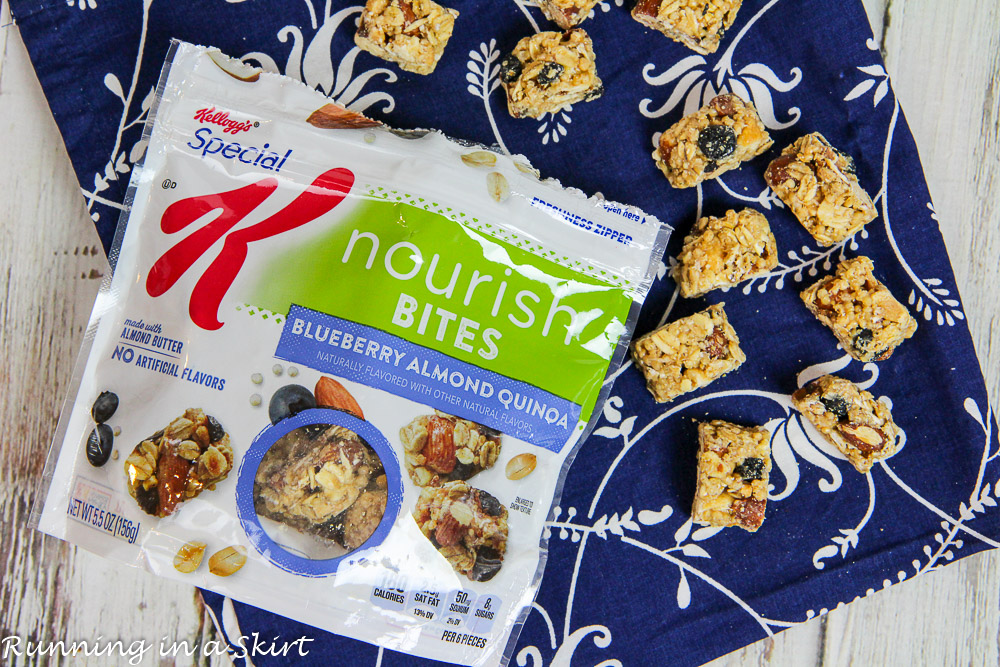 These snack bites are new to Special K and are so much fun! I like the small pop-able size where you can eat just a few to get a nice energy boost. I often don't need a big snack, just a bite of something to carry me over to the next meal and these are a perfectly portable option.
Look at the wholesome, real visible ingredients in them.
The snack bites come in the Special K Nourish Snack Bites Line OR the Special K Protein Snack Bites. The protein line has 9 grams of protein a serving. Great tasting and an ideal post HIIT Full Body Workout snack.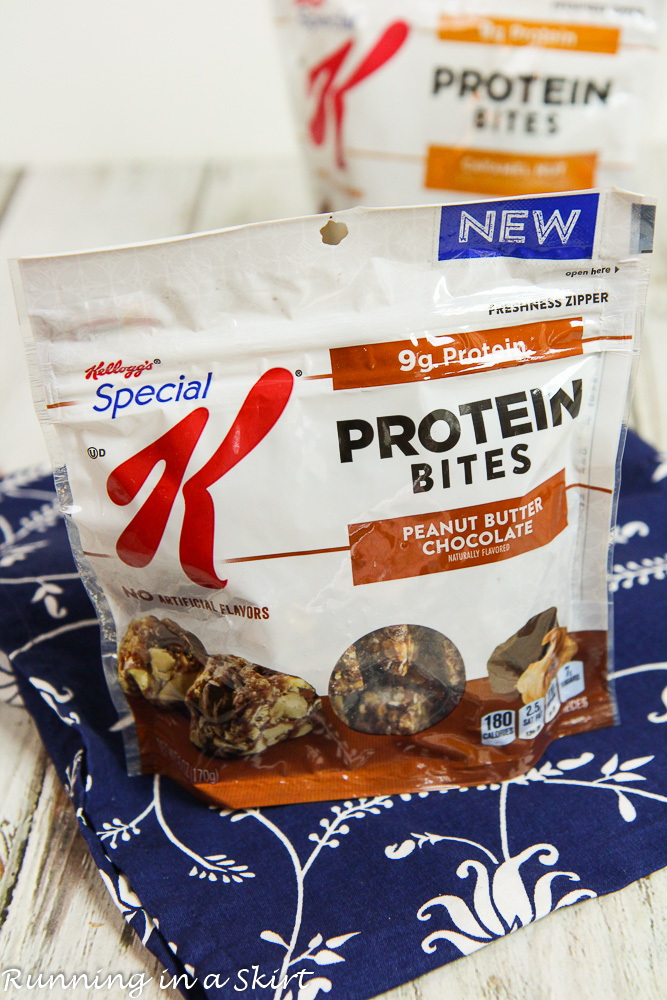 Check out all the fun flavors... Dark Chocolate Pistachio, Blueberry Almond Quinoa, Caramel Nut (protein) and Peanut Butter Chocolate (protein!)
My favorite was the Peanut Butter and Chocolate.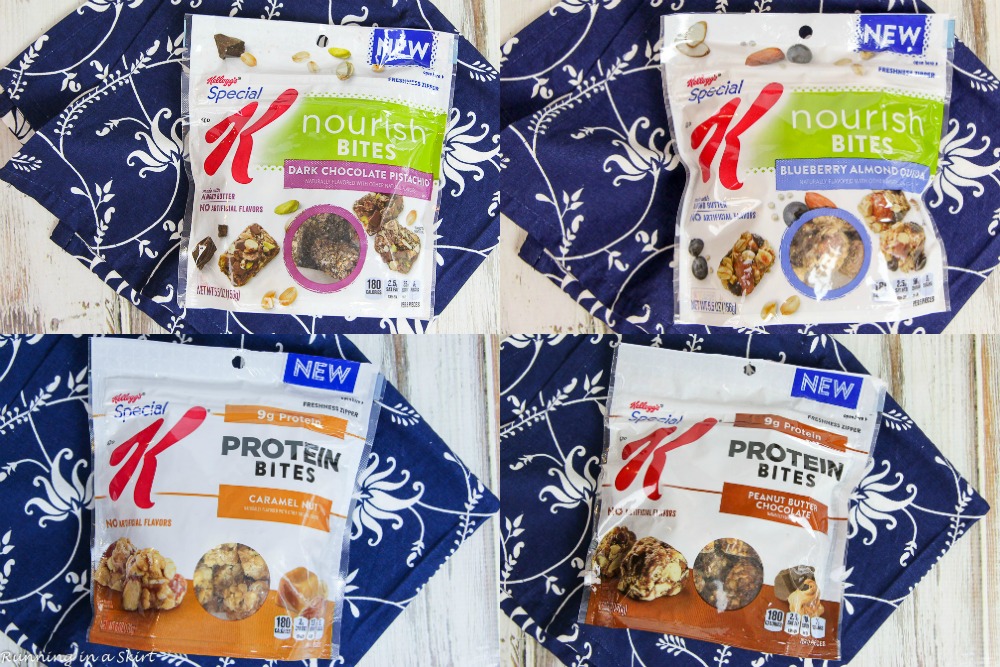 Special K also recently released several new snack bar flavors... Chocolate Coconut Cashew, Caramel Almond Sea Salt, Chocolate Cherry Nut and Caramel Pretzel Cashew.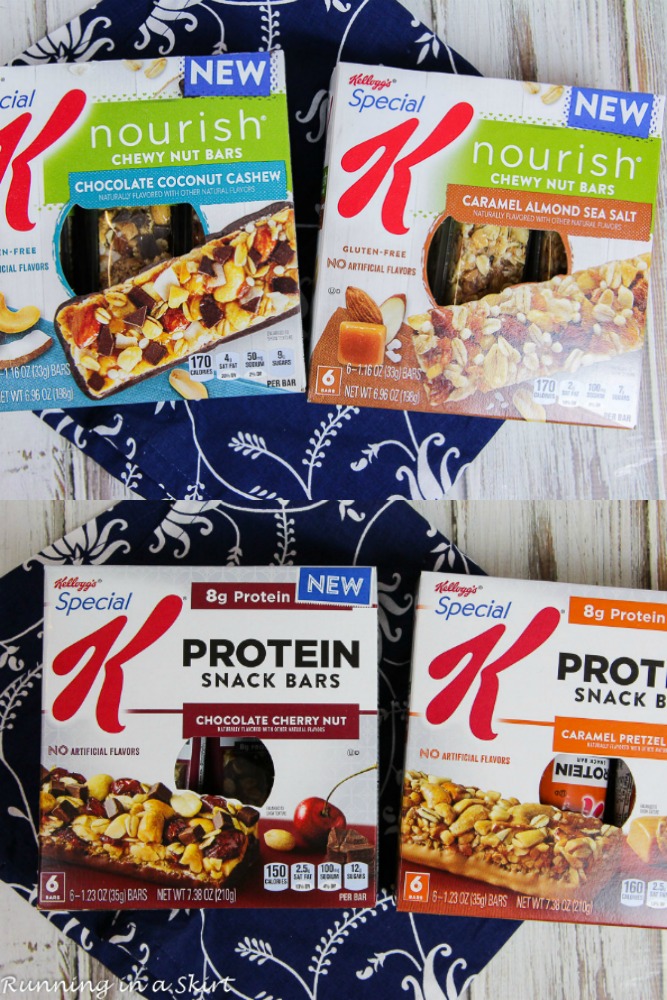 The Chocolate Cherry Nut was my favorite. I love cooking my own food, but when I need a fast snack on the go I like to keep some of these in my purse and car. They are also awesome for traveling.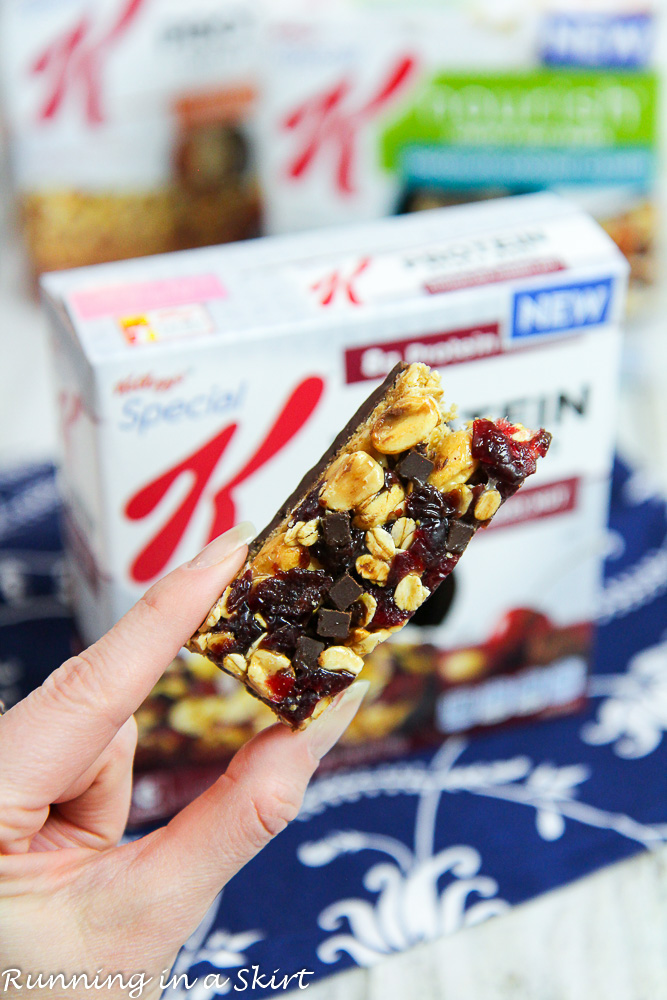 Like the snack bites, you can see the real, visible ingredients, like quinoa, pistachios, almonds and dark chocolate!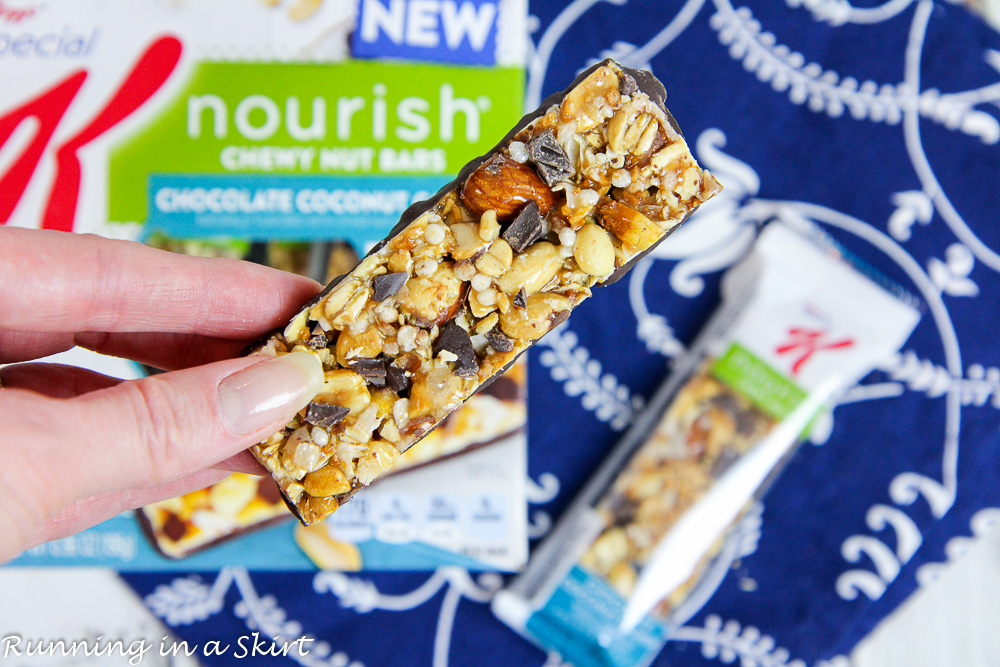 Just like giving my HIIT Full Body Workout a try, you should try something new at the grocery store with these fabulous new snack options from Special K!
Can't wait to try this HIIT Full Body Workout from Running in a Skirt!
Click To Tweet
For more information about Special K's new Nourish and Protein Snack Bites, or new Snack Bar varieties, visit Special K's website and follow @SpecialKUS on Facebook and Twitter.
This is a sponsored post written by me on behalf of Kellogg's Special K.
Thanks for stopping by today! Come back tomorrow for an inspirational message that has changed my life recently.
I'm linking this post with Marvelous Monday, Jill Conyers for Fitness Friday & Inspired to be Fit, Amanda for Thinking Out Loud Thursday, Coaches Corner, and Annmarie for Wild Workout Wednesday.
Your turn!
Have you done a HIIT workout before?
Which Special K Snack would you like to try?[/fusion_builder_column][/fusion_builder_row][/fusion_builder_container]