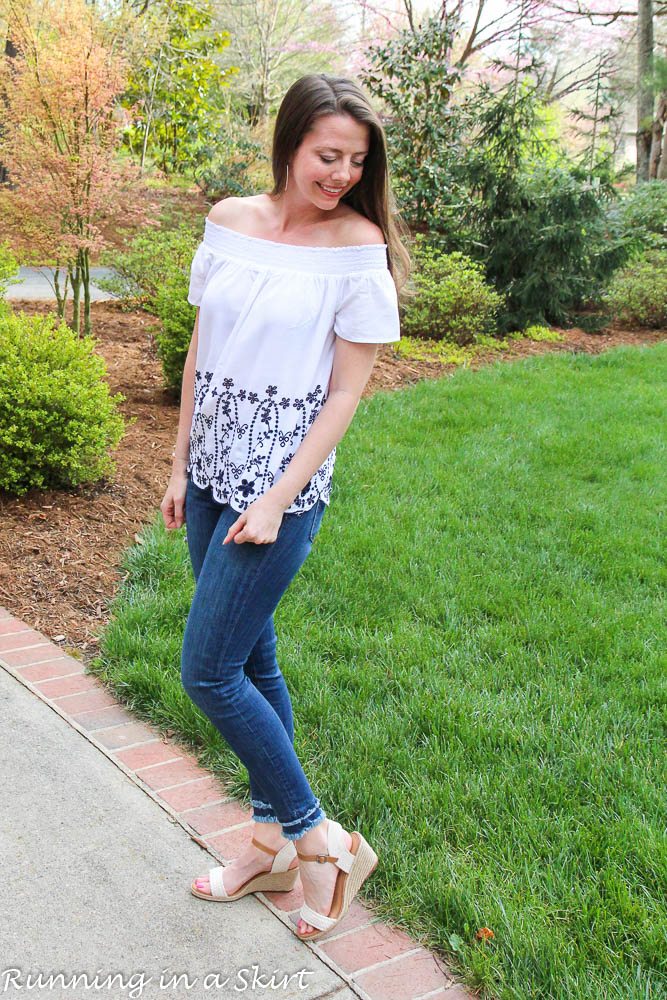 Happy Fashion Friday!
This week has once again flown by. I'm home this weekend and am glad to finally have a little downtime to enjoy being home. My house is a legit disaster from not having time to completely pick up after the bathroom remodel and traveling so much. I feel like I should share pictures just to have a total real life moment, but I'm too embarrassed! I'm looking forward to finally getting it picked up and that's my one and only goal for the weekend! Big dreams, my friends.
Did you miss this?
Fashion Friday
With spring weather being so wonky this year, it feels nice to finally be falling into a pattern of consistently warm weather. Now if only the rain would stop!
I got this shirt from Old Navy the other day. I love the classic white and navy embroidered flowers for Memorial Day weekend, which believe it or not is NEXT weekend.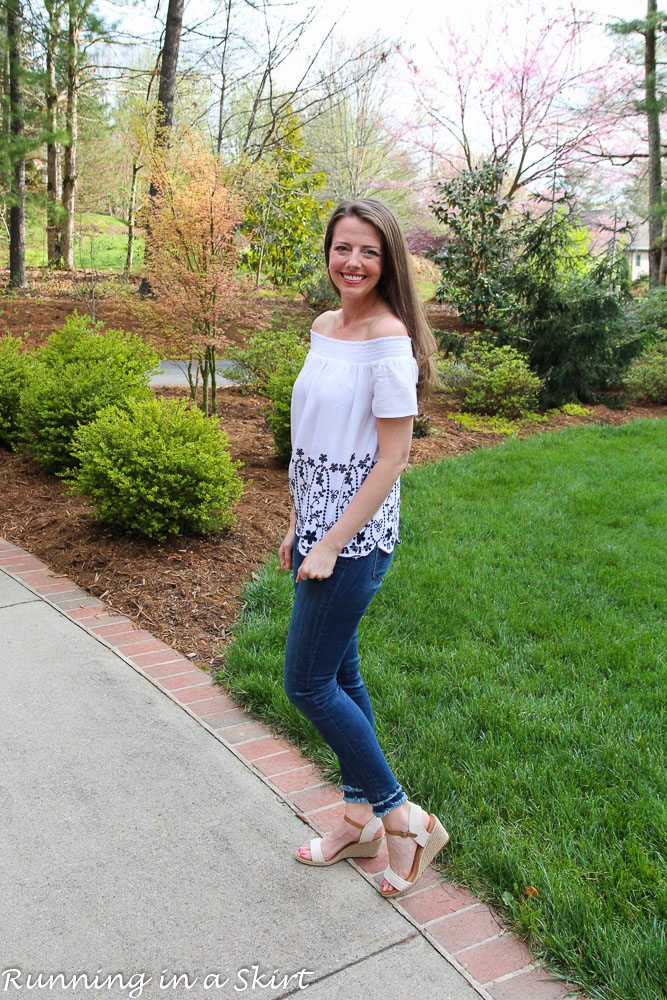 I think the pretty details on this shirt make it look a lot pricier than the twenty-something price tag at Old Navy. Plus embroidery and off the shoulder is a huge trend continuing through the summer, so you are perfectly in style with this shirt.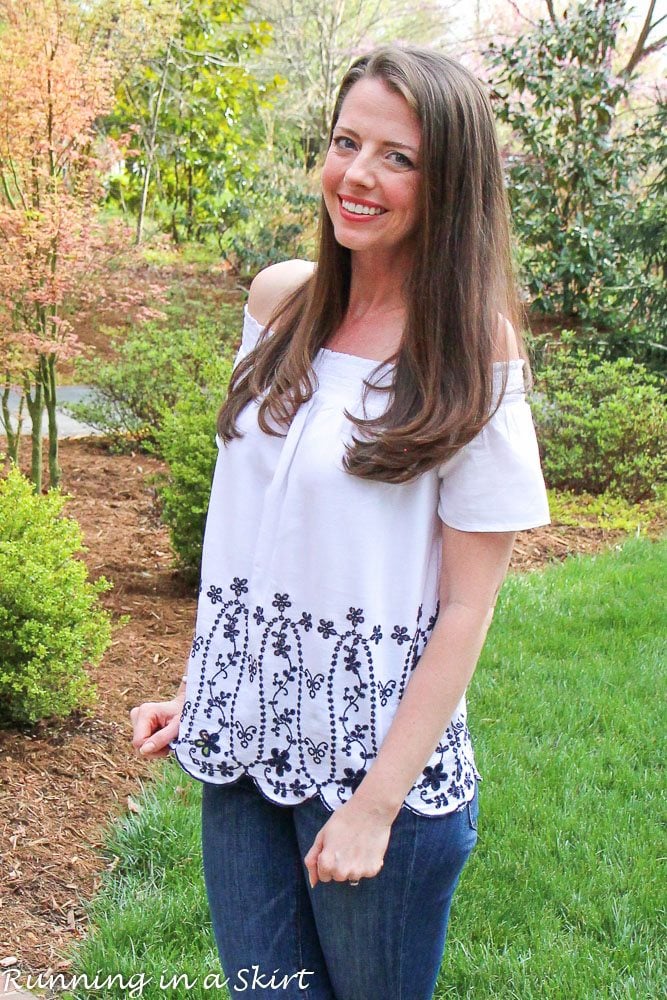 I paired it with my new double frayed jeans from LOFT and big gold hoop earings. I felt like the embroidery was a lot, so you didn't need many more accessories. I also love how the frayed edges on these jeans keep the look super casual and comfortable. These jeans are also stretchy and soft-- I'm a big fan!
The shoes are my Lucky sandals from last year, but they made a near identical pair this year which I linked to below. They go with EVERYTHING and are super comfortable. If you are looking for a really easy to wear, goes with everything summer sandal with a touch of heel... I highly recommend these.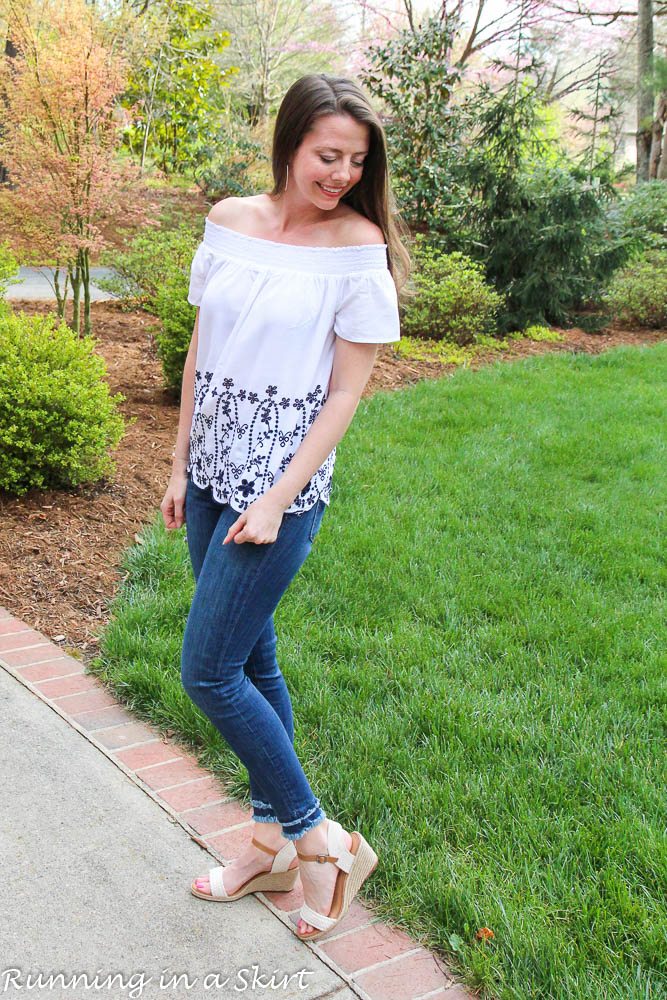 I adore this outfit for summer picnics, ball games and even a day at the winery!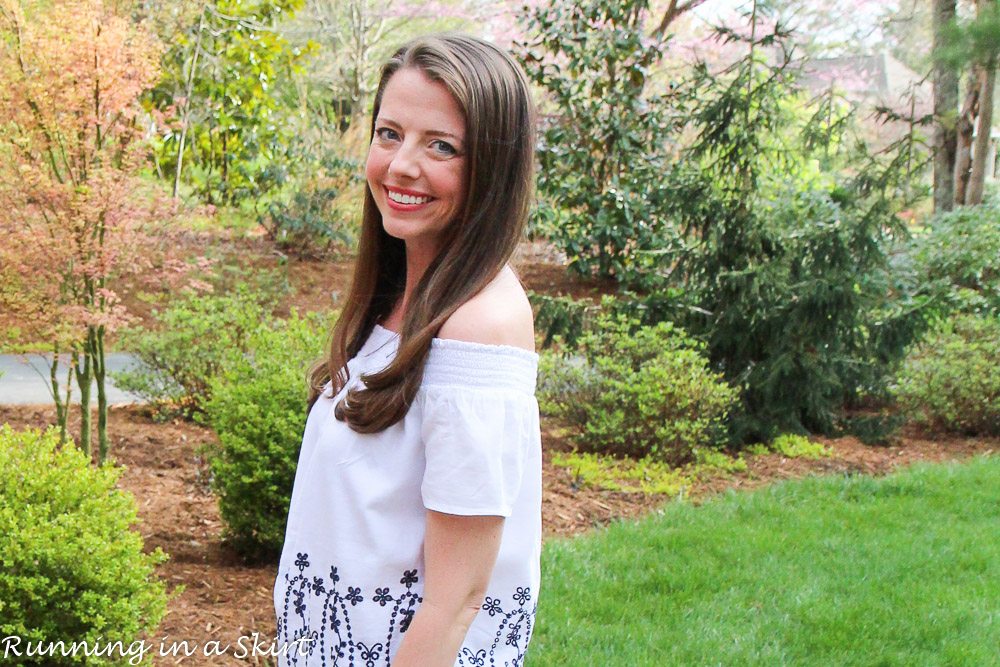 If you like the outfit, here are the links to buy it! I hope you have a blessed weekend and happy shopping.
Shop the Look
Shirt: Old Navy
Jeans: LOFT <--- I LOVE these stretchy, higher rise and soft jeans!
Shoes: Lucky Brand
So nice to see you today. Have a weekend and I'll be back Monday with a new recipe.
Your turn!
What are you doing this weekend?
This post is not sponsored, but contains affiliate links. I do make a small commission for clicks and purchases. It cost you nothing. Thank you for supporting Running in a Skirt.