Holiday entertaining doesn't have to break the bank! You'll love these easy holiday appetizer ideas from ALDI.
I'd like to thank my friends at ALDI for sponsoring this post. As always, all opinions are my own. Thank you for supporting companies who support Running in a Skirt.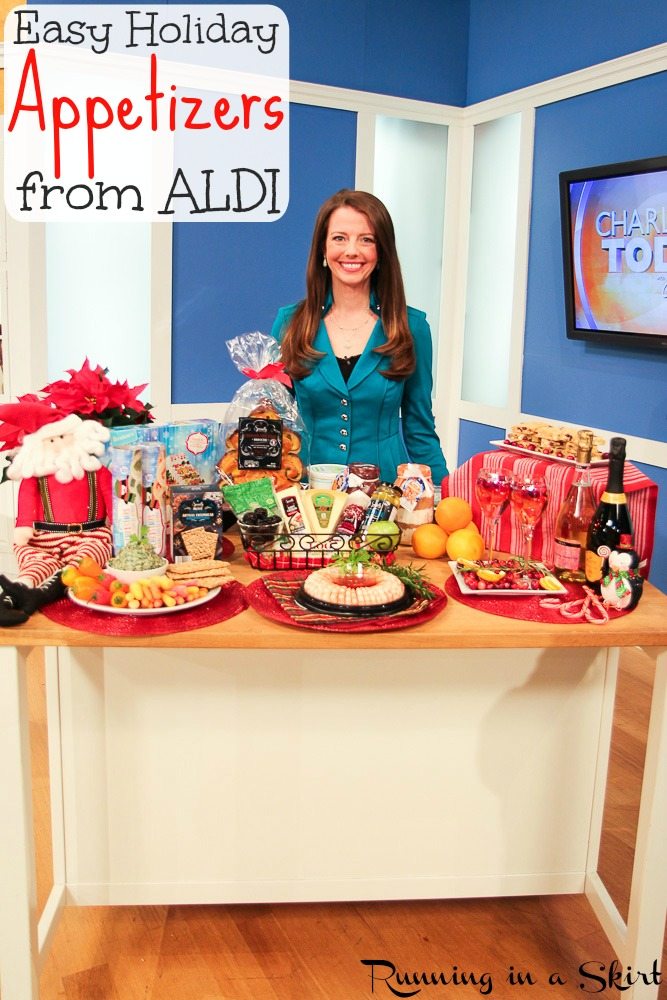 Hi everyone,
I had the best time last Thursday going to Charlotte to be a guest again on WCNC's Charlotte Today. Their lifestyle show is so much fun and I really enjoyed putting together a spread of some of my favorite ALDI finds for the show.
Isn't their Christmas set pretty???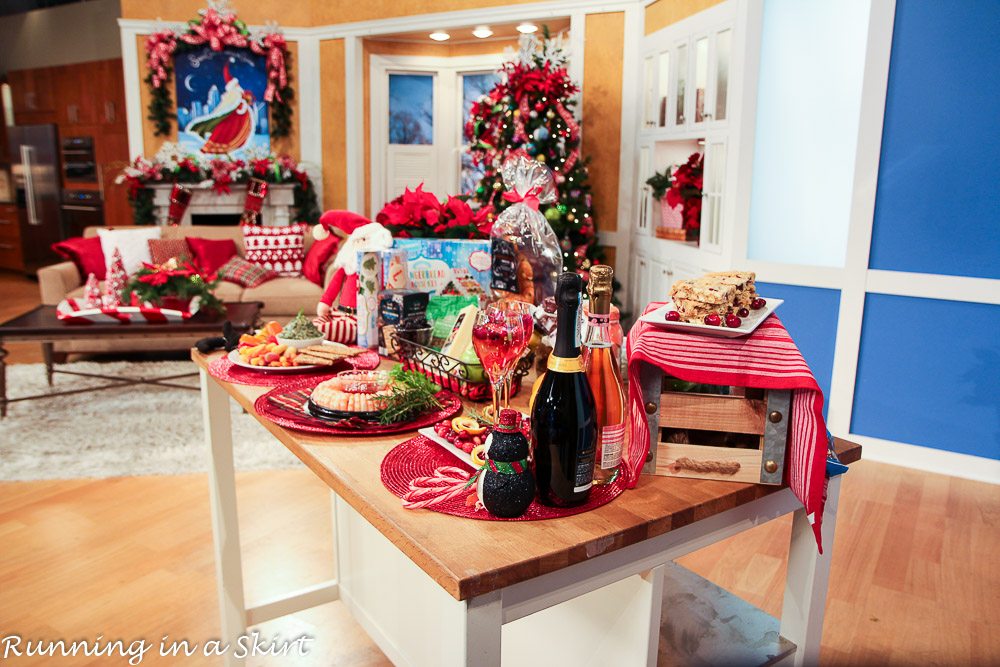 My segment this time was about holiday entertaining for less, which is honestly so easy at ALDI. We all know how overwhelming it can be to throw a party and ALDI has so many beautiful hand selected items to make your holiday celebrations memorable without breaking the bank.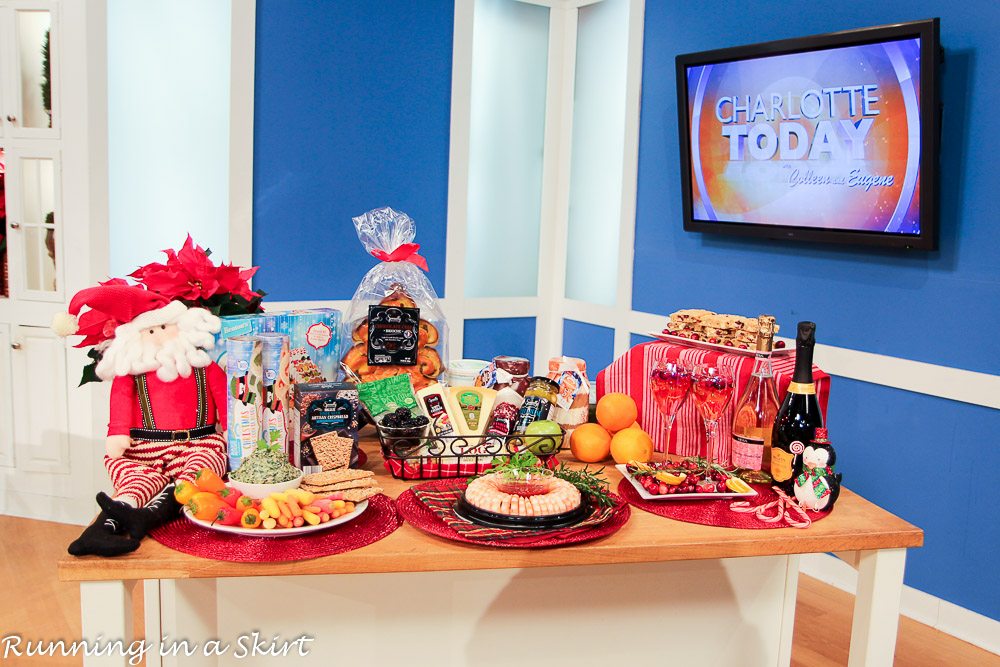 I am always amazed at ALDI prices and quality. Whether hosting a small get-together or something for the entire family I shop at ALDI . They have high-quality products including organic produce, fresh meats, seafood and gourmet cheeses to round out any menu. Plus their wine selection is award-winning, delicious and so affordable.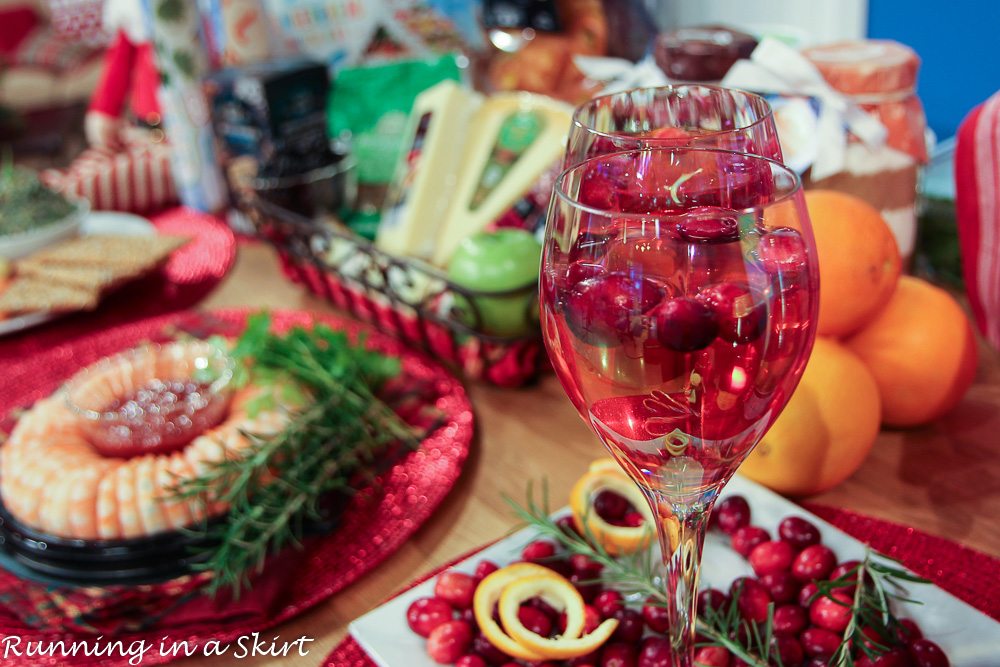 I've got a lot of great tips in my tv segment so I hope you will watch it!
Holiday Appetizer Ideas from ALDI
Low-Fat Spinach Dip
One of the recipes I shared in my segment is this Low-Fat Spinach Dip. The recipe is on the ALDI site, which is home to all sorts of great recipes using ALDI ingredients. I love the simplicity of this recipe and how it uses two of my favorite ALDI products... their Fit & Active Plain Nonfat Yogurt and SimplyNature Organic Spinach. The yogurt is a great substitute for mayonnaise in a dip and the fresh organic greens are something I always pick up in the store.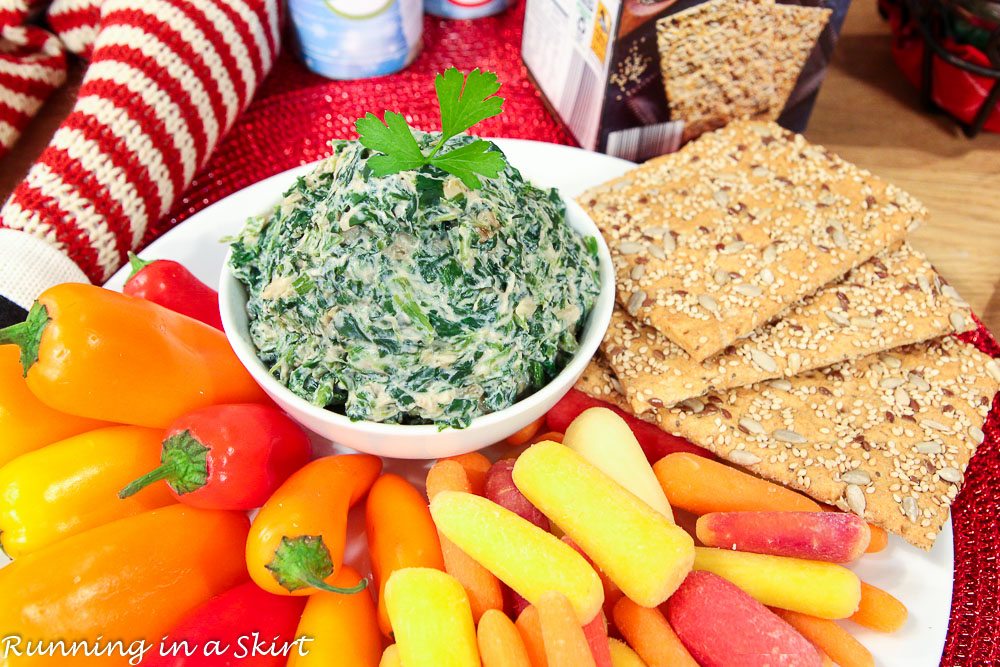 Serve the dip with Specially Selected Organic Four Seed Artisan Crispbread. These fun crackers are super tasty and I love how they are organic, like many products at ALDI.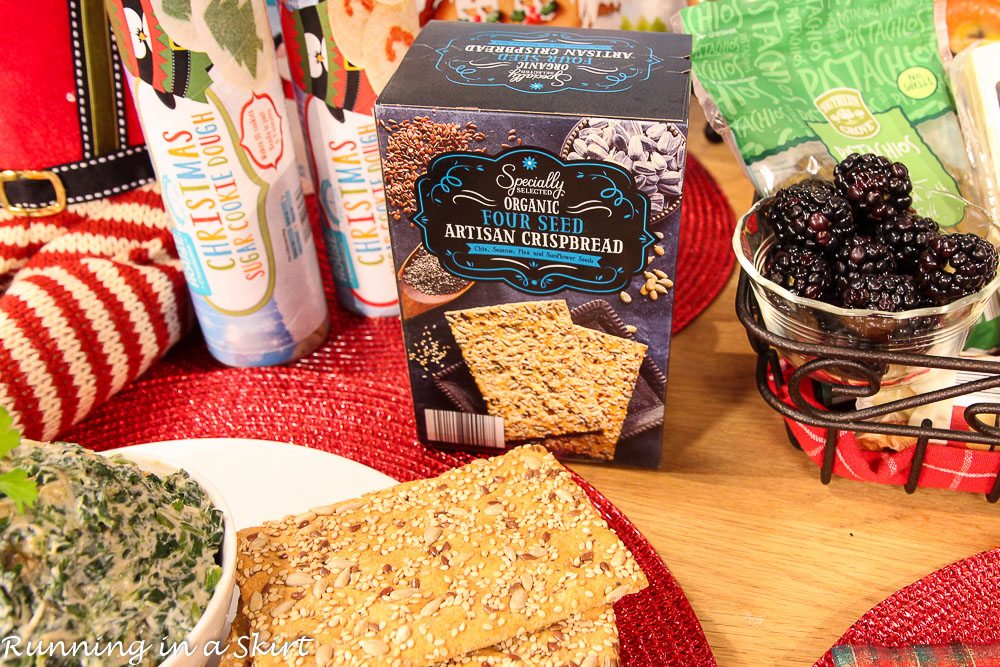 Sea Queen Shrimp Ring
This is hands down the EASIEST holiday appetizer and I promise it will be a hit. ALDI has these simple pre-made shrimp rings.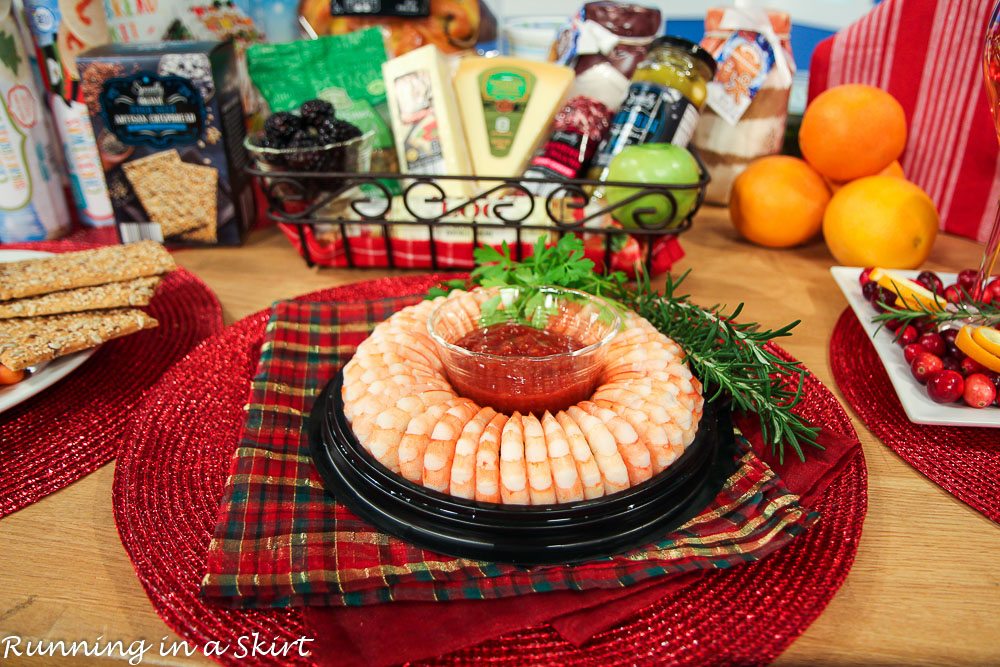 To make it a bit fancier put the cocktail sauce in a glass container, put it on a pretty placemat or napkins and decorate the ring with fresh herbs.
DONE!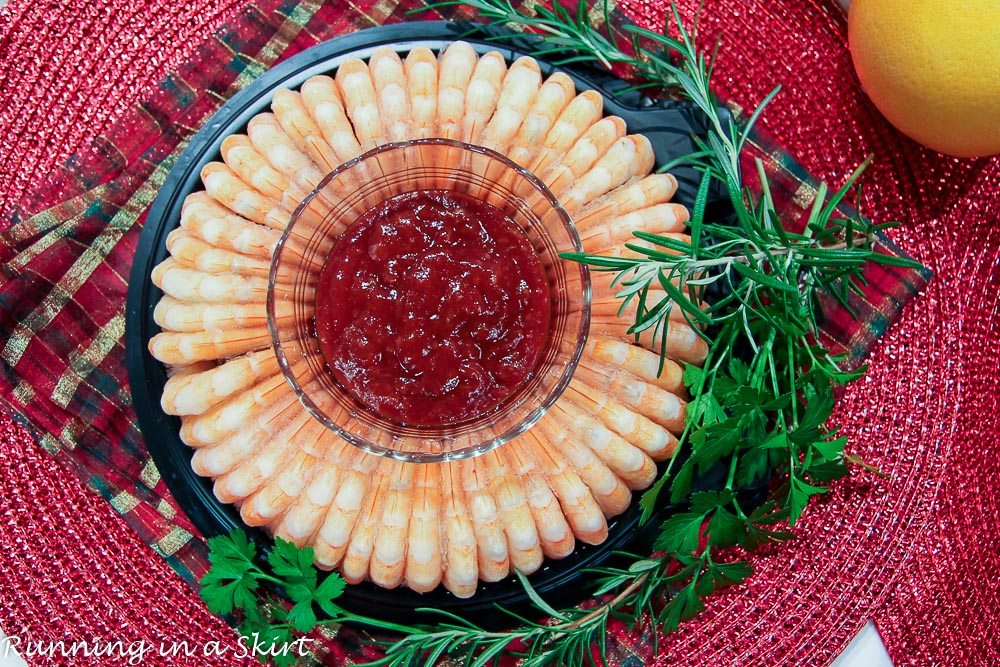 Gourmet Cheese Plate
One of my favorite things to buy at ALDI is gourmet cheese. They have such beautiful, really tasty cheese at super reasonable prices. When picking cheese for your cheese plate try to pick a combination of hard and soft cheeses. A few of my current favs are the Priano Parmesan Cheese Wedge, Specially Selected Aged Reserve White Cheddar and Specially Selected Cranberry & Cinnamon Goat Cheese. To finish it off add crackers, nuts, fruit and olives! Look for Southern Grove Nuts and Specially Selected Blue Cheese Stuffed Olives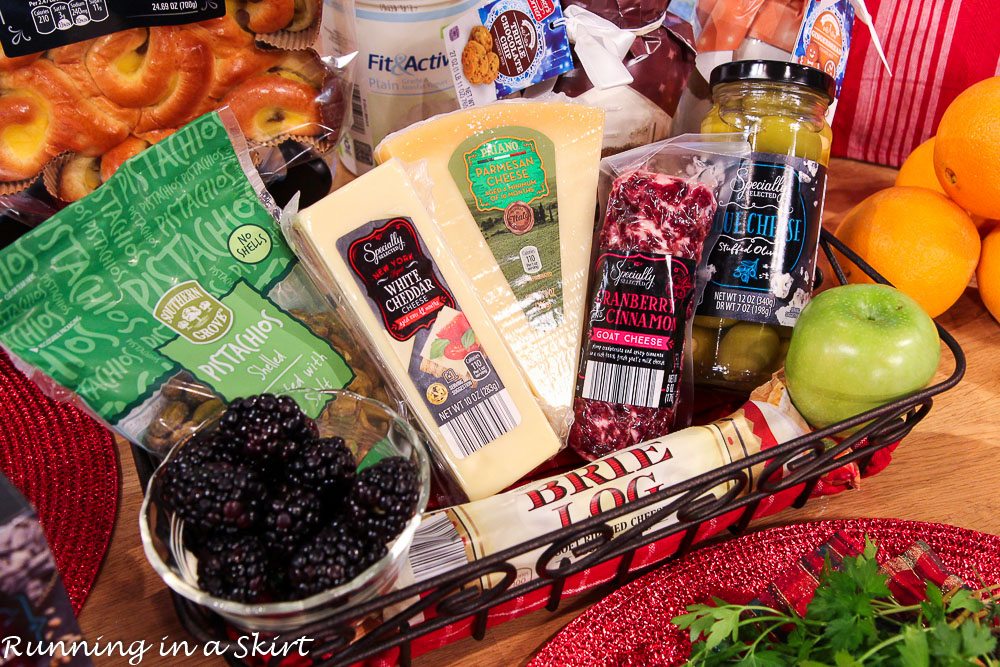 Also try these other great easy holiday appetizer ideas...
More Holiday Fun at ALDI
ALDI is stocked with all kinds of fun holiday themed goods right now. In fact, Santa (YES, SANTA! 🙂 ) has given is Santa Tested Santa Approved Seal of Approval to 15 products storewide like these Bake House Creations Christmas Sugar Cookie Dough, Benton's Gingerbread House and Specially Selected Chocolate Chip Brioche.
Most of these give you the gift of time in the kitchen by making your holiday preps a little easier.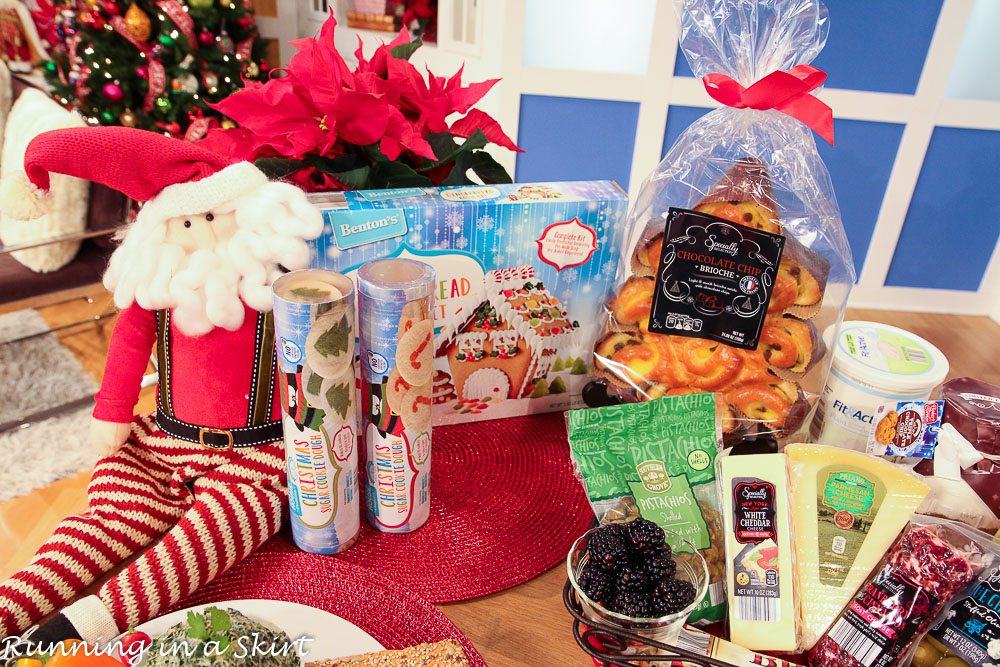 If you have been curious about ALDI in the past, now is the time to try them! They recently announced a $3.4 billion capital investment to expand to 2,500 stores nationwide by the end of 2022. The expansion will make ALDI the third largest grocery retailer in the country by store count! So hopefully one will be near you soon, if it's not already.
In the Charlotte area 26 stores have already been upgraded and five more are getting a remodel in the new year.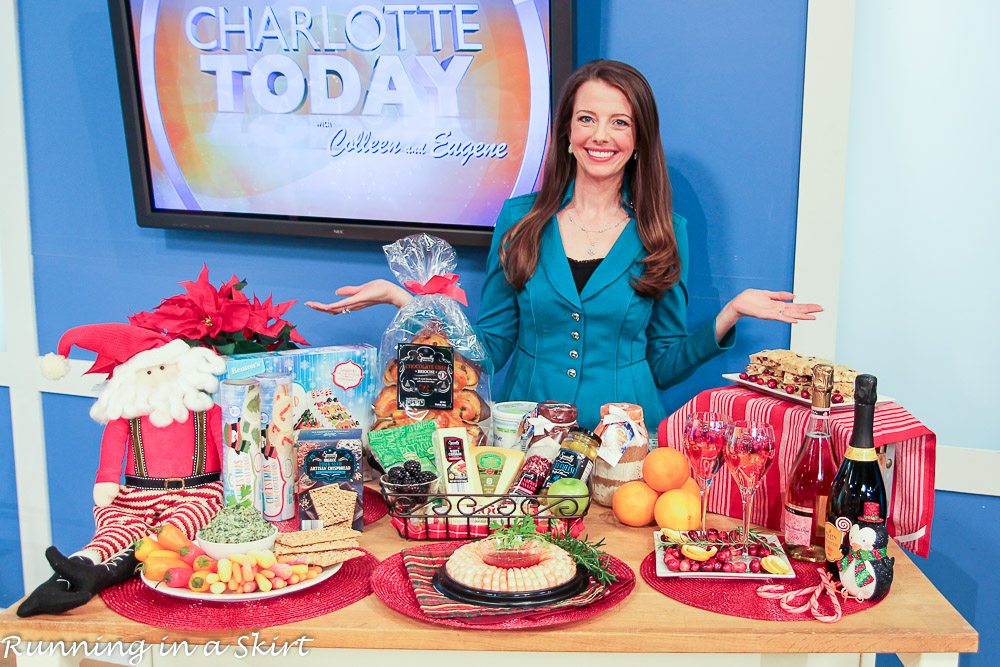 Hope you enjoyed these easy holiday appetizer ideas! Next week I'll share my Asheville TV segment plus some last minute dessert and drink ideas.
Like this post on easy holiday appetizer ideas? Pin this to your favorite board!


Love ALDI? Also read these posts...
Your turn!
What's your favorite holiday appetizer?
What's your favorite thing to buy at ALDI?