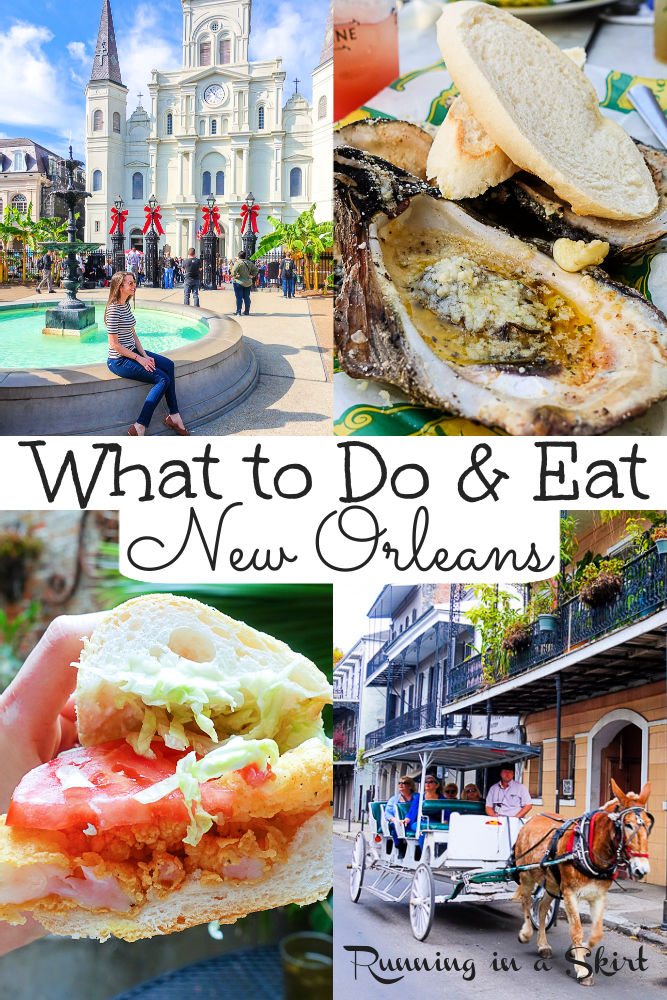 Got 48 hours in New Orleans? Here's the perfect itinerary planned by locals.
I'd like to thank my friends at Cambria Hotels for sponsoring this post. As always, all opinions are my own. Thank you for supporting companies who support Running in a Skirt.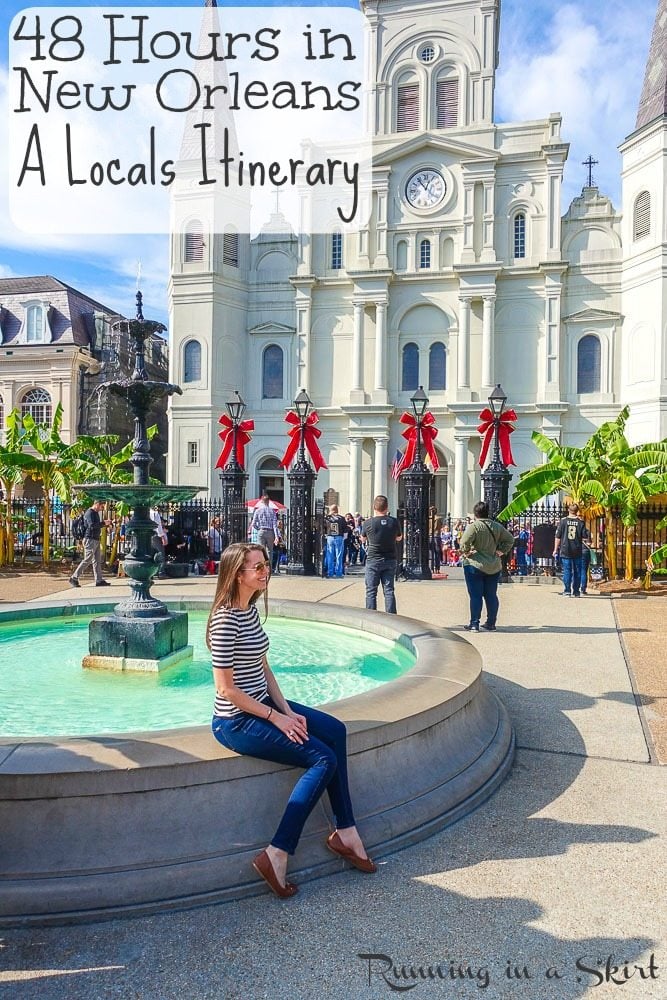 Hello! Hello!
I'm so excited to share with you part of my recent New Orleans trip today. I was invited by Cambria Hotels to take part in its Cambria Blogger Shuffle, the Asheville-New Orleans edition! I swapped cities with New Orleans bloggers Babes & Beignets, who created a fantastic travel itinerary for me to help me get the true NOLA experience. The hotel just opened a brand new location in New Orleans and is about to open one in Asheville, and invited the Hubs and I to New Orleans to check it out! They are sending New Orleans bloggers, Babes and Beignets to Asheville this upcoming weekend, and I planned out an itinerary for them to explore Asheville. As you can imagine I was beyond thrilled to be involved. Neither the Hubs nor I had ever been to New Orleans so this was the perfect opportunity.
Hello New Orleans!
Before I dive into what we did and what you can do with 48 hours in New Orleans I thought I'd gush a little about the fabulous hotel we stayed in, the Cambria Hotel New Orleans Downtown Warehouse District, which was perfectly located between the French Quarter and Garden District of the city.
If you haven't heard of them yet, Cambria Hotels is part of the Choice Hotel group. It's their newer, upscale brand that is delightful.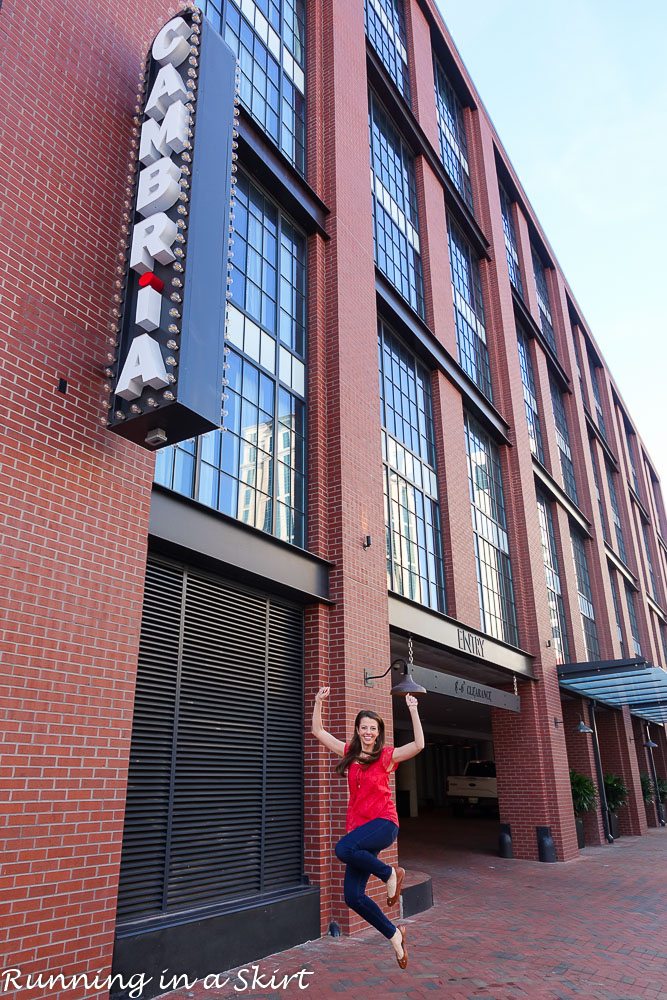 The hotel feels like an upscale experience from the moment you walk in. The lobby is warm, comforting and uniquely NOLA.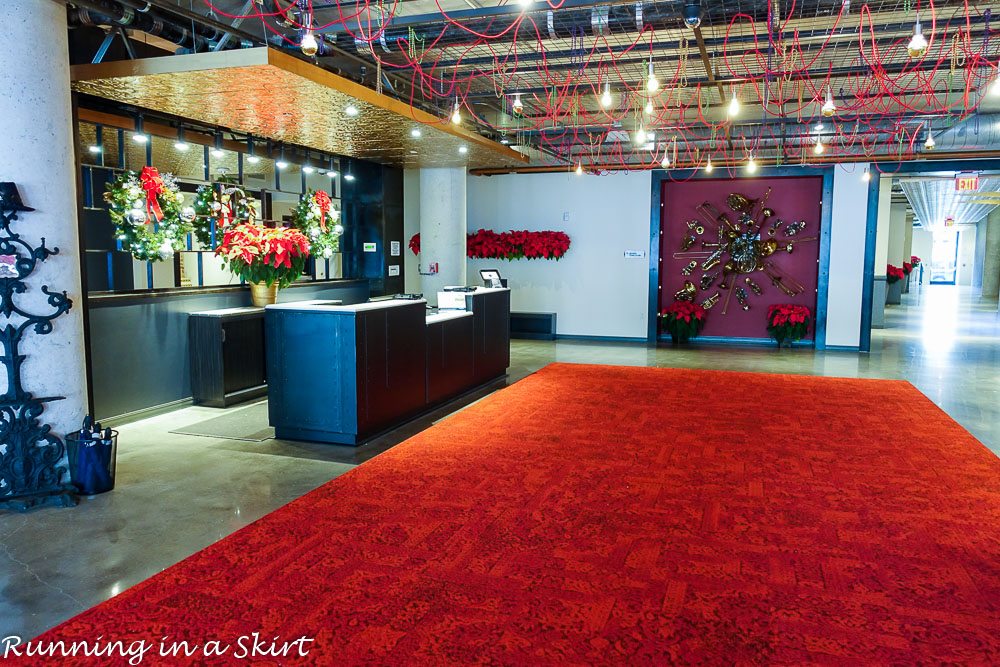 There are fun touches everywhere that remind you of the city and make the hotel far from cookie cutter.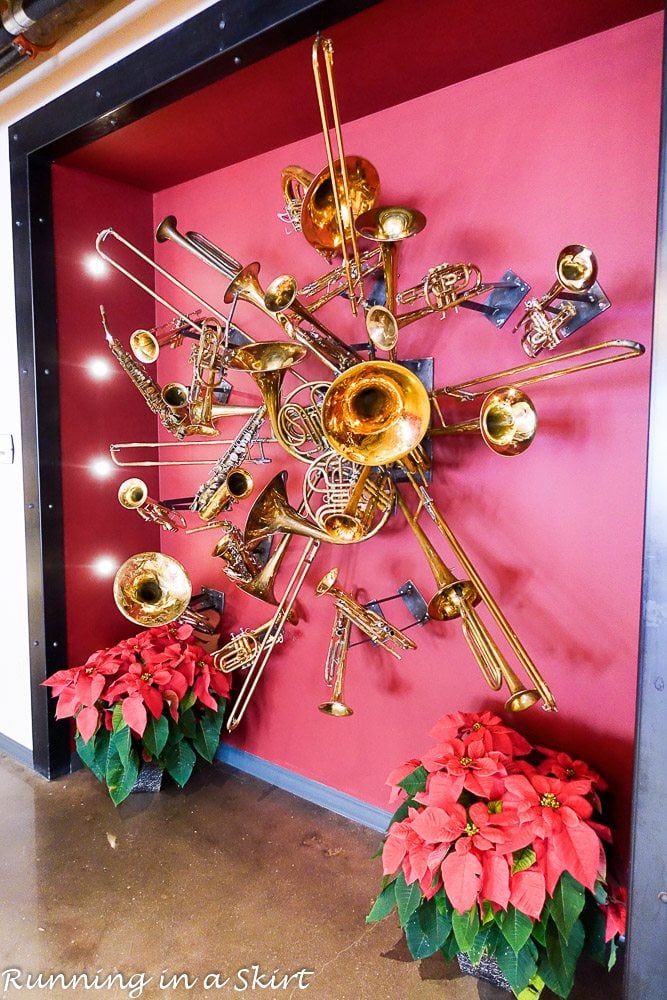 All of the Cambria Hotels, including the Cambria Hotel New Orleans Downtown Warehouse District are perfect for tourists or business travelers with fabulous amenities including fast, free Wi-Fi and on-site gyms.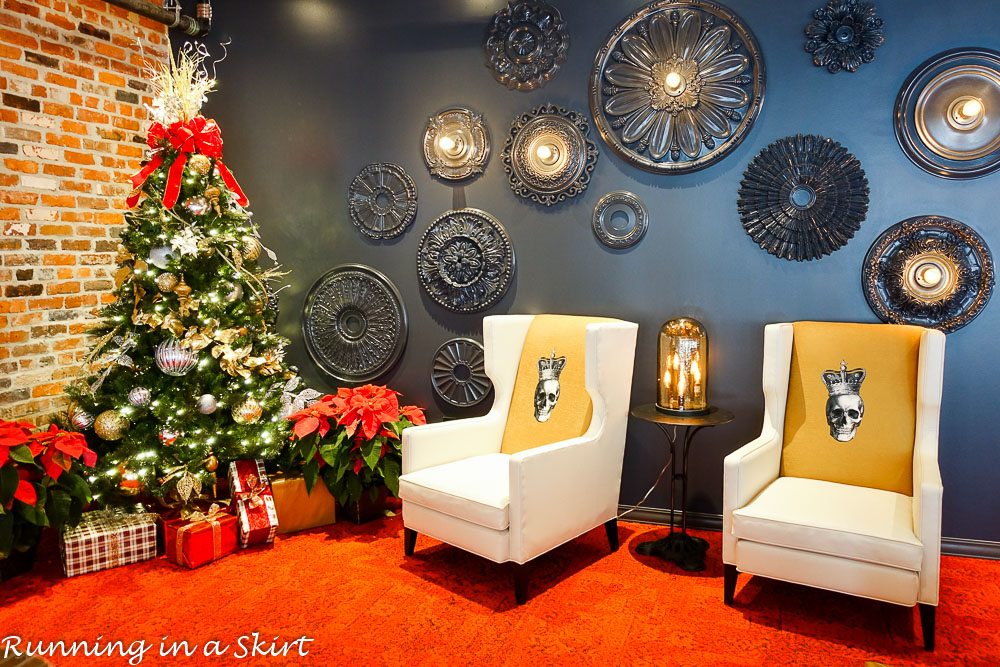 Our room was simply dreamy! It was huge and felt like an upgrade with high-end, modern finishes and design. We instantly felt right at home.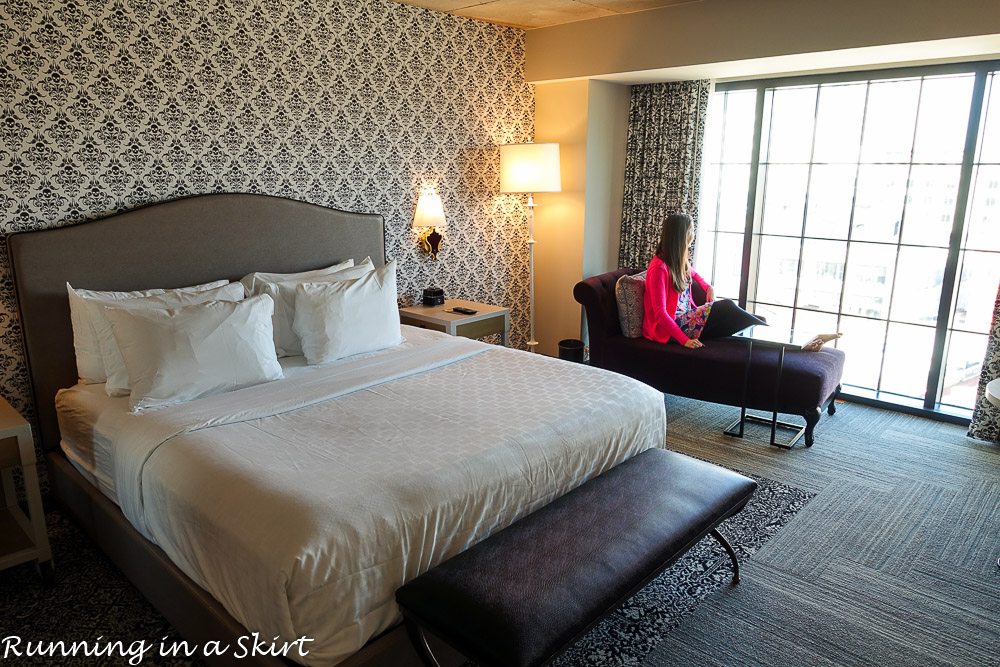 Our room even had an adjoining living area with these funky photos of famous New Orleans folks. I thought the pictures were so fun and funny.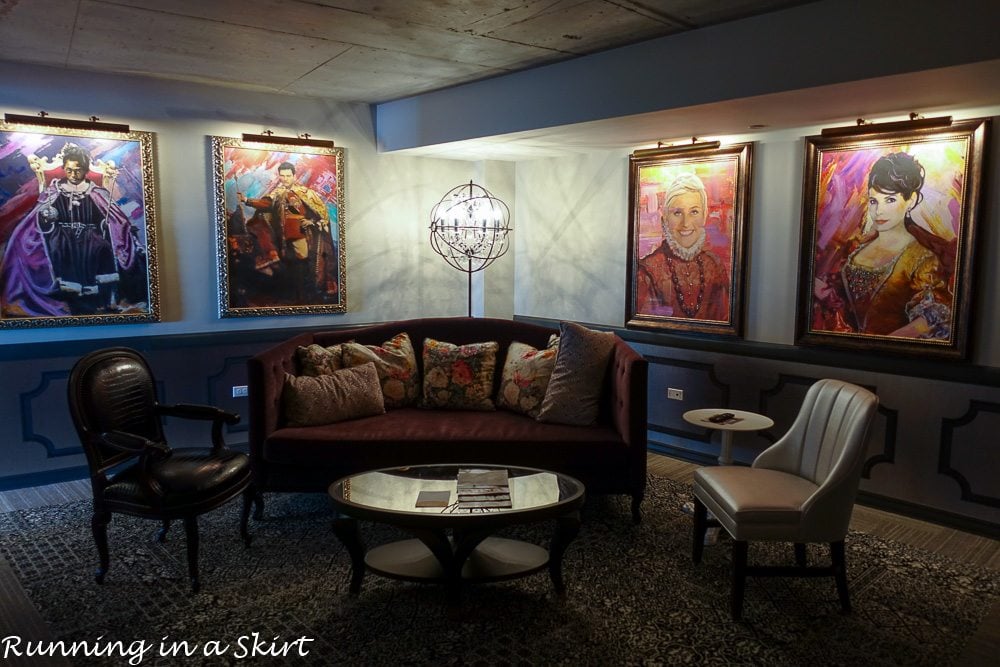 The bathroom was spa-like with over-weighted towels, beautiful fixtures and decor. I seriously wanted to transport this bathroom back to my house!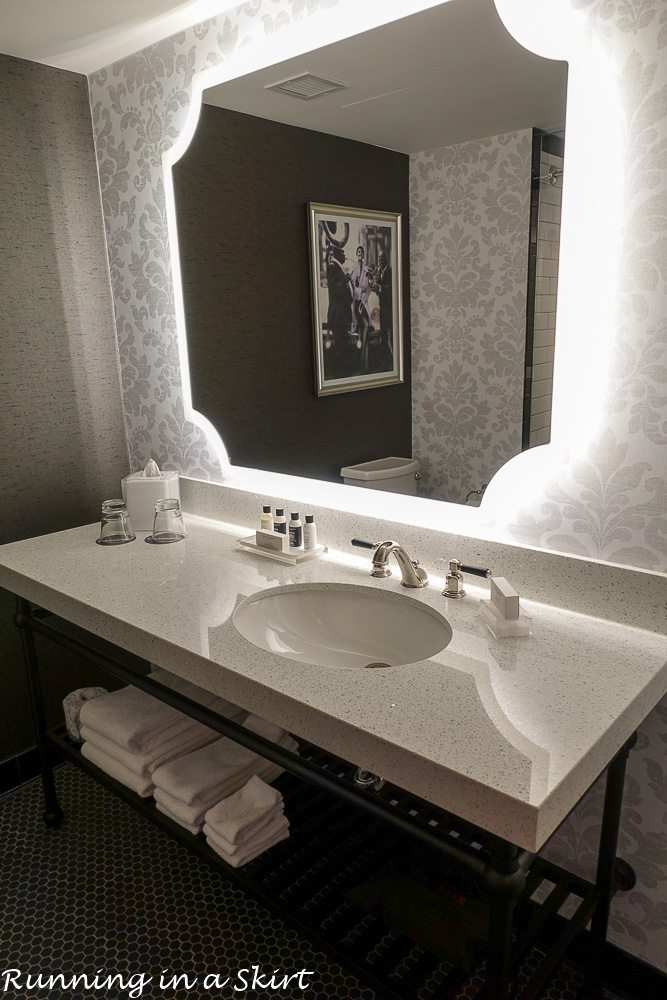 One of the best parts of the Cambria Hotels brand is it growing fast in urban markets like New Orleans and gives you a fun, new hotel to pick from. Plus you still get great loyalty program perks through Choice Privileges.
Now that you are a little more familiar with Cambria Hotel New Orleans Downtown Warehouse District, let's dive into all the fun we had while staying there!
48 Hours in New Orleans
Day 1
The Hubs and I arrived to New Orleans in early afternoon and immediately hopped on a street car to see the Garden District. The street cars felt so old timey and fun.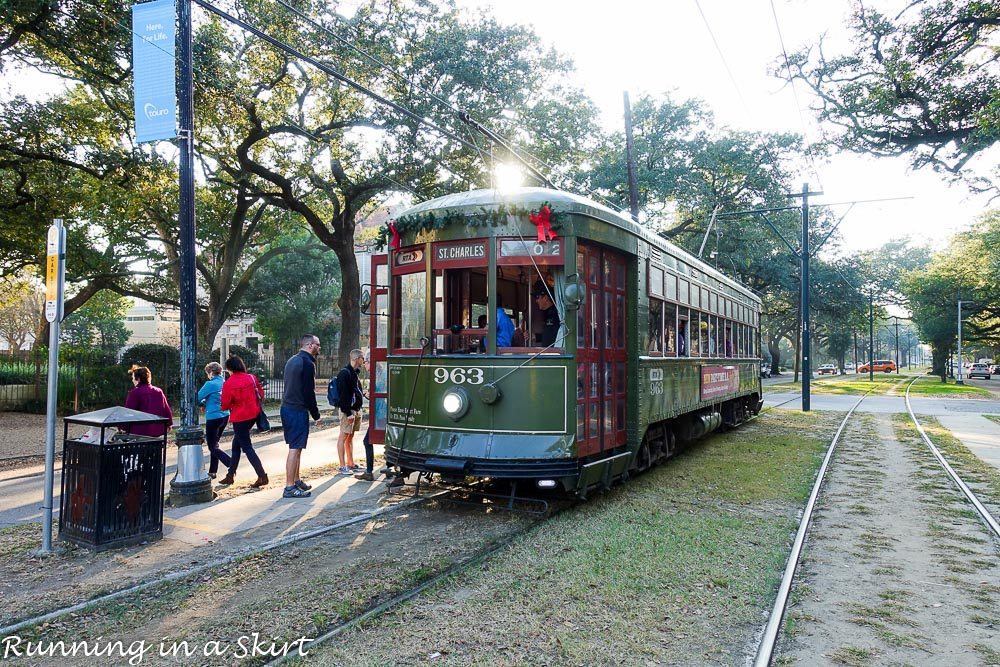 Our first stop was The Columns Victorian Lounge, which is supposed to be a great local hang out.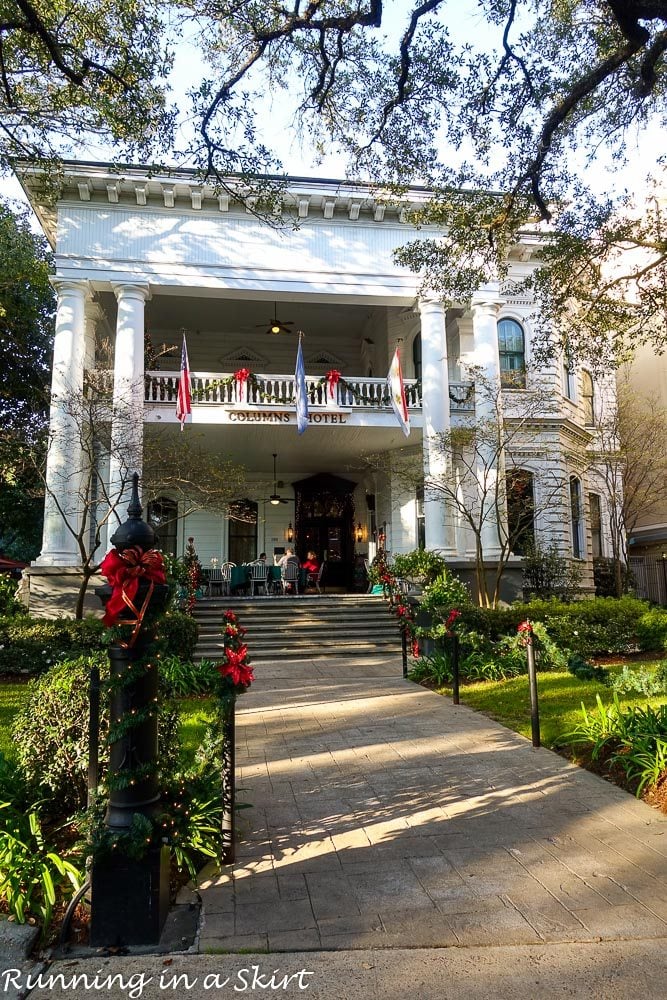 I got a mojito and the Hubs tried some New Orleans craft brews. The historic interior was cozy and took us back in time.
Cheers to our first drink in NOLA!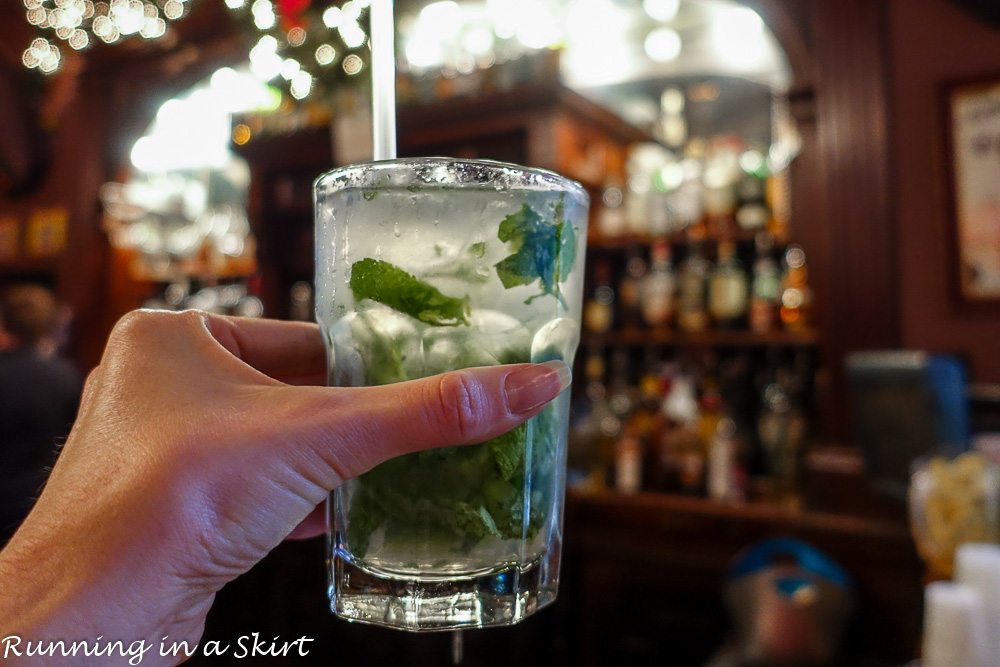 The bar was decked out for the holiday in full NOLA colors.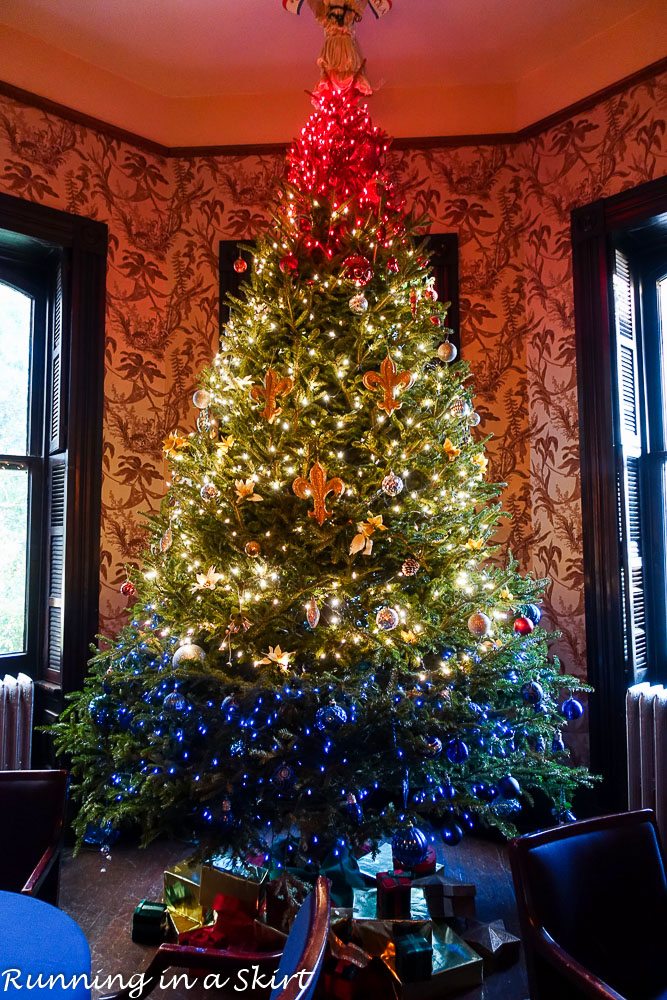 After settling in for a bit we got back on the street car to see the Hot Tin Bar, which has a killer view.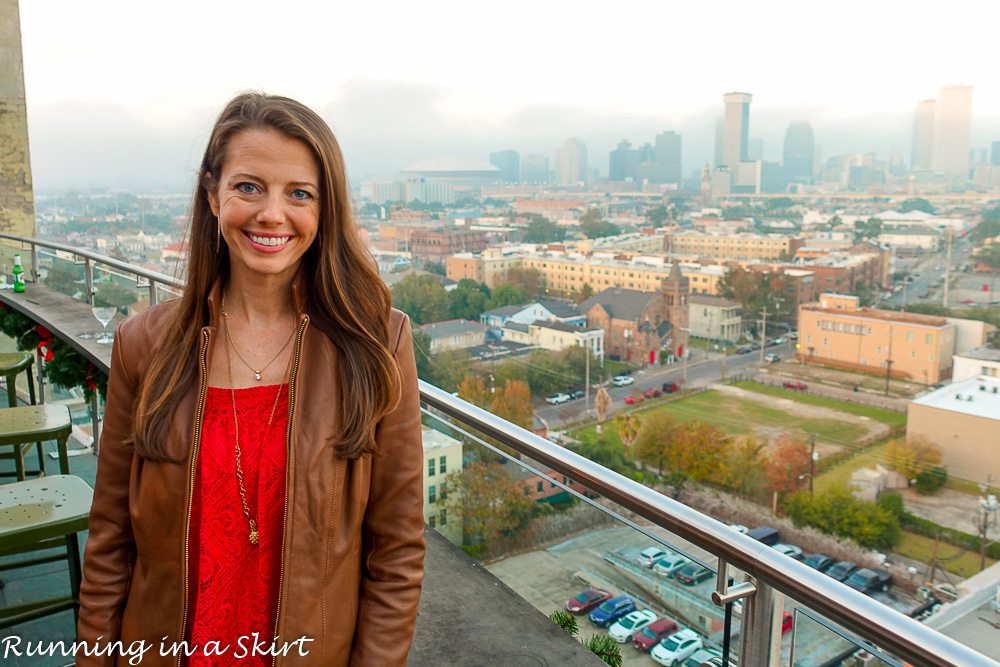 It was really foggy so we couldn't see much of a sunset, but the moon rise over the city was equally stunning.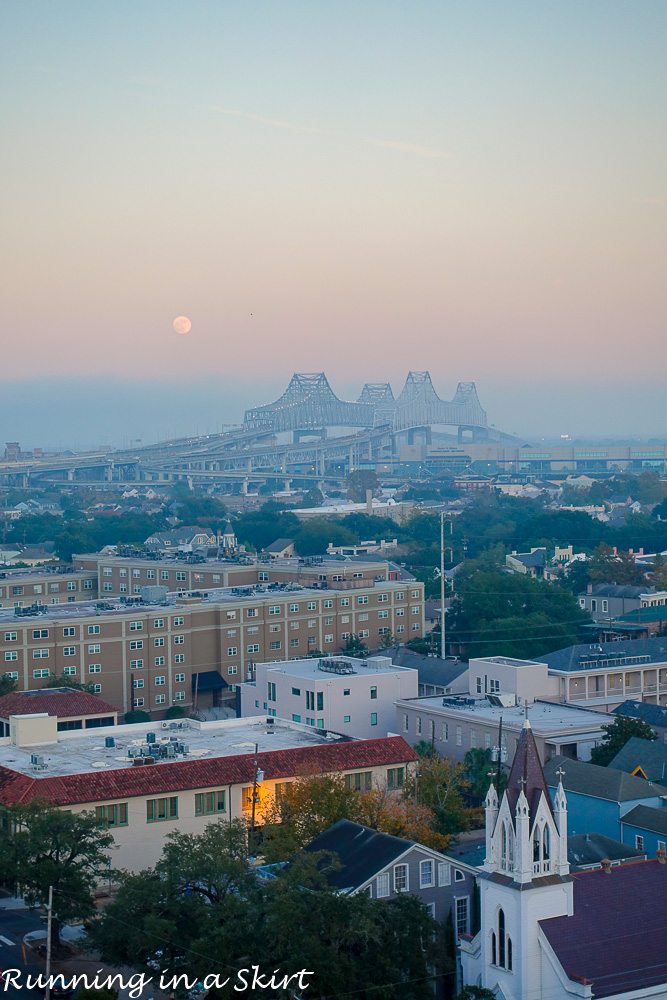 After enjoying the gorgeous views we went back to our hotel, the Cambria Hotel New Orleans Downtown Warehouse District to change for dinner.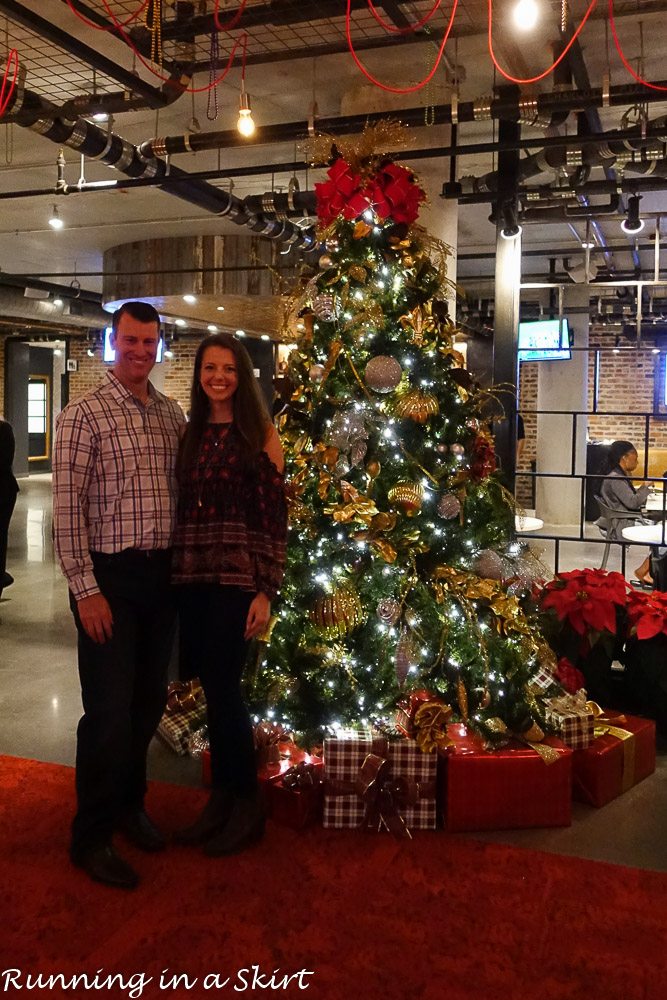 Our trip planners suggested us going to Brigsten's for dinner, but we could not get a reservation so we tried Brennan's instead. Brennan's is a well-known, historic New Orleans restaurant that had such an authentic vibe. The service was amazing and it felt like we were getting pampered the entire meal.
I'm going to share another post with my favorite eats in the city but here's an epic sneak peak. These oysters are the stuff foodie dreams are made of!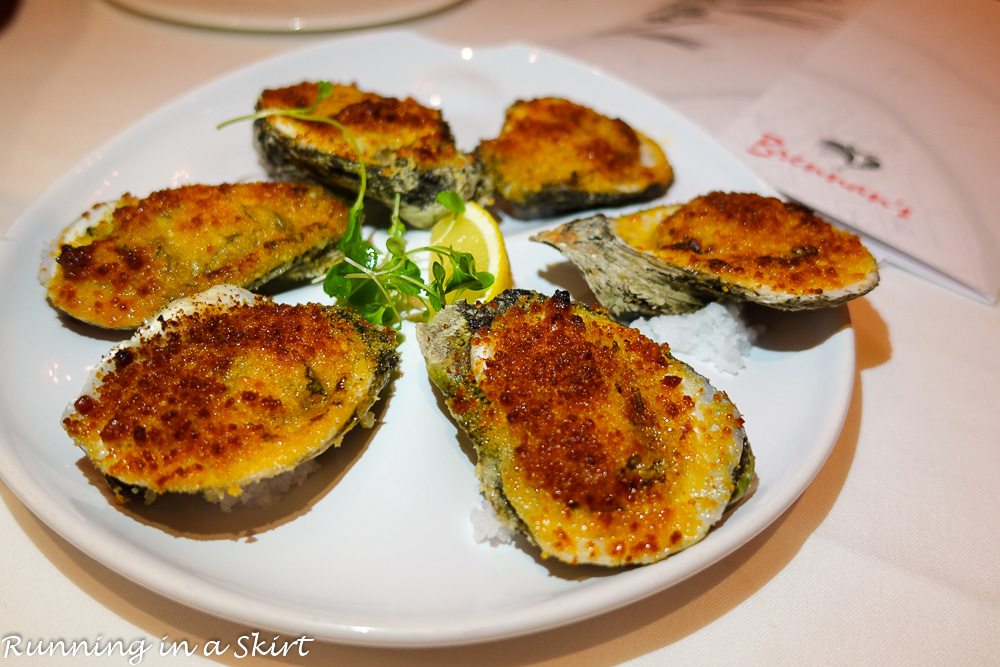 After dinner we went back to our beautiful room full and happy!
Day 2
Our second day in New Orleans was our only full day so we woke up early to make the most of our time.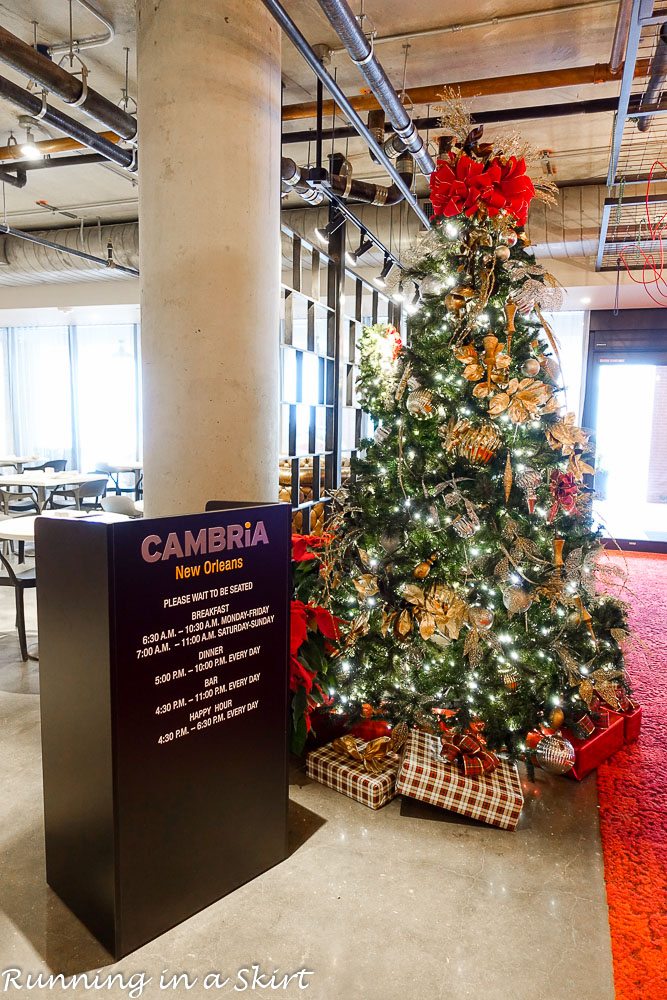 First stop was breakfast at Willa Jean's. Once again I'll share the full meal in my next post but holy moly it was incredible! Such a fun and hip way to start the day.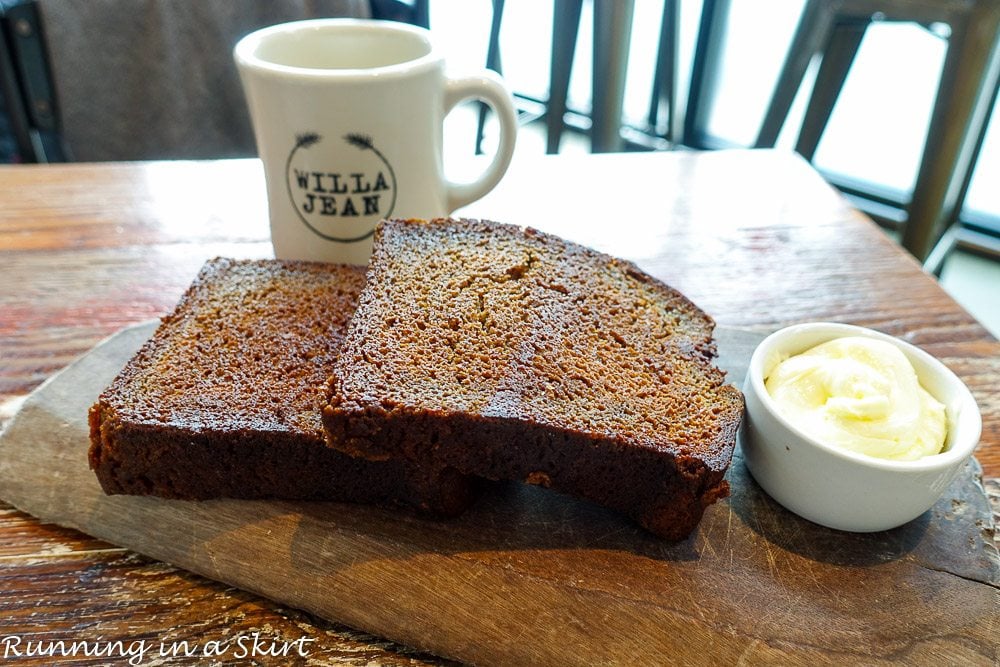 After breakfast our tour guides recommended walking around a few areas of town. Since we wanted to get some history to go along with the walk we booked a morning walking tour of the French Quarter.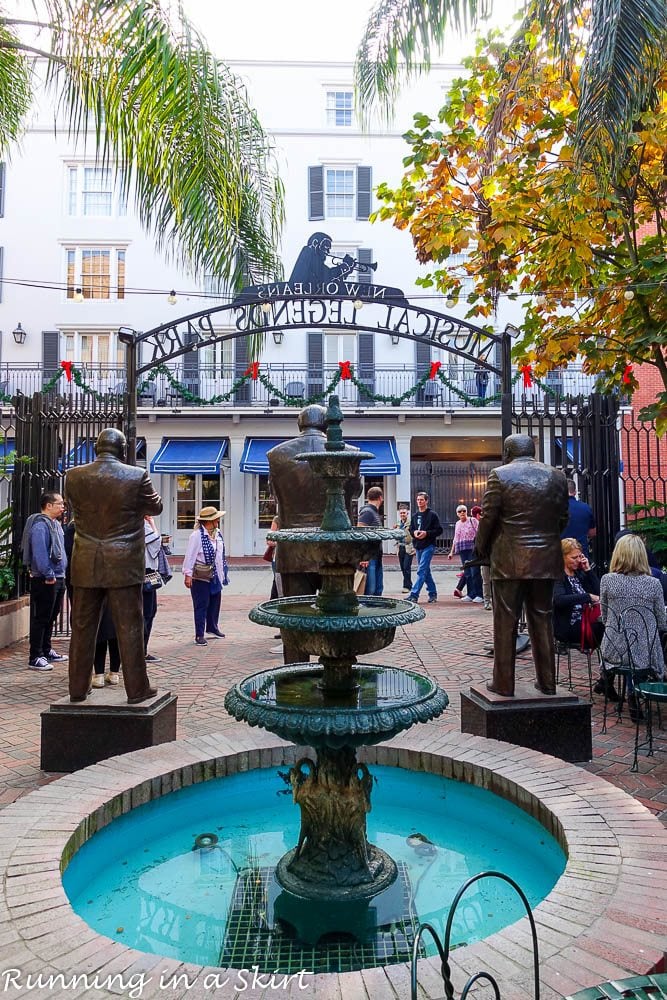 The tour started at the New Orleans Musical Legends park which was a great way to remember the musicians that brought such delightful sounds to the city.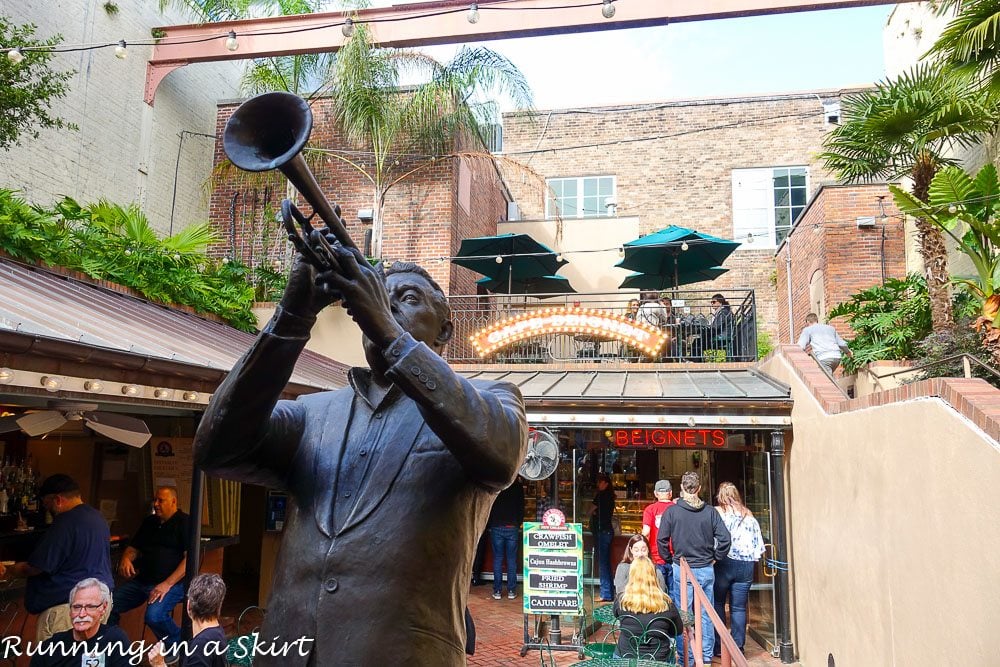 It was still pretty early in the morning so the infamous Bourbon Street was nice and calm. You can only imagine how crazy this was a few hours before.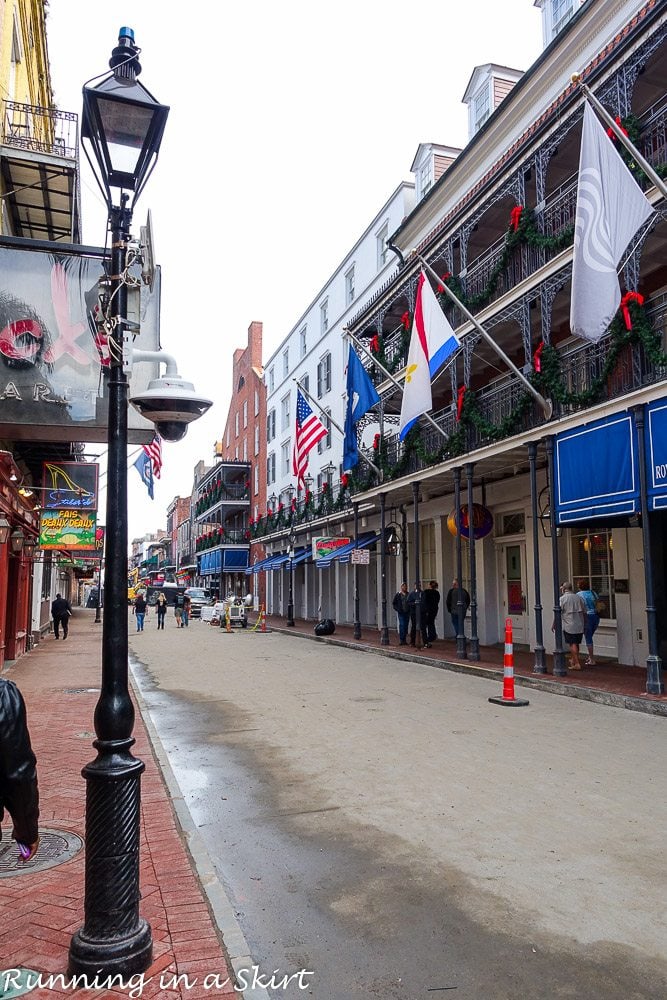 They were doing a lot of construction on the street, so it was even more of a mess than usual... but it was still really interesting to see. I'm not one for crowds or late nights, so this is just how I liked to see it!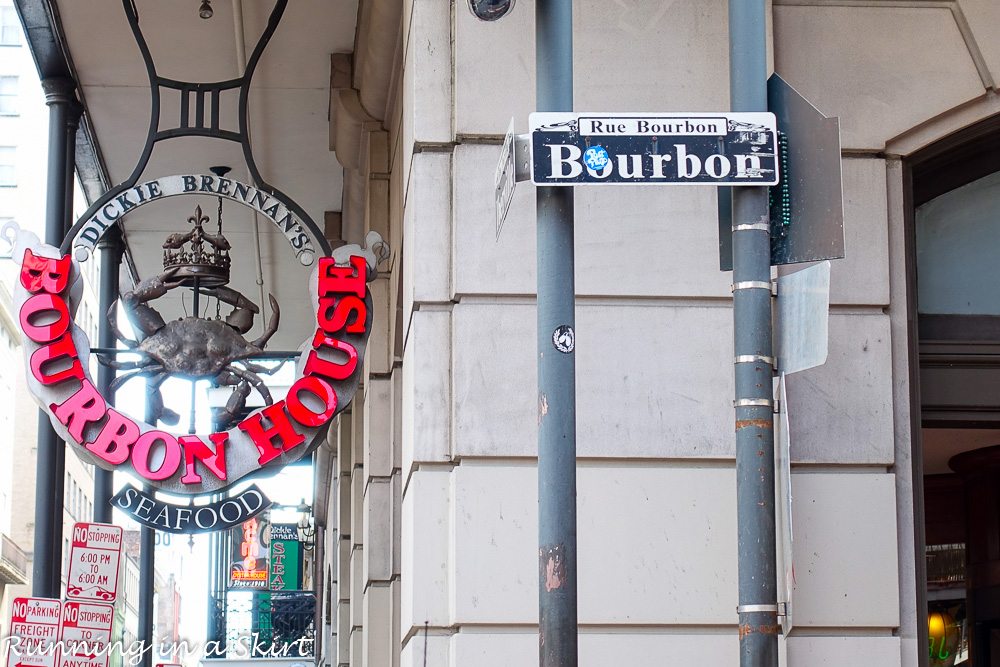 We toured the entire French Quarter, not just Bourbon Street though which gave us some great insight into the city. I loved looking beyond the rough exteriors of the buildings to see pretty sights like this.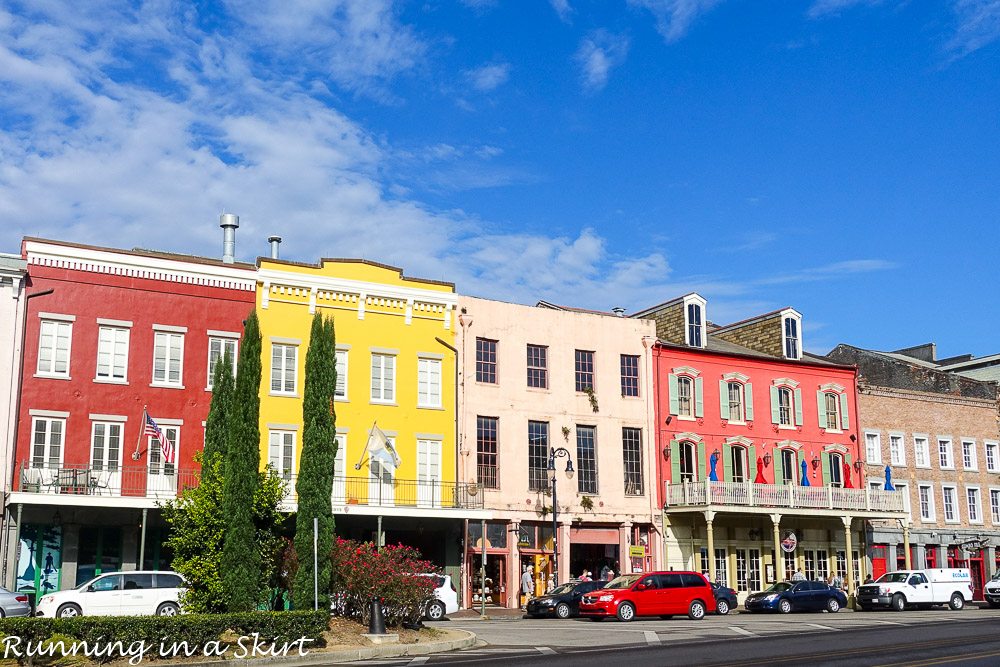 Our tour was really interesting and told us how Louisiana became a state, how the city itself was built and how resilient the residents are. If you like history at all, I highly recommend booking a quick tour to get your bearings and learn more about what you are seeing.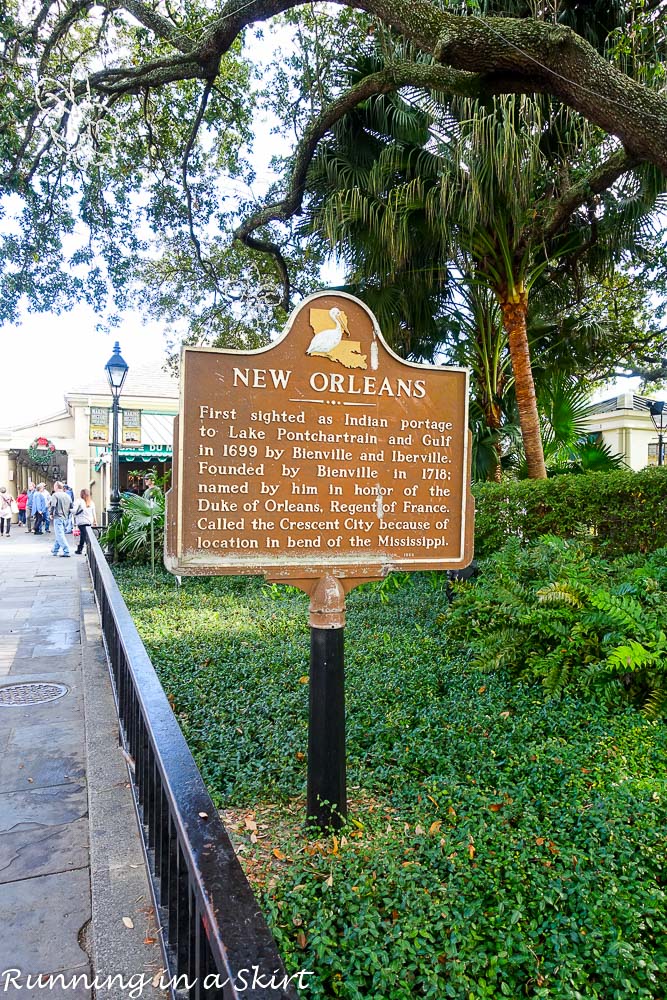 Our tour ended in Jackson Square near the St. Louis Cathedral which gave us a chance to see the art and street performers which were both really entertaining. We watched some break dancers and a clarinet player that kept me captivated for a long time.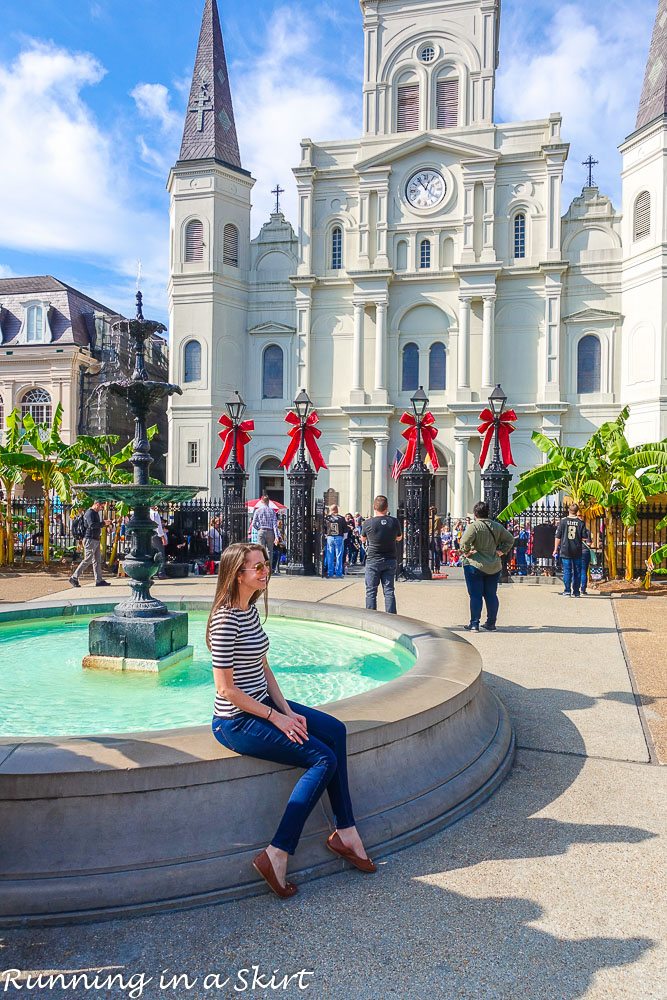 After our tour, we were hungry and thirsty so we looked up a place nearby to get oysters and cocktails... we were in NOLA after all!
We got a great table along an outside balcony at the Royal House Oyster Bar. The views and people watching were pretty darn spectacular.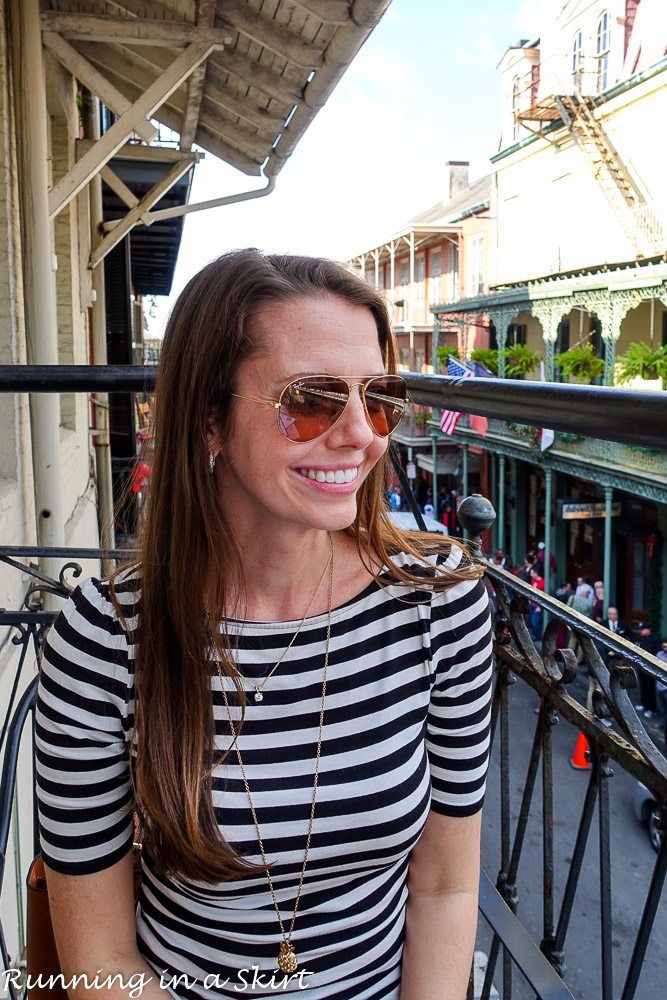 We snacked on more oysters and enjoyed the show below.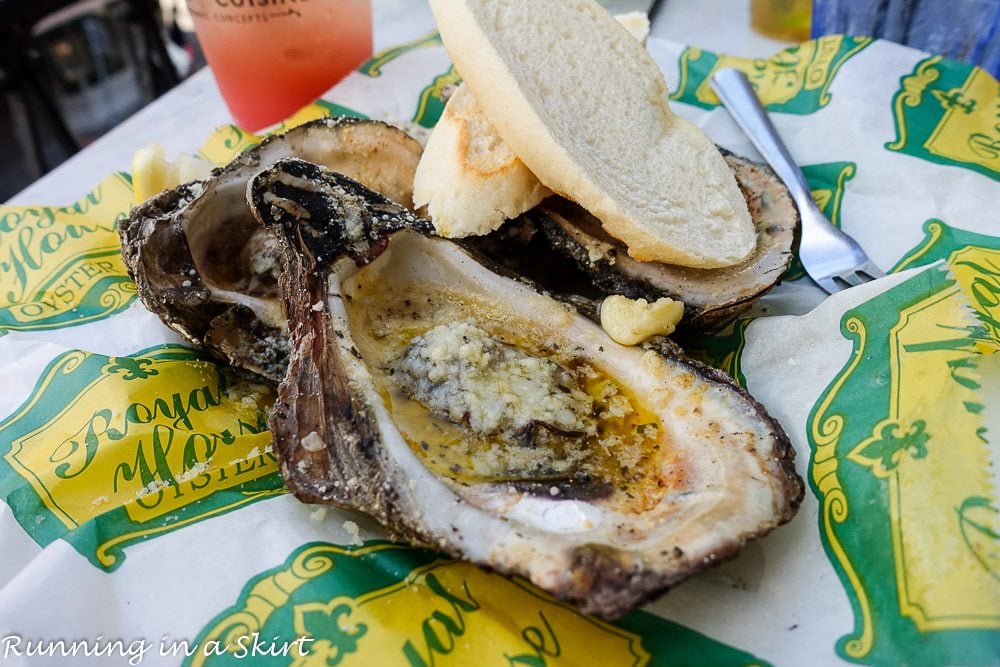 After a long lunch I wanted to go back to Bourbon Street and get one drink so I could check that off the bucket list. Because it seemed like a good idea!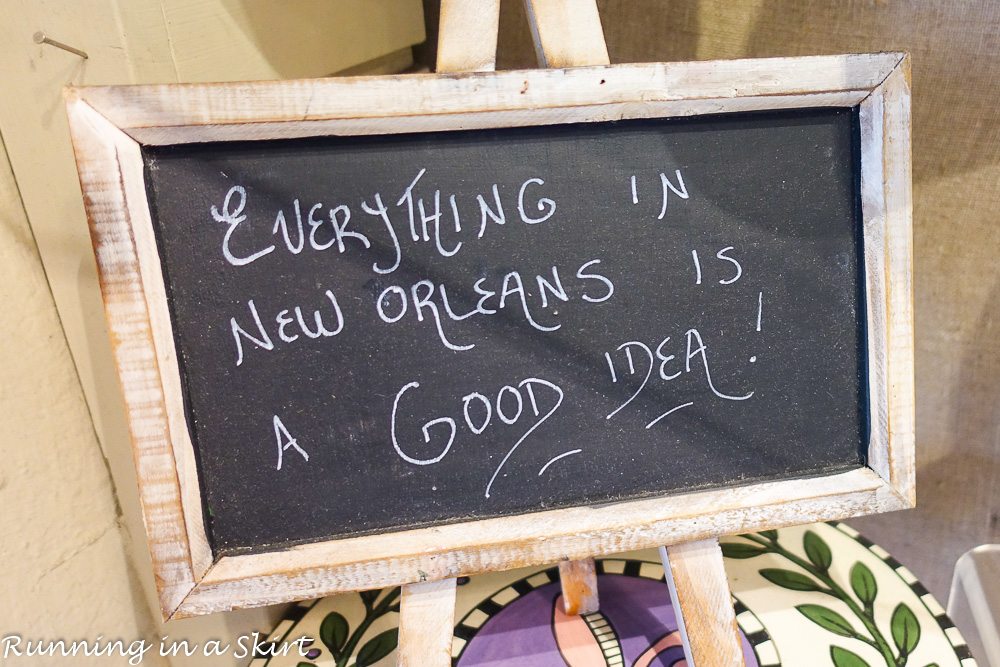 I got a giant and slightly obnoxious Pina Colada that was actually pretty darn good. Not sure it was actually a good idea, but I'll put that under the "worth it" category.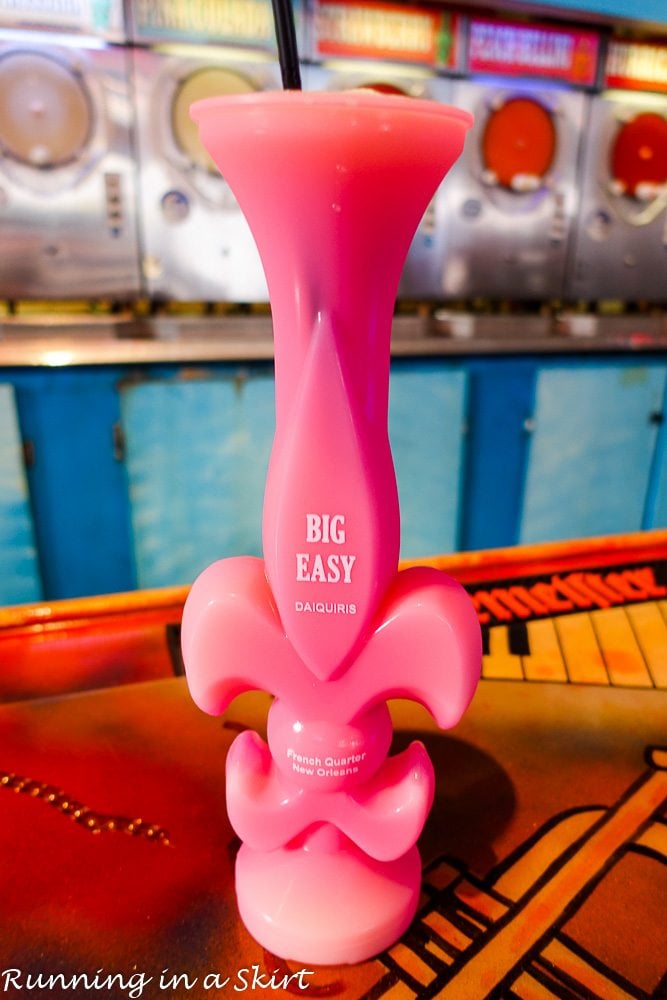 After getting our drinks we walked around Royal Street exploring the shops, art galleries and antique shops. Royal Street was just block away from Bourbon Street but instantly felt like another more polished world. I loved all the charming shops and boutiques.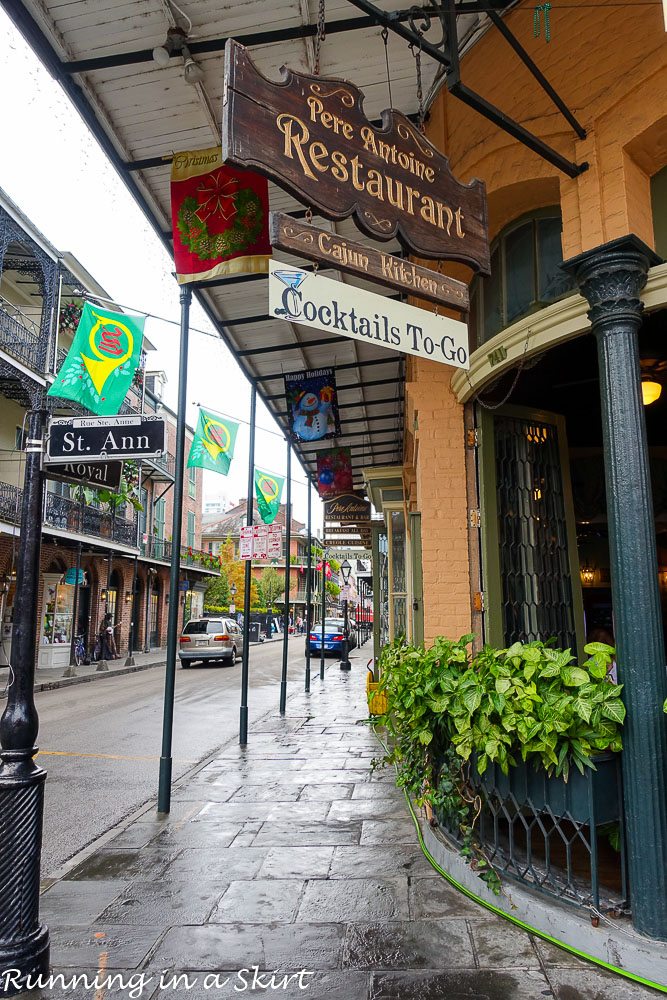 On our way home we walked into see the christmas lights at The Roosevelt Hotel, which our guides told us was a must do while we were in town.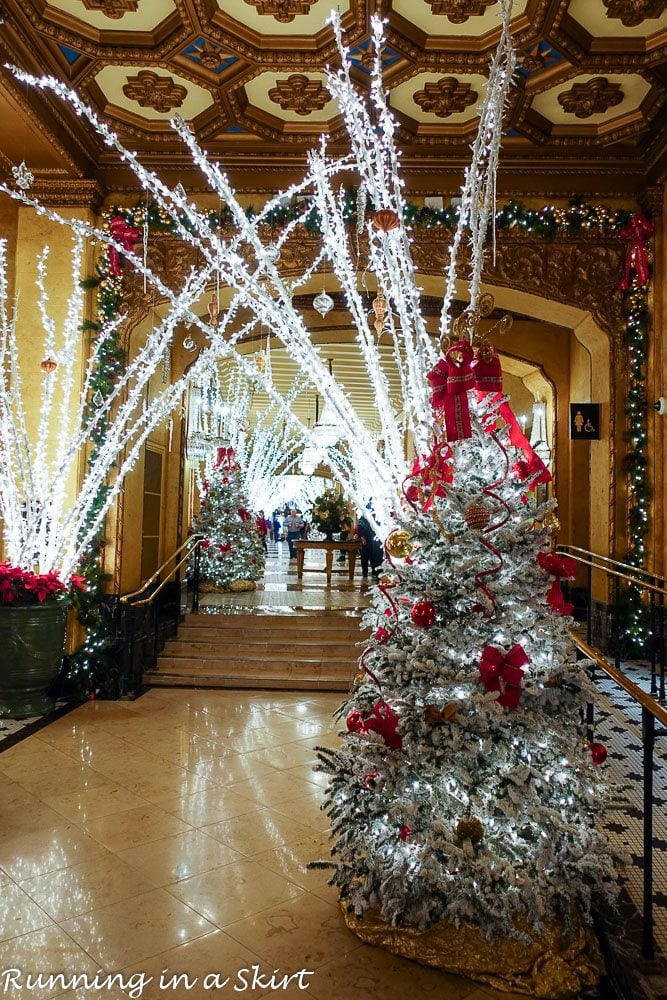 The light show was spectacular and did not disappoint! It was such a fabulous way to start off the season.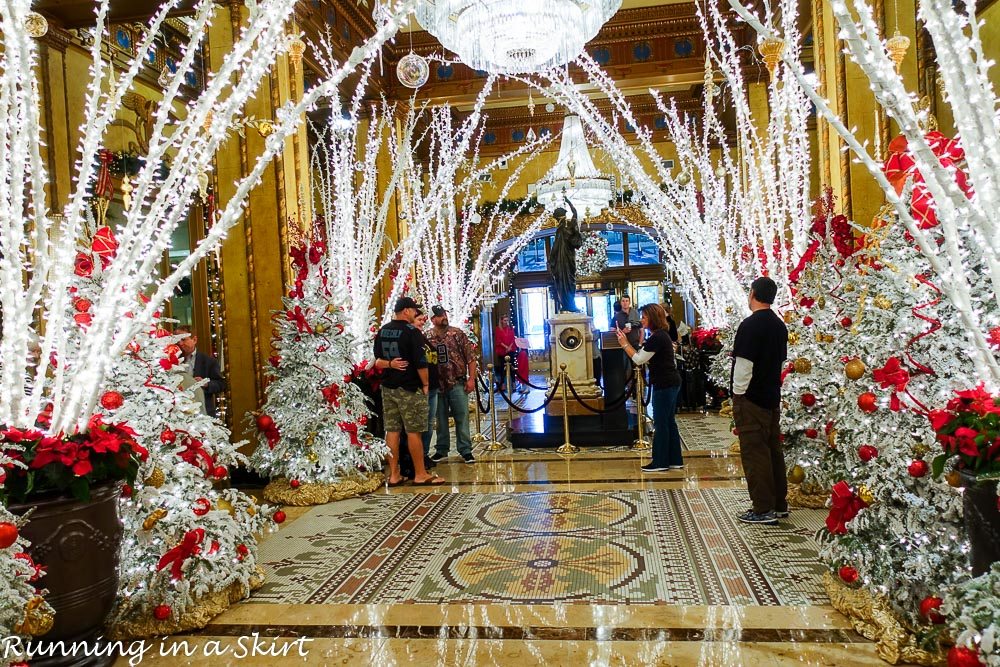 After a long day exploring the city, the Hubs and I went back to our hotel to shower and change for dinner.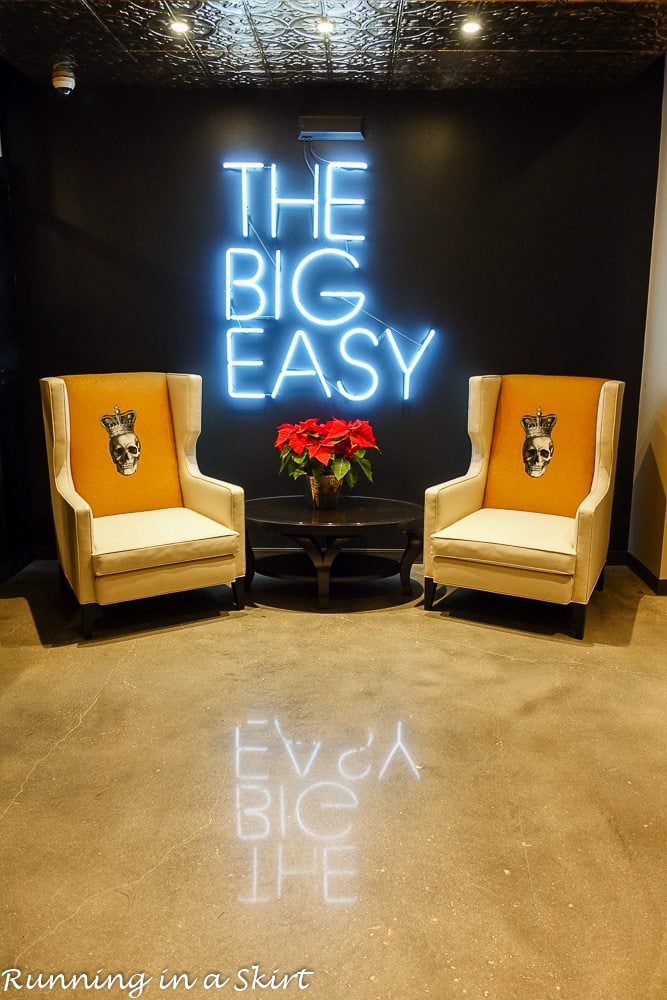 For dinner our guides recommended Pesche, which we also had trouble getting into so I found GW Fins online and booked a table. I had high expectations because of the stellar reviews and it did not disappoint! The food was some of the most unique and creative I've had in awhile. I can't wait to share more pictures of it with you Monday.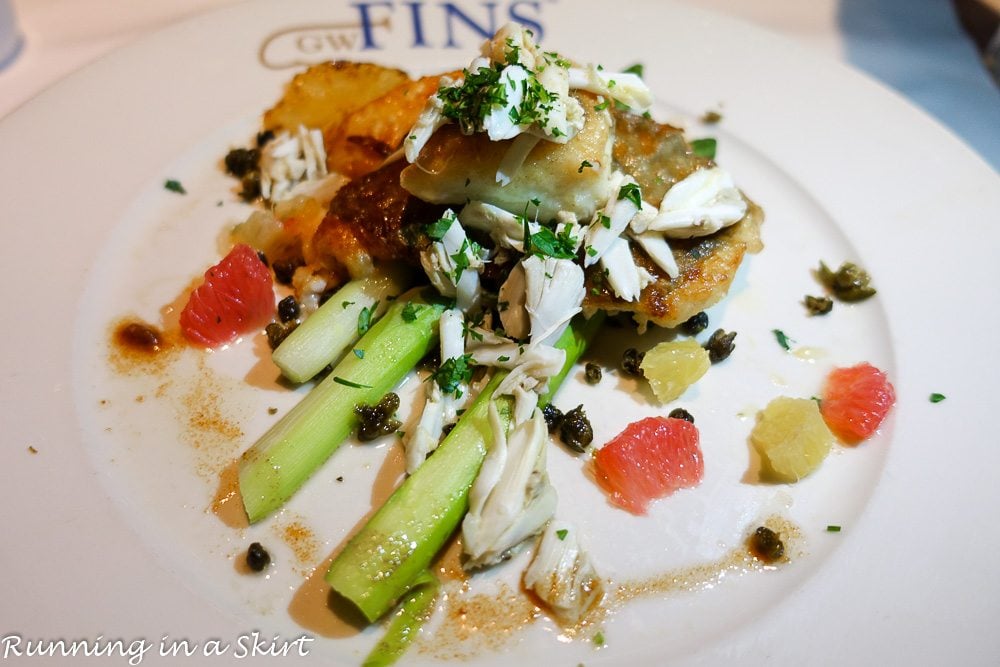 What a fun filled day in NOLA!
Day 3
Our final day in NOLA started bright and early again because we had some big food must-eats to check off our list. First up was the famous Cafe Du Monde which is known for their coffee and beignets. It's a most stop on any New Orleans tour.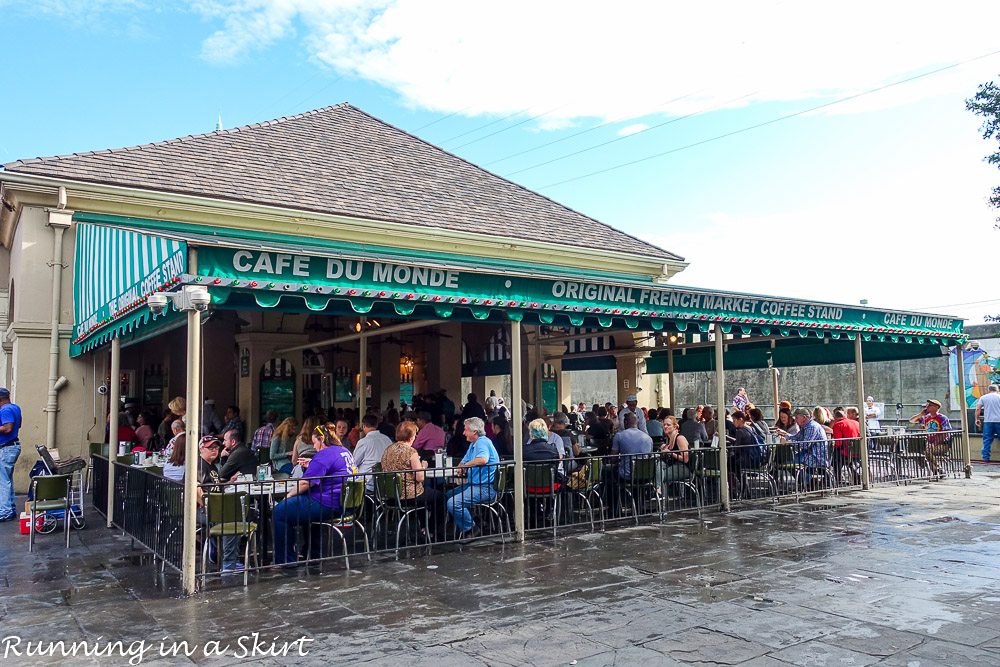 I'm not much of a donut person, but WOW these beignets are nothing short of little bites of heaven. They left such a sweet and lasting impression of the city!
As I'm writing this a few days later I'm wishing I could have more of these this weekend. Clearly they are quite addictive.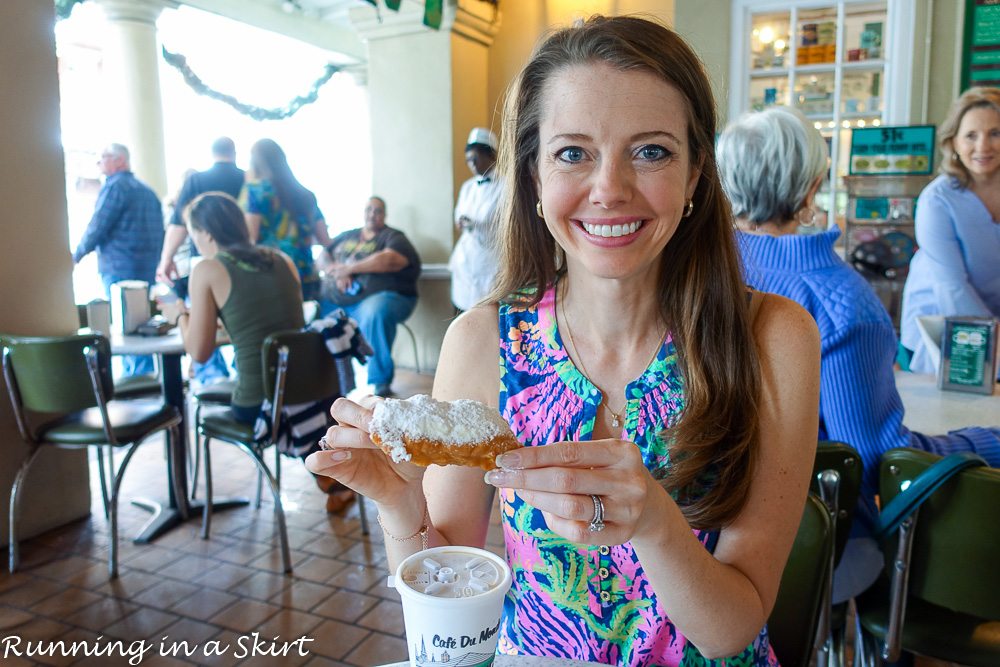 Next we walked the streets again, which were much quieter and calmer on an early Monday morning.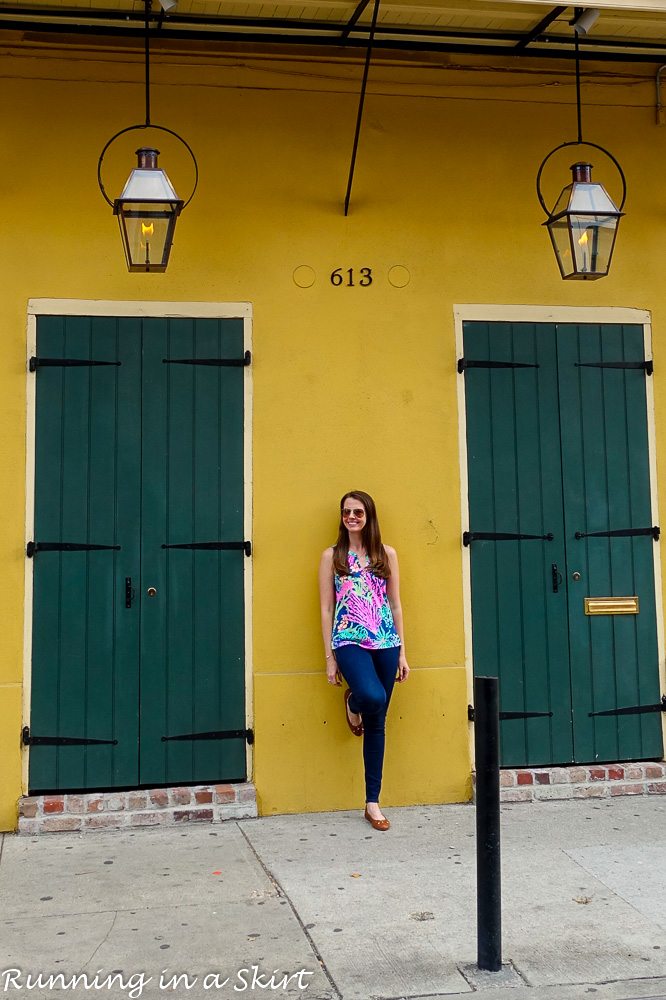 It was so nice to stroll around without the crowds and see the unique architecture and designs that New Orleans has.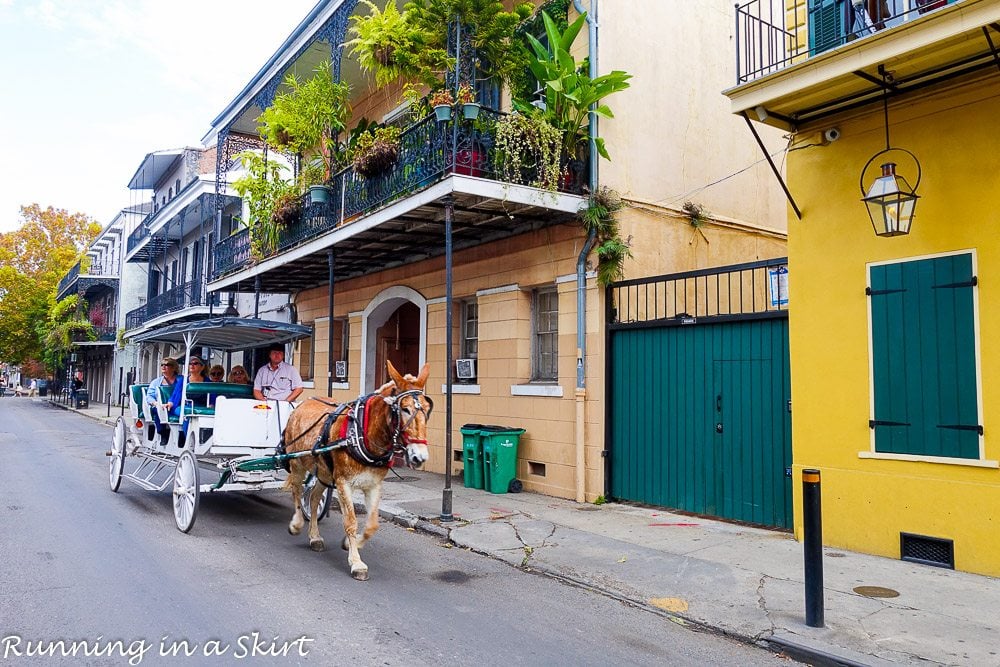 New Orleans is one of those places that is well loved and worn up close, but from a distance really has an undeniable charm. The wrought iron balconies, brightly colored buildings and colorful planters bring life to the city.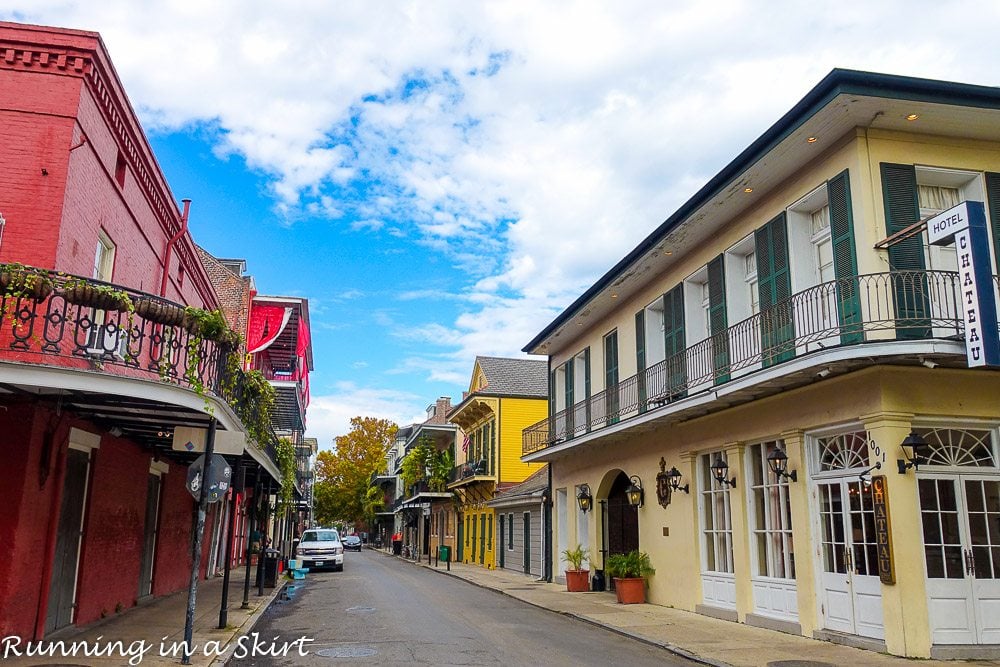 Before leaving we walked the streets to make room for our final meal before catching our flights.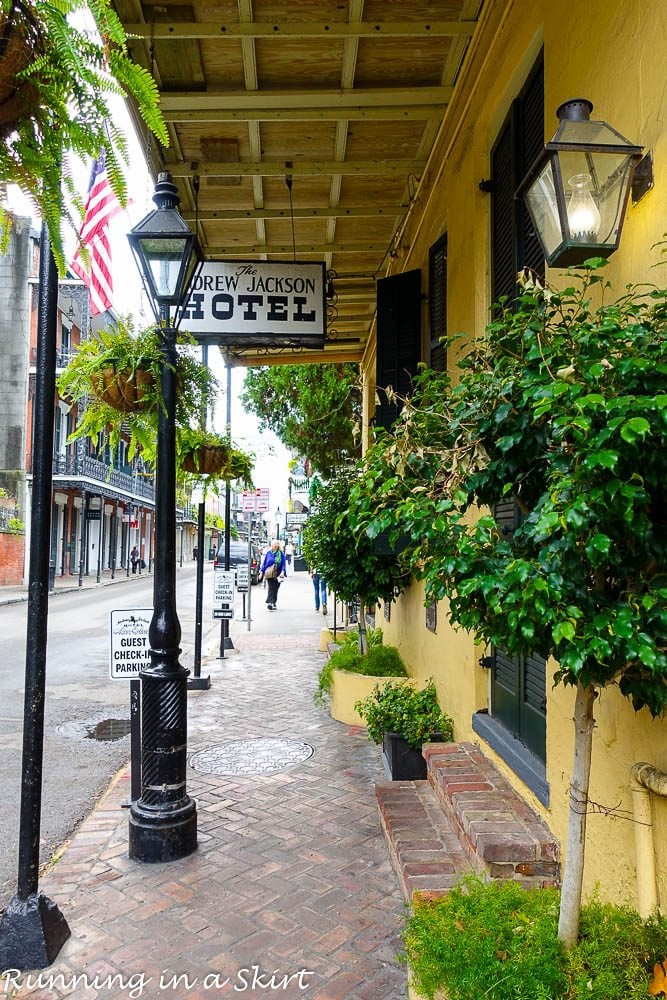 I knew I could not leave NOLA without trying a po'boy and gumbo so our last stop was at the Napoleon House. The Napoleon House was actually built for Napoleon, who died before he was able to live there... but once again the history is pretty remarkable.
On top of that their po'boy was incredible! I've had sandwiches in the past that claimed to be po'boys but nothing before was ever as delicious as this. I'd honestly got back to NOLA just for this sandwich.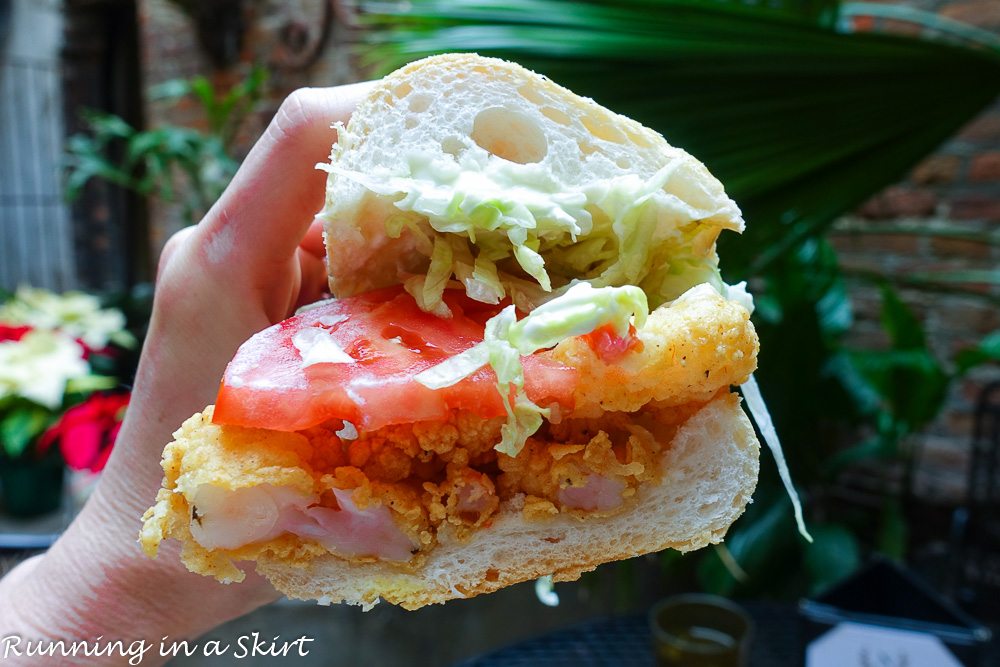 I'll share the rest of the meal in my next post, but needless to say after cramming two meals into such a short amount of time we were stuffed and happy. Our time in New Orleans may have been short, but the memories will last a lifetime.
New Orleans is such a fascinating city. It's filled with charming architecture, fun people and has a captivating history. The food is some of the best I've ever eaten. I loved seeing a place I'd heard such fun stuff about my entire life. So glad to check this must-see destination off the bucket list!
I hope that if you decide to visit New Orleans you'll consider staying in the Cambria Hotel New Orleans Downtown Warehouse District. I know you'll love this hotel as much as we did! If you go, don't forget to tell them I sent ya!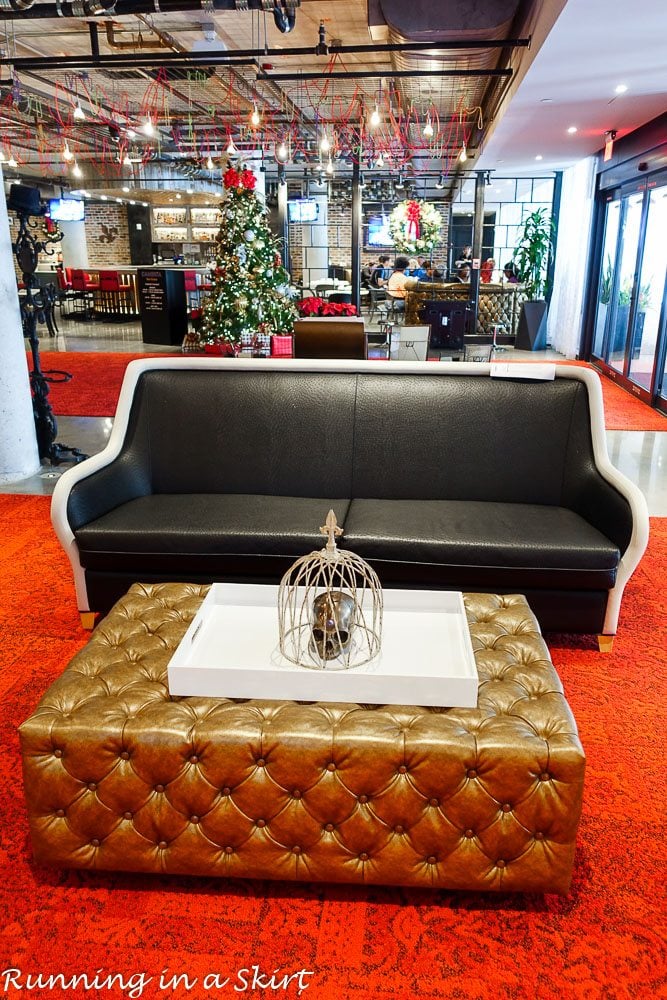 Don't stop the New Orleans fun here! Keep reading about the best eats and drinks in the city!
Like this post about 48 Hours in New Orleans? Pin this to your favorite Pinterest board!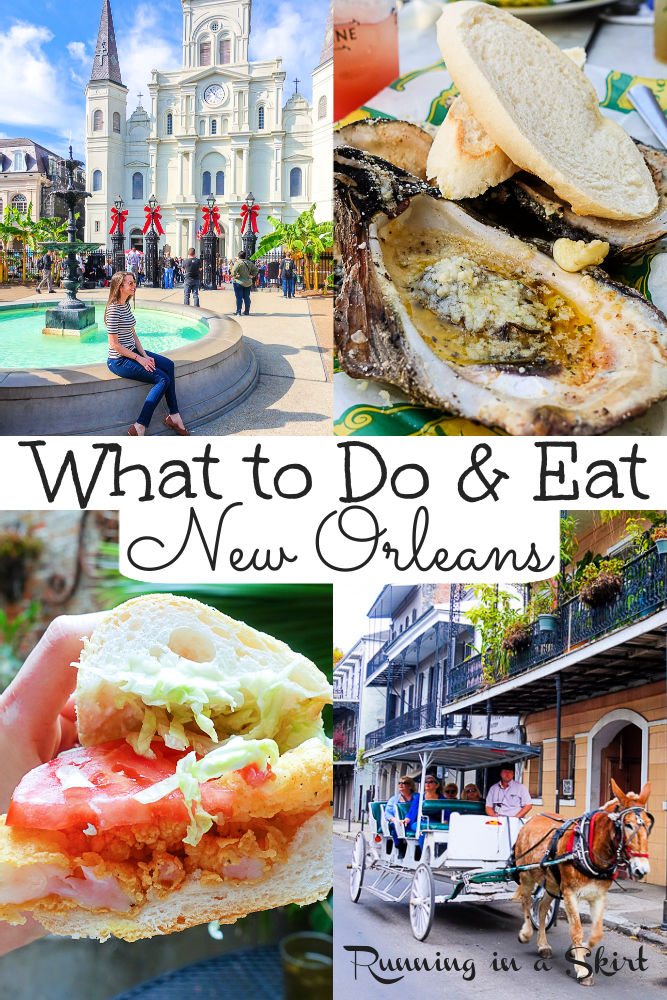 Your turn!
Have you ever been to NOLA?
What would be our favorite thing to see?