It's so hard to stay on track during the holidays! Here are my 10 favorite healthy holiday tips.
Hello! Hello!
The holidays are so much fun but we all know about the overwhelming number of extra stressors, food and indulgences. It might be the most wonderful time of the year but it can wreak havoc on your health goals. Between all the cookies, cakes and dips it can be hard to make good food choices... plus all the obligations and traveling can make it near impossible to keep a training and fitness schedule. It can be a bit overwhelming for someone trying to lead a healthier lifestyle.
I'm a firm believer in moderation so I don't think you have to deprive yourself this time of year but I do think there are a few things you can do to stay on track. That way you don't feel like you have to "fix" your diet come January. Hopefully my 10 Easy Tips to Have the Healthiest Holiday Ever will keep you feeling awesome all season long.
10 Healthy Holiday Tips
1. Carefully Indulge
I am not going to tell you to not eat your favorite Christmas things. I think you should! When you do indulge carefully pick your favorites and actually take the time to savor and really enjoy the few things you really love in reasonable portions. Don't mindlessly eat something just because someone delivered it to you.
One of my favorite worth-it indulgences are my Soft Bake White Chocolate Peppermint Cookies.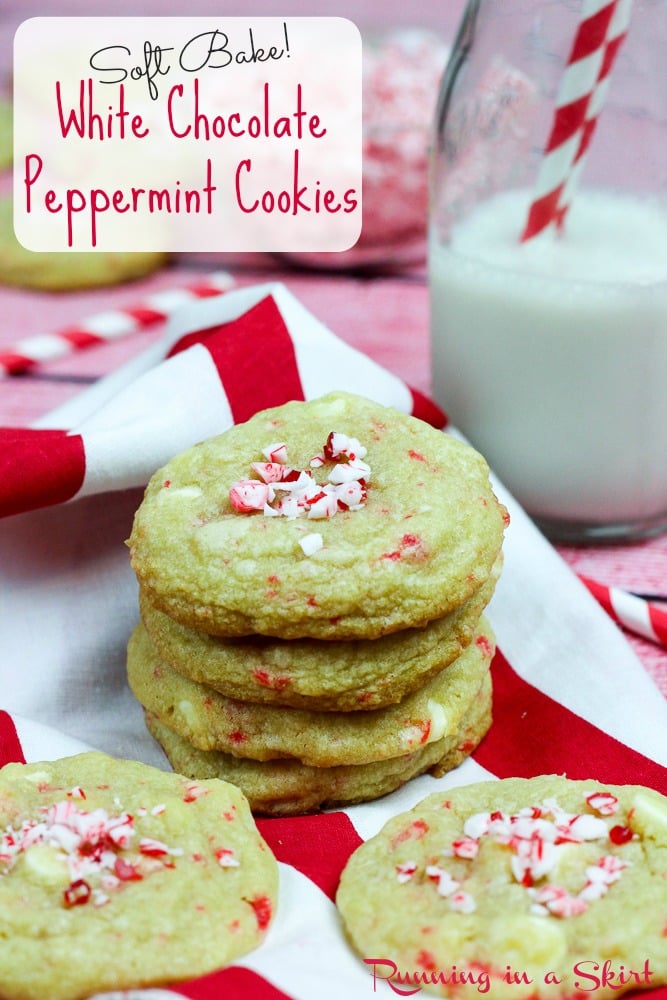 2. Don't Go to a Party Starving
If you are going to a party in the evening, eat well balanced food for the rest of the day that way you know you still got some vitamins in your system. Also don't go to a party starving, eat a small high protein snack before you go to keep the mindless snacking in check.
3. Only Keep a Few Sweets in the House
I know if I make a batch of brownies at home, I will eat them all. If you bake, package the treats and give them as gifts. Enjoy a small number of the treats and then get them out of the house. Out of sight, out of mind! Again... you should not feel guilty if you have some sweets... just don't go crazy.
Also consider making some of my healthy holiday treat swaps like my Peppermint Fudge No Bake Energy Bites.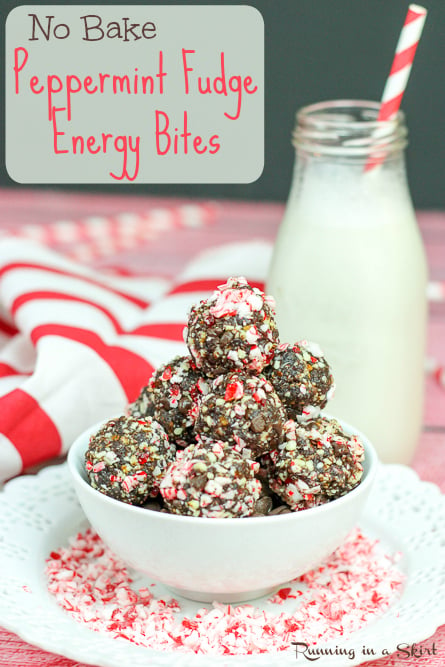 4. Schedule Your Runs
When the calendar starts getting busier, it can be hard to find time to run. Schedule your runs and workouts like a business meeting now so you know you will have time for them. This is one of my biggest healthy holiday tips.
5. Focus on Quality
If you have less time to run or workout, focus on quality rather than quantity. If you are running, give each daily run a specific purpose: speed work, tempo run or long run. You can most likely maintain your running with three days a week until the chaos passes. If you are working out consider high intensity workouts that give you the most bang in the short amount of time you do have.
6. Holiday Race Trifecta
There is nothing more motivating than a race or races! Sign up for the holiday race trifecta: Turkey Trot, Christmas Race & New Year's Race. Three races in six weeks is bound to keep you training!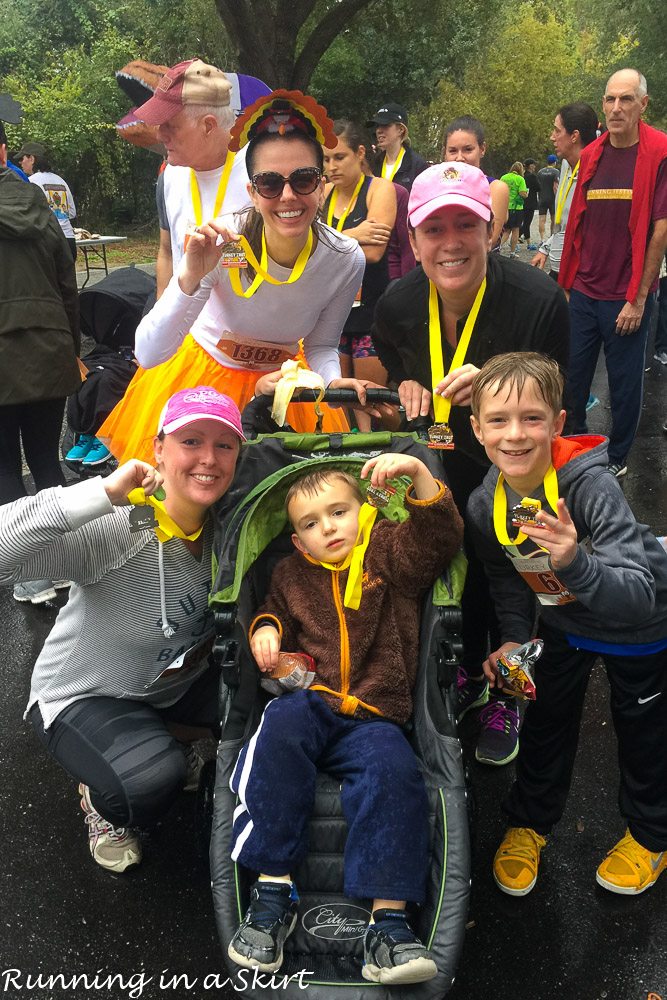 7. Don't Drink All Your Calories
No lie... I adore a peppermint mocha and wine. Both of which are full of empty calories and the wine is dehydrating. Enjoy both in moderation or pick a healthier treat like my Healthy Peppermint Chocolate Smoothie.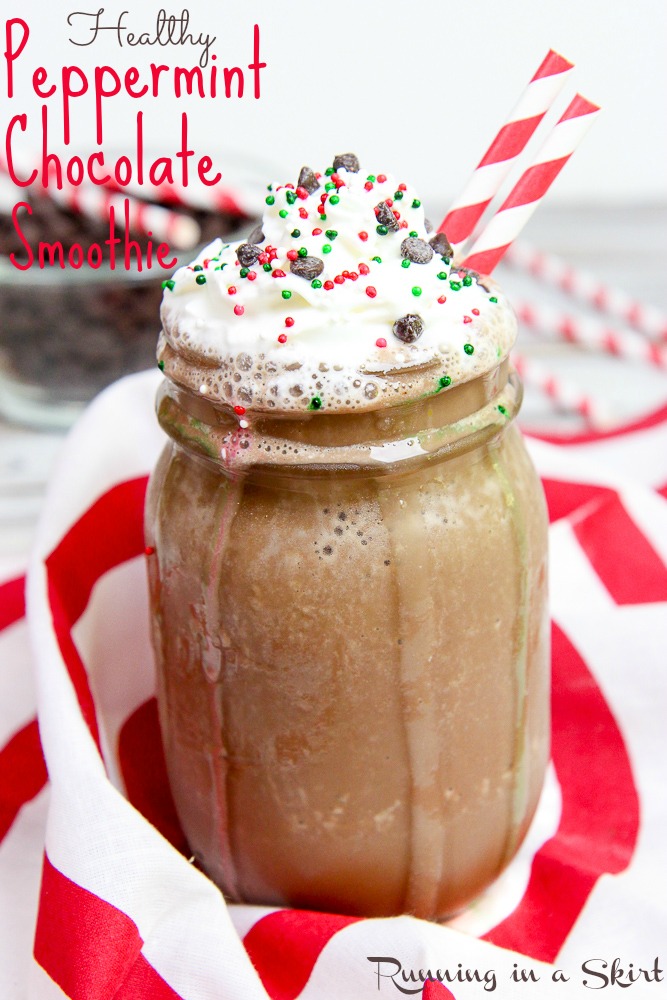 8. Be Active with the Family
You may be the only runner or fitness enthusiast in your family, but that doesn't mean you have to be a couch potato around them. Find something active that everyone likes to do. Whether it is going for a walk or playing Dance Party on Wii, you are burning calories and staying fit.
9. 15 minute Workouts
Have an extra few minutes? Don't waste them! Slip in some extra 10-15 minute workouts with bodyweight movements. They will energize you, make you stronger and help balance out the extra treats. Even try my Holly Jolly Christmas Workout.


10. Don't be Too Hard on yourself…
With all this said my best and most important tip is to not be too hard on yourself. No one is perfectly healthy all the time including me. We all fall off the wagon and no worse for the wear. Being with family, honoring certain traditions and finding joy is what really matters! Life is about a lot more than a diet.
Like this post about healthy holiday tips? Pin this to your favorite Pinterest board!


Your turn!
How do you stay healthy around the holidays?