Want to eat like a local in NOLA? Here are the best New Orleans Eats!
I'd like to thank my friends at Cambria Hotels for sponsoring this post. As always, all opinions are my own. Thank you for supporting companies who support Running in a Skirt.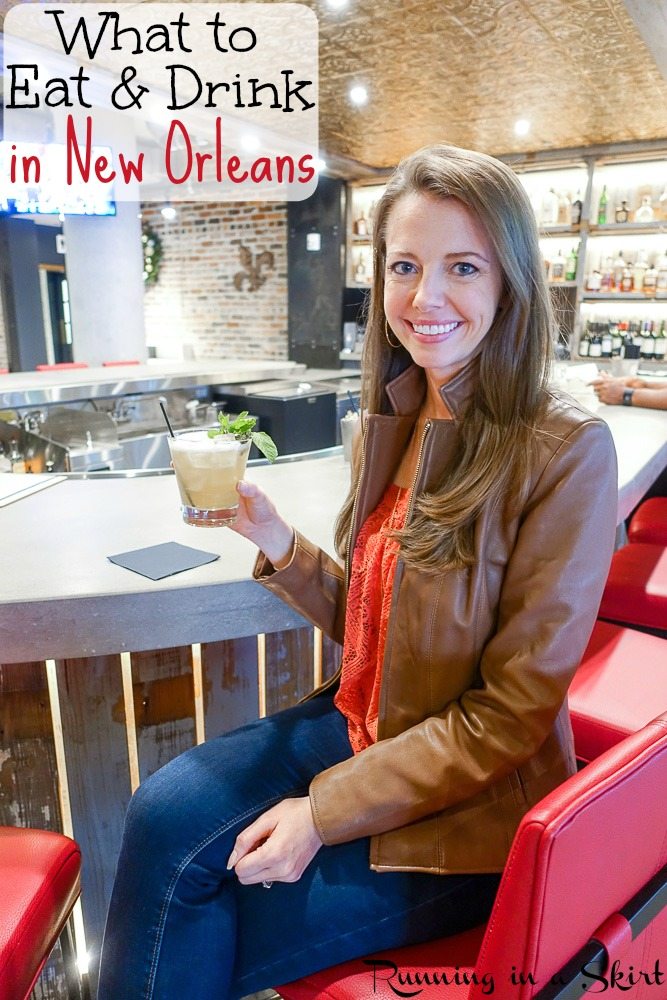 Hello! Hello!
I'm so excited to share more of my recent New Orleans trip today. I shared highlights from my trip Tuesday, but the food was so good that it deserved its own post!
My trip was all part of that pretty spectacular Cambria Hotels Blogger Shuffle I did earlier this month. The hotel just opened a brand new location in New Orleans, and is about to open one in Asheville. To celebrate the openings, they sent the Hubs and I to New Orleans to explore. As part of the swap, they're also sending New Orleans bloggers, Babes and Beignets (who created this amazing itinerary for my trip!) to Asheville this upcoming weekend.
We loved staying in the Cambria Hotel New Orleans Downtown Warehouse District. It was in the perfect location to see all the sites, try the fun bars and eat the New Orleans best eats! One of the best parts about the hotel was it had its own local vibe that was true to NOLA.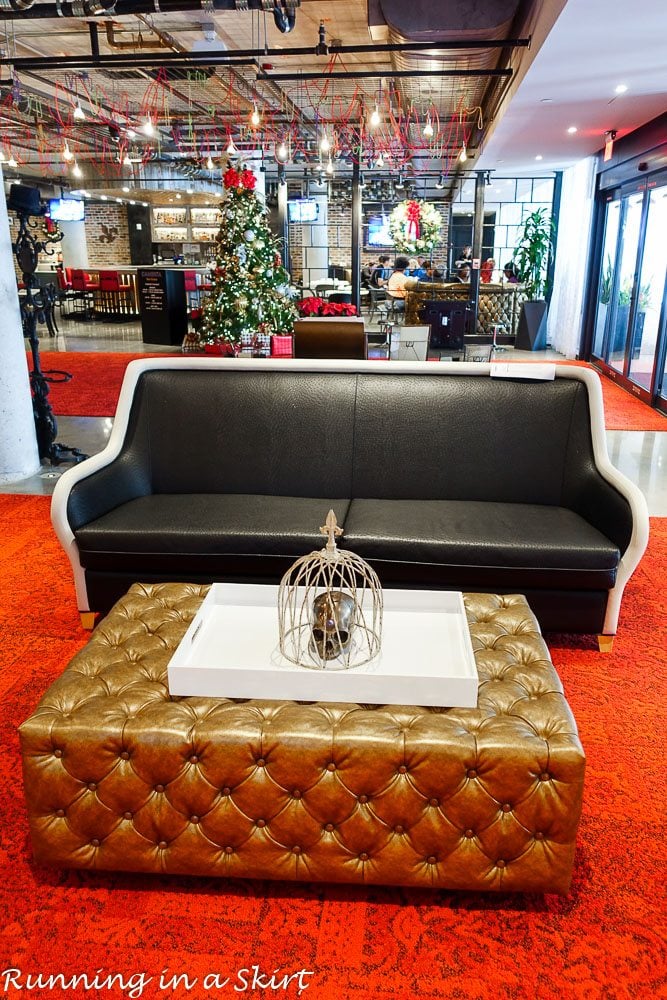 The rooms were upscale, cozy and so pretty. Make sure to check out my first post to learn more about the rooms in the hotel and why we enjoyed it so much.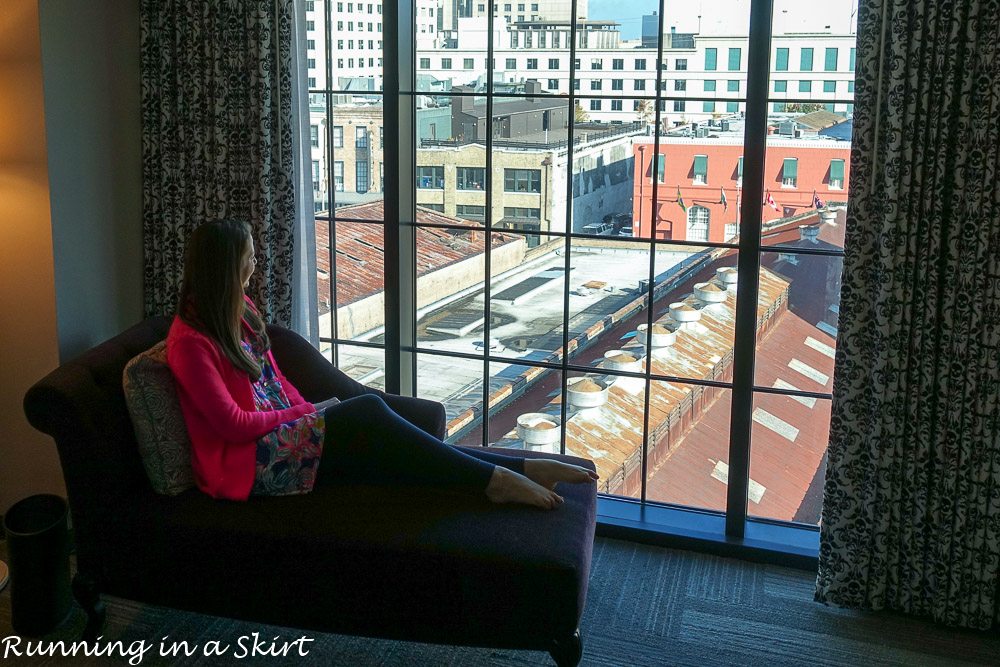 Other than staying in the Cambria Hotel New Orleans Downtown Warehouse District, one of my favorite parts of my New Orleans trip was all of the incredible food and drinks we had. The Hubs and I have talked about wanting to go back just to try more restaurants because they were so good. Because of that and the fact that I took way too many pictures of just my food... I thought I'd share my Best New Orleans Eats & Drinks today.
Happy eating!
Best New Orleans Eats & Drinks
I spent a lovely 48 hours in New Orleans and these were my favorite eats and drinks while I was there....
Best Drinks
Cambria Hotel & Suites Bar
The bar at Cambria Hotel New Orleans Downtown Warehouse District is really pretty. It just opened with the hotel and is so new they are still working on a name but I'm sure whatever they come up with will be charming and fun.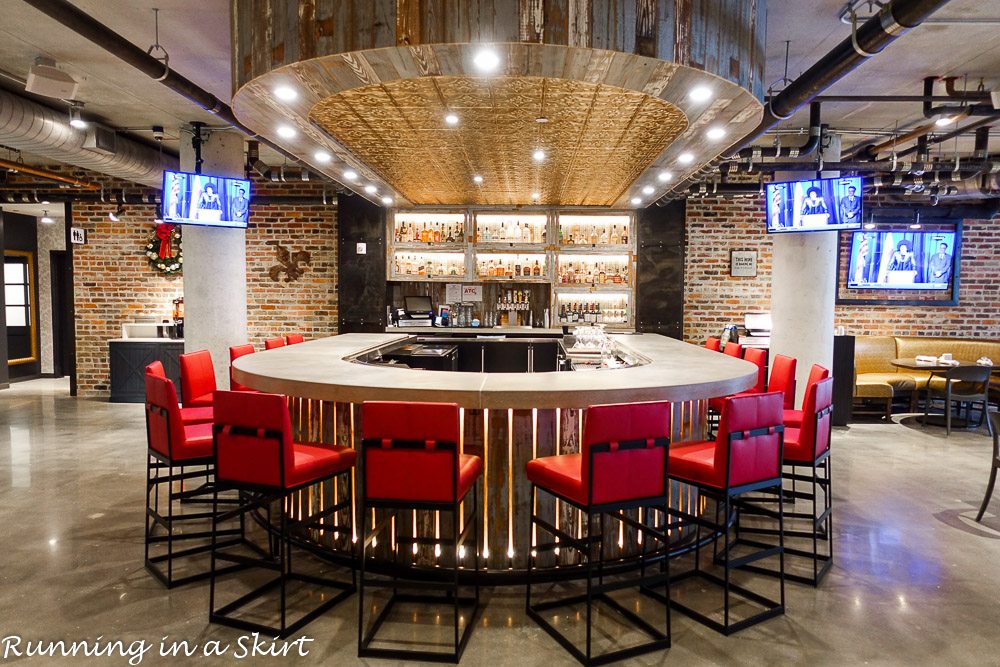 They are offering handcrafted cocktails that rival any in town.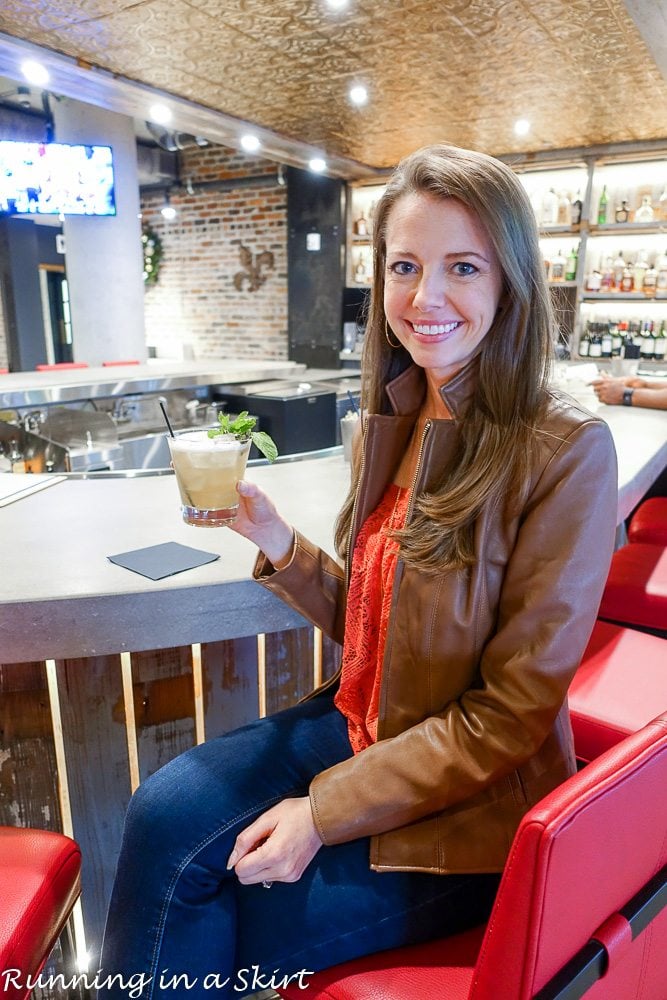 I loved my tasty mixed drink and enjoyed having such a lovely place to relax in the hotel.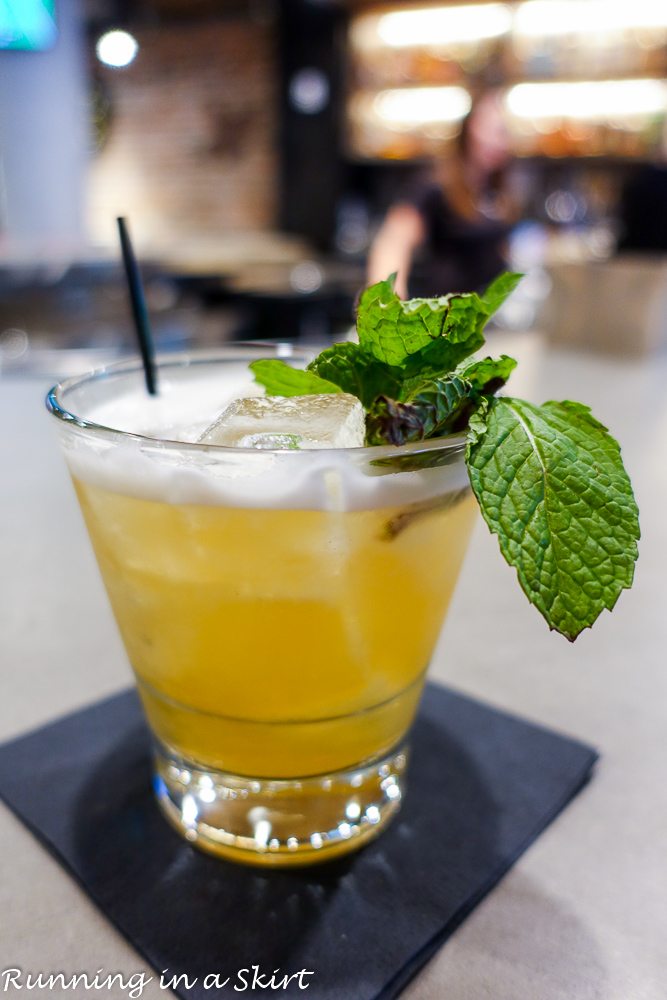 They also offer whisky flights and beer flights as well.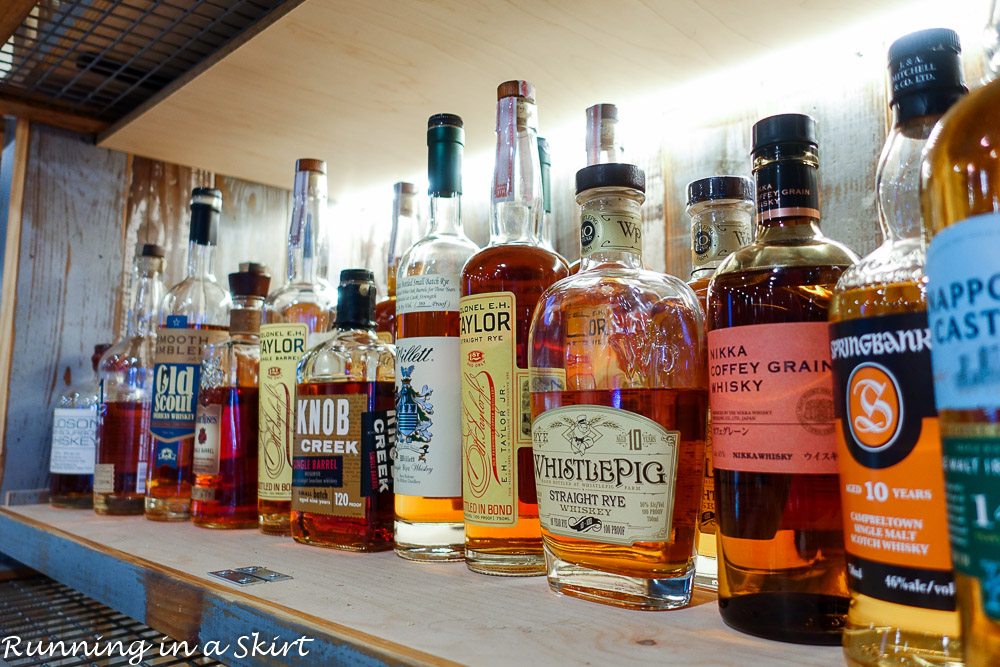 Victorian Lounge
The Victorian Lounge has a local vibe that feels like you are walking back in town. The bar is cozy and this mojito was fresh and delicious.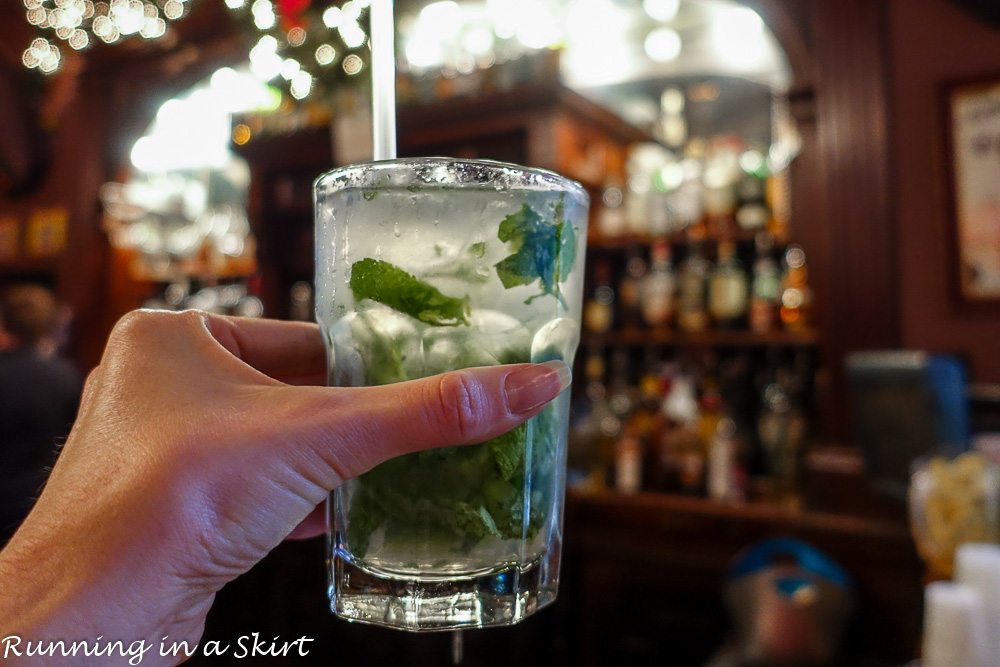 Hot Tin
The Hot Tin bar has tasty drinks and even better views. We happened to go to this rooftop bar on a foggy evening, but you can only imagine how much better the views would be on a clear day.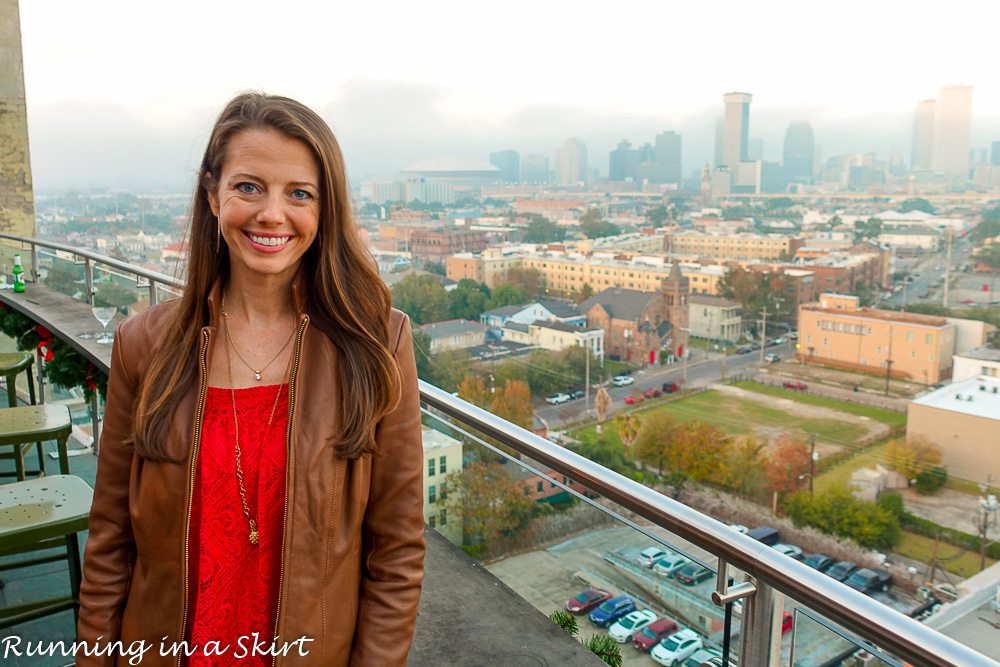 Bourbon Street
Bourbon Street is crazy, dirty and everything you think it might be. But since I'd never been to New Orleans before I wanted just one drink on the strip. This crazy daiquiri did NOT disappoint. It may not have been as classy as the other drinks, but it will be one to remember.
Check that off the bucket list!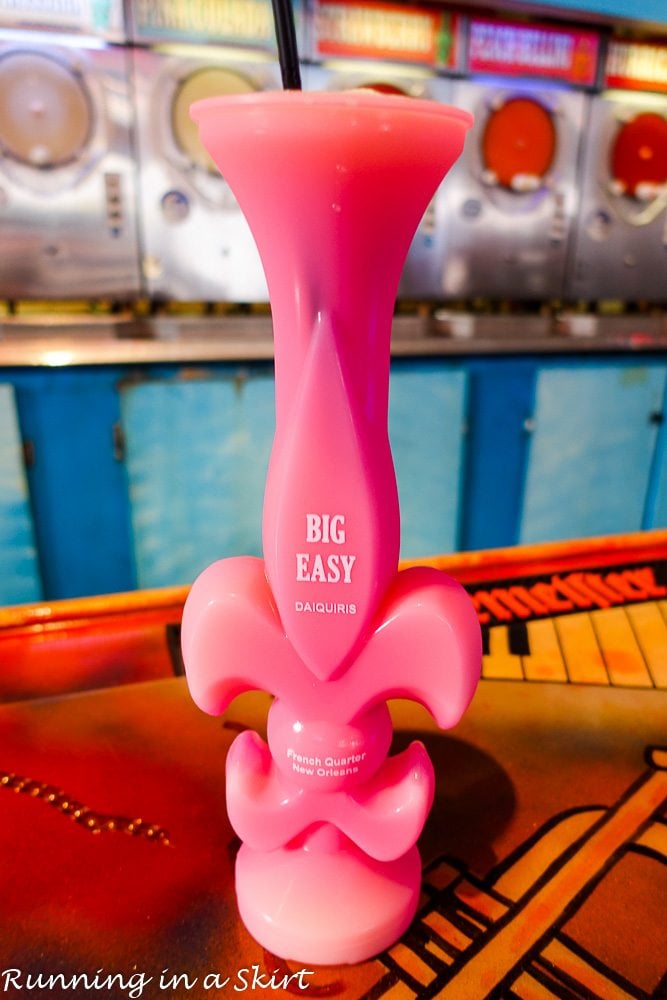 Best Eats
Cafe Du Monde
One of the most famous places to eat in New Orleans is Cafe Du Monde and it lived up the hype. The short menu makes you realize that they have faith in their classics.
There was a really long line out the door on Sunday but when we went back Monday morning we walked right in. The small tables are crammed together and waitresses rush by to bring the goodies. It's super casual and hectic but somehow still pleasant.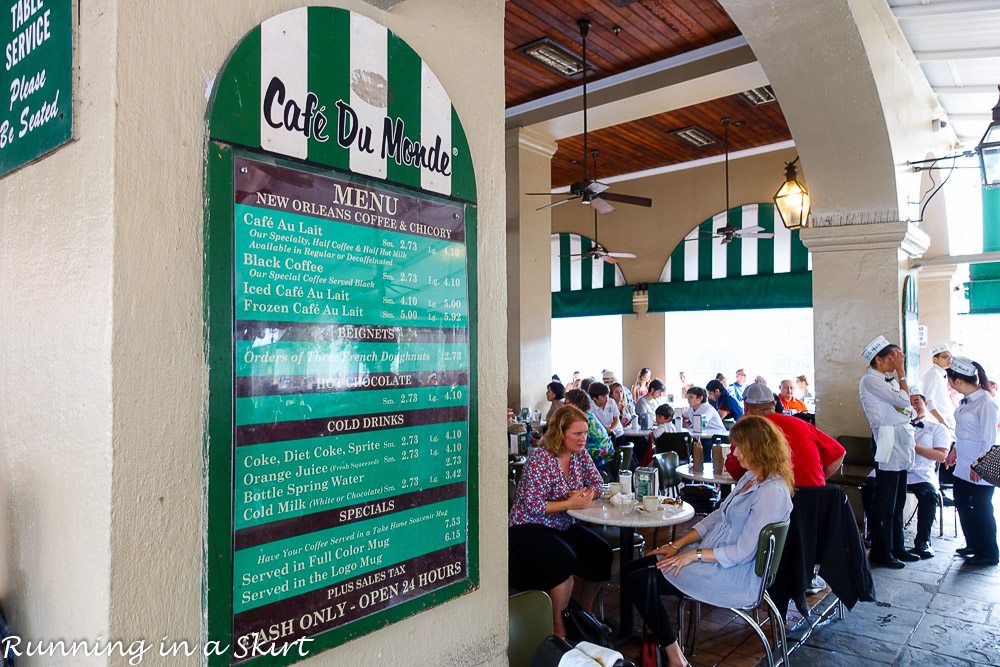 The beignets were little pillows of sweet heaven. I'm not much of a donut or pastry fan, but these were incredible.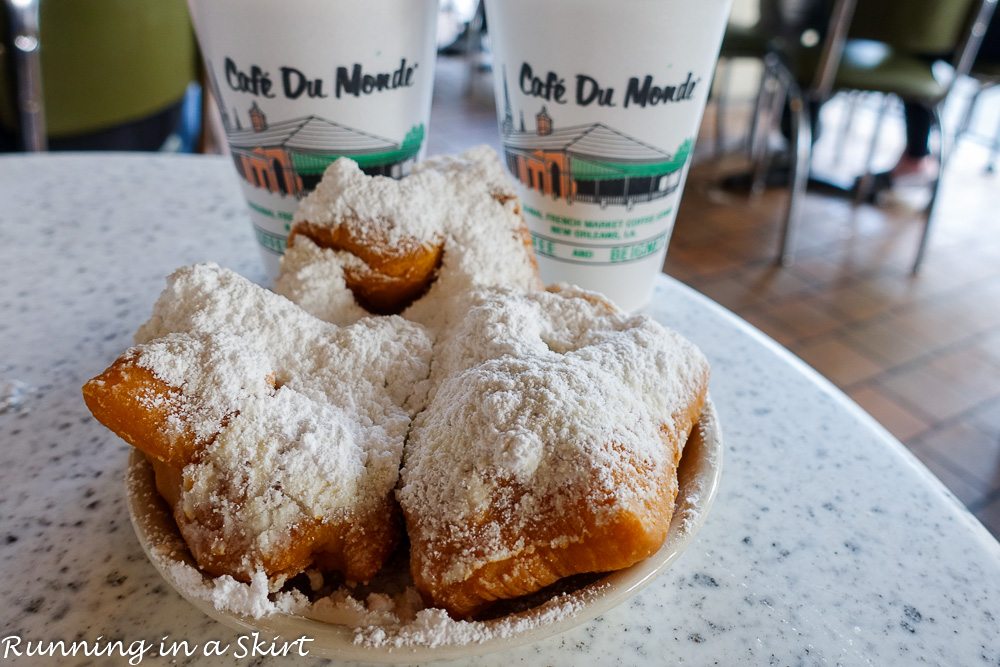 See how light they are? So amazing. I'd put Beignets and Coffee at Cafe Du Monde has one of the more unique food experiences in the city.
Willa Jean
For a more modern breakfast or brunch we also tried Willa Jean and it was also really good. To start I ordered some homemade banana bread. It was just sweet enough and really tasty.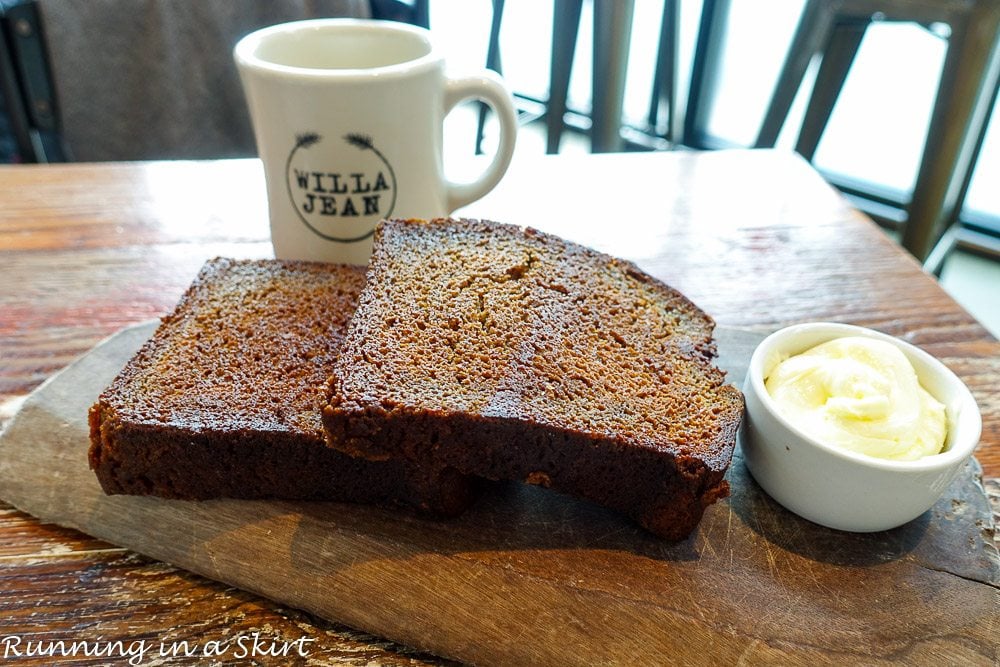 The main event was the Huevos Rancheros which were very tasty. This is one of my all time favorite dishes and I loved their version.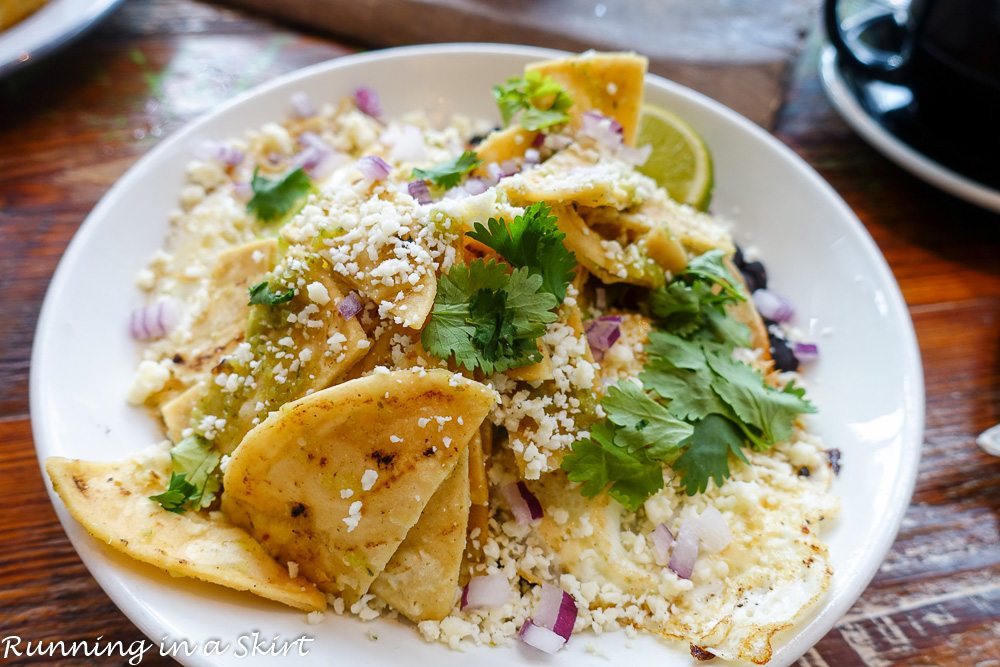 The menu was also filled with biscuit sandwiches and fun versions of avocado toast making it a perfectly hip brunch spot
Royal House
For a quick lunch and oyster break we stopped at the Royal House, which was a pretty touristy place right on Royal Street. While it was slightly cheesy, the best part was sitting on their tiny wrought iron lined balcony and people watching.
They oysters were also no joke! I loved both the raw ones...
... as well as the chargrilled ones! I wish I could recreate these at home because they were nothing short of incredible.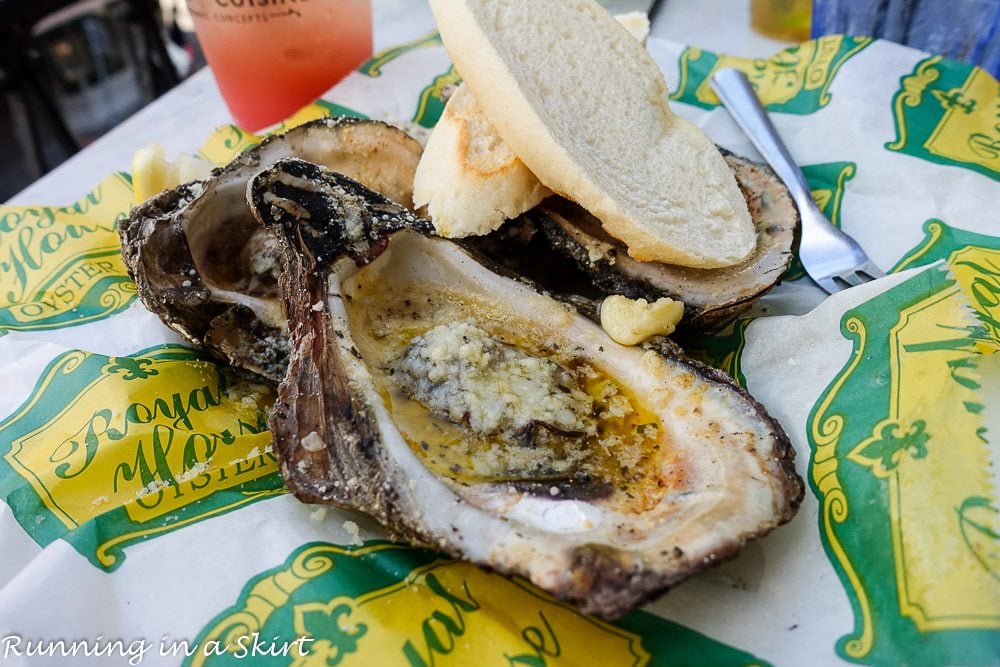 Napoleon House
Napoleon House is another touristy find in the French Quarter. Despite it's location this restaurant still gave us one of more memorable meals on the city.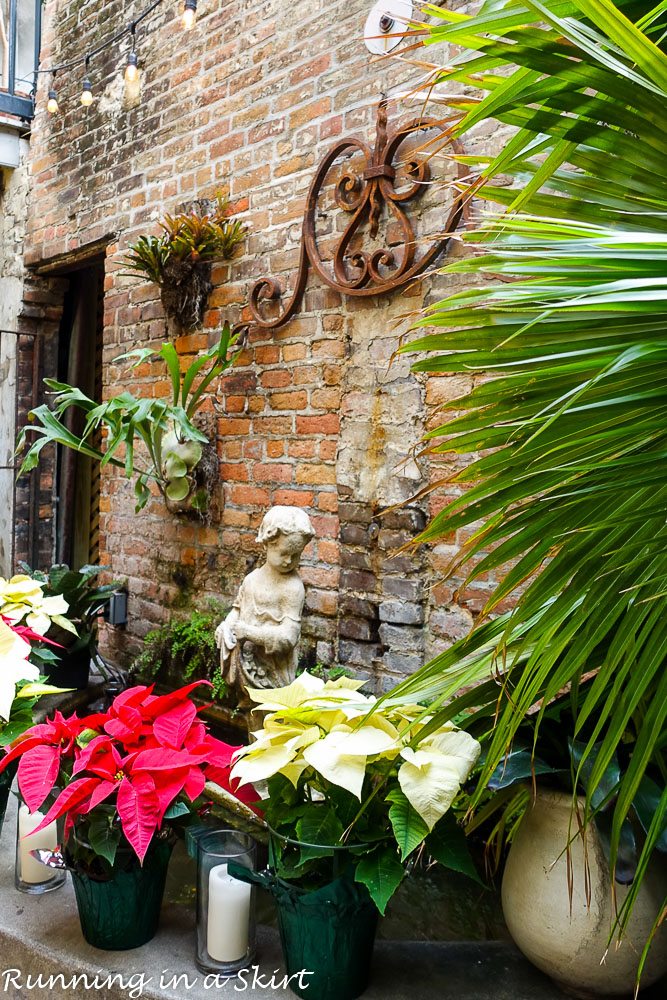 The Hubs started with a craft beer that he really liked.
We also shared a classic shrimp po'boy which was even more delightful than I imagined.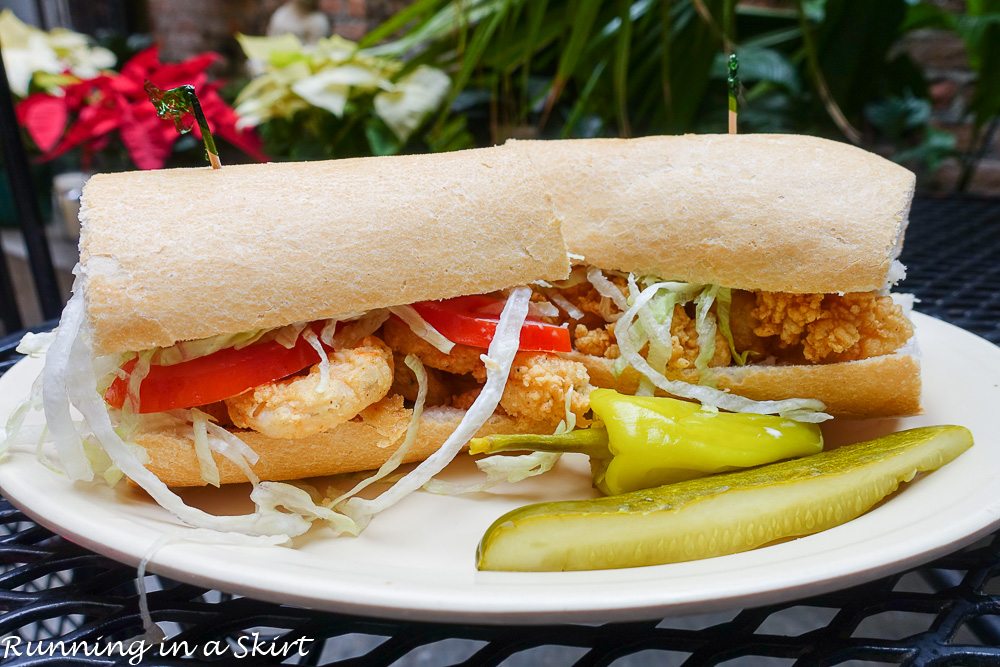 I'd had things before that I thought were po'boys but this one was SO much better. Leave it to New Orleans to do food right.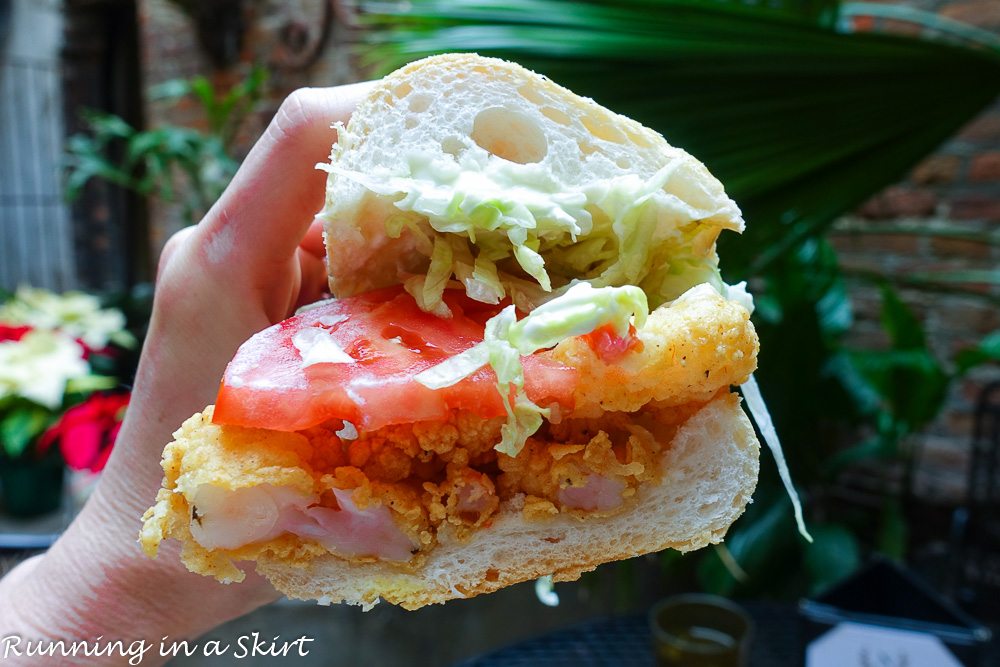 The Hubs also got a Muffaletta. I didn't try it because of the meat, of course.... but we heard it was another classic New Orleans dish he needed to try before we left. He loved it.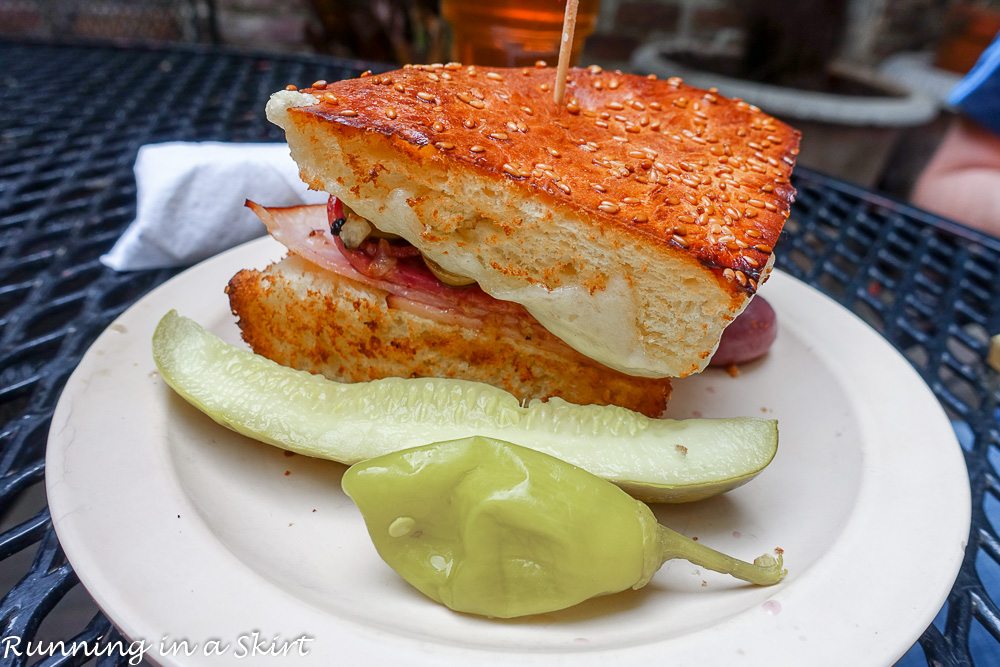 We also tried the Shrimp Gumbo which was so tasty. I want to try to make a version of this at home!
Brennan's
We were in the city two nights, which meant two lovely New Orleans dinners. Our first night we went to a classic New Orleans restaurant, Brennan's. Brennan's has been around since the 40's and still totally impressed us.
Once again the chargrilled oysters were a hit.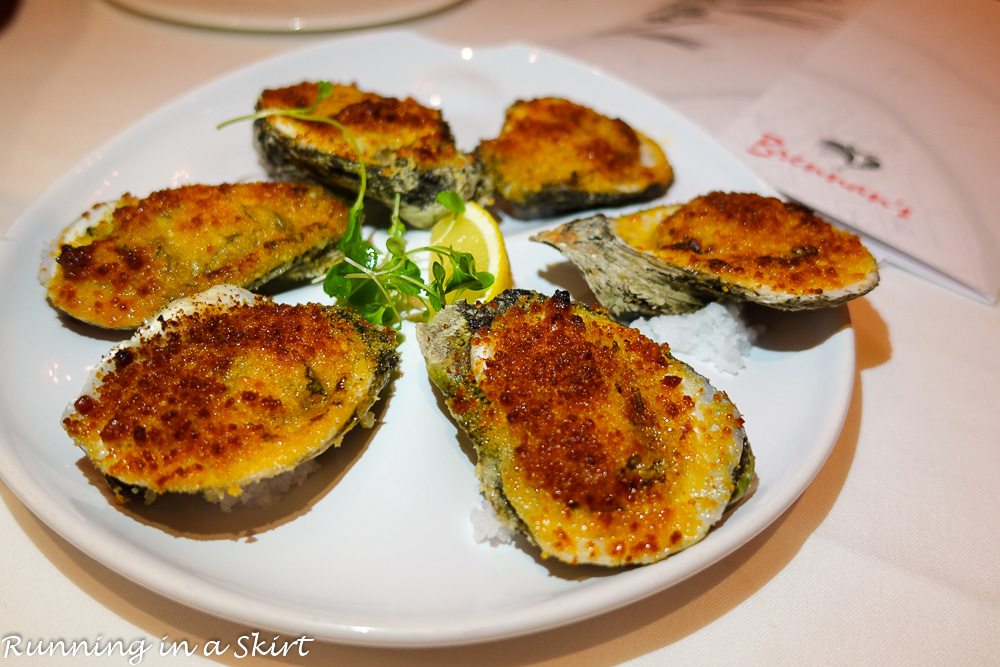 We splurged and also had their lobster appetizer, which was really good.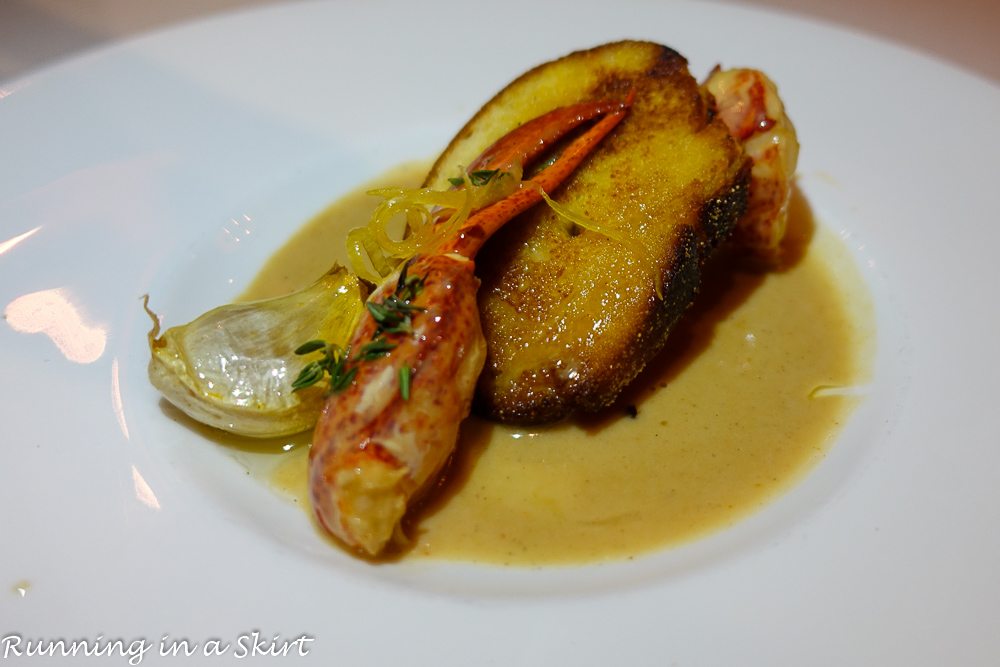 For my main dish I had a delicious tuna with black eyed peas.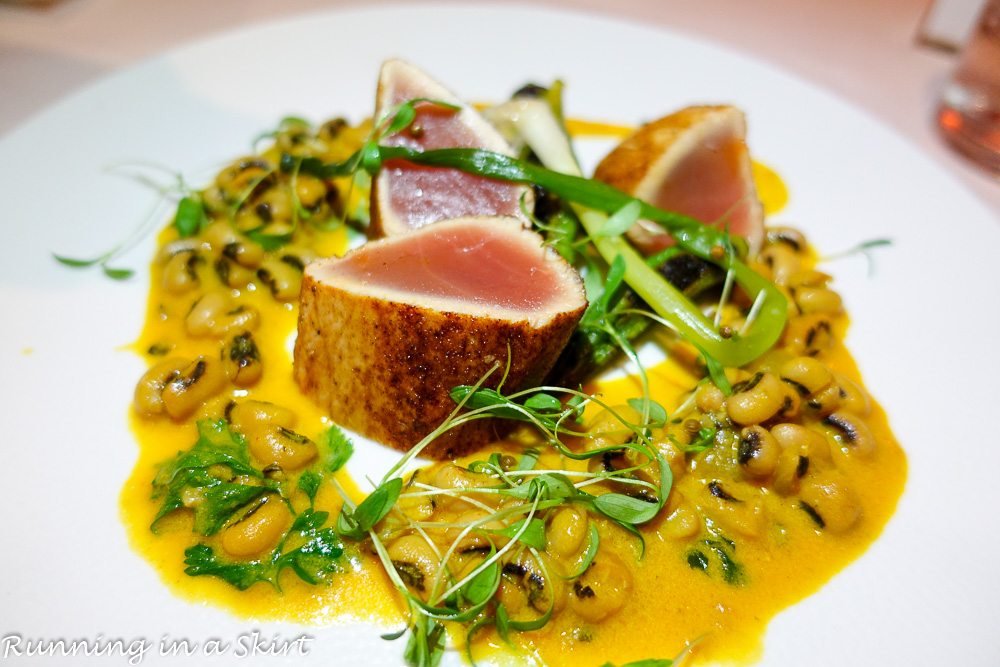 For dessert we shared a chocolate dish with savory sweet potato chips. The classic New Orleans setting, impeccable service, charming people and even better food made this such a memorable meal for us.
GW Fins
Our second and last night in town we dined at GW Fins. This meal was another delightful splurge that was worth every bite!
It started with Lobster Dumplings... which were basically pillows of heaven.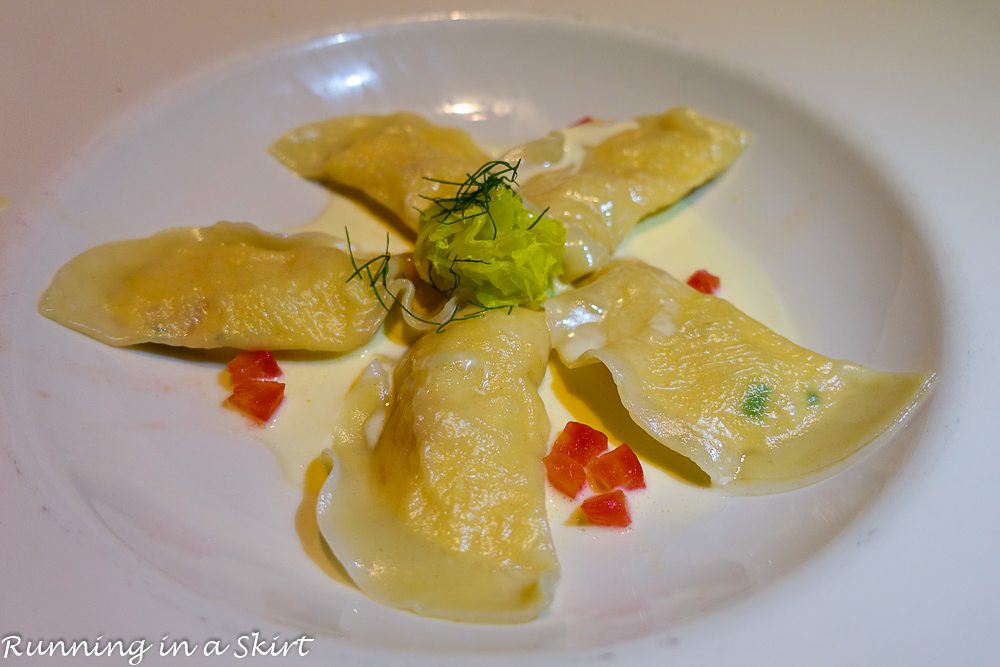 Next we shared a poached pear and beet salad.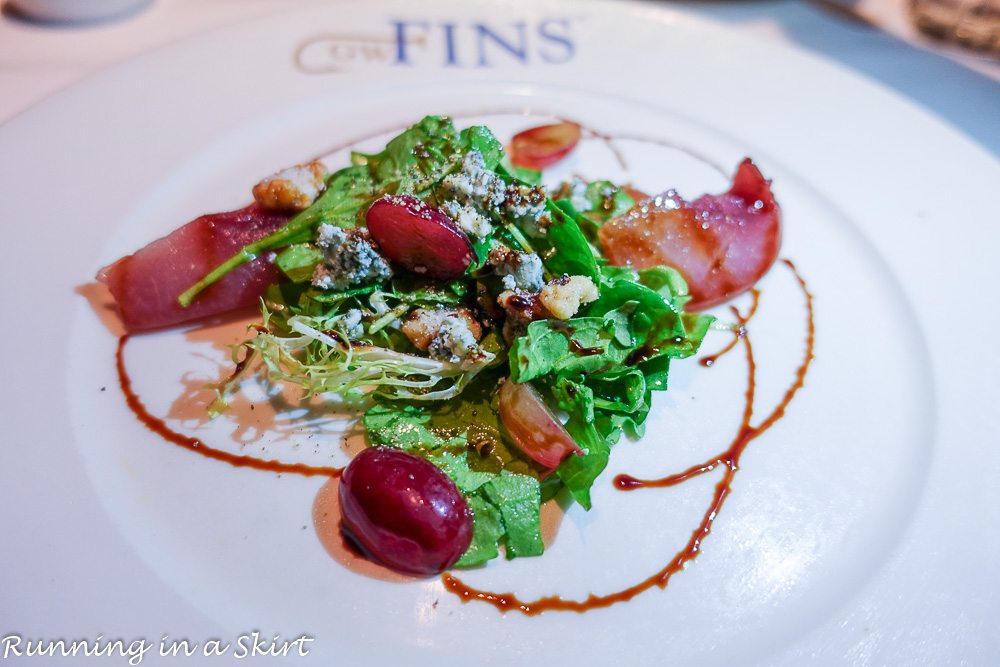 For our dinners we shared two fish dishes, which were equally incredible.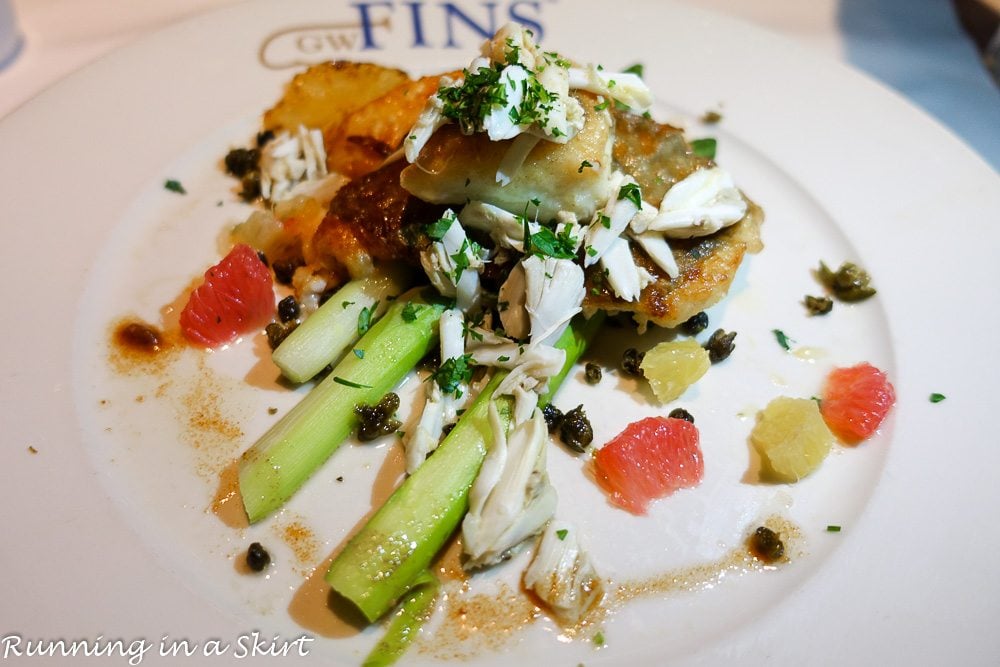 I'd honestly come back to New Orleans just to eat here again. The food was so delicious!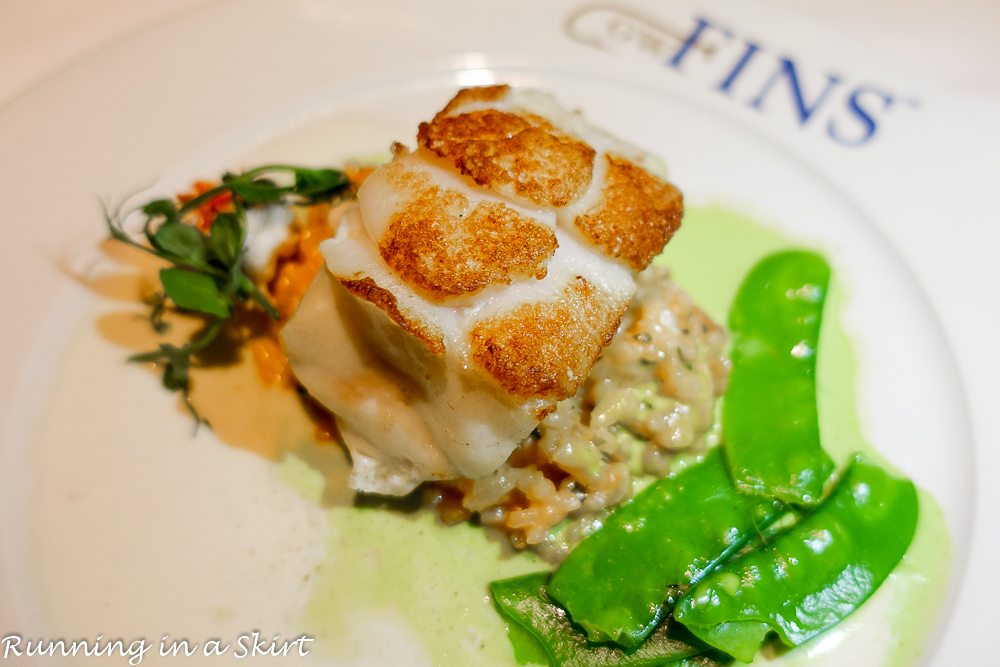 These best New Orleans eats were some of the most memorable meals I've had! This city knows how to do food right.
I hope that if you decide to visit New Orleans you'll consider staying in the Cambria Hotel New Orleans Downtown Warehouse District.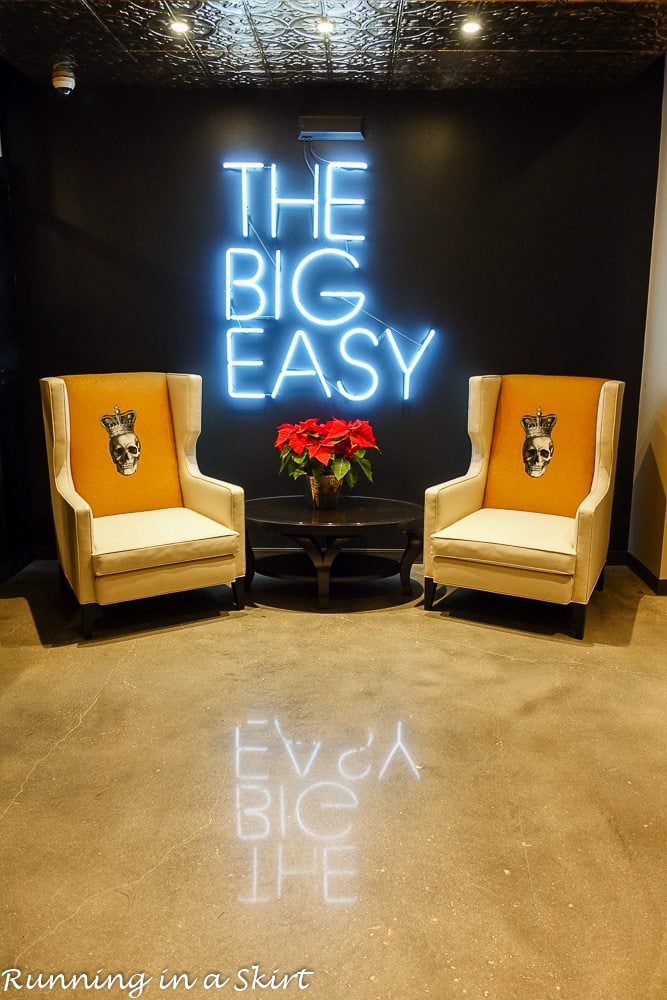 I know you'll love this hotel as much as we did! If you go, don't forget to tell them I sent ya!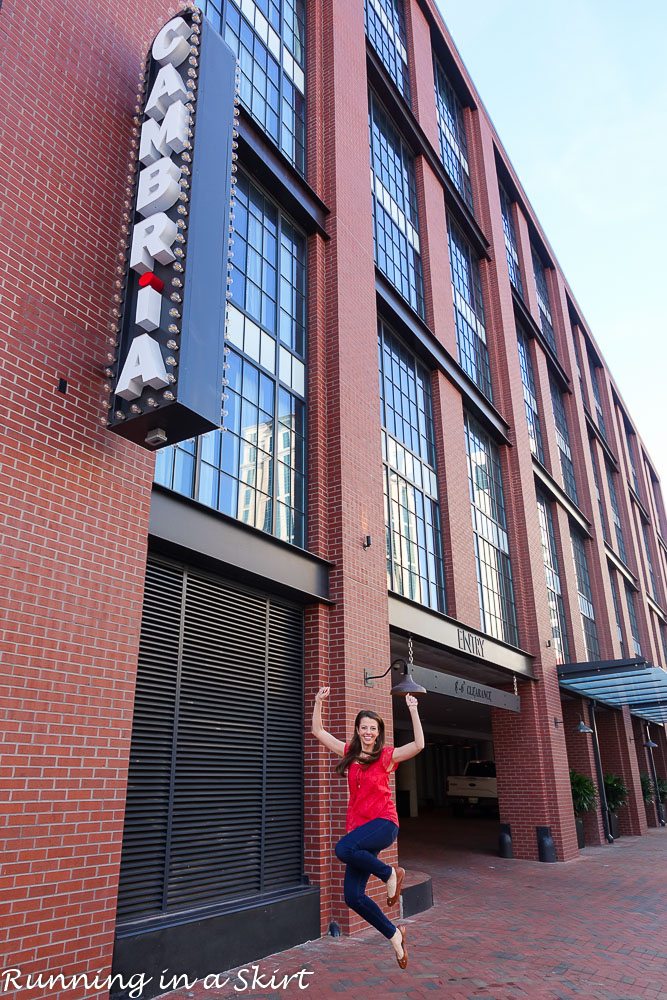 Like this post about Best New Orleans Eats? Pin this to your favorite Pinterest board!


Your turn!
What would you HAVE to have?