When a group of people who work in TV plan a party, it often turns into much more than a casual get together.  It's usually quite a production.  Imagine produced videos projected on large screens, hundreds of people, decorations and even possibly a PA system.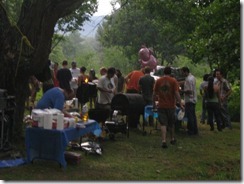 A poor quality candid view of an over the top 2009 party.
The pig balloon was named Patty…. as in sausage patty.
                           So wrong.
And these overboard, themed parties have a history of  involving food competitions   There have been rib contests, pork cook-offs (hence the pig balloon) and beer brewing tastings.
The Chili Cook-off of 2008 that will always be my favorite.  It's the only time I ever "entered"  and believe it or not, I actually won.
I wasn't planning on cooking for the the contest because at that time, I was not much of a chef.  I found out there were about a half dozen entries, but non of them were vegetarian.  I opened my big mouth to the organizers and asked about representation and food for the "meat-free" crowd. Next thing  know my name is on the list to cook. Yikes!  Sometimes I talk too much.
I had no idea what I had gotten myself into.  My competition all had tried and true recipes that they had made for years.  I was fighting an uphill battle when all the other stews had beef, pork or chicken in them.  I browsed the internet for recipes and decided to combine the best aspect of several I had found.  I then recruited my girlfriends to put together a GIANT batch.  It was a turkey fryer size pot.  Ridiculous!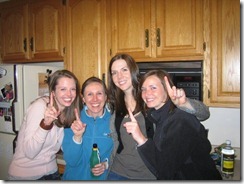 Oh yeah, we are number one!
Since I didn't have this amazing recipe that I knew everyone would love, I decided I needed a little publicity.  How was a vegetarian chili going to beat my friend's well-loved, meat-filled recipes? So I launched a full fledged campaign for my chili with stickers and flyers.  I got a little carried away.  And… I may have brought some adult beverages to compliment my chili.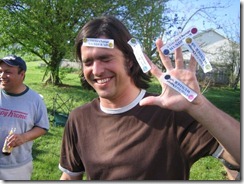 I covered the competition, Eric, with my propaganda.
Even though I focused a bunch of time on my gimmicks, the actual chili I made ended up turning out really good.  I served bowl and after bowl of it.  It was a crowd hit!
At the end of the night everyone who was there stood in a line in front of their favorite chili to vote for a winner.  Then, the chili with the lowest number of votes was eliminated.  Those people could move to their second favorite Chili.  It came down to my Chili and my good friend and photographer Eric's chili.  It was so close, but when the final count was done, I won by just a couple votes.  I don't eat meat, so I didn't try Eric's Chili.  But I knew it was awesome and everyone also loved it.  He poured his heart and soul into that pot.  He was the one who organized the crazy event and he had initially pulled me into making the vegetarian chili to begin with. I threw my recipe together.  So, I actually felt a little bad about the victory.  Just a little. Maybe the stickers were a little over the top?
There was no prize; just bragging rights.  But that was more than enough and it still ranks as one of my favorite nights ever.
Over the years, I recreated the chili to be cooked in a crockpot.  It's changed and adapted a little over time, but it is truly become one of my go-to recipes that I can legitimately call all mine.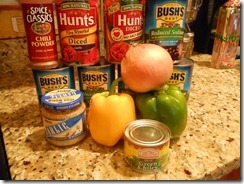 Here are some of the secrets that I think really makes it good….
1- It has lots of different bean types.  The variety makes it more interesting.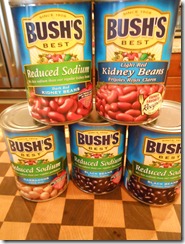 2- It has color.  The different peppers and beans make it a pretty dish.
3- It does NOT have "fake meat."  I like tofu but so many people are turned off with the possibility of "fake meat" that they will not even try it.  This chili is packed with so many ingredients, you will not even miss it.
4- Chipotle Cholula.  Need I say more?
So here we go, the recipe for Julie Wunder's AWARD WINNING Vegetarian Chili!  I really hope you will try it and enjoy it.
Award Winning Vegetarian Chili
*printable recipe below*
1 – 14.5oz can dark kidney beans – drained and rinsed
1 –14.5oz  can light kidney beans – drained and rinsed
1- 14.5oz  can garbanzo beans – drained and rinsed
2 – 14.5oz  can black beans – rinsed and drained
2 – 14.5oz can diced tomato (I like fire roasted garlic style)
1 – 4 oz can diced green chilies
2 – 8 oz can tomato sauce
2 Bell Peppers – Chopped (I like one green and one yellow for color & variety)
1 Sweet Onion – Chopped
2 minced garlic cloves
1 tablespoon Chili Powder
1/2 Teaspoon Hot Chili Powder
1/2 Teaspoon Cumin
2 Bay Leaves
3 tablespoons Chipotle Cholula
Salt/ Pepper to taste (1/2 teaspoon each)
Directions:
Chop the peppers and onions.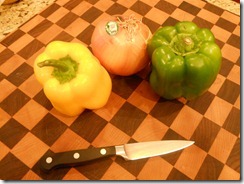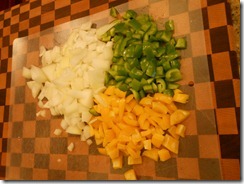 Open cans and add ingredients to large crockpot….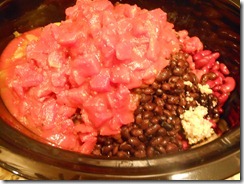 And stir…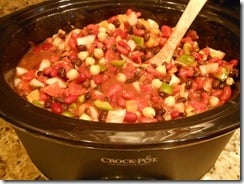 Add spices.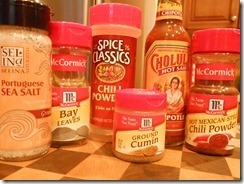 Put lid on Crock Pot and cook for a full cycle.  Stir occasionally.  Take out Bay Leaves when the crockpot is done.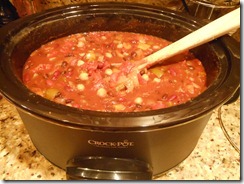 Serve with an additional splash of Chipotle Cholula on top and a corn bread wedge.  If you are not vegan, add low fat sour cream and low fat Mexican blend shredded cheese. The Chili reheats well AND, you can freeze it.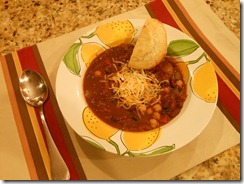 Share
Tweet