Ahhh… New Year's Resolutions. Last year I made some lofty goals and posted them here on Running in a Skirt.
They included things like Run Faster, Build a Strong Core, Use Coupons, Organize & De-clutter and Plan and Prepare Healthy Weekday Meals.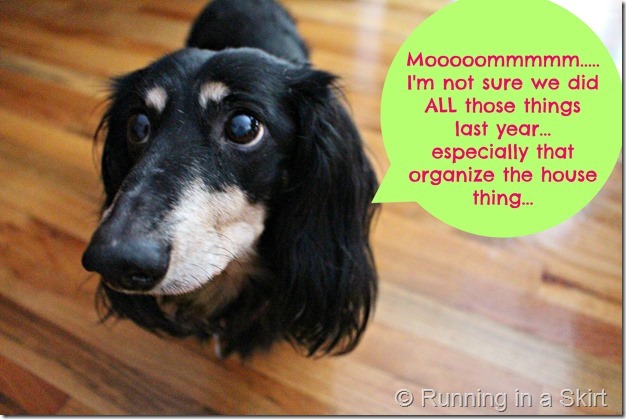 So, Rhett spilled the beans but I didn't accomplish all of my goals last year. I made progress on a lot of them, especially in preparing healthy weekday meals, but I can't really check anything completely off the list.
In January I started the Crock Pot Challenge to help build my recipe repertoire and I signed up for the Frostbite 10K to hit my running goal times. Specific goals… with specific plans to accomplish them.
And then In February I got sick. All my plans changed and all my efforts focused on getting help for my voice and health problems and eventually recovering from surgery.
So basically the plan didn't go as planned. But, that ok. As difficult as it is for me, I know that sometimes you just have to be flexible.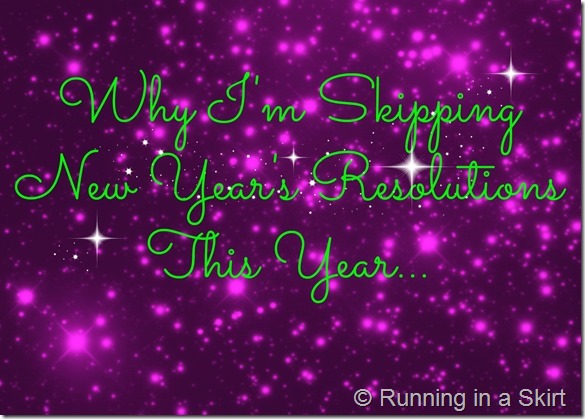 So this year, I am trying something different. I'm going to skip making New Year's Resolutions. I don't need a list of things to put anymore pressure on myself. I'm just going to do the best I can each day. Instead of taking on more, I'm going to try to DO less this year. Since I started feeling better, the hubs and I seemed to pack an entire year worth of stuff to do into four months. My schedule has been more than a little crazy lately and we have been running on fumes. Don't get me wrong, I like to have plans and be scheduled… but not as much as I have been. It's time to dial it down. I'm going to try to leave at least one weekend a month completely empty in the planner to catch up and recoup. I'm going to try to say "no."
Yes, I'm PLANNING to NOT PLAN. And yes, I realize that sounds a little ridiculous. I must be the ultimate Type A! haha.
We'll see how long I can keep up.
But even though I'm not really making new years resolutions this year, I am still standing by new running goals I made after the Chicago Marathon. They may or may not happen this year (So they are therefore NOT TECHNICALY New Year's Resolutions,) but I'm ok with that. I know I have it in me, I just haven't stayed healthy for long enough to make it happen.
Running Goals --->
*Run a sub 27 5K
*Run a sub hour 10K
Oh and I've made a new ultimate running challenge goal… One day I really want to run the Disney Glass Slipper Challenge (Disney Princess Half Marathon AND the Enchanted 10K in the same weekend) PLUS in the same year run a Disneyland race in California to get the Coast to Coast Challenge medal. *boh-yaaaaaa*
But I digress…
So here is to year of less planning, more relaxing, appreciating the moment and hopefully less stress.
Of possible interest…
5 New Year's Resolutions That Might Actually Work
10 Most Popular New Year's Resolutions with Apps to Help You Achieve Them
Questions….
What are your New Year's Resolutions this year?
Have you ever been successful at scaling back your schedule?