For the longest time my biggest running goal was running a marathon. I wanted to prove to myself that I could go through the training and conquer the ridiculous task of running 26.2 miles. I told myself that it didn't matter how long it took me to do it, but I wanted to cross that finish line. I wanted that medal.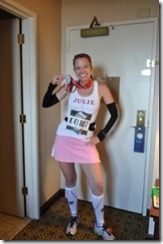 Oh! beautiful shiny medal.
You are my sunshine

So I signed up for the Chicago Marathon and spent nearly nine months slowly increasing my miles and doing everything I could to run injury free.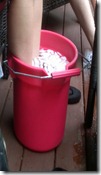 That's my feet on ice.
I don't miss my ice bucket..
I ran.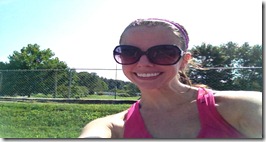 16 miles? Yeah, I got this!
And ran.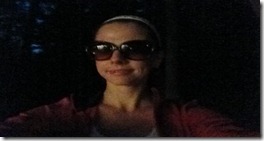 18 miles. I conquered you too.
And ran.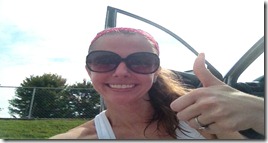 20 miles. Did I just really run that?
I loved the training process and each week accomplishing a new record distance. I enjoyed going to the park and running for hours. I looked forward to seeing the same people each week running the same circles… training for a similar goal. I loved crossing the long runs off of my training plan and adding up my many, many miles.
My plan after the Chicago Marathon was to take two weeks off of running to let my body heal. I then wanted to keep my base long run around 8 miles. I had learned to love the 8 mile run. It was long enough to feel like a big accomplishment, but not so long that you were wiped out for the rest of the day. I thought with a base of 8 miles it would be easy to pop back up to half marathon distance. I had a plan to sign up for the 2013 Disney Princess Half Marathon in February.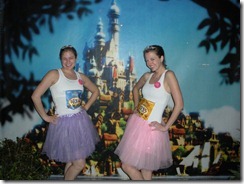 2011 Disney Princess Half Marathon
I ran through Cinderella's castle with
my best friend. Best race ever.
But then two weeks and a half weeks after the Chicago Marathon this happened…
POST WHERE I TALKED ABOUT GETTING SICK
And then this happened….
POST WHERE I TOLD YOU ABOUT MY MOM
I only ran once in a month and a half. When I started to run again, I could barely run 3 miles without gasping for breath. My body was physically and mentally worn out and exhausted.
While I was just barely getting back into running and life, I got an e-mail that the Disney Princess Half Marathon was 99% full. My heart wanted to sign up so badly. But my mind told me that now was not the time to push my body. I did not need to commit to traveling for a race. So I waited and the race filled up without me and I have to admit I was a little sad.
But it's time to move on. I firmly believe a runner needs goals! And it doesn't have to be a half marathon or a marathon. It can as simple as running 3 days a week for a month straight or decreasing your 5K PR (Personal Record.) So I decided that the best thing for me to do would be to focus on some smaller goals to leave my schedule more flexible for family needs.
So I set some new running goals….
Increase my long runs back to 5-6 miles.
Work on getting faster by adding hill work, speed intervals and strength training
Be more open to running outside in "cold" weather- Don't immediately go to treadmill if it's below 50 degrees
Run a 5K in 2013 in under 27 minutes (Holy FAST Batman!)
Run a 10K in 59:59 or under!
Goal number 5 has actually been on my list for a long time. But I've actually only tried to do it once and it was the first race I actually "trained" for. In 2010 I ran my first and only 10K. The Cooper River Bridge Run in Charleston in 1:05. Looking back there was no way I could have run that race in under an hour with the physical abilities I had then, but now I know it's possible! I have been able to get faster at the shorter distances, but have really struggled in translating that into running speedy at a longer distance. I think a 10K in under an hour is a challenging, but realistic goal!
I'm thinking about signing up for the Frostbite 10K in February. I really hope it's not actually frosty though. I think I've passed on the race every year simply because of the name! I hate the cold – yikes. But I think I have to refer back to goal number 3 and get over it.
I'm excited about my goals. I'm going to make them happen!
So quickly... back to the "marathon." Many people have asked me if I am hooked on the distance? Will I run another one?
I've had some time and lots of perspective to answer this question. Right after the race I said " I will NEVER do this again." I think my husband actually recorded a video of me saying this so he could show it to me later. He knows me too well.
Now, I'm saying I am not going to run one anytime soon. I will not run one again UNLESS I feel I can train harder without getting injured AND run it significantly faster. I don't see the need to run another 5+ hour marathon. It's so hard on your body. I'd have to be pretty sure I could run it closer or under 4:30 (ie be able to run a half marathon in close to 2 hours) to justify running another one. It wasn't the actual race or training that was that bad. I enjoyed all of it. It was the fact that the training simply took over our summer that is keeping me away. It's hard to plan to do anything else when you have a 20 mile run on your schedule. I was in constant fear of getting sick or hurt. I don't feel the need to rush into another full marathon. I have an awesome respect for people who do and can.
I am SO happy I ran the Chicago Marathon. I feel like I accomplished the ultimate running goal. And I am proud. It may or may not be my only marathon. Time and SPEED will tell.
So what about the half marathon? Run half the distance? Train half as much? Still get a nice, shiny medal? Sign me up. The timing wasn't right for the Disney Princess Half Marathon this year, but there will be more races. And more bling. Maybe even this year. But now is not the time for big goals.
Now is the time for new and fast goals; Like running like the wind. (Did I really just type that I was going to try to run a 5K in 26:59???!!!!)
Questions today!
Runners- Does anyone have any tips for me to accomplish my goals? I'm open to all help and suggestions!

What are your current running goals?
Non Runners- Do you have any new goals you are working on? I hope my post will inspire you to set some in whatever hobby you love!