CLICK HERE FOR A LINK TO MY MOST RECENT HEALTH UPDATE
I have always seemed to have some really bad luck when it comes to getting sick. I seem to catch whatever I'm exposed to and when I do get sick, I usually end up with some sort of secondary infection beyond the common cold.
I've been that way my whole life. My mom says my baby book has entries with ear infections every other month for the first several years of my life.
My sophomore year in high school I got pneumonia and mono and had to be homeschooled for two months until I got better.
For most of my adult life I've been able to keep it under control. I've caught the colds early and tried to stay away from situations that could make me sick. That all changed a year and a half ago. I pushed through an illness and damaged my vocal chords pretty badly. I've had trouble ever since. Every virus I get immediately seems to completely kill my voice. That's a problem for someone who essentially talks for a living.
That's what has kept me sitting here pretty sick for over a week now. I caught something and lost my voice. It's been a very rough week and I had some bad complications with my throat, but I think (I hope) I'm over the worst. The doctor says I'm definitely getting better. I finally have enough energy to sit and type on the computer- yay for the blog! I'm getting my voice back and will hopefully get my energy back soon. I'm ready to go back to my normal, crazy life.
I'm lucky my problems are not more significant. There are people who I am close to who have serious life threatening illnesses. I am not that bad off. I have some issues, like everyone, but I'm grateful for my healthy heart, my strong legs and the people who care so much to worry about me while I'm sick. I may not be able to say it too clearly right now… but I mean it from the bottom of my heart…. Thank you.

AND, Something awesome happened this week while I was sick. I got a guest blog posted on one of my favorite blogs "Espresso and Cream." I actually wrote this a couple weeks ago before I got sick, but it was posted Tuesday. The author of this blog, Madison Mayberry, is all about bringing girls together without the focus of weight and body issues. She has a series on Tuesday called "No Fat Talk Tuesday." Over time she morphed that into a series called "My 5 Things." She asks guest bloggers to write about five things that make them feel beautiful. Check out my post on her blog—I think you will like it. Here is the link the Espresso and Cream blog... and I've included my post below too.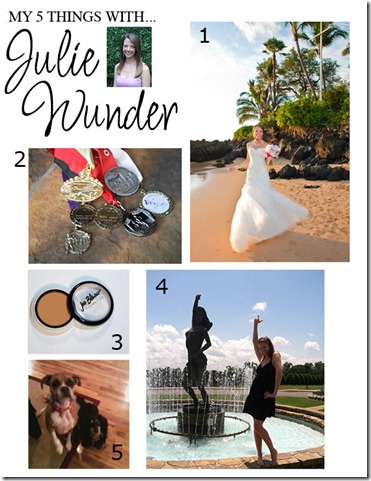 WHO: Julie Wunder
WHAT: Meteorologist, Runner, Animal Advocate and New Blogger
BLOG: Running in a Skirt
Hello, E&C readers! My name is Julie, and I love smiles, the color pink, football and country music. I have been reading and enjoying Madison's "My 5 Things" series on Espresso and Cream. It seems like life gets so crazy these days that sometimes we forget to step back and appreciate all the beautiful things in the world. I think it's amazing she's bringing girls together so we can all realize that beauty comes from so many places and we don't have to be the same or look like a model to have beauty. I know I have so many things to be grateful for and I appreciate the opportunity to share a few things from my life that make me feel beautiful. Thanks, Madison!
1. My Wedding Day & Husband: I felt so beautiful and happy the day I married my husband. The picture sums up the joy of the day. He has made me feel beautiful, strong, smart and funny every day since then. I am so blessed and grateful to have him.
2. My Running Medals: Most of them are finisher medals, but a few of them are age group awards from small community races. I picked up running a few years ago as a hobby and have been blown away at how strong it makes me feel. I even just finished my first marathon! And isn't strong the new beautiful? Check out my race recap of the Chicago Marathon where I picked up some awesome hardware.
3. Joe Blasco Cosmetics Concealer: I know beauty comes from the inside, but sometimes a little help on the outside can make you feel more like yourself. I wake up at 2:50 AM for my job in morning news and as much as I try to get enough sleep, sometimes it's impossible. I also have haywire allergy problems. That's a dangerous combo for bad dark under eye circles. I've tried almost every concealer product out there, and this one can wake up my tired eyes, making me feel as beautiful as someone who works a 9-5!
4. A Smile: I watched the musical "Annie" over and over again as a kid. Remember the song, "You're Never Fully Dressed Without a Smile?" Well, that idea stuck with me because I feel most put together and most beautiful when I top off my outfit with a big, bright smile. I believe your inner beauty can shine through a grin no matter what you are wearing or what you are doing – even if it's something super silly like having fun on vacation in a simple dress with no makeup.
5. My Dogs: I have an odd pair of puppies (They will always be babies in my mind); an 11-year-old Dachshund, Rhett, and a 7-year-old Boxer, Reina. They love unconditionally with all their hearts. Nothing makes me feel as beautiful from the inside as the unrivaled adoration of Rhett and Reina.