I have wanted to go to Discovery Cove since it first opened when I was in college. Despite how badly I wanted to go, it never seemed to be the right time to visit the park. This past week that all changed and our schedule finally gave us a free day to visit during the perfect time of year to do touristy things in Orlando. I was more excited than a five-year-old waiting to meet Mickey for the first time.
Discovery Cove is a water park owned by Sea World. But instead of having huge slides and wave pools, animals are the main attraction. Including the number one reason I wanted to go to the Cove—a dolphin swim encounter.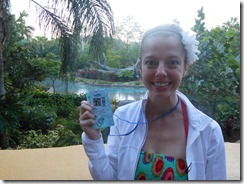 Yes, I really was this excited.
We drive up to Discovery Cove and it feels more like a fancy tropical resort than a theme park. There are lush tropical plants, tiki torches & a beautiful hut as the entrance. Upon arrival, we sign up for our Dolphin swim time (We got 8:45 in the morning) and get a pass to enjoy everything else in the park for the day. The entrance price is all-inclusive and includes the dolphin swim, other attractions, wetsuit for the day, towels, animal-friendly sunscreen, a snorkel and mask, breakfast, lunch, snacks, and drinks during the day.
We decide we have just enough time to get breakfast before our Dolphin swim time. There is a cafeteria-like area where you can get hot and cold breakfast items including eggs, bacon, and pastries. It's nothing fancy, but it is all pretty good. We also had lunch in the same area later in the day. Once again there were tons of options and the deserts were probably the highlight. Yes, I got both the brownie and the cheesecake. I have no self-control in a line with food- especially good looking deserts.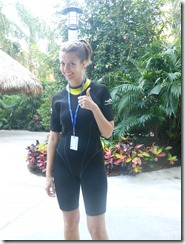 How do I always get myself into
doing things that involve wetsuits?
I hate these things!
After breakfast, we get our wetsuits and vests. You actually have to wear these for all the water activities at Discovery Cove. They said it was easier for the lifeguards to keep track of everyone with them. The wetsuits look ridiculous, but the water for the Dolphins and the "Grand Reef" was supposed to be very cold, so I was happy to have it. My husband opted to just use the vest.
Our Dolphin swim time begins promptly with an orientation with a Dolphin trainer. Our first trainer ends up stalling some. She tells us they don't force the dolphins to do anything and the animals are slow to move into the encounter today, so we just had to wait for them to be ready to play along.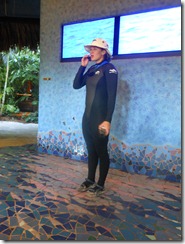 Her job is to play with dolphins all day.
I'm super jealous

Finally, the dolphins decide to come out and we are divided into groups of about eight people and each given another trainer. We walk out into the water (yes, freezing— I would suggest booking the dolphin swim later in the day when it's warmer outside) and the trainer has the dolphin swim right up to you.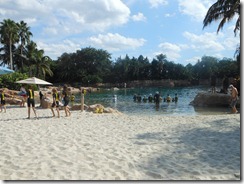 Our Dolphin's name was Coral. Coral was the first dolphin baby actually born at Discovery Cove. The trainer lets each person in the group feed her. Then Coral swims back and forth in front of the group and we are allowed to pet her as long as we are careful around her eyes and blowhole. Her skin feels like a hard-boiled egg. She is smooth but not slimy. I can sense her strength and power as well as her kind heart.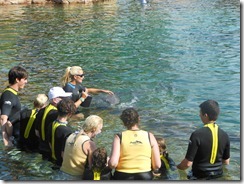 We then learn some of the signals they use to have the dolphins do tricks. It's amazing how smart and playful these animals are. They really seem to like to play along and the attention they are getting. They seem to have a true affection for their trainers.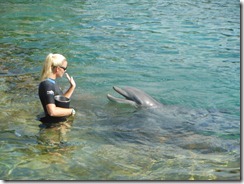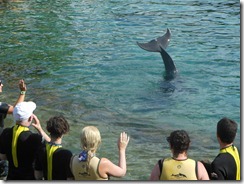 Then each person and each group gets to pose for some pictures. And yes, they have their photographers take them so you end up spending a fortune on pictures afterward. But I would just plan that into your budget for going, because who isn't going to want the pictures with the dolphins?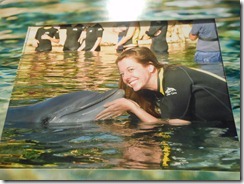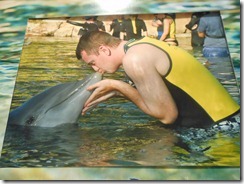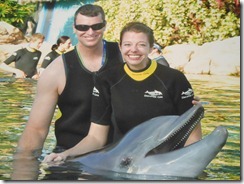 Yes, we bought them all.
These are pictures of the pictures,
the digital images were even more expensive!
The grand finale of the dolphin encounter is a "ride" in the pool. I swim out to the deep water (they have a shallow water version of this if you aren't a good swimmer) with a trainer. Coral comes over to us and I get instructions on how to to hold onto her without hurting her and I get pulled back to the beach area. The force and rush of her power is amazing. This is priceless experience!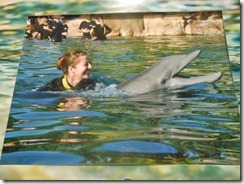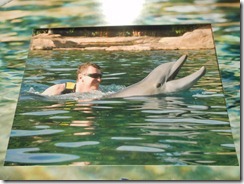 The entire dolphin encounter lasts about 30 minutes. They are very clear about that when you sign up, but I still was wishing for much more time with the animals when our time was over. If I had to do it again, I would book the Dolphin swim later in the day so I would have more time to look forward to it and because it was still a little cool that early in the morning.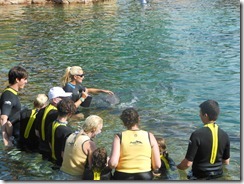 The rest of the park is very relaxed and chill. The dolphins are definitely the highlight, but Sea World still found some pretty cool ways to keep us occupied during the rest of the day.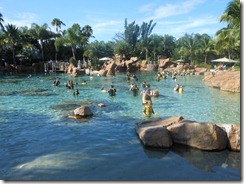 The second most exciting thing at the park is a "Grand Reef." It is basically a huge man made snorkeling adventure complete with coral, thousands of fish, and tons of stingrays.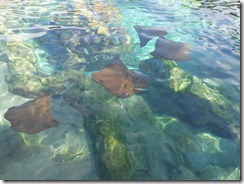 There is even a shark tank that has a glass barrier that you can swim right up to. It makes it feel like you are actually swimming with the sharks.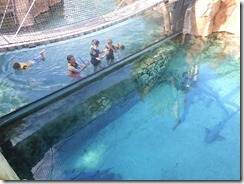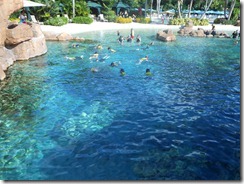 There is also a lazy river area that snakes around the entire park. It goes through an Aviary, which you can also walk through. I really enjoyed seeing the vast array of birds. It reminded me of the birds we saw in Costa Rica. And another plus is the water in the lazy river is warmer than the Grand Reef and the Dolphin Swim area.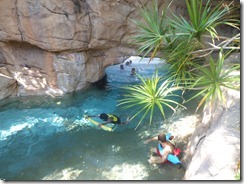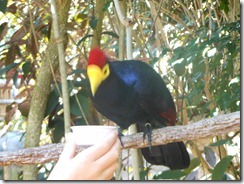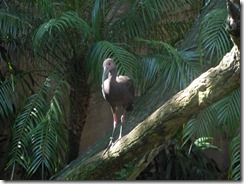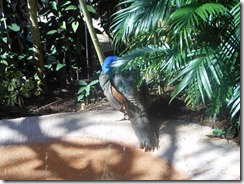 The newest addition to Discovery Cove is the Fresh Water Oasis. It's another winding pool that takes you around a centered island that houses Marmosets—yes, little monkeys!!!! And if that isn't enough you can swim right up to the glass of an otter habitat. These animals are darling and the water in this area was the warmest. Thank goodness!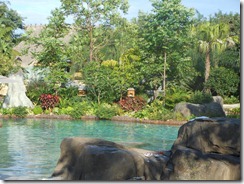 Discovery Cove is an amazing way to spend a day. It's pretty pricey, so I would only do it if you have a love and fascination with dolphins. Otherwise you probably would not get your money's worth out of it. I wanted to swim with dolphins at Sea World instead of somewhere else because I felt more confident that they would be treating the animals well.
It's also great that Sea World found a way to expand the experience into a whole day event with other fun animal encounters and attractions. The all inclusive resort type feel was a great touch too. It is fun to pick up extra snacks and drinks during the day without worrying about money.
The only problem is I've done two BIG things on my bucket list… run a marathon and swim with dolphins in the past month. I'm going to have to come up with some more crazy things to try! Any suggestions?