Happy Fashion Friday!
Can't wait to share a new white jeans look with y'all, but first let's talk about this week.
This week has been kind of hectic, I've been putting way too much pressure on myself to try to get some extra recipes done for Running in a Skirt so I will have plenty of food posts to publish while I'm traveling during late spring/ summer. I'm getting to a good place, but I'm letting it stress me out too much. I just need to figure how to worry a little less about it and just do what the best I can do and let go of what I can't. I suspect that will be something I always need to work on. If anyone has figured this out, please let me know. lol!
On a more positive note, I've got some really delicious recipes for you! I'm pretty stoked about them.
As this is publishing I'm heading to the airport to fly to Dayton, Ohio to see my Grandparents for the weekend. My Dad is meeting me up too! I'm very excited to see them plus some of my aunts and uncles this weekend. I'll try to post some on Instagram Stories, so follow along if you'd like!
Did you miss this?
White Jeans Look for Fashion Friday
I've got to tell you guys I have been resisting the white jeans thing, but I finally caved and I'm in love. One of the reasons I was holding back was because I couldn't justify spending a ton of money on them. I have no problem splurging for nice denim jeans that get worn all the time and last a long time but I figured between me hating the wear jeans in the summer AND how dirty these might get that they might be a one or two season purchase.
I stumbled into Old Navy one day and decided to try theirs out and I was pleasantly surprised. They are stretchy, but still seem to hold their shape and flattering... plus totally affordable. I figured for $25, I'd get plenty of use out of them.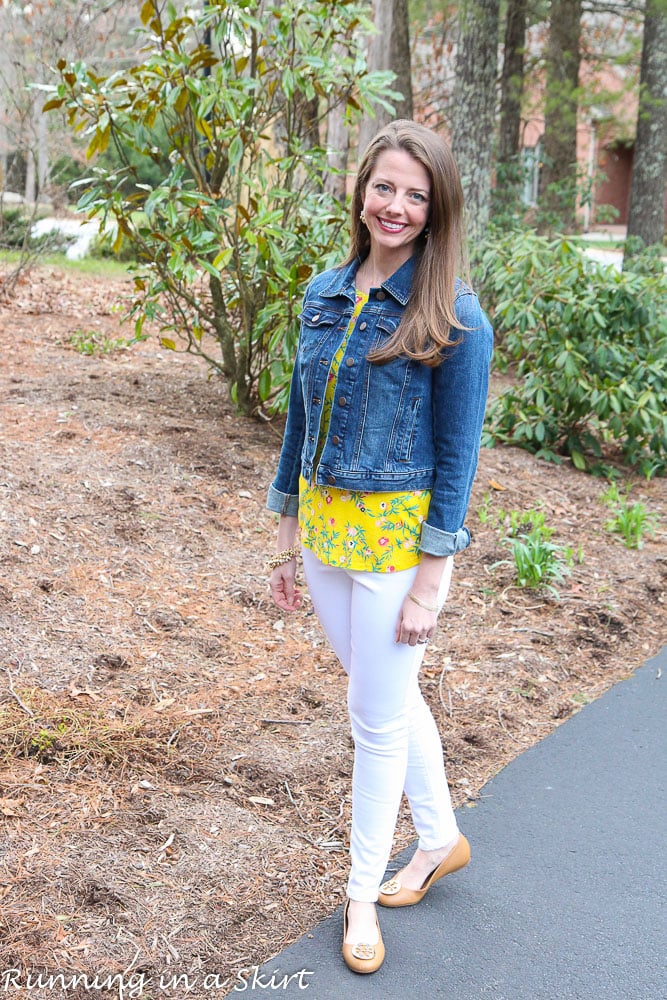 Now that they are home though, I like them even more and I think I might wear them weekly this spring until it really warms up. SO many great outfit ideas with these.
The top is part of the LOFT new spring line, which I am in LOVE with. They have brought back so many pretty patterns and colors, many of them florals. It was all I could do not to buy the whole store the other day.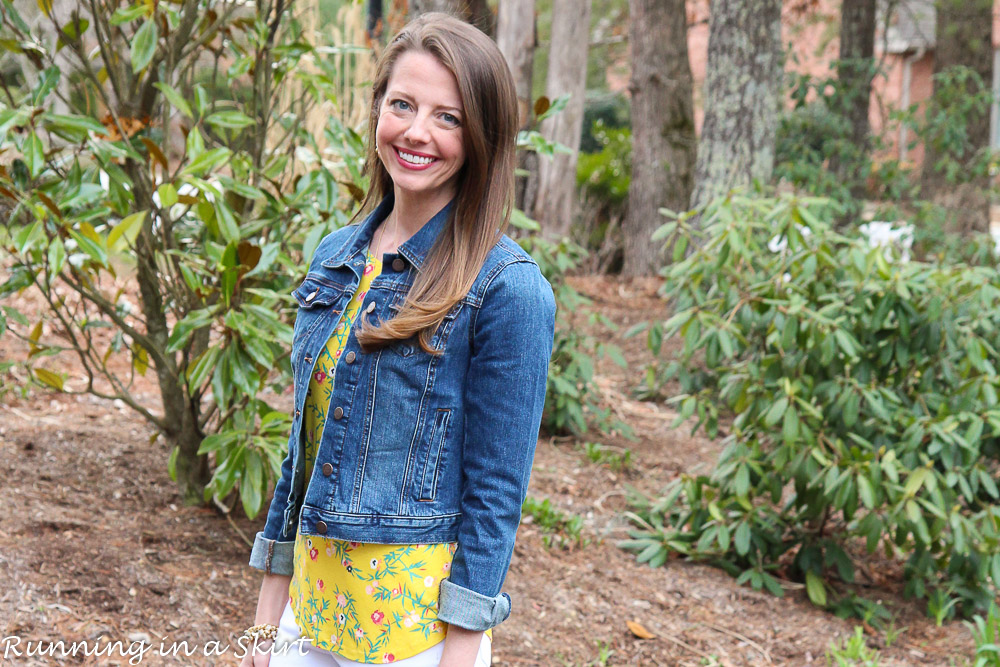 As for the denim jacket, you've seen this one before. I highly recommend it if you are in the market for one. It's fitted and stretchy, so it's cozy but not restricting. It's a great way to make a spring outfit work when it's still a little cool out.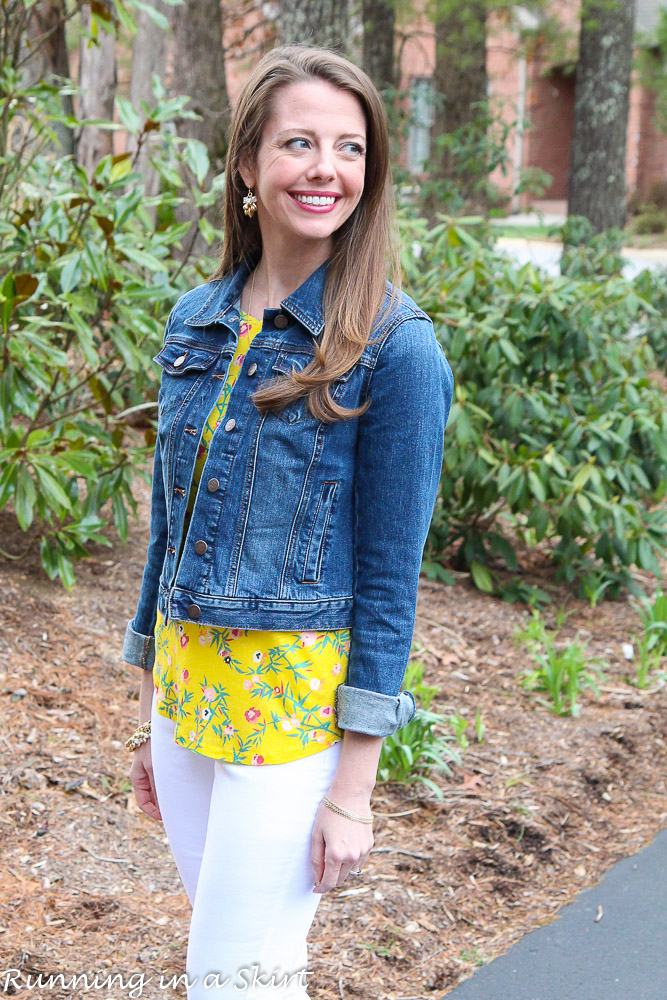 As the weather warms up, I'll lose the jacket... cuff the jeans and add flat sandals to the look. So this look is perfect to transition to warmer weather.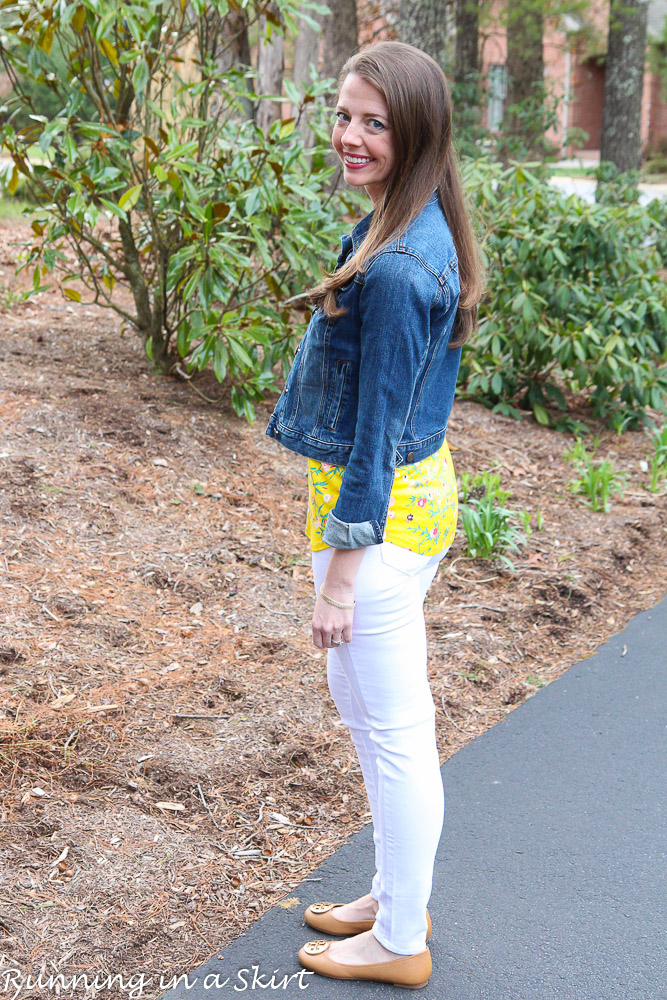 Hope you enjoy the white jeans look fashion inspiration today! Have a beautiful weekend and happy shopping. This exact look is still available at stores, so you can purchase it below.
Shop the Look:
Yellow Floral Shirt: LOFT
Denim Jacket: LOFT
White Jeans: Old Navy
Shoes: Tory Burch
Earrings: Lilly Pulitzer, similar HERE
So nice to see you today. Have a great weekend and come back Monday for some ways to save serious cash on races!
This post is not sponsored, but contains affiliate links. I do make a small commission for clicks and purchases. It cost you nothing. Thank you for supporting Running in a Skirt.
I'm linking up with: Nicole for the Fit and Fashionable, Jolynne Shane for Fashion Friday, Turning Heads Tuesday. Thank you so much for the lovely linkup ladies
Your turn!
White jeans? yay or nay?
What are you doing this weekend?