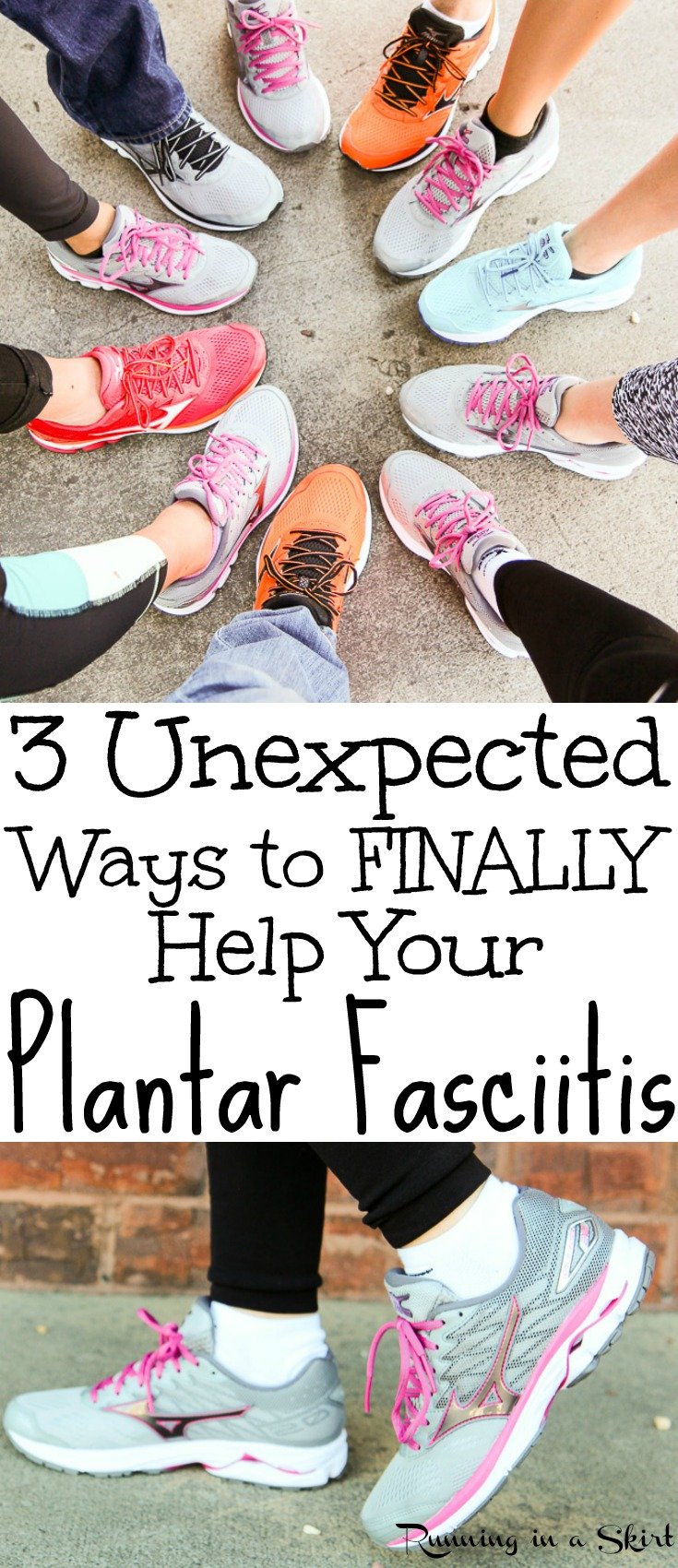 Have foot pain? Here's three unexpected ways to help plantar fasciitis!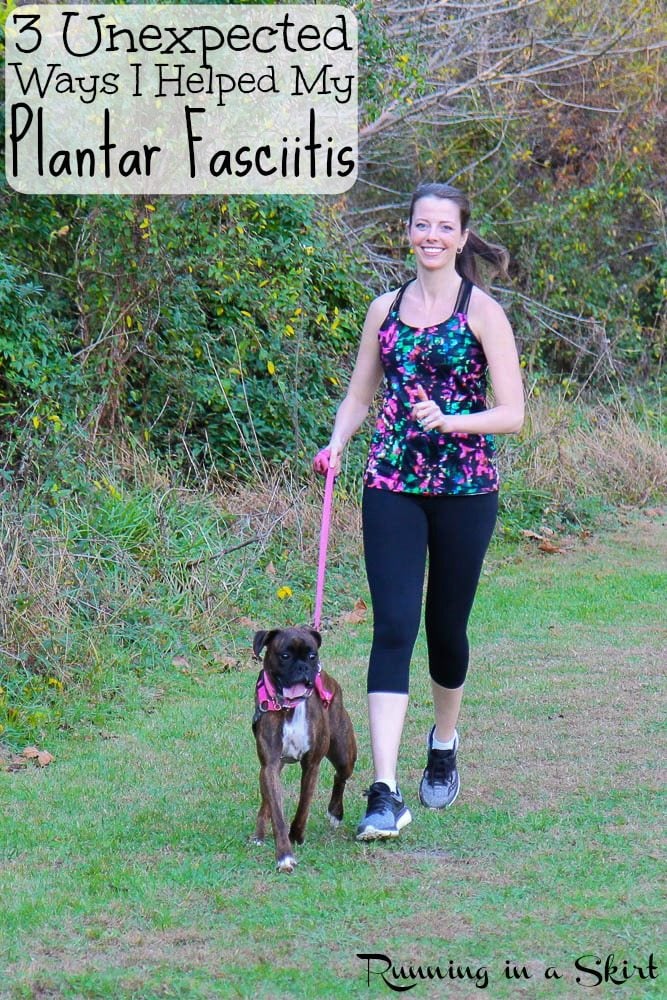 Hi guys!
Plantar fasciitis is a nasty pair of words for runners. It's a random, nagging injury that plagues people for years and is really hard to get rid of. While I'm speaking from a runners perspective, non runners get it too and it's just as hard to deal with. To make the injury even more complicated, the ways to help plantar fasciitis are confusing and unclear. Often you can treat it only to have it come back again quickly or it can even just linger at a minor level for years.
If you are one of the lucky few who have not dealt with it, it causes pain on the bottom of your foot (especially the heal area) from inflammation. For most people that means your feet hurt when you first step on them in the morning. In bad cases it can really hurt to walk or run all day.
I've talked occasionally in the past about dealing with plantar fasciitis. I've never had an awful case, but I did have a nagging injury a couple summers ago that was just bad enough to convince me to take a month off of running to try to get it under control. For the most part it's better, but I still get some lingering tinges on occasion that concern me. I don't want to get back to the place where I can't run again so I've really been babying it lately.
In the past six months, I've tried a couple new things that I think are finally keeping it in check. I've waited a while to post this because I wanted to make sure it wasn't a fluke, but I really do believe these things I'm sharing have made a huge difference. I know some of you have dealt with this injury too, so I hope this will help you in the same ways it helped me.
Just a reminder, I am obviously not a doctor and these are things that have helped my own personal experience. If you have a bad case this may or may not help and please stop running and see a doctor if you have a serious injury. 🙂
Ways to Help Plantar Fasciitis
Acupuncture
I was going to acupuncture for an unrelated health issue and that particular week my feet were causing me some issues in the morning. They felt a bit tender and I didn't want to let the plantar fasciitis get out of control again. I asked my Acupuncturist about it and she actually had a treatment with the needles. She put them in several places on my legs including my calves. She also put them in the bottom of my feet, which stung a bit when they went in. Otherwise it was no big deal and I almost immediately felt relief.
I've generally been a sceptic about alternative medicine in the past, but acupuncture helped my feet SO much. The next week my feet did not hurt at all. If they flare up, I go back and that seems to help keep it under control.
If you've been having lingering issues, consider acupuncture! It really did help me. I am now a total believer in it's powers!
OOFOS

Flip Flops

The Hubs bought me a pair of these, OOFOS Flip Flops last summer and once again I swear they make a difference. The platform of the flip flop stretches my foot and makes them feel so much better. They are also super cushy, which helps my feet. I basically just use my pair around the house so I'm not walking around barefoot (walking around barefoot too much can trigger mine.) They are a little pricey, but I think they make a huge difference. My Dad also has feet issues and got a pair and loves them.


Just a warning though, it does feel a bit strange at first but you will get used to it.
This Stretch
I've said it before but yoga and running go hand in hand for me. I notice my feet hurt more when the back of my legs get tight. If I stretch really well and do yoga, they don't get tight which doesn't trigger the plantar fasciitis.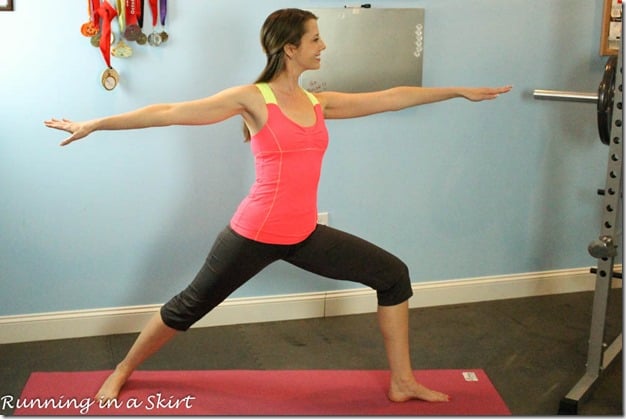 One stretch that's made a huge difference for me is putting the bottom of my toe on the wall with my heel on the ground so the back of my leg gets really stretched out. I'll do that stretch after a run and hold it for 30 seconds or more especially after running or walking. Once again it seems to be working.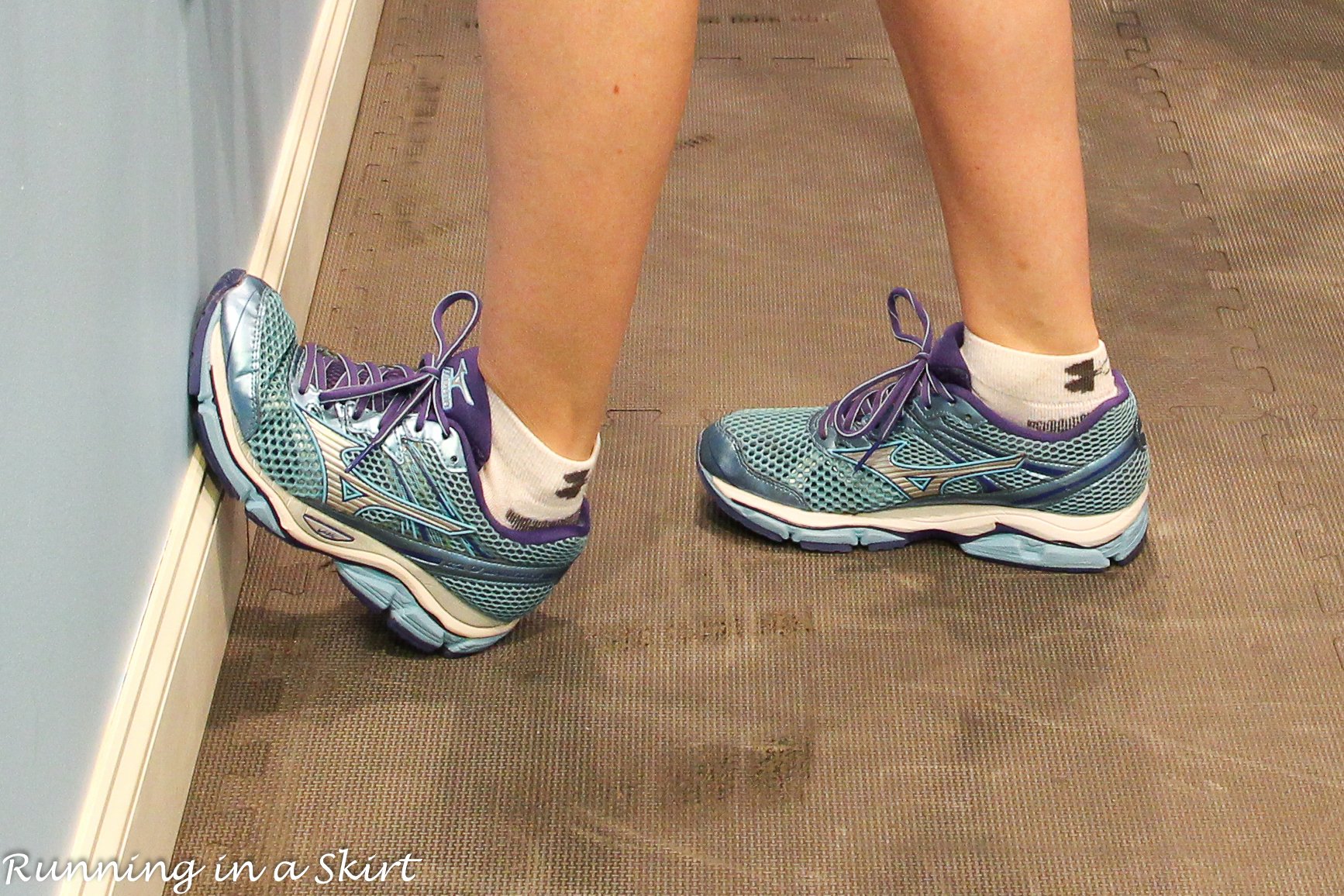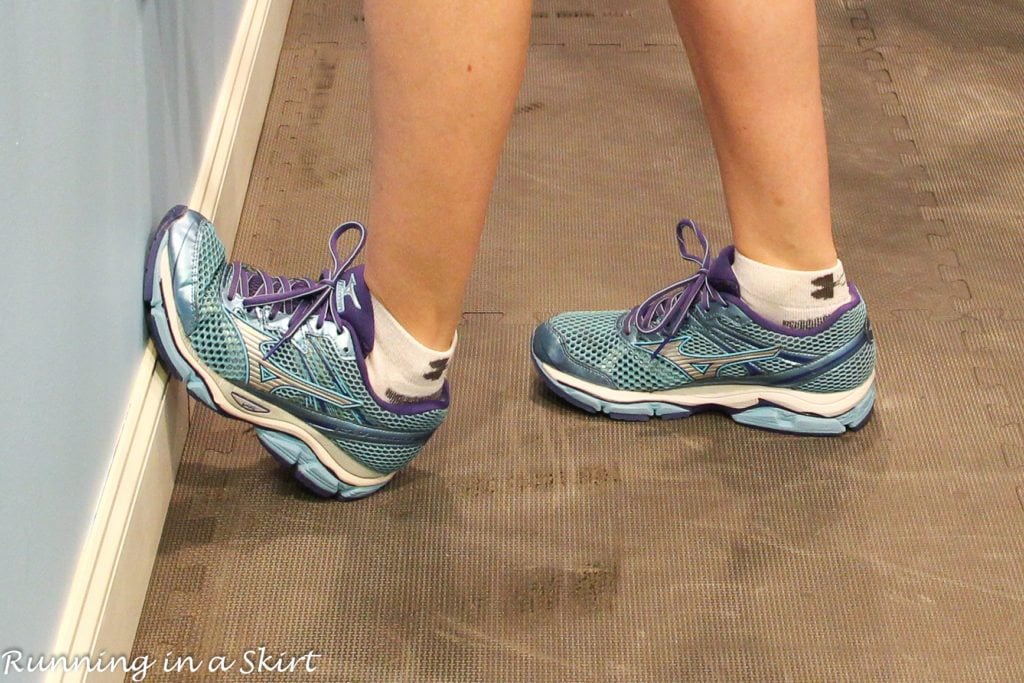 I will also flex my toe back towards my body as far as it can before I get out of bed in the morning. I think a little stretch before putting weight on my feet also releases the tension in my calf, which helps my feet.
If you have a serious case, these little tweeks might not be for you, but they have helped me. If you have some lingering issues like I do, I hope you will try these and I hope that they help your plantar fasciitis too! I know what a pain the rear it can be so I thought my discoveries were too good not to share.
Like this post on Ways to Help Plantar Fasciitis? Find it later by pinning this to your favorite board!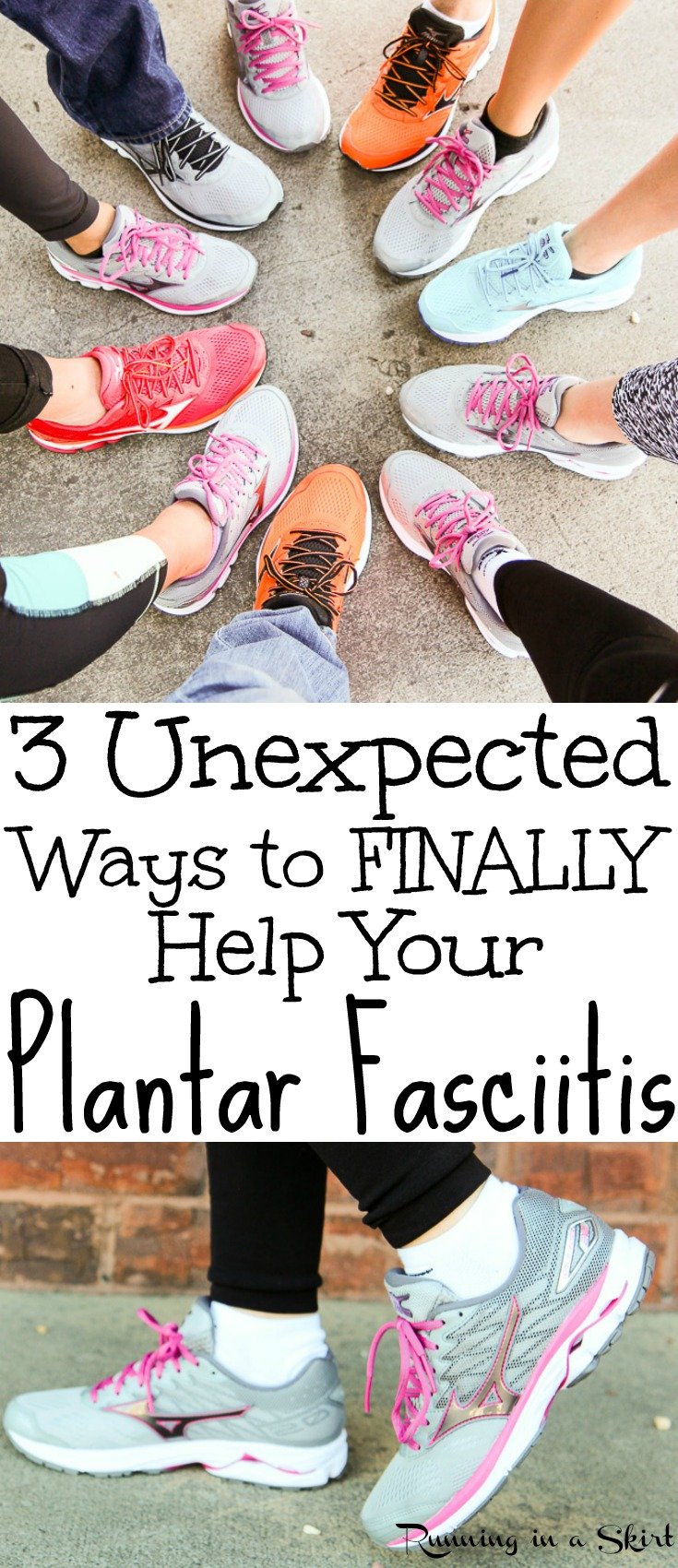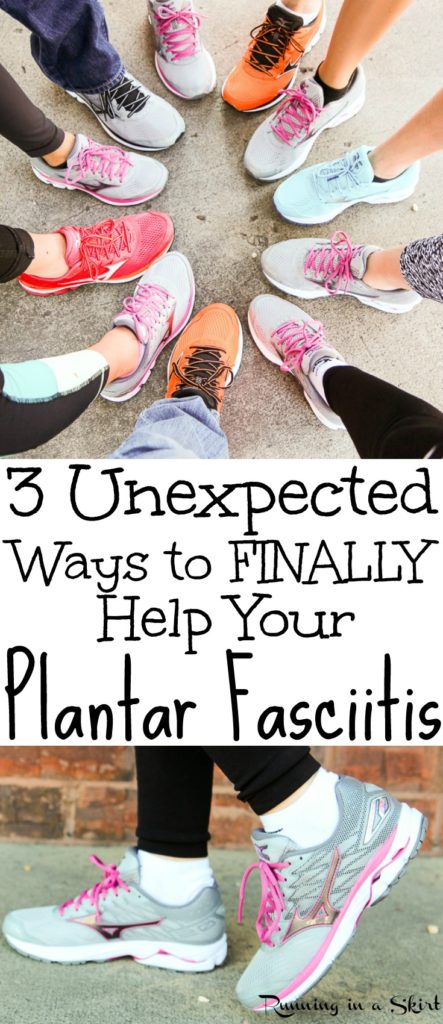 Also read...
This post does contain Amazon affiliate links. I earn a small credit when you click through and buy something. The price is the same for you. Thanks for supporting Running in a Skirt!
Your turn!
Do you have plantar fasciitis?