Happy Fashion Friday! I hope you guys had a great week.
Even though it's felt like summer for weeks now, the official start of the season isn't until Sunday. Summer clothes are my absolute favorite and I've been totally crushing on some new items for the season, and pulling out some of my old favorites!
Here are some of the must have items for this season...
Jelly Shoes
OMG (yes, I just OMG-d you!) Can you believe jelly shoes are back again? I feel this is the third coming of them for me. I had a pair as a small girl, then again in late high school and now these....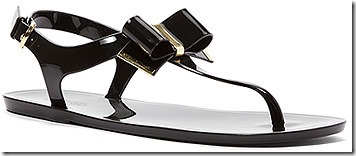 Michael Kors Jelly Bow Shoes $65.99
I really love these and would simply adore adding them to my collection this year.
Interested? Buy HERE
Floral Dresses
I already have way too many floral summer dresses, but I can't ever get enough. I discovered this line from Macy's last year and have been kind of obsessed with it ever since.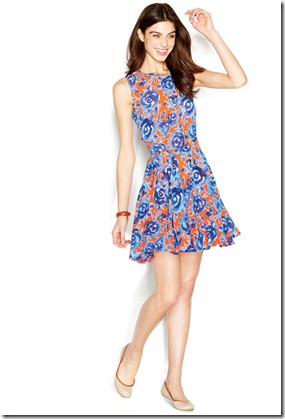 Maison Jules Floral Dress $54.99
Interested? Buy HERE
White Eyelet
I can't get enough of light white eyelet in the summer. I've pulled out my classic flowy skirt and fit and flare dress. I only wear them from Memorial Day until Labor Day or on tropical vacations, so they always feel new to me when I pull them out.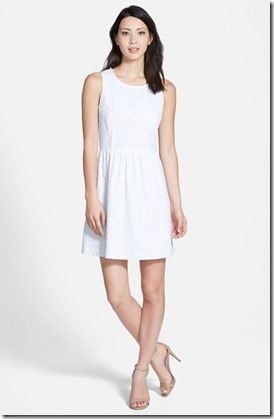 Kensie Cotton White Eyelet Dress Fit & Flare $54.49
Interested? Buy HERE
White Skinny Jeans
Confession: My name is Julie and I don't own white jeans.
I KNOW! I need a pair. These are on the top of my list right now.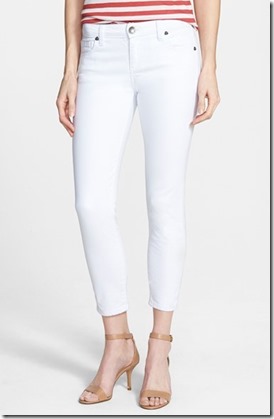 KUT from the Kloth Crop White Skinny Jeans $79
Interested? Buy HERE
Rompers
I basically want to buy ALL THE ROMPERS right now. They are super cute. I styled my black one, very similar to the one below in three ways last season. I'm excited to pull mine back out because it turned cold before I had a decent chance to wear it.

Black Romper from White House Black Market $98
Interested? Buy HERE
Don't you just love summer clothes? If you want to check in on my current trend ideas, reach my Spring Fashion Trends 2015 Post. All of those ideas are still very current and carry over to this summer. I also have some fun ideas for specific items to buy.
Have a gorgeous weekend friends! Happy Fathers Day to my Dad and all the other Dad's out there. I'll see you back Monday for a Currently... update.
Thanks to Nicole for the Fit and Fashionable linkup! I'm also linking up with Joylynne Shane for Fashion Friday.
The above links are affiliate links and I do receive a small commission if you click on them and/or purchase something. I only post items I would buy myself. Thank you for your support.
Your turn!
What item are you looking to add to your summer wardrobe?
Rompers- yay or nay?