Hi friends!
I'm so excited to share a few more pictures from my recent trip to Grenada with you! Since this trip involved a lot of lounging and relaxing there aren't a lot of day by day pictures and activities, BUT I still wanted to, as always, take you along for the journey. Today I'll be sharing some of the best pictures from the trip photo dump style and next week I'll be sharing some of the top things to do on the island if you are considering your own trip. I hope you enjoy!
Island of Grenada Highlights
Grenada is a gorgeous island in the Southern Caribbean. It's a little harder to get to because there aren't a lot of flights, but it is worth the trip!
One of the Grenada highlights was the gorgeous view from the Hubs and my room at Sandals La Source Grenada. The deck attached to the room was shaded and had enough space for two lounge chairs, so it was the ideal place for two people who sunburn like crazy to lounge.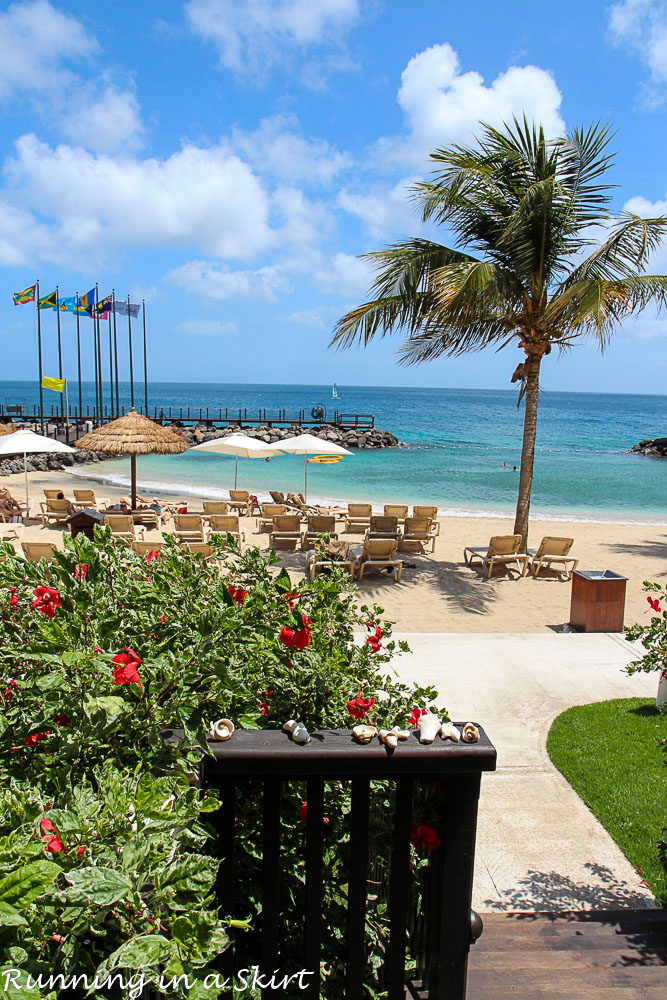 I could have spent the entire vacation right here, but you guys know me... I HAVE to explore 🙂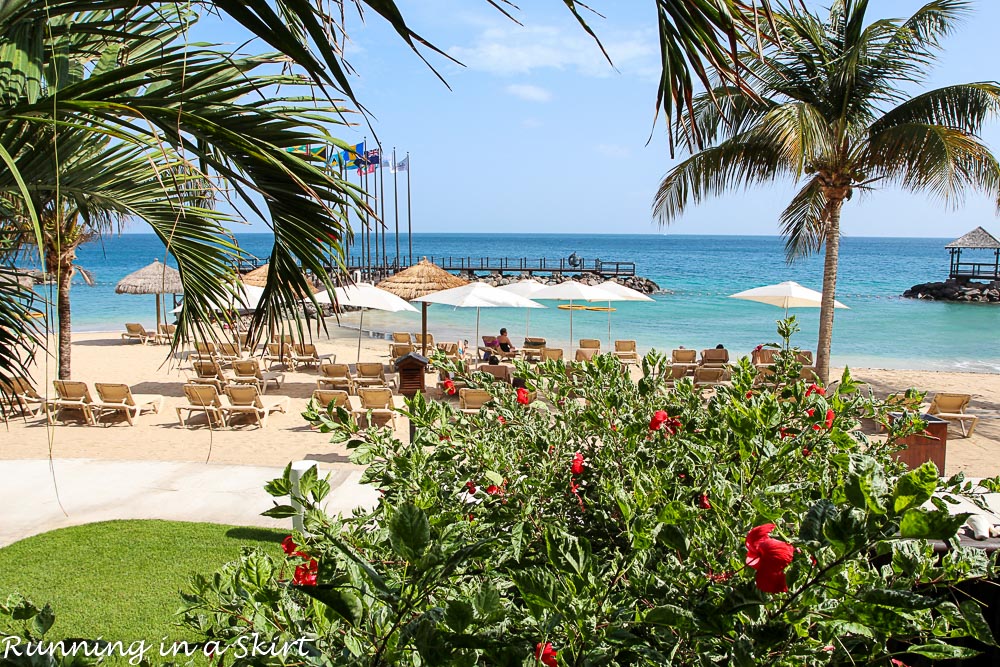 Another highlight from the trip was this breakfast! Banana French Toast (the bacon belonged to the Hubs 🙂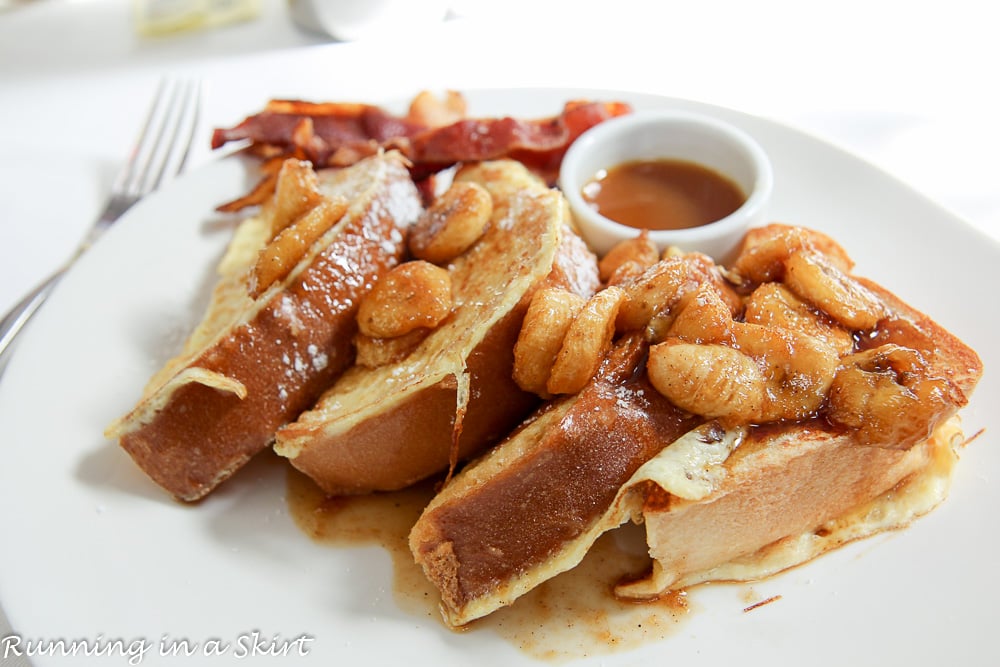 AND Smoked Salmon Eggs Benedict. I seriously need to perfect the art of the poached egg.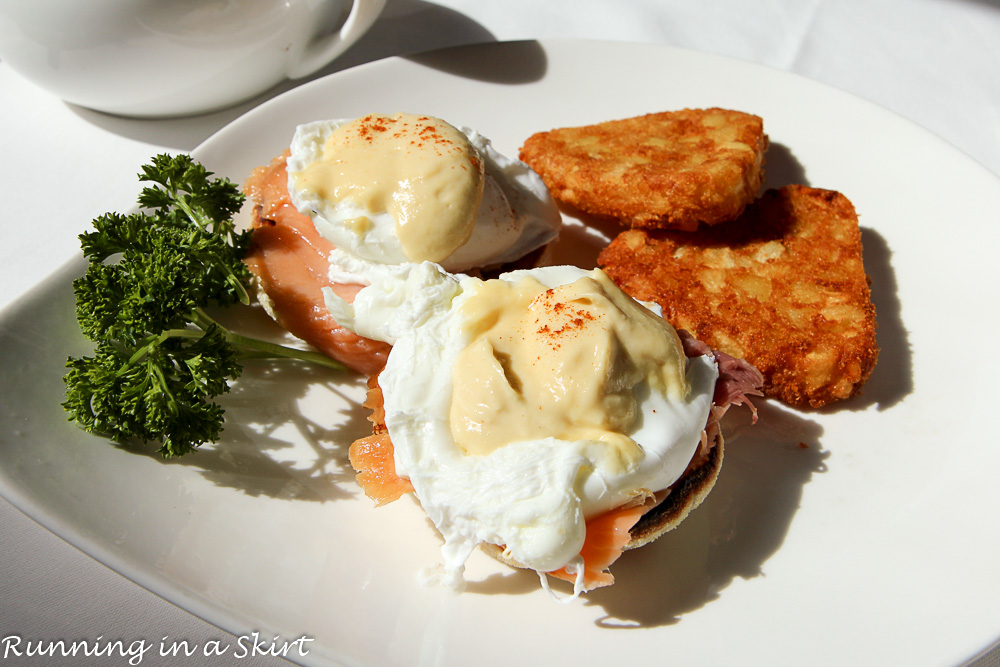 I am a huge tea drinker so on vacation I like to get a big tea pot of English Breakfast tea and leisurely drink the entire thing! Sometimes it's the little things that really relax you. 🙂 I don't know why I don't do this at home more often.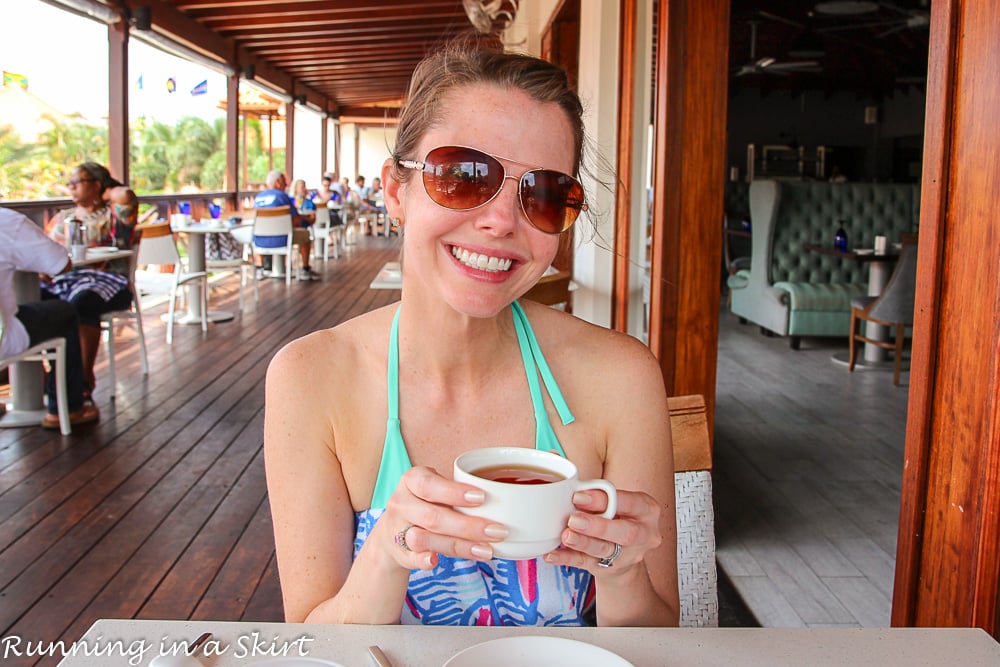 Although this vacation was more about relaxing, the Hubs and I did still do some exploring. This is Grand Anse Beach, which is the best beach on the island. It was beautiful! The sand was much whiter than on our resort.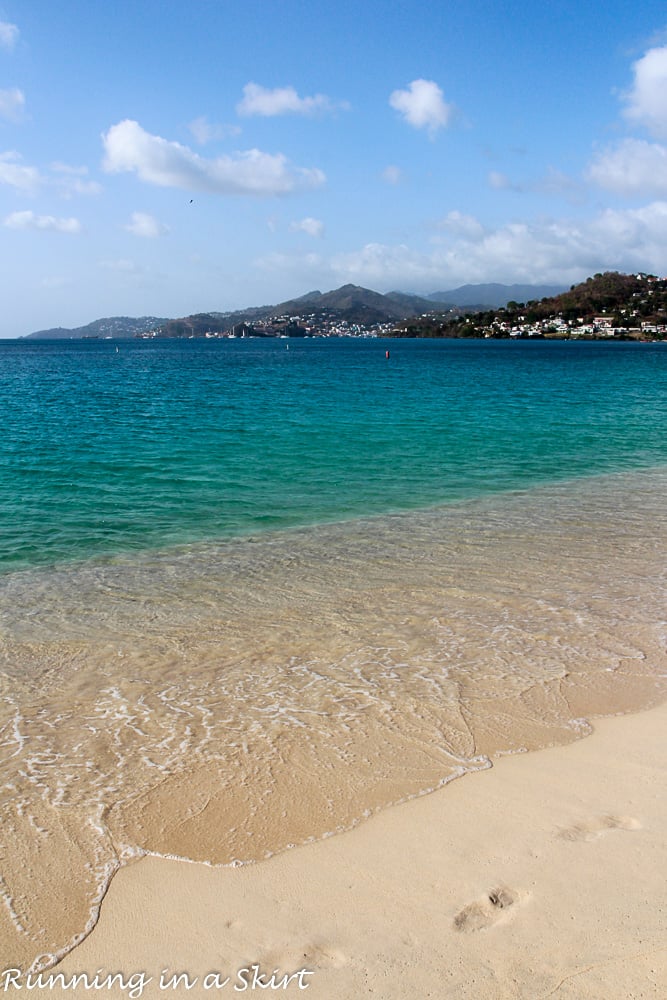 AND we found our way inland to see an organic chocolate factory. That's a cocoa pod!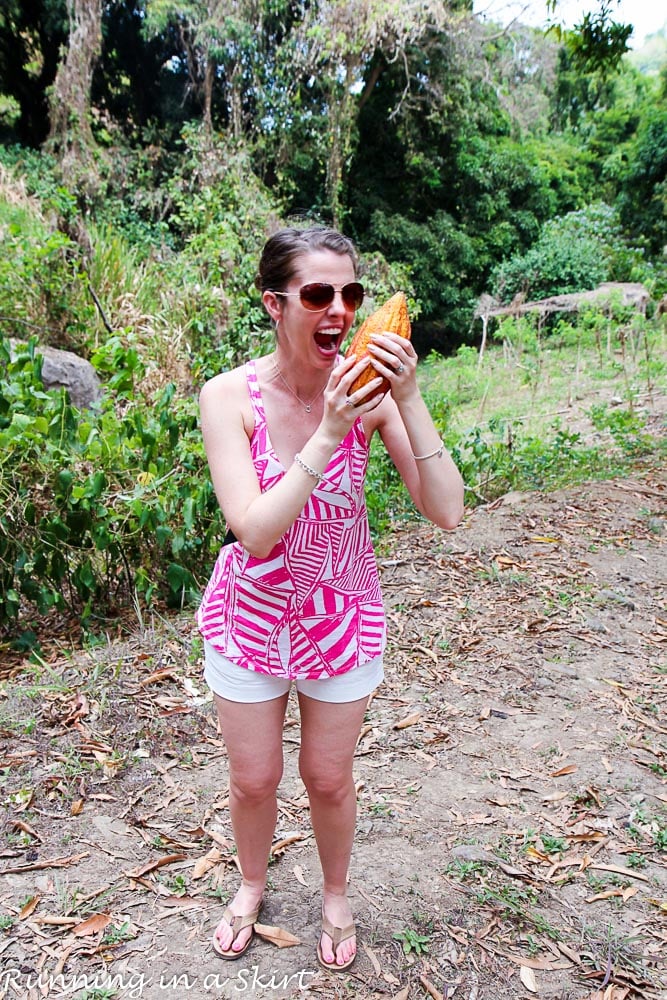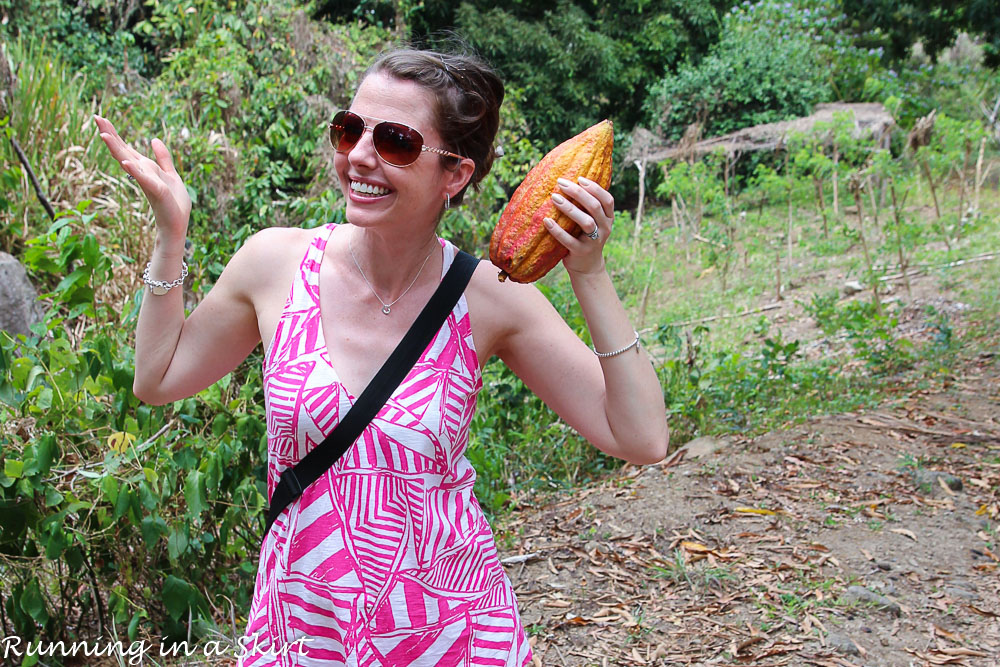 On our island tour our lovely driver stopped to show us this...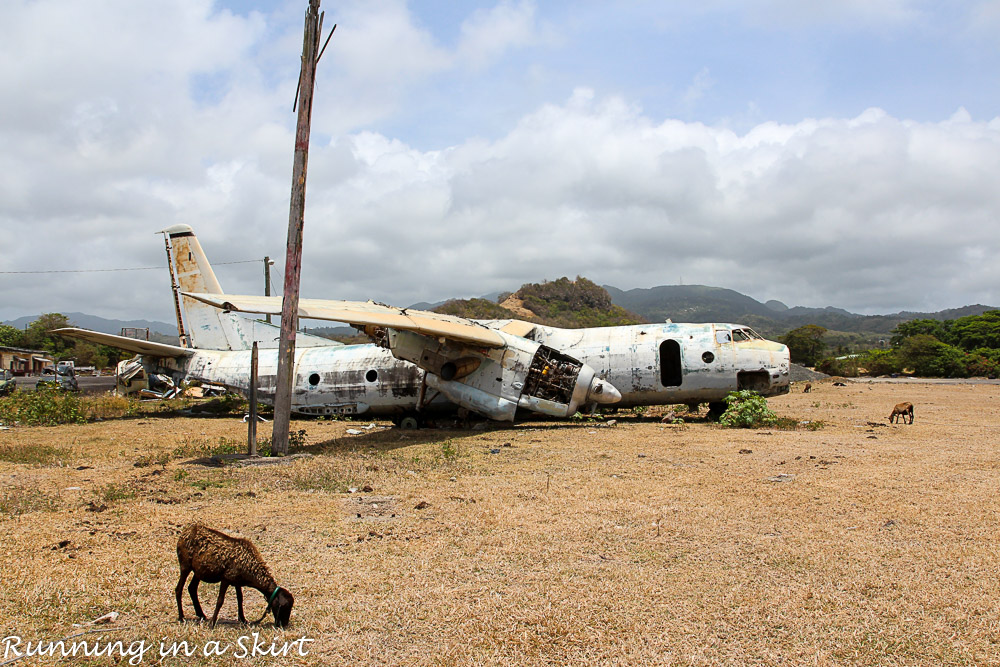 At the sight of the old airport, this relic was just sitting around. Locals allow their goats to graze. Crazy sight, huh?
Being aviation enthusiasts the Hubs and I had to jump out of the car to get a closer look.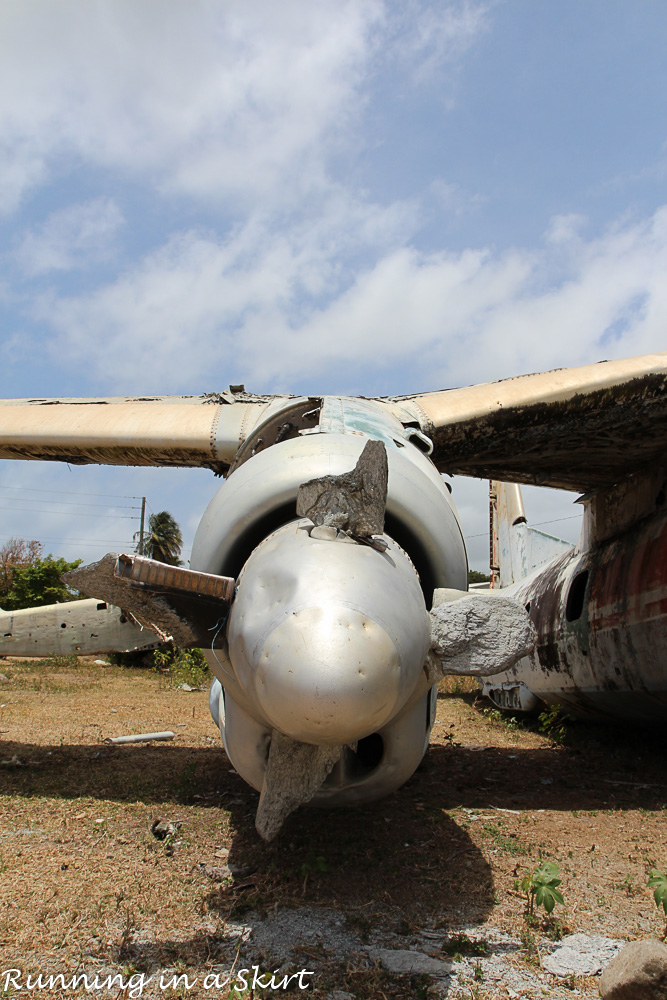 This was one of the strangest things I've ever seen!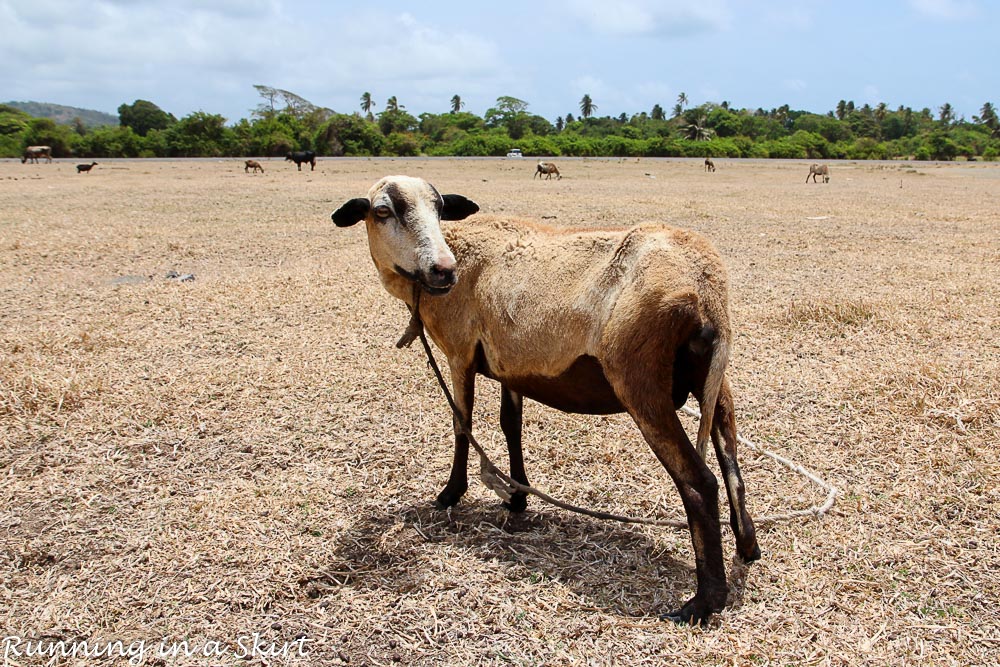 And here's a picture of a baby goat just to make you smile.....
🙂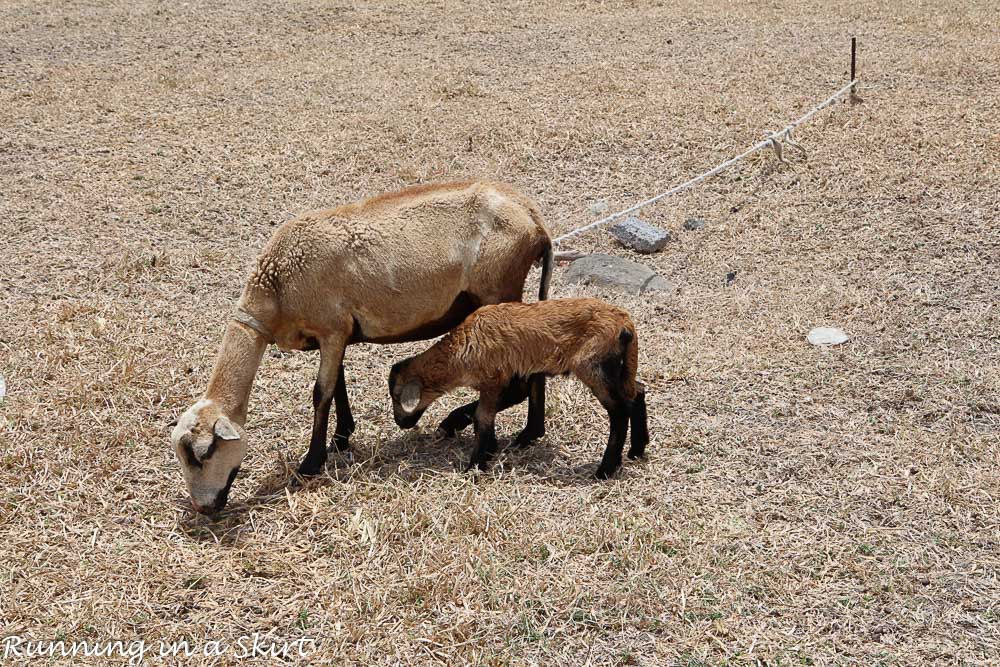 This is the main town, St. Georges from a sailboat. I found the town quite charming and felt much safer than other places in the Caribbean. Some of the boats and the way the buildings looked from a distance reminded me a bit of Paraty in Brazil.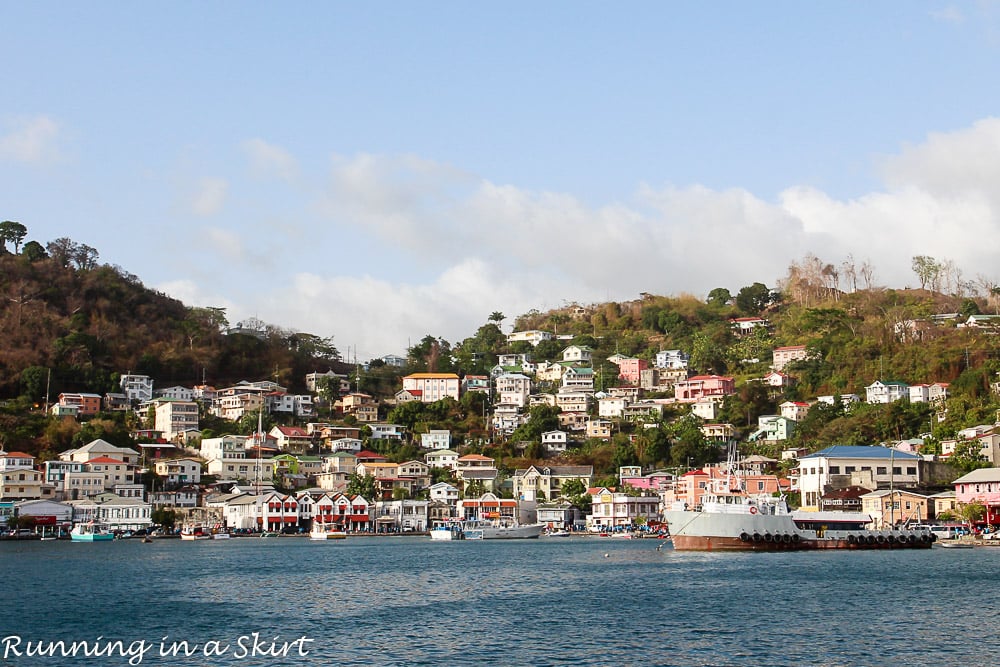 And finally no beach trip is complete for me without sunsets! Although the sunsets just happened to be a bit lackluster while we were there, I did get some good shots. I can only hope we just happened to get unlucky and they are nice other times.
This is from the pier of our resort.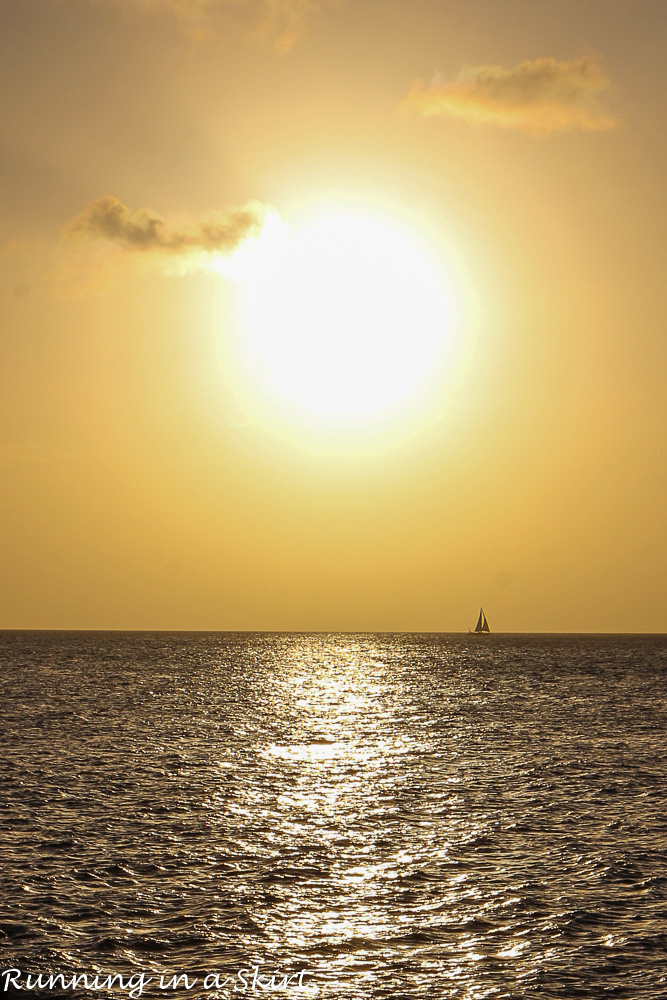 This one is from the same night. It looked like it was going to be a really good one until those clouds came out of nowhere!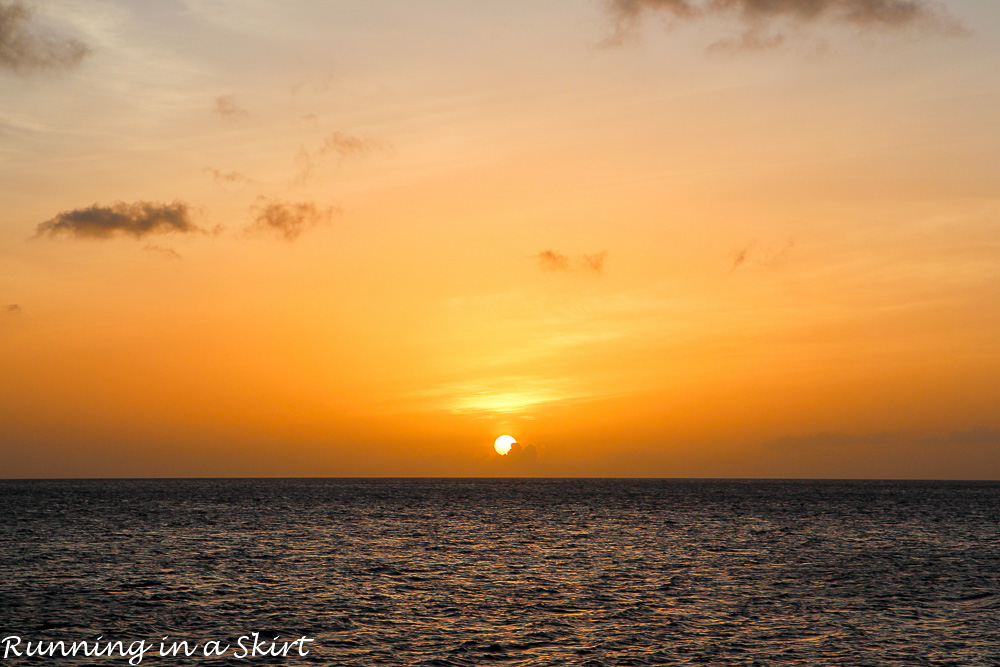 And this one is from a sunset sail! Pretty colors but nothing like Key West or Hawaii.
Out of all the Caribbean islands I've been to, Grenada is now one of my favorites. It is smaller, less developed and less touristy than a lot of others. Because of that it feels safer and friendlier. The people seemed genuinely happy to have you there and were all very kind.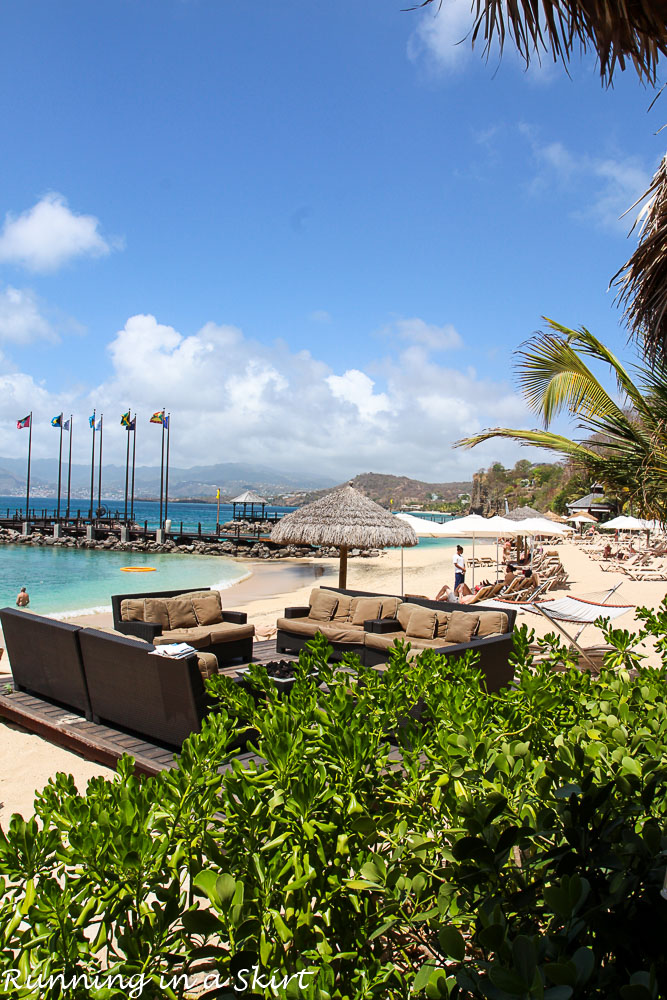 The water is warm and blue and the views are stunning!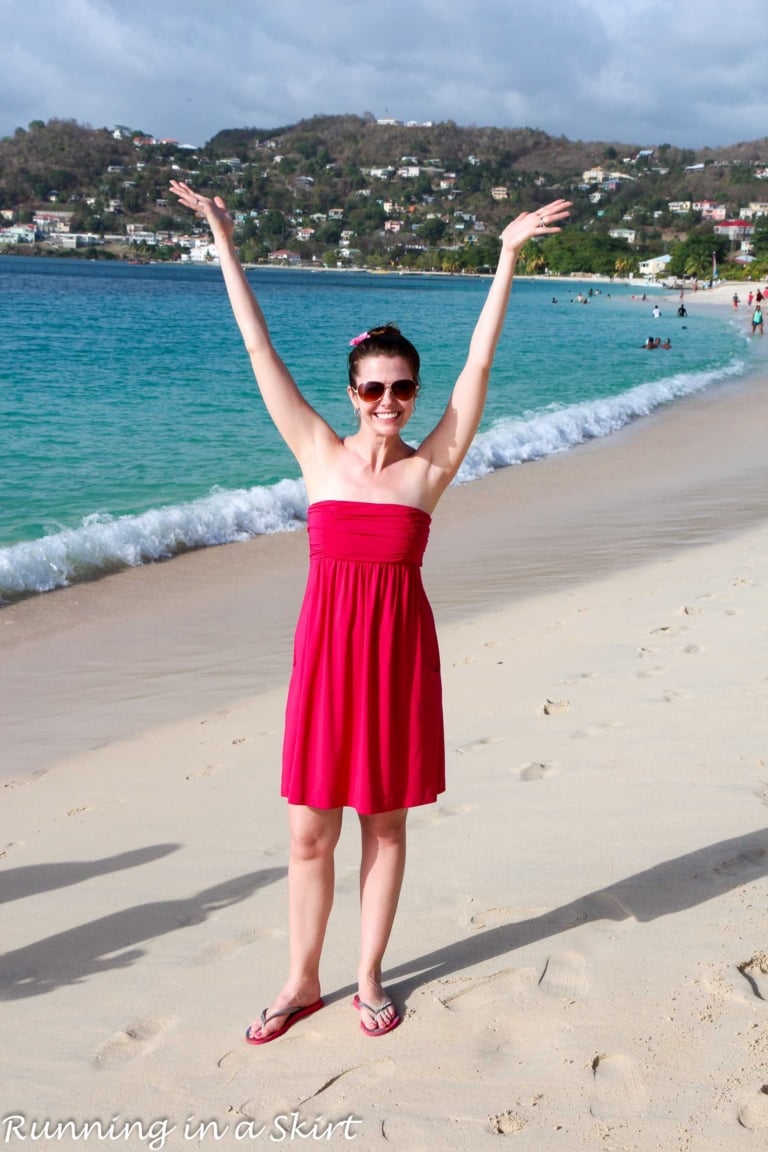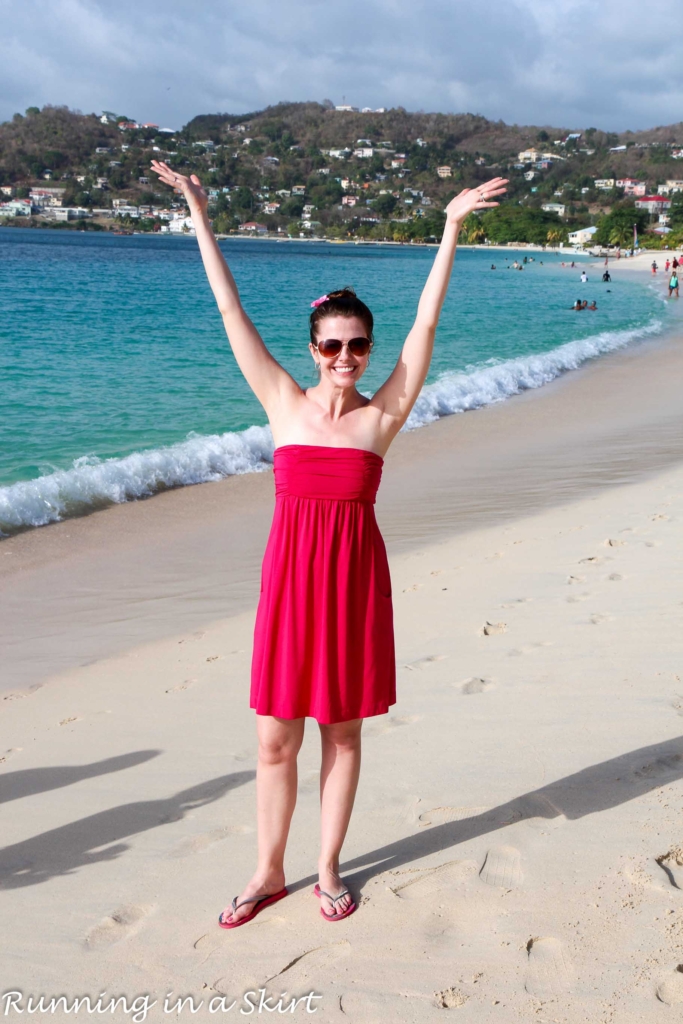 Grenada is an up and coming tourist location, so for my next post I'll be sharing some of the things you can do on the island! It includes some pretty fun and unique activities like the Belmond Chocolate Factory (including a tour of HOW the chocolate is made) the Underwater Sculpture Park, an antique rum distillery, waterfalls, lakes, St. Georges and several historical locations on the island. I'll break down the best ones next week.
Thank you so much for making Running in a Skirt part of your day Come back tomorrow for a fresh and simple summer Pesto Tortellini Salad.
I'm linking up with Thinking Out Loud Thursday & Travel Tuesday.
Your turn!
Do you have a favorite Caribbean island?
Have you been to Grenada?