One versatile blue blazer can transform your wardrobe with three polished looks! Here are my thoughts on how to wear a blue blazer.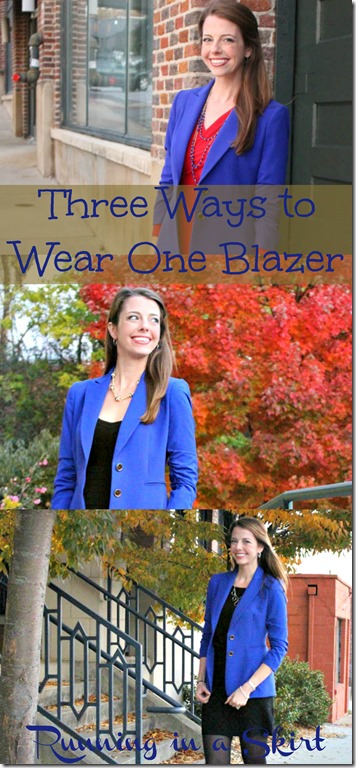 I am back to Asheville after spending a few days in Orlando visiting my Dad. I will post more about the trip on Monday, but for now it is just good to be home.
One of the best parts about the trip was the dreamy weather. I got back to Asheville and it was still pretty nice for a few hours and then it started turning cold fast. It feels like ice outside now. I miss fall already.
BRRR!!!
Anyone else cold right now?
But I digress. Let's talk beautiful blue blazers and how to wear them. They are perfect for colder weather. I think every girl should have a couple good neutral blazers in their closet and even some colorful ones.
This royal blue blazer is one of my favorites because of it's slim but, scrunchy sleeves and rich color. It is a clearance buy from Dillard's a few years back. I wanted to show you how a classic piece can stand the test of time.
Option one is a contrasting red dress. This look is great for the office and it paired with red suede heals. I bring in the color with the accessories.
The obvious choice is a more neutral dress, but I challenge you to pair colors together! You have to be careful doing this, but it can look very trendy and current if you find the correct pieces.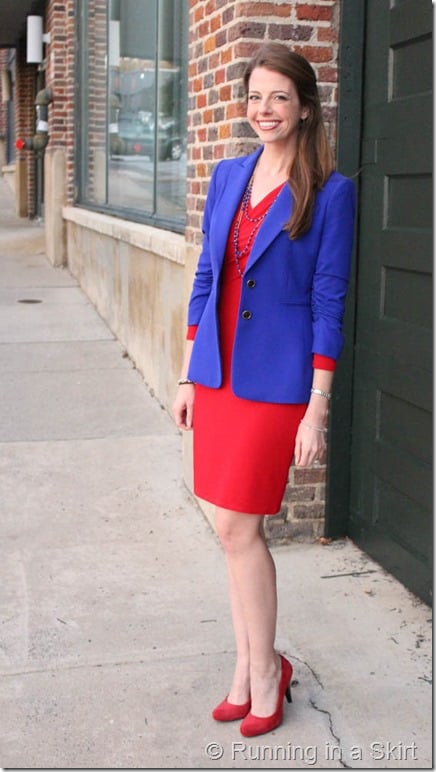 Dress: Ann Taylor similar here
Jacket: Dillard's similar here
Shoes: BCBG
The second option is a casual look with skinny jeans and a black shell. Black flats round out the outfit for an easy, but polished look.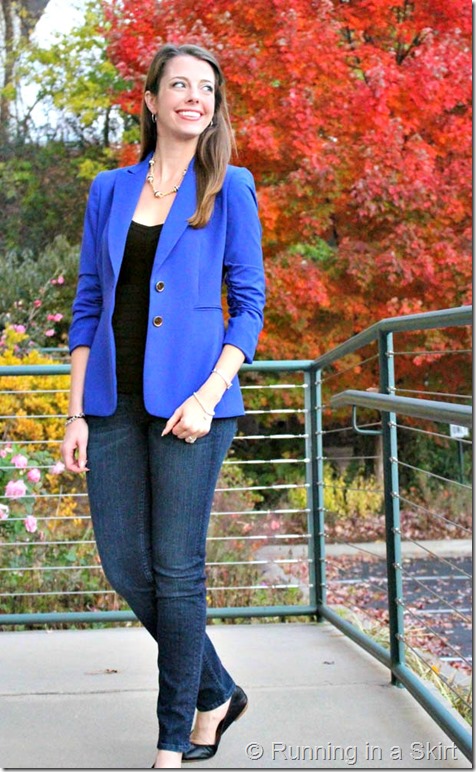 Jacket: Dillard's similar here
Shell: White House Black Market
Jeans: Hudson, similar here
Shoes: Juil
The third option to wear the blue blazer takes the look through the evening. A fun shorter dress, paired with tights and tall boots make this perfect for date night.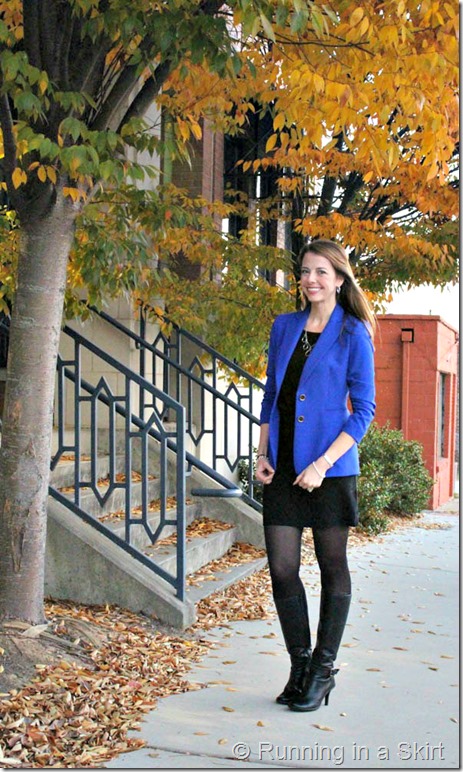 Jacket: Dillard's, similar here
Dress: White House Black Market, similar here
Boots: Dillard's
So there you have it! How to wear a blue blazer many ways. I really enjoy doing these fashion pieces with multiple ways to wear one piece of clothing. I hope you like them too.
Want to see more?
Other fashion Friday posts where I style one piece three ways:
Thank you so much to Nicole from FitFulFocus for hosting the Fashion Friday link up! You can also find this post there!
Your turn?
How do you feel about blazers?
Which one is your favorite?