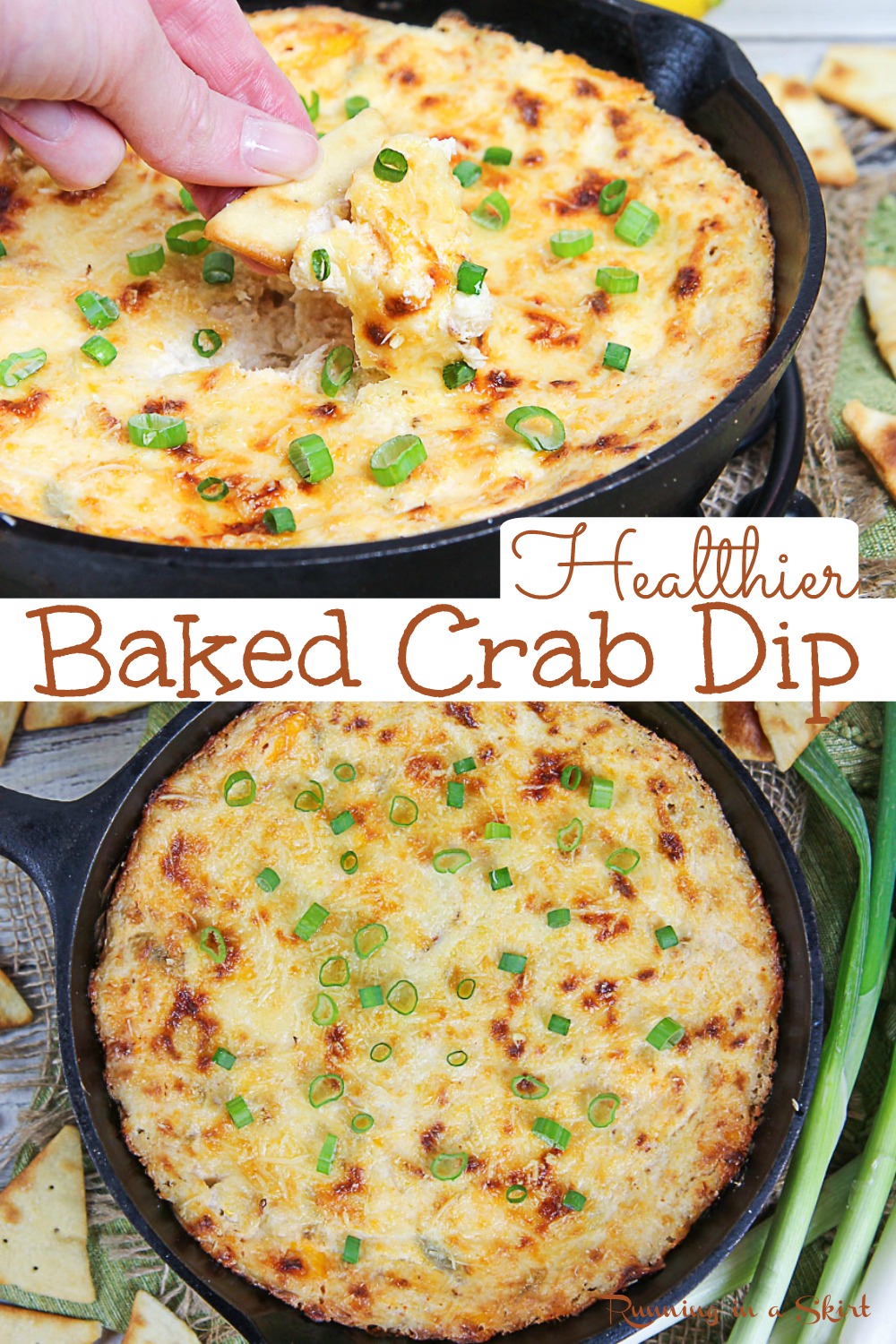 An Easy Hot Crab Dip recipe that's made with a few healthy swaps without sacrificing flavor. Made in just 30 minutes, this creamy, cheesy and crab meat filled dip is perfectly spiced and downright irresistible.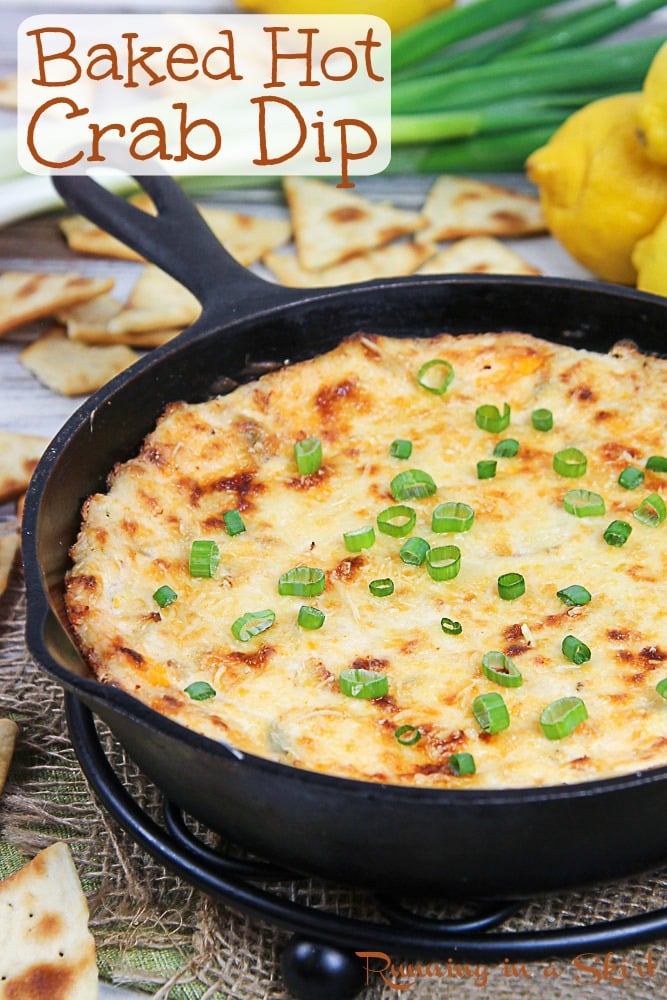 Hot Crab Dip recipe
I have a long-standing love of a good crab dip. If it's on a menu I will inevitably order it and judge the rest of the meal by how the restaurant's crab dip measures up. I take my crab dip VERY seriously. Living in the mountains though I don't find a lot of restaurants with it on the menu anymore so I decided to whip up my very own Hot Crab Dip recipe to make when I'm feeling a little landlocked.
Turns out making crab dip at home really isn't that hard AND it's nice to be able to control the ingredients in it. I decided to make it with a few healthy swaps like Greek yogurt instead of mayo.
Luckily those swaps don't impact the flavor because I'd like to put this delightful and irresistible Hot Crap Dip recipe in the running for BEST CRAB DIP evvvveeerrrrrrr.
And yes, it's ok to judge the rest of my recipes from this one. It really is so darn tasty.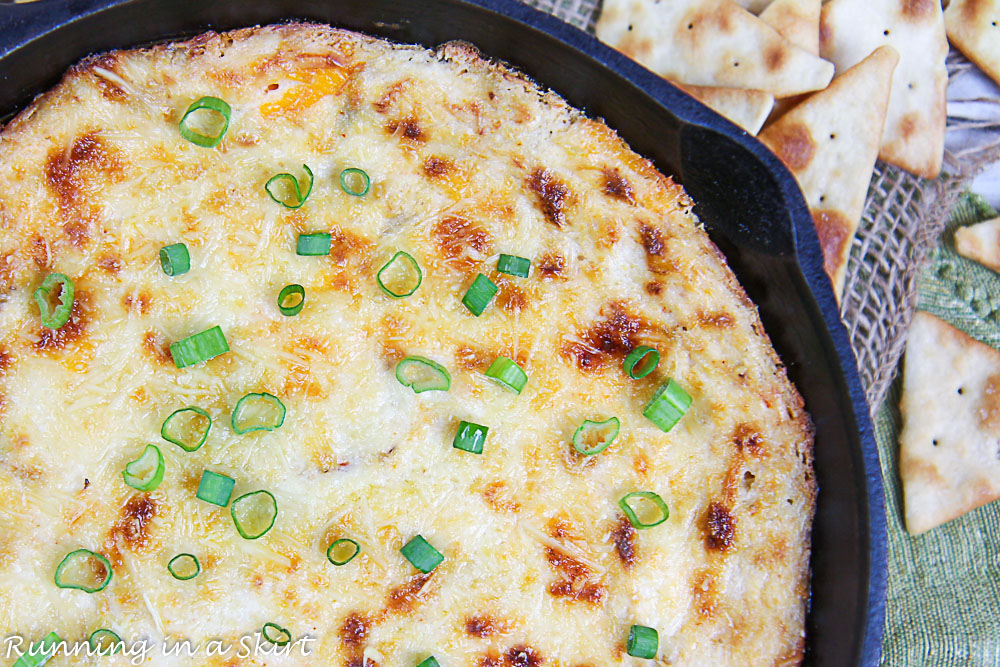 What is Hot Crab Dip?
So what is Hot Crab Dip? If you've never ordered it out it's basically a combination of luxurious cream cheese, cheddar cheese, and lump crab meat. My version has some garlic and onion powder plus a few dashes of hot sauce to bring out the flavors.
Hot Crab Dip is then baked in a dish or cast-iron skillet until it becomes bubbly and perfectly dippable. This dip is decadent, cheesy, and downright DELICIOUS.
Most crab dips have sour cream or mayonnaise in them, but mine uses greek yogurt instead making this dip a bit healthier. You can control the fat and calories in this dish by using full fat or low-fat cheese depending on your dietary preferences.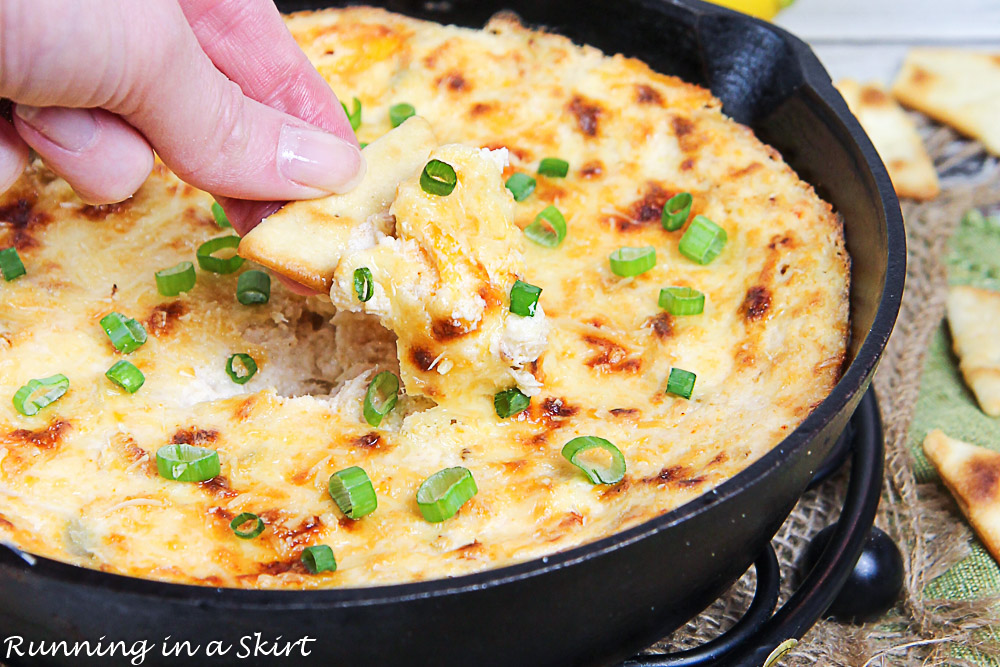 Ingredients in the Hot Crab Dip recipe:
This Hot Crab Dip recipe looks like quite a few ingredients but I promise it's super easy and totally worth it.
Cream Cheese: You can use any type of plain cream cheese. I like to use whipped cream cheese to keep the dish light.
Plain Greek Yogurt: Plain Greek Yogurt gives this Crab Dip a healthy twist.
Shredded Cheddar Cheese: I love sharp cheder cheese with this! Freshly grated cheese works best BUT the recipe does work with the already grated cheese sold in the bags.
Shredded Parmesan Cheese: You'll use half of the parmesan in the dip and another half on top to get that golden-brown crust.
Lemon: I think the fresh lemon brings out the seafood flavors.
Garlic Powder & Onion Powder: This savory combination of spices makes the flavors in the dip really pop.
Hot Sauce: You don't have to use hot sauce BUT a little goes a long way to bringing out the flavors. If you like heat, add a few more dashes.
Worcheshire Sauce: A little of this sauce makes the flavors of the dip more intense.
Lump Crab Meat: You'll want to buy the crab meat in larger pieces. See below for buying tips.
Salt: A little salt brings out all the flavors.
What is lump crab meat?
Lump crab meat is a special grade of crab meat. It's usually from a can and is a blend of broken pieces of jumbo lump crab meat that's perfect for recipes like this Hot crab Dip. It also works well in casseroles and crab cakes.
Can I use fresh crab meat?
YES! If you can find it you can use it. The fresh crab meat is often found in the refrigerated seafood counter section of the grocery store. It's usually sold in plastic containers and will cost more than canned.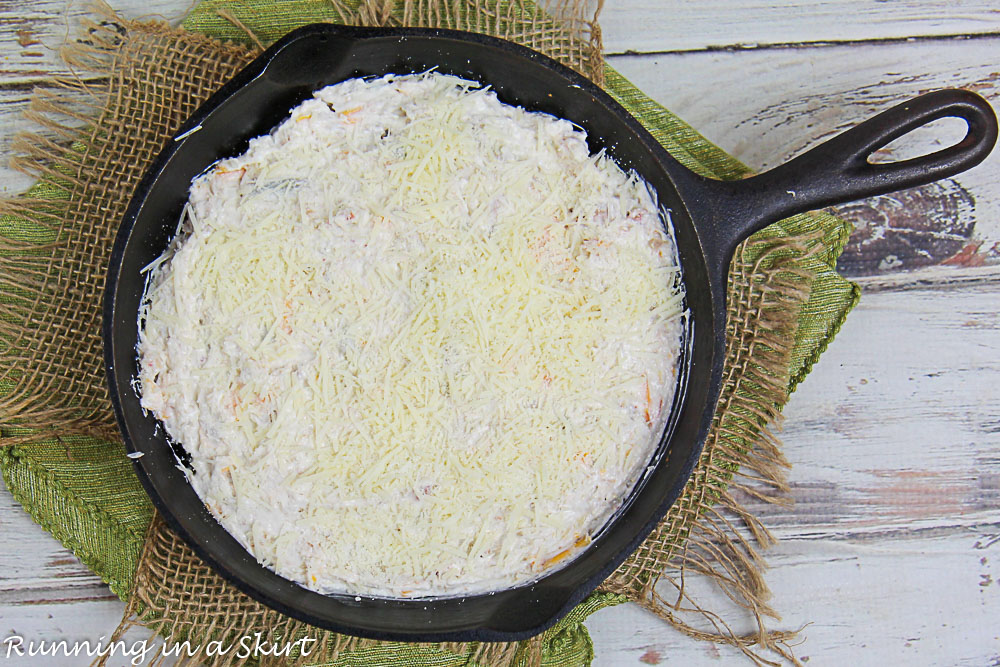 How to Make Crab Dip from Scratch:
I always thought making crab dip from scratch was hard but it's not! Skip the restaurant and make this.
Preheat the oven to 400 degrees.
Carefully fold in all the ingredients except the crab meat and half of the parmesan.
Once everything is well combined THEN fold in the crab meat being careful to not break up the precious chunks.
Transfer the dip into a baking dish. Any oven-safe casserole dish or cast iron will work.
Sprinkle the remaining parmesan cheese on top of the dip.
Bake until bubbly! If you aren't getting that golden color on top, turn on the broiler for a few minutes. Watch it because it will burn fast.
Garnish with sliced green onions.
How to serve this Hot Crab Dip recipe...
Serve this hot crab dip right out of the oven for best results. The bubbly cheese is part of the fun! Serve it with your favorite dippers. Here are some ideas...
Best Dippers
Crackers
Chips
Sliced Baguette
Carrot Chips
Celery Sticks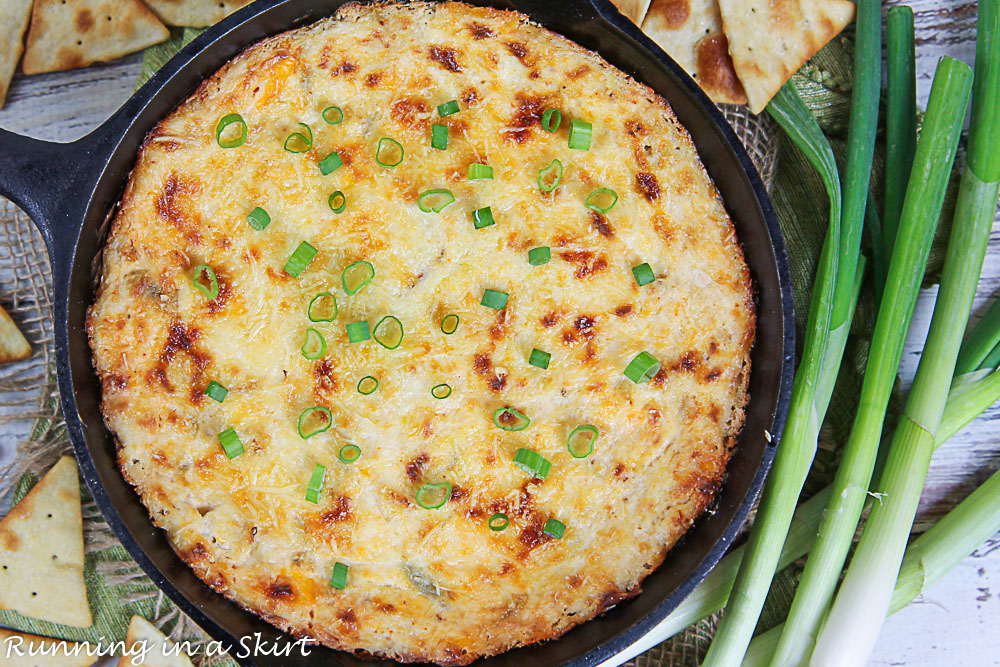 Crab Dip Variations & Questions
I love this recipe as written but here are some other fun ways to mix it up.
Add pickled jalapenos to make it spicy.
Add Old Bay to bring out that classic beach flavor.
Use a combination of shrimp AND crab.
Add buffalo sauce to make it Buffalo Crab Dip.
Can you make crab dip ahead of time?
YES! You can assemble this crab dip ahead of time. It can stay in the fridge covered for up to two days. Remove the dish from the fridge about 30 minutes before you want to bake it bring it up to room temperature. Then bake it according to the recipe instructions.
How long is crab dip good for?
This crab dip can keep in the fridge for 3-5 days. Store it covered in the fridge.
Can I freeze crab dip with cream cheese?
I would not freeze this recipe. The cream cheese, crab, and greek yogurt would have a strange consistency when you thaw it out.
Can you warm up crab dip?
YES! I don't think you will have any leftovers but you can reheat this either in the microwave or the oven. If using the oven just bake at 400 until warm again.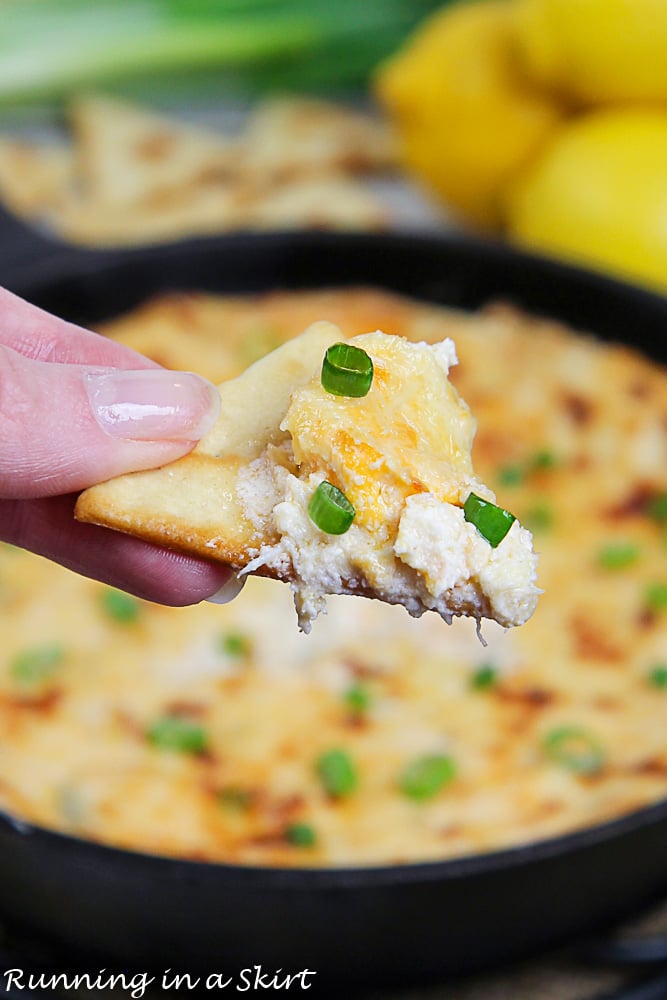 I hope you'll enjoy this Hot Crab Dip recipe as much as I did. I'll no longer be waiting for a seafood restaurant on the coast to enjoy this delightful dip! You'll be surprised about how simple and easy this all comes together.
Whether serving this dip as an appetizer for a party, a homemade seafood dinner, game night, or even a Super Bowl Party... this dip will wow your family and friends.
Happy Cooking!
More Cheesy Hot Dip to Love:
If you make this recipe, I'd love to hear what you think! Leave a comment and a star rating ★ below. Make sure to follow me on Instagram, Pinterest, and Facebook too!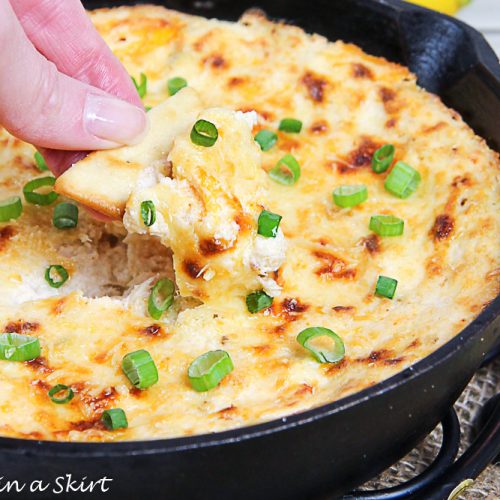 Hot Crab Dip recipe
An Easy Hot Crab Dip recipe that's made with a few healthy swaps without sacrificing flavor.  This creamy, cheesy and crab meat filled dip is perfectly spiced and downright irresistible.
Instructions
Preheat the oven to 400 degrees.

In a bowl fold together the whipped cream cheese, Greek yogurt, cheddar cheese, half of the parmesan cheese, lemon juice, Worcestershire sauce, garlic powder, onion powder, hot sauce and salt. Once that is well combined carefully fold in crab meat.

Transfer the mixture into a 8 or 9 inch baking pan or small cast iron skillet. Sprinkle with the remaining parmesan cheese.

Bake for 25-35 minutes or until the mixture is browned and bubbly.

Garnish with sliced green onions and serve warm with crackers, sliced baguette or chips.
Notes
Store leftovers in an airtight container in the fridge for up to 5 days.
Reheat in the microwave or in the oven at 400 degrees until warm.
Nutrition
Calories:
119
kcal
Carbohydrates:
6
g
Protein:
12
g
Fat:
5
g
Saturated Fat:
3
g
Cholesterol:
30
mg
Sodium:
607
mg
Potassium:
198
mg
Fiber:
1
g
Sugar:
3
g
Vitamin A:
178
IU
Vitamin C:
9
mg
Calcium:
127
mg
Iron:
1
mg
Pin for later!