Love Tzatiziki??? You'll never believe how easy it is to make your own Homemade Tzatziki Sauce recipe at home!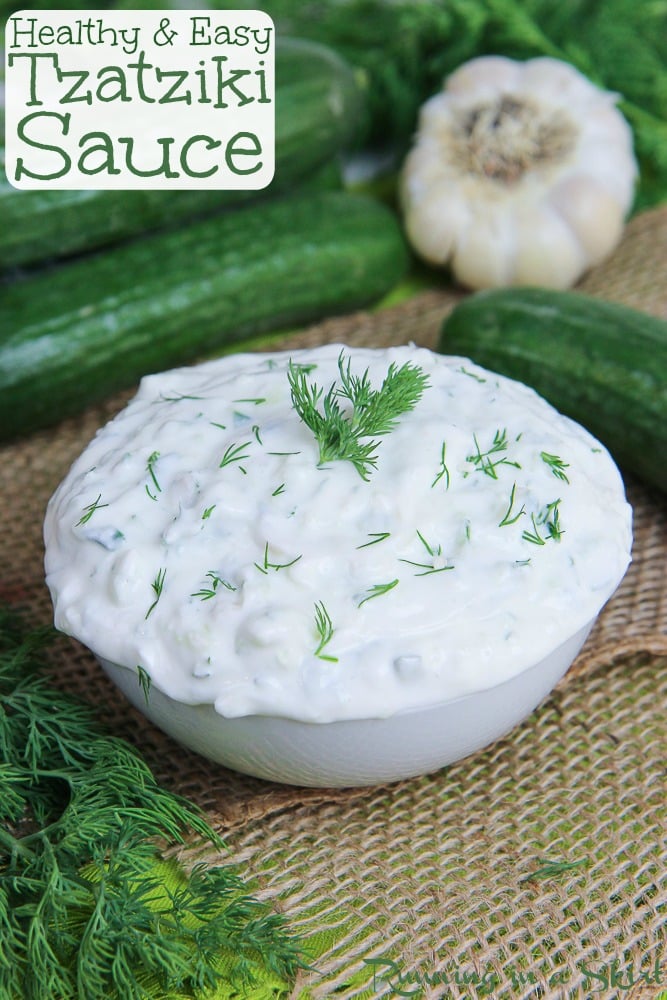 Hello! Hello!
We are back from the beach and I'm hoping to get a post up about the trip this week. We had such a great time and I can't wait to share more with y'all.
In the meantime, I have another tasty new recipe to share with you guys today. It's a Homemade Tzatziki Sauce recipe that is downright addictive.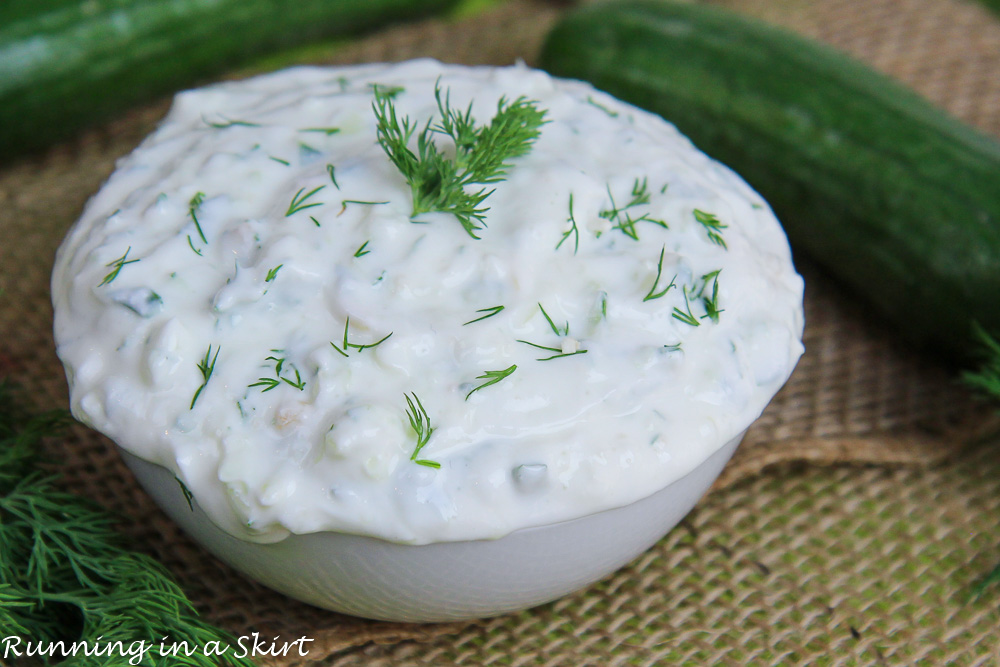 Why you'll LOVE this Homemade Tzatziki Sauce recipe...
I have a crazy obsession with Tzatziki sauce. If I see it on a menu out, I WILL order the dish that it comes on. It's been one of my favorite things to eat for years and always love finding it on a menu.
With that kind of tzatziki love and dedication, I'm not sure WHY it took me so long to make my own version at home. I think I thought it was one of those things that I thought was harder to make but GUYS it's not. It's simple to make and tastes just like the beloved sauce you get at your favorite Greek restaurant.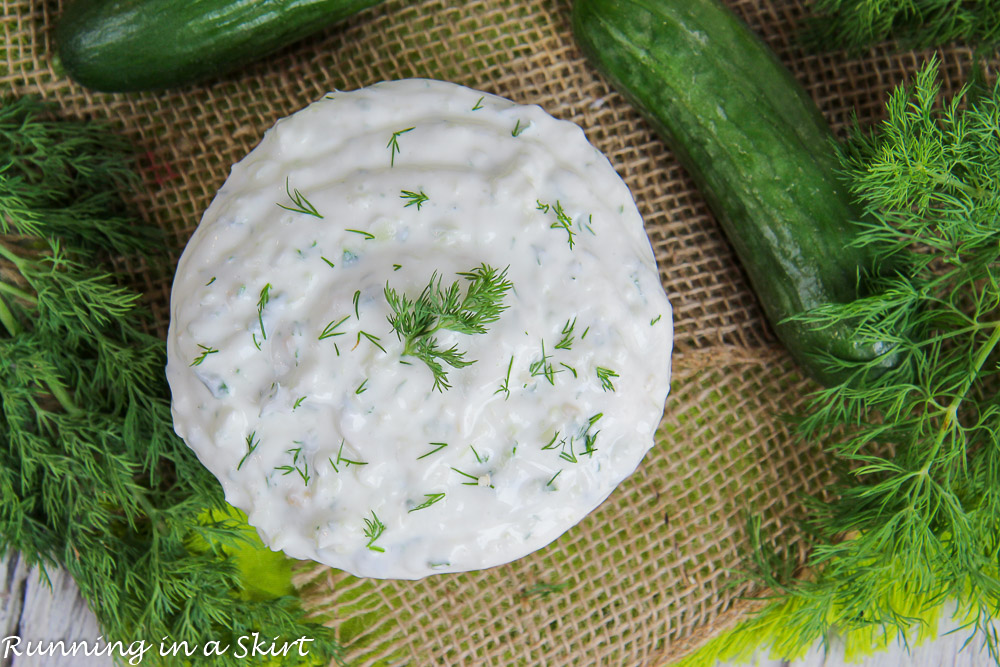 It's creamy, cucumber-y, garlic-y, lemon-y and has such a lovely texture.
It's good enough to eat on chips or with your favorite greek dishes like falafel! I've even created a DELISH plate of Greek Nachos with it. The recipe for those is coming up next week!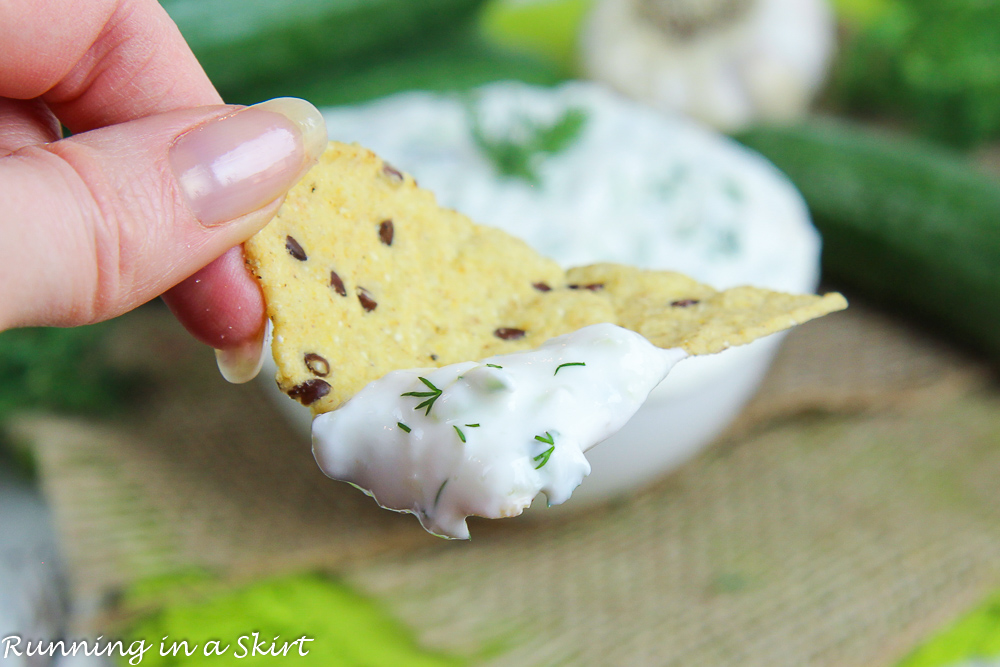 Ingredients in this Homemade Tzatziki Sauce recipe
Greek Yogurt
Cucumber
Dill
Lemon
Garlic
Salt & Pepper
It's really only FIVE basic, easy to find ingredients! You can control the nutritional side/ calories of your version by what kind of greek yogurt you use. A 0% or 2% Greek yogurt will have fewer calories while using a full-fat greek yogurt will be creamier with more calories. The choice is yours!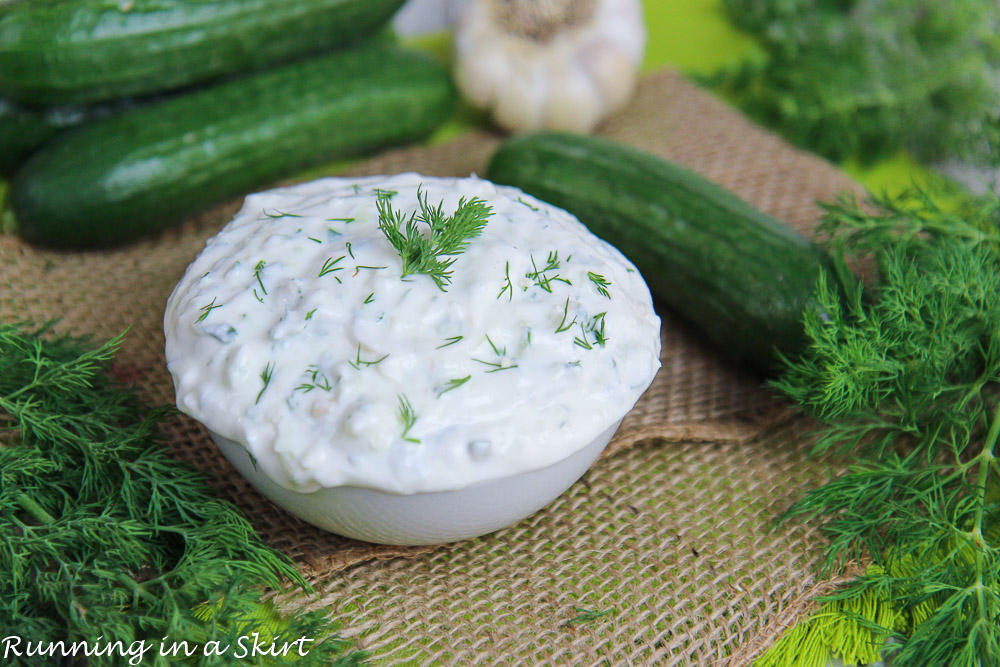 How to make my Homemade Tzatziki Sauce recipe
Grate the cucumber in a food processor.
Put the cucumber in a strainer, add salt and allow it the water in the veggie to drain.
Stir together the drained cucumber and all the other ingredients.
Salt and pepper to taste!
The only tricky part is draining the water out of the cucumber. It's a little tedious but totally worth the extra effort to get the right consistency in your Homemade Tzatziki Sauce recipe.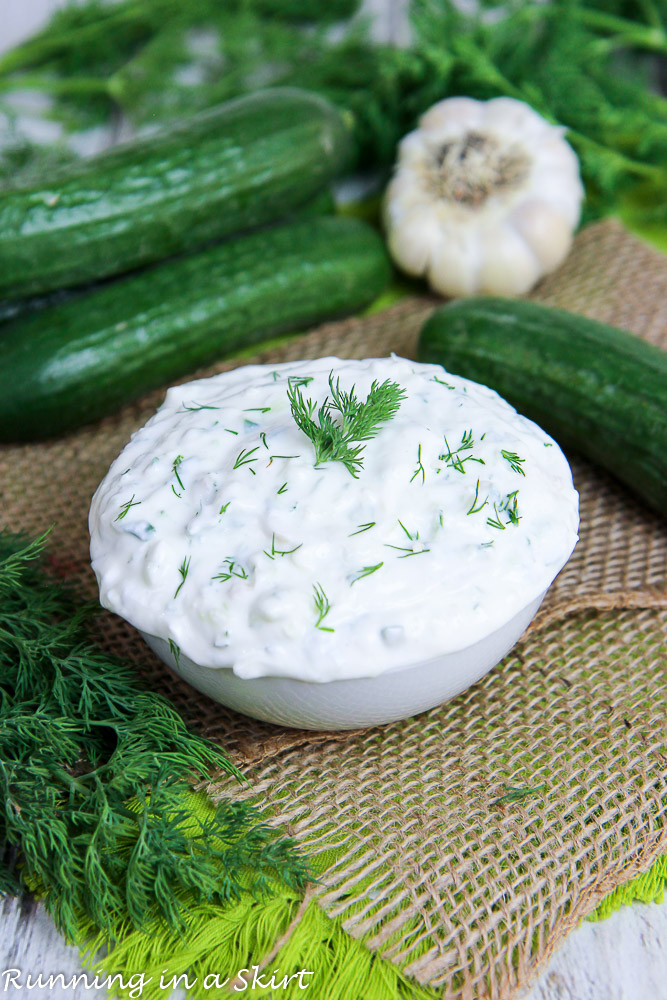 Trust me on this one, friends!!! My Homemade Tzatziki Sauce recipe is so tasty and will quickly become one of your go-to sauces. Give it a try and let me know what you think.
Also try...
Pin for later...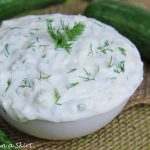 Homemade Tzatziki Sauce recipe
This healthy Homemade Tzatziki Sauce recipe is authentic and tastes amazing!
Instructions
Cut the cucumber in half and spoon out the seeds. Put it in a food processor to shred or a use a food grater. Put the shredded cucumber in a strainer. Sprinkle salt on the cucumber and allow the water to strain for 30 minutes. Blot with towels to dry.

Stir together the cucumber, dill, lemon juice, minced garlic and greek yogurt. Salt and pepper to taste.
Notes
You can enjoy this immediately, but it's best if you allow the flavors to marry in the fridge for a few hours!  
Nutrition
Calories:
44
kcal
Carbohydrates:
4
g
Protein:
6
g
Fat:
1
g
Saturated Fat:
1
g
Cholesterol:
3
mg
Sodium:
23
mg
Potassium:
153
mg
Fiber:
1
g
Sugar:
3
g
Vitamin A:
35
IU
Vitamin C:
9
mg
Calcium:
75
mg
Iron:
1
mg