Thanks for stopping by Running in a Skirt! You can also follow me on Facebook, Twitter, Pinterest, Instagram. or subscribe by entering your e-mail address to the right!
Happy Friday dear readers. I really hope you had a fantastic week.
I had a busy and productive week that started off at the Food Blog Forum in Asheville Monday and Tuesday. Wednesday was my birthday and today I am getting ready for another round of company to actually celebrate my birthday. And oh yeah, a lot of blogging on Running in a Skirt in between. Did you try my Greek Tortellini Pasta Salad from the other day? Seriously, give it a whirl, you will love it.
Speaking of love, I have a LOVE AFFAIR with polka dots.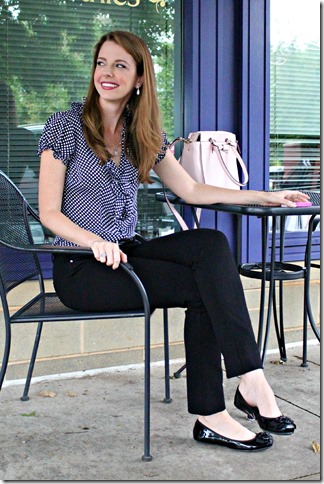 It is such a classic, yet youthful look that anyone can pull off. I already own a half dozen dresses with polka dots in my closet and whenever I see one in the store I am drawn to add it to my collection.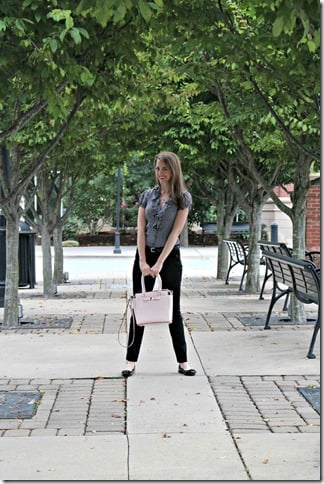 This shirt has subtle ruffles and is a quick fix for a work outfit to a night on the town.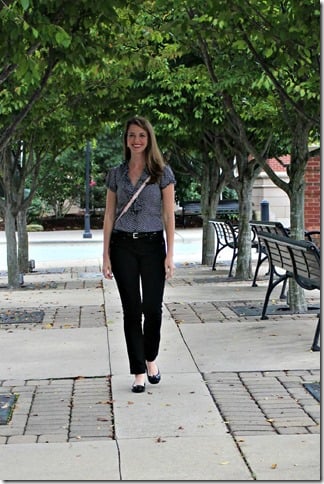 I pair it with a statement purse with a pop of color. The jewelry is light and layered silver pieces that don't detract from the shirt.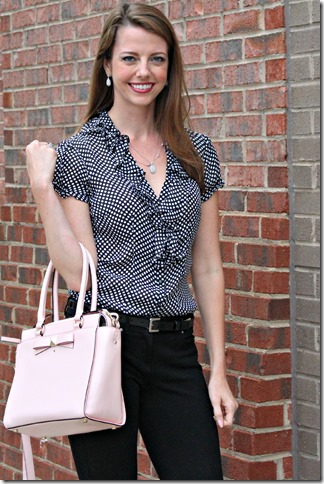 The shoes are flat and fabulous. A look that is perfect for skinny black pants and one that will easily transition into early Fall.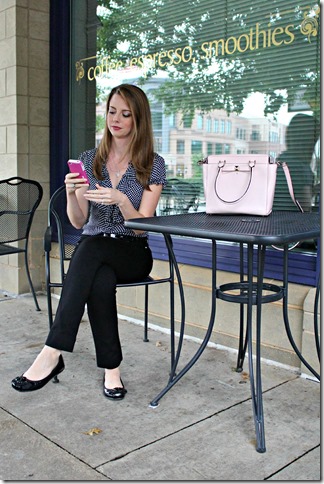 Pants: White House Black Market
Shirt: White House Black Market Outlet
Shoes: Jessica Simpson
Purse: Kate Spade
And even though I'm not officially a fashion forecaster, I'd place money on this look staying in style for years to come.
Special thanks to my Sister-in-law Megan who took the pictures when she was in Asheville last week.
Your turn!
Do you own any polka dot dresses or shirts?
How was your week?