Thanks for stopping by Running in a Skirt! You can also follow me on Facebook, Twitter, Pinterest, Instagram. or subscribe by entering your e-mail address to the right!
Happy Monday, dear reader. How was you weekend?
Mine was pretty great. I had all sorts of out of town guests and a few close friends over to celebrate my birthday. I still can't believe my family came to Asheville just to have a little get together. I feel like one pretty lucky girl right now.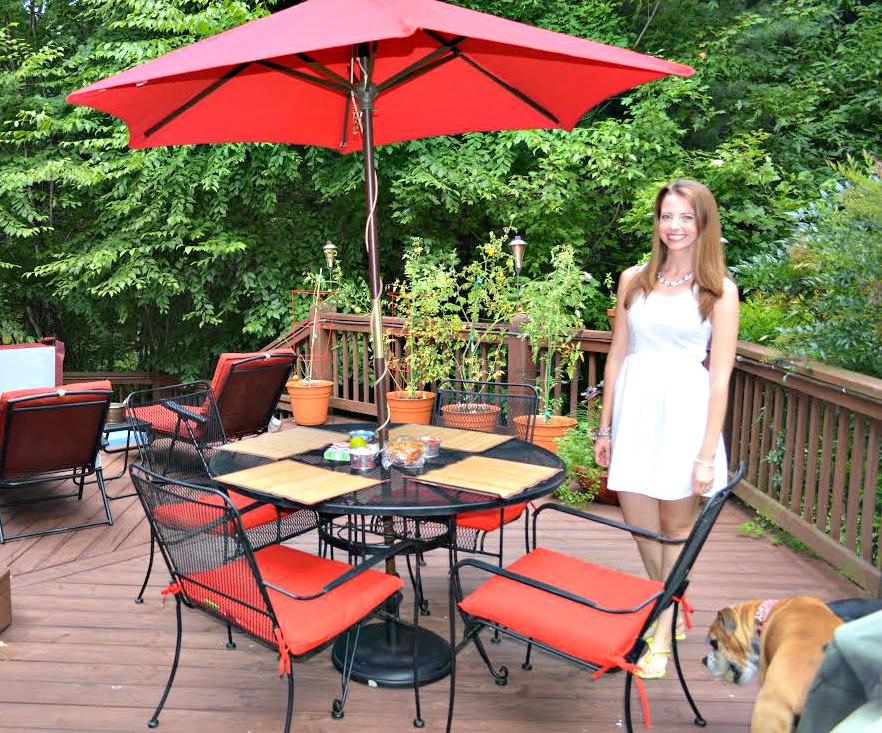 Rhett and Reina throw a pretty good party, don't ya think?
Bloggers on the Run
Also up today is my feature on Sara's blog Loving on the Run. She picks one blogger a week to feature in her Bloggers on the Run series and this week I am in the spotlight. I'm pretty stoked about it. Make sure to head over to her blog, Loving on the Run to learn a little more about her blog and what questions she asked me about my blogging and running journey. She does such a nice job putting these together so I know you will love it.
Make sure to leave a comment on her site for me, ok?
10 Lessons Learned: Food Blog Forum 2012
I went to the Food Blog Forum in Asheville last week and learned so much. The Forum could not have been at a better time for me since I just started blogging on a full-time basis and I always want to improve what I am doing here on Running in a Skirt.
The Forum was at the Biltmore Estate in Asheville, which is beautiful, of course!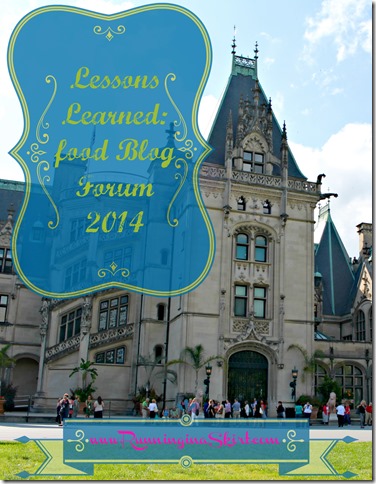 The group leaders and speakers were inspiring and so knowledgeable about food blogs. Running in a Skirt is obviously not a straight food blog, but I will be increasing the recipes you see here over the next few months. My goal was to have a few take always to improve Running in a Skirt and meet some other bloggers. Mission accomplished!
I thought I'd share some of those lessons I learned with you today. Even if you are not a blogger, there are some take aways that you can apply to most any business.
Photography…
1. Light is your friend in food photography
2. Props can be as important as the food and set the tone of the picture
3. Use a white or black foam board to diffuse or enhance light
Business….
4. Don't be afraid to negotiate and set a minimum hourly wage you want to charge
5. If negotiating, be willing to walk away
6. Never give up money, without giving up a deliverable (If they want to pay you less, agree on removing a task from the project)
Writing…
7. Write for other publications and don't be afraid of the editing process
Working with Brands…
8. Get to know brands you want to work with through social media
9. Write personal and relevant contact letters to PR folks
General…
10. Always be authentic to yourself and your message
What a great message no matter what you are trying to do in life. My Mom always said that doing what you believe in will always be right answer. I think I'm on the right track here with Running in a Skirt. It doesn't get more authentic than this.
I'll see you tomorrow with another fabulous recipe!
Your turn…
Do you feel like you are authentic to yourself?
Have you ever been to a really good conference?