Happy Fashion Friday!
This week as flown by again. I'm counting down the days until Tuesday when the Hubs is done with tax season!
Couple of random updates...
My knee is starting to feel better after Makena accidently hit it last Saturday. I decided to test it by just walking Wednesday, then doing the elliptical Thursday. It didn't seem to get worse, so hopefully I'll be back to running today. She hit it from the side and it felt pretty bad Sunday and Monday. I've got to be honest with you I was in a pretty bad mood earlier in the week without running! Isn't it crazy how addicted you can become to it. I knew though that the worst thing I could do would be to run on a sore knee and trigger some long term injury. Fingers crossed all goes well today.
I actually went to the store and bought bologna for Rhett to eat. I cut it up and mixed it in his bowl and he started to eat a little more. I'll honestly do anything at this point to get him to eat. Anyone have any ideas? First time I've ever bought bologna and boy does it look and smell disgusting. I must really love that dog! lol!
I'm giving away a really fun QALO ring prize back (including some beauty essentials!)... don't forget to enter here.
This weekend I'm looking forward to seeing my SIL, nephew and the Hubs family (who are visiting from Pittsburgh) in Colombia Saturday. Sadly the Hubs can't go because of work, but I decided to go by myself! Sunday I'm hoping to go to church and make us a nice Easter dinner. I'll have a recap on Monday!
Did you miss this?
For Fashion Friday I picked a dress that will be cute for Easter and beyond. It's a fabulous floral dress for spring and will easily be one I will wear through the summer.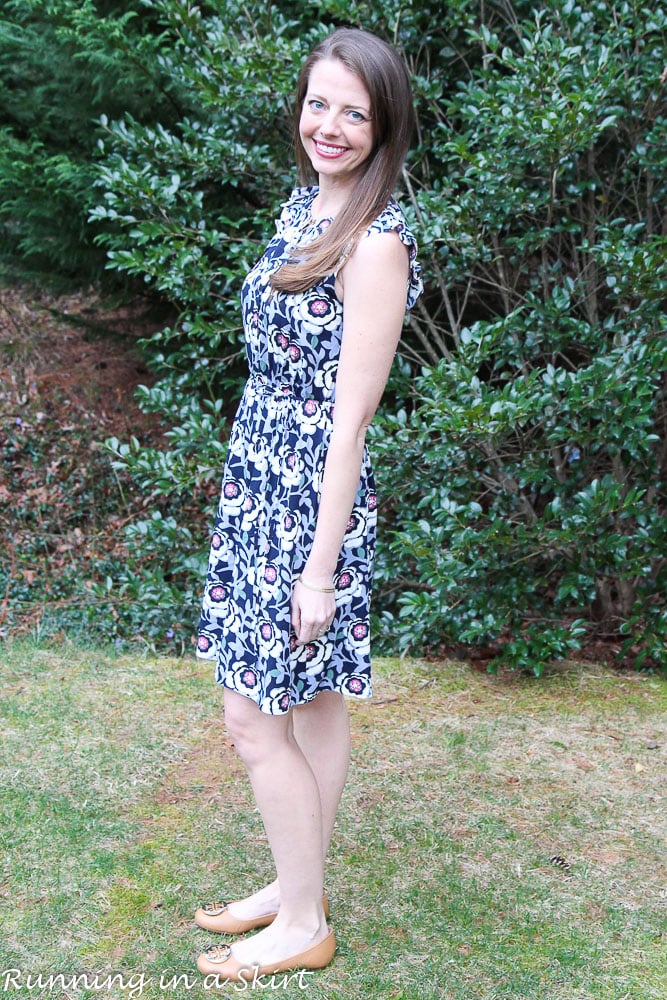 The best part is it's 40% off at LOFT right now! They are having a big Friends and Family sale this weekend. I adore their spring line, so make sure to stock of now.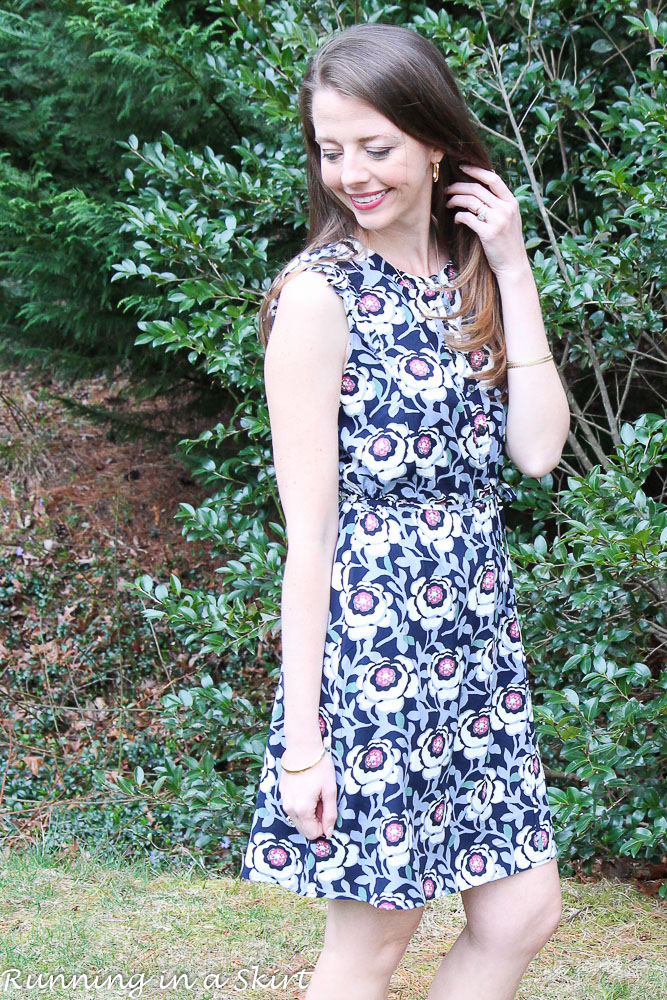 This dress is fabulous because the fabric wears well. It will be great for running around or even summer travel. It's fitted but isn't overly tight or anything. So many dresses in the stores right now are so oversized, that it's refreshing to find one that is actually flattering!
Plus the navy, cream and pink is so universally flattering.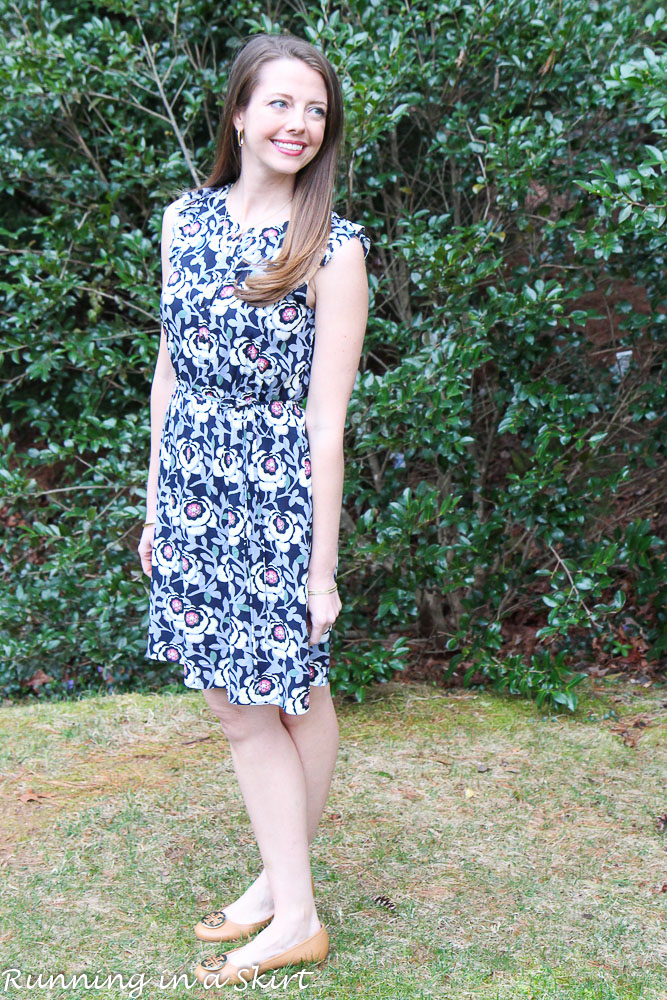 The detail is also really cute with the tie waist and flutter sleeves. They are just whimsical enough.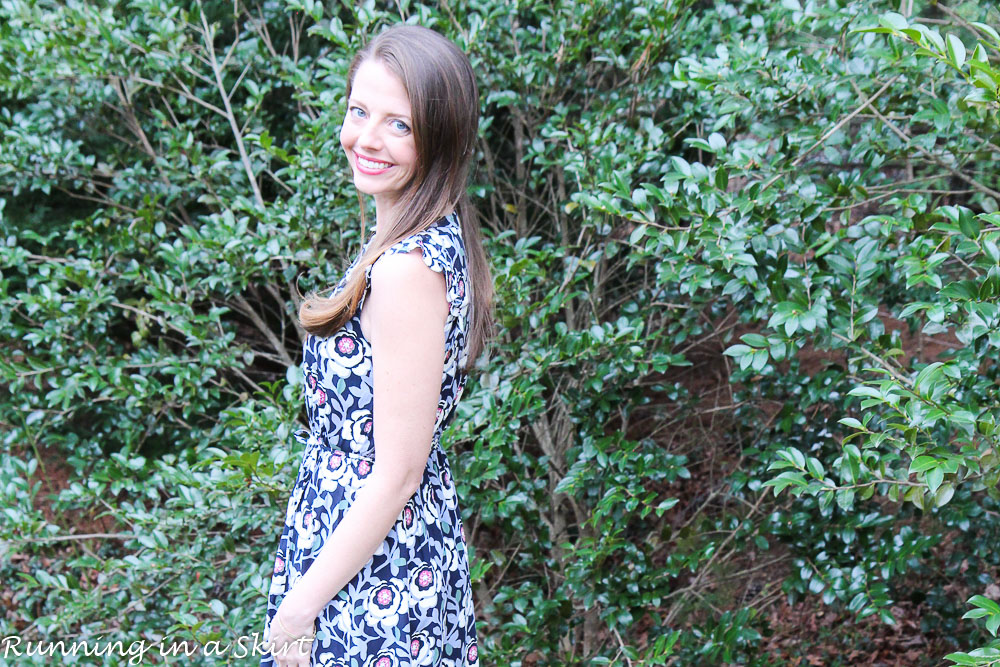 I also knew I had a winner when I came home and the Hubs said... "yes... that one is perfect for you!" 🙂 At least he knows my style!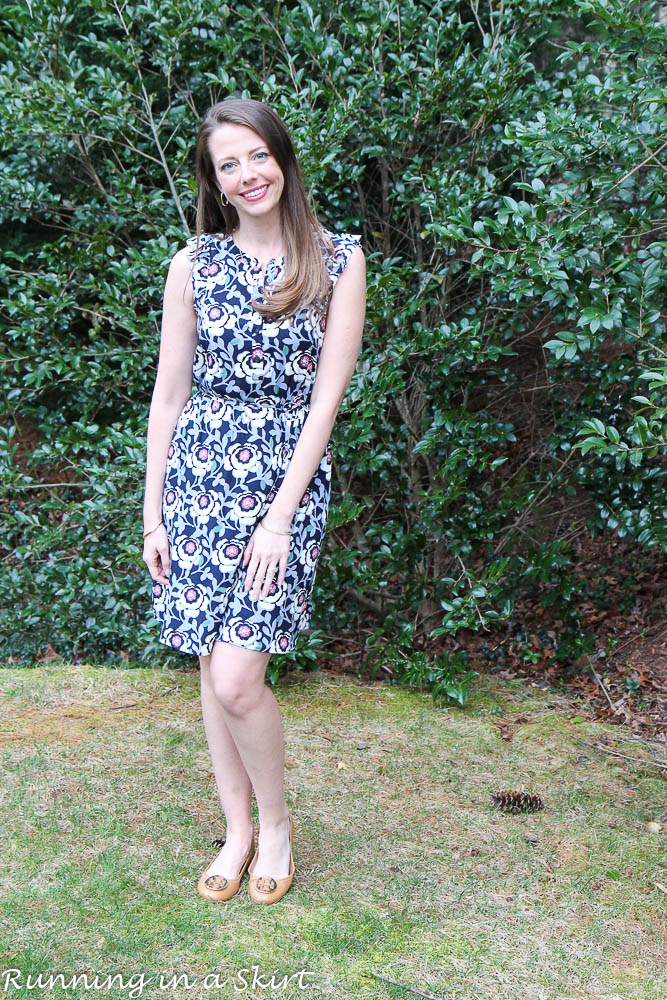 Seriously though, check out the LOFT this weekend! It's a great sale on their new spring stuff, which you would normally have to pay full price for. My all time favorite jean jacket is also on sale. It's classy and has a bit of stretch... so check it out. This outfit with the yellow shirt is also on sale too!
Happy shopping and have a truly blessed Easter weekend, dear friends!
Shop the Look:
Dress: Blossom Flutter Dress LOFT <---40% with Friends & Family this weekend
Shoes: Tory Burch, budget friendly option here or here <-- best deal
So nice to see you today. Have a great weekend and come back Monday for an Easter weekend recap!
This post is not sponsored, but contains affiliate links. I do make a small commission for clicks and purchases. It cost you nothing. Thank you for supporting Running in a Skirt.
Your turn!
What are you doing for Easter weekend?
I'm linking up with: Nicole for the Fit and Fashionable, Jolynne Shane for Fashion Friday, Turning Heads Tuesday. Thank you so much for the lovely linkup ladies.