Hello! Hello!
What a week. I spent a few days helping the Hubs with a conference at his work. It involved us staying at the Biltmore Estate Inn for a few days, so no complaints there! We got to do a little tourist in our own town stuff, including the Purple Bus, which is always a blast. Make sure to follow along on Instagram.
You know how I said the Hubs and I needed some downtime the other week? It's because this summer is going to be a little crazy. We put our calender's together and it seems like there is already something on it every weekend between now and Labor Day. Yikes! Most of it involves fun things and lots of family, but it's hard to keep up that kind of schedule for me.
Today's Fashion Friday is from a cool evening in the mountains the other day. Spring weather almost anywhere can be bipolar, but that seems especially true in the mountains. You could need a heavy coat one day and flip flops the next. The evening I took these pictures it was pretty windy and cool. I probably could have gotten away with tights or jeans, but I really still wanted to look springy.
I decided to pull out my cowboy boots for one last appearance before putting them away for the season.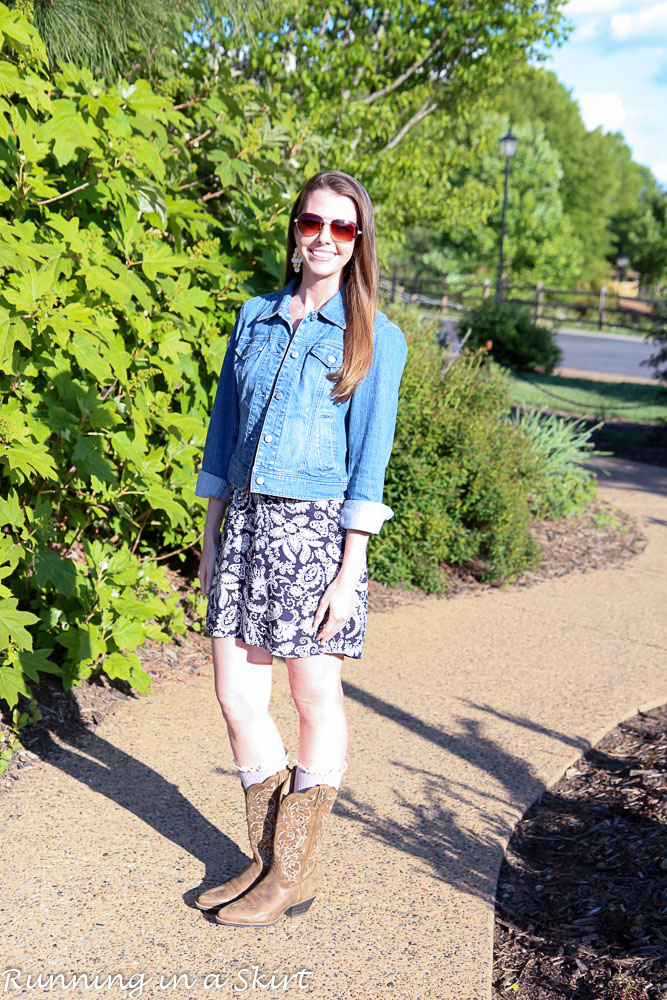 I paired my favorite paisley summer dress (also seen HERE and HERE) with a denim coat. The combination was just warm enough and still felt like spring.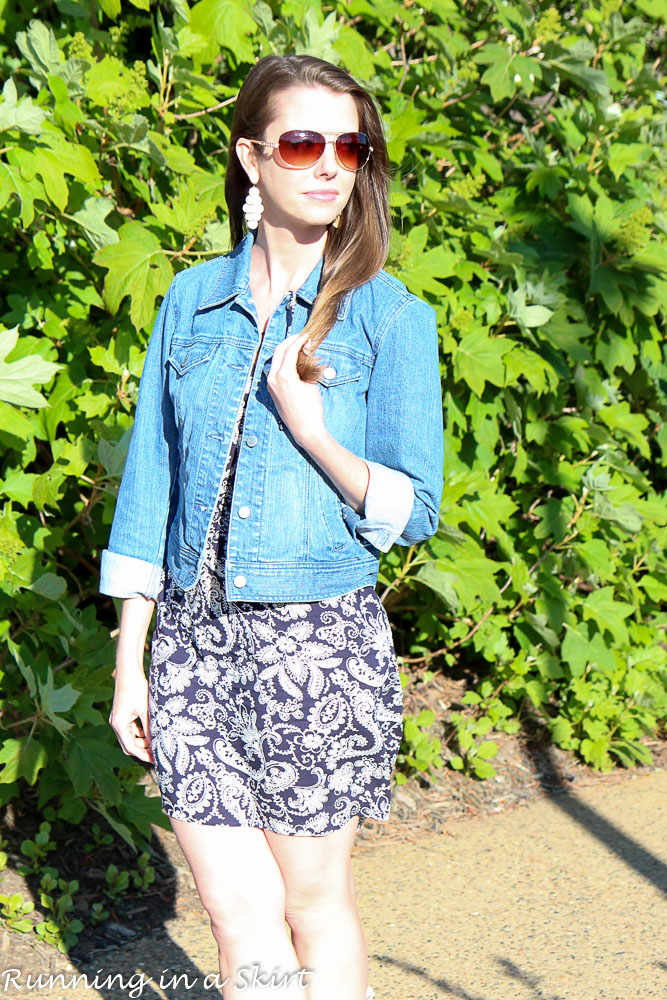 I love rethinking pieces like this! I've had this denim jacket for way too long to even mention, but every time I pull it out again it feels fresh.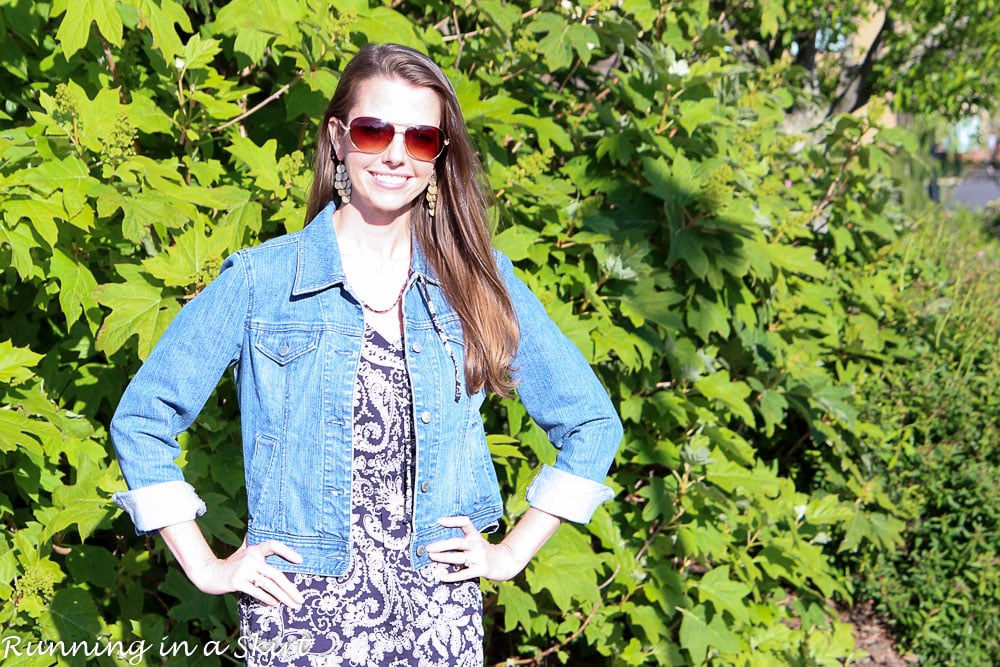 I love boots and jackets, but I'll be happy that warm summer nights are just around the corner.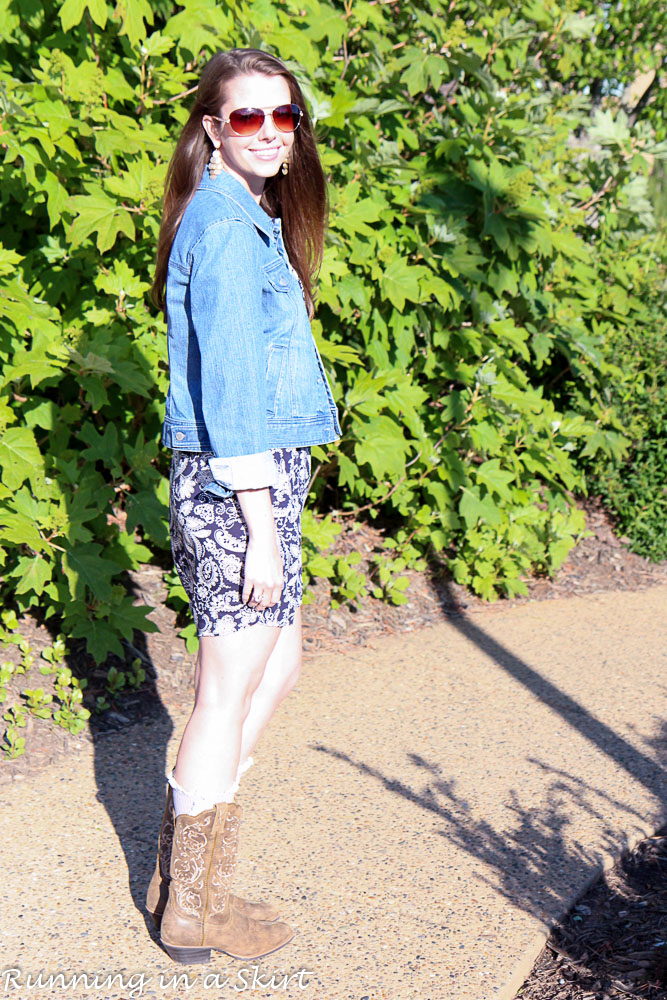 Have a lovely weekend friends!
Shop the look!
Dress: LOFT, similar HERE <--- less than $40, HERE or HERE
Jacket: LOFT, similar HERE or HERE
Boots: Twisted X, Same HERE
Socks: Similar HERE
Earrings: Similar HERE or HERE
So nice to see you today. Have a great weekend and come back Monday for Things I'm Loving Lately!
This post is not sponsored, but contains affiliate links. I do make a small commission for clicks and purchases. It cost you nothing. Thank you for supporting Running in a Skirt.
I'm linking up with: Nicole for the Fit and Fashionable, Jolynne Shane for Fashion Friday, Turning Heads Tuesday. Thank you so much for the lovely linkup ladies
Your turn!
What is spring weather like where you live?
What are you doing this weekend?