Happy Fashion Friday!
I thought I was going to share a weekly recap with you today, but I've got to be honest with you my week hasn't been all that exciting or picture worthy. My pictures from the week consisted of a lunch out I didn't really like and a pizza pic you guys have seen half a dozen times already. That's life though... it's not always blog worthy. Despite that though, my week was still relatively relaxing, beautiful and I got a lot done... which is just what I needed. So instead I decided to keep the Fashion Friday roll going with a new shirt I picked up that I thought you guys would like.
The most exciting thing that's happened this week is I've continued running with Makena. She's now up to 3 miles at a time. She's getting more used to passing people and bikes, but she has a complete meltdown when other dogs are in front of us or coming at us. She's so social all she wants to do is lunge at them and play. I've started stopping the run and having her sit on the side of the sidewalk where she can't lunge so she doesn't think she can do that, but it is getting a bit annoying. Does anyone have any ideas? Her problem is she LOVES playing with other dogs. Despite the struggles though, I think she is doing pretty good for only being a week and a half into it.
This weekend should be much more exciting with a much belated birthday tea and the Biltmore. I'm also hoping to hopefully go on a hike.
Here's what you might have missed this week...
I also finished my series on my Alaska trip this week...
Flashback post...
Fashion Friday
Moving on to some cute fashion inspo for the week. I picked up this adorable cold shoulder shirt to embrace the fall season for less than $30. YES- only $30! It's still been a little too hot to wear anything like this yet for longer that just taking pictures, but cooler weather is coming this weekend.
My shoes are my new Sam Edelman's for the season. They are a little pricey but honestly feel like I'm wearing slippers when I have them on. So many flats pinch my feet and these don't. I got them and bought them in black too because I love them so much. If you are looking for flats make sure to check them out. I can't gush enough about them.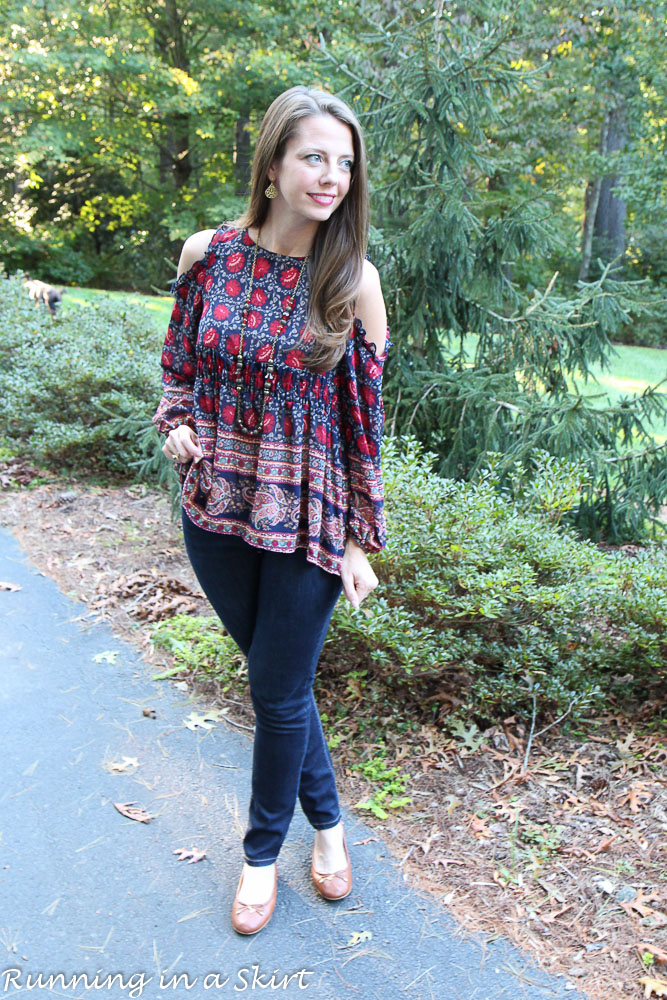 I think the shoulder cutouts are super cute with this and I like the fresh take on the boho look. I also really like that it's flowy, but doesn't look like a tent on. So many shirts like this aren't flattering at all and I think this one is!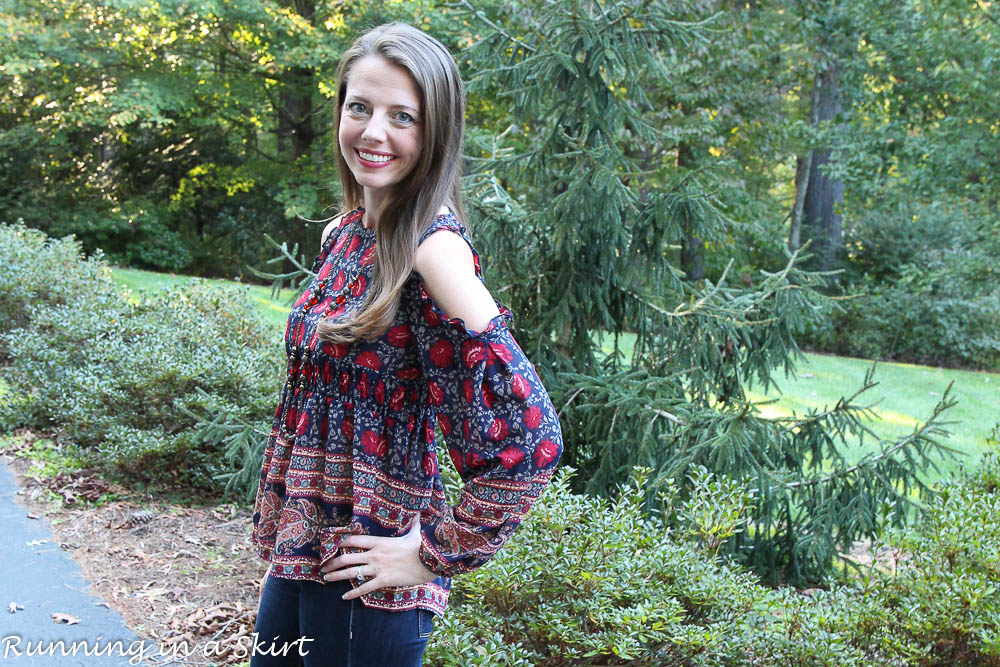 The colors and pattern in this fabric are so pretty in person too. It's such a great shirt and pretty soon our Asheville fall color is going to look just like this!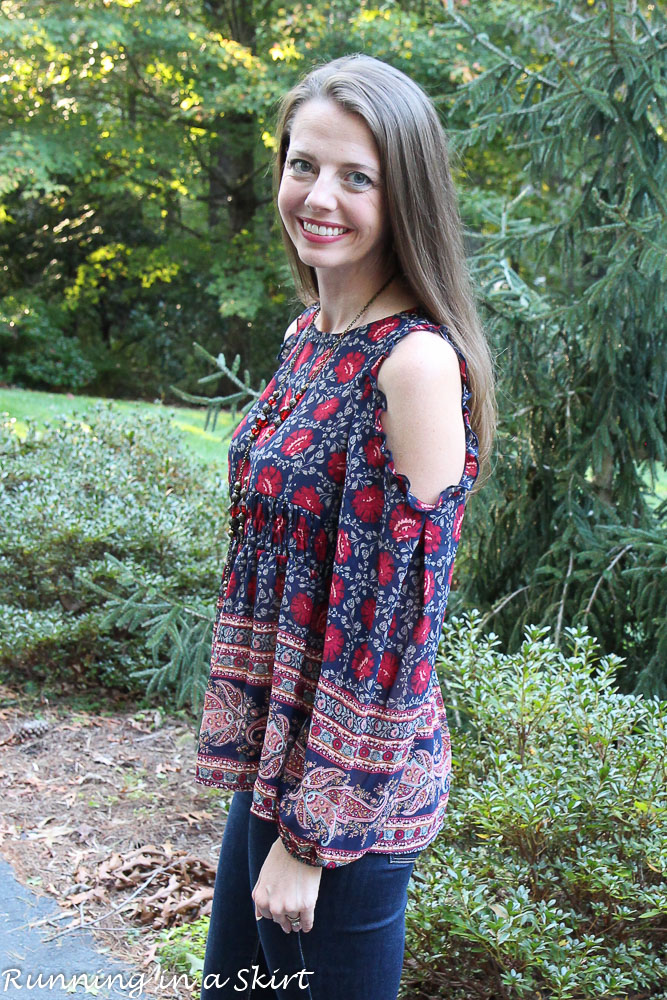 I hope you like the look. I share these to help you find new fashion finds without all the work. As always, if you like it and want to get it for yourself I do make a small commision though the links below. I really do appreciate your support. Have a beautiful weekend and happy shopping!
Shop the Look
Shirt - Knox Rose from Target
Jeans- White House Black Market
Shoes- Sam Edelman
Your turn!
What are you doing this weekend?
This post is not sponsored, but contains affiliate links. I do make a small commission for clicks and purchases. It cost you nothing. Thank you for supporting Running in a Skirt.
I'm linking up with: Nicole for the Fit and Fashionable, Jolynne Shane for Fashion Friday, Turning Heads Tuesday. Thank you so much for the lovely linkup ladies