Happy Fashion Friday!
It's been so nice to be at home for a full week. I am really looking forward to this upcoming weekend and a little downtime. I hope you have something to look forward to this weekend as well.
Every once in awhile I feel like I'm slipping down the slope of only sharing the really good stuff in life and glossing over the hard. I worry that I'm doing a disservice to you guys, making you think my life is perfect when like everyone, it's not. I don't want you to think perfect is normal. My life is very, very good and I am so blessed but it's far from the glossy perfection you often see here. So I thought I'd share a few confessions today to just keep it real...
I have a terrible capri pants tan line on my legs from hiking in Switzerland. I thought about editing it out of these photos, but then decided to just keep it real. It's ok to laugh... it is kind of funny. I was super embarrassed when it happened, but now I'm over it. If anyone has done this and figured out how to even it out, let me know. You can really see it in the last photo in this post.
I love traveling but this hectic summer schedule has been a little too much for me. I have one more big trip coming up soon.
This blog is such a blessing (and I don't take that for granted at all) but it has been a little overwhelming lately. I feel like I'm struggling keeping up and there are constantly 500 things I could do for it. And then I keep messing important stuff up. I have been having some pretty bad anxiety issues over it. When I get back from this last big trip, I'm going to be figuring out how to make it more manageable.
Going home to Orlando is really hard on me. I see my Mom everywhere I look and go. I somehow felt like she should just be walking around the corner to make us tea. It will be five years since she passed in November and I had moments on this past trip where it felt like it was yesterday. I don't think those feelings will ever go away.
I'm sharing this not to complain or to make you feel bad for me, but just to let you know that it's ok if your life is a hot mess too. We've all been there.
Fashion Friday
With that off my chest, let's move onto Fashion Friday. I might be bouncing around a bit here, but hopefully that's ok. That's my life lately.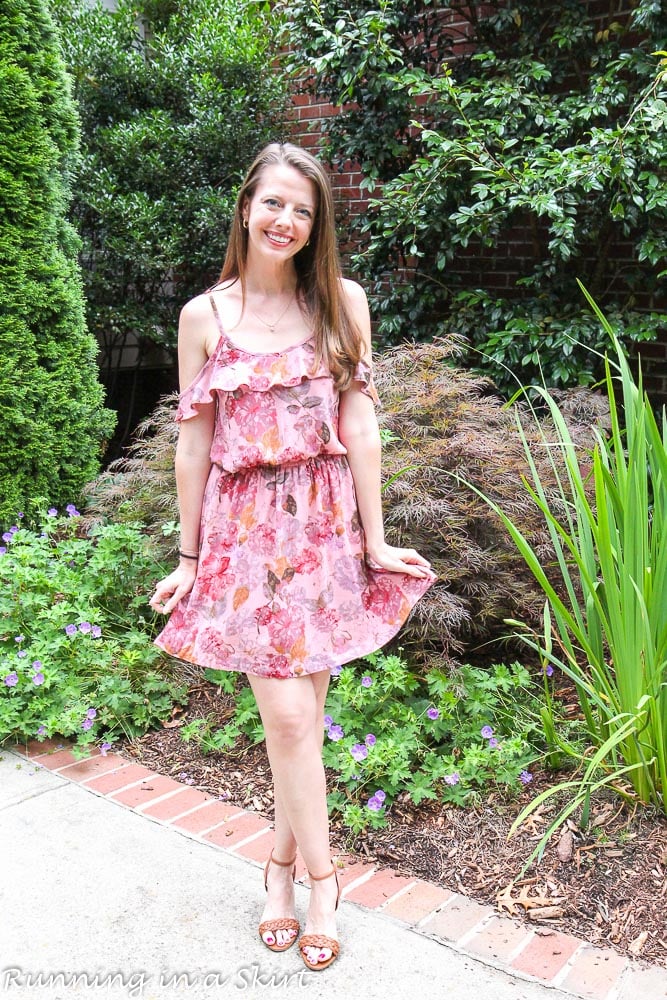 With this hectic summer schedule, I've been full embracing pretty summer dresses. I adore this slinky, easy to wear cold shoulder look. I like that it has easy to wear straps to keep the dress up.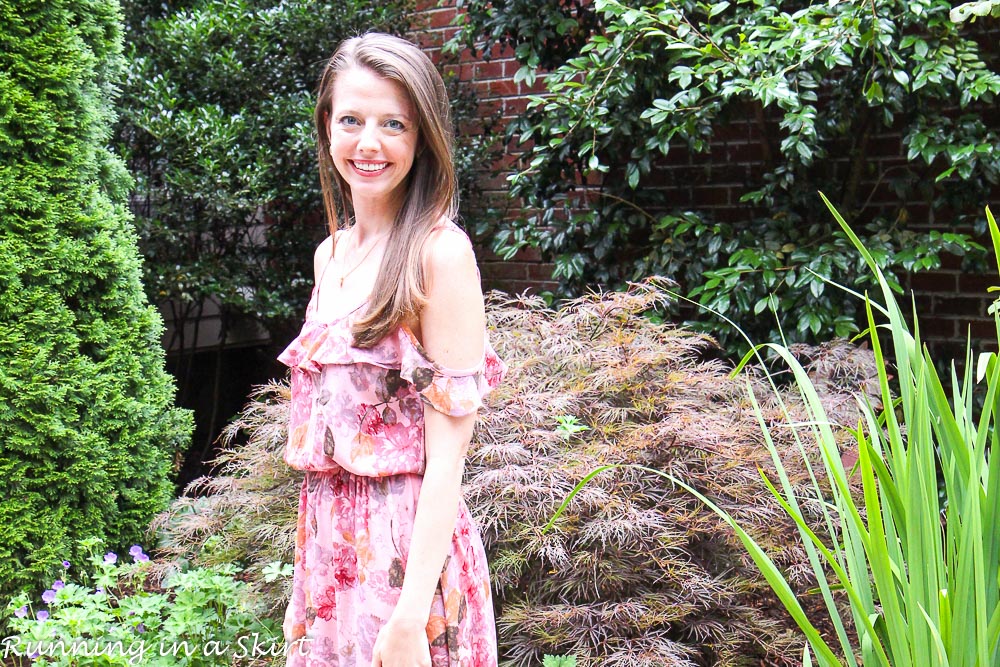 The color and pattern on this dress is also so pretty. I actually think it looks even better in person.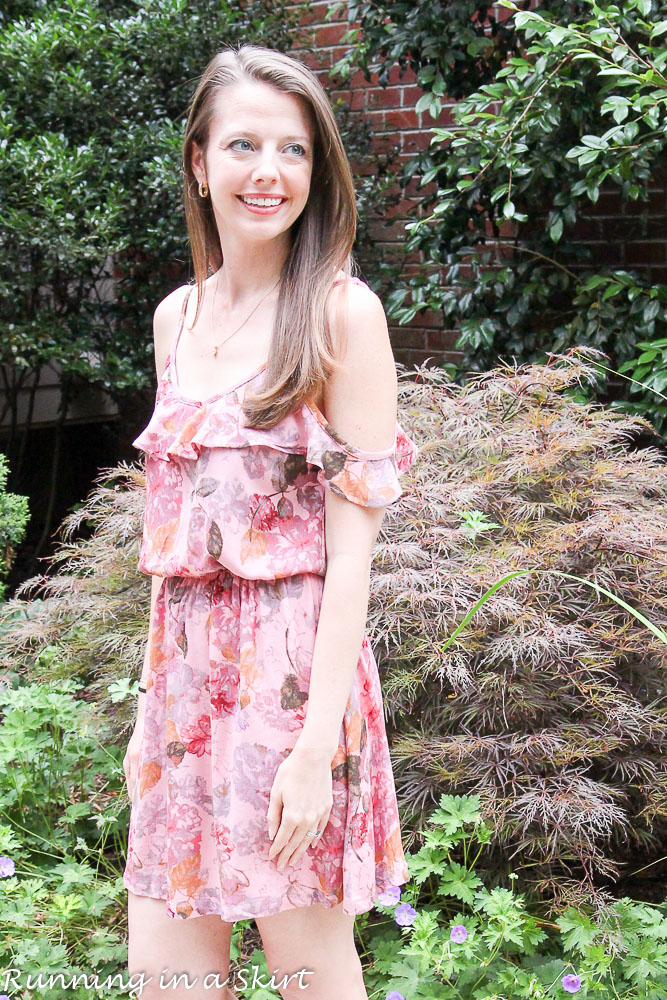 I picked this dress up at Target and loved their selection of summer clothes this season. They had hundreds of dress options for less than $30, including lots of floral patterns.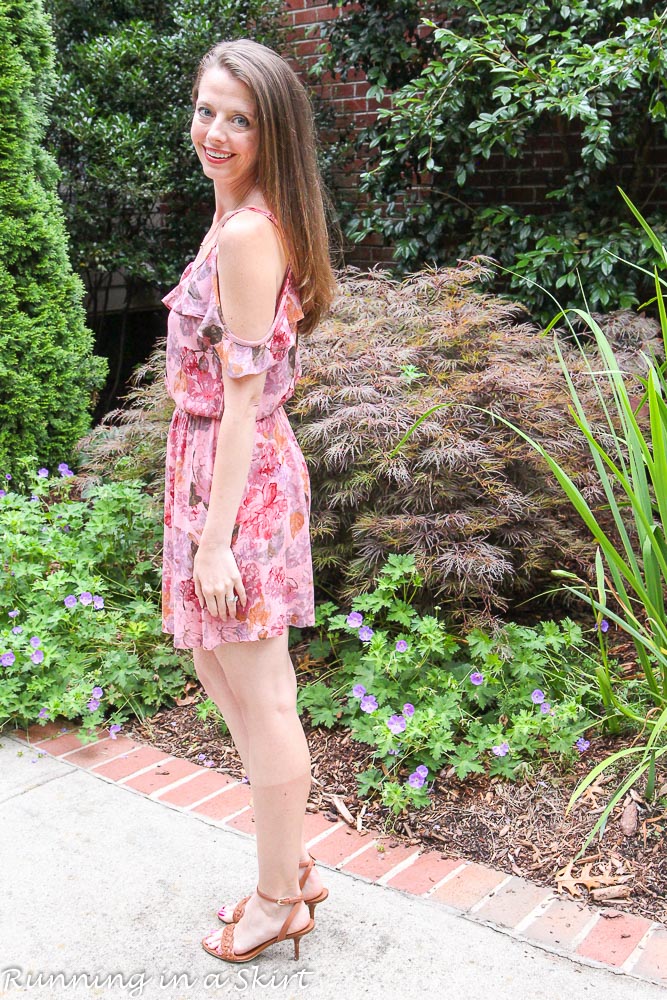 I'm a little bummed that this exact dress sold out before I could share it with you, instead I put together a list of five cute floral from Target all less than $40. Happy shopping!
Shop the Look
Dress: Target, also try HERE, HERE, HERE, HERE AND HERE
So nice to see you today. I'm taking the long holiday weekend off blogging, but will be back Wednesday with more from Switzerland and Thursday with a holiday recap.
Your turn!
Share a confession with me....
This post is not sponsored, but contains affiliate links. I do make a small commission for clicks and purchases. It cost you nothing. Thank you for supporting Running in a Skirt.
I'm linking up with: Nicole for the Fit and Fashionable, Jolynne Shane for Fashion Friday, Turning Heads Tuesday. Thank you so much for the lovely linkup ladies