Hi everyone!
Before I get to today's post, don't forget that Thursday is the Best of the Blogs linkup. I hope to see you all there. Also check in on Instagram as I'll be posting some photos from the Outer Banks!
With my 2 year anniversary of leaving WLOS coming up at the end of next month, I've been feeling a little reflective lately. I feel like since I left the TV station, I've been on a journey with myself and this blog to find true health and happiness. I never want to lose sight of that theme on Running in a Skirt or mission in my life.
I've also been thinking about the posts I publish and how they all capture these so-called "perfect" moments of mostly perfect food, clothes and travels. Yes. All of those things happen in my life, they are 100% honest, and none of them are fake, but there are so many non-picture perfect moments too. I feel like for the sake of being real and authentic I need to point that out sometimes.
Life is not a perfect Instagram filter.
I posted a similar Confessions post last year, and I'm continuing that series today. The purpose is not to complain, but to show my journey and share that we all struggle to keep it together.
Confessions...
So much summer travel...
I ended up with a crazy summer travel schedule and it's not over yet. I feel so blessed to be able to go on these trips but I feel like all I'm doing is getting ahead to leave and then coming back to catch up again. I'm so happy to be at the beach right now, but know I'll be paying for it when I get back. I just recovered from Austin!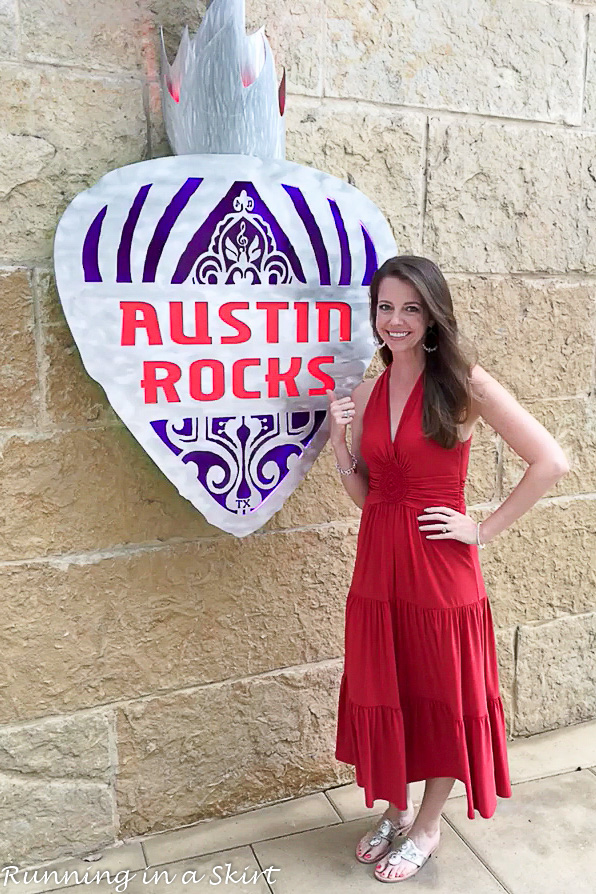 July and August still have a few trips, but it shouldn't be quite as busy.
Rhett snots on my walls....
So my adorable, wacky almost 15 year old dachshund blows snot rockets everywhere. He's been to the vet for it probably a dozen times and there doesn't seem to be a cure. Some of them land of the walls as high as my eye level. The only thing that take them off is a magic eraser and I really don't get around to doing that often enough.
I don't eat off white plates...
I love color. If given the choice I will most often choose a cheerful color for anything I buy. My plates are all funny colors that don't photograph well. I've been thinking about getting a couple white super plates just for sharing my dinners on Instagram because they look so bad on my regular plates, but I can't bring myself to do it. This is what dinner often looks like. It's pretty, but I don't feel like it's Instagram worthy.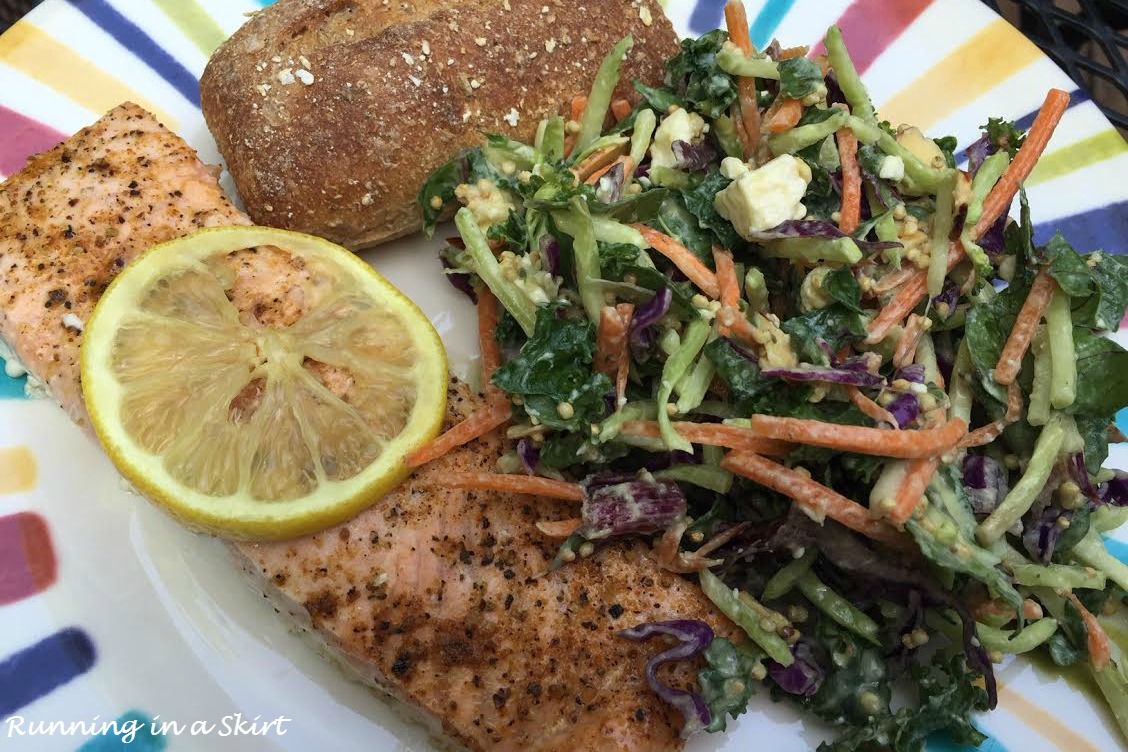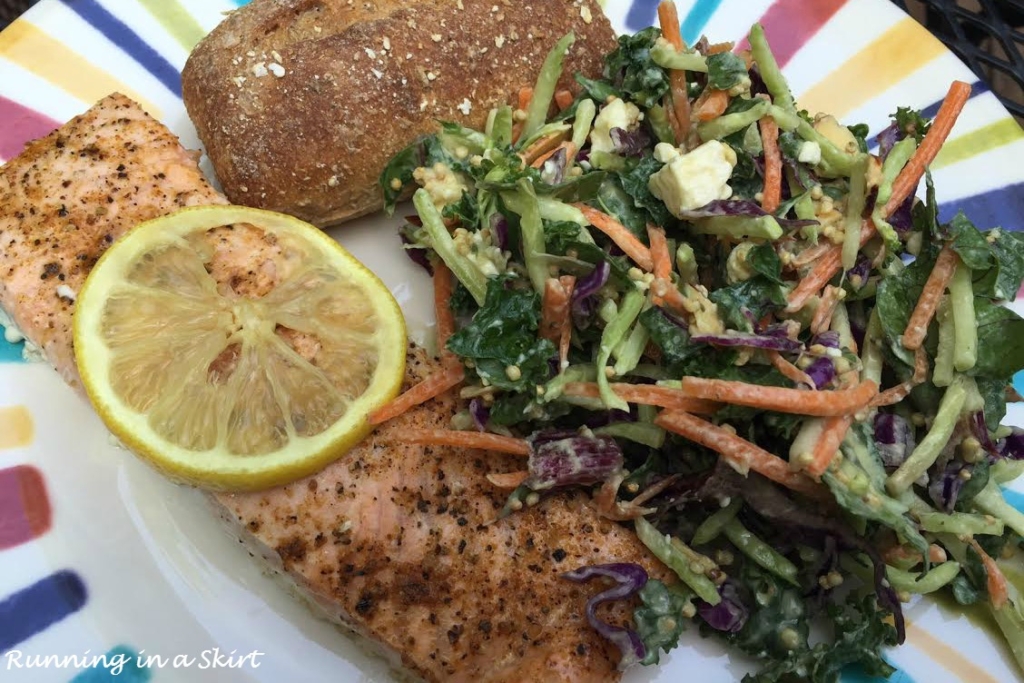 I've been struggling to grow my Instagram...
My Instagram account feels stagnant and I've really been struggling to figure out the magic formula to grow it. Is it the white plates? I don't know. Does anyone else feel like a lot of this blogging stuff is just trial and error? Any tips? Want to follow me?
I've been running like a snail...
I've talked about my love of summer but that does not extend to running in the heat. I haven't been able to get myself out of the door to run super early and have been fighting the heat. I've been running like a snail just to keep myself afloat. I need to shift my morning routine to get out of the door earlier because I'm UP... and I'm just doing other things.
I feel like there are never enough hours in the day...
I'm pretty sure that I'm not alone in this feeling, but I have so much more I want to do most days than time to do it. One thing I've been working really hard on is creating realistic to-do lists with attainable daily goals. I used to start the day with lists of stuff that would probably take a week to actually do and be disappointed when I didn't finish. I'm finding I'm much happier if I create a to-do list that can actually get done. It's a work in progress. 🙂
Life is Not Perfect
I could go on, but you get the idea. Life is really good and I don't want to actually complain. I am blessed, but it's not perfect.
I believe one key to happiness is finding a way to float along the river, not drown in it... even when challenges are thrown your way. And we all have those challenges and confessions. It's how we deal with these challenges, see silver linings and focus on REAL authentic happiness that determines our true joy. And isn't that what we all want anyway?
Thanks for stopping by today! See you tomorrow for another vegetarian take on a burger for the 4th of July... the BEST Portobello Mushroom Burger. And I don't say that lightly... it really is!
I'm linking up with Marvelous Monday.
Your turn!
If you feel comfortable, share a confession with me!
Do you feel like you deal with challenges well?