Hi guys!
Before we get into today's post I have a little blog business. I guest post on the Healthy Helper Blog this week! The post is about 5 Ways to Have a Stress Free Summer, which I know many of us need to hear. After you read this, make sure to head over there and give Kaila a little Running in a Skirt love. Second, make sure to enter the Vega giveaway with my Chocolate Covered Strawberry Protein Popsicles post. This new protein is a clean, vegan one so it's a great option for many of us, plus the popsicle recipe is kind of aweeeeeeee-some.
Back to Fashion Friday now!
I was at the Biltmore House the other day for dinner and had a chance to dress up a little. I've mentioned before that Asheville is a pretty casual place, so it's hard to find places to dress up a little. I decided to pull out this lavender off the shoulder dress I picked up at our Dillard's clearance center.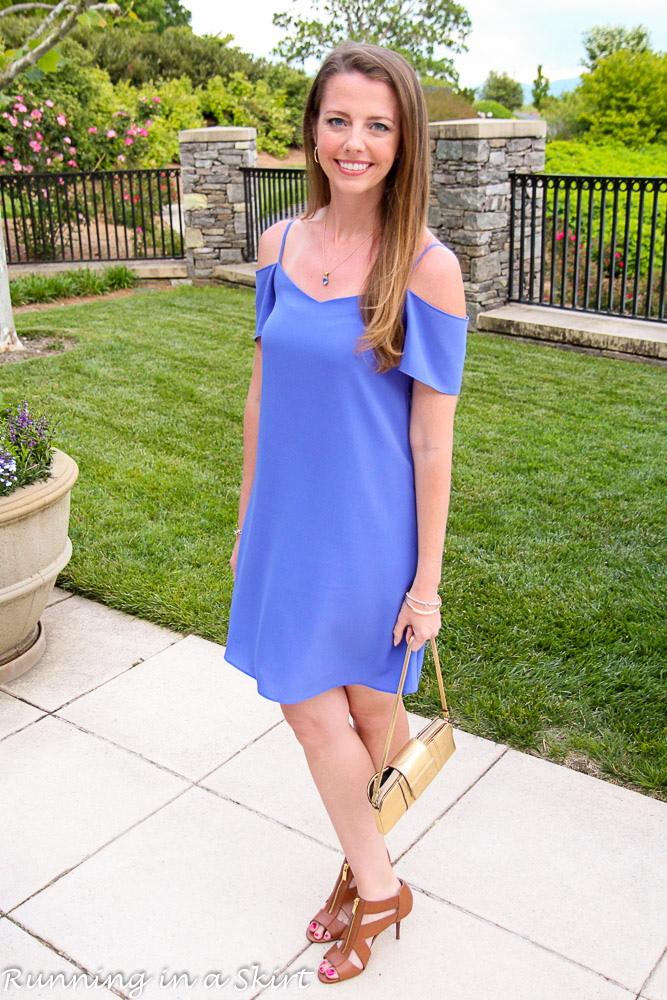 I thought with off the shoulder being a big trend for summer 2016, this dress was perfect. Plus I love the way the color compliments my eyes.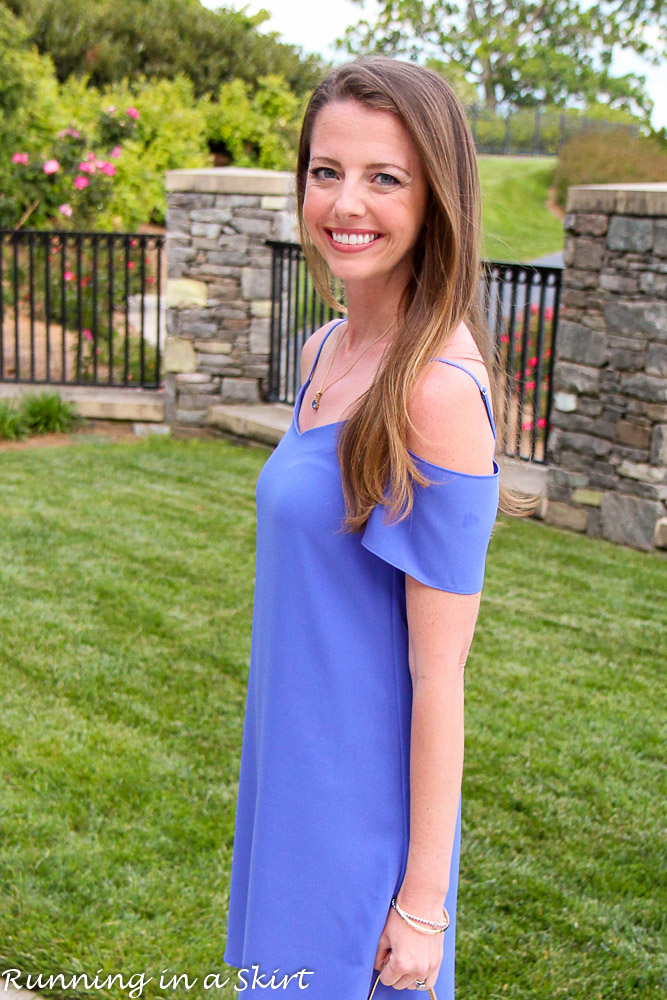 I paired it with some of my Mom's gemstone and gold jewelry. I always used to wear white gold, but I'm really enjoying wearing more yellow gold lately. So many of her pieces were yellow gold, so I'm glad it's coming back around in style. I also have no problem mixing the two as you can see with my bracelets.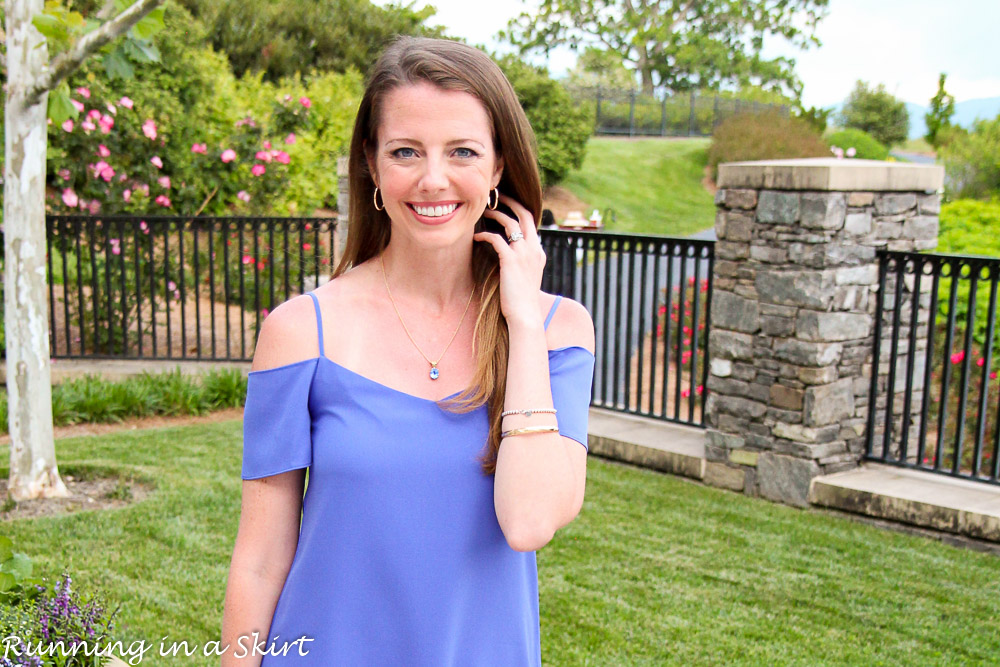 I've got a feeling this dress is going to be one of my new favs. It's so easy to wear and feels very hip! <--- if you say hip does that automatically make you not hip?? Don't answer that! 🙂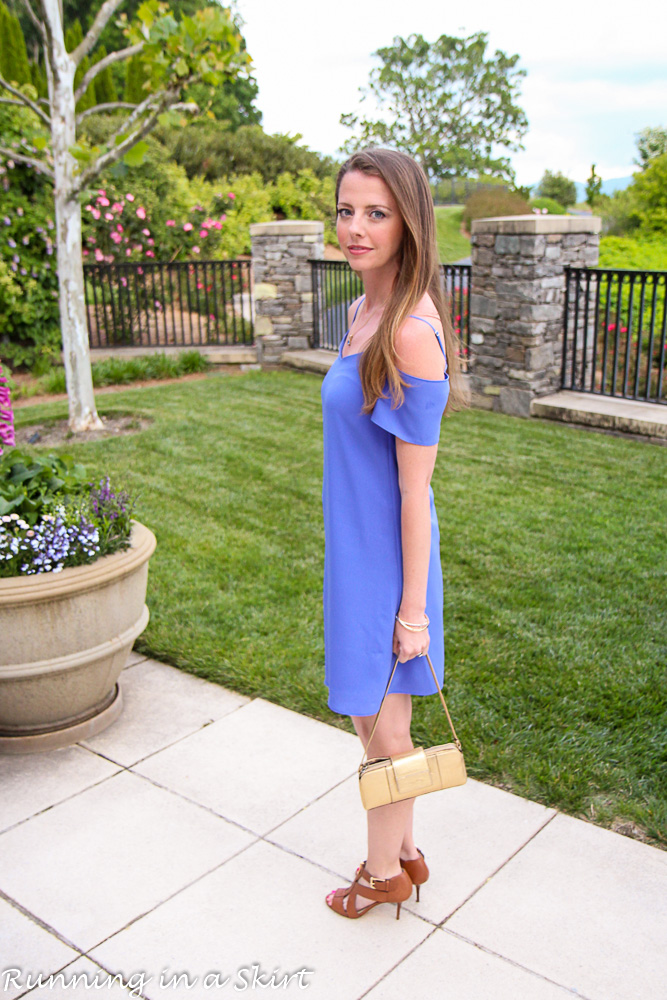 I hope you all have a beautiful weekend doing things you love. I'll be heading the the Outer Banks to spend some time with the Hubs family at a beach house. I've lived in North Carolina almost 13 years and never seen it, so I'm excited. If I see wild horses on a beach I just might cry. 🙂
Make sure to follow along on Instagram while I'm there.
Shop the Look
Dress: Dillard's Clearance Center, other off the shoulder dresses I like HERE, HERE and HERE.<-- crushing on this denim one from Express
Shoes: Micheal Kors, similar HERE and HERE <--- budget friendly option
Necklace: Mom's 🙂 similar HERE.
Purse: Calvin Klein, similar HERE
So nice to see you today. Have a great weekend and come back Monday for some confessions that have been on my mind. It's a post I've been meaning to write for a long time.
This post is not sponsored, but contains affiliate links. I do make a small commission for clicks and purchases. It cost you nothing. Thank you for supporting Running in a Skirt.
I'm linking up with: Nicole for the Fit and Fashionable, Jolynne Shane for Fashion Friday, Turning Heads Tuesday. Thank you so much for the lovely linkup ladies
Your turn!
Do you wear white gold and yellow gold together?
What are you doing this weekend?